Pinkham Notch, NH – New Hampshire's Wildcat Mountain ski area teamed up again this year with the Make-A-Wish Foundation of New Hampshire to host the 14th Annual 100,000 Vertical Foot Challenge on Monday.
Held annually on a
Monday
in March, the Wildcat Mountain 100,000 Vertical Foot Challenge is a non-race event offering the chance for a limited capacity field of participants the opportunity to ski or ride 100,000 vertical feet in a single day. Total funds raised from the 14 years of the event have reached $800,000 directly benefiting Make-A-Wish New Hampshire and their endeavors. The event is unique to Wildcat Mountain, coupling the accessibility of the Wildcat Express high-speed, summit lift and the ski area's greater than 2,000 vertical feet.
Over 20 individuals braved the cold and started the day on the slopes at approximately
8 a.m.
to ensure enough time to attempt to break the 100,000 vertical mark.  The event challenges skiers and riders to log a total of 48 runs (maximum 50) on the Lynx Trail to achieve 100,000 vertical feet over the course of the day, non-stop. Competitors are required to raise a minimum of $250 for Make-A-Wish New Hampshire.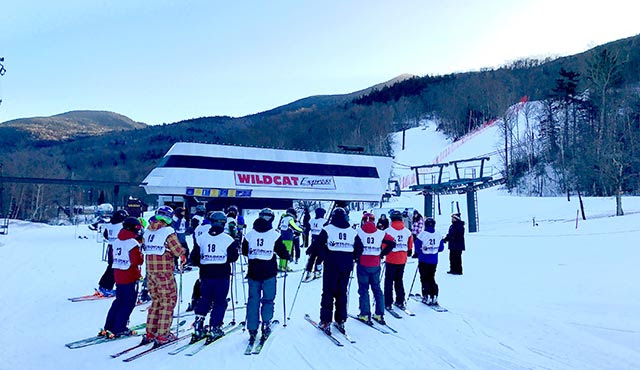 "Our mountain operations team was dedicated to ensure this event went off and arrived at 5 a.m. to set up the course," stated Brian Heon, General Manager of Wildcat Mountain. "This event is wonderful and has been a tradition here at Wildcat.  We annually see the same folks year after year doing the challenge and we're happy to work with Make-A-Wish of New Hampshire."
Nikki Lyons, Director of Community Outreach for Make-A-Wish New Hampshire added, "We are so grateful for the hard work of the Wildcat Team and for all the hearty participants who braved the cold weather today. The weather while cold provided a beautiful backdrop for our participants."
This year's top money raiser was Kevin Elwood, who raised over $46,000 for the charity.  The fundraising effort of Elwood was so high that "David's Wish," was granted in Kevin's name.
"Kevin Elwood in particular is amazing.  We are grateful today to be able to provide 'David's Wish' in Kevin's honor," added Lyons.  David's wish was to visit Hawaii.  He stated he wanted to see Pearl Harbor and the volcanoes he had read about in books.
Every four days Make-A-Wish New Hampshire grants the wish of a child diagnosed with a life-threatening medical condition in the state.
Lastly Lyons stated, "We believe that next year our event fundraising will eclipse the one million mark for the 15 years we've been coming to here.  That's a ton of wishes from Wildcat skiers and snowboarders!"