Soft and fun, but a
lot
of little rocks to avoid on any of the steeps.
The majority of terrain is open, minus of course some of the best. The closed stuff is mostly Steep Gullies and East Wall which is no surprise. Despite slightly above average snowfall, those areas take a TON of light fluffy high altitude snow to fill in. East Wall usually doesn't open until at least the end of Feb for example.
I believe official base depth is 47". The rule of thumb for the basin is not surprisingly don't bother until they report 40" base and it takes 60" base depth to be truly 'good'. But for various reasons my son did not have training for his group on Sunday so I gave him the option of the other Ikon resorts and he picked Abasin. The fun I70 drive each way was both as expected and slightly better than expected. Stop and go for several miles each way, but "only" to the tune of ~35-40 minutes of delay time each direction. Which is sort of a win in some ways as that's certainly better than the 2+ hours of delay each way I was used to a few years ago.
Despite no longer being unlimited on Epic pass, the limited Ikon pass is clearly working for them and they were fully parked out (at some point after us) and there were actual lift lines on Zuma for example. And while crowded we did find a seat inside for our quick 20 minute lunch mid-mountain at BML.
I found it interesting that the new Lenawee Express has 12 second spacing on the line so that there is exactly zero increase in capacity compared to the old triple chair that had normal 6 second spacing. So lift lines are still a thing for that lift as well. Hopefully they designed it to be able to add more carriers/chairs later.
It's awesome that my son is finally able to mostly keep up with me on the steepest stuff. He skis ~as fast I as do when I'm being cautious which was exactly the way I was skiing due to the fact that there was plenty of small, just barely sticking out, rocks. We even did Pali for 2 laps to start the day, no blue groomer warm-up needed. Doing my type of terrain all day though does tire him out faster than I do still. He's barely a teen by only a few weeks though. Also got several laps in on the Beavers chair so that I now know a fair bit of that terrain. I previously only had one day with like 2 laps over there since it opened. Some good pitch tree skiing in places on that side of the hill.
Give it another few weeks (assuming it keeps snowing) and things should be really getting to prime.
An inch of new in Pali's 3rd alley early
Really hard to discern, but the day started at 4F in the parking lot booting up and snowflakes were just literally being squeezed out of the sky from the water vapor in the air. No clouds or storms needed. That lasted most of the morning.
Near top of Long chute in Zuma
Not huge line, but still a line in Zuma...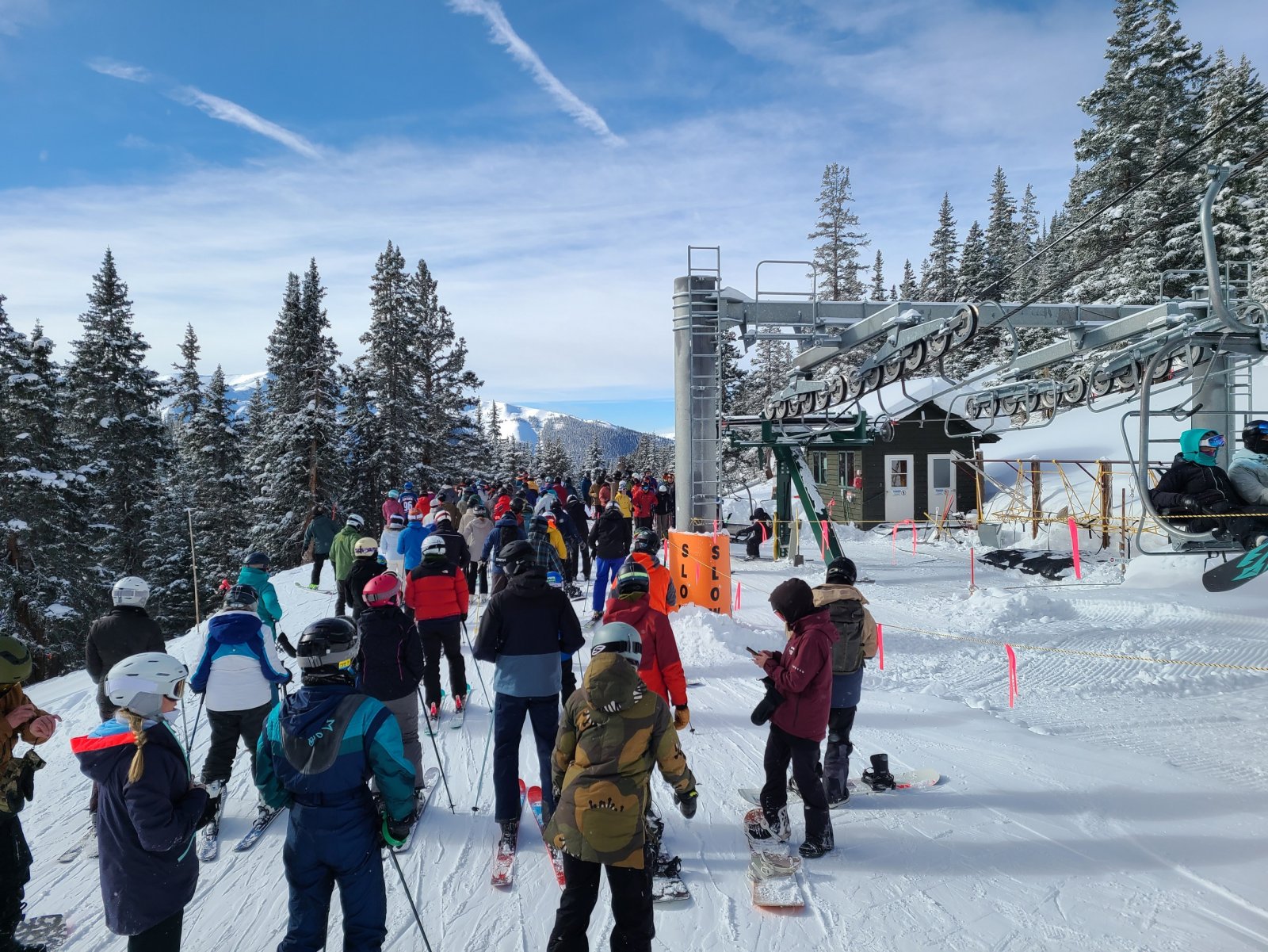 Some sort of hazy/fogginess associated with the flurries. Skiers left Zuma which is mostly a waste of time, but my son had never skied it before and wanted to check it out.
Just a scenic looking N toward Loveland from top part of Beavers as entered from top of Pali lift...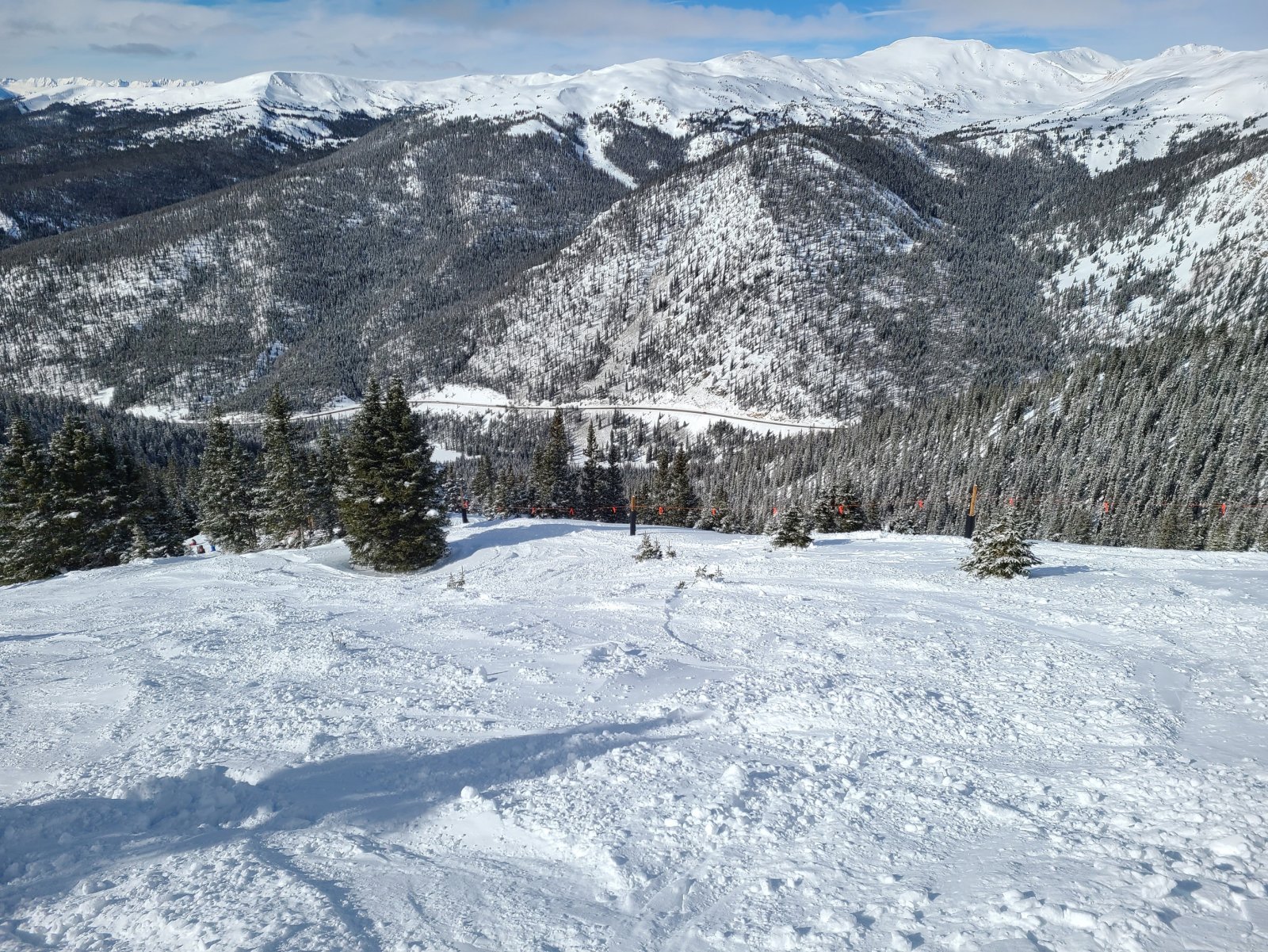 Somewhere around ~Durrance in Zuma late day.