Administrator
Staff member
Day 38: Only 4 runs, but oh what runs!
Skidog was skiing Alta today because his friend T.J. was visiting from the East Coast for only 1 day en route to Jackson. Bob Dangerous was up there, too, so I had to steal away this afternoon for a few runs with them. It was too gorgeous a day out to stay home (52 at my house near the mouth of Parley's Canyon when I left, 37 at the summit and in the low 40s at the base). Visitors should understand that when the environment is this dry the snow doesn't get sloppy at those temperatures -- it evaporates rather than melts.
I finally got a hold of Skidog by phone at the base of Collins, only to find out that they were standing atop Shot 10 in Peruvian Cirque at Snowbird. #-o No matter, I rode up Wildcat and descended via the Keyhole to meet them on Chip's.
It was there that I first learned of their plan: Baldy Main Chute. I haven't been there yet this winter when it's been open, so it seemed like a good plan -- except that my pack was deliberately left in the truck. Oh, well...I'd just shoulder 'em.
We left the Tram, skied down to the Peruvian ridgeline and started the hike. It didn't seem as arduous as usual today, and I think that Bob's estimate of 20 minutes was pretty much on target for once. Poor T.J. just arrived from sea level last night and had been following Bob and Skidog since the opening bell on the grand tour, so by this point in the afternoon he lagged far behind on the hike, pausing often to rest (Baldy's summit is well over 11,000 feet, and it's a 700 vertical-foot hike). We lingered at the summit to drink in the top of the Wasatch, and skies were so clear that you could distinctly make out various Uinta peaks: Agassiz, Bald, etc. T.J. drank a Red Bull along with the view. The atmosphere atop Baldy was festive with many arriving from both Hidden Peak and Sugarloaf Pass, converging upon the summit to relax before an exciting descent.
Most Snowbird arrivals dropped into Mineral Basin via Livin' The Dream, while the rest of us headed for Main Chute, with a couple braving the precipitous rock-lined entrance of Little Chute. I stopped to photograph the others using T.J.'s camera, then dropped in myself.
Main Chute was positively delightful. The first few turns that approach 50 degrees were smooth, dry chalk, while below that as the pitch mellows to a consistent 45 degrees it was lightly bumped with deep loose snow that just gave way as you initiated a turn against the uphill side of the bump. Divine!
Poor T.J. got a bit more than he'd bargained for by chasing Bob around all day, and was positively whooped by the time we emerged onto Main Street. Peer pressure does wonders, though, even at our age, and we talked him into one final run: he had yet to ski High Boy.
High Boy was dressed in more of the same chalk, albeit with slightly larger bumps. We danced our way down the face to end T.J.'s and Matt's day, while Bob and I headed up for one final run, a groomer down Mambo. We all reconvened on the Goldminer's patio for a beer in the sun, where I practically had to kick T.J. to elicit any reaction whatsoever. The poor S.O.B. now needs to drive to Jackson tonight.
Now I'm back home to wrap up my work day. God, I love living in Utah!
I didn't bring my camera today, so I used my Treo for a few photos, but the quality shots will follow shortly once I have the photos from T.J.'s camera.
Snowbird, LCC from Baldy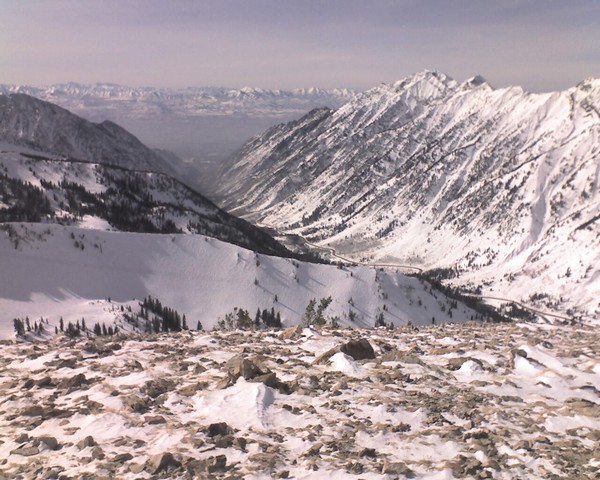 Sn0owbird, Livin' the Dream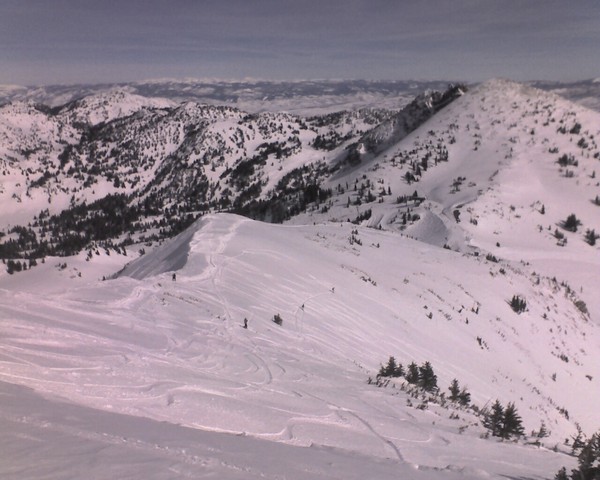 BobbyD hiking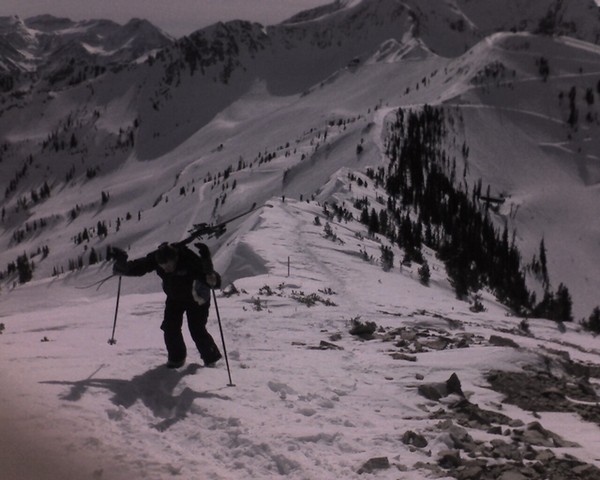 Last edited by a moderator: