Administrator
Staff member
On March 14 we were interlodged due to the anticipated storm.
It must not have started off strong as only 4 inches were reported at 6AM Wednesday. But another 4 inches had fallen when the mountain and the road opened around 9:30. Bryce, Lonnie, Stefan and I got on Wilbere and took 3 smooth powder laps over the previously groomed Harper's Ferry East and West.
Bryce is at least a comparable guide to Snowbird as former admin is to Alta, as Bryce taught both skiing and snowboarding at Snowbird for several years. We skied through the lower Organ Grinder gate to Gad 2, which had a considerable liftline, so we continued on to Lower Carbonate and Gadzoom. We later found that Adam, Ben & company had gone directly to Gad 2 and scored their clean Wednesday powder runs while we were lapping Wilbere.
We then rode Little Cloud 3x. The first run was in bad vis nearly the chair line but in only lightly chopped powder. Next lap we went out to the Cirque Traverse gate where about 50 people were waiting. Patrol came by and at least 1/3 of them bailed so we did also. We went out there again and very few people were waiting. We concluded correctly that it would never open Wednesday. From there we could only ski Puckerbrush, which had no visibility issues but was by then well churned 11% snow.
We had arranged to meet Plattekill owners Laszlo and Danielle Vajnay at mid-Gad at 1PM. Bryce struck up a conversation with Laszlo in Hungarian. With terrain so confined we were not in a big hurry to get out. When we did, we took Gad 2 to Bananas on the off chance the lower Tigertail gate had opened, but to no surprise it had not. We continued down to Baby Thunder and a lap on Thunder Alley. It was sonly lightly tracked but thick snow, probably at least 15% water.
At this point it was clear we should save our energy for Thursday's clear weather. I skied 14,400 vertical, about 7K of powder. With 20-20 hindsight Wednesday would have been better at Alta (though not easy to get up there), where the High T opened. All of Peruvian Gulch was closed all day Wednesday, so Snowbird was now an obvious call for Thursday.
The Vajnay family was staying at the Cliff, but they came over to Iron Blosam for after dinner drinks. So we had to get this pic for Harvey.
Stefan at right works Plattekill on weekends, so Harvey probably knows him too. Laszlo and company were very proud that Plattekill's recent dump was over twice as much as in LCC. But they better get after it quick because rain was predicted Friday.
Thursday morning we awoke to this view from our balcony.
There's an element of luck on LCC powder days, and last year I was consistently in the wrong place at the wrong time. This year I was luckier. Liz, Stefan and I got in the tram line at 8:40 but were informed that the tram had an iced door so its opening would be delayed. Eddie had dropped his 5-year-old in ski school about the same time and drew the same conclusion that we could get to the Cirque faster via Gadzoom and Little Cloud. Meanwhile Adam and Ben were in the plaza not long after 8AM and waited until 9:30m to bail as they were in line for first tram.
I went through the Upper Cirque gate to this view: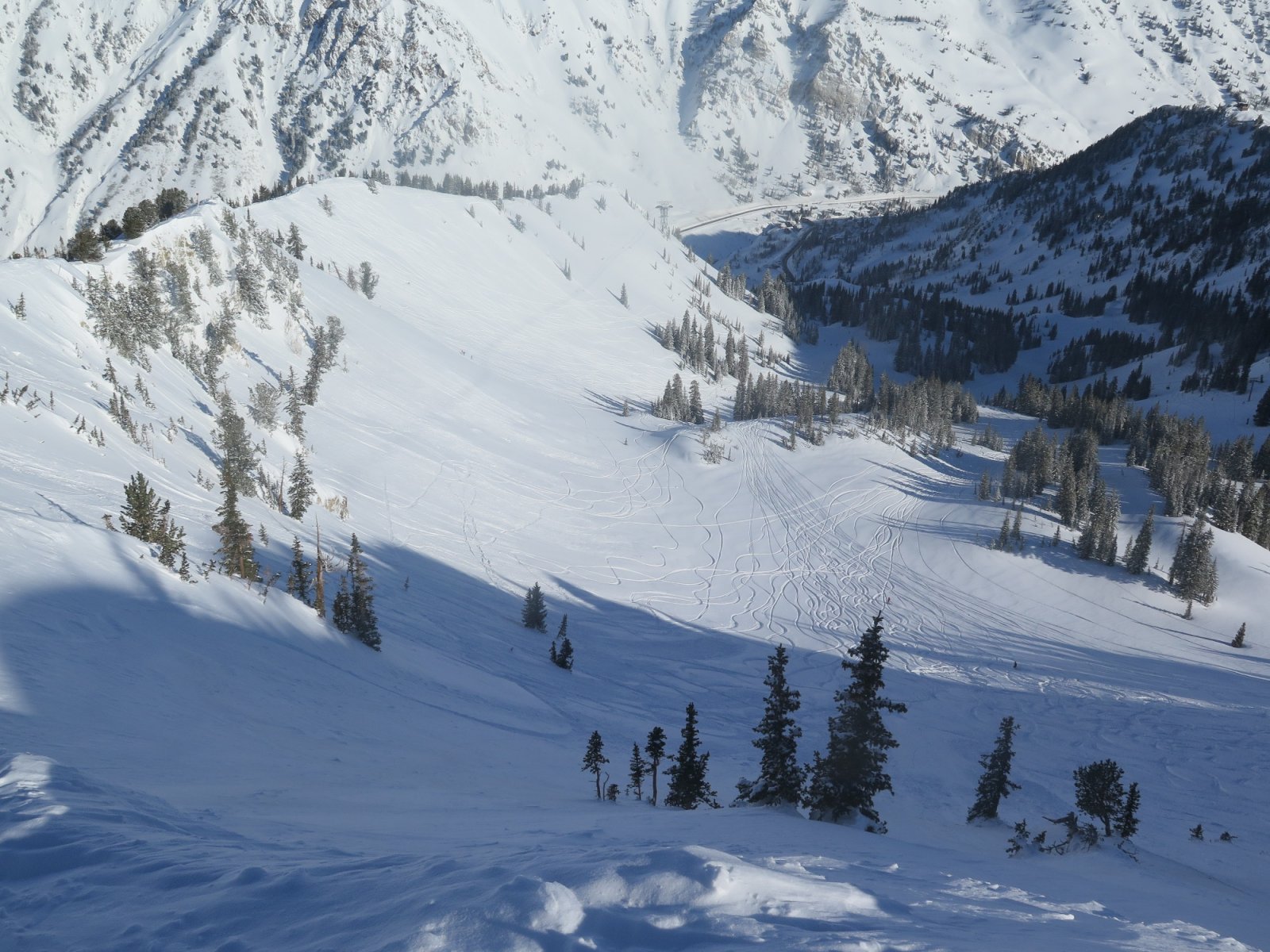 I saw the one track in Shot 11 at lower left and put the second one in there. Looking back from the knoll at Upper Cirque:
View to Middle Cirque, where Liz and Stefan scored their first powder lap.
Then I noticed a skier outrunning his sluff from this line between Elevator and Upper Cirque, but didn't get the camera out in time for the action shot.
The skier was Eddie, whose timing to the Cirque was about the same as mine. He probably put the fist track into Green Forest, but I needed something mellower and skied powder in Adager before returning to Gadzoom.
For top to bottom round 2 I skied Shot 10 while Liz and Stefan returned to the Middle Cirque. While I had a great score on my first run, Middle Cirque was probably the wiser choice for the second go around. I was still able to find lower powder near Hot Foot Gully and Phone 3.
For top to bottom round 3 I took the Cirque Traverse out to Restaurant Roll and South Chute. With this year's coverage it was easy to spread out and find only lightly churned powder and only a couple of tight spot to negotiate.
After that run I was on my own, but I got lucky again, meeting Lonnie and Bryce with friends at Little Cloud. We arrived at the top maybe 10-15 minutes after Mineral Basin opened. It had been skied, but only once so far, so there was enough room to make powder turns between tracks. Yes the snow was baking in the sun, but I have enough Baldy experience to handle that, especially on DPS carbon fiber Wailers.
I intended to take Baldy immediately to Alta, but Bryce thought we could get some powder on Baldy. Patrol Gully was unfortunately still closed, so we skied along its ropeline, then took a second Baldy run and traversed far skier's right for some mellow untracked. Lower down Lonnie wanted to ski some steeps near the chairs so Bryce led us to Limber Pines. There were lots of chunks in there but they were soft, as opposed to what will happen after they freeze overnight.
Now Lonnie and I went to Alta. Bryce remained at Snowbird as he was on a snowboard and his friends did not have combined tickets.
I gave Lonnie an authentic former admin's
A
L
ot of
T
raversing
A
round tour, which was somewhat necessary entering Alta just before 2PM. First up was Backside, which Lonnie charged despite the variable chowder.
After riding Sunnyside we get an overview of Backside.
Next we rode Supreme and did former admin' favorite schlep. The hike up to Catherine's has a little more vertical than in normal years. We went as far as we could to get the usual 5 or so powder turns in Catherine's before hitting the Patsy Marley traverse. Here I knew to go far out again to the mellow but long hills by Summer Road.
We rode Sunnyside and Sugarloaf with a view of Alta's last closed terrain, Devil's Castle.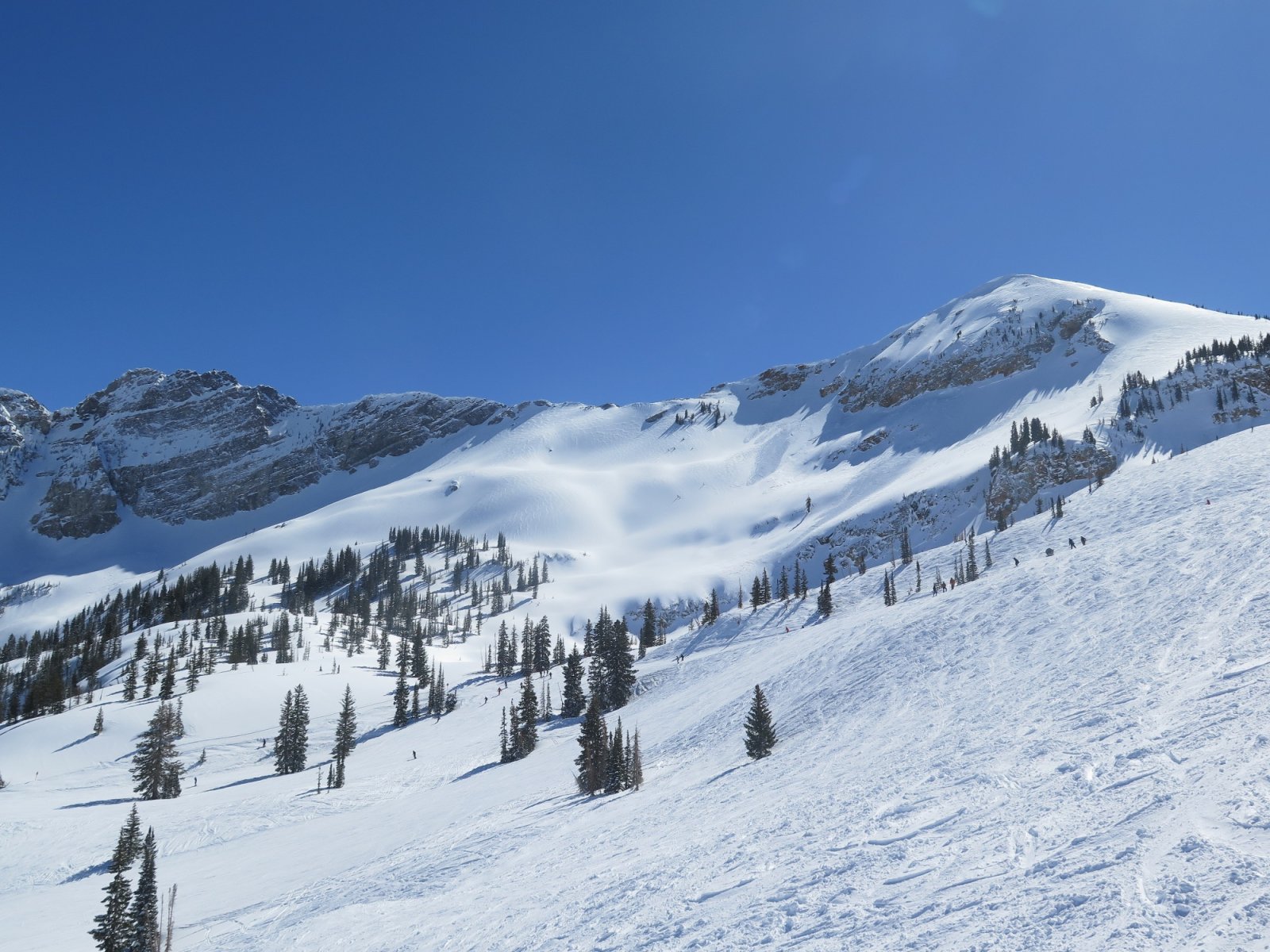 We took the Ballroom traverse out to Tombstone which had soft chalky snow. We knew how to return to Snowbird, and coincidentally met Ken near the entry gate. Ken finishing up the very lightly tracked run into Snowbird.
Lonnie and Ken on the Blackjack road: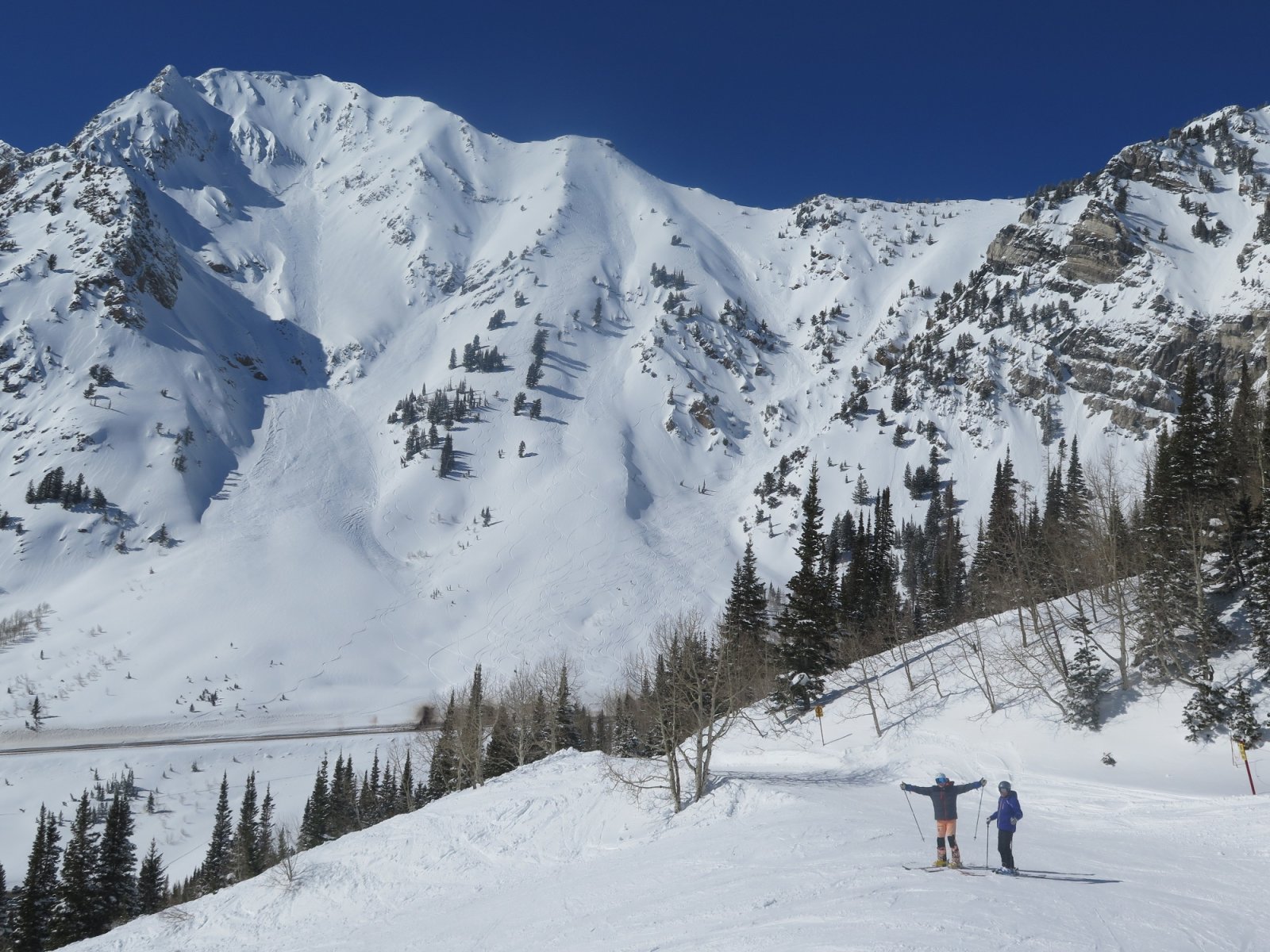 There are quite few tracks on Superior in the background, presumably from Wasatch Powderbirds.
I skied 22,000 vertical, about 10K of powder and was totally running on fumes by the end of the day at 4pm.
Meanwhile Liz and Stefan had skied on Peruvian and arrived up top soon after the tunnel had opened. They did not know that the rope drop from Little Cloud had been an hour earlier. They observed patrol setting off slides in the Bookends.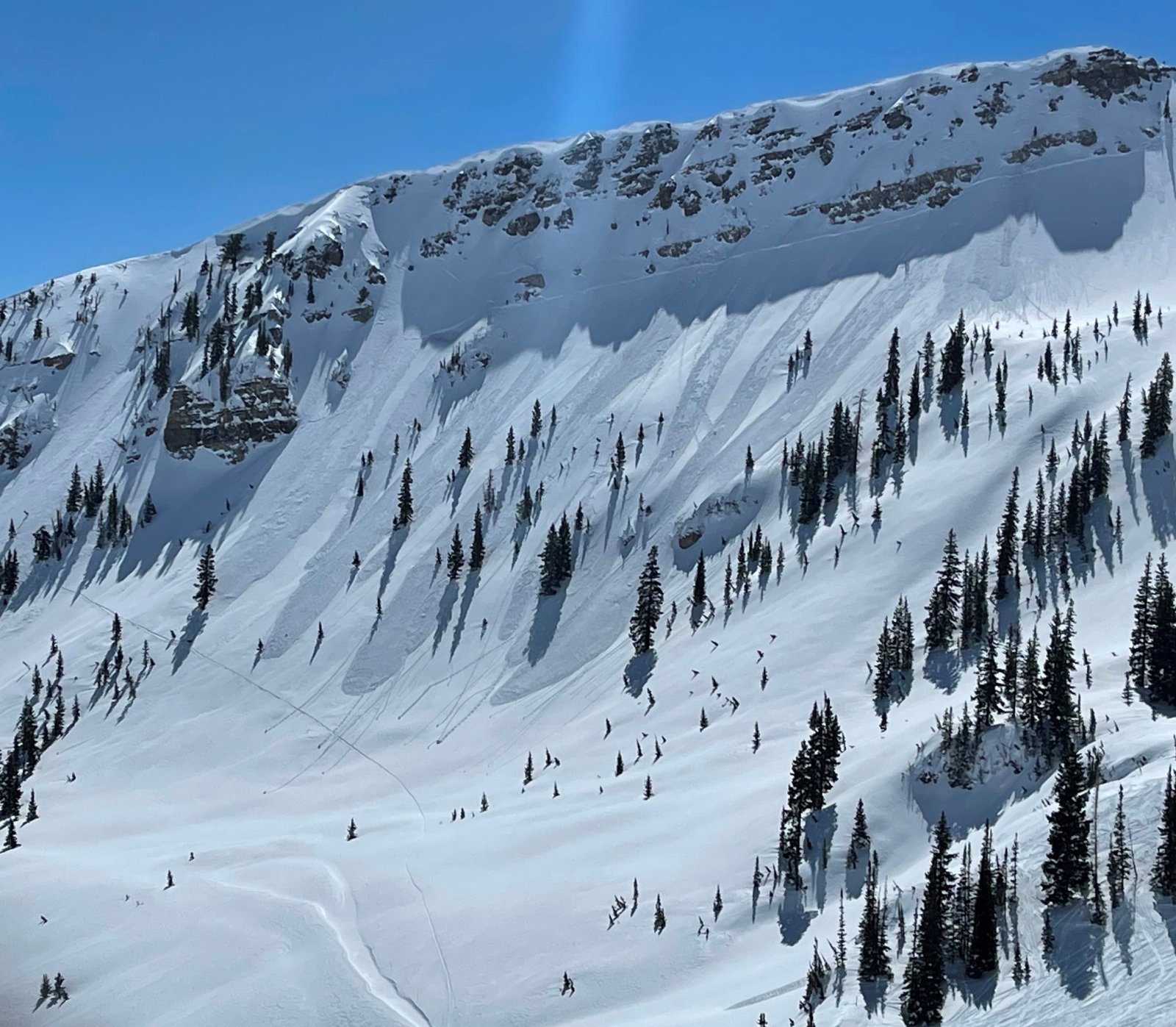 There was a huge line of people waiting for Bookends to open.
It finally did at about 2:30.
Liz and Stefan were also tired and headed down, but they came in only about 15 minutes before I did. Despite the sun Friday like Thursday was surprisingly cold, no more than 15F at opening and topping out maybe 25F. Spring conditions did not advance further on Friday than the 20-30% of Thursday.
No one had much energy left on Friday. Liz, Stefan and I got out late. We took Gadzoom to Gad 2 via groomers and I wonder where I would expend my limited energy. But again luck was with us as we saw the rope drop on Road to Provo just as we exited Gad 2.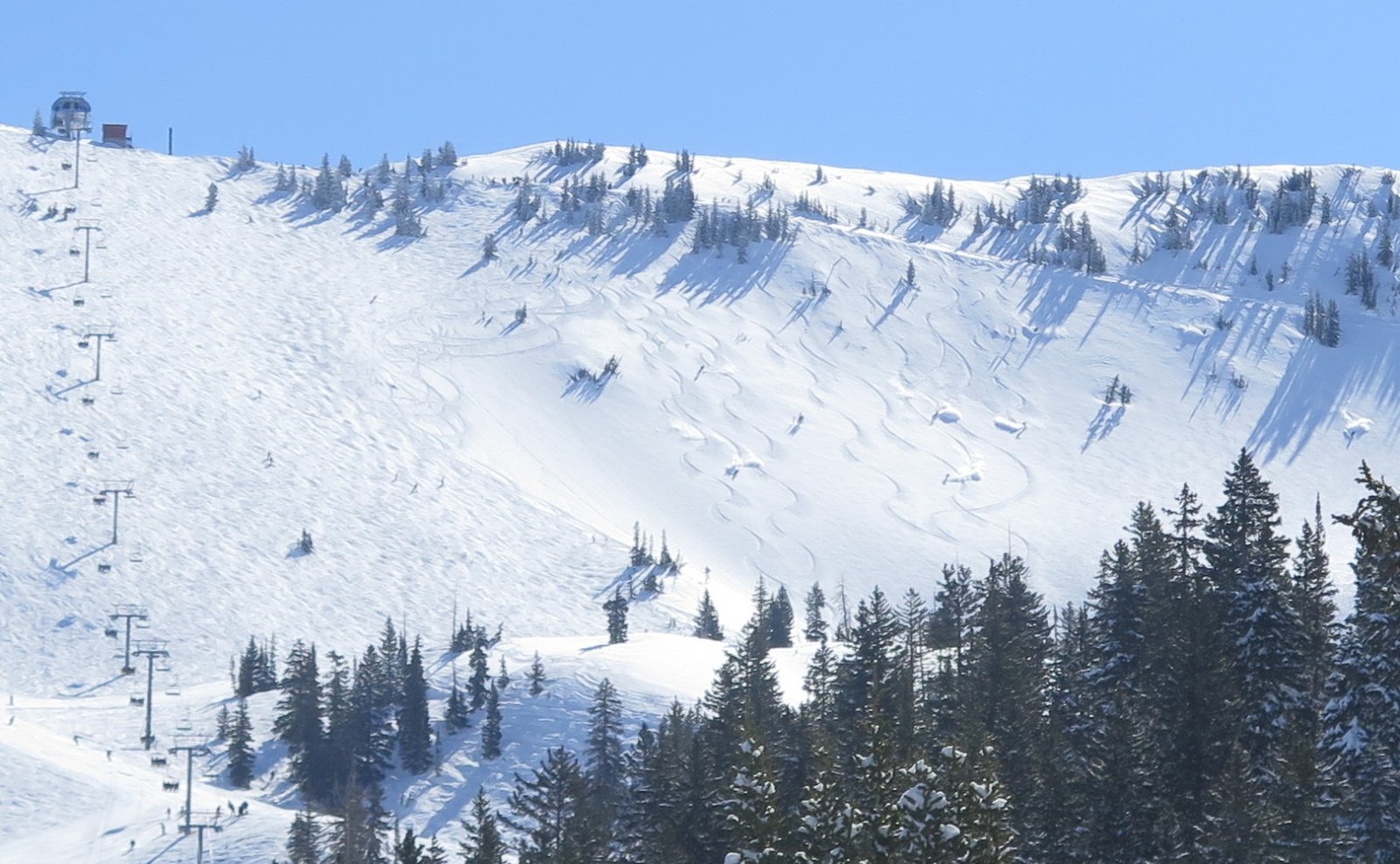 So we got up there fast and I scored some decent powder dropping into the bowl ]not too far from Mark Malu so I could traverse around the hump and still make it to the skier's right Rasta trees.
In this year's snowpack there's a very high traverse line past Mark Malu. I took that, skied mellow powder in Pipeline Bowl, then far skier's right of Hoops, which was smooth windpack. I continued onto a knoll and found good powder through stunted trees on the other side.
We took a needed break for about an hour at mid-Gad with Larry and Margaret. We planned to stick to cruisers due to our exhausted condition. View of hammered Road to Provo terrain after lunch:
We assumed Powder Paradise would be groomed but by 2:30 it had lots of moguls. Fortunately the snow was very forgiving and no one complained, no surprise as all 4 of them have been eastern skiers.
From the top I couldn't resist a peek into Macaroni. As I suspected it was very soft windbuff and an easy ski merging into most of Upper Silver Fox. We regrouped on Chips and stopped by Phone 3 where we saw these avalanche canisters.
I knew what these were after seeing a bunch of towers that hold them at Ischgl in 2017. There's at least one of the towers in the rocks about Road to Provo. The canisters are delivered and replaced by helicopter, and the charges inside dropped out by radio control.
I skied 14K and about 2K of powder. Stick a fork in me. There's no way I'm skiing Saturday after these 6 days. On the walk back to Iron Blosam we swept the 16 inch storm total off my car.