Administrator
Staff member
The Angeles Crest Highway was gated shut at 6,000 feet since last September's Bobcat fire until sometime this spring. Some of it may have opened earlier, but the stretch to Islip Saddle opened April 22 and beyond in May. There was some evidence of fresh burn NW of the road below Chilao/Charlton, but that was into the 2009 Station Fire area and didn't get too far. What I did notice on May 21 was the explosion of blooming yuccas this spring, which Garry had mentioned was also true above Mt. Baldy village.
All looked normal around Newcomb Ranch and up past the 6,000 foot gate. Around Mt. Waterman it changed. The slopes south of the road were mostly green while there was scattered burn damage north of the road on the desert side.
At this point it was still a mystery where the fire had crossed the 7,500 – 8,000 foot ridgeline and remained so as I drove past Buckhorn and Kratka. The crossing was just east of Islip Saddle where most trees were burn skeletons on both sides of the road.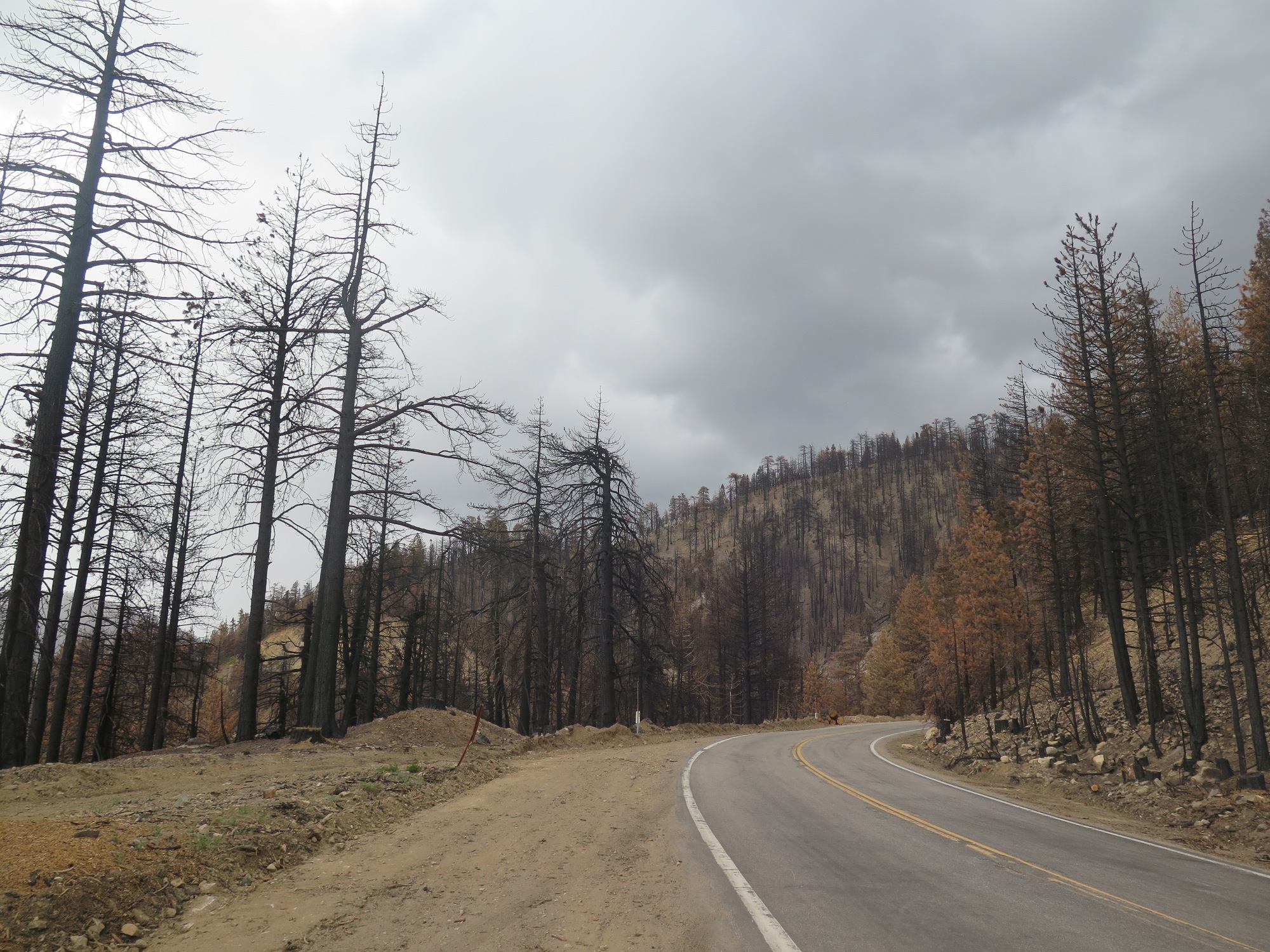 I found a map of the burn scar which shows how narrow the crossing of the Angeles Crest was before spreading out again on the desert side.
I drove to Dawson Saddle at 7,900 feet before turning around. I stopped for a short hike to Windy Gap.
It was surprisingly cold, 38F when I got out of the car at 3:30, so I didn't hang around long in the breeze up there. View south into North Fork San Gabriel River drainage.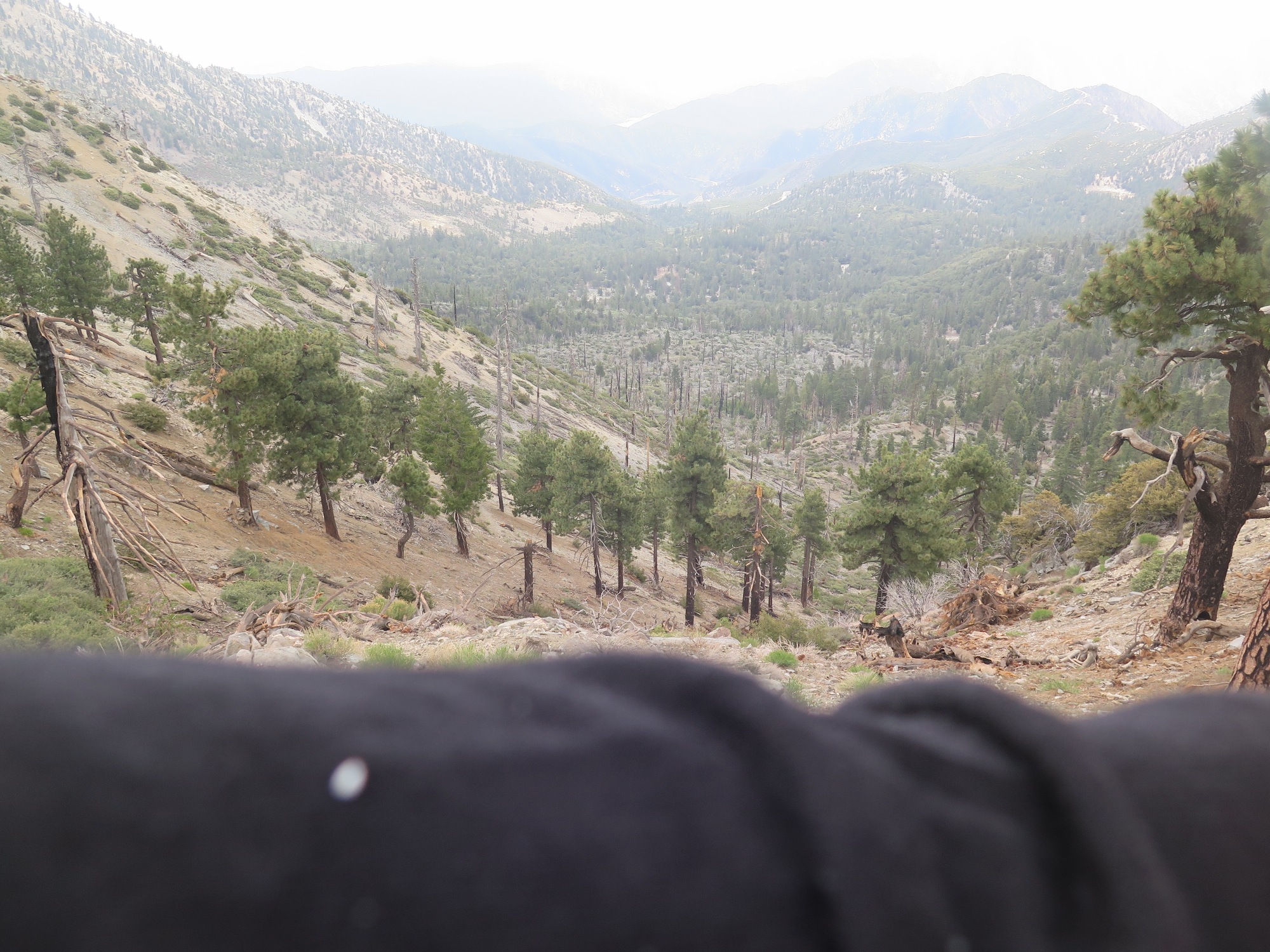 The white spot on my blurry jacket sleeve is a snowflake.
In this area occasional trees had burned but most were still green.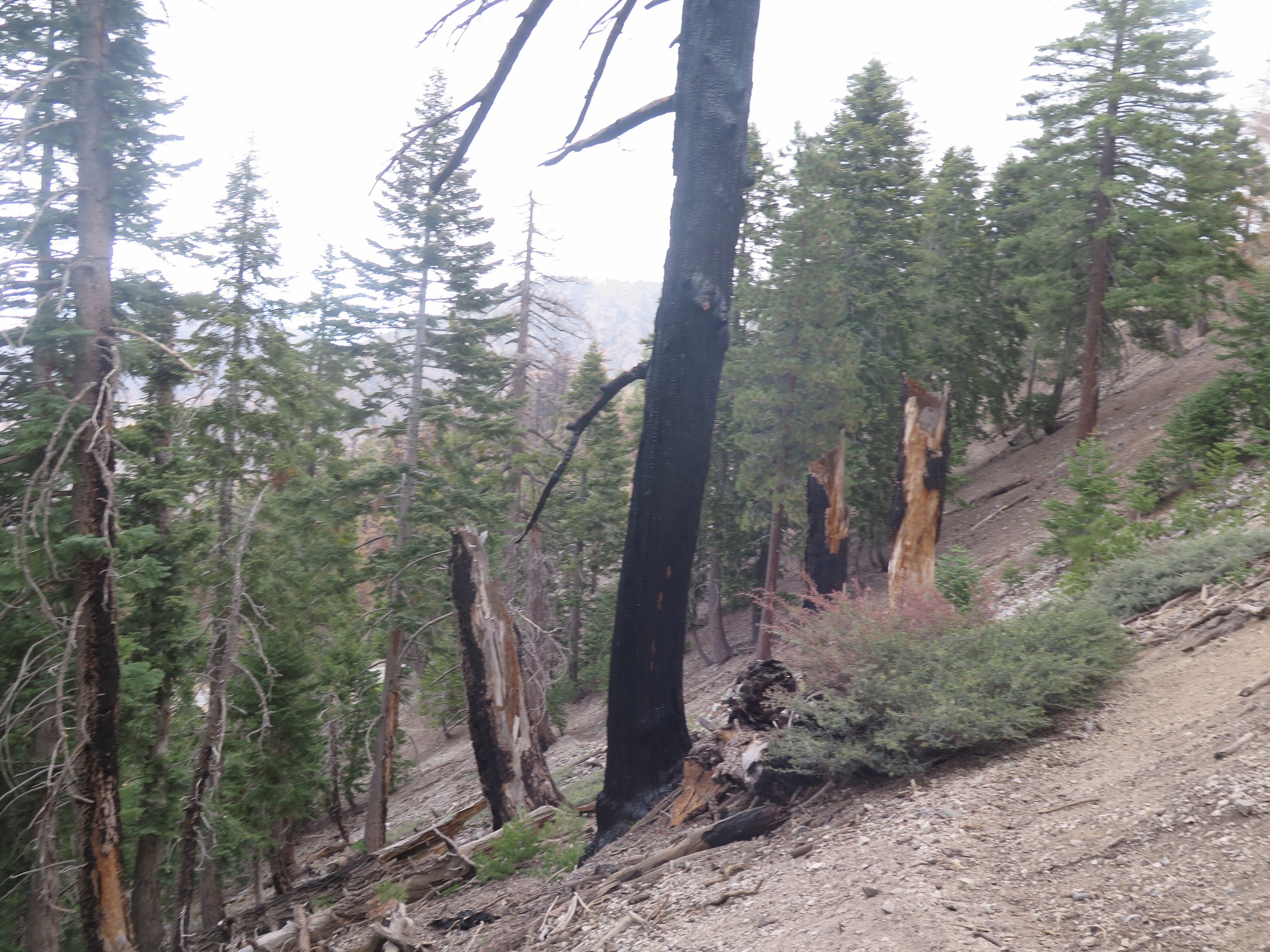 In some of the other pics you can see trees that were probably killed by the fire but still have their needles all brown.
Next stop was Kratka Ridge.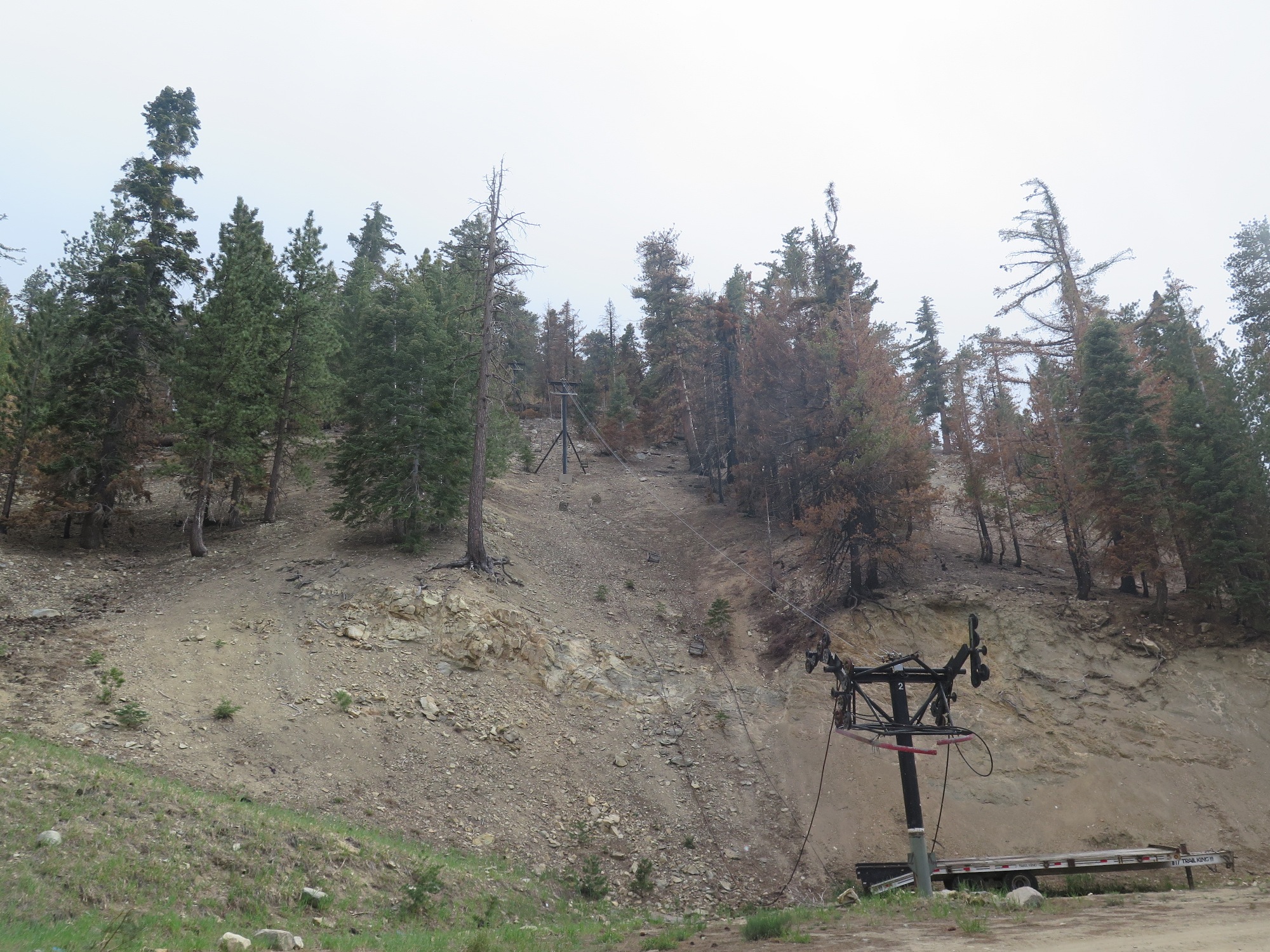 There are a few partly brown needle trees by the old single chair.
I wandered around the area, heard noise that sounded like rushing water and peeked under this wooden cover.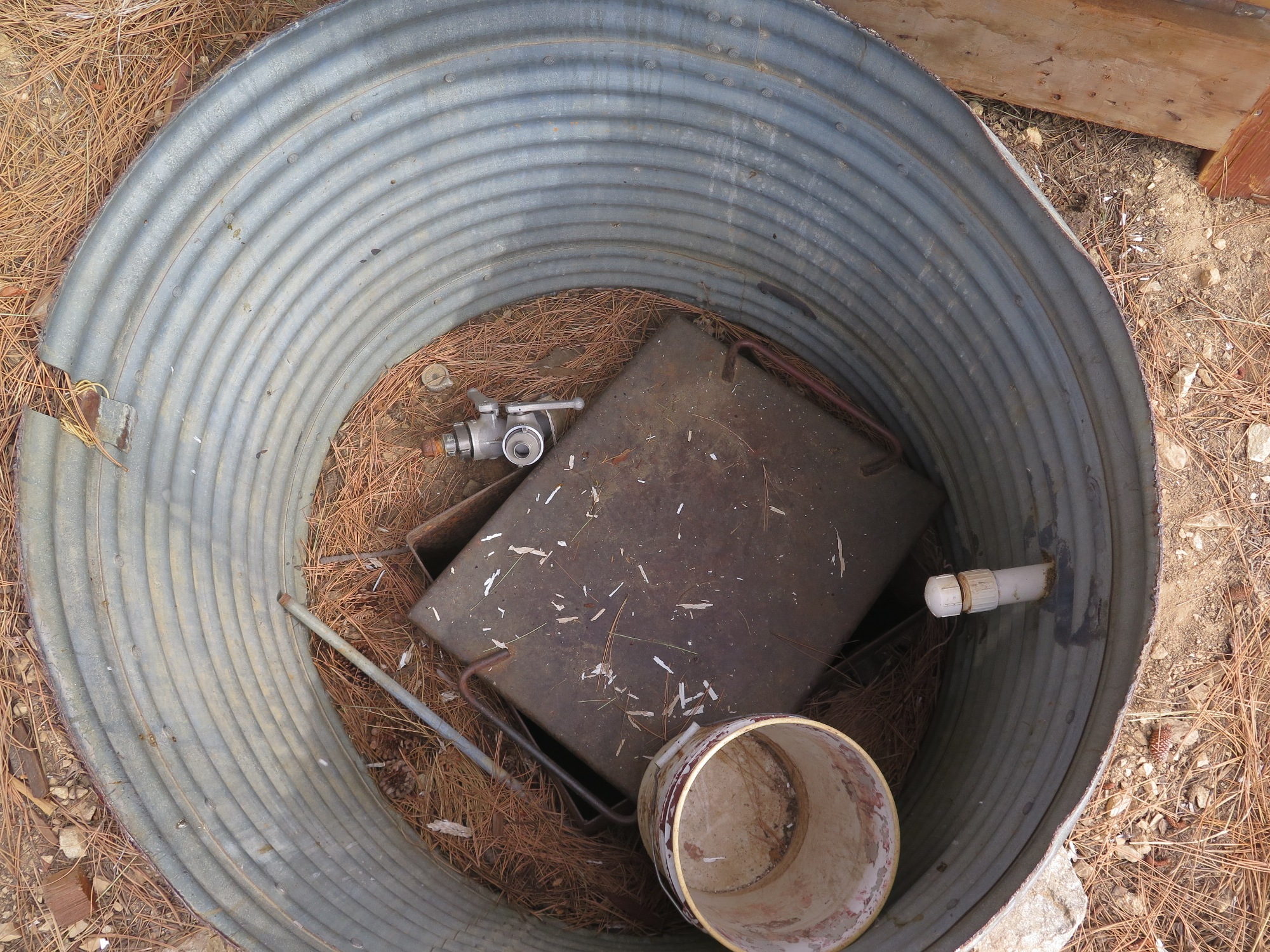 On my way out I noticed the building was obviously occupied due to chimney smoke.
The sun had come out by my next stop at Buckhorn.
I walked up to the main building and had a very informative conversation with one of the Buckhorn managers.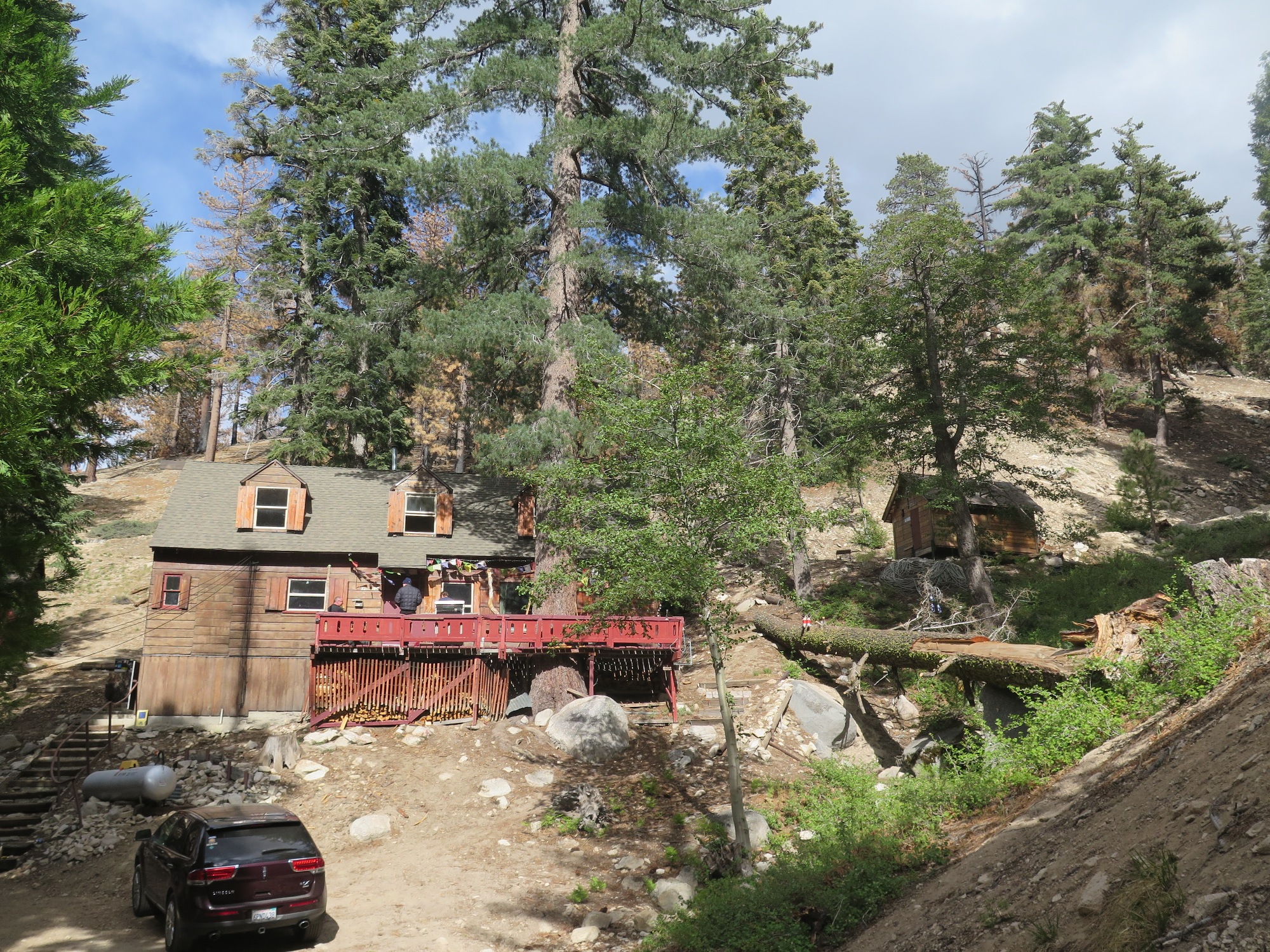 He said the firefighters did a great job protecting all three ski areas along the Angeles Crest.
He then explained Kratka. A permanent caretaker lives there and also manages a Christian camp on the road below Waterman. The water I noticed? Kratka has active springs on site and probably could support snowmaking. Buckhorn has spring water but less, only enough to support the building there.
The rope tows we saw at Buckhorn a few years ago have been dismantled as they are no longer permitted. Club members are strictly earning their turns now, though they have a snowmobile and are considering a snowcat. The rope tows had ongoing maintenance cost and without that there have been more funds available for building upkeep and improvements.
Mt. Waterman has had no caretaker since Todd Brugger left. He is reportedly at a small ski area in Alaska where he maintains the lifts and facilities. Mt. Waterman:
View of Mt. Wilson from the highway lower down: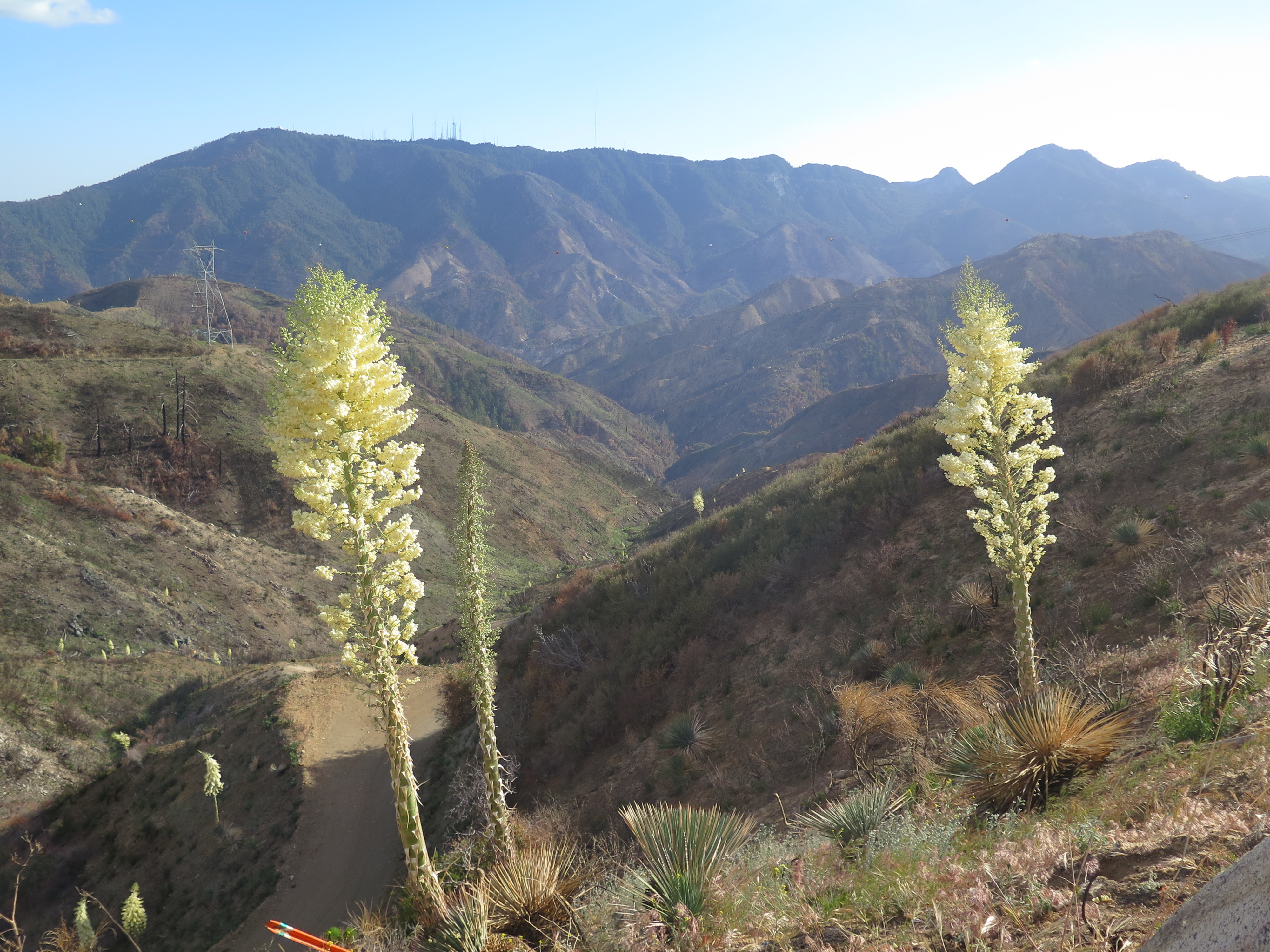 On June 10 I drove up the San Gabriel River canyon, where the yuccas were also going strong.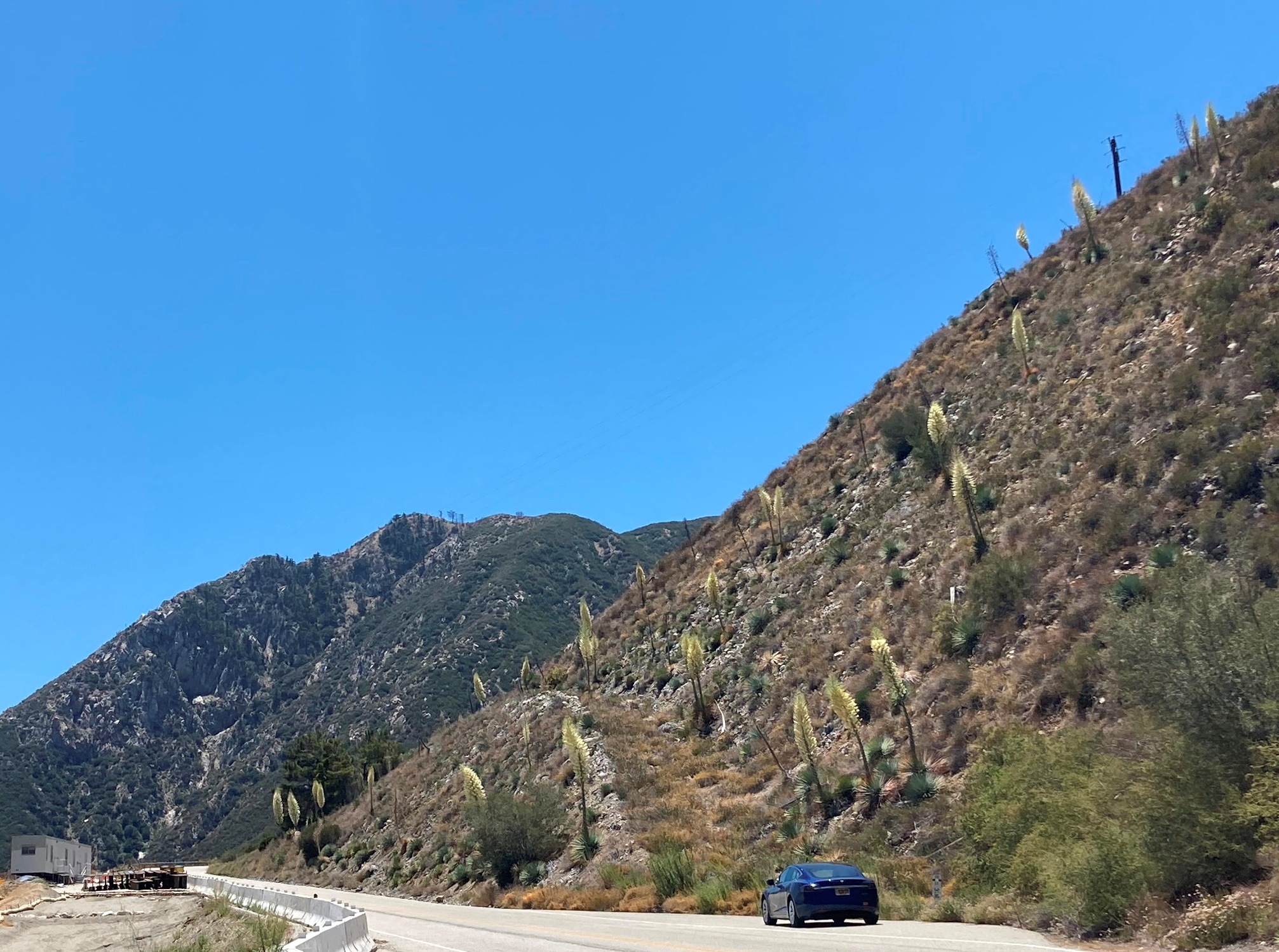 I parked near Crystal Lake and started hiking the Islip Ridge trail.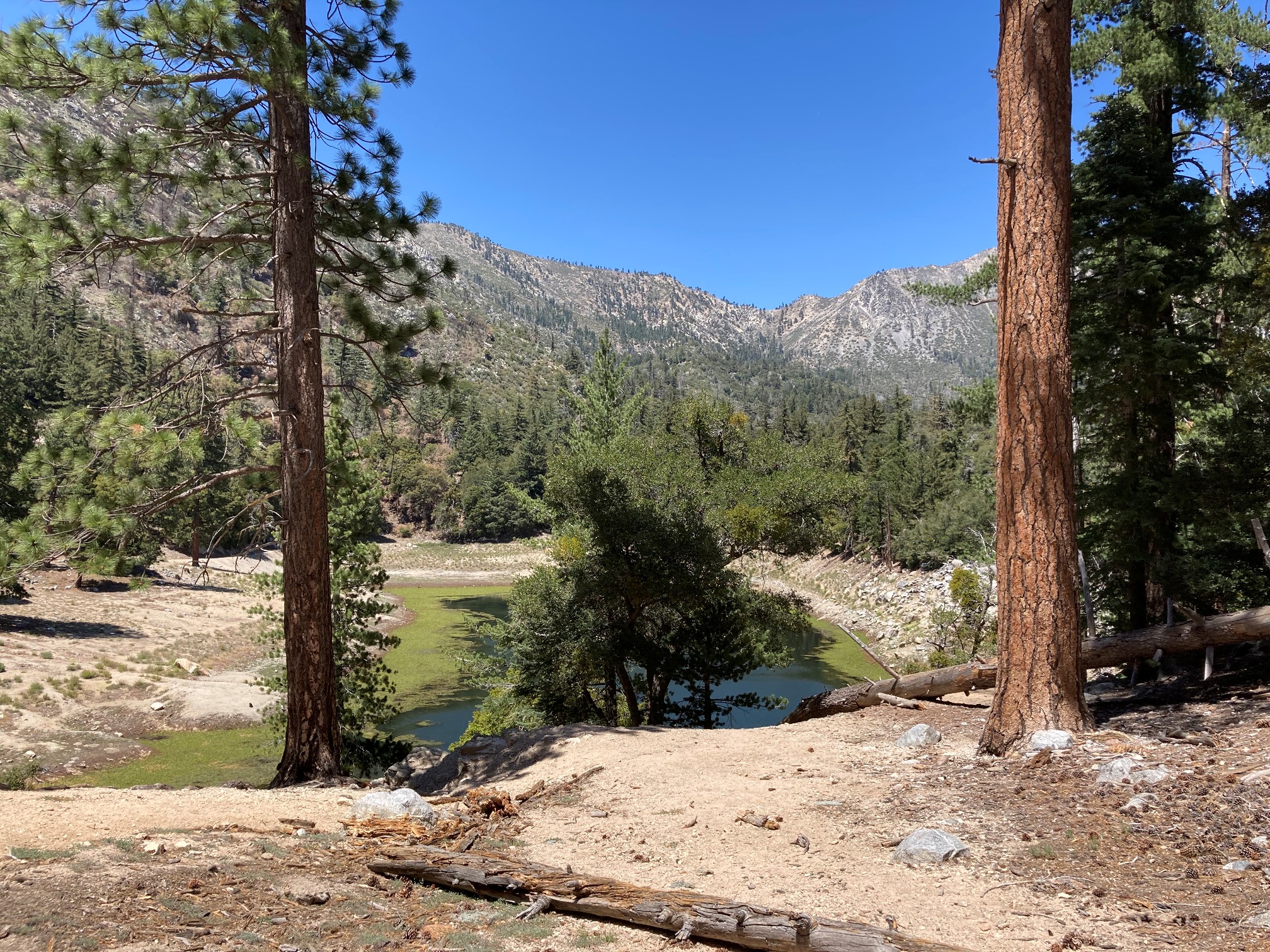 Once on the ridge I first saw a few trees with scorched brown needles.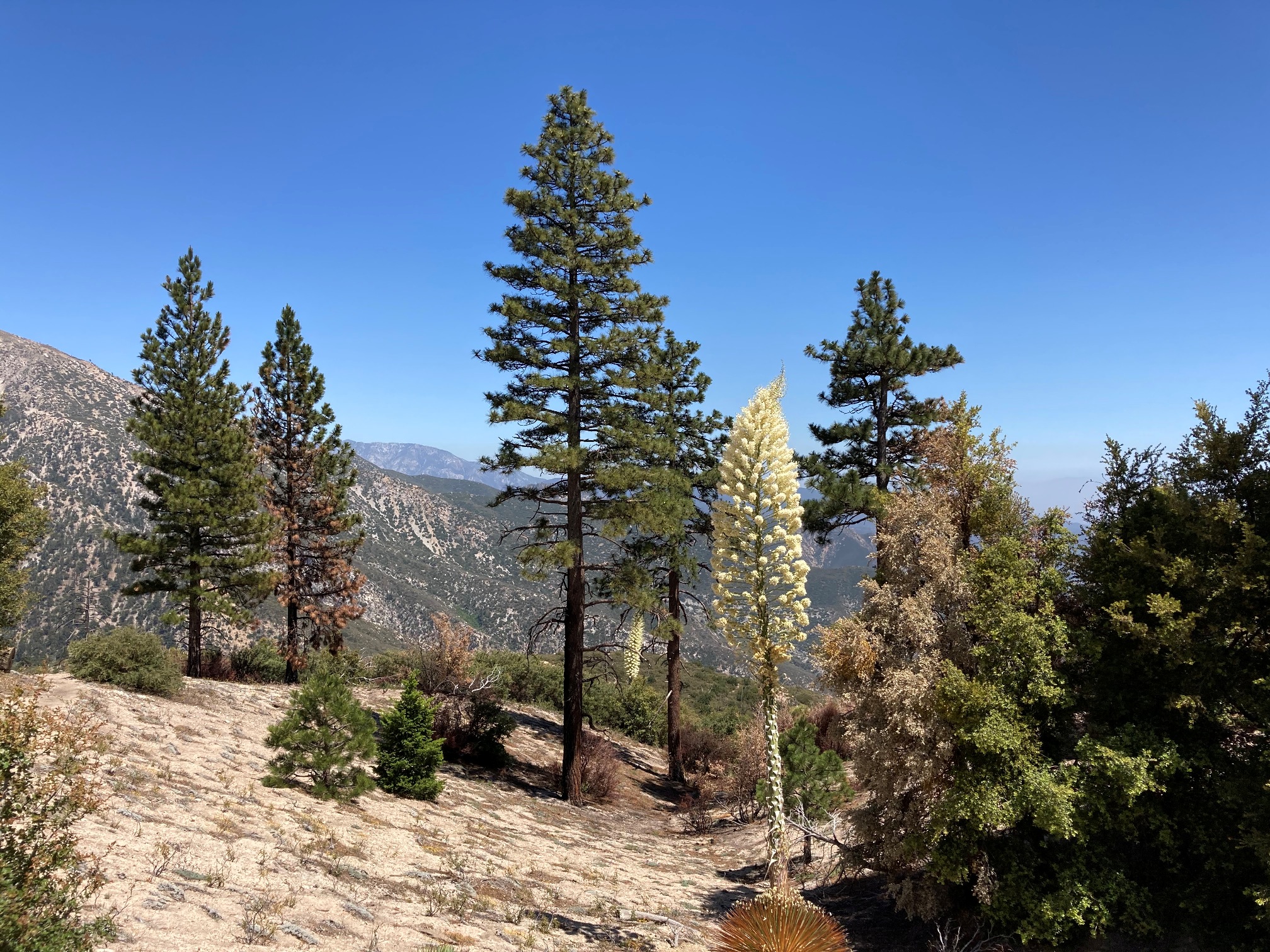 Farther up was more widespread burning.
I did a double take here from the appearance. Maybe that comes from spending too much time in Florida.
More burn skeletons higher up: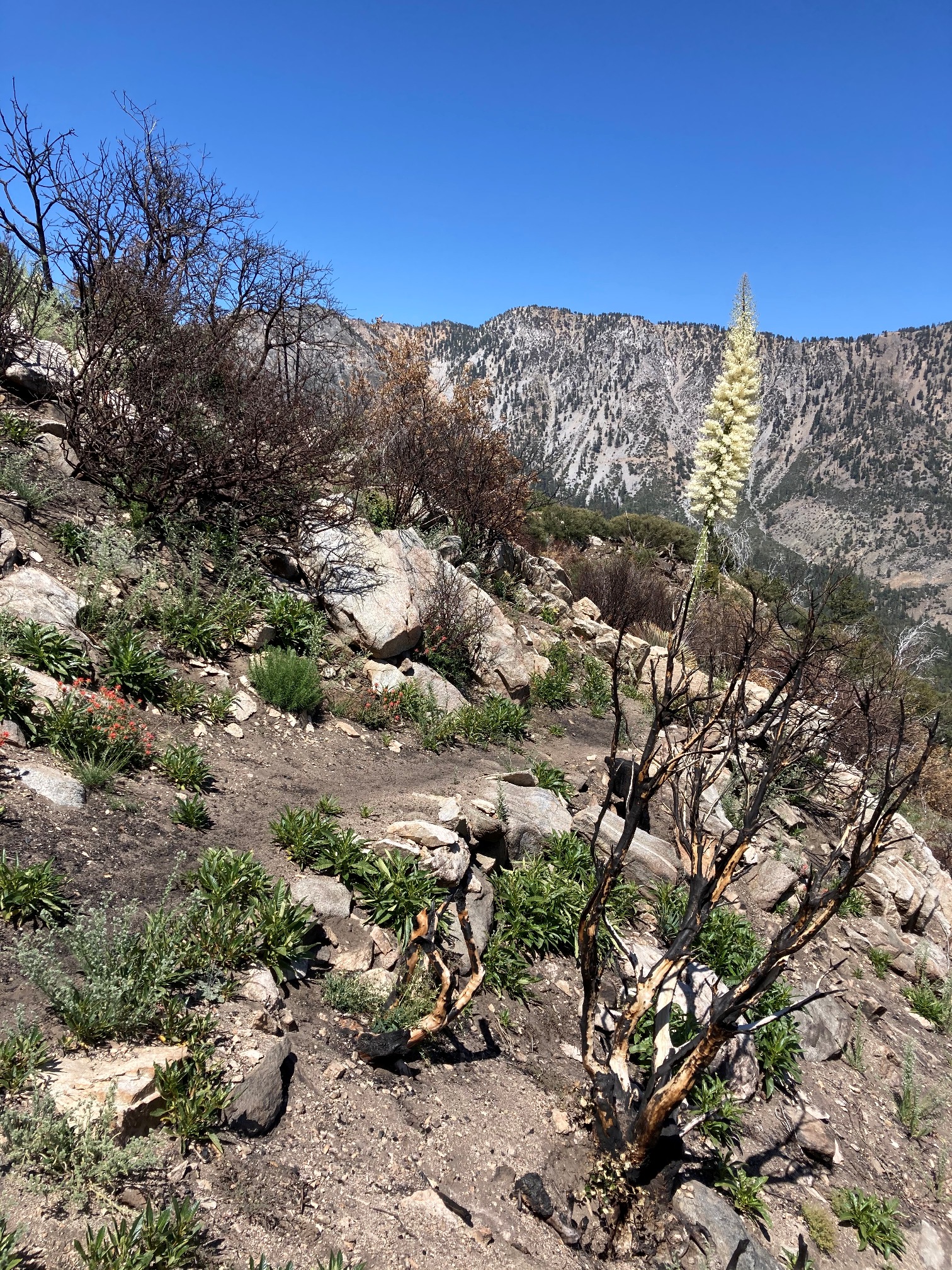 The ridge in the background is the one running east from Windy Gap to Throop Peak.
On the descent I can see that some of the canyon west of Islip Ridge was intensely burnt to the ground like most the Station Fire area in 2009.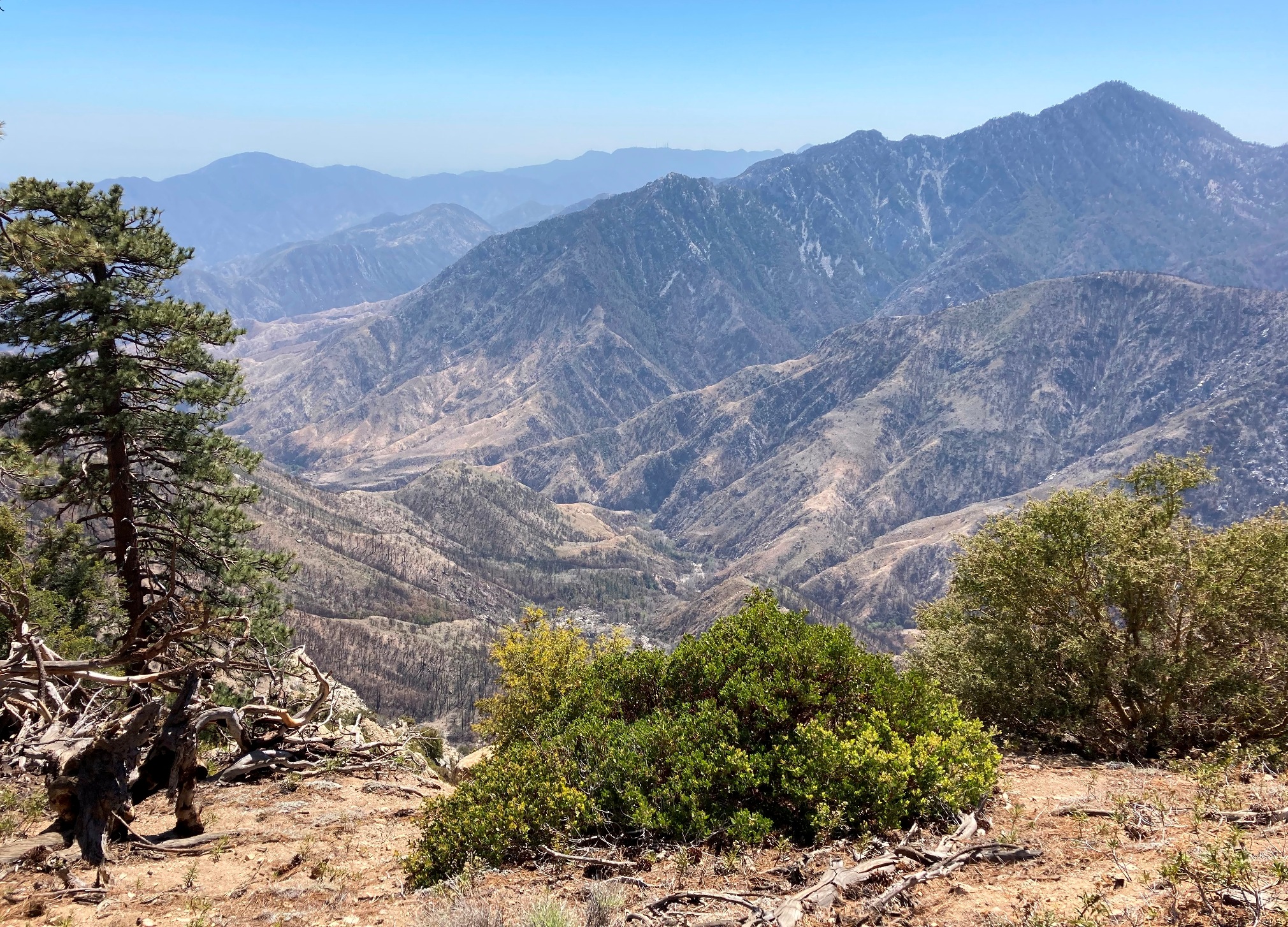 And more obviously here it looks like firefighters were lower on the ridge and kept the fire out of the Crystal Lake side while on the west side nearly everything burned.
Islip ridge which I hiked June 10 is directly opposite the narrow burned stretch of Angeles Crest Highway which I saw May 21.
The roads into the West Fork of the San Gabriel River and into Chantry Flat above Arcadia remain closed until April 2022.
On the way out about 3,500 feet is another hillside full of yucca blooms.
I have not been able to find out why they were so prolific this year.
I'm in Florida and seeing more rain than last summer. On Tuesday it rained 4.25 inches in 1.25 hours and Wednesday 3.5 inches in about the same amount of time. L.A. rainfall for the past year was 5.80 inches.