Administrator
Staff member
When Liz and I left Florida we visited friends in Chicago. One of those friends was at her lake house in central Wisconsin. Since we were going that far north, we decided to visit Lake Superior. We had an excellent source of info, as admin had spent Aug. 8-22 at three RV parks along the south shore.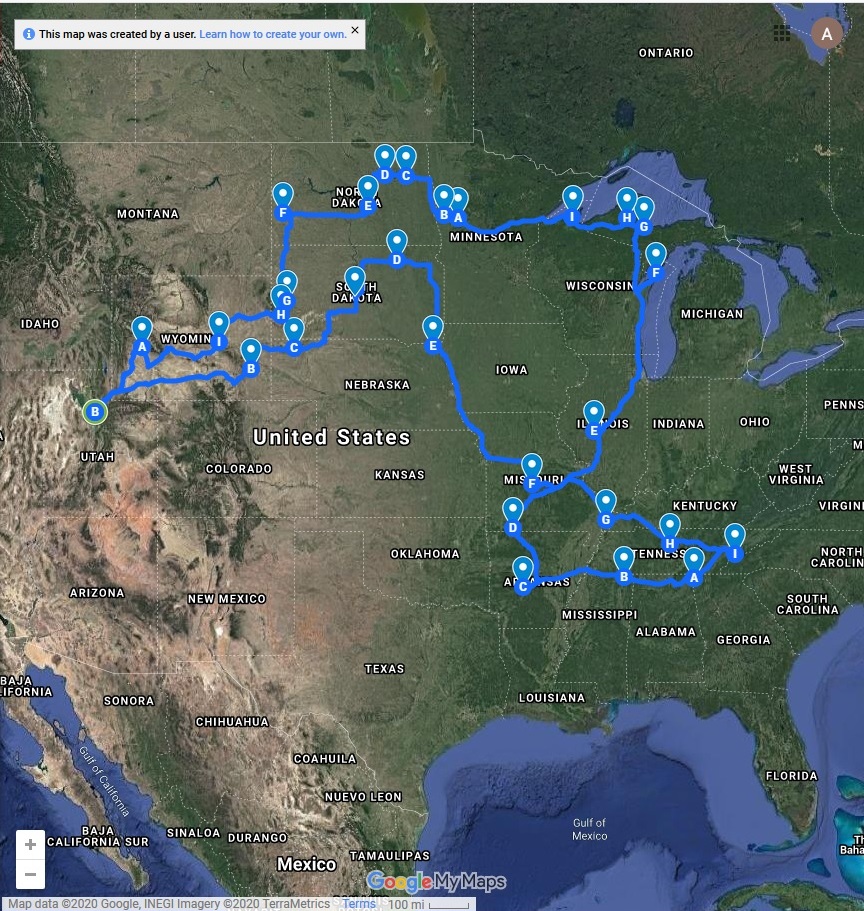 He said the highlight of his time was kayaking the Mainland Sea Caves on the Bayfield Peninsula of Wisconsin. Recall that our paths crossed in Osage Beach at Lake of the Ozarks June 5-7. My summer travels are outlined on this map of superchargers visited.
One of the Tesla Forum participants will make you a map when you join the "Century Club" of 100 superchargers visited. I'm now at 103.
We had originally targeted U.P. Michigan but the logistics there are difficult as it's one of the last Tesla supercharger deserts. Two have been permitted but construction has not started. Even for Bayfield we needed to stay at the Bayfield Inn which has an overnight destination charger.
We arranged to arrive Sept. 2 and reserved the Mainland Sea Caves kayaking the next morning and the Apostle Islands scenic cruise in late afternoon. View of Bayfield approaching from the south:
We took a quick detour to see
the local ski area.
After checking into the Bayfield Inn about 6PM, we took an exploratory drive while it was still light. Just north of town was a closed Indian casino and picturesque location for an RV park.
Admin did not stay here but in a more secluded location down the road near Washburn.
We drove out to Little Sand Bay for a possible sunset view.
In the foreground is a ruined pier from a former fish cannery.
Map of Bayfield Peninsula and Apostle Islands: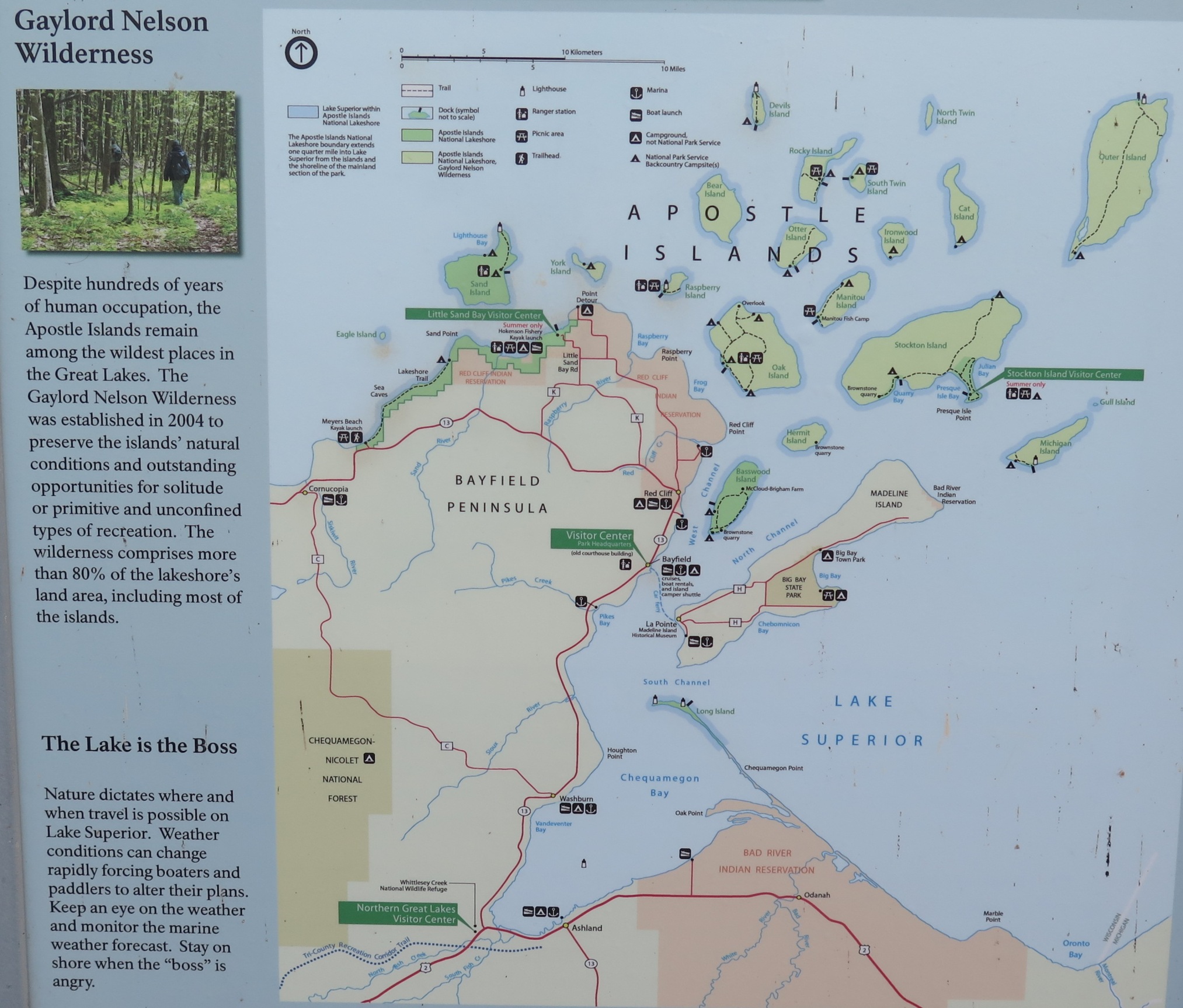 "The Boss" did not cooperate with our plans. While driving on Wednesday we got a call that gale force winds were predicted for the next day so there would be no kayaking then. So we had to shuffle our plans, moving our reservation on north shore from Friday to Thursday and the scenic cruise from Thursday to Friday. Saturday was Labor Day weekend so Meyers Beach kayaking was sold out and we had to sign up for a different location, Houghton Point north of Washburn.
So we left fairly early Sept. 3 but drove out Mawikwe Rd. for a short hike to Lake Superior near the sea caves.
The caves are at and around that point at center right, so it's obvious why we're not kayaking today.
That's rougher water than I saw anywhere in Florida over 3 months.
We stopped by Meyers Beach too. Liz on the stairs to the water, put-in for kayaking to the Mainland Sea Caves:
More info on the kayaking/sea caves: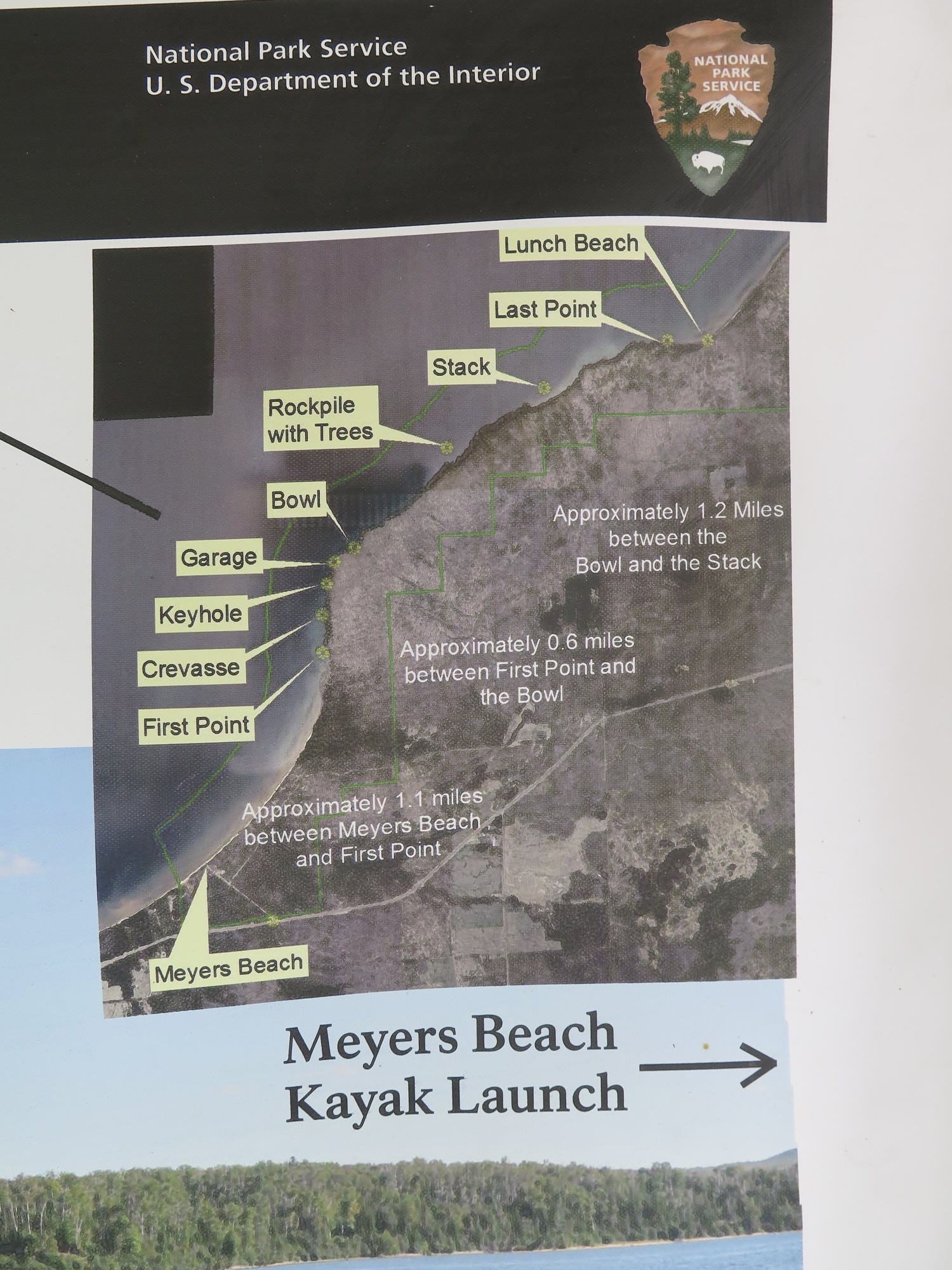 After a day on the north shore we returned to Bayfield in time for the Apostle Islands cruise Sept. 4. View of Bayfield from upper observation deck before we departed: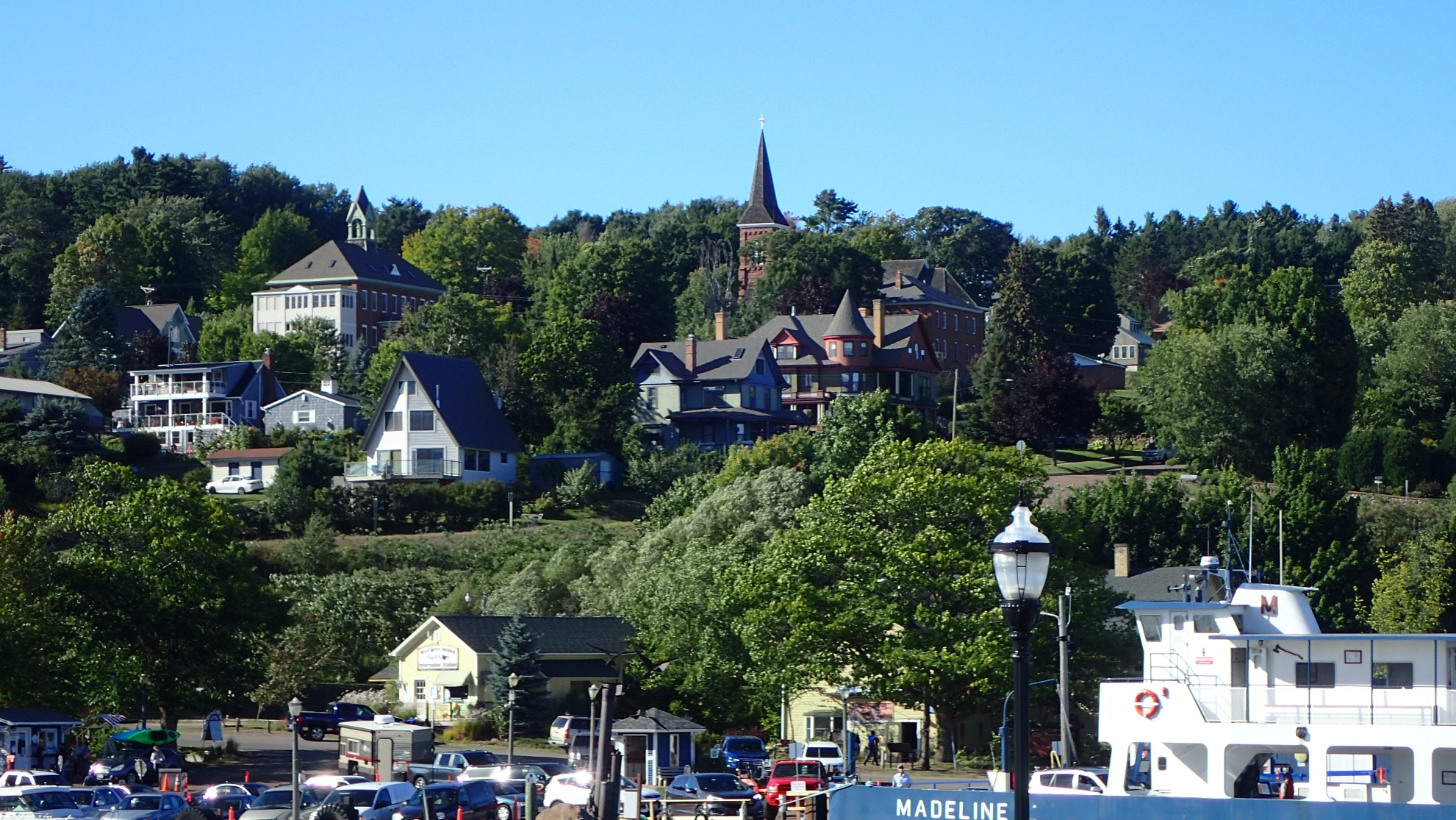 At lower right is the Madeleine Island ferry to the only Apostle Island with much private development.
Brownstone quarry on Hermit Island: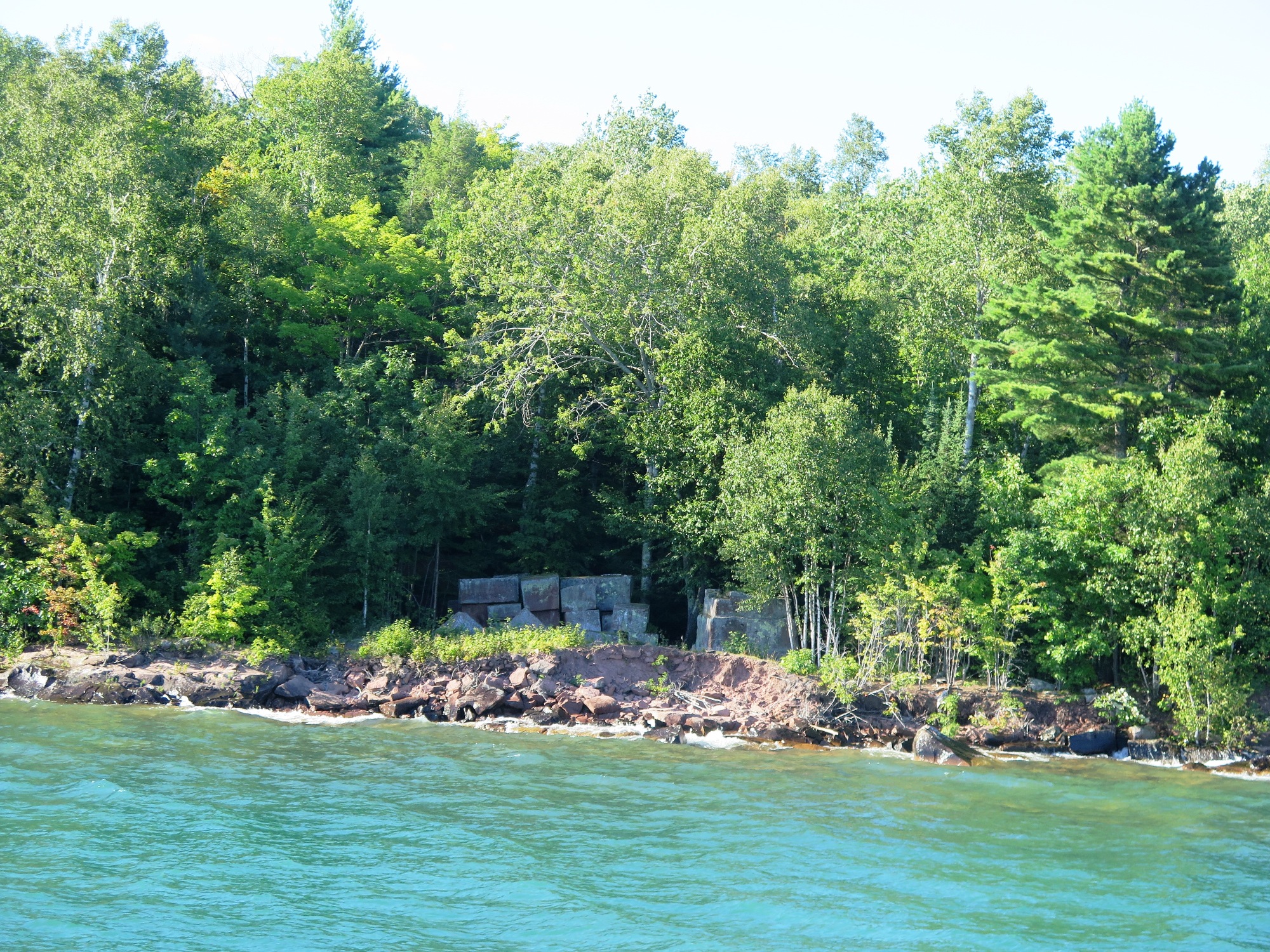 Many of the fancy 19th century brownstones in NYC used material from this area.
Bald eagle in tree:
Later an eagle flew over the boat for a better view.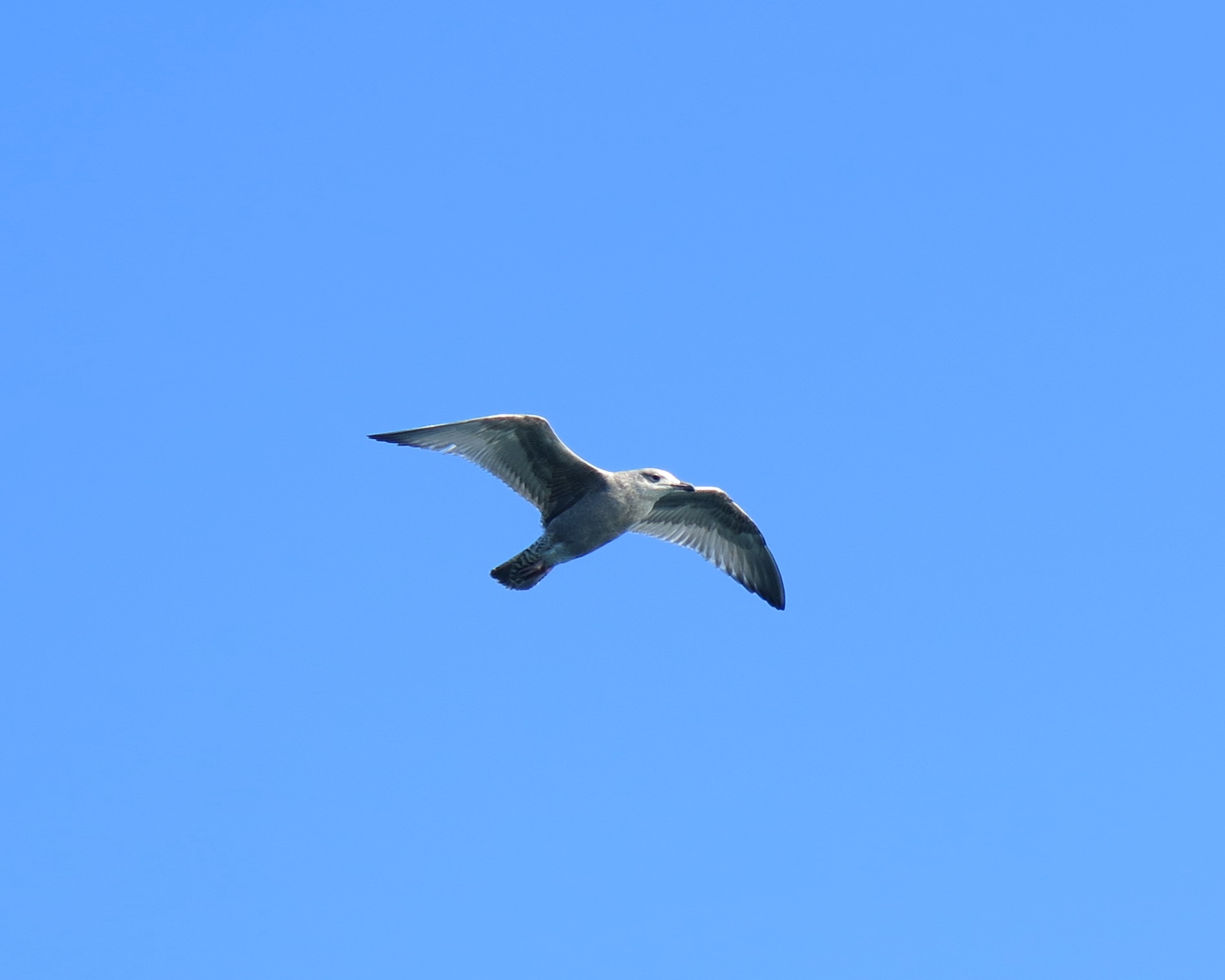 Manitou Island Fish Camp:
I had read before that the boat observation deck was packed, so we left masks on even though it was outside in a brisk breeze.
The most impressive sea caves are on Devil's Island.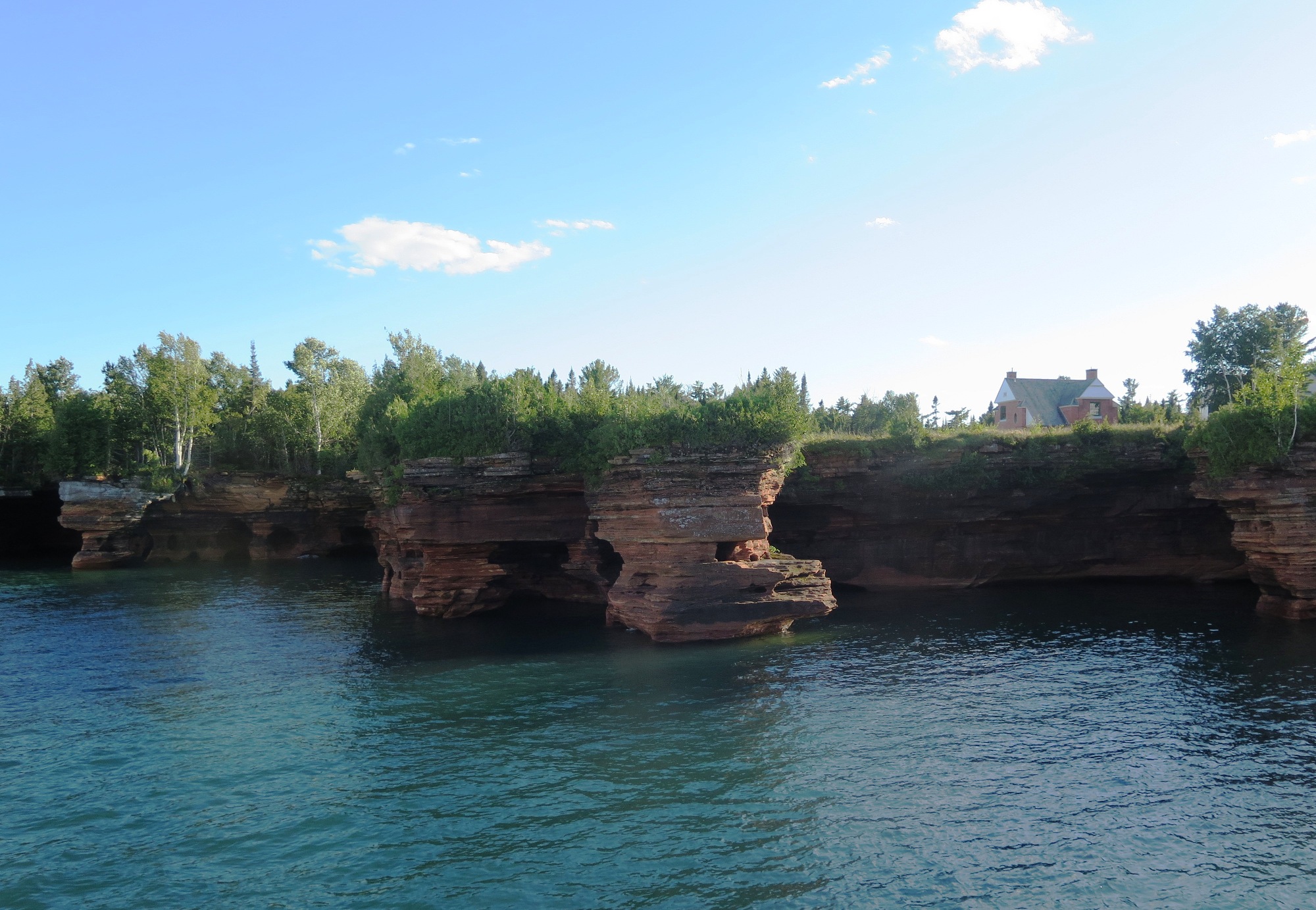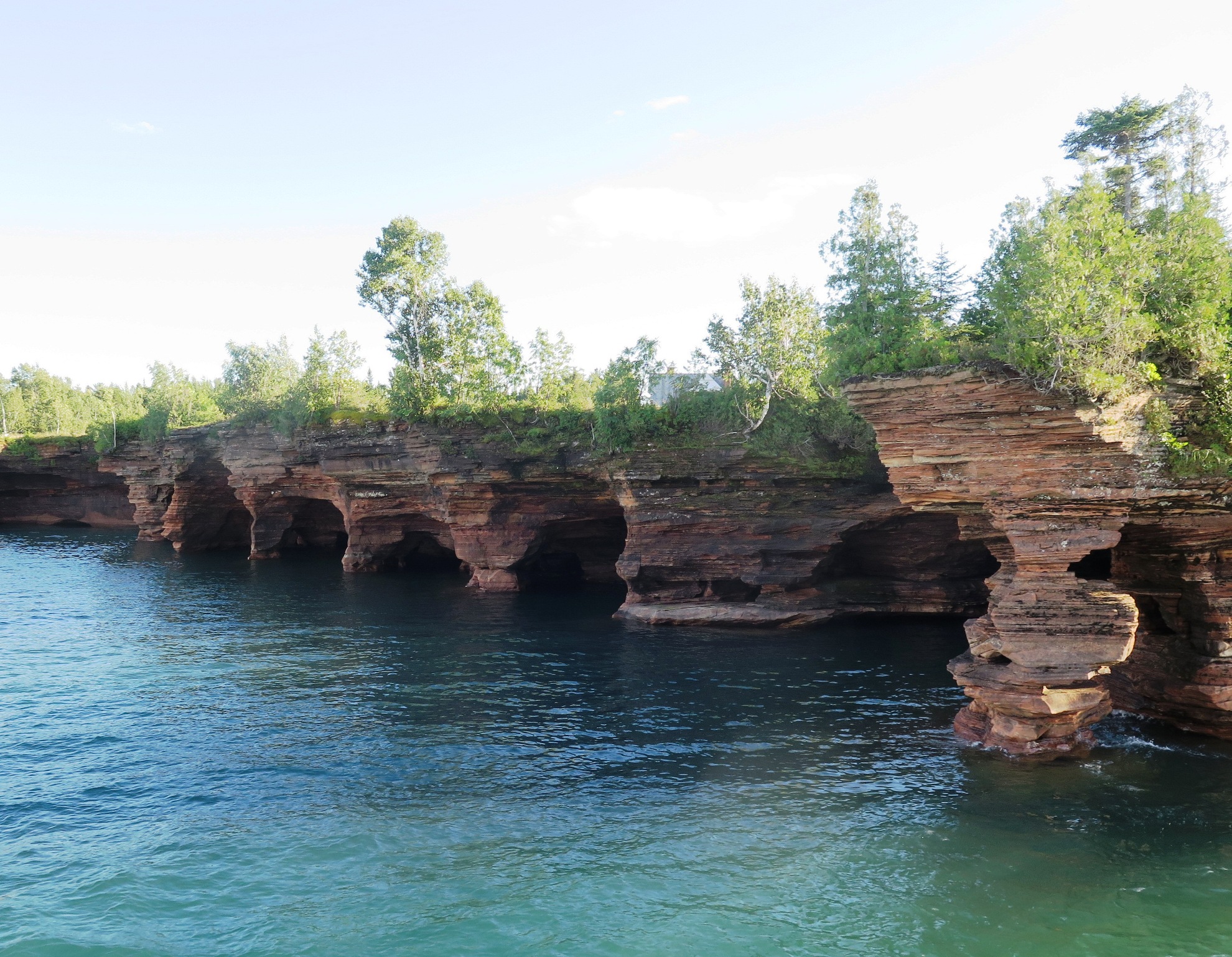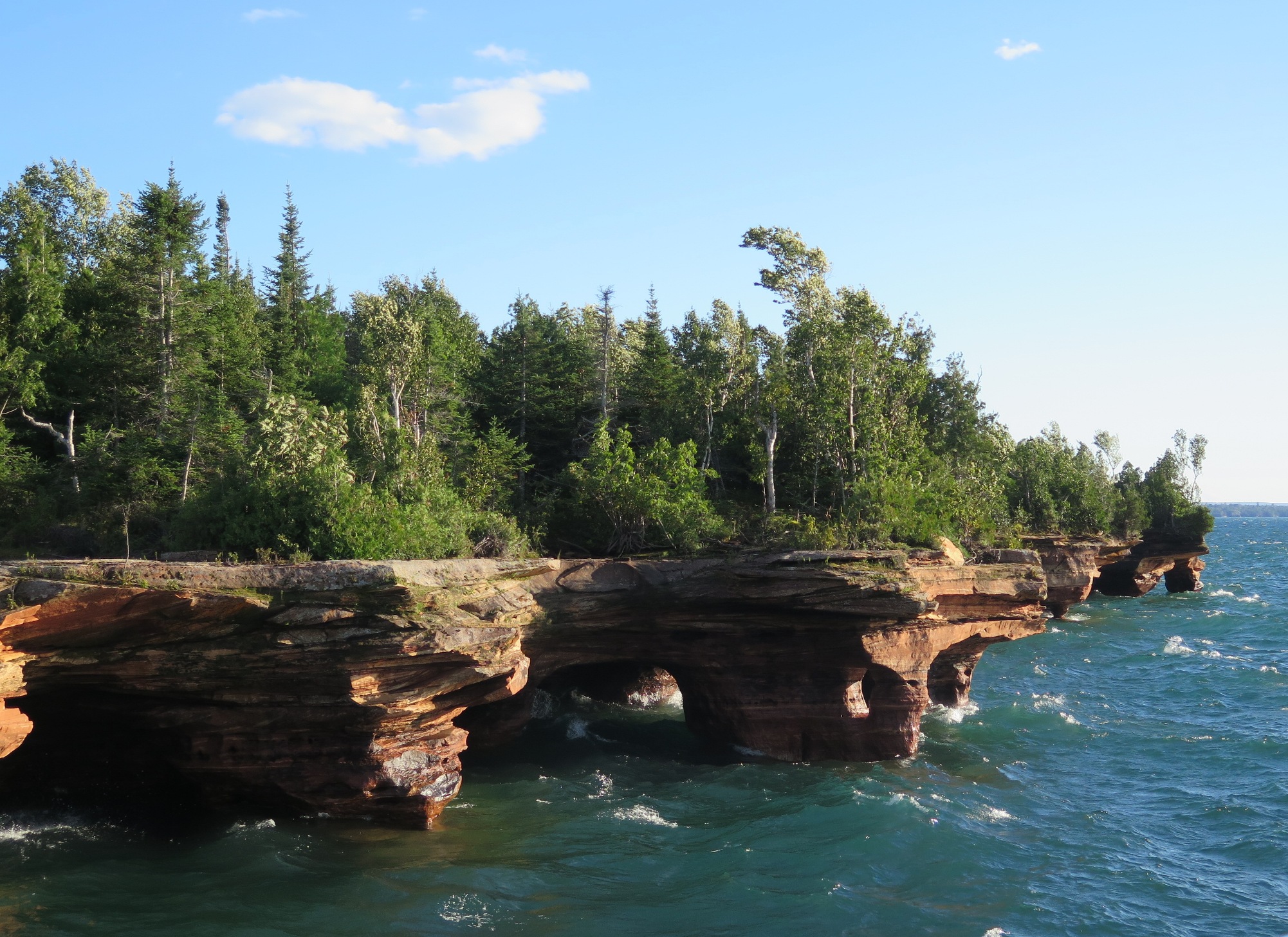 Naturally there's a lighthouse here at the northernmost exposed spot in the Apostle Islands.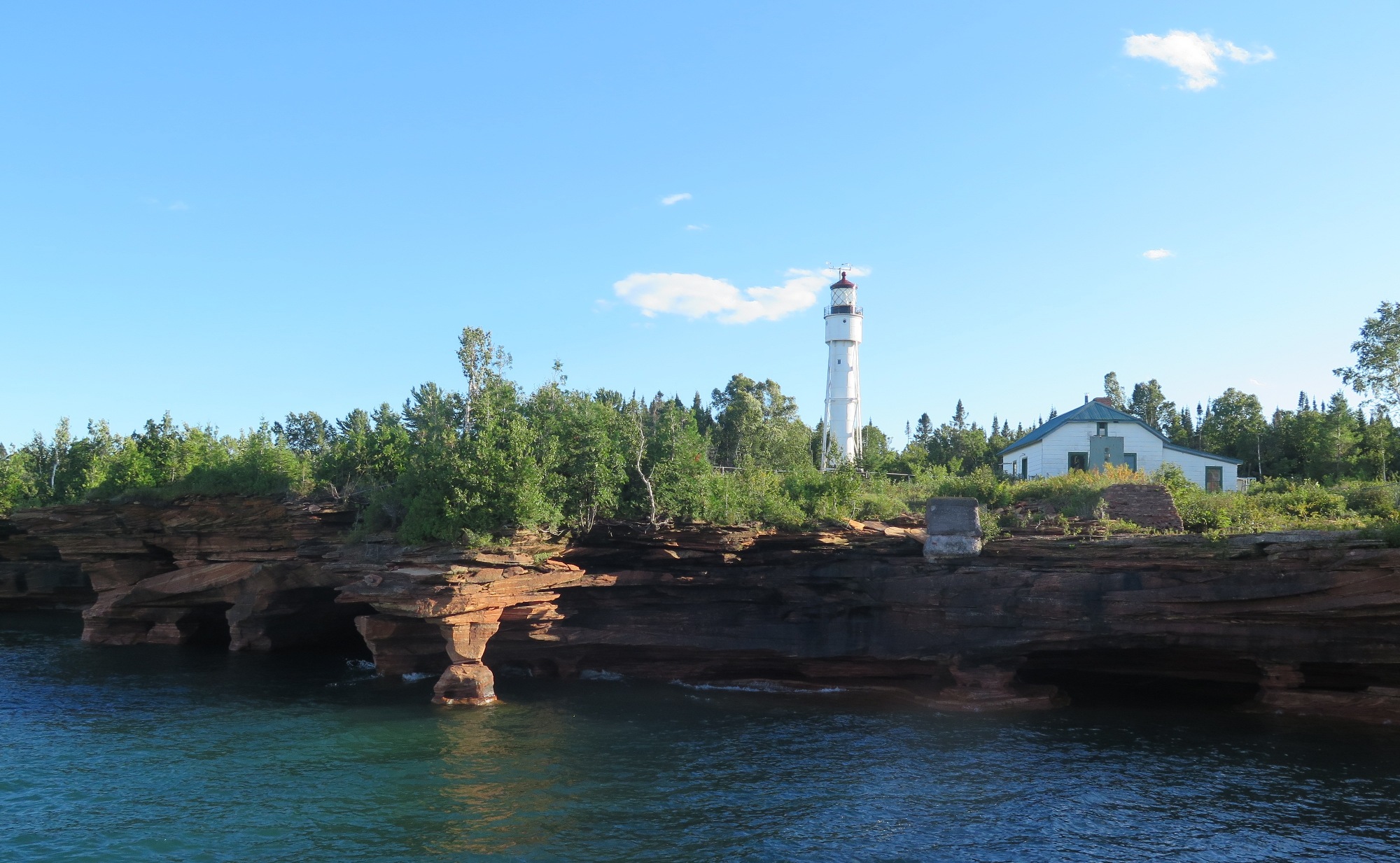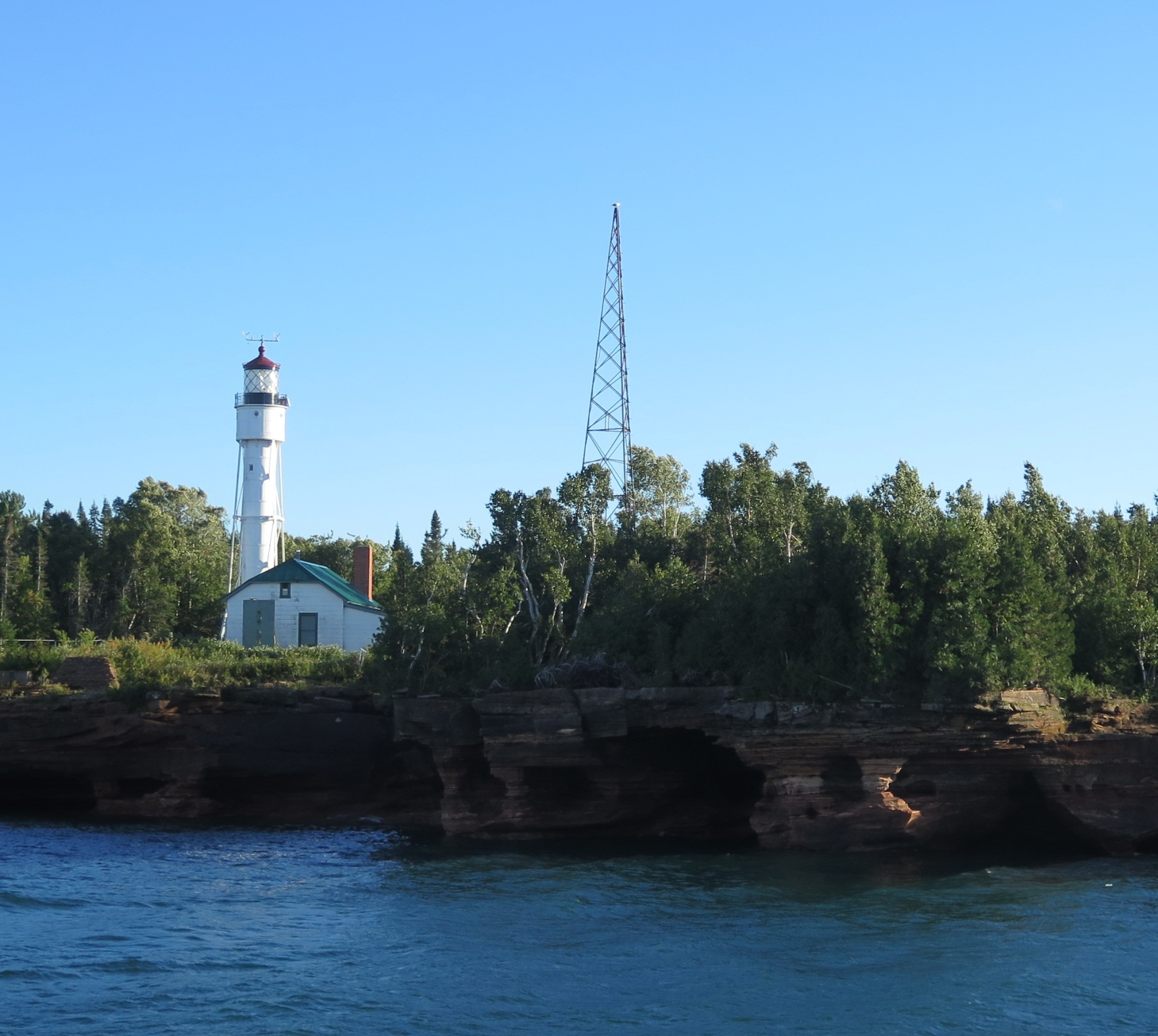 Kayaking would be amazing here but it's 12 miles offshore. In normal years there are sightseeing tours to Devil's Island. Whether you can bring a kayak and have enough time there to use it I don't know.
Raspberry Island lighthouse:
We could not get another reservation at Bayfield Inn for the Friday start of Labor Day weekend, but we did eat dinner there and got an extra 43 miles of charge to give Saturday's drive south more breathing room. Sept. 2-5 gave us a taste for what it was like for the true early Tesla adopters 5-7 years ago.
The Houghton Point kayaking was at 11AM Saturday. It was a gorgeous day. so we did not need to wear our scuba wetsuits. We passed by this sea stack.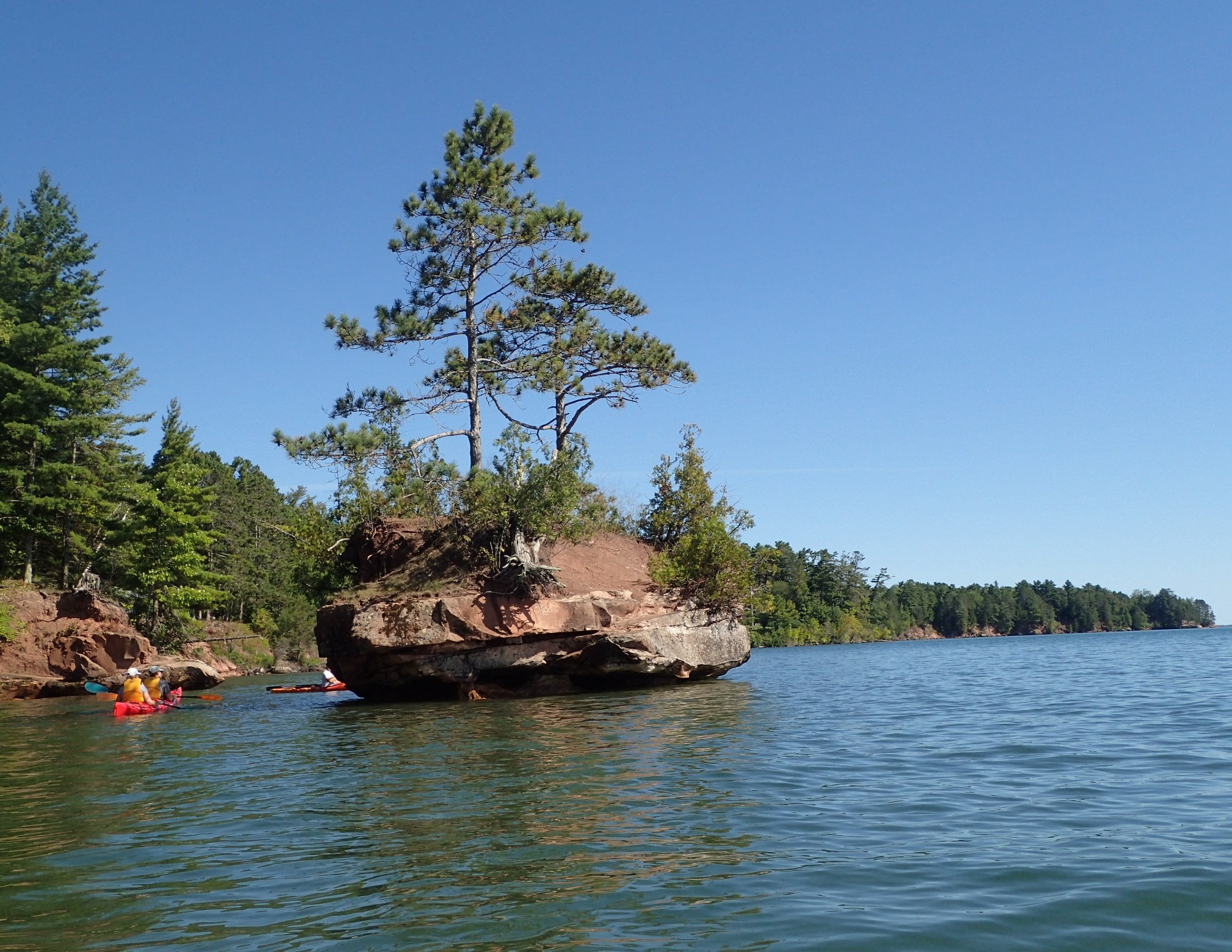 The first cave was a short but narrow slot and we were one of the first to get there.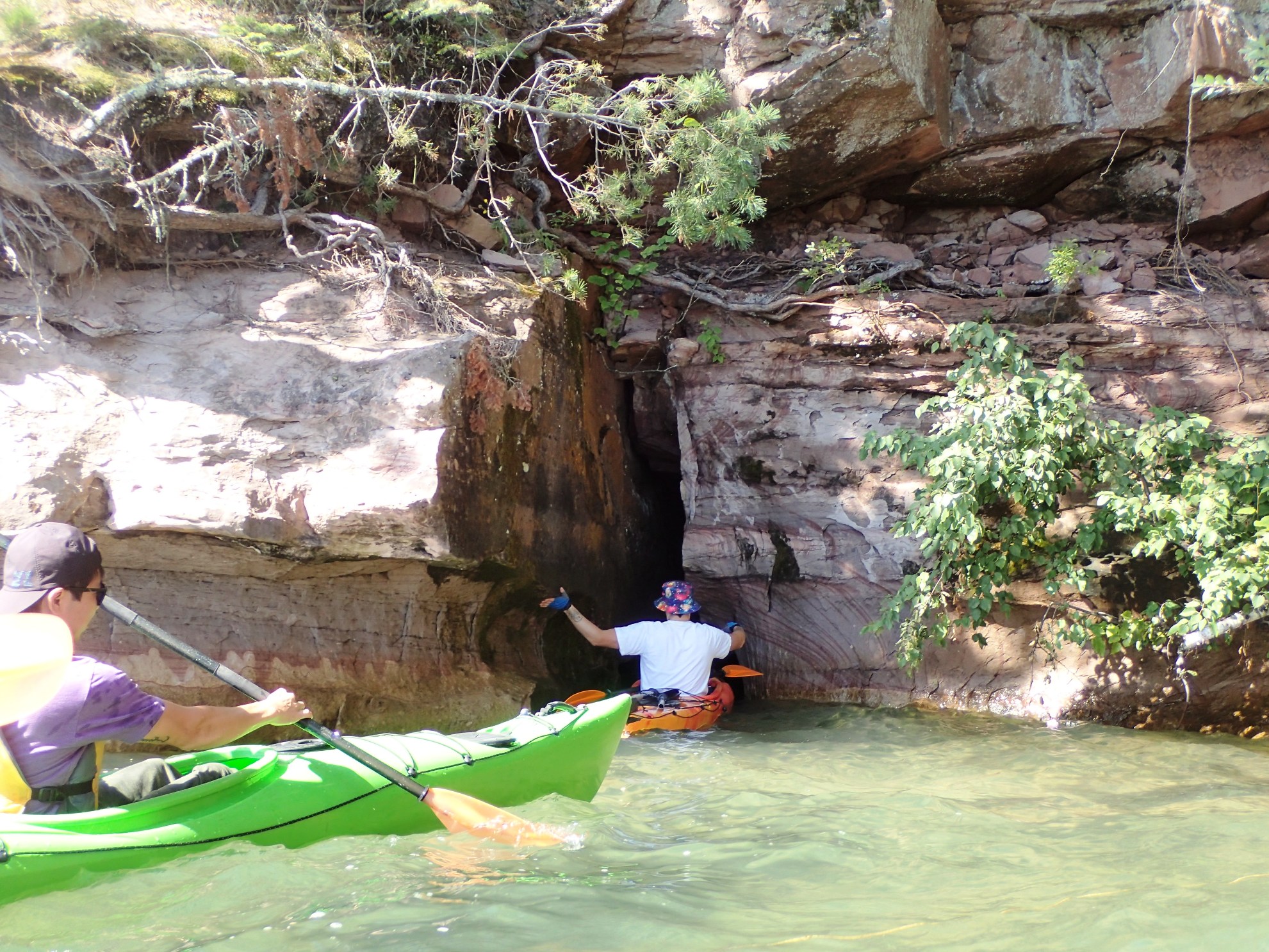 After we came out we had to wait awhile for the others to go in.
We were able to see through this low gap to kayakers inside.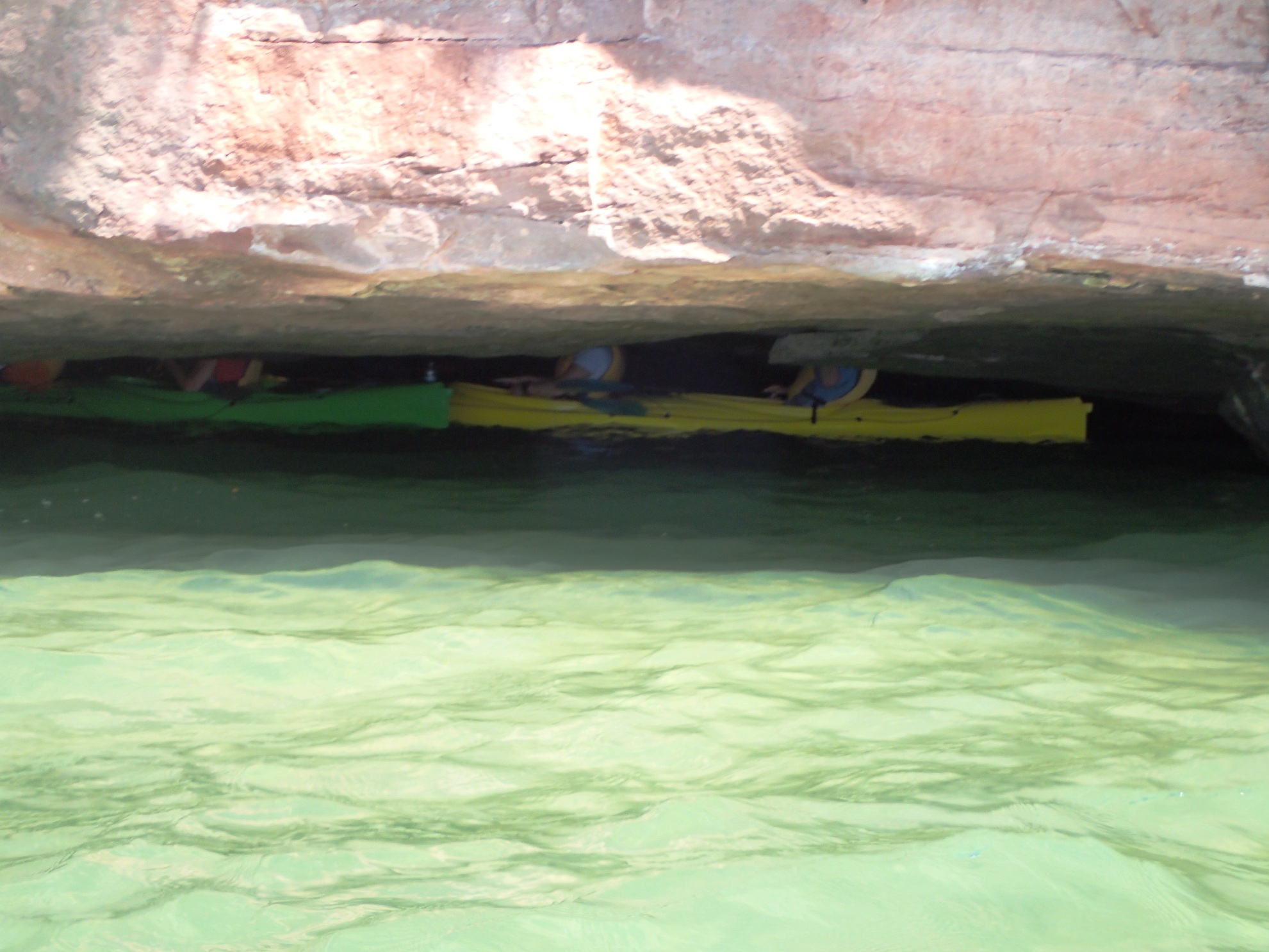 We managed to fit through this too.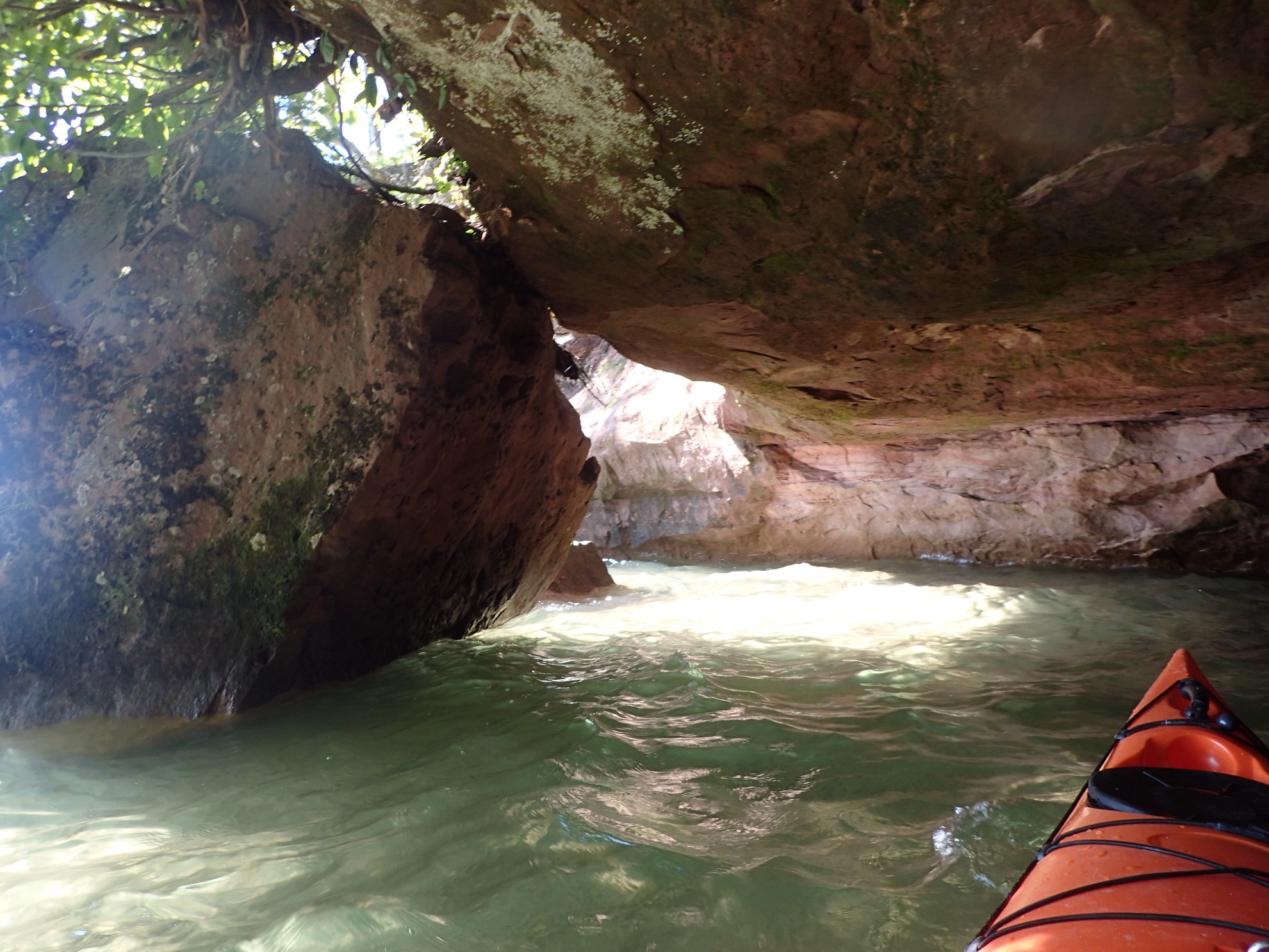 There was one broader cave.
After we got back I took a dip in the 58 degree lake.
Admin's video from his week on the Bayfield Peninsula
The last 10 minutes are kayaking the Mainland Sea Caves.