Administrator
Staff member
On Monday Mar. 20 I rested in a Driggs hotel while Liz skied Targhee. We moved on to West Yellowstone and my fever was much diminished that night. However both Liz and I tested COVID positive early Tuesday morning. Liz developed chills and exhaustion right away on Tuesday, so I drove to our Big Sky Village Center lodging for the next 4 nights and Liz crashed there. I got Paxlovid prescriptions for both of us starting late Tuesday afternoon.
By latest L.A. County guidelines we read that patients are rarely infectious once free of fever without suppressant drugs (aspirin, Tylenol, Advil) for at least 24 hours. So I stopped taking Advil when I started Paxlovid. Liz needed to take Advils through Wednesday due to quite severe headache.
After cloudy and snowy weather Monday and Tuesday, Wednesday and Thursday were mostly sunny.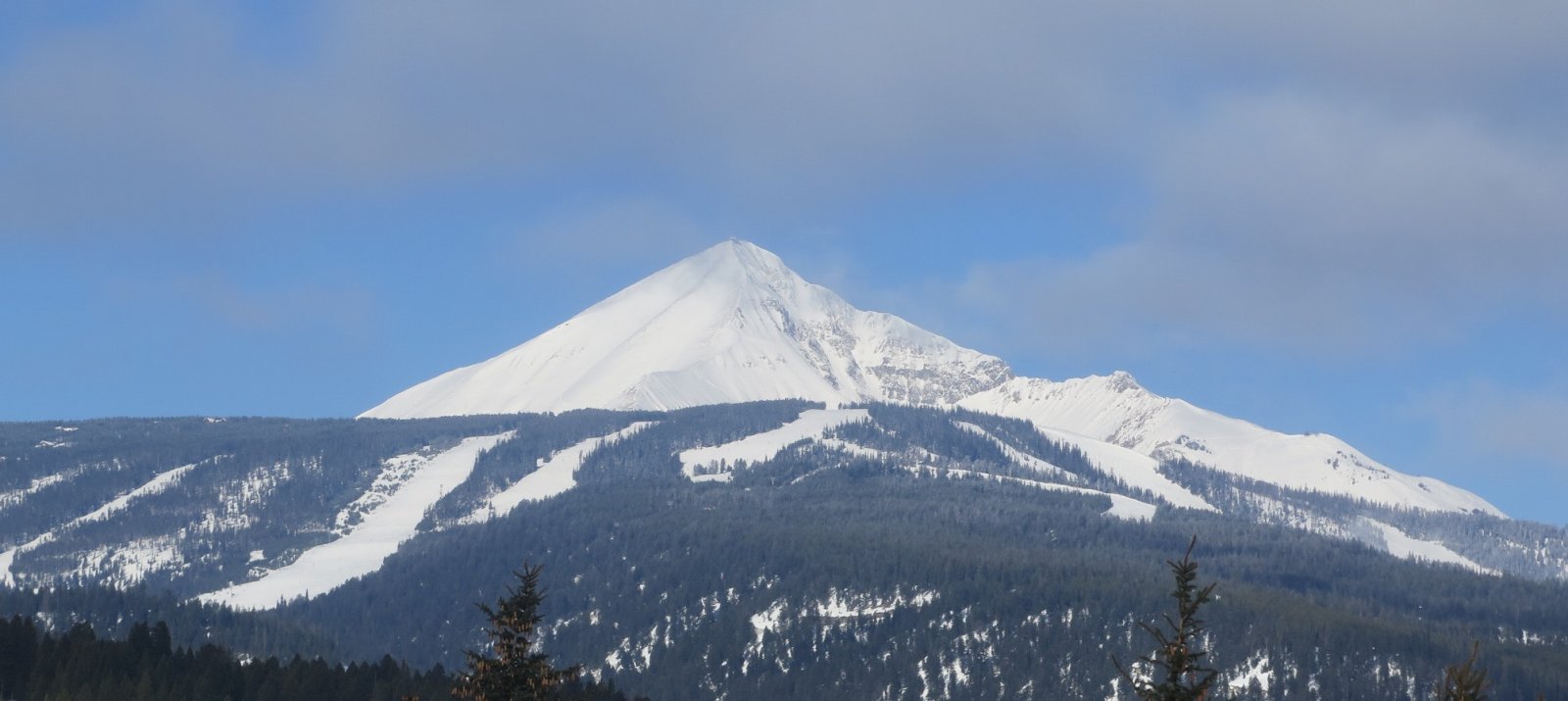 This was the view Wednesday morning when I drove down the road to Blue Moon bakery for takeout breakfast.
So I headed out for skiing a little before noon as I would presumably be most comfortable in the warmest part of the day. I wore goggles holding down a cloth face mask as during the 2020-21 ski season.
I started with Swift Current and Powder Seeker to check out the Lone Peak tram line for future reference. View of Big Couloir from there:
I counted 50 people in line and there was also a full stairway above the turnstile. That's a 4-bucket wait. A Big Sky host told me that if your Ikon Pass had a credit card link, you would be automatically charged the first time each day you use the tram ($60 midweek, $70 on weekends).
I moved on to Iron Horse and skied into the former Moonlight Basin, figuring north facing would have the best snow. I skied Elkhorn to the Six-Shooter chair. It was 15-20F but there was a slight breeze on Six Shooter so I needed to bundle up on that long lift. I took a lap on bumpy Lone Tree Face.
Next time up Lone Tree I took a nice cruiser on Lookout Ridge and Icehouse.
From Six Shooter there's a short hike to the Headwaters lift, serving some of the steeps visible here.
I could avoid the hike by skiing back into Big Sky and taking Challenger. Cross section of Challenger terrain from the lift:
I decided to take a lap down that as I heard little scraping/crunch from other skiers. This made sense as it was the first sunny day after a couple with some new snow.
Up Challenger again I skied into Headwaters Bowl. There were a lot of rocks near the top so I learned for the ensuing lap to take a low traverse in and follow the fencing. I traversed to the nearest chute Firehole.
Those three runs were enough challenge for my first ski day after two days out sick. So I ran two more Six Shooter/Lone Tree cruiser laps on Horseshoe and Trembler. I returned to our Village Center second floor ski-in ski out with 17,900 vertical in about 3.5 hours.
Wednesday I also learned that if you get on the mountain near opening bell and take the two lifts to the tram, you can get in a couple of laps before the line builds up. So that was my plan for Thursday morning. It all started well: early morning blue skies and I was on the second tram. The automatic Ikon link was not correct, but the tram operator put me on the phone to link into Big Sky's system without having to go down to the ticket office.
But clouds rolled in before I got to the top. In 3 past trips I've always skied Marx and Lenin in windbuff, but on Wednesday they had been skied in powder, which had set up overnight. Add flat light to the equation and it was a tedious and exhausting 1,500 vertical descent. View down from top of Marx: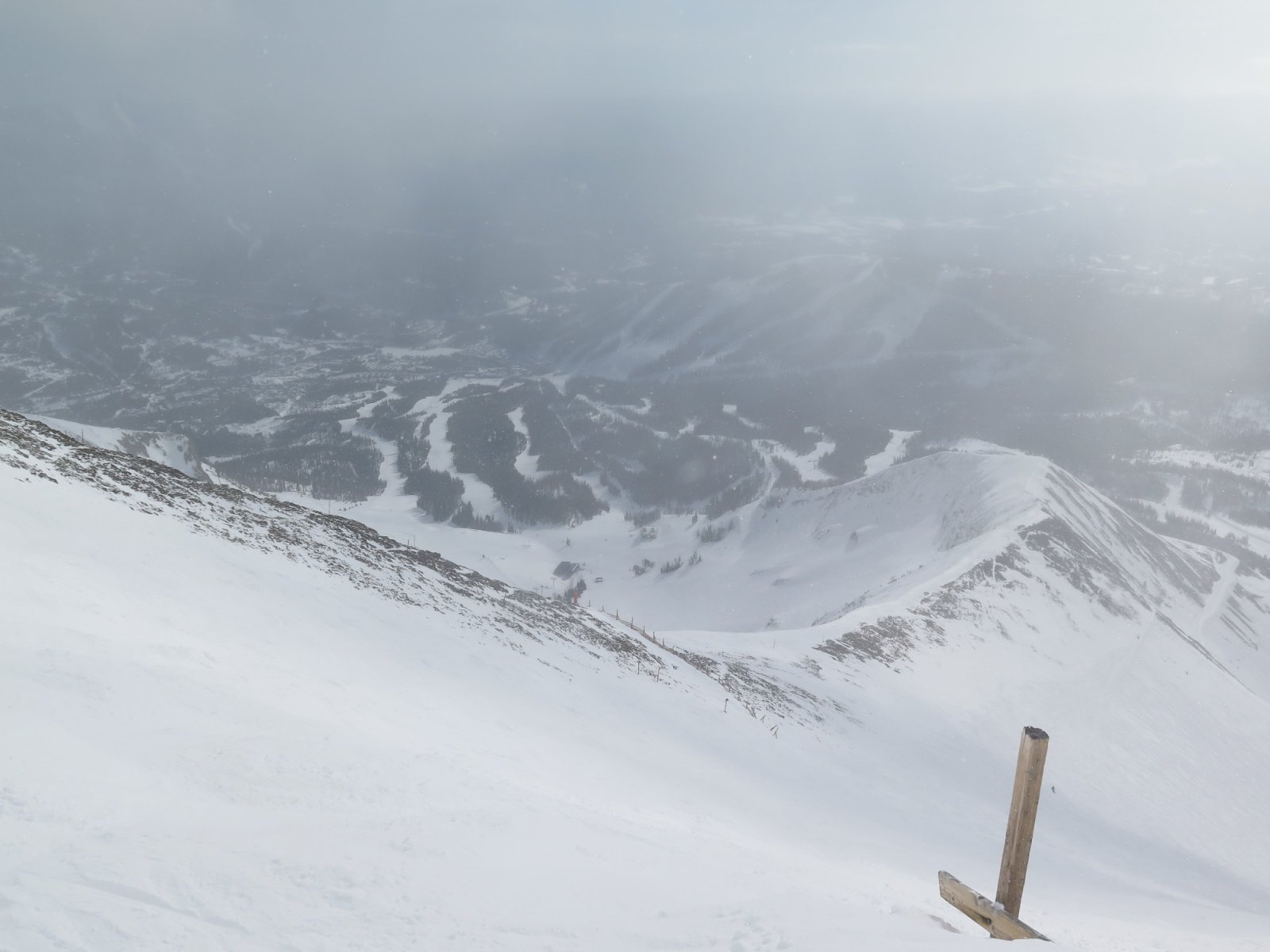 View back up about ¾ of the way down:
View west across Lenin and Dictator Chutes:
View south to top of Shedhorn lift and Yellowstone Club terrain in background: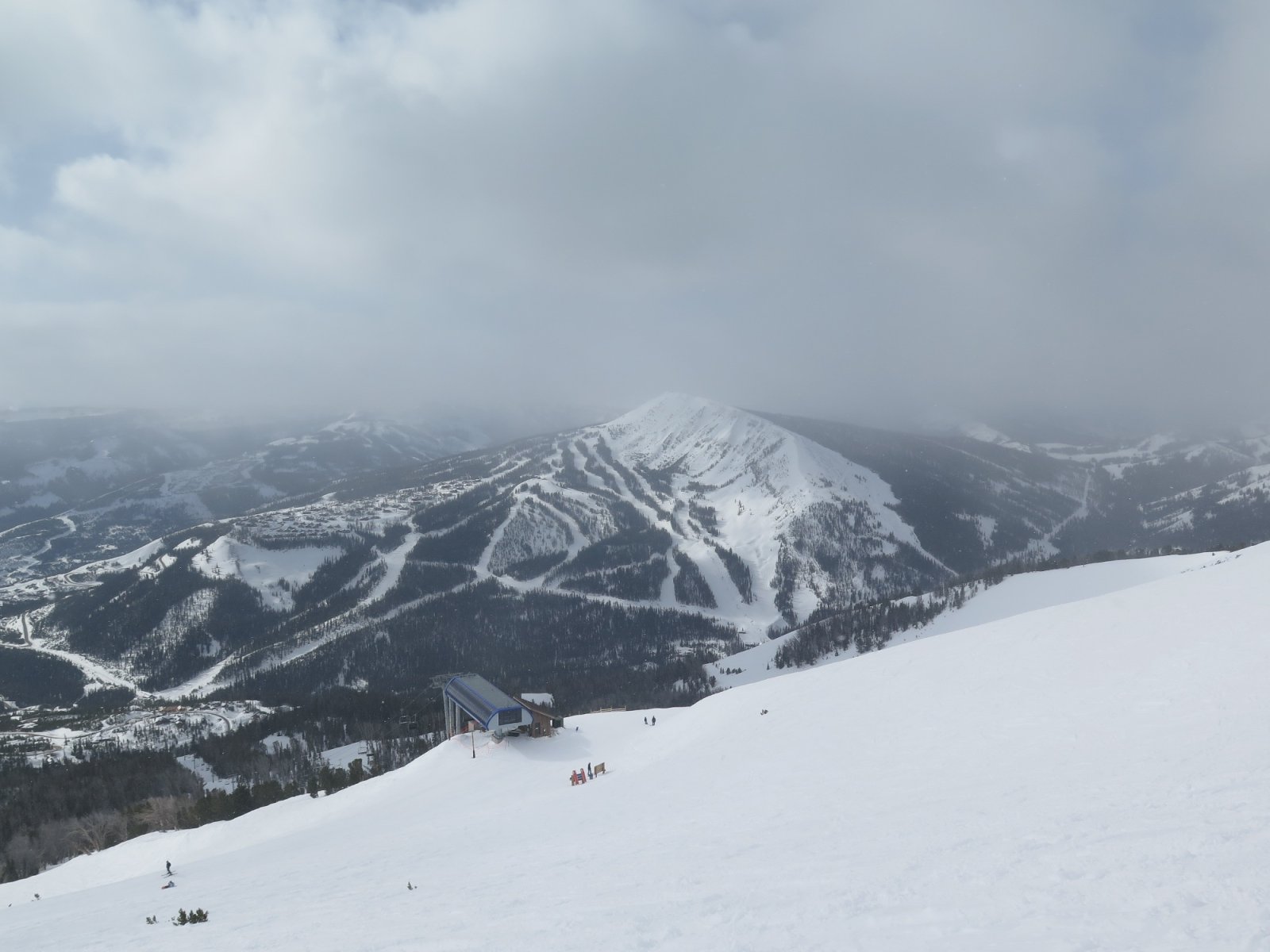 So that was an expensive $60 run. I had brought avy gear and hoped to ski the North Snowfields. But that was out of the question with clouds shrouding Lone Peak and my legs shot from the run on Marx.
Since my last visit perhaps Big Sky management fancies themselves being in France.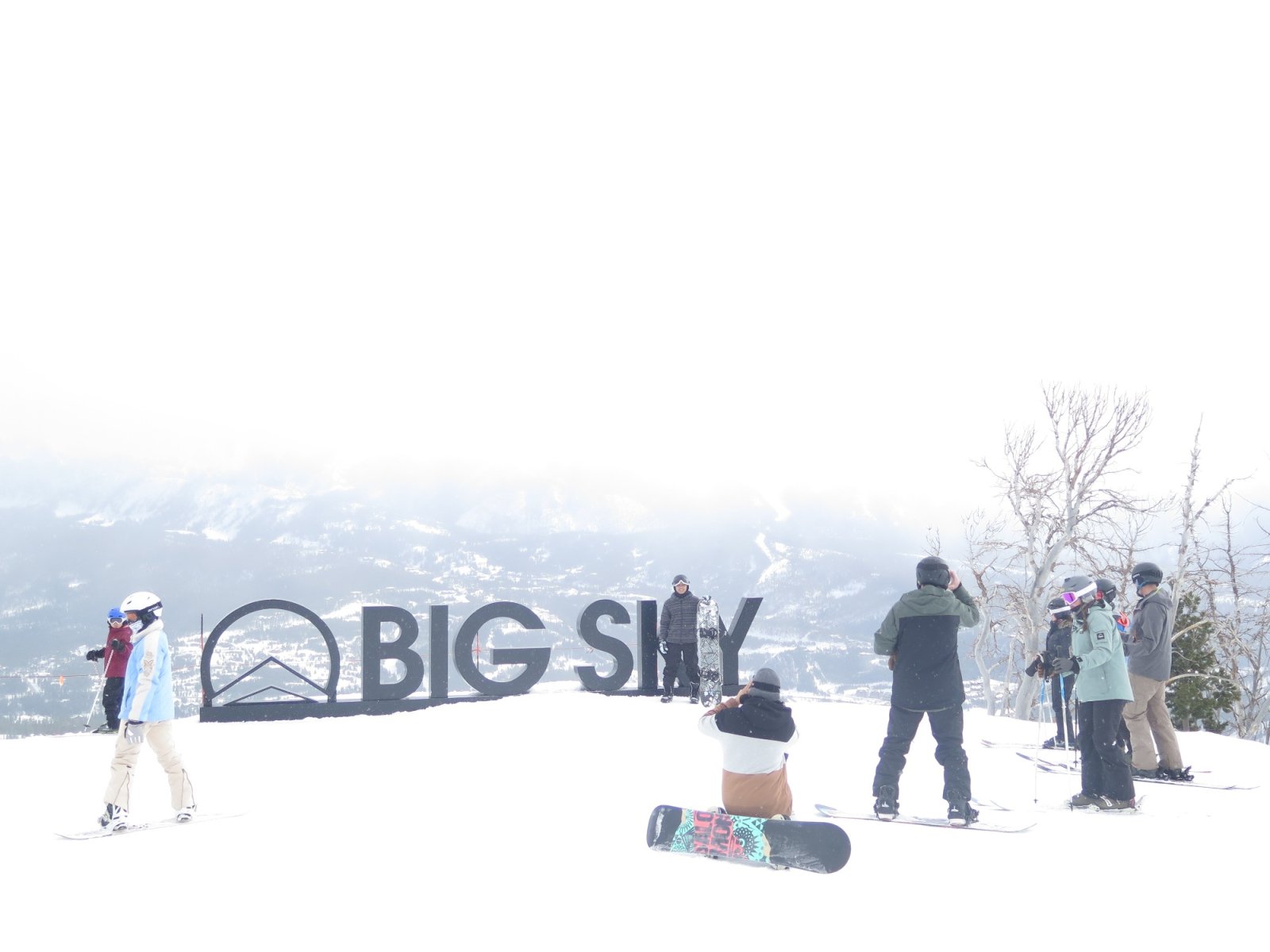 For the rest of the morning I contented myself with groomers on Ramcharger, Thunder Wolf and Southern Comfort. I quit by 1PM with 16,000 vertical. I had never planned to ski Thursday afternoon as I drove into Bozeman for the
Bode Miller Peak Skis interview
. Naturally it cleared in the afternoon, though I'm sure tram waits then were as long as on Wednesday.
The Paxlovid worked effectively on Liz too, so she was ready to ski Friday. However the weather was cold, overcast and intermittently snowing. One of the Ski Hall of Fame offerings was an 8AM early ups with Chris Davenport and Shannon Dunn. Big Sky early ups are on the Ramcharger lift, but on this particular day there was an electrical failure so Ramcharger did not open until 9:30. We later got refunded the $40 early up charge, but we did get chilled waiting around for an hour in the snow. At least during that hour we learned that Chris Davenport has a knee replacement, another source of inspiration for Liz this May.
There was 3-4 inches new reported and we were in position to get on Swift Current near opening bell 9AM. That was a fun run at high speed on the new snow over groomed. The new snow was very light so if you got too close behind someone you would get sprayed over the head with the powder.
There was a short break in clouds waiting to load Swift Current a second time.
I figured we should get to the Moonlight side as fast as possible. After riding Iron Horse, Six Shooter and Lone Tree, Liz and I put the second and third tracks on Lookout Ridge and Icehouse.
Snow was very similar to the Swift Current run but without the Chinese Downhill effect. By now Liz was seriously cold and had to go into the Madison base. She never got completely warm and so headed back after half an hour or so. But she got the best of the day with those two powder over groomer runs. I tried two more Lone Tree laps. The groomers were skied out and the diversions I tried became closed out trees or badly exposed bumps with a crunchy subsurface.
I left Moonlight, crossed to Ramcharger and reconned the Spanish Peaks/Montage resort lifts beyond Southern Comfort. I returned to Village Center after 1PM with 19,400 vertical, about 4K of powder. I was again conserving energy. Friday evening was the Ski Hall of Fame Induction dinner we were attending. By the time of that event Liz had been 48 hours since last fever symptoms and I finally had tested negative.
Saturday morning we had to check out and the latest we could get was noon. It had snowed another 3 inches and weather was worse than Friday as the cloud layer was lower with ongoing snow. As of 10:30AM Shedhorn, Powder Seeker, Challenger, Headwaters and Lone Tree had still not opened. Liz persuaded me to start up Ramcharger just after 9AM. Once there we waited 5 minutes for the rope drop to Thunder Wolf. First run on Bighorn: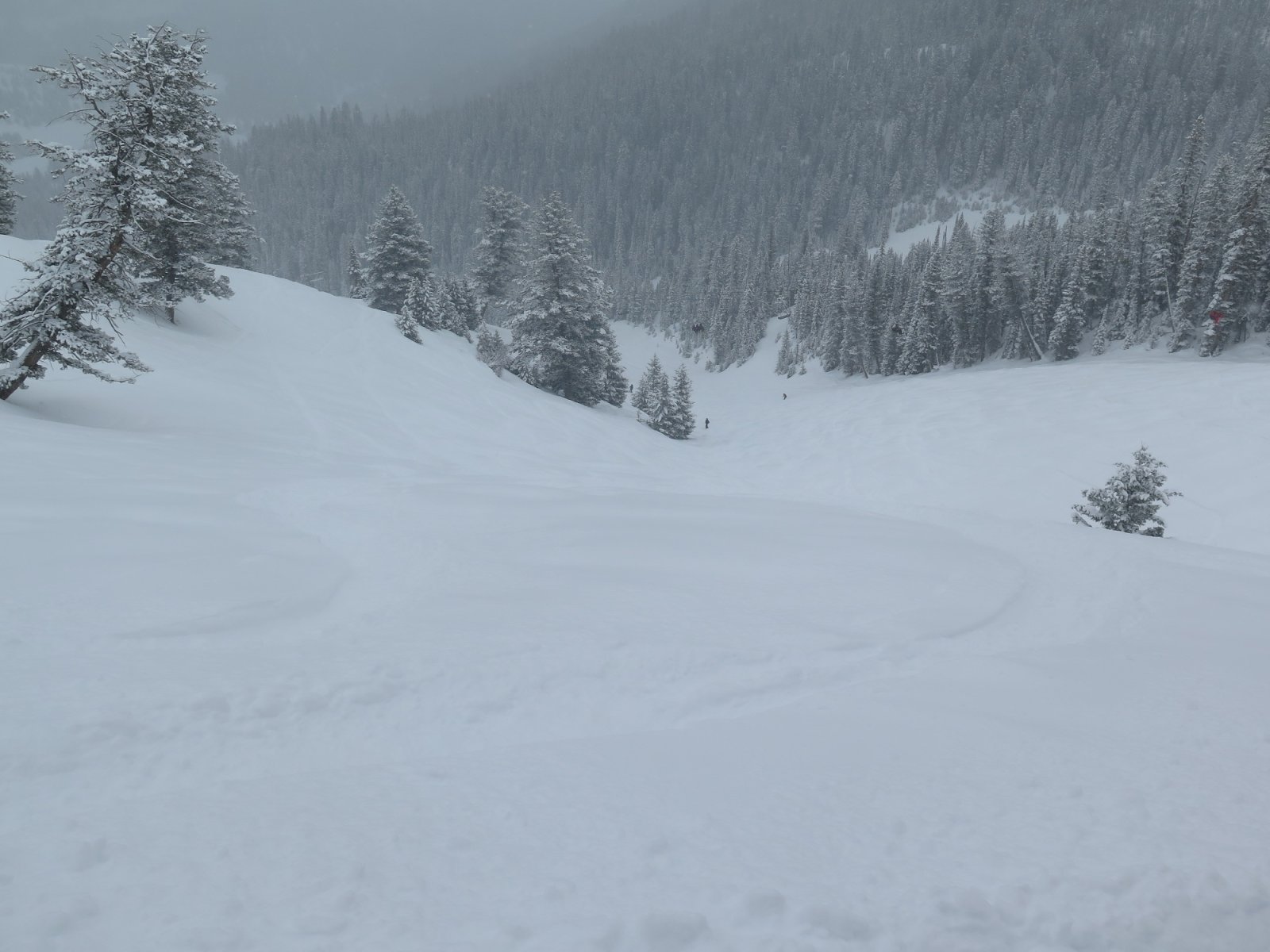 Snow was a bit heavier than Friday morning due to Thunder Wolf being Big Sky's lowest lift, but it was still first tracks! We got two more runs in Elk Park Meadows.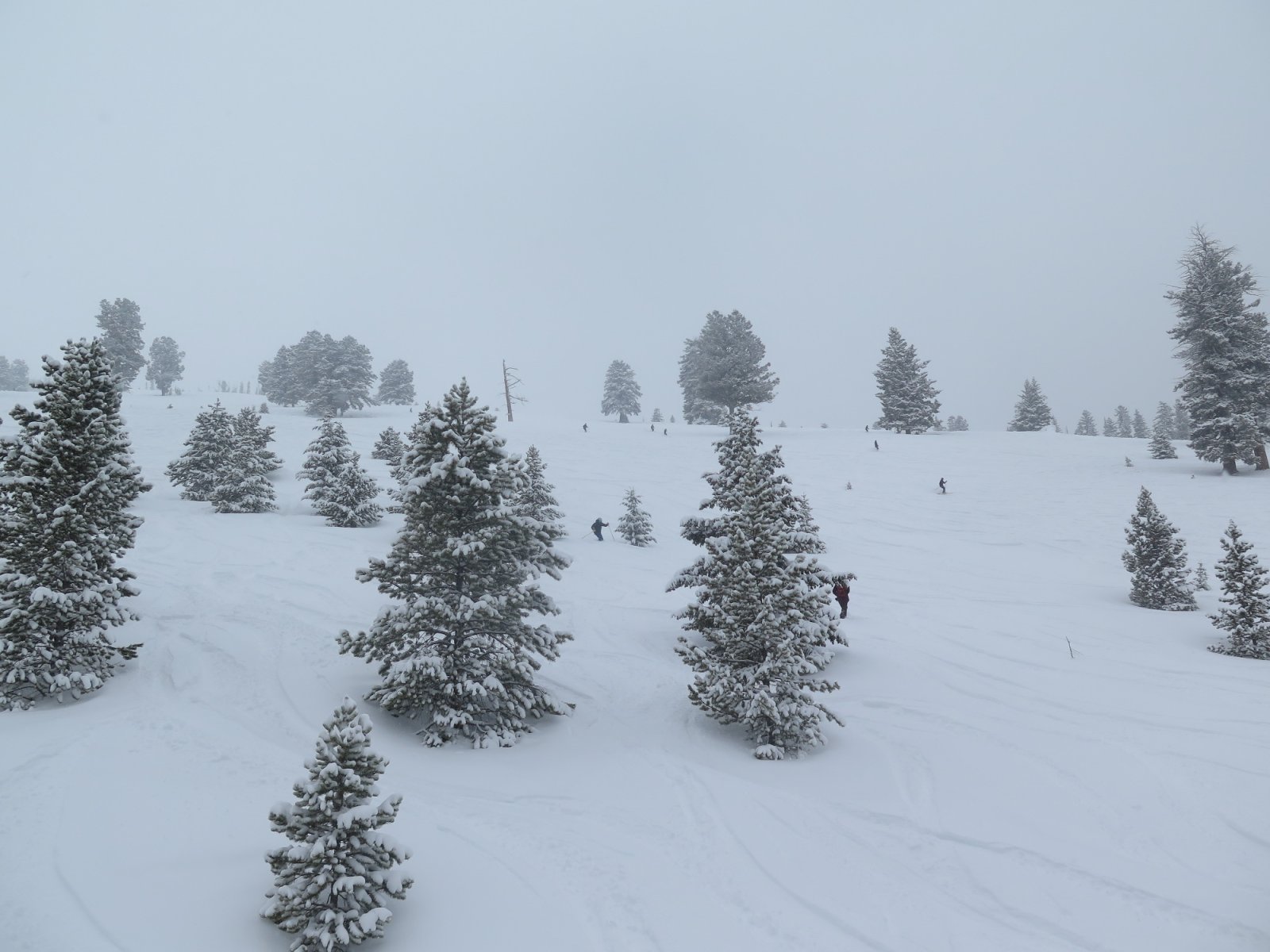 This area spreads out a lot. It was more work as there was an irregular subsurface from the ungroomed SE exposure, but they were still mostly powder turns. Liz was exhausted after that but I continued to scrouge near the edge of the mellow Southern Comfort runs and occasionally in the trees next to them when there was adequate spacing. On the last run along Deep South I was in the trees bordering the Yellowstone Club.
There were a couple of YC houses visible not far off the Deep South trail. I skied back to Village Center, cutting the Pacifier switchback with one last powder shot in the trees. I quit at 11:30 with 10,500 vertical, about 7K of powder.
We got on the road by 1PM for the next several days of skiing James-type areas in Montana.
Last edited: