I had an exciting crossing of the US in my Subie this past week. Left Wash DC area at noon on Jan 17. Was originally planning to drive I80 to my destination in UT, but a big storm predicting 15-20" in Neb and 5-10" in KS made me call an audible and I headed towards Indiana and I70. On Jan 18 I got as far as KS-CO border when I ran into a 16 hour closure of I70. Amazing what havoc a 6" storm can cause when blowing sideways out on the great plains.
I attempted to partially bypass the closure and took hwy 40 west for about 90 dark and stormy miles until I got to a small town called Cheyenne Wells. It was 8PM and all roads out of Cheyenne Wells were closed. Fortunately the one obvious motel in town had an available room and I spent the night there, glad for it! Next morning, Jan 19 the roads and visibility were much better and I drove 4 hours and skied a PM session at Copper Mtn. Spent the night in Silverthorne Quality Inn. Next morning Jan 20 I skied an AM session at Copper and then drove 7 hrs to SLC in the PM.
Jan 19, hwy 40/287 west of Cheyenne Wells
Jan 19, Carnage on I70 about two hours east of Denver. I saw dozens of wrecks from the day before on the stretch of I70 from Limon to Denver. In fact the eastbound lane was closed for many miles to allow removal of the many wrecks in the center island.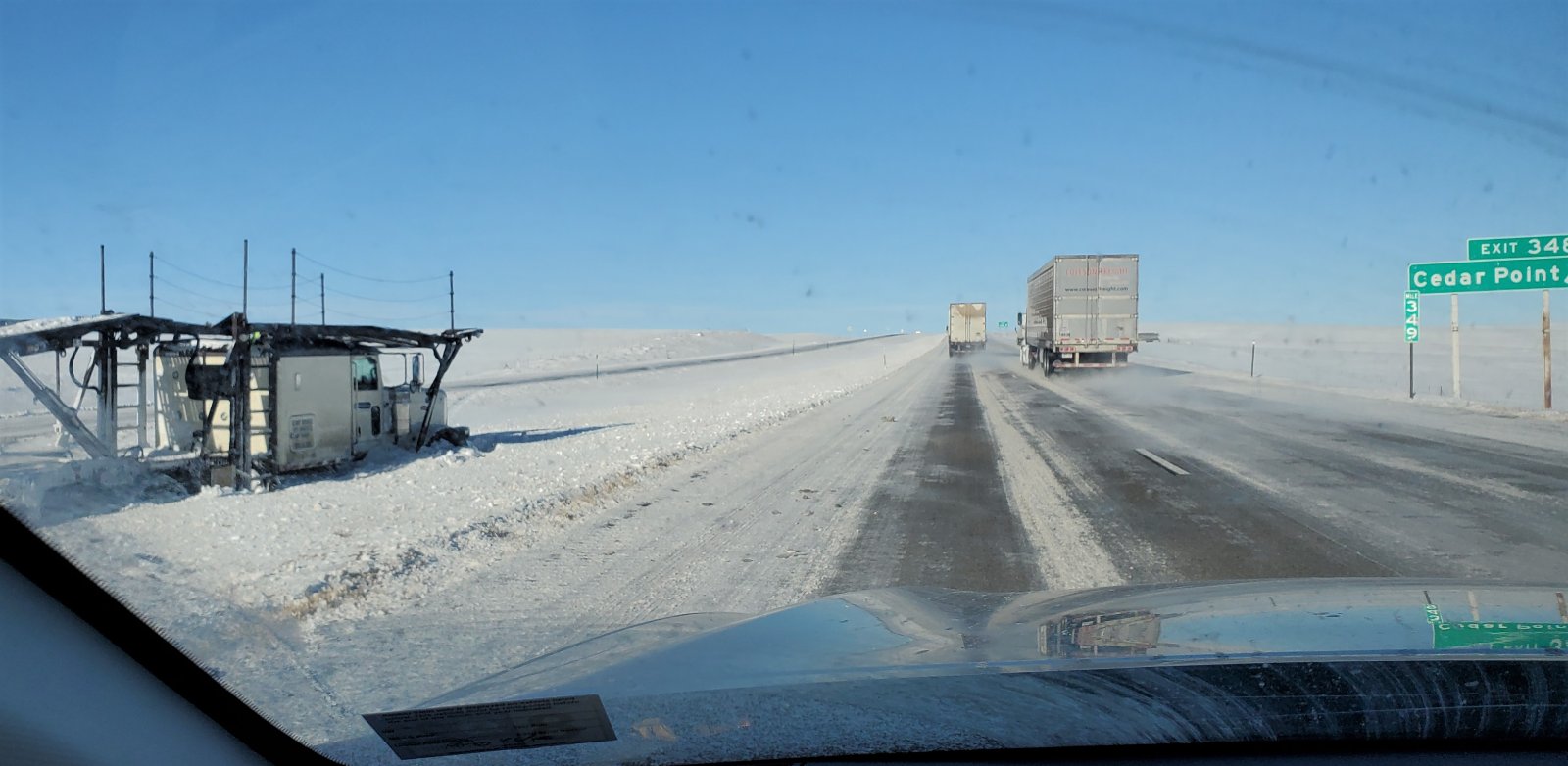 These (Jan 19 and 20) were my first two ski days of the season. I'd been dealing with a medical situation over the last month+ that finally got resolved (kidney stone and extraction thereof). Conditions at Copper were terrific from my mid-Atlantic perspective. I stuck pretty much to groomers across the wide front side of that mountain as I was not in good ski shape. Also, the altitude at Copper is tough for me coming from sea level. Weekday crowds were robust, but not grossly unpleasant. The free parking in Alpine Lot and shuttle bus from there to East Village works well. I have an Ikon base pass that I used to ski Copper.
It was a bit chilly during my days at Copper and I rode inside the chondola a few times to warm up. Believe this chair/gondi pairing is part of the American Flyer lift line There are about four really long frontside chair lifts at Copper that each seem to give you about 2000'+ vertical.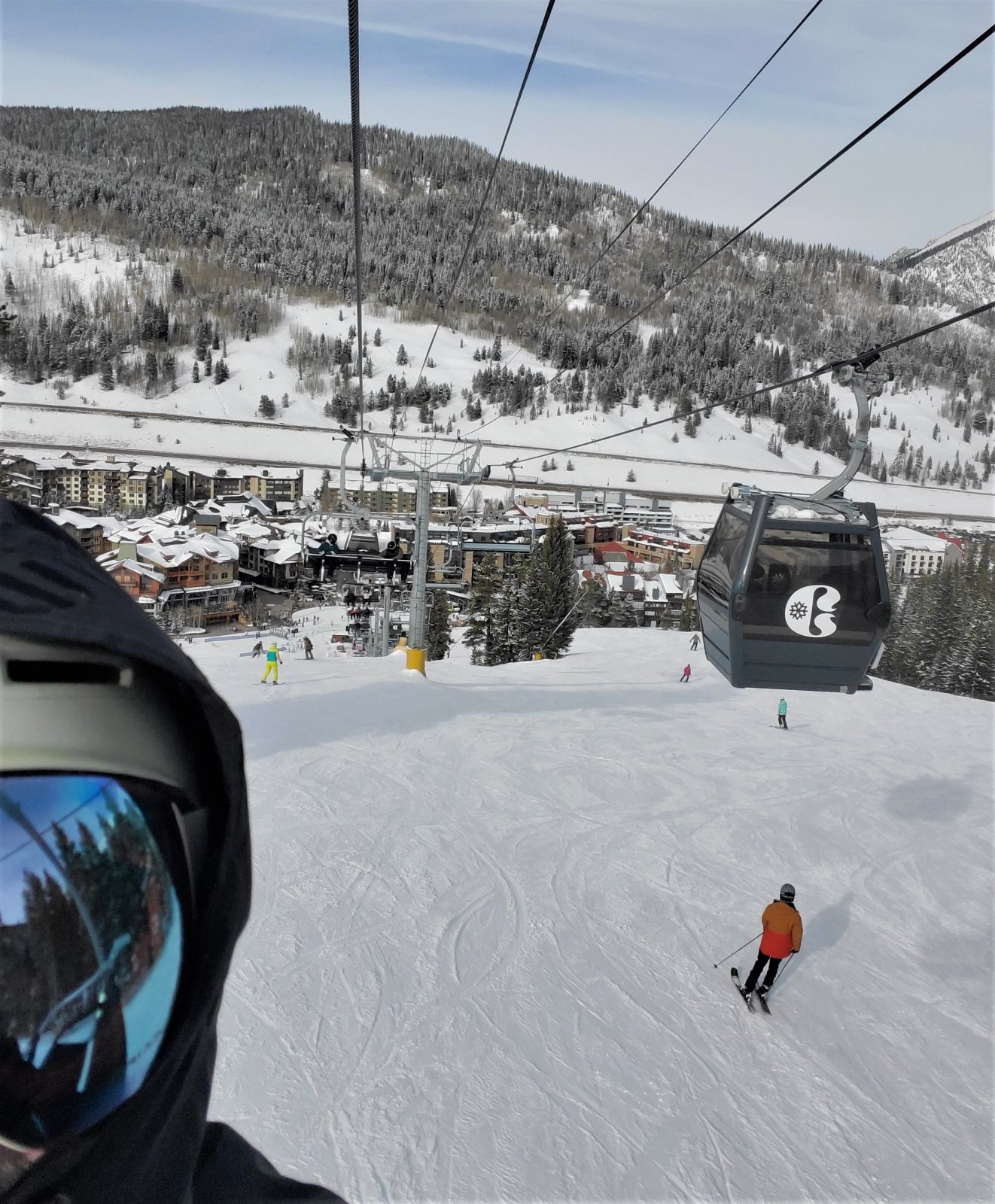 Copper is huge with lots of skiable acreage. I didn't even get into all the back bowls this visit, but am somewhat familiar with them from a visit last year. Also, Copper may have the most impressive park and pipe scene of any place I've been to in the last ten years. I'm too old for that stuff, but I'm sure the Woodward connection/infrastructure at Copper makes it a mecca for those who are.
Since my visit to Copper I've skied four straight days at Snowbird, UT. I'll try to do a quickie report on it next. Conditions superb there too.