Administrator
Staff member
I have now added some details and pictures of my stops along the way.
jasoncapecod":m14jswxz said:

I assume you drove the Tesla from Cali to Fla.. How did that go? Any range anxiety?
If range anxiety means "Where can you drive in a Tesla within easy range of the supercharger network?"
This map
shows that coverage by now is quite comprehensive. You can click on any charger and see details:
1) Date opened
2) Max charge rate, usually 150kW, but some urban area chargers 72kW and the new v3's 250kW.
3) Circle On will display a drive radius (toggle desired distance at the upper left).
4) Red dots are active, yellow cones under construction and blue dots permitted but no construction started yet.
The Trans-Canada highway between Ontario and Alberta went live Dec. 20, 2019. Some interior B.C. and Montana gaps are being permitted. From a ski perspective SW Colorado is still deficient. They need Montrose, Pagosa Springs and Durango. The Big Bend and Carlsbad National Parks are too far from the I-10 and I-20 chargers. In some of these remote places (Telluride for example) you can charge overnight at a similar rate to home charging. I did this during the ski day at both Alta and Snowbird this March.
There are 5 factors that reduce range, and unfortunately all of them affect skiers.
1) High speed: you lose about 9% for every 5mph over 60mph.
2) Cold weather: Range starts decreasing below about 50F. I've read 13% at 32F, 25% at 15F, and probably 40% at 0F.
3) Long distance: You get 200-250 miles to start the day with a full charge, but you're stopping every 90-130 miles after that for the most efficient charging. I'll get into more details of that discussing the recent trip.
4) Climbing hills: You lose 10 miles of rated range for every 1,000 feet climbed. You get 6 miles of that back coming down. For a 50 mile one way drive 7,000 feet up the Angeles Crest I used 124 rated miles going up and zero coming down.
5) Remote areas like SW Colorado with inadequate supercharger coverage.
In California 1) and 2) tend to be offsetting. To be cold in California you need to be high altitude and that generally means driving mountain roads at 45mph or so. Just as you lose range above 60mph you gain range below it. But if you're driving on an Interstate when it's 15F your range will probably take a 40% hit.
My 2016 Model S had 272 rated miles when I turned it in June 2019. Supercharging was max 6 rated miles per minute but decreased to 4 at 140 rated miles, 3 at 180 rated miles and 2 at 220 rated miles. My 2019 Model S (current rated range 352 miles) charges at a max rate of 8 rated miles per minute and is still 6 at 180 rated miles and 5 at 220 rated miles. FYI the lighter Model 3 with a newer battery design has a max charge rate of 10 rated miles per minute.
For those 90-130 mile legs between chargers I like to charge to 180-220 rated miles for a comfortable margin. You can see this would take much longer on the old car and that's why I never drove that car farther than home to Reno in one day. My drive to Iron Blosam requires about 2 hours in charge stops but it would have been 3.5 hours in the 2016 car.
So here are the summary stats for the drive days on the recent trip:
May 29
: Home to Las Vegas 273 miles. This required a 10 minute charge stop in Baker in March but this time it was 111F in Baker, so the chargers were temperamental and it took 20 minutes.
May 30
: Las Vegas to Eagle CO 653 miles. The first leg with a full charge was 237 miles to Beaver with 4,000 foot elevation gain. This day required 92 minutes in charge stops, of which 48 were at a lunch stop in Richfield, Utah. Total elapsed time was 9 hours 45 minutes with average speed while driving of 79mph.
On June 1 I skied Arapahoe Basin.
On June 2 I drove a scenic loop through Leadville, over Independence Pass, then back to Eagle via Aspen and Glenwood Springs.
June 4
: Eagle, CO to Wichita, KS 654 miles. The first leg was 325 miles to Goodland, KS where I had a 51 minute lunch stop. I was then able to drive 237 miles to Salina, stopping half an hour there before continuing to Wichita. Total elapsed time was 10 hours 15 minutes with average speed while driving of 74mph.
I stayed with a college classmate who is now operating the Maple Grove cemetery, which his father ran when he was growing up. There's a Civil War memorial encircled with graves of Union veterans such as this one.
This prompted me to research that Andersonville would be a modest detour on my final drive day. Other Civil War graves included a Medal of Honor soldier and a Kansas police chief of a town Lincoln visited in 1859.
On June 5 we drove to the Cosmosphere museum in Hutchinson, which has comprehensive exhibits from the Space Race and early rocket developments. That includes German V1 and V2 rockets.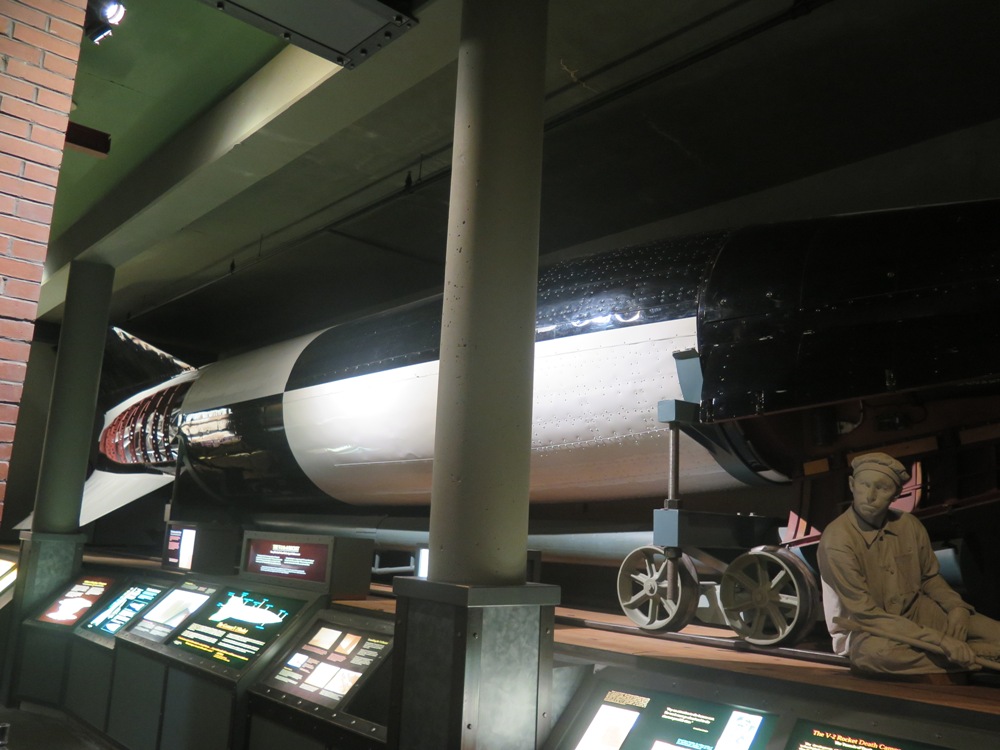 All of the US space missions are documented in numerous exhibits. Gemini X:
Apollo 13 command module:
The shell was returned to the USA from a museum in Paris and internal parts and controls had to recovered from many places.
Full scale lunar module used for training in Houston:
The others were abandoned in space.
Saturn 5 rocket engine salvaged from the Atlantic:
This museum also salvaged Gus Grissom's sunk Liberty Bell Mercury capsule but that was on tour.
For someone who grew up during the Space Race, I was particularly interested in the details of the Soviet program which were kept secret at the time. Chief Designer Sergei Korolov's identity was not disclosed until after he died in 1966.
Volkhod space capsule with airlock extension used for spacewalks: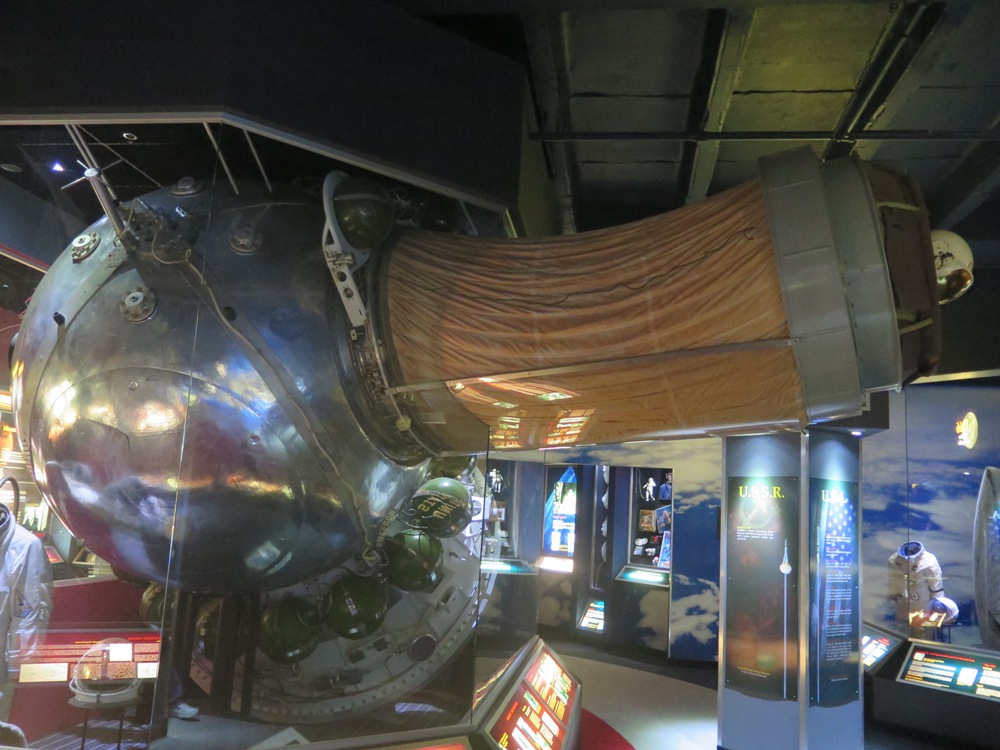 Most early cosmonauts ejected from their capsules about 20,000 feet and parachuted to earth.
June 6
: Wichita, KS to Osage Beach, MO 290 miles. This was all on the secondary route Hwy 54 and I needed to stick to the 65mph speed limit in order to make it with no chargers on that route. If I had a lower range Tesla I would have needed to divert south to I-44 which has superchargers in Joplin and Springfield.
I did not visit this flag museum on the way but took pictures of the ones in front, some with editorial comment added.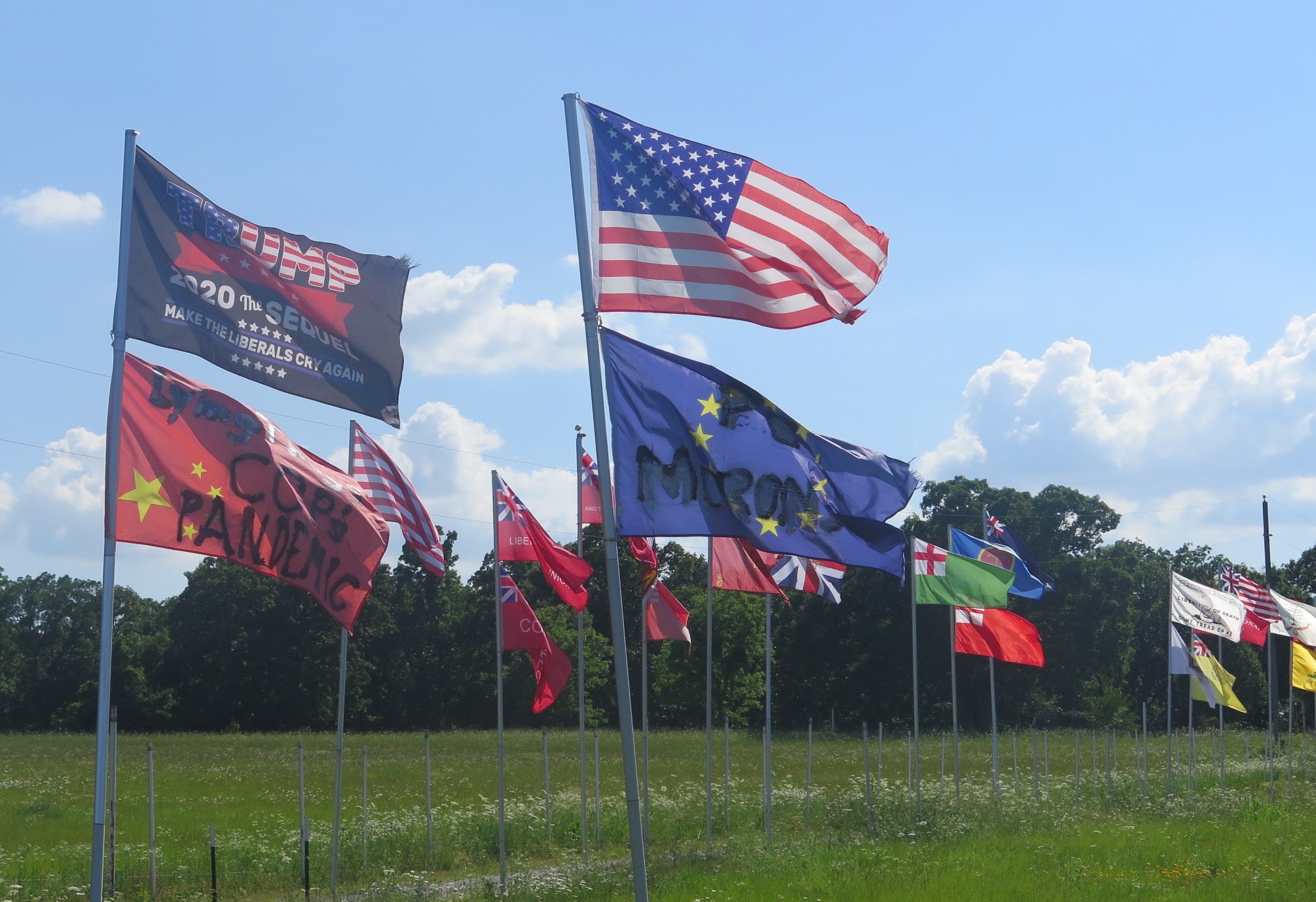 Admin's home for 3 months or so at the RV park in Osage Beach, MO.
Admin and his wife can work remotely from the RV midweek and relocate every Saturday. They will get as far east as the Smoky Mountains south of Gatlinburg, TN before heading back west. I suspect admin's
RV venture
is in a sweet spot these days, as many people are reluctant to fly and RVers can also avoid hotels and restaurants while traveling.
They had a wheel bearing failure that needed repair in South Dakota.
All but one nut came off the repaired wheels by the time they got to Missouri. The repair guy from South Dakota drove 9 hours to fix the problem and is working on the opposite wheel now.
Around 3PM we set out to explore Lake of the Ozarks. The Four Seasons peninsula has numerous inlets but the entire shoreline belongs to private homes, condos and boat clubs. We then drove by the lake's dam, where I couldn't resist this kitschy display.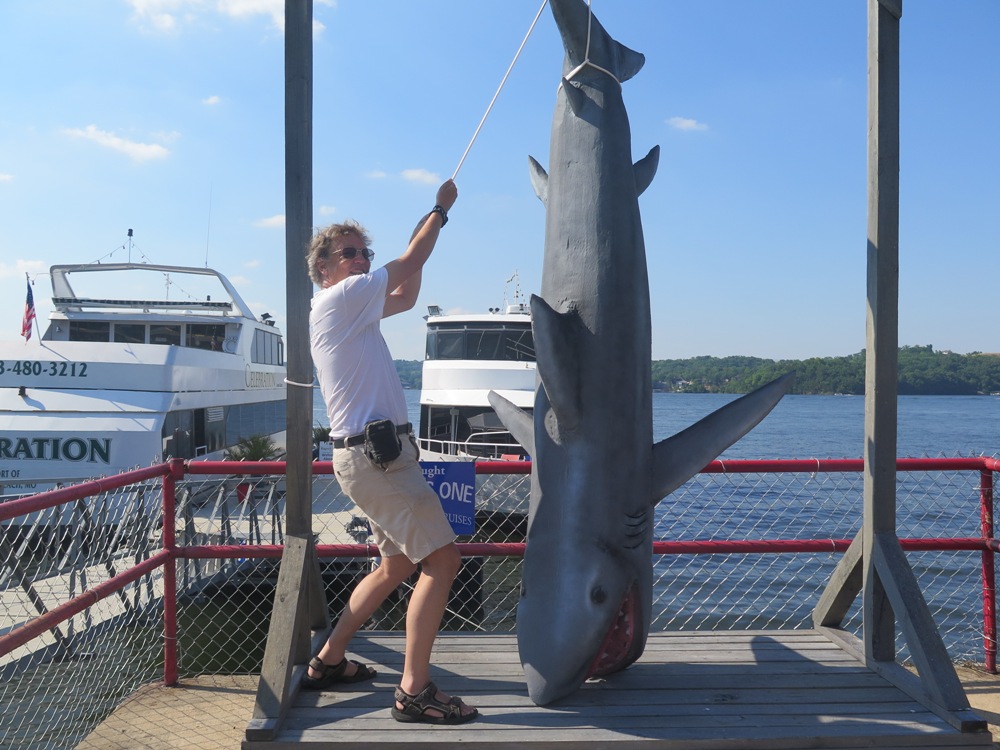 We finally found lake access on a southeast arm of the lake, where Zoe could finally get some exercise fetching sticks out of the water.
I should mention that Kansas temps were in the high 90's and it was low 90's but more humidity at Lake of the Ozarks, so I was also eager to get in the water.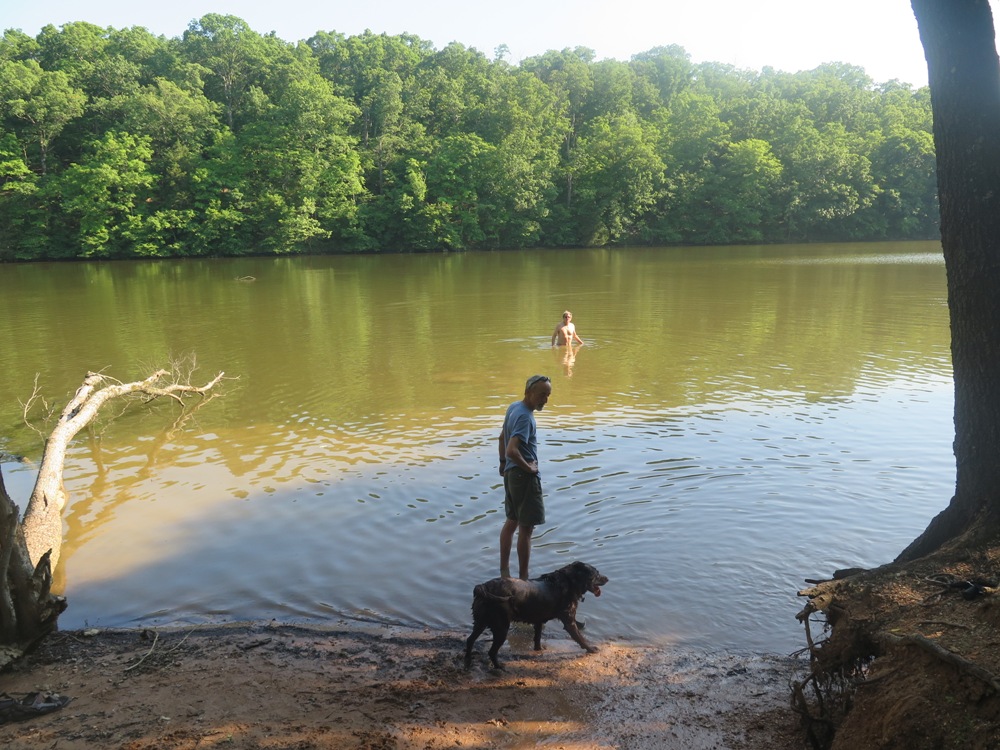 The water was shallow as far as I went. The first 10 feet or so from shoreline was gravelly, but from then on it was ankle deep ooze. As I walked in the ooze, I left a trail of (CO2?) bubbles behind.
We then drove through a state park with some wildlife. This heron just caught a fish.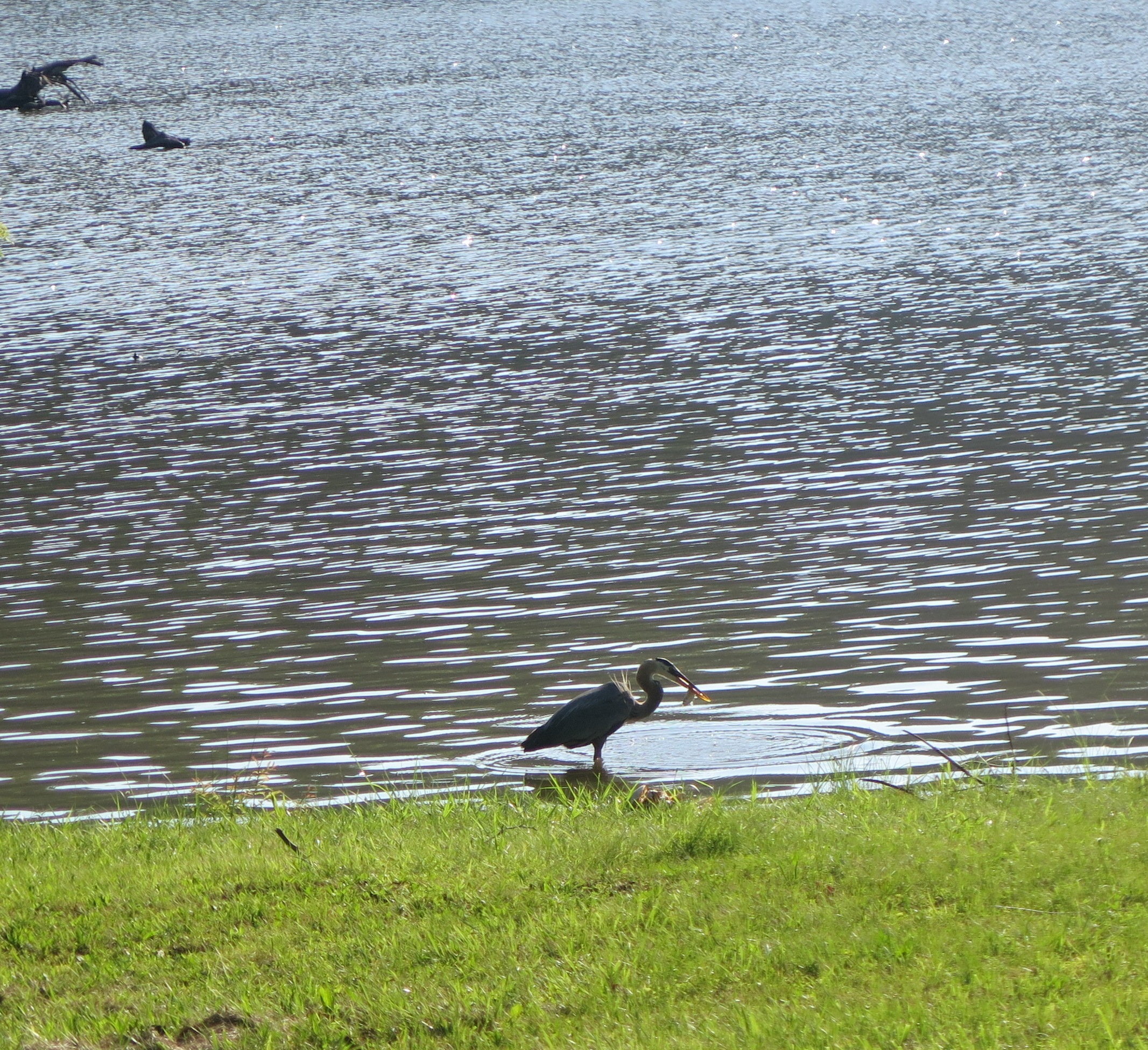 Deer are a dime a dozen for many of us at home, but these struck a photogenic pose.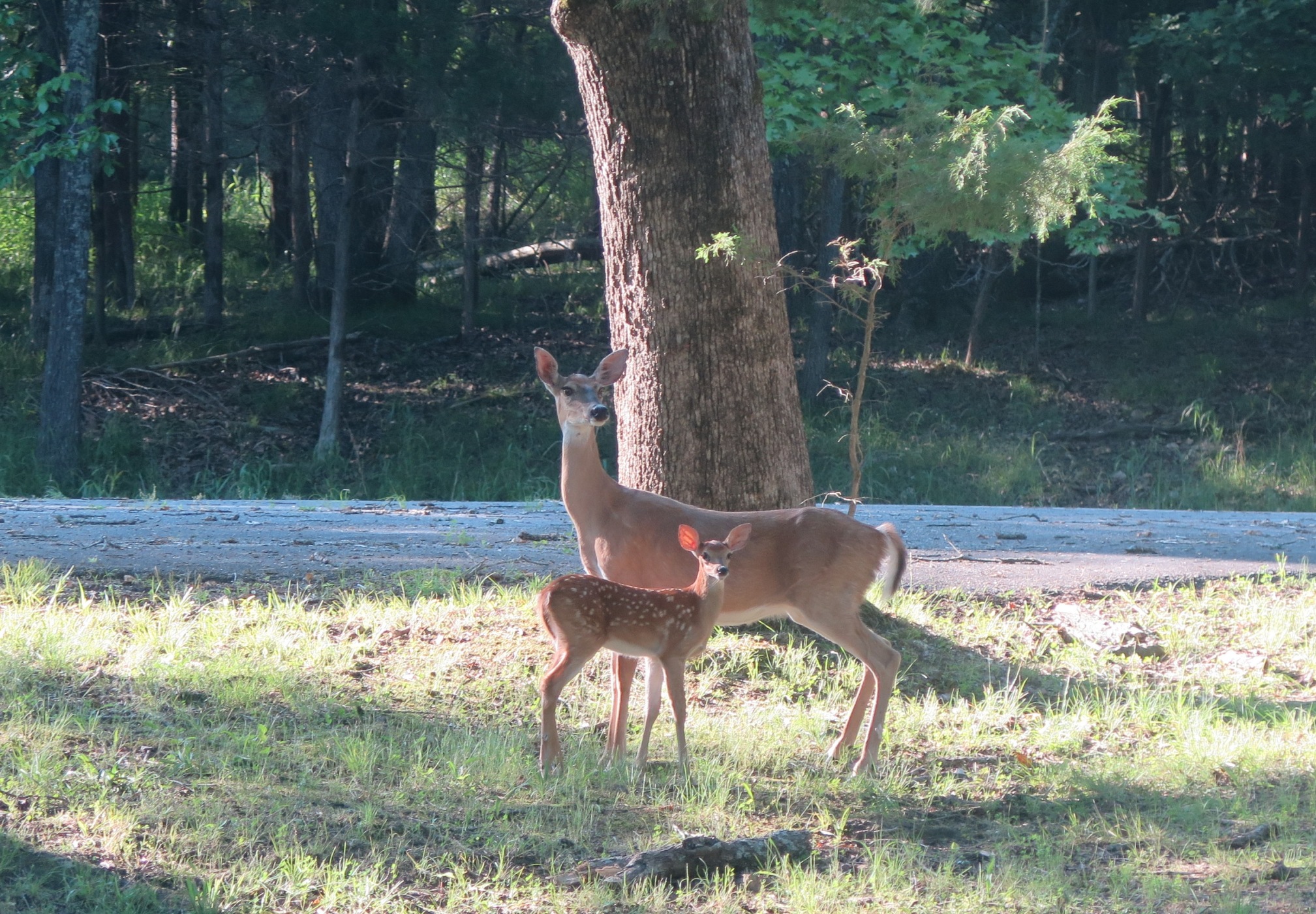 On Sunday evening I had to check out the infamous Backwater Jack pool bar.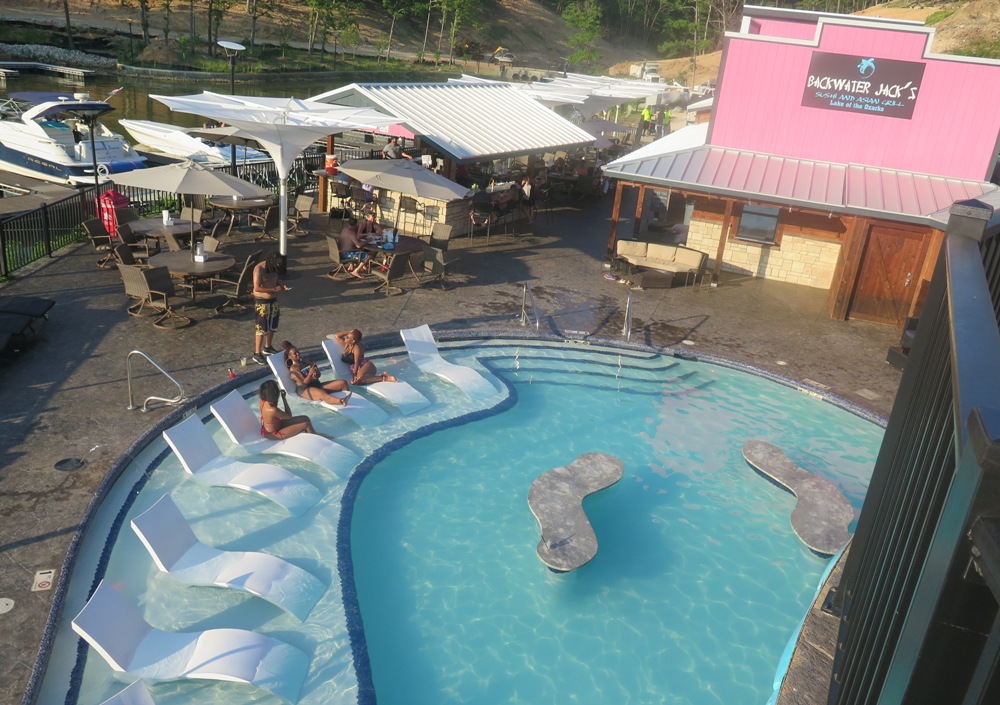 This was the packed place all over the national news Saturday of Memorial weekend.
Admin could have shot that drone video if he had been there 2 weeks earlier.
June 8
: Osage Beach, MO to Auburn, AL 740 miles. The first leg was 260 miles to Miner, MO, about half on secondary roads. This day required 4 stops totaling 87 minutes and I ate just snacks and drinks I brought with me. Total elapsed time was 12 hours 20 minutes with average speed while driving of 68mph, excluding a 1+ hour stop at the museum in New Madrid, MO. Auburn was my only hotel stop, a Quality Inn walking distance to the supercharger so I could leave with a full charge the next day.
Approaching Mississippi River levee:
I did not know that New Madrid was the site of the next important Mississippi River Civil War control battle after Forts Henry and Donaldson.
On that map Reelfoot Lake was formed by the 1811-12 earthquakes. The river is still dynamic. Point Pleasant is in Missouri on the Civil War map but it is now in Tennessee.
Southwest view of river and some islands:
The Confederate stronghold Island #10 was in the opposite direction but that island no longer exists.
Earthquake map inside the museum:
June 9
: Auburn, AL to Belleaire Bluffs, FL, 484 miles. The first leg was 180 miles of mostly secondary roads to visit the Andersonville Historic Site for about 1.5 hours. I had 3 charge stops totaling 37 minutes. Total elapsed time minus the Andersonville stop was 8 hours with average speed while driving of 65mph.
Sculpture at entrance to Andersonville cemetery: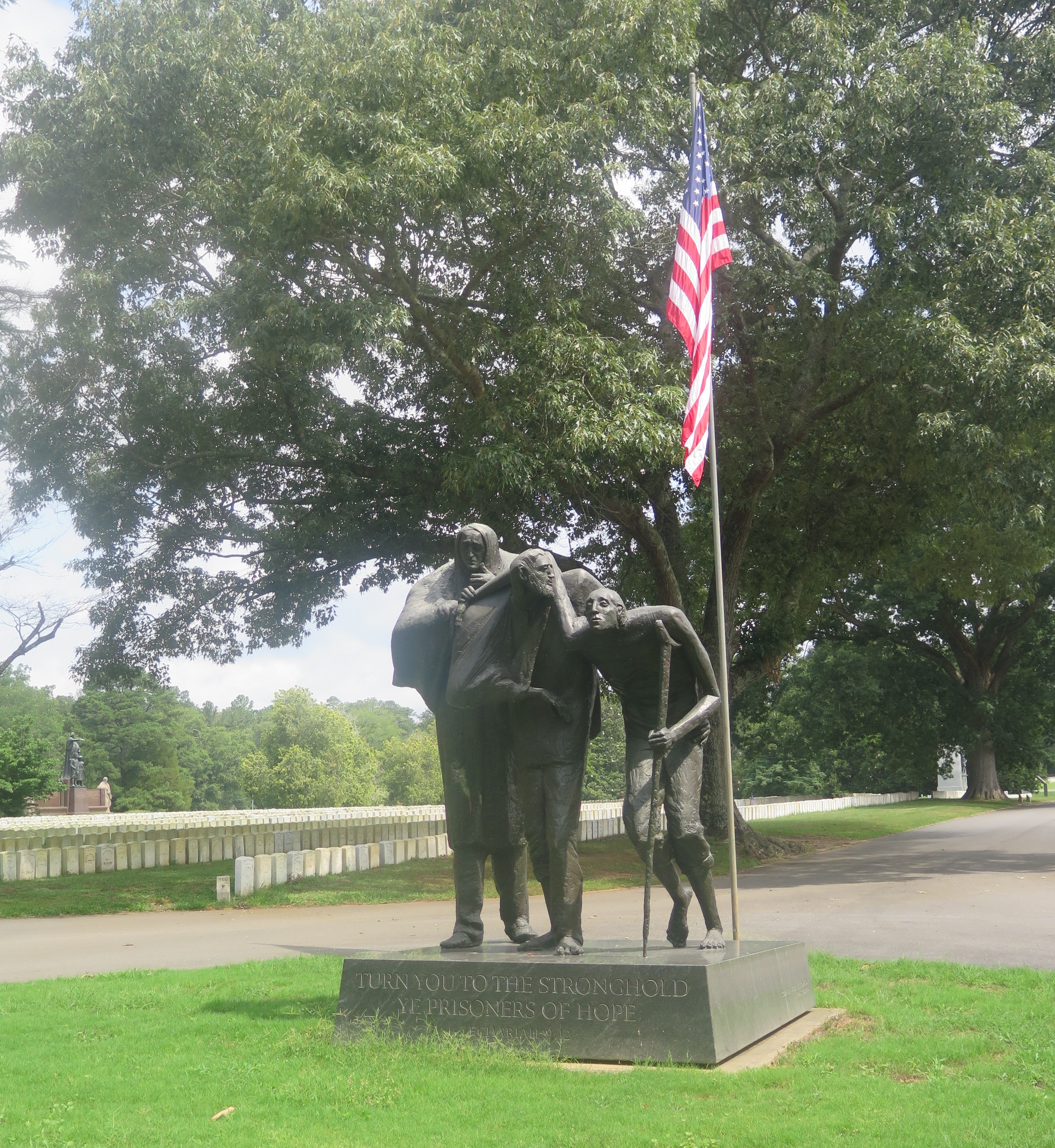 About 13,000 prisoners died there, nearly all during the overcrowded summer (maximum population 32,000) of 1864.
Civil War prisoners were usually exchanged during the first 2+ years of the war. This broke down sometime after the Emancipation Proclamation, when the Confederacy refused to exchange black prisoners. Grant's famous comment about refusing exchanges in order to hasten southern attrition was not until August 1864. After Sherman captured Atlanta, most Andersonville prisoners were relocated to a new prison in Florence, SC, where conditions were similar and another 2,800 died. In total 30,000 Union prisoners and 26,000 Confederate prisoners died in camps during the Civil War.
Most northern states have erected memorials to their soldiers who died here. Illinois memorial:
Inside the Pennsylvania memorial is the bronze depiction of prisoners using sticks and cups to get water from a newly formed spring between the stockade and deadline in August 1864.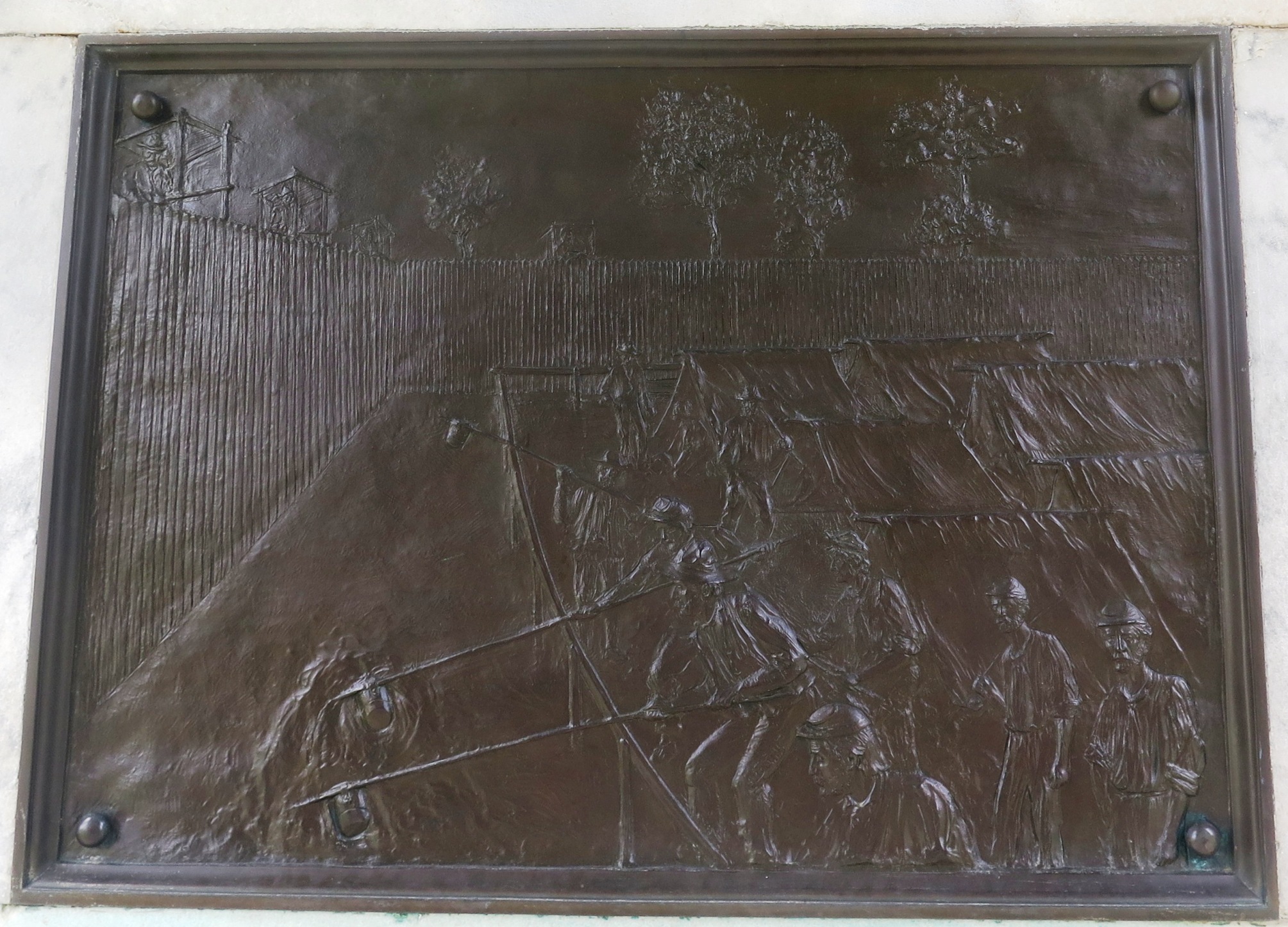 Memorial from WWII prisoners:
Wider spaced graves are for qualified veterans who wish to be buried here. The national Prisoner of War Museum is here, but it is not yet open due to COVID-19.
I drove 1/4 miles south to the actual prison site, where the northeast corner has been reconstructed.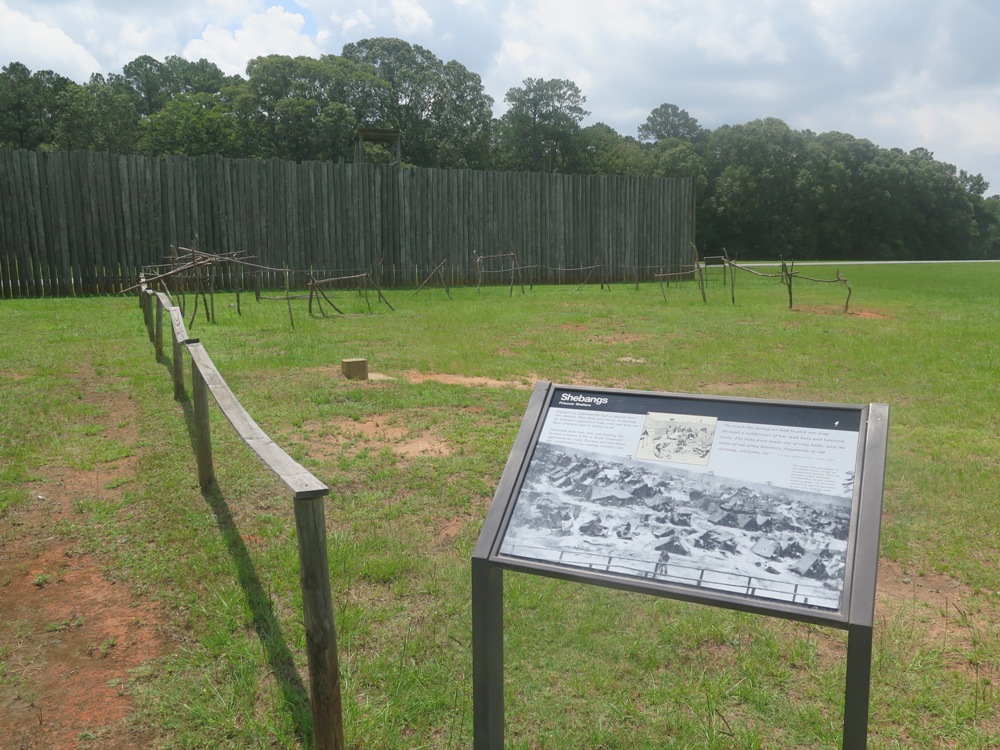 Diagram of prison site and inadequate stream for water and sanitation:
Overview from the south from Commandant Wirz' HQ:

The stone marker in right foreground is the SW stockade boundary. The opposite corner reconstruction is visible at distance. The other wooden structure at left is a reconstruction of the double gated prison entrance. The concrete structure in front of that is a memorial to the Providence Spring that formed nearby as depicted in the Pennsylvania memorial. Some more state memorials are at far left.
Walking around here was exhausting in blazing sun and thick Deep South humidity. That contributed to the historical ambience.
As far as the Tesla is concerned, I suspect that most people driving 8-10 hours in a day in a gas car would take a similar total of 1.5 hours in rest/bathroom/lunch stops. I even had time for tourist stops on my last two days.