Administrator
Staff member
We arrived at the historic Kaiser Hotel in Philipsburg after a 2 hour drive from Great Divide. The Kaiser does not have an elevator but it does have a dumbwaiter to send luggage up to the rooms, which are all at the top of a steep stairway.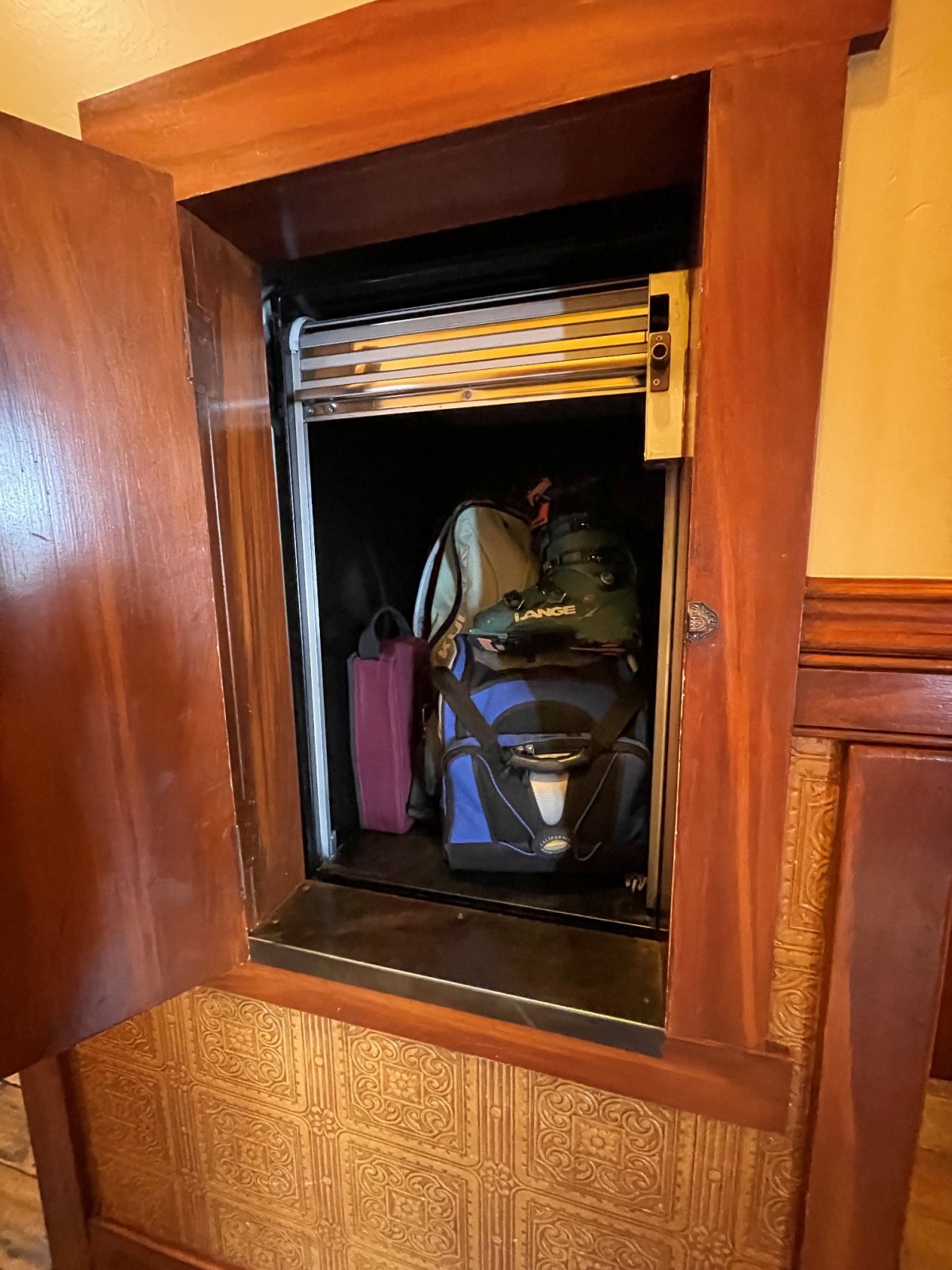 We dropped into the Brewery in hopes of finding our Scottish forum poster q. The locals said he's easy to spot in his yellow ski pants, and not much later they spotted him going into the White Front bar in the next block.
Liz and I ended up having dinner at Bricks Pub. Q came by as we were finishing up.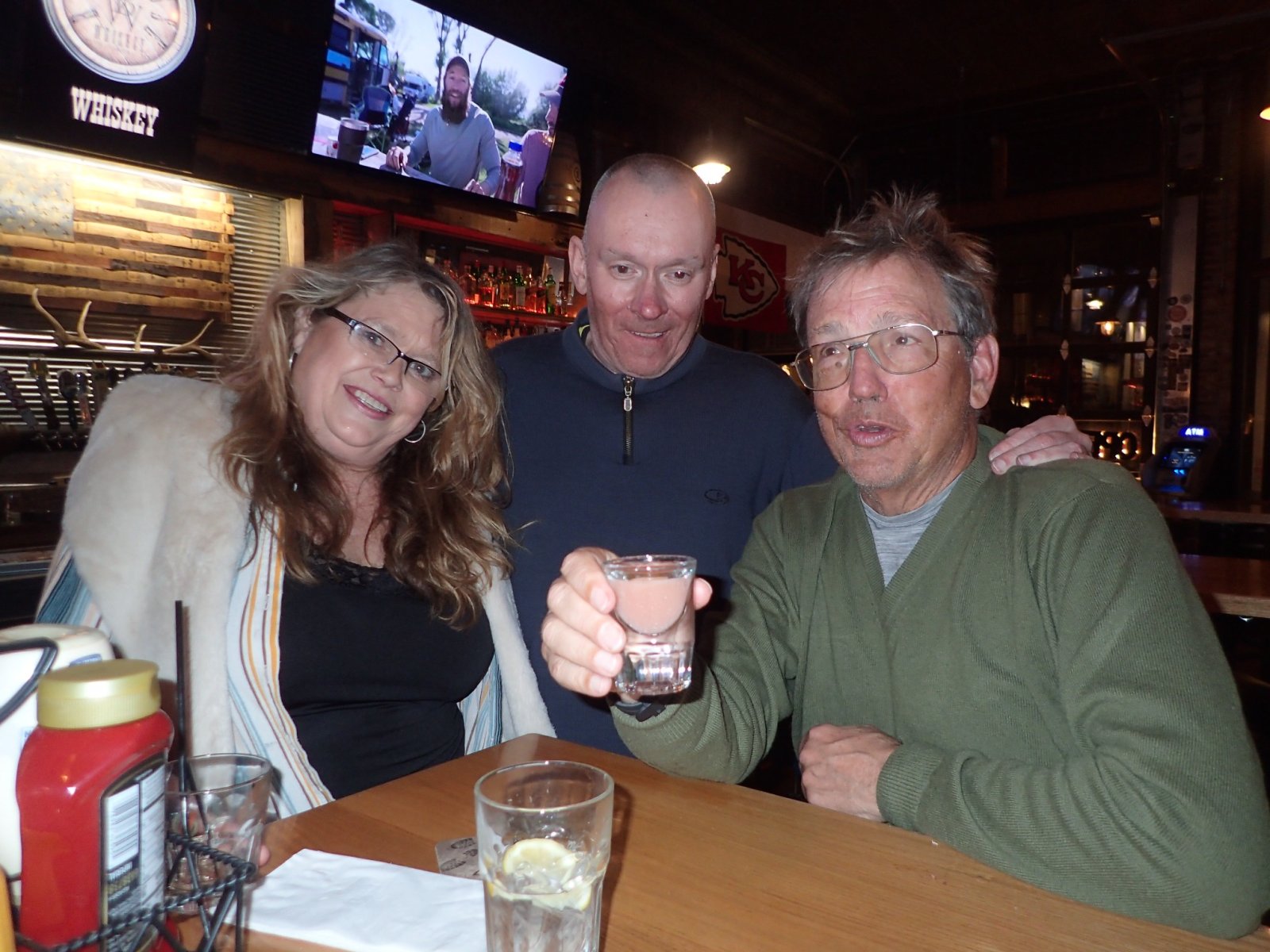 Long time bartender Gwen gave us some after dinner whisky/licorice shots.
We just missed flyover and his daughter, who had skied the weekend at Discovery in 26 inches new snow. Q said Sunday might have been the best day he has ever skied at Discovery, so flyover and daughter really scored. We think q celebrated hard Sunday night, as we did not see him on the hill Monday.
We still had excellent conditions Monday-Wednesday. Snow remained in soft winter mode as Monday was probably under 20F and Tuesday/Wednesday had heavy overcast. Sluice Box on the front side Anaconda lift and Winner Ridge on the backside lift Granite were freshly groomed Monday so we started with those. We then skied chopped powder along the Granite liftline.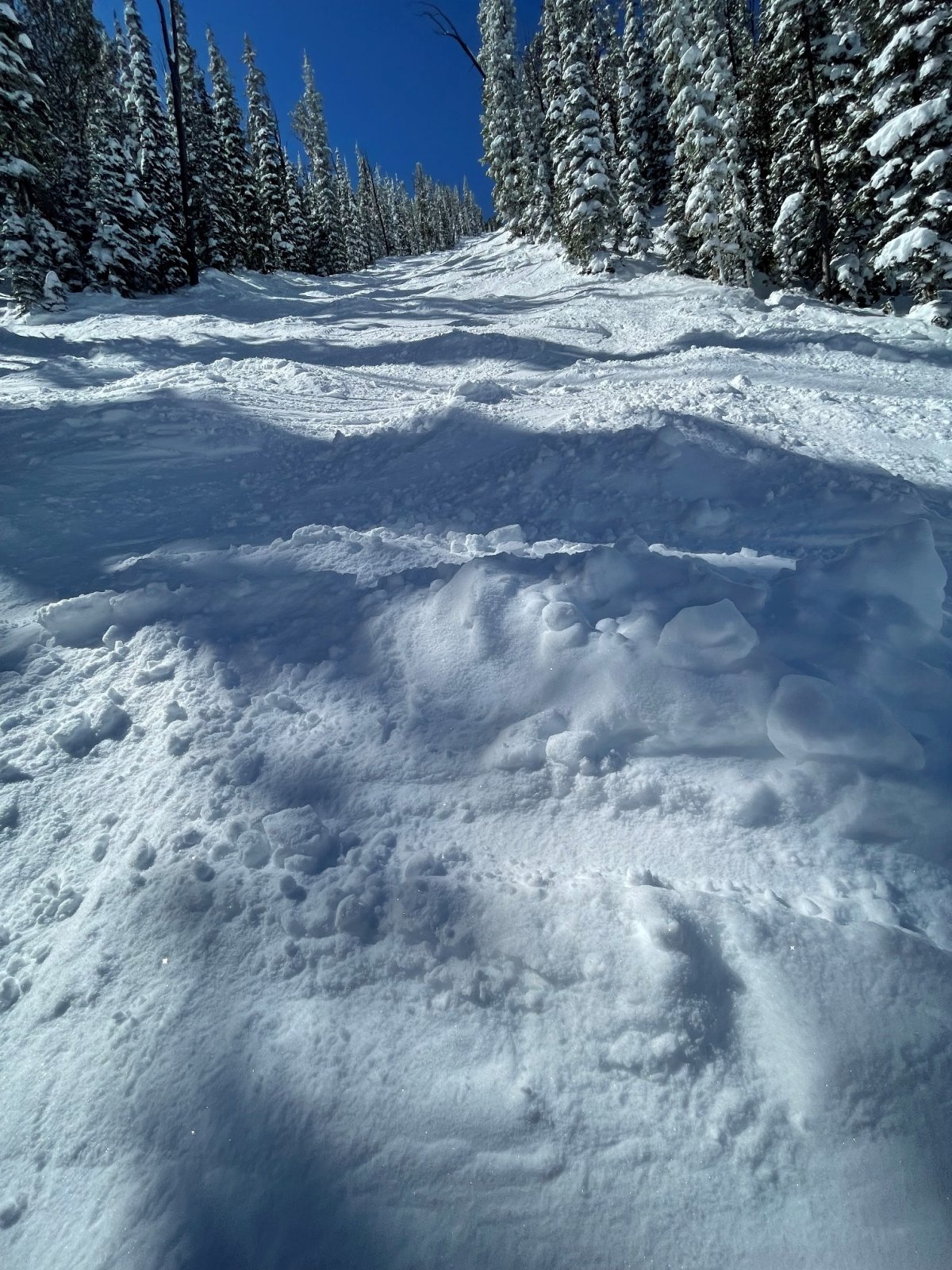 This skied well due to low water content vs. typical Sierra or what we had two weeks ago at Iron Blosam. We found more of this lightly chopped powder on Head Frame after skiing most of groomed Medicine Ridge.
I now moved to Limelight and its extensive mostly double black terrain, stating with Mother Lode, the central line down the western (corrected!) bowl. I next followed some locals down Limelight's liftline, ducking into the trees above the pitch and scoring maybe 5 turns in the 2 feet of weekend powder. Next was Snaggle Tooth, one of the steep north facing shots skier's left of Limelight's liftline. These had smooth chalk on my prior visits but now had the chopped leftover powder.
We took a short lunch break, which all three days included the fresh baked Disco cookies.
After lunch we took another Winning Ridge cruiser, then skied Bad Finger into Limelight. I figured correctly that the abundant loose snow would increase Liz' comfort on the steeps but she was still exhausted after that and skied groomers the rest of the day. I skied two more Limelight runs, Manhattan and Catch a Wave, alternating with frontside blue groomers Gold Rush and Claim Jumper.
I skied 18,600 vertical, maybe 2K of cut up powder.
Tuesday continued a fairly traditional grooming pattern. On the Anaconda chair Berkeley and its Atlantic Cable variants were groomed, and on Granite chair, Tap r Lite and Youse Guys were groomed in addition to Winning Ridge. So we started with those 3 runs. Liz on Tap r Lite:
Discovery has gone high tech, installing RFID gates at the base Anaconda lift.
We got RFID cards at the window Monday but were able to renew them online for Tuesday and Wednesday for $50 adult and $44 senior.
We skied halfway down Medicine Ridge and entered Limelight via Little Finger.
Looking back up at the western bowl:
After a couple of frontside groomers, I took Liz down Manhattan into Limelight's western bowl.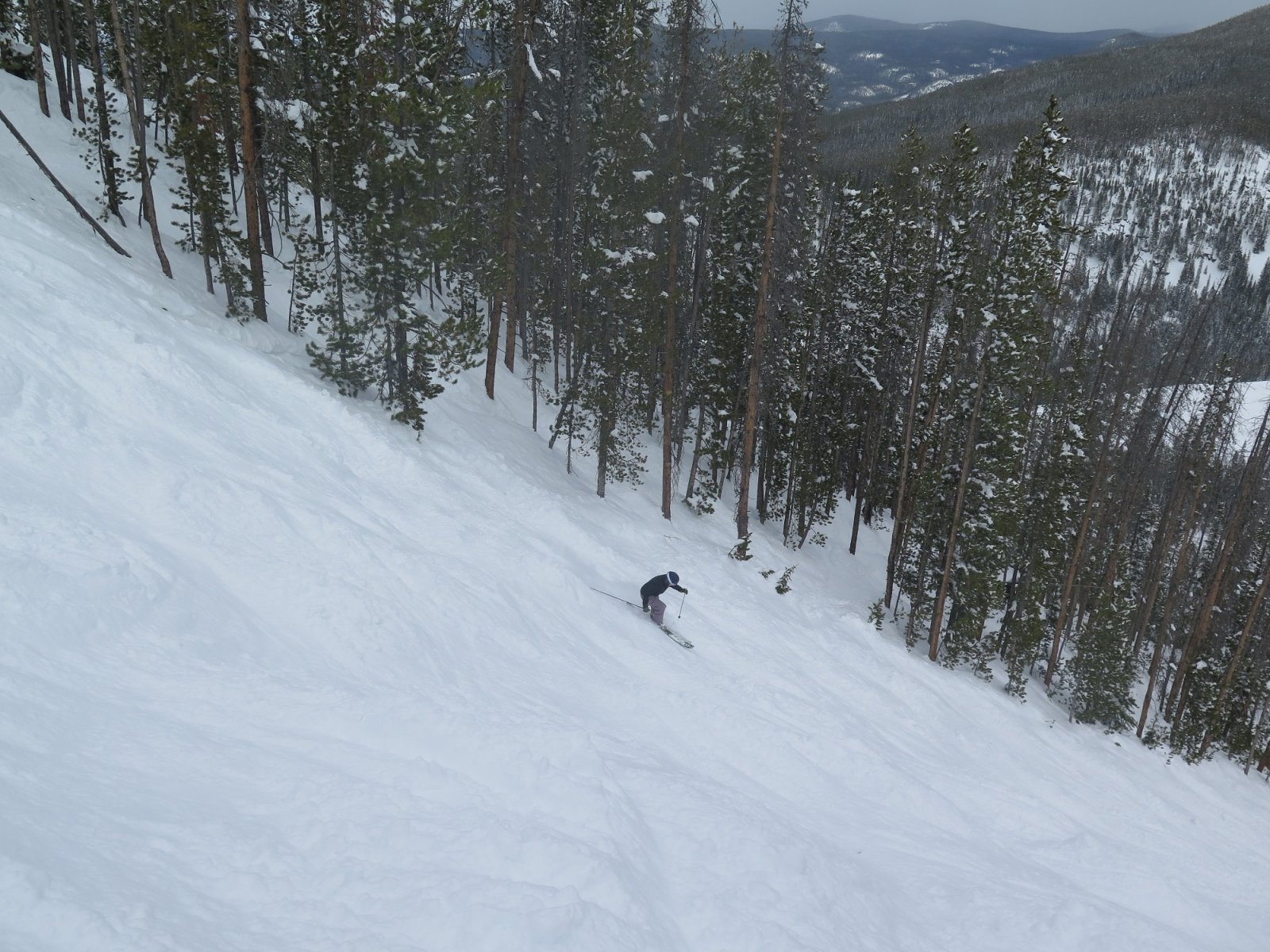 Liz agreed that Manhattan was similar to steep eastern bump runs like Stowe's Front Four. But thanks to the recent dump the bumps were not gouged that deep and the snow was soft.
I next skied an adjacent run Ajax, which is a bit steeper and has scattered trees on its lower half.
I was now ready for a lunch break. After lunch as on Monday I started with a Granite groomer, then alternated frontside runs with Limelight runs Good Finger and Christmas Park. This snowboarder had a relaxing ride up the Anaconda chair.
The frontside faces south and lower ungroomed parts of it had a slight crunch Tuesday. But everything on Granite and Limelight remained in 100% winter mode. I skied 19,900 vertical Tuesday.
The Kaiser Hotel has an extensive gift shop where Liz bought a few items. This is where we saw this composite license plate.
Q's rental car broke down, so we did not see him on the hill Tuesday. We did share a drink at the Brewery with him though.
We had dinner both Monday and Tuesday nights at Kiko's Mexican restaurant. It is the only place in Philipsburg open Monday's. The lady at Kaiser said one of the other place's Doe's was open Tuesday until 7PM, but when we wandered by at 6:10 we found it had closed at 6:00. Do not plan to eat late in Philipsburg!
There was a light dusting of new snow Wednesday, slightly improving already excellent ungroomed skiing. Wednesday must be at least one snow groomer's day off. No Granite or Anaconda runs were freshly groomed. However, Discovery was so quiet both Tuesday and Wednesday it didn't matter that much.
Liz stayed out of Limelight Wednesday, conserving energy for the next two days at Lost Trail and Sun Valley.
After our Granite runs I skied Good Finger, view down from there:
View across to steeps dropping skier's left from under the Limelight lift: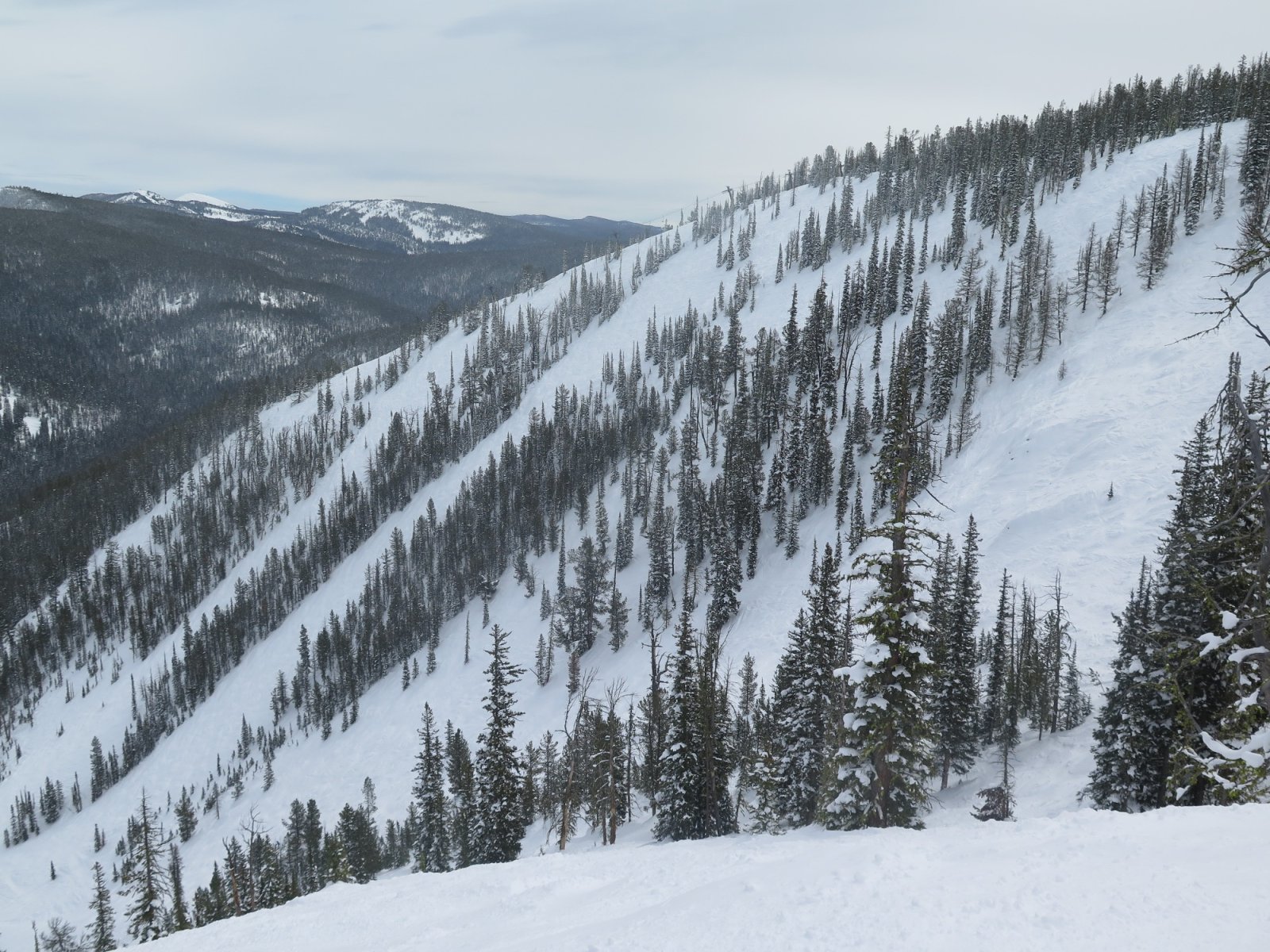 Closer profile of Terminator, which I skied about half an hour later:
Late Limelight runs I skied were The Pitch, Guns & Roses and Maverick. We did not see q on the hill Wednesday either, and we quit at 3:15 to drive to Wisdom, a very small town 25miles from Lost Trail. I skied 17,000 vertical Wednesday.
Last edited: