Too busy to post all my days separate or too timely right now. In fact I can only describe Nov 28th as I didn't even have my cell phone camera with me.
Nov 28th was the end of coolish weather so they stopped making snow that AM and never made any the following week. So snow was surprisingly soft and fun as they were still fattening up the open trails that weekend. Eldora had and still has 3 routes off the frontside - that funnel down to only 2 routes on the lower half, plus a couple of short beginner trails. Not a ton, but considering the warm, warm fall not all that shabby compared to many places. I snowboarded both days so as not to bore myself too much with the early season conditions. I might not even bother this year except for Jr being in race training. Speaking of which they also have the short Chute race training trail and poma open already.
It was a VERY warm week between the two dates sometimes going into 70F+ down in Denver. That created a couple of short melt-refreeze sections on flat spots (base around the lift and where windmill/international hook up for example). Surprisingly, it did not seem to have melted much on the north facing terrain that is open. Though things were much firmer due to lots of use, grooming and no new snow. Not icy per say, but definitely on the firm side of things.
Both days were fairly warm, with one less layer than normal for me skiing wise. Both days also had the Eldora wind machine going pretty good to start the day with winds slowly subsiding by early afternoon. Not sure what happened up at altitude on afternoon of Dec 5th and a huge cold front came through dropping front range temps from mid 60's to about freezing in only about 90 minutes. Plenty of wind gusts with that. At least snowmaking is up and running again this week.
I did exactly 10 laps On Nov 28th with my calves not used to boarding (10K vert), then did only 12 laps on Dec 5th due to boredom and a handful of folks trying to go way too fast considering only 3 trails open. Speaking of which, Eldora has been going out of its way to try to educate and station people on the trails on weekends so far to try to keep things safe, but they've had not one, but two unfortunate accidents already this season. Both during the weekdays when almost no one is there. One was a well known ski coach/instructor - Ron LeMaster who worked extensively with the US ski team at various times. Some sort of crash between him and a snowboarder. The second, a single skier hitting trees, probably skiing too fast. Sad for all sorts of reasons of course but also sad for the ski area as they've actually been pro-actively trying to keep things slowed down more than ever this early season. Very weird juxtaposition.
I heard Sat Dec 4th was super crowded, but Sundays have not been bad as yet. Race training has been done early so we've left by ~1:30p each day after an 8:30a on-hill start and no lunch till after.
Firm, but carve-able early...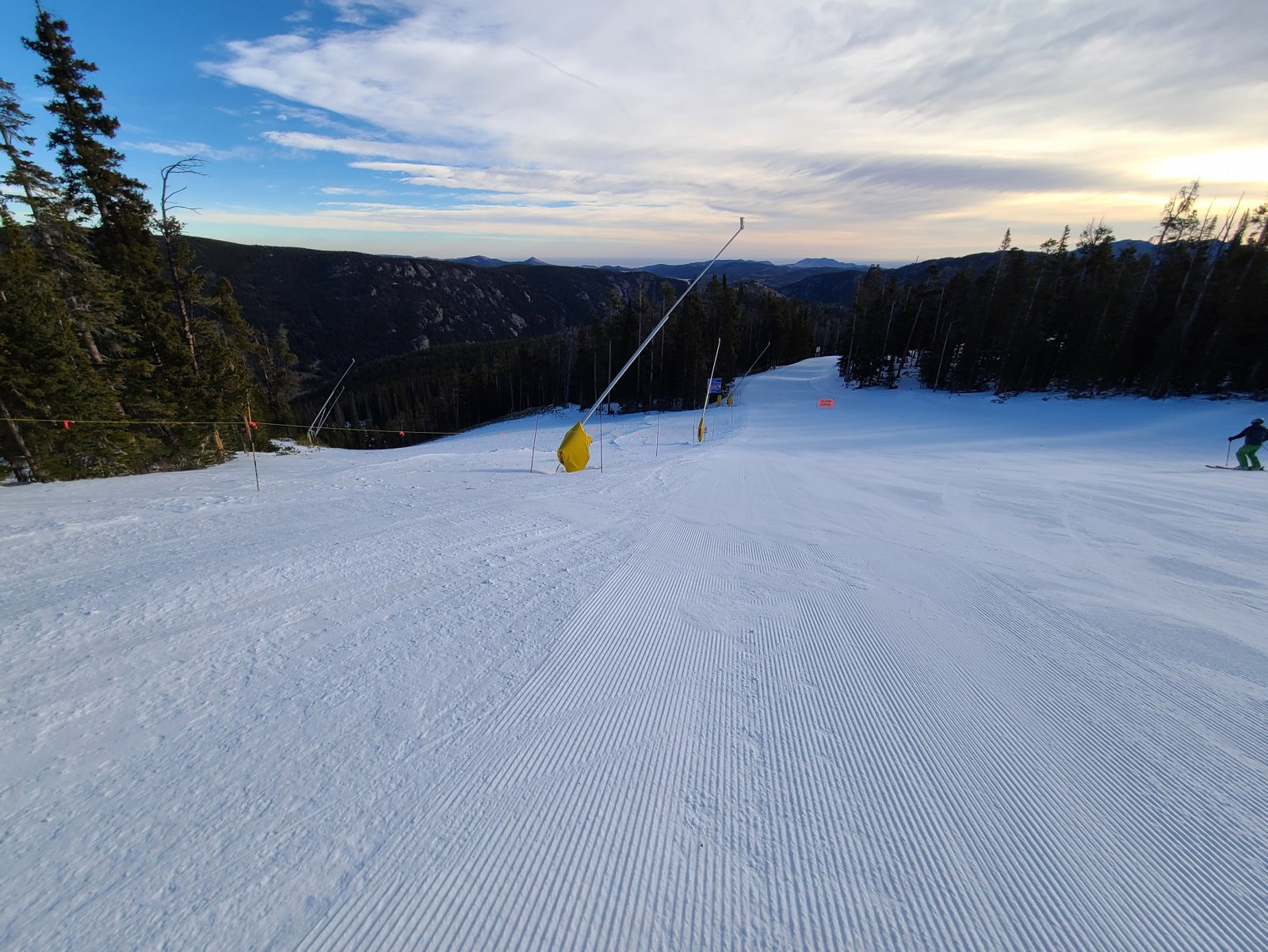 Not a lot of snow other than where it was made...
Bare on E facing, some minimal on N facing
Perfect snow for racers though...