For the final stop of this road trip, the Espace Diamant -- roughly translated as "the Diamond Region" or "Diamond Area" (it sounds better in French than in English) -- we left our hotel in Megève, where five inches had fallen overnight in the village, double that higher up. Here's our Peugeot halfway through the snow removal process:
As the crow flies, it's a very short distance to the Espace Diamant, but in a car you go up and over gorges, valleys, villages, etc., so maybe a 30-minute drive. According to reports, in the next five years they're possibly going to connect it with Megève and eventually neighboring Les Contamines, which would surpass the 3 Vallees in trail kilometers and result in the largest interconnected ski region in the world.
We pulled into our base for the next two days, the cute village of Crest-Voland, built around, what else, an old church:
While parking our car, we saw something that we hadn't run into in other villages: lots of children. The very first ski class that a small child takes anywhere in France is called "Piou-Piou" (pronounced PYOO PYOO), which means "baby chicken." Crest-Voland, along with a significant part of the Espace Diamant, is proudly family-oriented: everything from restaurants to ski terrain to activities:
We stopped for a quick coffee next to the lift:
Booted up and headed to mid-mountain for lunch:
... where I had roasted trout on a bed of leeks and reblochon cheese along with a cheesecake-y dessert topped by Belgian graham crackers:
Finally, it was time to ski.
They'd received the same 6-8 inch top-off that Megève did. Since I was with the wife, extensive forays into the off-piste weren't in the cards, so I bombed through soft chop alongside the trails:
... while she enjoyed the rolling groomers:
Albertville (1992 Olympics host city) is under the clouds in the distance:
A delightful local instructor, Françoise, showed us some of her favorite shots:
Even though all of our accommodations for the past week were pleasant, our favorite was here in Crest-Voland, the Hôtel Mont Charvin, which is ski-in/ski-out, has beautiful rustic décor throughout the rooms, restaurant, and bar, fantastic cuisine, and is run by a really friendly couple who go out of their way to welcome families, including their two American guests. There's something great about being in a full-service hotel where you also get to interact with the owners extensively.
Après-Ski Drinks at the Bar:
Atmospheric Dining Room: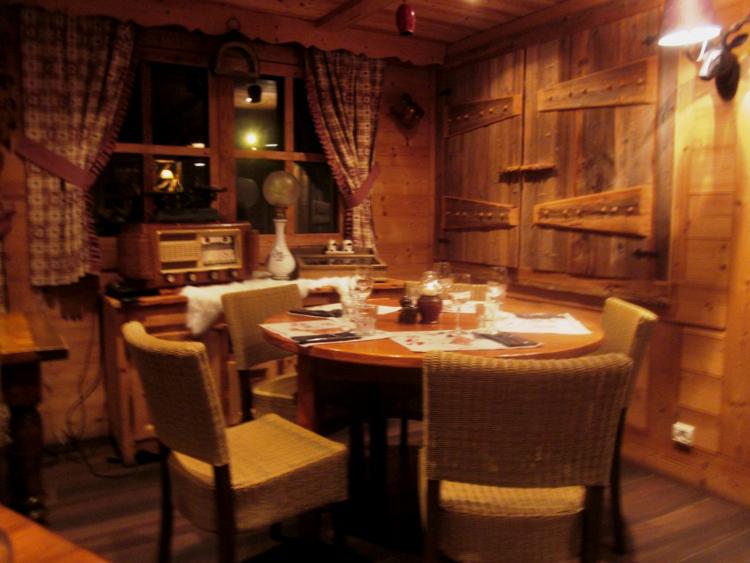 Escargot Appetizer:
Main Course: perch, frites, and green salad with a spectacular vinaigrette:
As usual, my wife makes friends with the family pooch:
Day 2
Saturday was our final outing and since we only managed to check out the skier's-right third of the Espace Diamant on Friday, it was important to get an early start to get an overview of the other two-thirds. The place is huge and on your first time there, you need to have decent navigating skills to move around efficiently. There are signs all over the place reminding you not to get stuck in a far-flung part of the region late in the day (to avoid paying a costly taxi ride to get back to your home base).
Here's a slightly closer shot of the map:
9 am at the Cernix lift right behind the hotel:
Gliding Down the Chard du Beurre Traverse:
Tracked-Up Off the Douce Lift:
Heading Over to Notre Dame de Bellecombe:
Like the other ski regions on this trip, they're not high-elevation for the Alps, but you'll find lots of above-treeline areas and loads of hidden nooks and crannies. Here's my wife taking advantage of low-angle powder in a vast meadow:
Heading down the Boulangère trail for lunch:
While the Espace Diamant has a sizable percentage of high-speed lifts, it's also great to see many old drag lifts still in use to access the aforementioned nooks and crannies:
... and how these lifts zig-zag up the mountain -- here's a nice 35-degree turn:
And of course, there are always lounge chairs to sit down in the sun and take it easy:
Last edited: