Administrator
Staff member
I arrived in Florida June 9. Liz had been here with her mother Laura since Feb. 1 except for 4 days in March to get a checkup on her shoulder. Liz' physical therapy in Florida was outstanding and she completed her rehab from the
serious January accident
in May. She went kayaking a couple of weeks before I arrived and said she would have skied Memorial Day in a normal year.
So no surprise on my first Saturday Liz arranged a daytrip to Crystal River for some more kayaking with her friends Rich and Kelley. We first paddled around the aptly named Buzzard Island.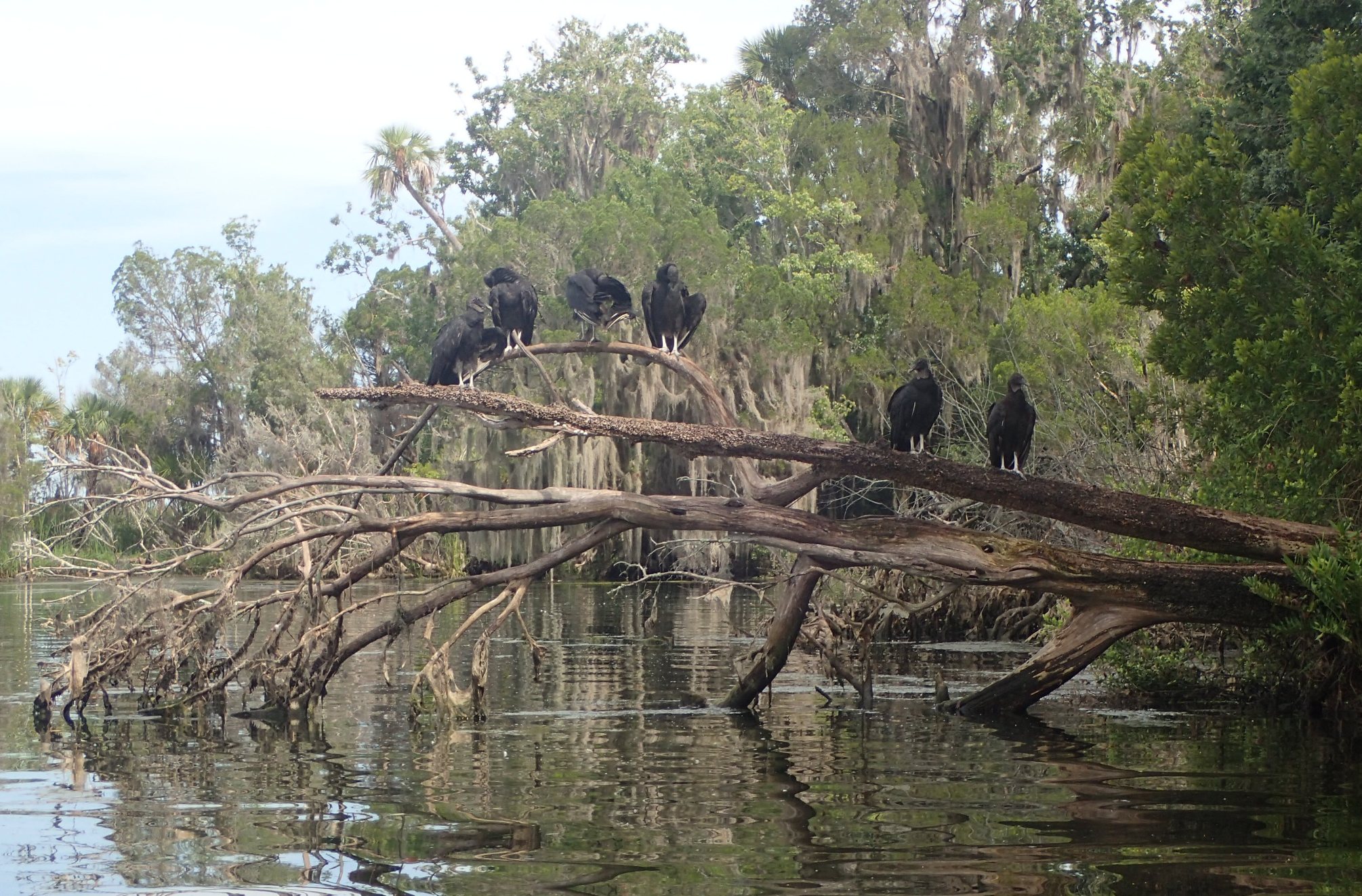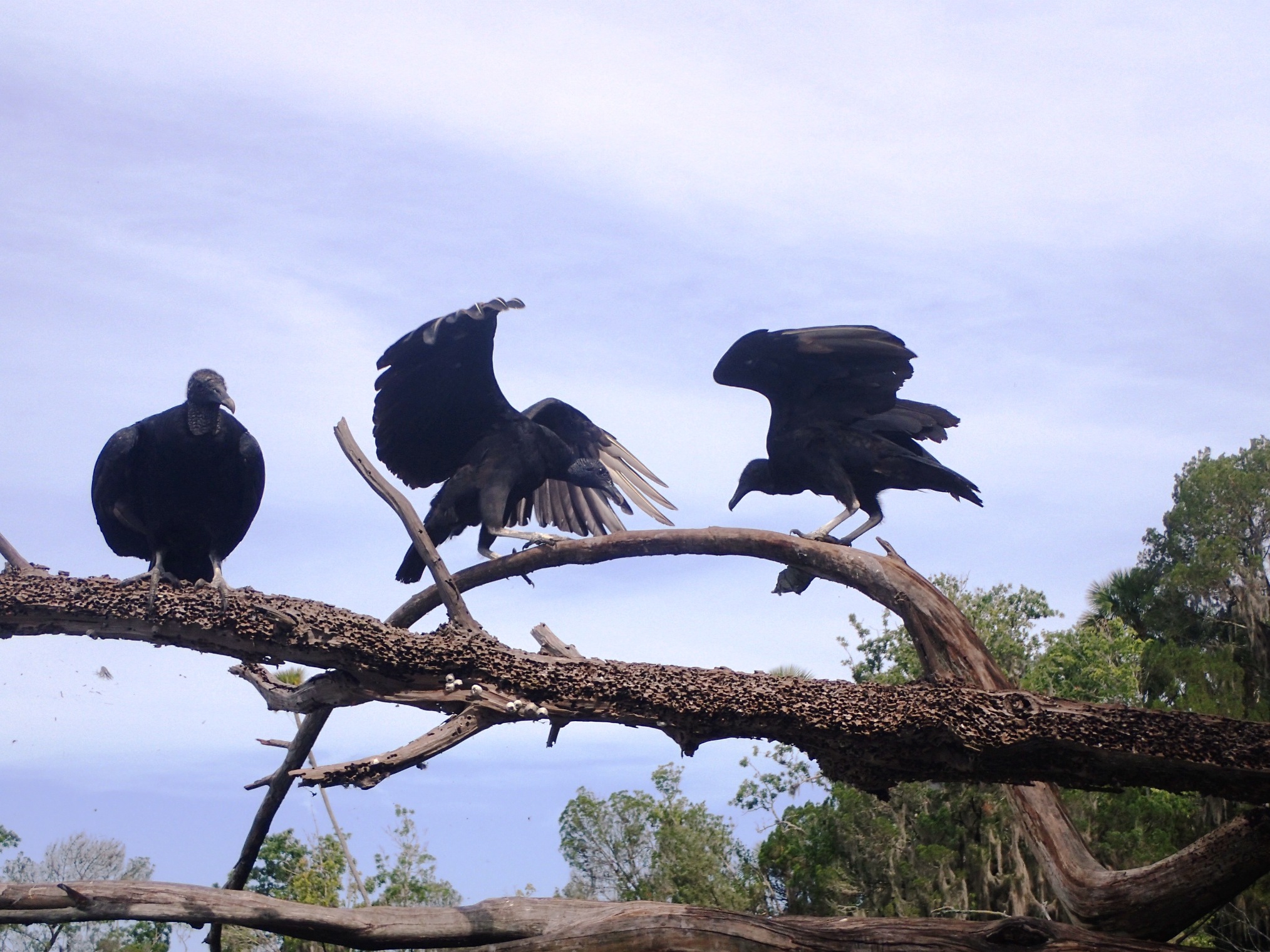 Near the seagrass we spotted some manatees.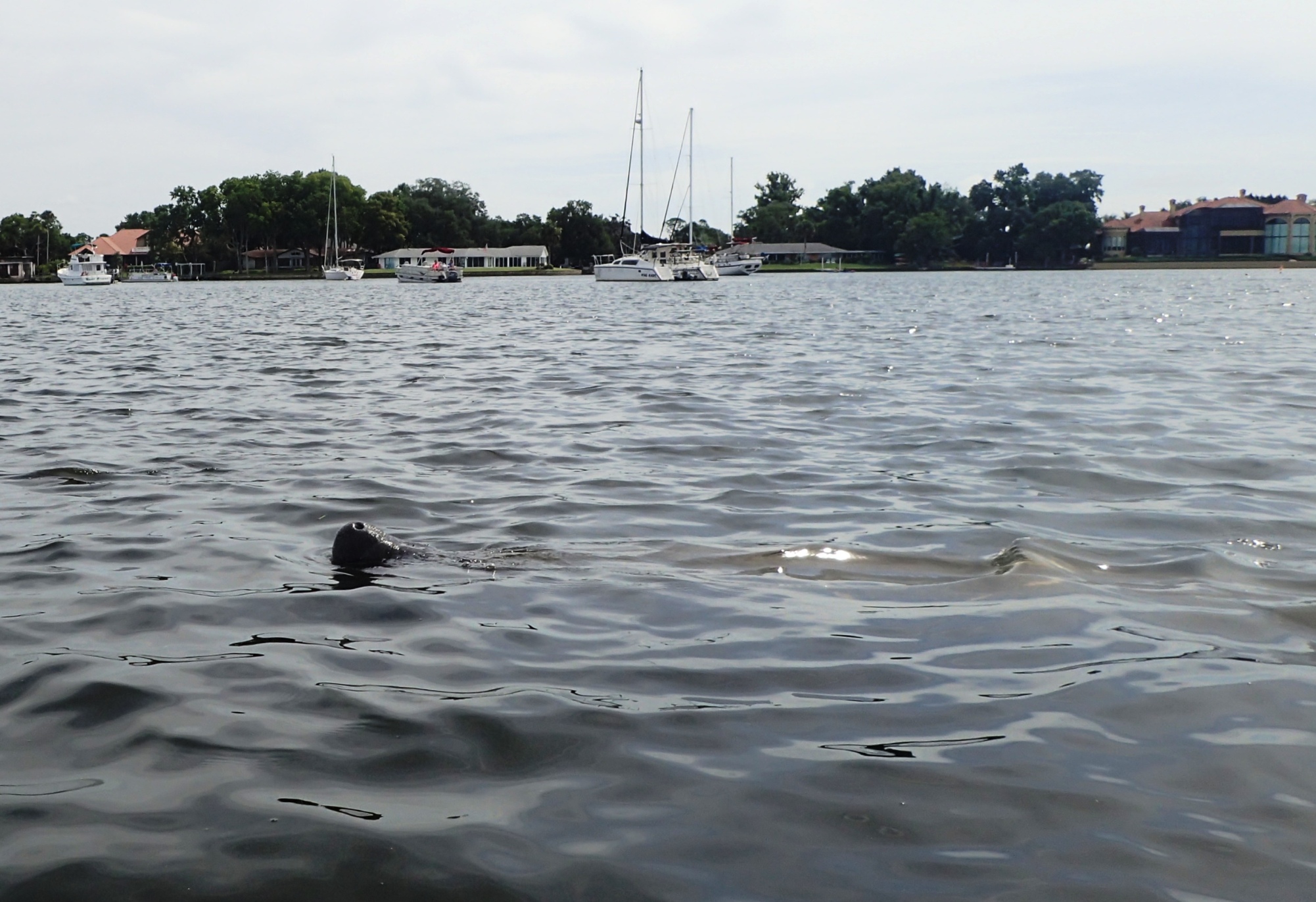 Rich brings his fishing gear when kayaking.
There's another manatee nose at lower right.
A big attraction in this area is the fresh water Three Sisters Spring. Its narrow entry is not conducive to social distancing.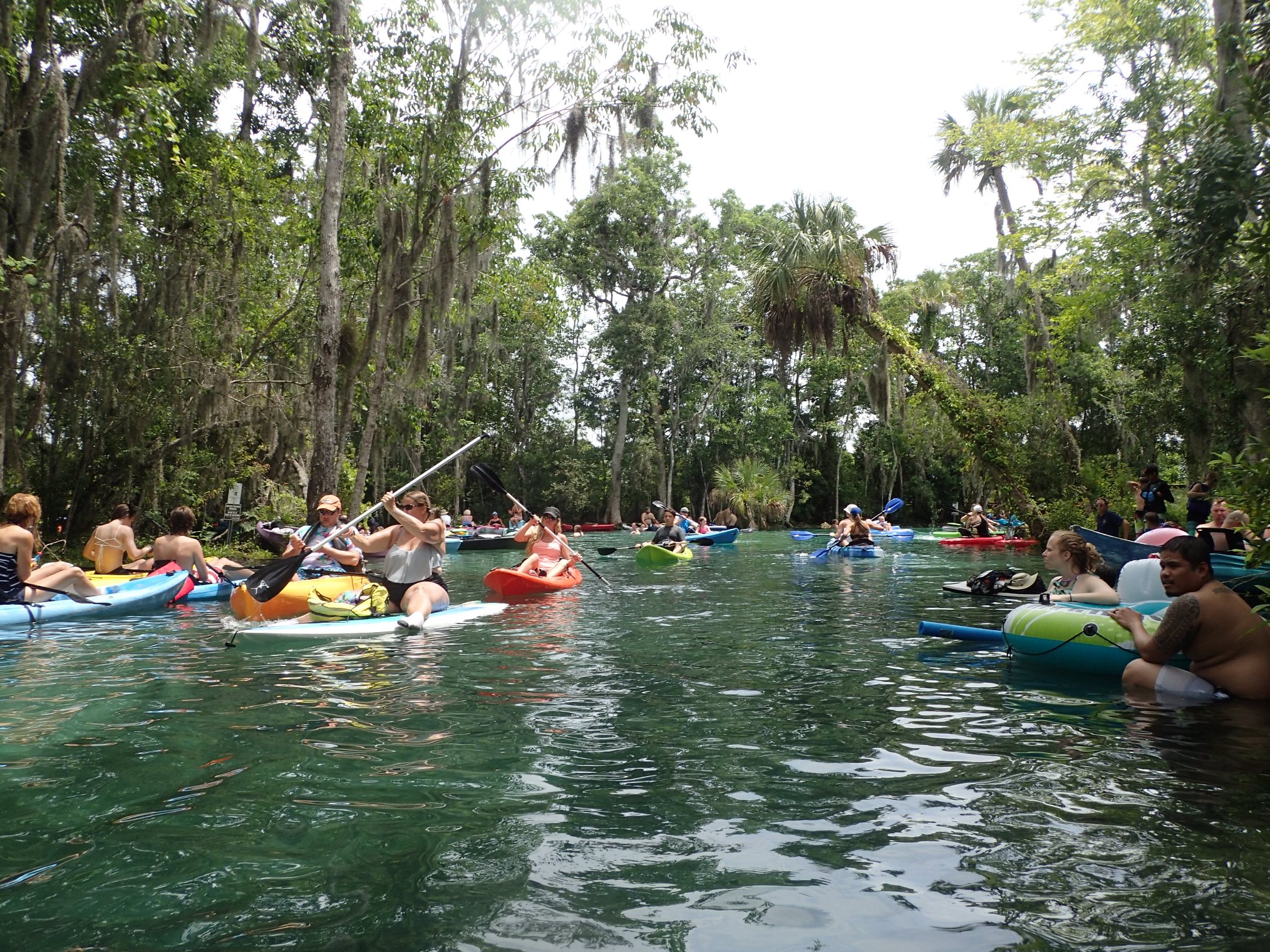 At least it's outdoors!
We tied up our kayaks to take a swim.
I'm enjoying the refreshing 75 degree water.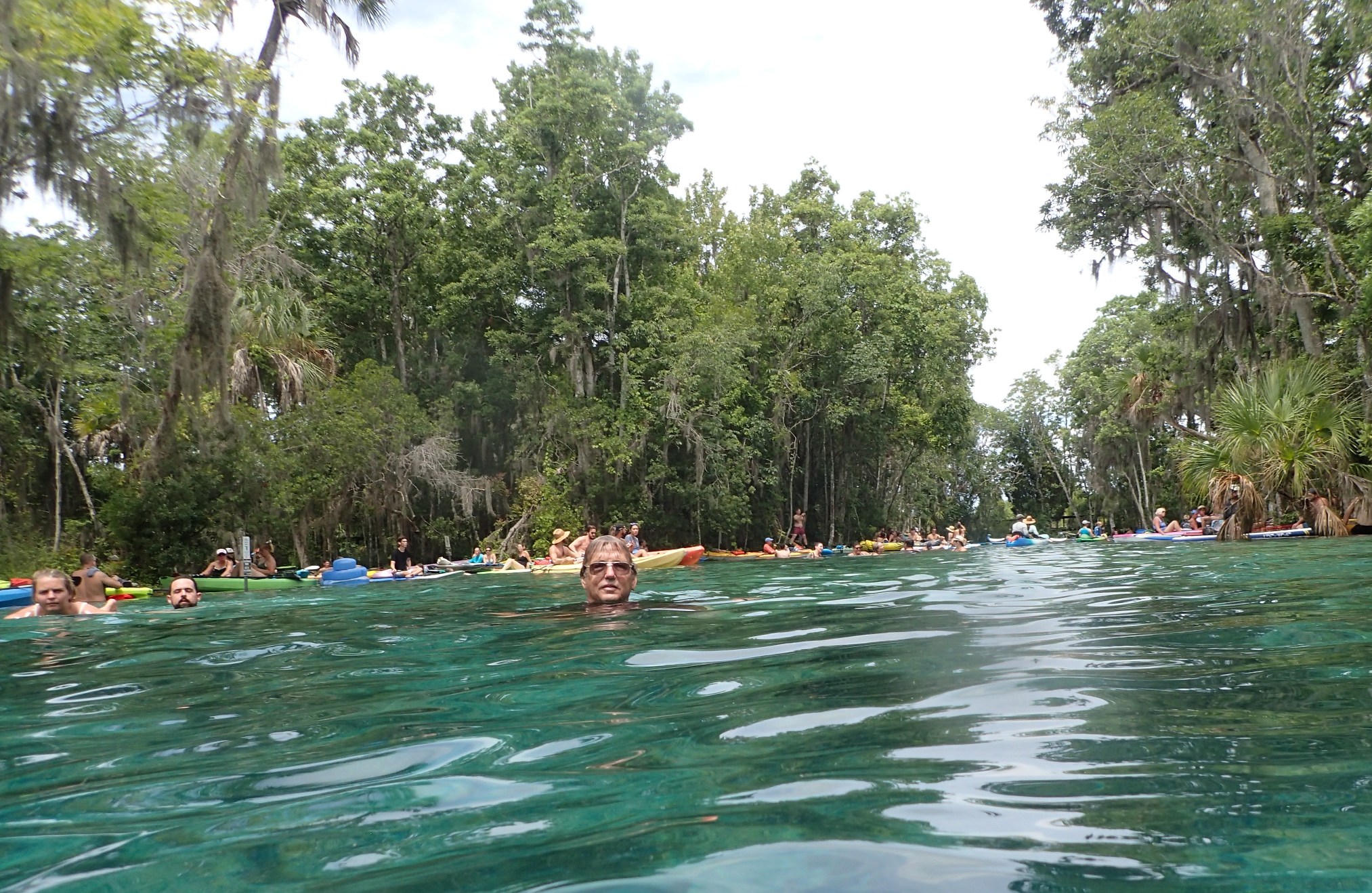 Gulf water in summer averages 85F and can be 90F at the end of a sunny day.
We exited through a mix of swimmers, kayakers and paddleboarders.
Paddleboarders in a boat channel:
There 's a lot more room out in the bay.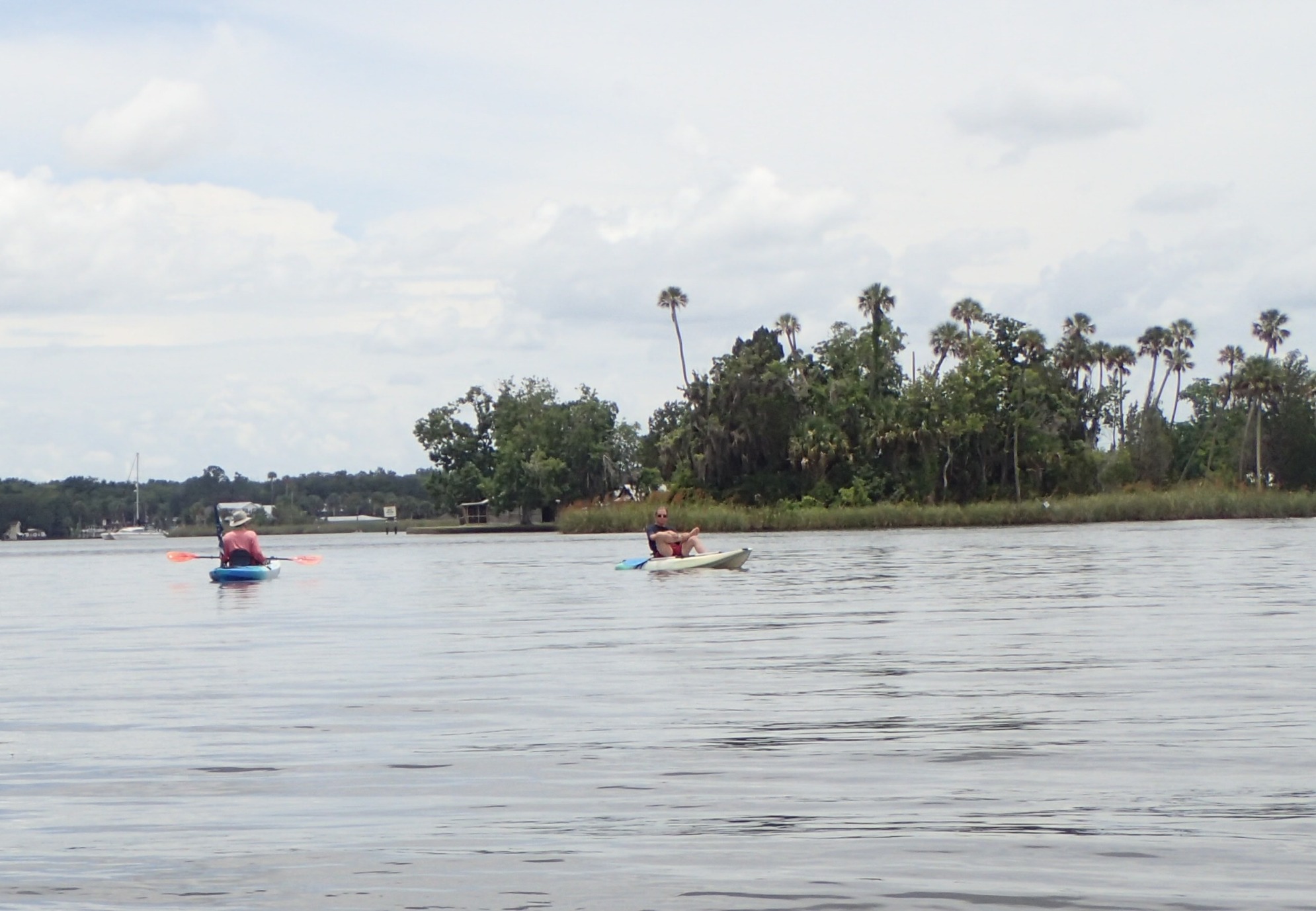 Most of the time we went to the water near Liz' mother's home in Belleaire Bluffs, usually a 5+ minute drive to the Gulf. We generally went near sunset as that's when the weather was most comfortable. Many locals had the same idea.
It's completely different from California, when sunset usually features a brisk breeze blowing off 65 degree water. And notice all the beach chairs right by water's edge because it's so calm. There were only 3 days all summer when there was barely enough surf to catch waves. We were often in the water at or past sunset.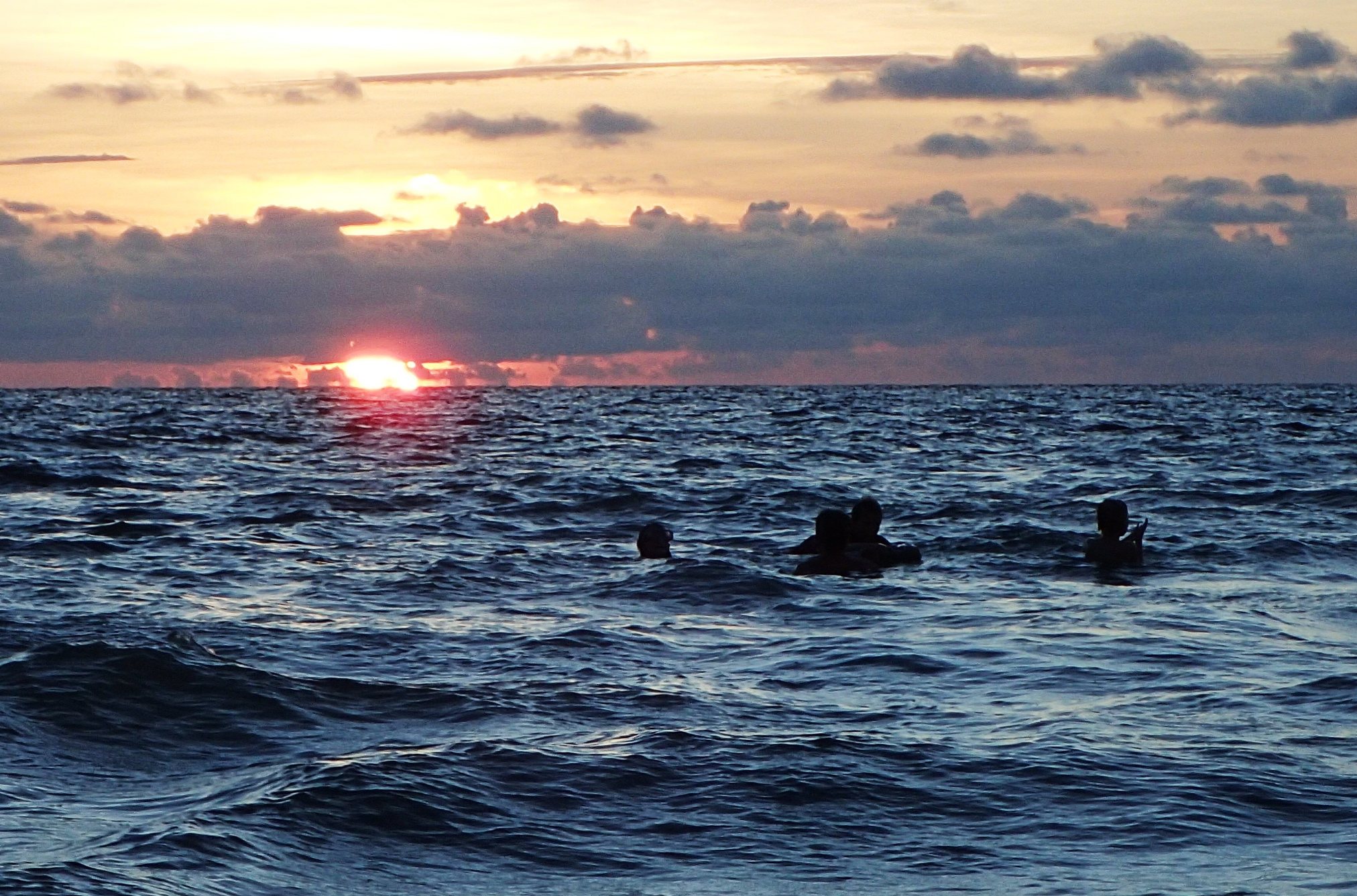 The above pics are from Indian Rocks Beach where we could park. Belleaire Beach is all single family 7-digit beachfront homes, of which this was probably the most palatial. I later saw an ESPN feature and found out this is Tom Brady's Tampa Bay region home!
It was an easy walk or jog up here to nearly empty beach.
One day we were a few miles south at Redington Beach. Bird variety is impressive in Florida and most of them are unafraid of beachgoers.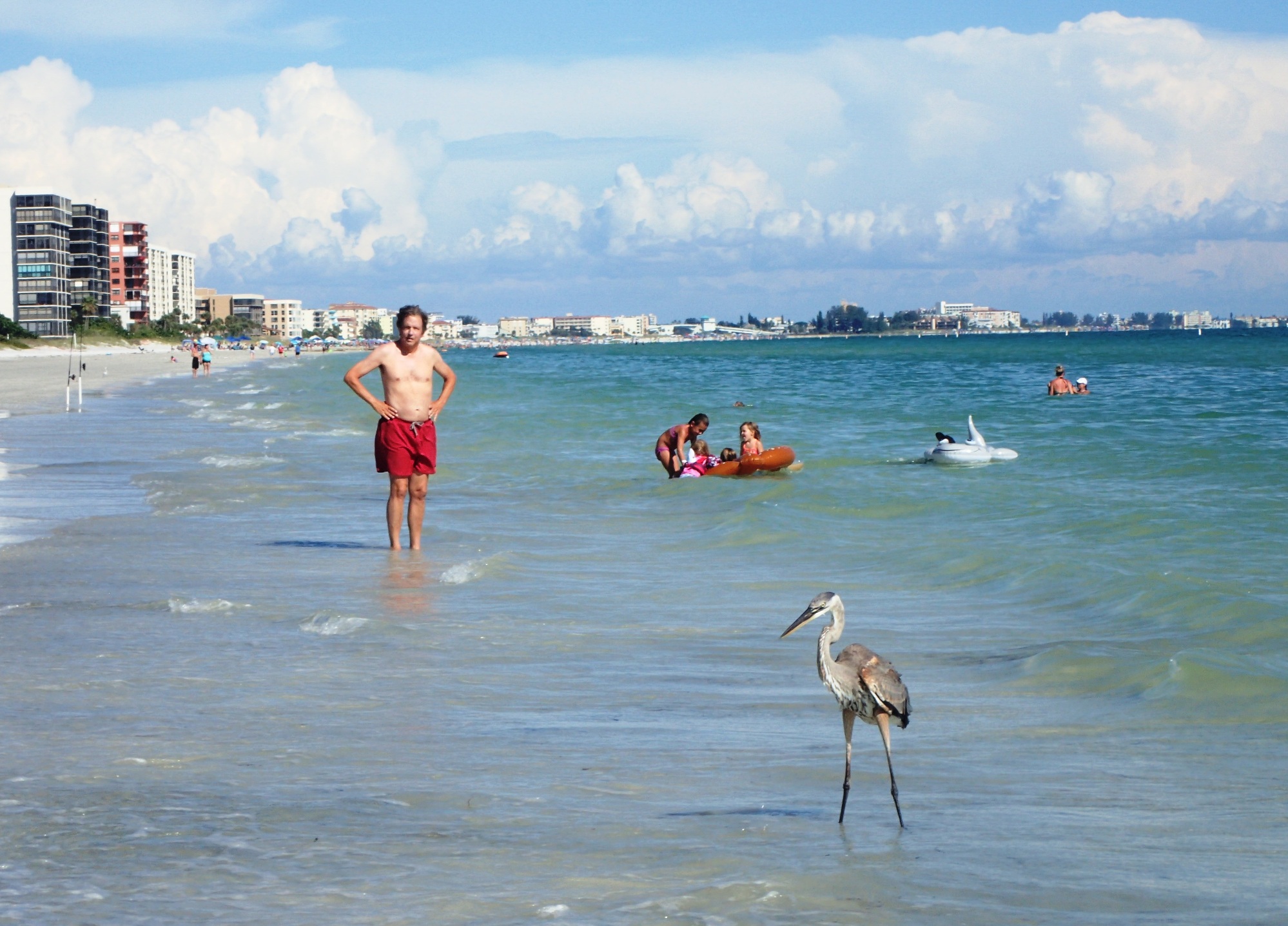 It's about 5PM and still blazing hot. Many people who go to the beach in Florida bring big tents, as California style umbrellas are not as adequate for shade.
All of these beaches are on a barrier island. Bellaire Bluffs is on the inland side of the Intracoastal waterway. "Bluffs" in Florida mean over 30 feet above sea level, out of range of a maximum hurricane storm surge. Maybe 1/3 of Pinellas County is that high. Here I'm under the bridge over the Intracoastal Waterway.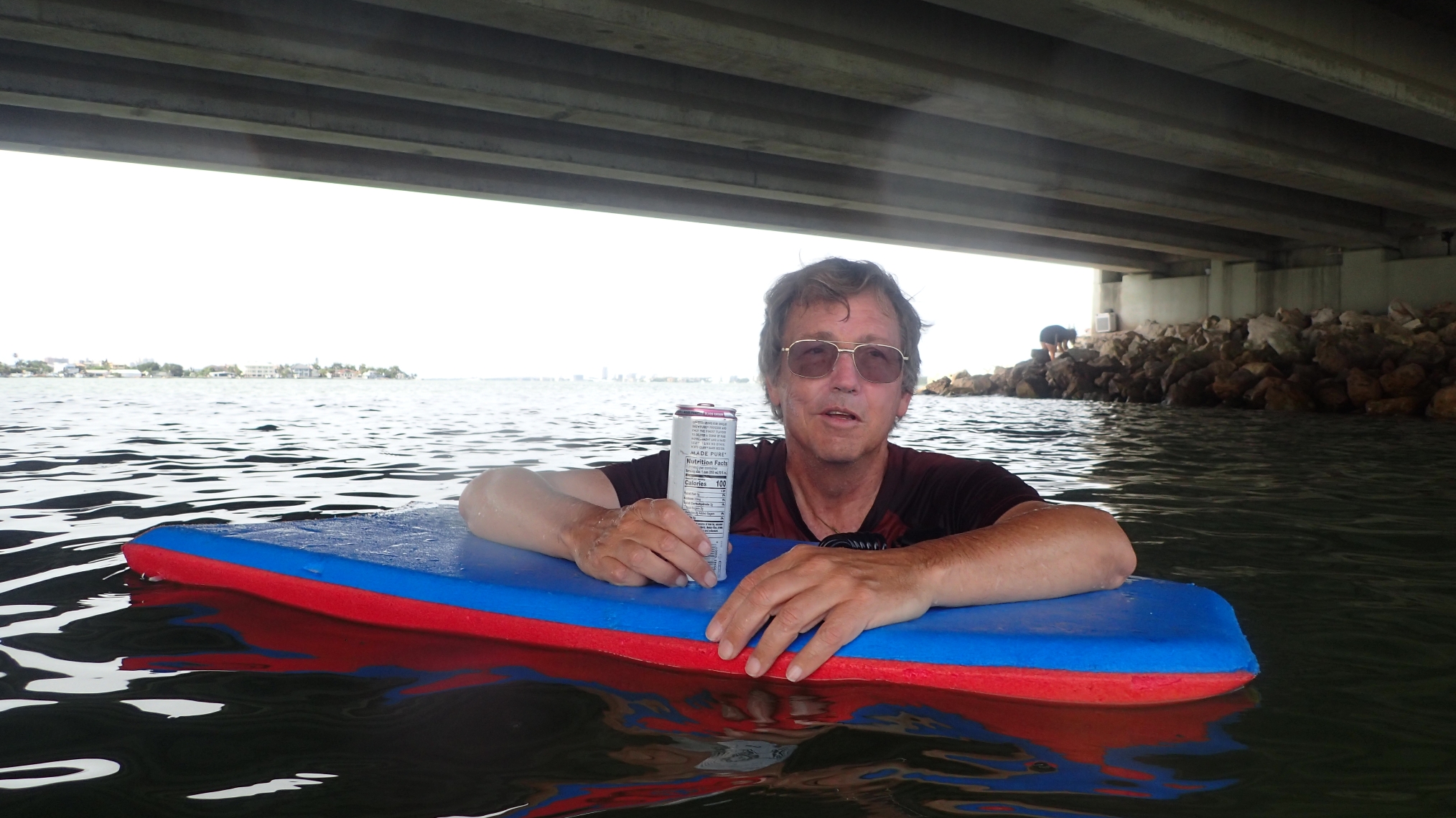 We found this sign amusing at the War Veterans' park.
There were no public fireworks displays for July 4th, but Laura knew where we should go at Indian Shores for private fireworks. They stayed in the car but I walked to the beach between two setups that lasted at least 20 minutes. This one was north.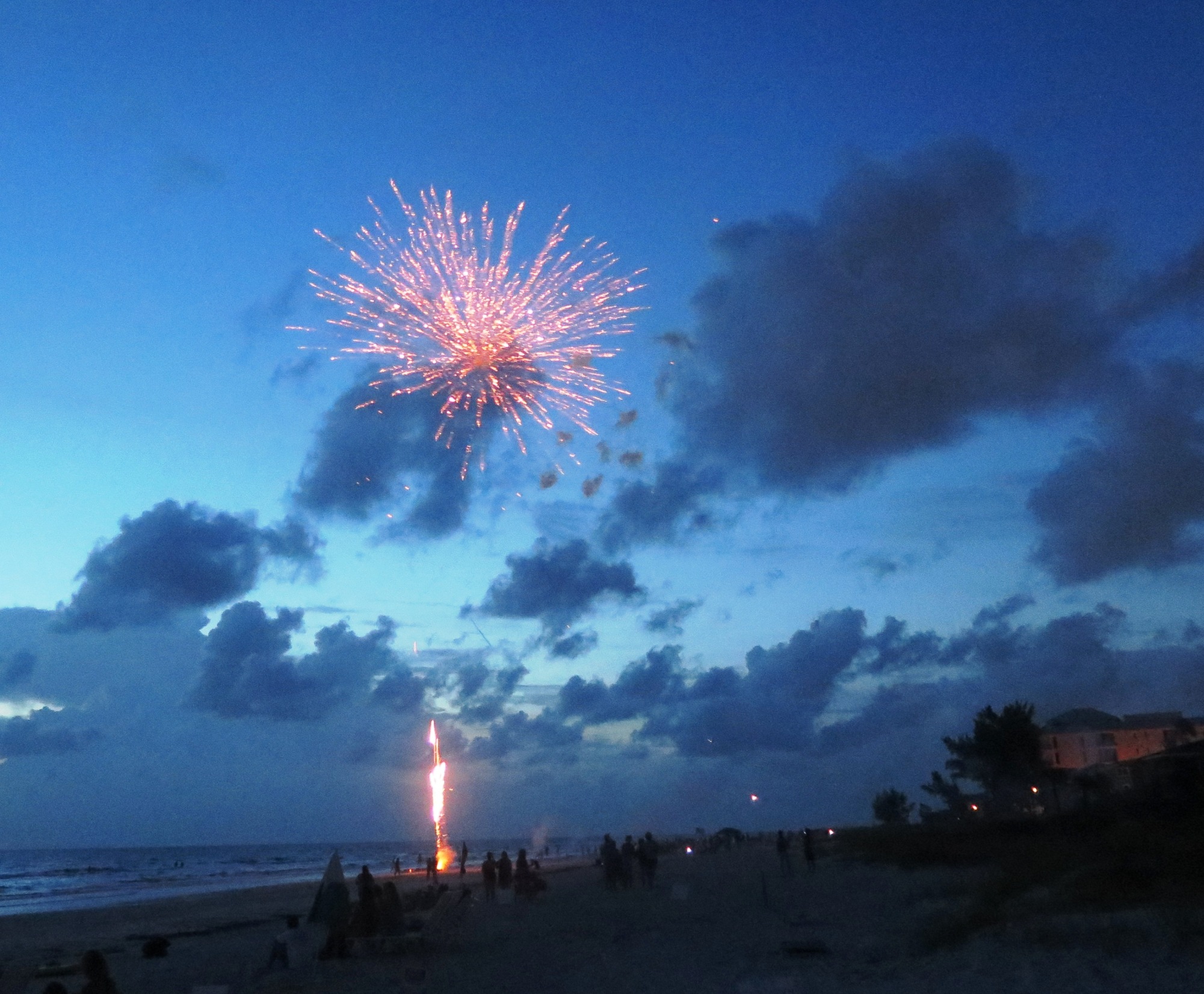 And this one was south.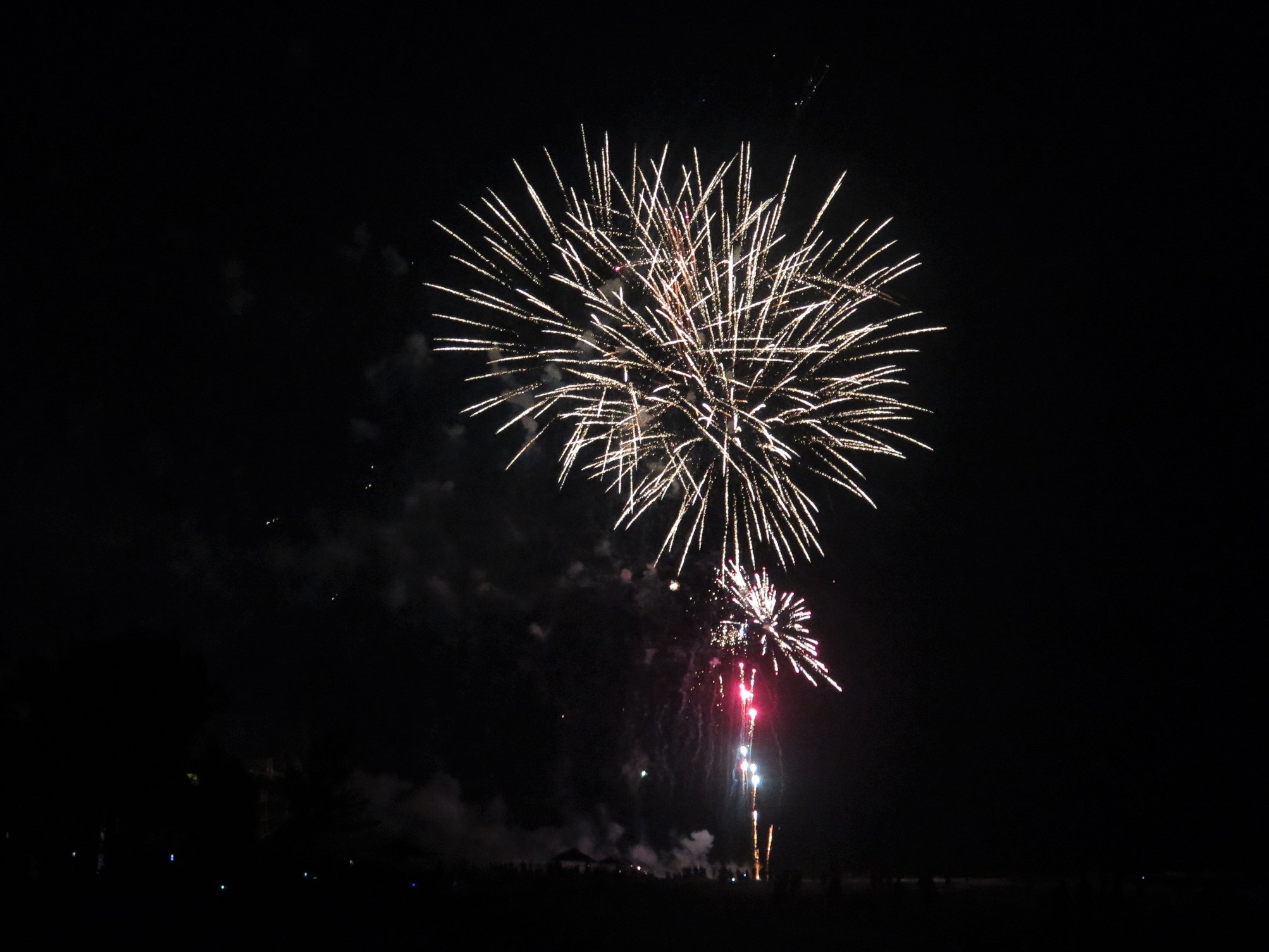 Florida is one of those states where you can buy volcanoes and skyrockets. . I had some of those from Nevada which I set off on Laura's street later.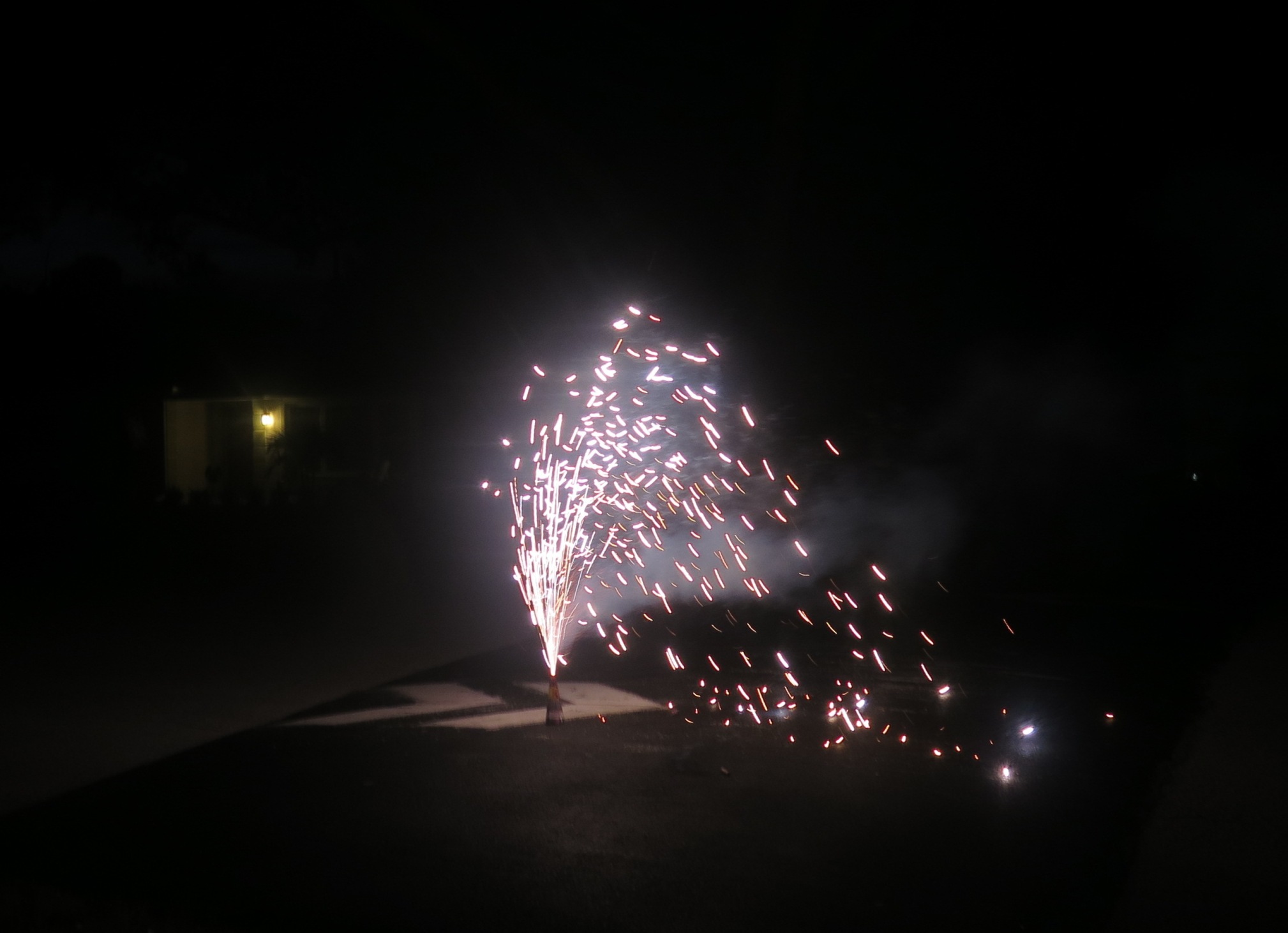 Here's another sight we would not see on residential streets at home.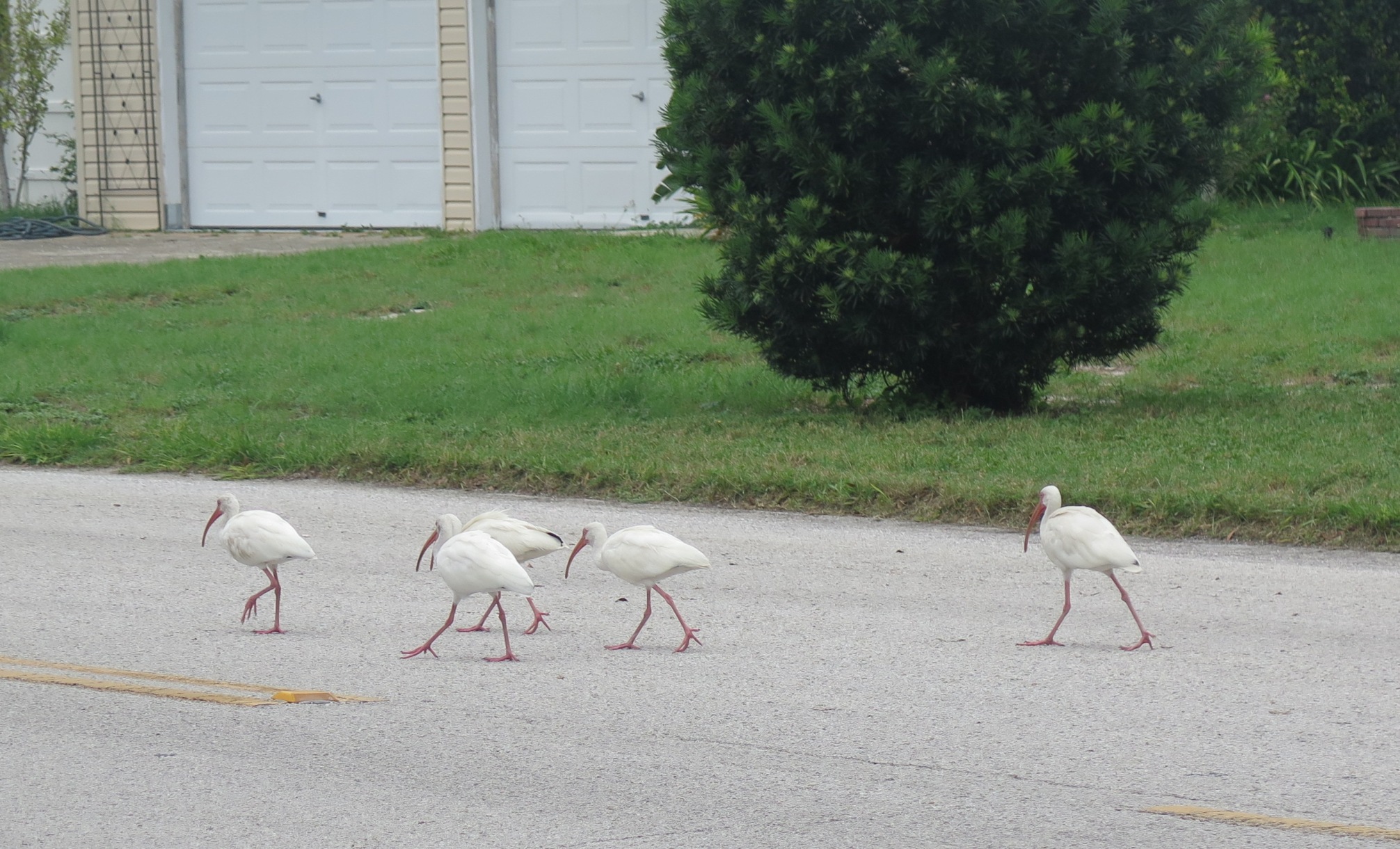 Later in July we borrowed a tandem kayak from Laura's neighbors and took it down the hill to the Intracoastal Waterway, starting under the inland side of the bridge.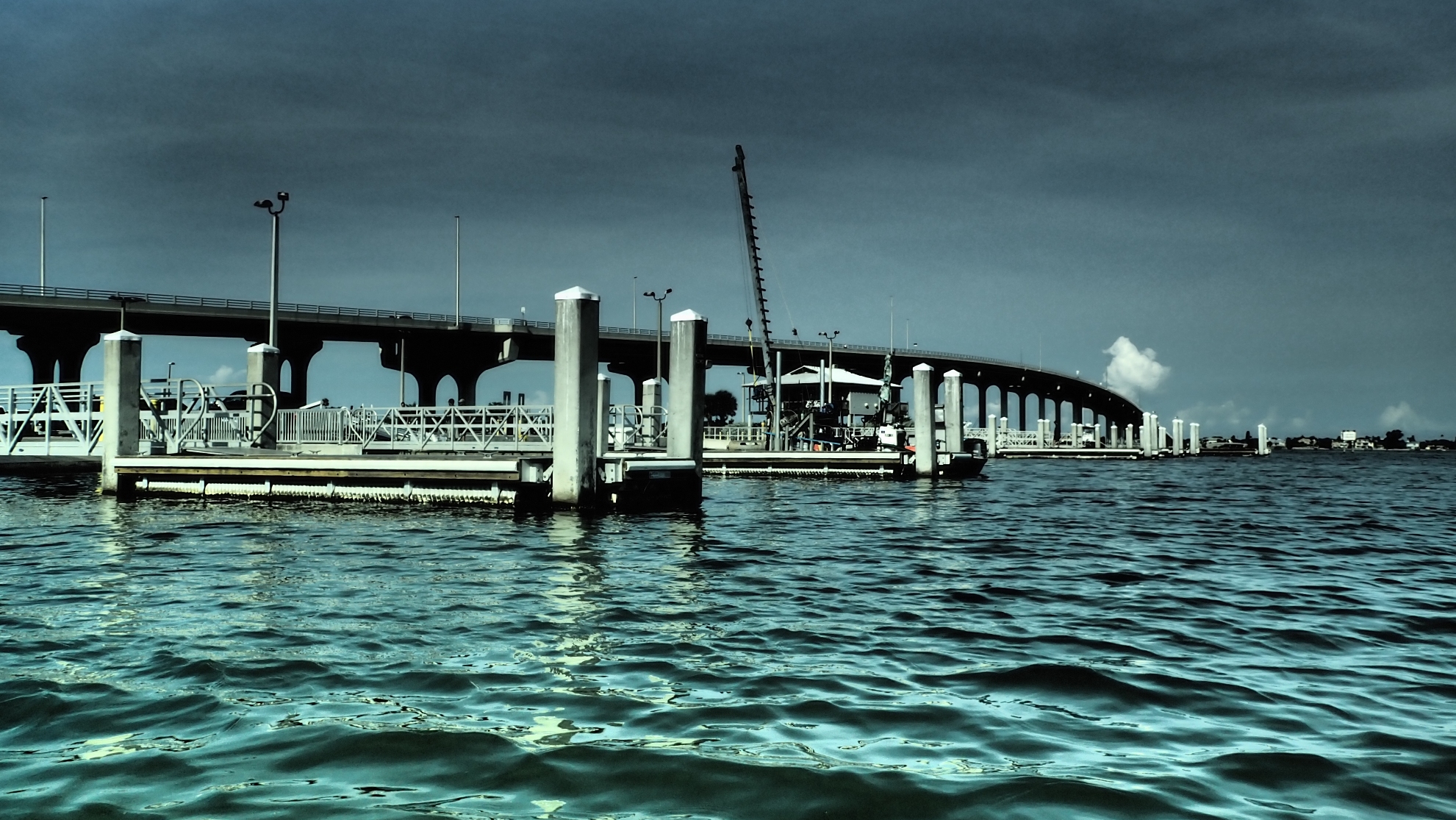 We kayaked south into the inlets with waterfront homes, many with lawn ornaments.
Nearly all boats were on hoists to keep them out of the water when not in use.
I do not see this in California marinas. And nearly all boats I saw here and in the even more upscale waterways in Naples later were powerboats. Only in the Florida Keys did we see many sailboats.
This dog ran, furiously barking, to the edge of his lawn.
He was not barking at us, but at a dolphin fin in the water.
This house was under construction.
Notice the concrete and rebar for hurricane resistance.
We stopped for a break at an island.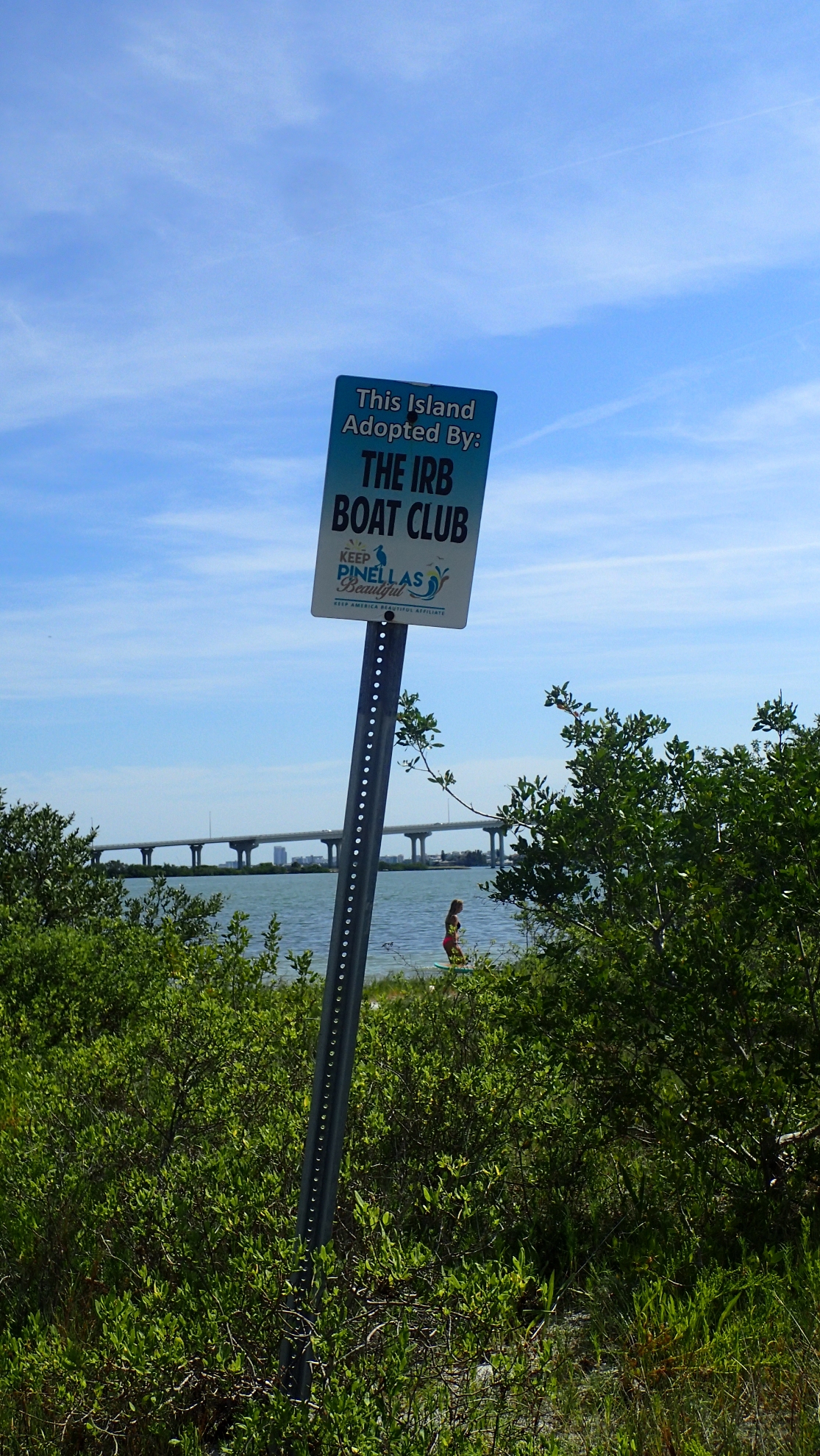 The other nearby islands are reserved for the birds.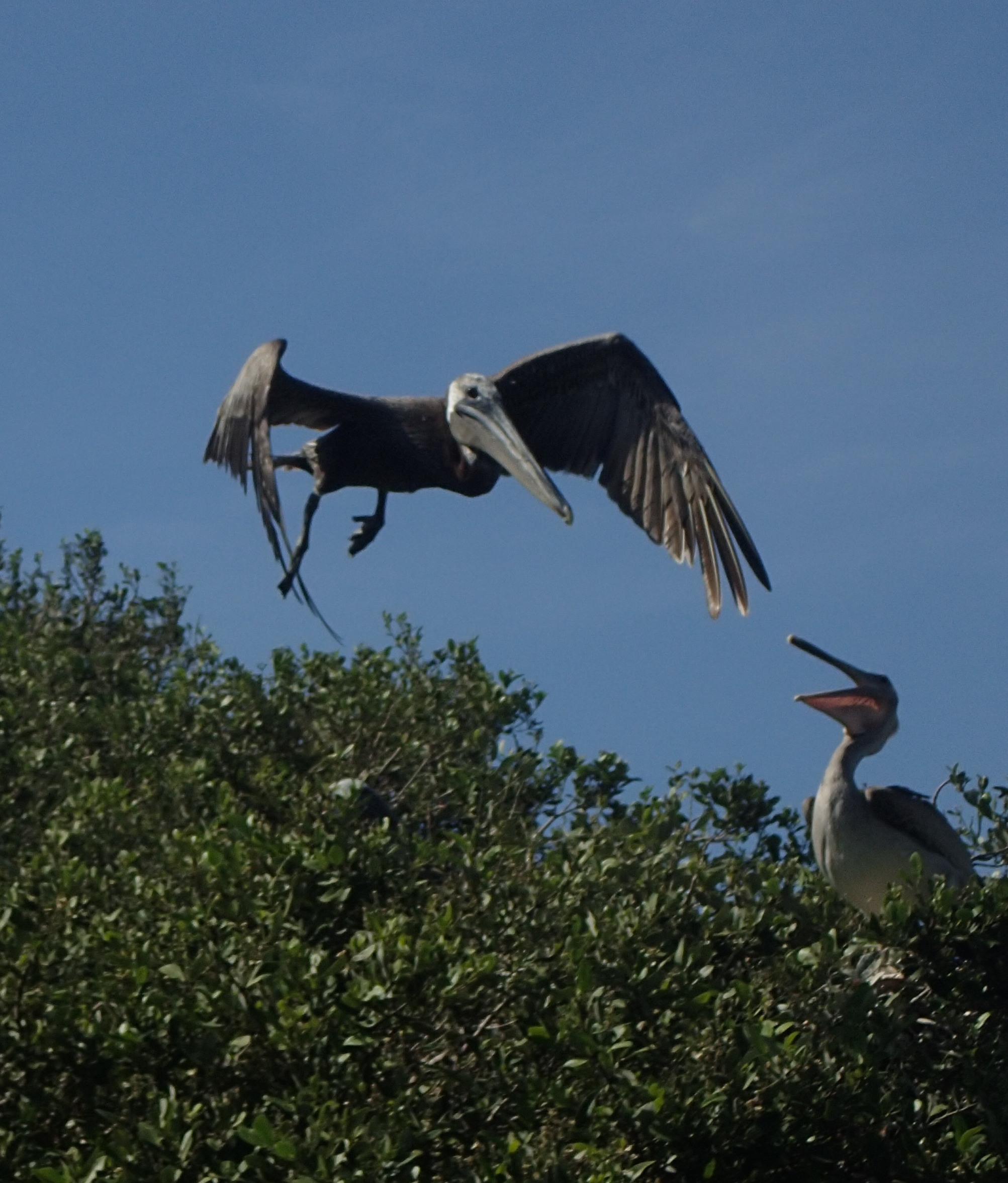 It took about 10 minutes to wheel the kayak back to Laura's house.
If you have to be in Florida all summer, it's a saving grace to be this close to the water.
July 25 was Laura's 90th birthday.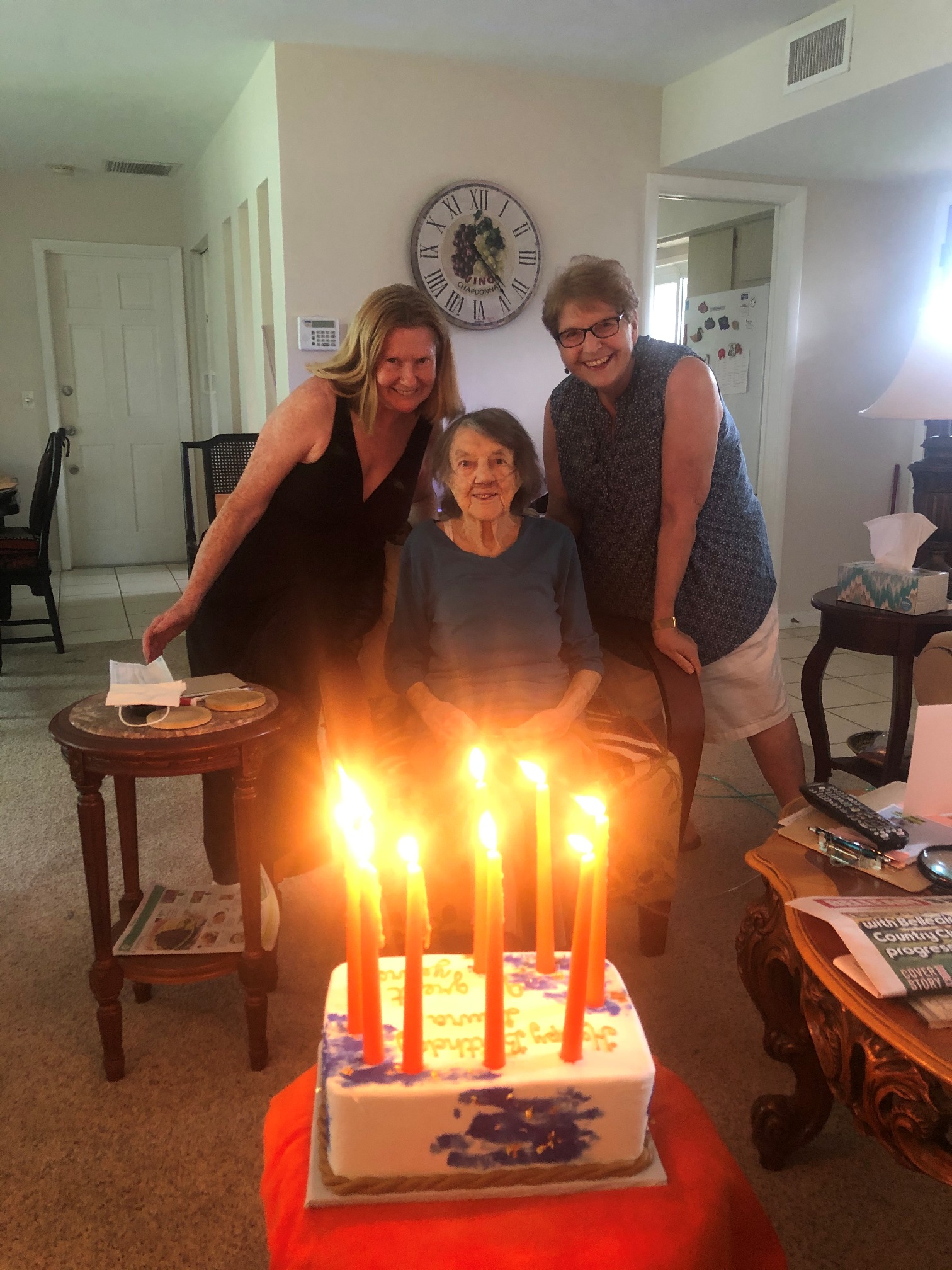 This summer brought us up to speed on observing green flashes at sunset, a pastime of some of our eclipse chasing friends. The warm and calm water of the Gulf in summer raises the odds vs. most places. Capturing one on film is not easy so the lime green edge here on August 4 is the best we got.
Some people think horizon refraction effects like this are a promising sign for a green flash, but we did not get one after this view from the top of the bridge on August 6.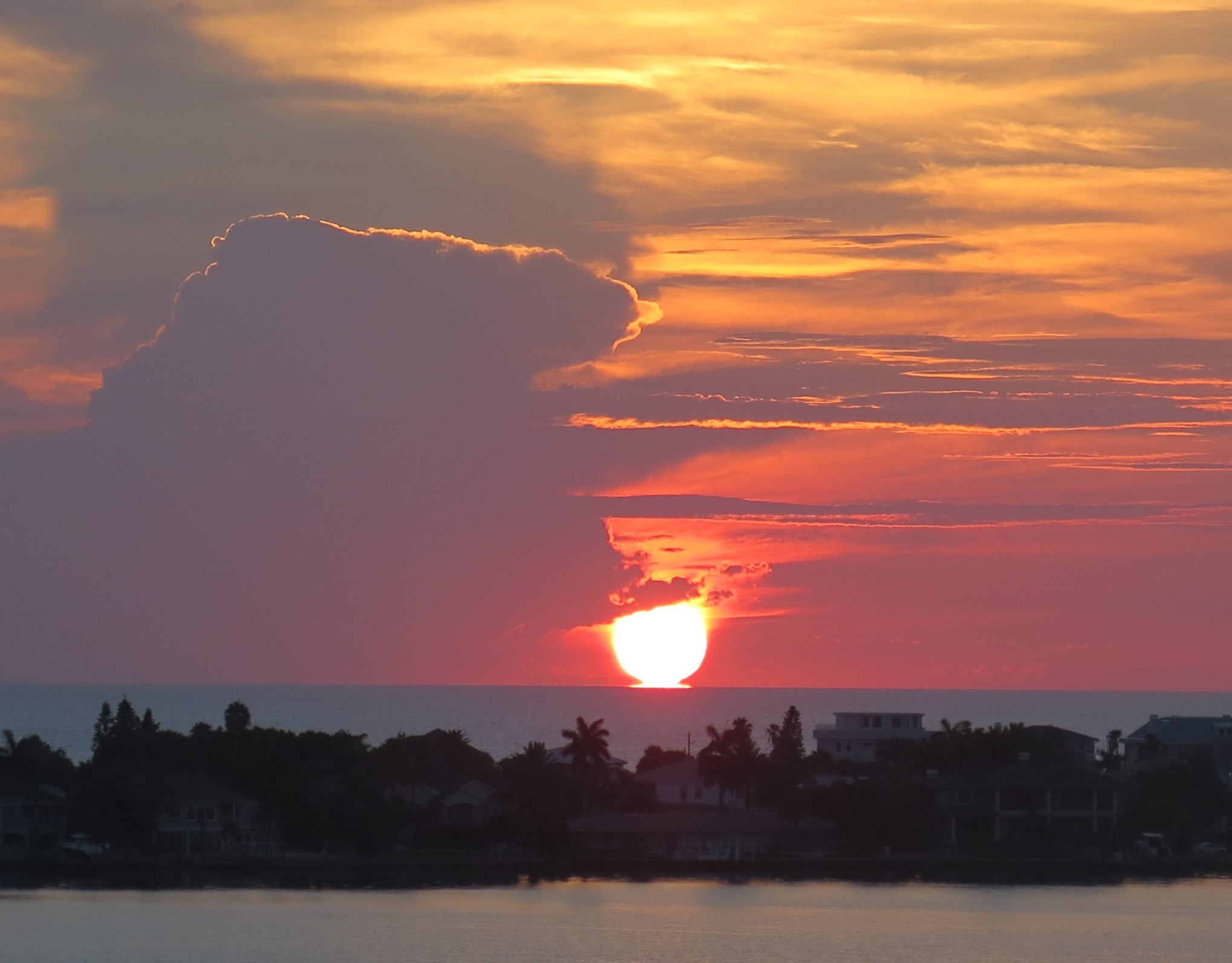 The Florida Gulf horizon was cloud free at sunset less than half the time. When it was, the orange sun would usually only fade to yellow at the end. Maybe 5-6 times we saw a bit of lime green as on August 4. On June 30 and August 2 we saw the real deal, a bright kelly green flash. August 2 was also the day that the Crew Dragon astronauts splashed down in the Gulf, the same time as Hurricane Isaias was about 50 miles off the east coast of Florida. When Hurricane Laura was in the Gulf advancing toward Louisiana, it was overcast but the surf at Belleaire got up to barely 2 feet.
I never experienced a big weather system all the time I was in Florida. Rain was always in the form of short but intense localized thunderstorms. It would typically dump an inch of rain in 15-20 minutes and then move on. Many of them missed us to the north or south and sometimes we had impressive lightning shows at those beach sunsets. Laura had a rain gauge in her backyard. It rained 9 inches in June before I arrived but no more until July. July had 8 inches and August about half that. Every day the high was between 90-93F and the low between 77-80F. It rains about 20% more in summer in central and east coast Florida than on the Gulf coast.
Last edited: