Administrator
Staff member
One tourist pastime in Florida is watching space launches from Cape Canaveral. The first Crew Dragon manned launch to the space station was scheduled while I was driving to Florida. It was scrubbed for weather on May 27 and rescheduled for the next weekend. Saturday's weather forecast was poor, so Liz arranged to go Sunday. But there was a short weather break Saturday so the launch happened May 30 and Liz missed it.
For intel on space launches we have
an excellent source in Ben Cooper
. He is the official NASA photographer and we met him on the charter eclipse flight from Bermuda in 2013. Needing to arrange care for her mother if we took any trips, Liz decided the next launch she would try would be for the Mars Rover Perseverance, first scheduled in mid-July.
Meanwhile I decided to make a daytrip for a Falcon 9 Starlink launch on June 26. It was scheduled for 4:15PM so I hoped to get a close view from Playalinda Beach 4 miles north of the launch pads. I ended up in parking lot 5 with this view from the raised boardwalk.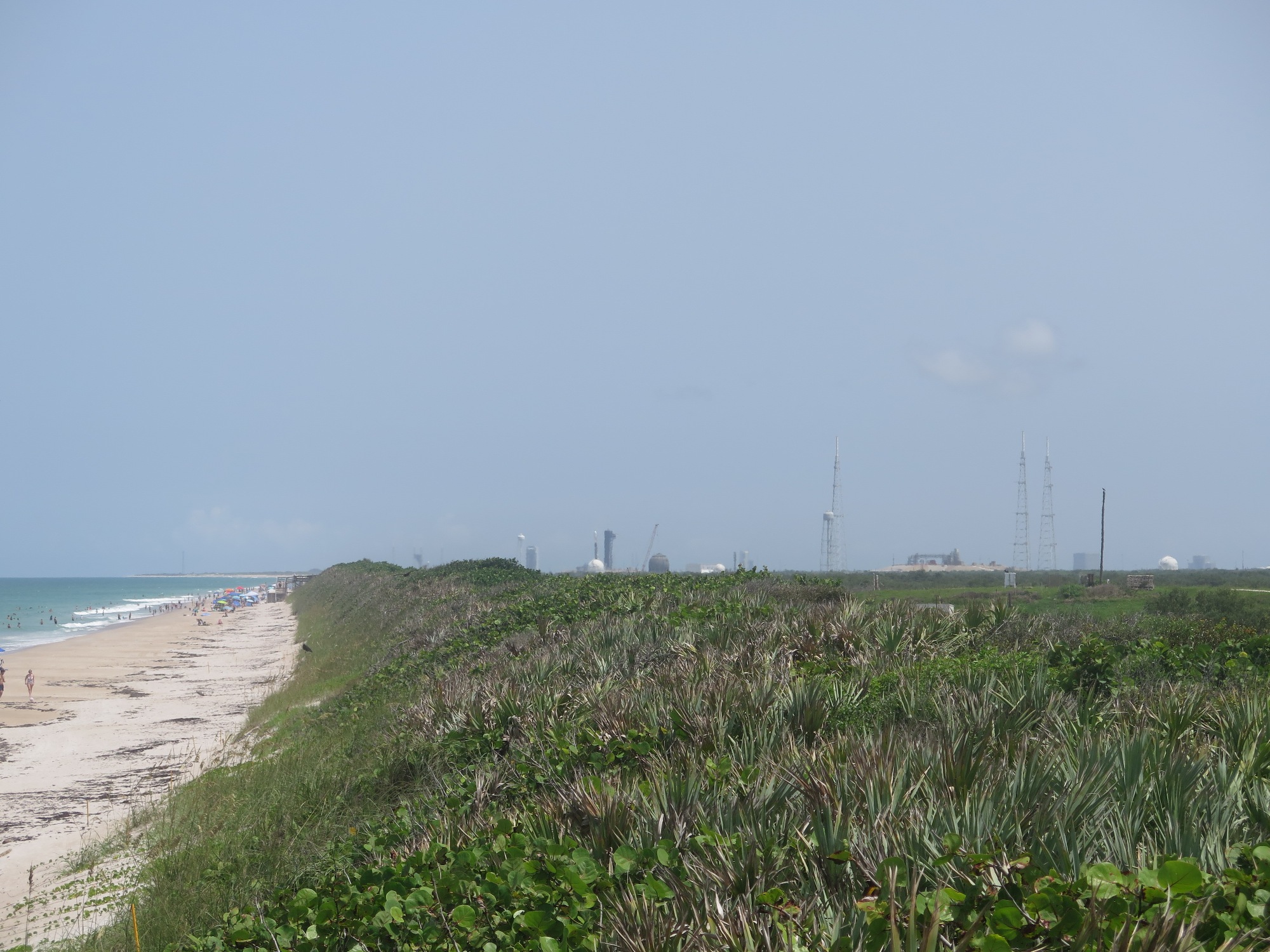 The Falcon 9 is the thin rocket behind a white dome left of center with a much thicker launch tower immediately to its right. The vegetated sand dune is at least 20 feet high so the launch pads are not visible from the beach unless you walk 1+ mile closer past the parking lots. I walked 3/4 of a mile to the boardwalk at lot 2, only to learn that the Starlink launch was scrubbed about an hour earlier.
I had no cell service at Playalinda but I did get a nice swim there with a few waves. As I left the beach I slowed while a turtle crossed the road.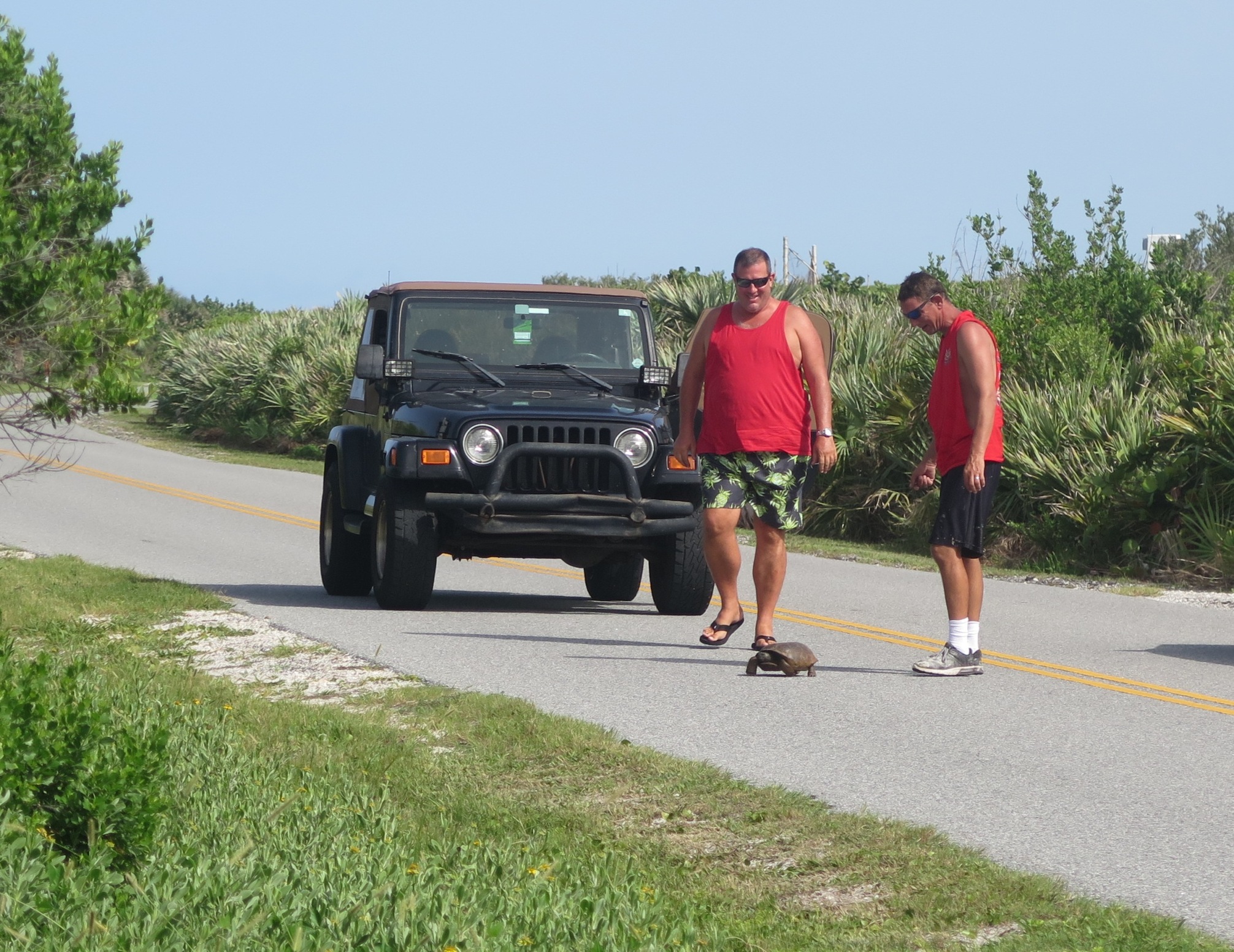 Space launches are chronically delayed. In the case of Falcon 9's, the weather needs to be good not only at Canaveral but 200 miles out to sea where a barge recovers the first stage. This particular Starlink was now postponed for the 4th time.
The Mars Rover launch got rescheduled to July 30 at 7:50AM. Liz arranged for a prospective caregiver so we could get away for two full days. We decided to watch this one from the Kennedy Space Center, where we arrived at 6:30AM.
While waiting I compared travel stories with this guy.
Kennedy Space Center is 7 miles from the Delta 4 launch pad, but the pads are not directly visible so a screen was set up.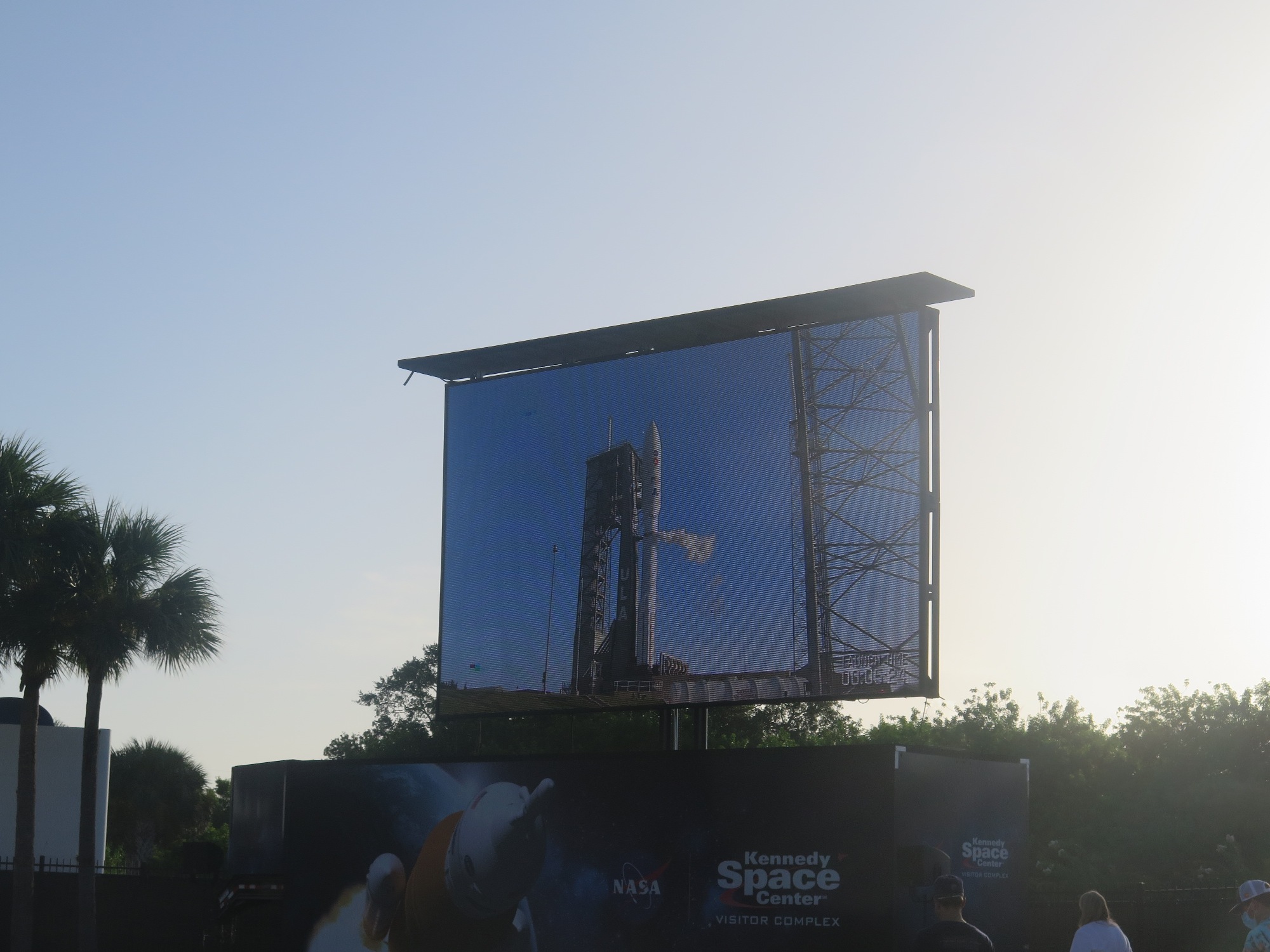 The launch is also close to the direction of the rising sun. I moved to get a view left of the screen.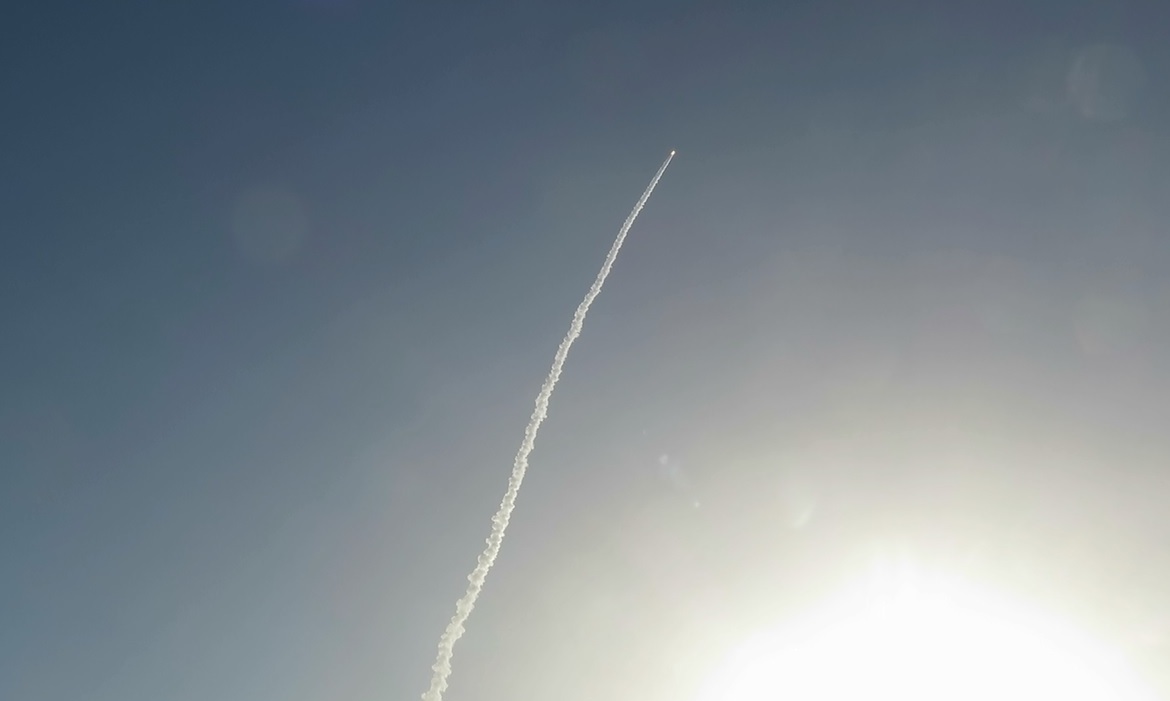 Judy and Glenn Flayderman drove a couple of hours from their home to meet us at the launch.
We met Judy on the 2016 scuba/eclipse trip and they both joined us in Jackson in 2017.
After the launch we toured the open parts of Kennedy Space Center, starting with the Perseverance Rover exhibit.
Perseverance will be the first Mars rover to bring a helicopter.
With Mars' thin atmosphere the heli needs large blades to carry just a one pound camera box.
Next we saw the space shuttle Atlantis.
This is a better display than in L.A. or D.C. with a the mezzanine view and open cargo bay.
Astronauts' Memorial:
Liz by Saturn 1B rocket:
There is an even bigger Saturn V, which was not accessible because it requires a bus ride closed for the pandemic. FYI that Saturn V Center is the closest clear view spot to view most launches.
This is a Crew Dragon capsule tested before that first manned launch.
This prospective Orion capsule is designed to carry 4 astronauts to lunar orbit.
Liz wanted to use our extra night for blackwater night diving off Palm Beach, a 2+ hour drive south. I requested to see Dodgertown Vero Beach on the way.
If you're required to wear a mask on a scuba dive boat, this is not a bad design.
Blackwater diving means after dark in open ocean, about 600 feet deep here. In this area around Palm Beach lots of deep water creatures come up to feed on plankton at night. We saw a couple of comb jellies like this.
But overall it was a very sparse dive according to local photographer Steven Kovacs. The water was calm but visibility was below average. Tropical storm Isaias was about 200 miles south, due to arrive in a couple of days and perhaps the sea life was laying low.
From the boat divers are visible by their dispersed blue lights and while in the water we were supposed to keep that illuminated red buoy within view. The buoy had a weight 40 feet down, which we were not supposed to go beyond in depth.
We did not get in the water until 9:15PM and were back to our hotel on Singer Island at almost midnight. Here's the view out our hotel window the next morning.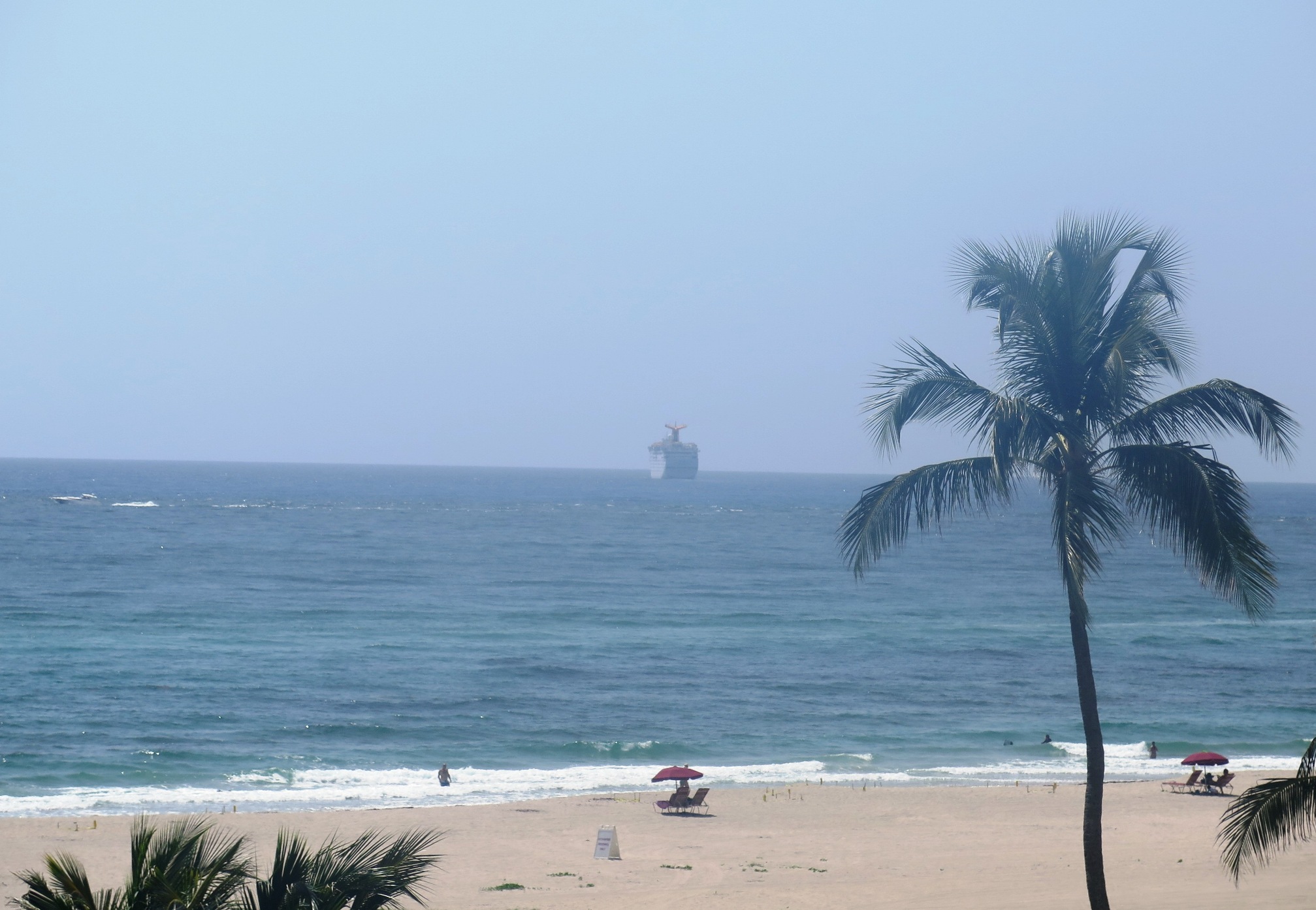 East coast Florida has a little bit of surf of which I took advantage here.
We drove home to Belleaire on a diagonal route passing by the north end of Lake Okeechobee.
Remember that Starlink I missed in June? After 4 more postponements I finally got to see it at 1:12AM on August 7. Night launches are recommended for the sharp illumination of flame which can be seen for about 4 minutes after launch. My camera was not up to resolving that flame, so it's way overexposed.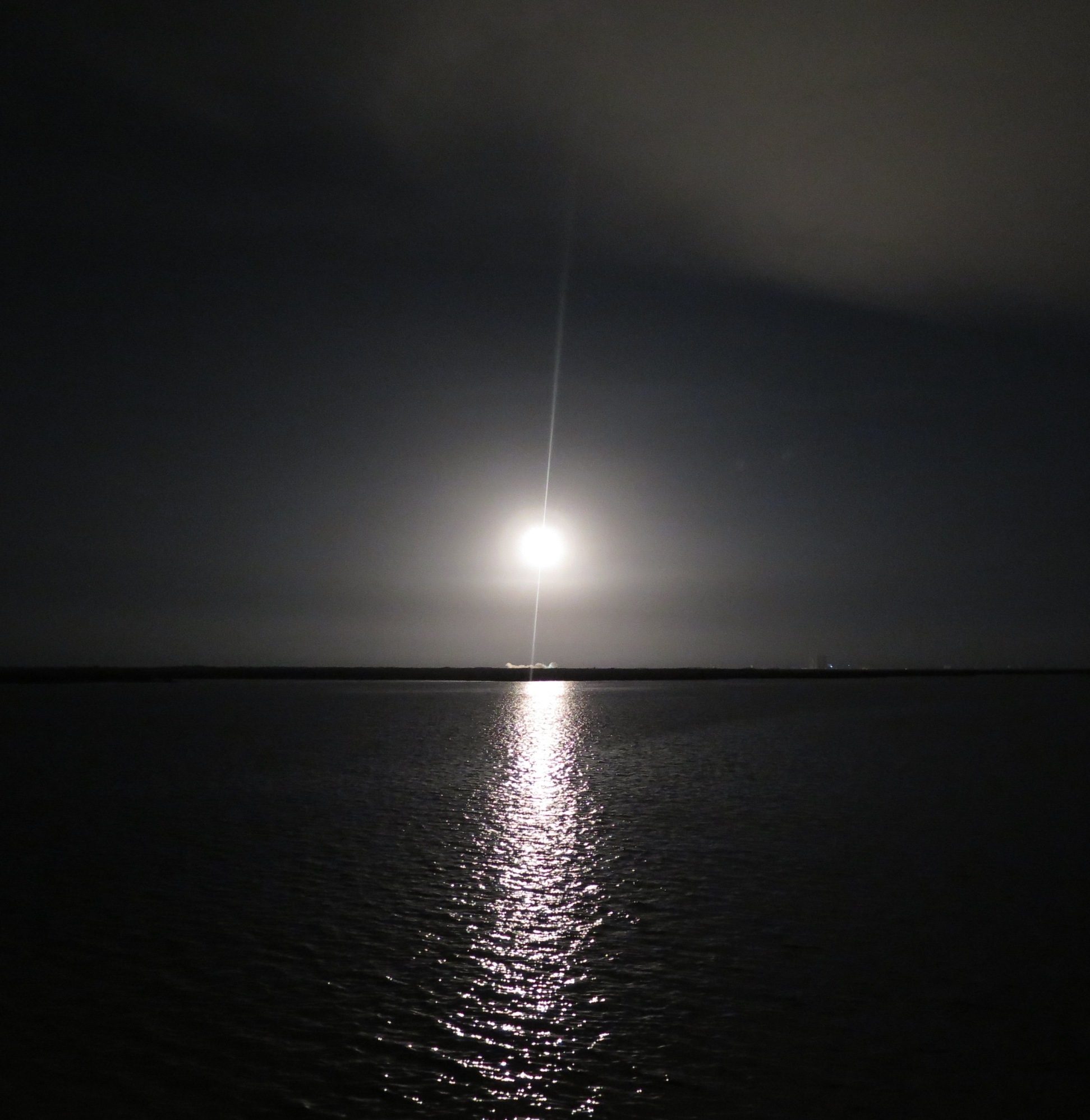 The view is from the Max Brewer bridge, about 12 miles NW of the launch pad. There was a light onshore breeze so the noise was also more evident than from the Kennedy Space Center on July 30.
Given the hour, I drove 15 minutes to Cocoa Beach and slept in the Tesla. I went to Lori Wilson Park for sunrise.
One of the park entrances is from I Dream of Jeannie Lane.
I then went for a run and swim. In Florida summer weather, I'm far from the only one there at sunrise.
Some Cape Canaveral towers are visible on the horizon at center right, maybe 15 miles way