Administrator
Staff member
I arrived in Florida June 27, with a week left to clear out Liz' mother's house and turn it over to a tenant. But I persuaded Liz to take a break that Sunday since the Angels were in town to play the Rays.
Likely MVP Shohei Ohtani lived up to his billing with walk, stolen base, double, triple, home run, 3 runs scored and 3 RBI in Angels' 6-4 win.
Before leaving Florida Liz wanted to see the mermaid show at Weeki Wachee Springs.
As scuba divers we found this impressive neutral buoyancy. We asked if they carry weights in their clothes and were told no, it's all by breath control. I suspect very low body fat is another necessity.
Northern Florida has the largest concentration of fresh water springs in the world. Weeki Wachee also has a couple of water slides into a swimming area and the spring empties into a river for kayaking.
We were not allowed to kayak there, but we took a portable kayak Liz had bought to Honeymoon Island north of Clearwater. I'm paddling into a stiff breeze here so staying close to shore.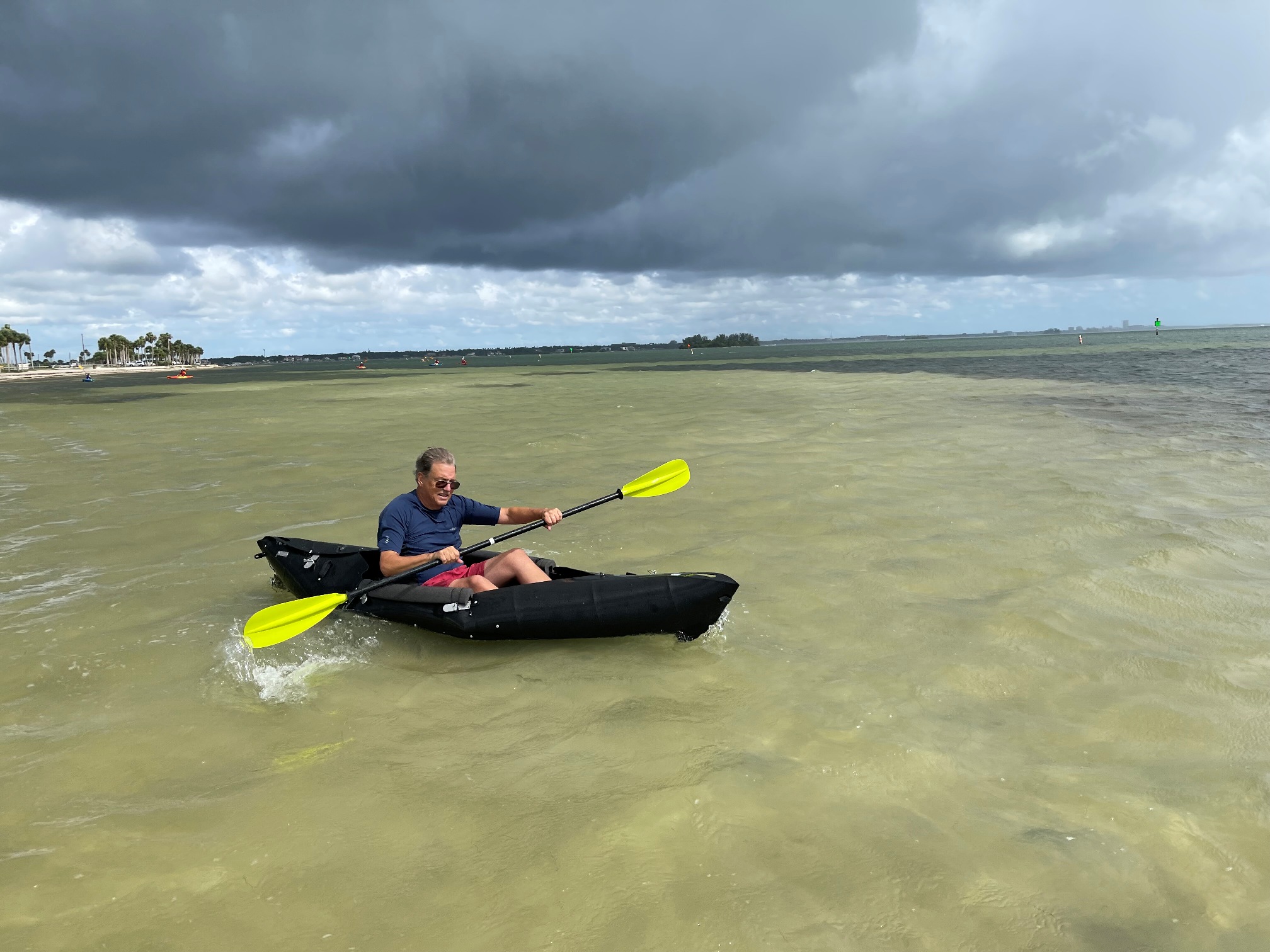 When I turned around, water sloshed in from the rear and sank the kayak. This was two for two, as Liz had taken another one of these to a "Boatstock" live music event in Boca Ciega Bay where it took on water and sank. The first kayak was lost but mine was in only three feet of water so we recovered it and packed it up to return to the manufacturer. We now believe that kayaks need to be made of material that floats!
We planned to leave July 3 but it took us all day to get everything done plus it rained intermittently and we were transporting furniture on the car roof to Pensacola for one of Liz' friends. The week I was in Florida it had rained every day, 11 inches in total, so we decided to drive all night with that furniture, delivering it successfully at 5AM. We needed a break after that so were fortunate to be allowed to check into the Hilton Garden Inn in Orange Beach, Alabama at 7:45AM.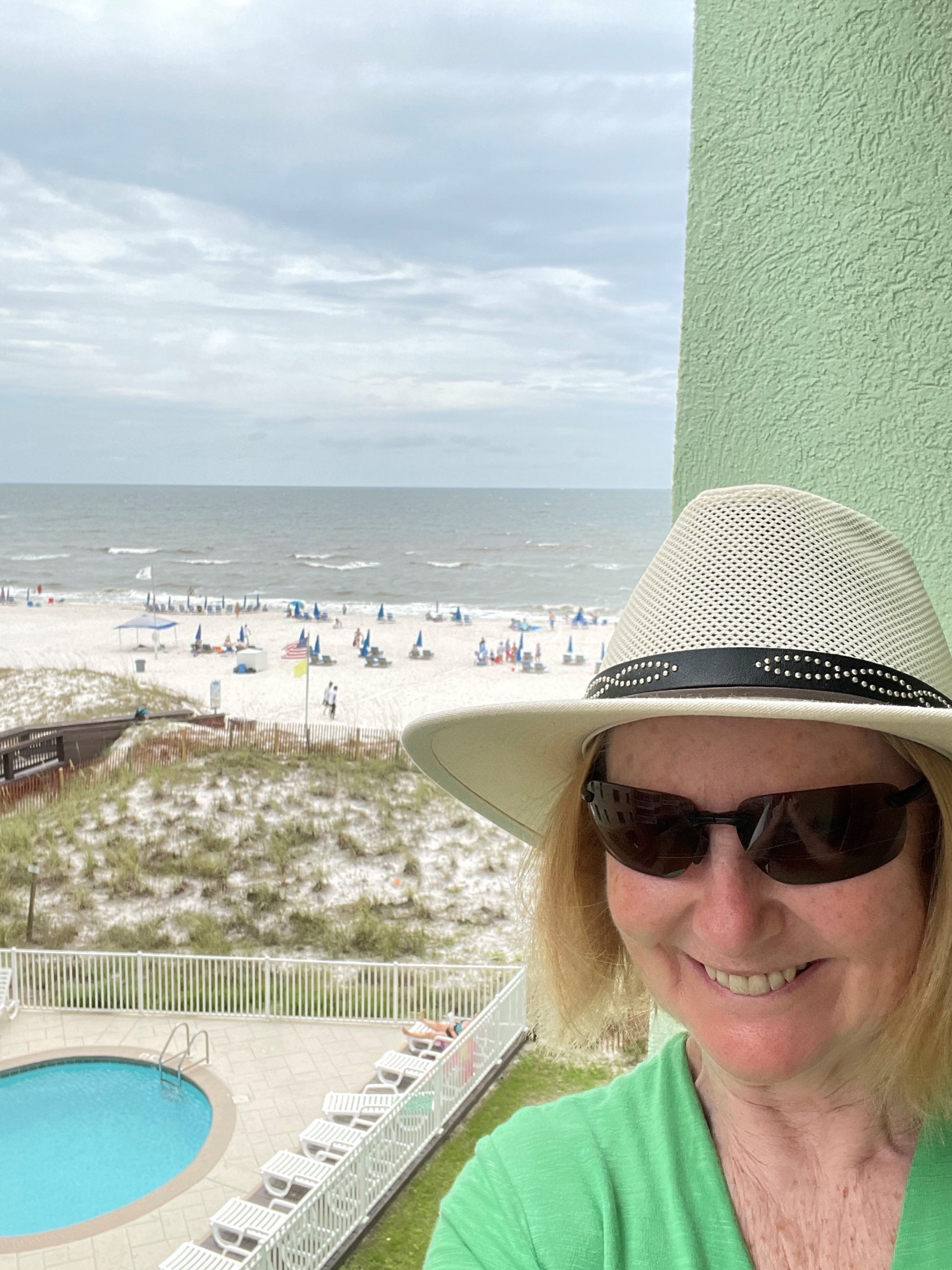 We hit the beach, slept most of the afternoon, went out for dinner, then back to the beach for July 4 fireworks.
Gulf State Park decided on this unusual speed limit to draw drivers' attention.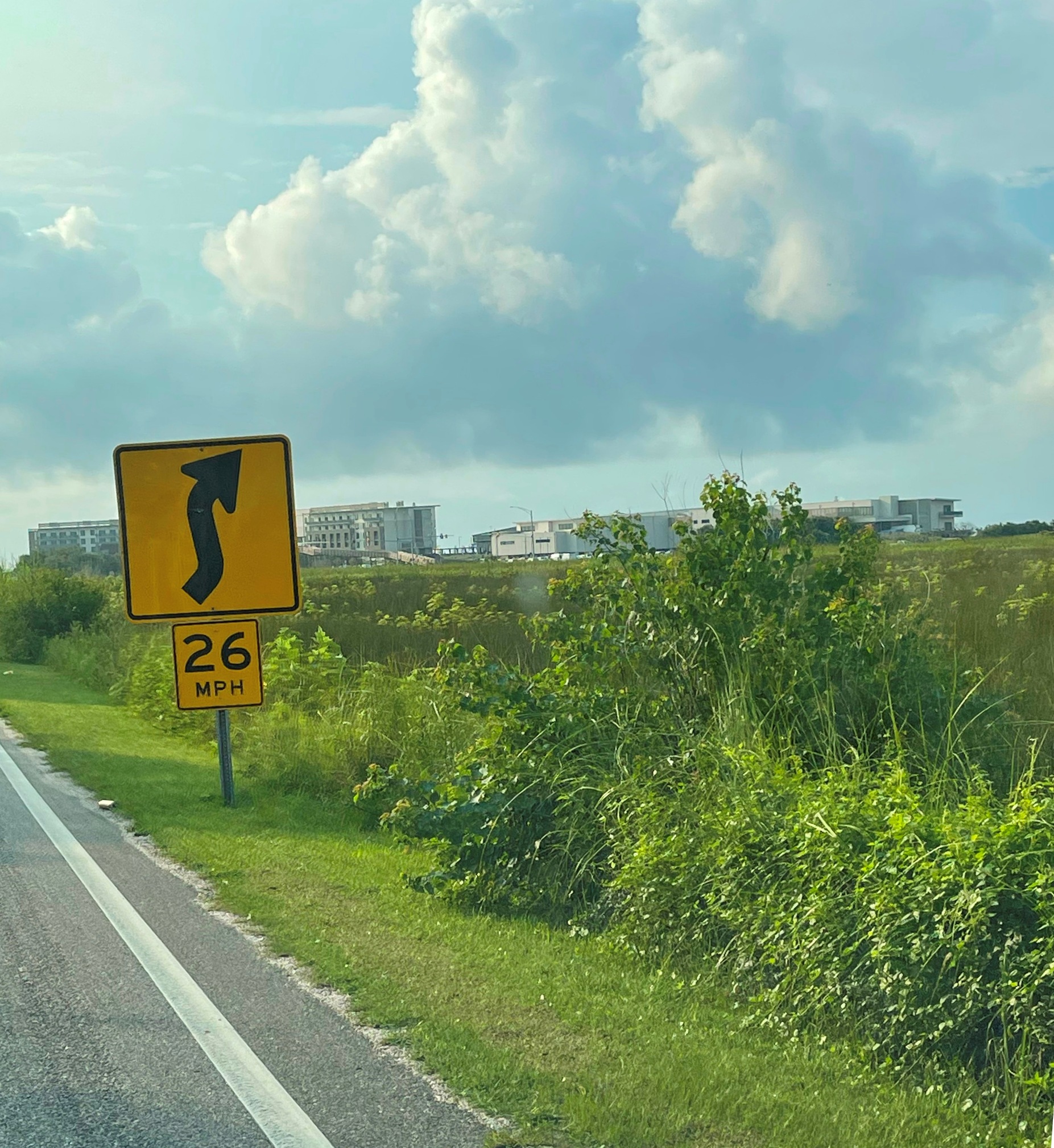 After another morning on the beach we drove the entire length of Alabama to reach the historic music studios. We didn't read the fine print at Fame Studios that tours are offered only at 9AM and 4PM,as it's still a working studio most of the day.
Fame was founded by Rick Hall in 1959. A decade later the Swampers musicians left Fame to found Muscle Shoals Studios.
Though both Hall and the Swampers are white, their 1960's greatest successes were with R&B artists like Wilson Pickett and Aretha Franklin. Later on, artists such as the Rolling Stones and Paul Simon came to Alabama to record with the Swampers.
We did get a tour at Muscle Shoals Studio.
We also visited the nearby Alabama Music Hall of Fame, where this was the most entertaining exhibit.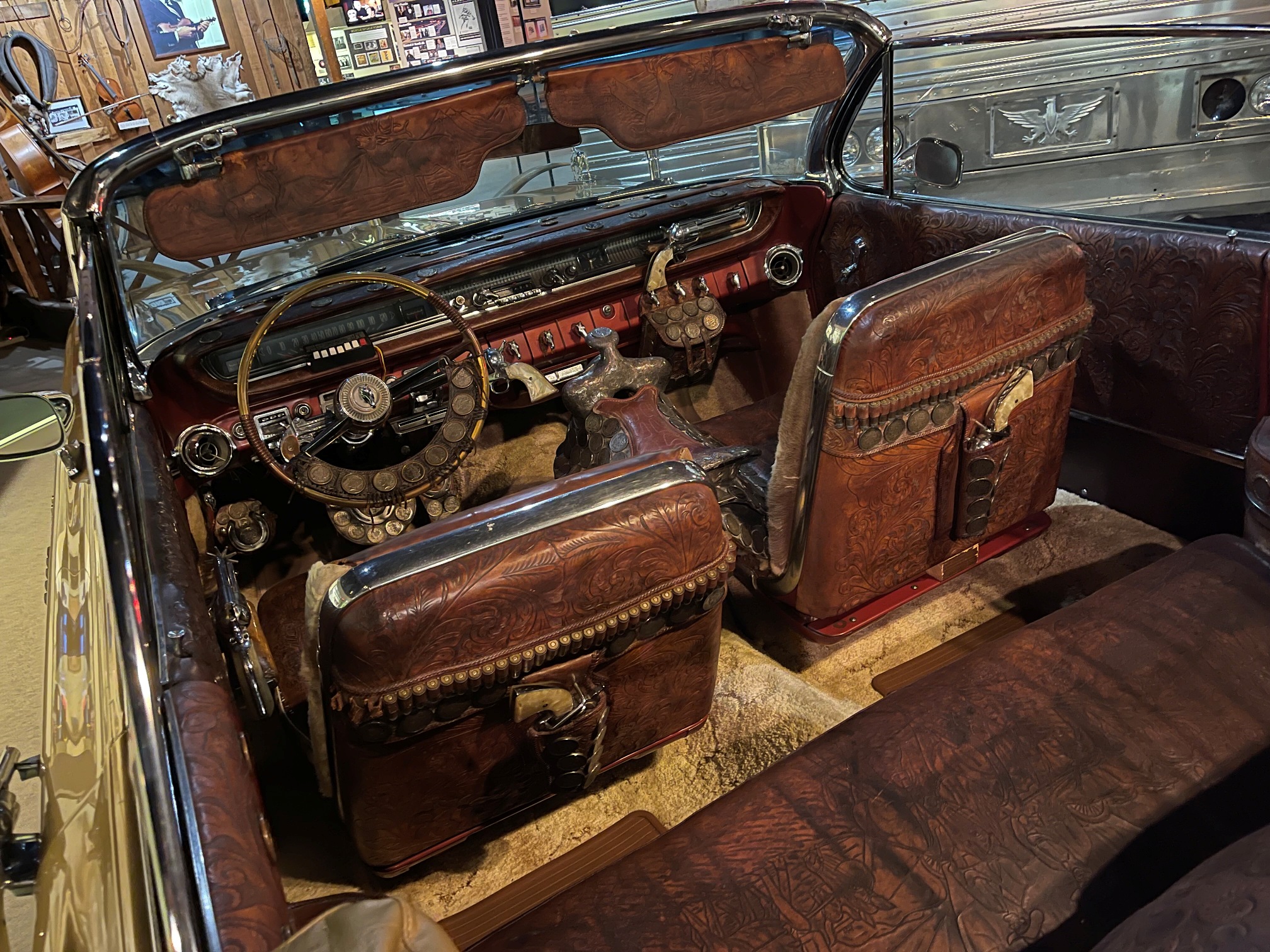 Muscle Shoals is on the Tennessee River and is just a short detour for music buffs visiting Nashville and Memphis, but it was a 6 hour haul from the Gulf Coast.
We had dinner in Jackson, MS on the way to Vicksburg. At Vicksburg we stayed at the Duff Green Mansion B&B, built by a successful cotton merchant in 1857.
The mansion survived the 47-day siege in 1863 by being used as a hospital while residents lived in caves to shelter from Union shelling.
After breakfast we got an informative tour.
The guide described the extensive entertaining done there, conforming to elaborate Victorian rituals copied from the English aristocracy.
This bust of Jefferson Davis is here because he visited once.
There were 20 slaves to support the business and household. However, the merchant class in Vicksburg opposed secession because they knew war would destroy their Mississippi River commerce.
We then toured the Vicksburg National Military Park.
The Illinois Monument is in the distance.
The Civil War saw the first rifled cannon barrels.
Their accuracy made brick forts like we saw in the Dry Tortugas obsolete.
Missouri Monument:
This honors Missourians who fought for both sides.
The partially restored ironclad gunboat Cairo was installed in Vicksburg National Military Park in 1977.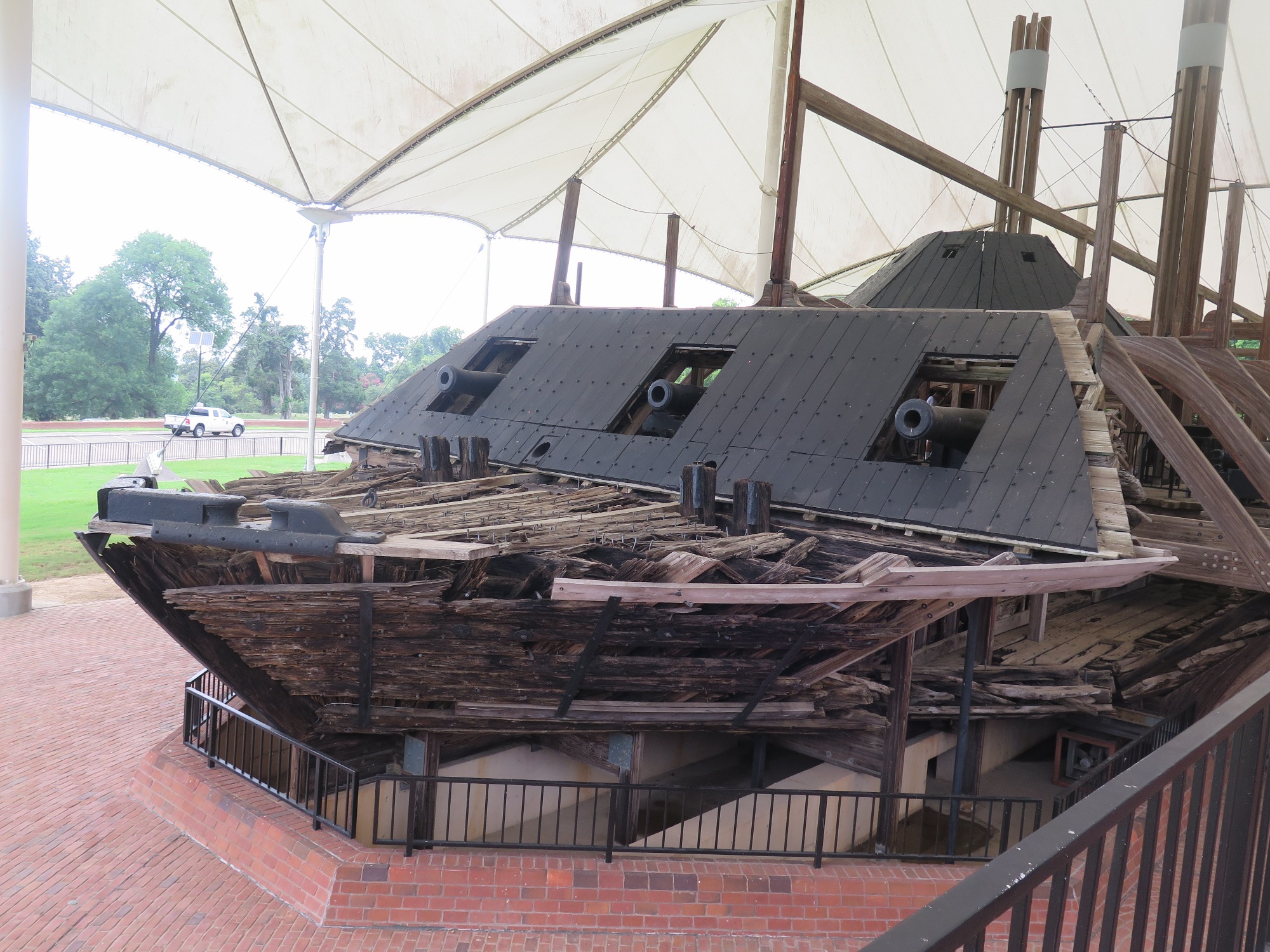 It was sunk in the Yazoo River in 1862, discovered in 1956, but it took a long time to recover and restore piecemeal.
The drive south to the gulf in Mississippi was punctuated by intense thunderstorms just as the drive north in Alabama had been two days earlier. We fortunately had a break in the weather when we passed by the Lynyrd Skynyrd memorial.
We spent three nights and two days at the home of one of Liz' friends who had moved there from NYC. They were on vacation in the Northeast but their hospitable neighbors gave us some tips.
View towards city center from Crescent Park: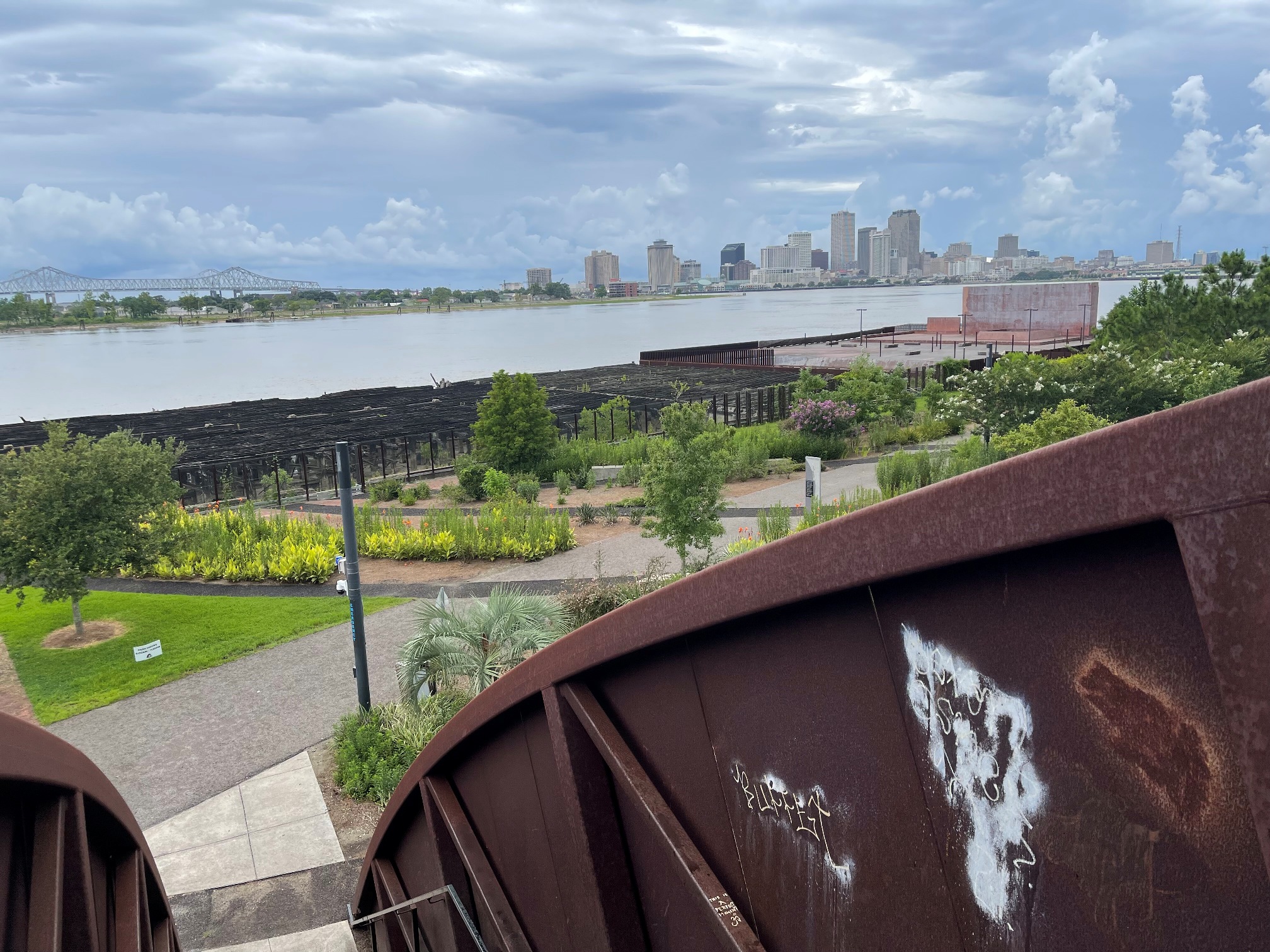 Barge in Mississippi River viewed atop levee a couple miles east:
Ninth Ward in opposite direction from the same spot, definitely lower than the river:
We followed advice and spent the evening on Frenchmen St.
We had a nice Italian dinner at Adolfo's between the two music club stops DBA and Maison.
The next day we went to New Orleans' noted World War II museum.
Most exhibits are fairly recently designed with excellent multimedia presentations.
Liz wanted to see the Treme district of New Orleans.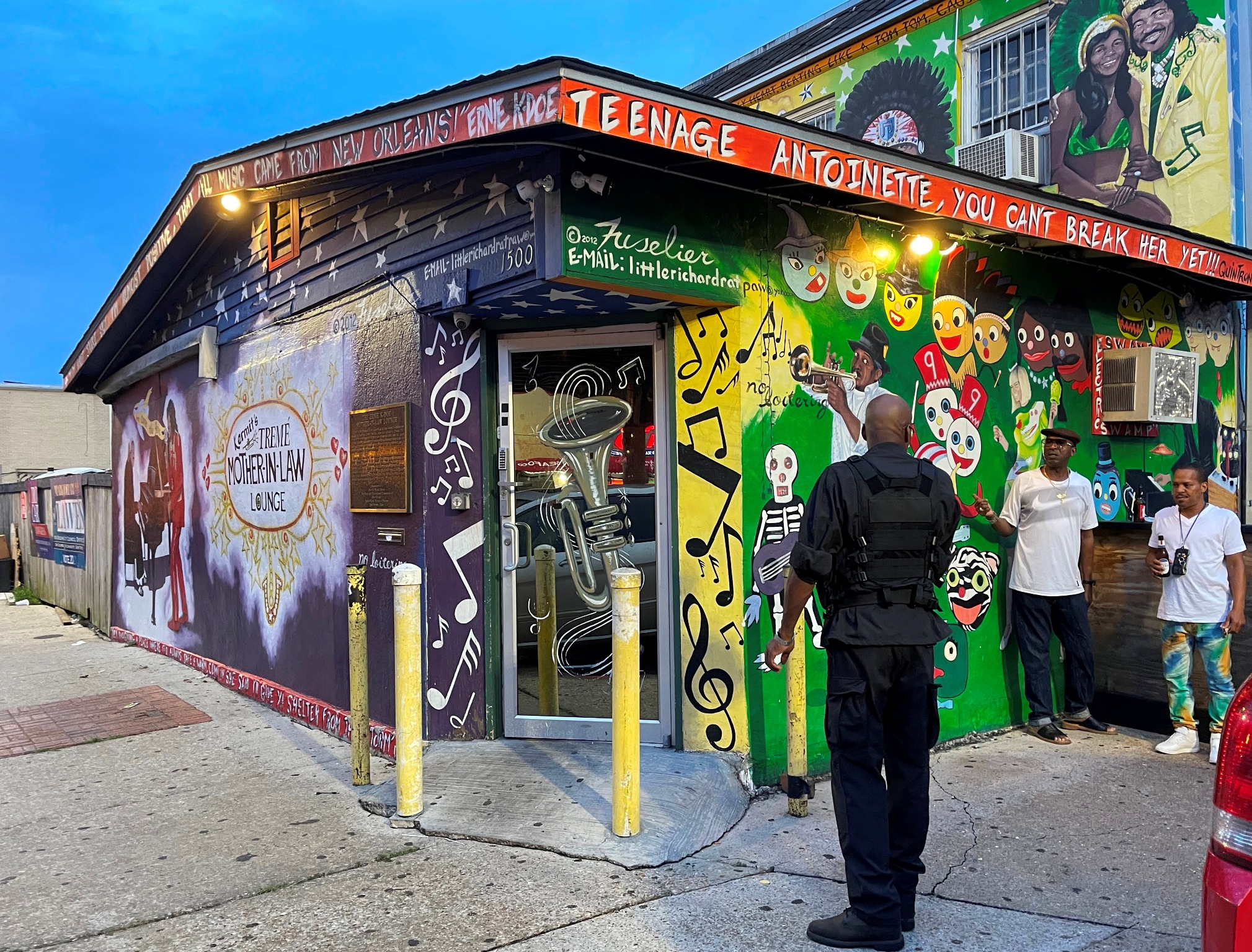 Treme is primarily residential, and we had to leave for our Commander's Palace dinner before most of the music venues there opened.
When we left New Orleans, we visited the Whitney Plantation on the way to an overnight stop in Baton Rouge. Whitney is noteworthy as it documents plantation life from the perspective of the slaves. There is a nearly complete genealogy due to Catholic Church records and that Whitney continued to produce sugar as late as 1975. Main plantation house:
Slave quarters:
Large pots used for successive boiling of sugar cane:
This was the most dangerous and labor intensive process on sugar plantations between October and December.
There were several art sculptures at Whitney. This one was a memorial to the German Coast slave uprising of 1811.
With 500 people involved this was the largest slave revolt in U.S. history.
We had another thunderstorm at Whitney, so some of the pictures have water spots. The entire summer has been rainy in the Southeast, but of course it's gone to a new level in the past month. Liz' friends in New Orleans are OK but without power for 10 days. Her friend Kelley in Naples, Florida was without power for a week after Hurricane Irma in 2017. Liz' mother lost the roof off one of her Florida houses to Hurricane Charley in 2004, but she was at her summer home in North Carolina at the time.
Last edited: