As mentioned in my
Wurzeralm TR
, I decided to take advantage of the fact that it had a sister ski area only three or so miles away as the crow flies, Hinterstoder, and that day passes were valid at both, which share the same unfortunate 1980s logo font:
While on a t-bar with a local for a final run at Wurzeralm, I asked him about Hinterstoder; he said that it was a far more mainstream ski mountain with a big base area and extensive lodging/condos in the village. He also warned me that it'd be pretty busy during a school holiday. Oh well, I'd already made up my mind to check it out so off I went. When I put the new destination into my GPS, it said 25 minutes drive time -- the topography didn't allow a straight shot between the two places so you had to take an indirect route via the autobahn.
I arrived around 1 pm and grabbed a parking spot only a few steps from the gondola that takes you halfway up. As always, the compressed trail map makes the lift-served terrain look kinda small. That's a continuous 4,600-vert lift-served drop (I went T2B twice) and 1.3 miles wide. It reminded me quite a bit of Copper Mountain in Colorado -- similar layout, size, base village, popular amongst families, near a major highway, facing directly north, a wide variety of terrain mostly skewed toward intermediates with a handful of legitimately steep runs (of course, Copper has more marked trails). Here's a more detailed trail map: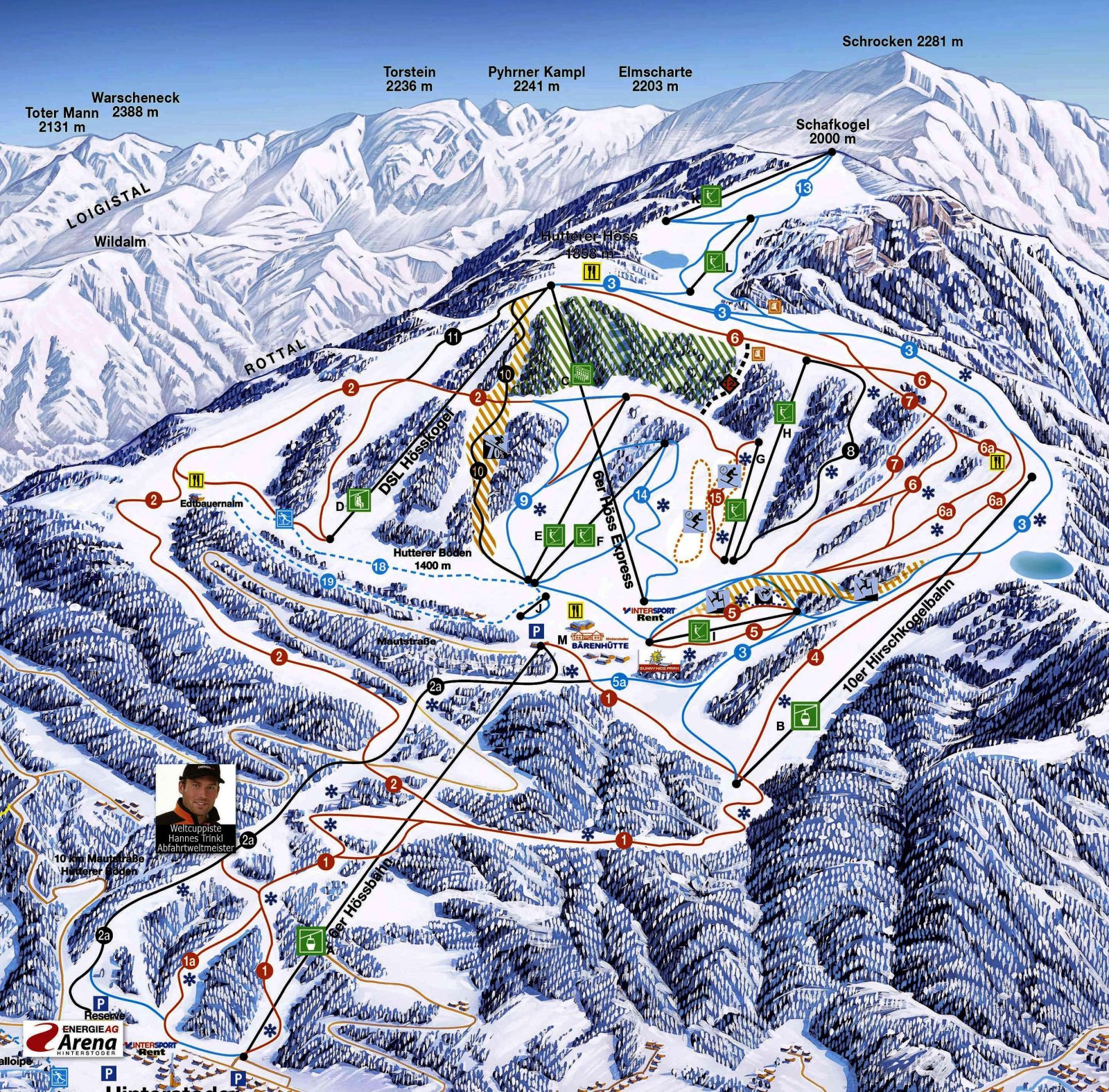 All over the resort were adverts selling consumer products:
At mid-mountain, they were holding a demo day with four different brands: Head, Atomic, Fischer, and Salomon. If I'd had more time, I would've given a pair or two a test drive; however, I didn't want to spend 20 or so minutes going through the process.
On that note: it's always interesting to check out which brands are popular in a given region. For example, in much of Switzerland, Völkl is the hometown brand and you'll see them everywhere; in France, Rossignol rules; I assume that in the Pacific Northwest you see a lot of K2s. Here in the midwest of Austria, it wasn't even close; Head was the preferred ski. From seeing thousands of skiers over the course of the week, I'd anecdotally guestimate that Head has 40% of the market share there, possibly more, presumably because Austrians are born racers and it's such a huge part of their native culture (?).
Another observation was that my preferred brand, Kästle, was a total no-show. During my entire week-long visit,
I did not see one single pair of Kästle skis other than mine
-- how's that possible with its headquarters only 200 miles away in the Arlberg? I even saw several people on new-school Volants.
Back to the report: even though there was a big crowd, by using the singles line I got on the high-speed sixer in three minutes and all other lifts were ski-on:
For the most part, the groomed trails were in decent shape; however, due to the holiday traffic, steeper sections were skied off so wherever possible I stayed in the ungroomed, which was nice and soft. As you can see, views of the valley and surrounding peaks were gorgeous and no there was no inversion woodstove smoke:
The upper mountain, served by two consecutive t-bars, is above treeline. The surface lifts keep crowds away, allowing pleasant low-angle skiing up there.
In contrast, the main autobahns were a bit crowded.
A nice feature was long descents, a thousand verts at a time, through perfectly spaced pines with chalky snow from four days earlier:
My final trip descent at 4 pm with shadows encroaching on most of the runs:
Of the seven ski areas I visited on this trip, Hinterstoder is the one whose general ambiance I liked the least. To be fair, part of the reason was the school-break crowds and it's an industrial ski area (a comparatively small one at that by Alps standards), which isn't my general cup of tea. Still, if I'd gone during an offpeak period, I imagine that it'd be easy to rack up lots of vert with plenty of enjoyable offpiste on the upper half of the mountain.
Last edited: