Administrator
Staff member
I spent my last day at Tahoe at a new area for me, #243. Homewood has taken contactless delivery to a new level.
You must buy a ticket online in advance, then scan a QR code on your phone confirmation e-mail in this machine. The machine spits out a card which you can reload online if you ski more days. In the parking lot there were signs with QR codes which you must scan. Then you log into the account you created when you bought your ticket and pay $10 online for the parking.
Homewood's elevation range is on the low side for Tahoe: 6,225 – 7,880. So after yesterday's warmup and a storm expected to start by noon, my expectations were modest. My first three runs to the north facing Homewood Express chair had varied grooming quality, some places decent but others solid frozen granular.
Liftline of Homewood Express: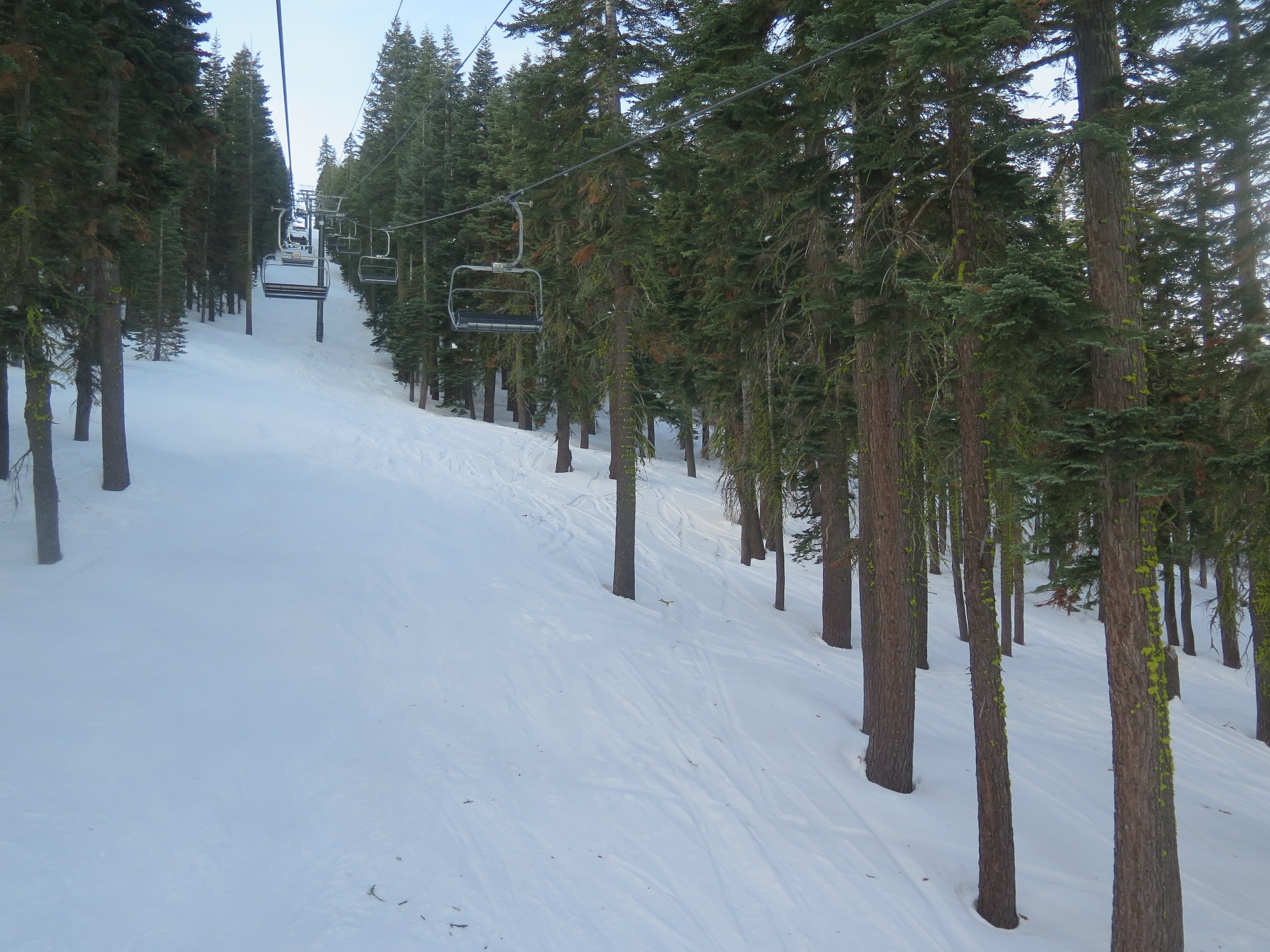 Tree spacing is adequate for good powder days, but today any ungroomed skiing looked inadvisable.
Homewood's views of Lake Tahoe are rivaled only by Heavenly (in background here).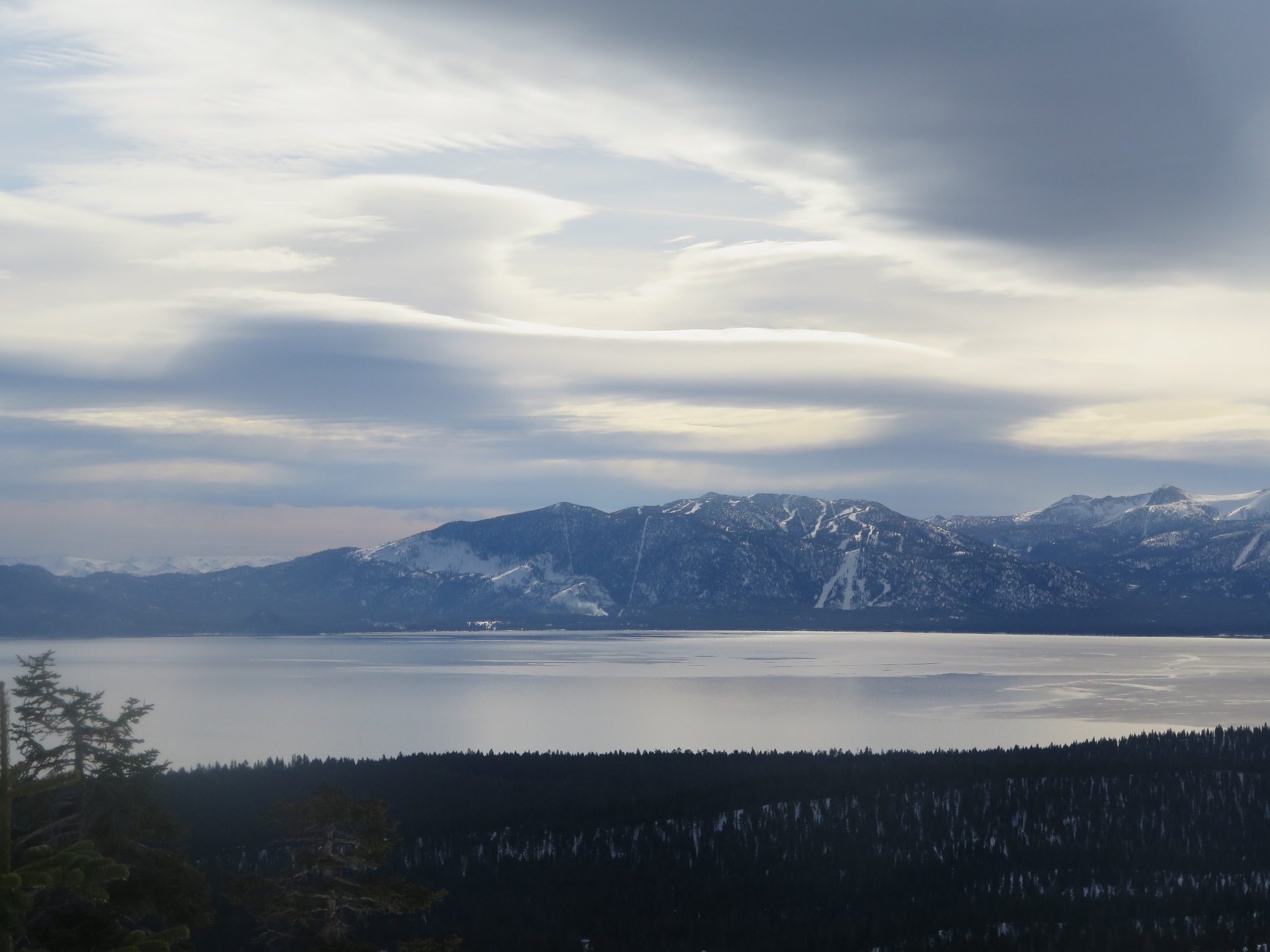 Homewood is halfway down the west shore. Here's the view to north shore.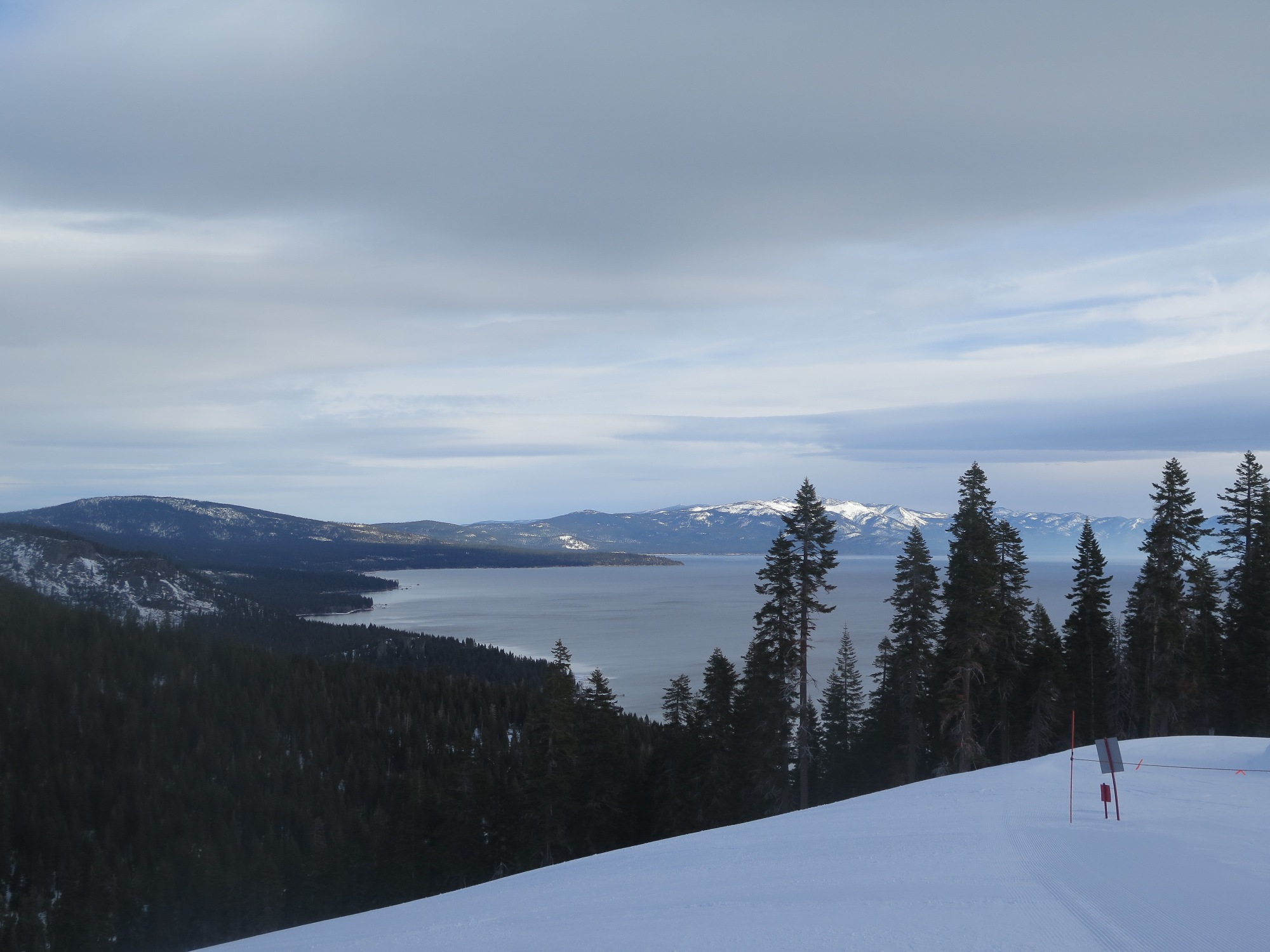 Background snow capped peaks are around Mt. Rose.
By 10AM I realized I should check out the slow but east facing Ellis chair. Morning weather was calm with thin overcast, so enough sun got through to soften trails.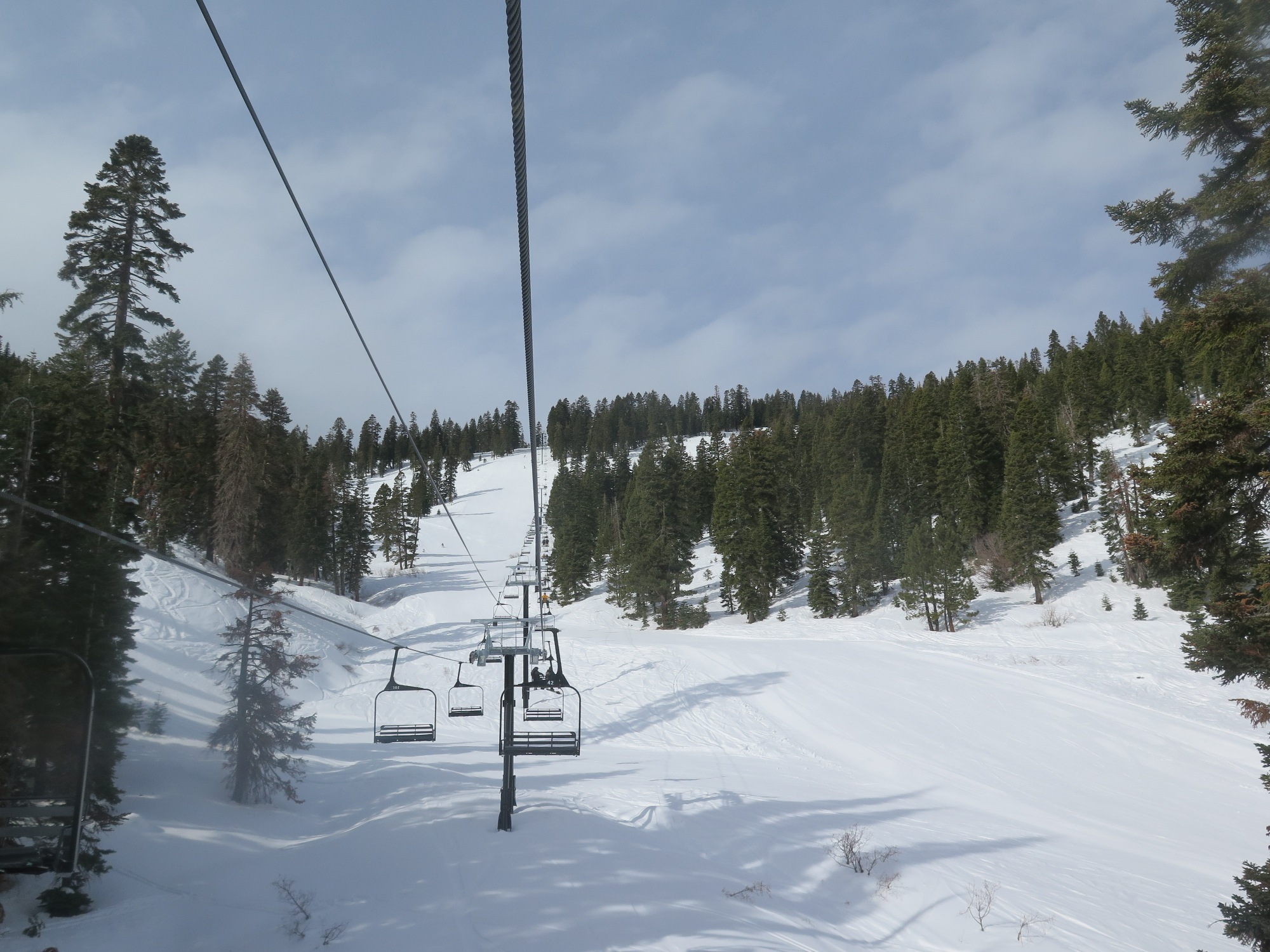 With low skier traffic these runs became ego corn cruisers so I took 6 runs here.
At 11:30 I decided I had to see Homewood's expert Quail Face area even though I knew the snow would be difficult. What I didn't know was the grunt work required to get out there and back. The groomed catwalk that takes you to the blue Hidden Vein and Glades runs tilts uphill beyond, so I took my skis off and walked the 5 minutes to the top of Quail Face. This had the most impressive Tahoe view yet.
Profile view where I'll drop in:
View back up after I made one-at-a-time gorilla turns in the unconsolidated heavy snow: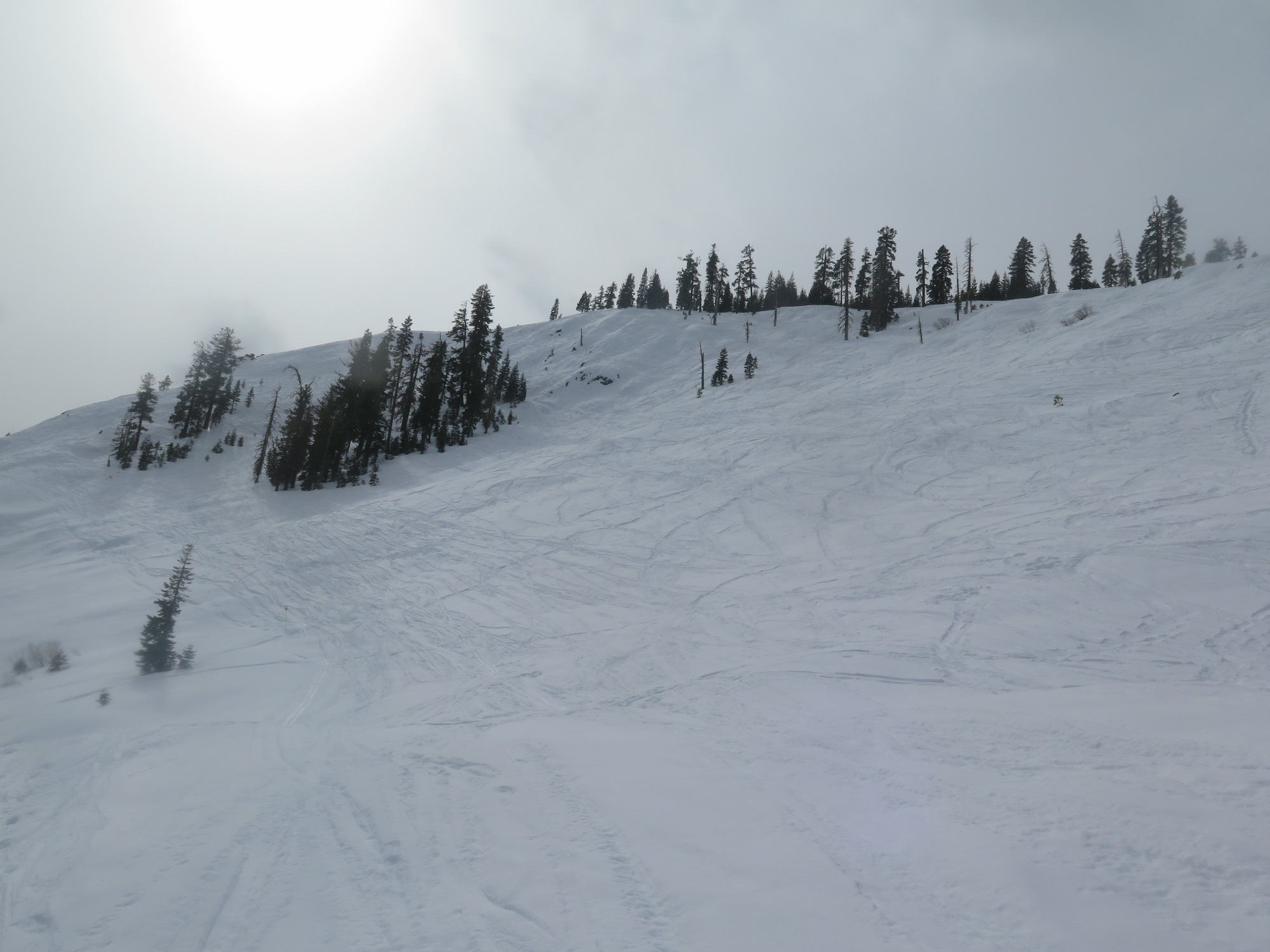 In the overview picture if you look at the narrowest point between the snow covered pond in foreground and Lake Tahoe in background, you can see part of the exit trail. This exit trail is also uphill.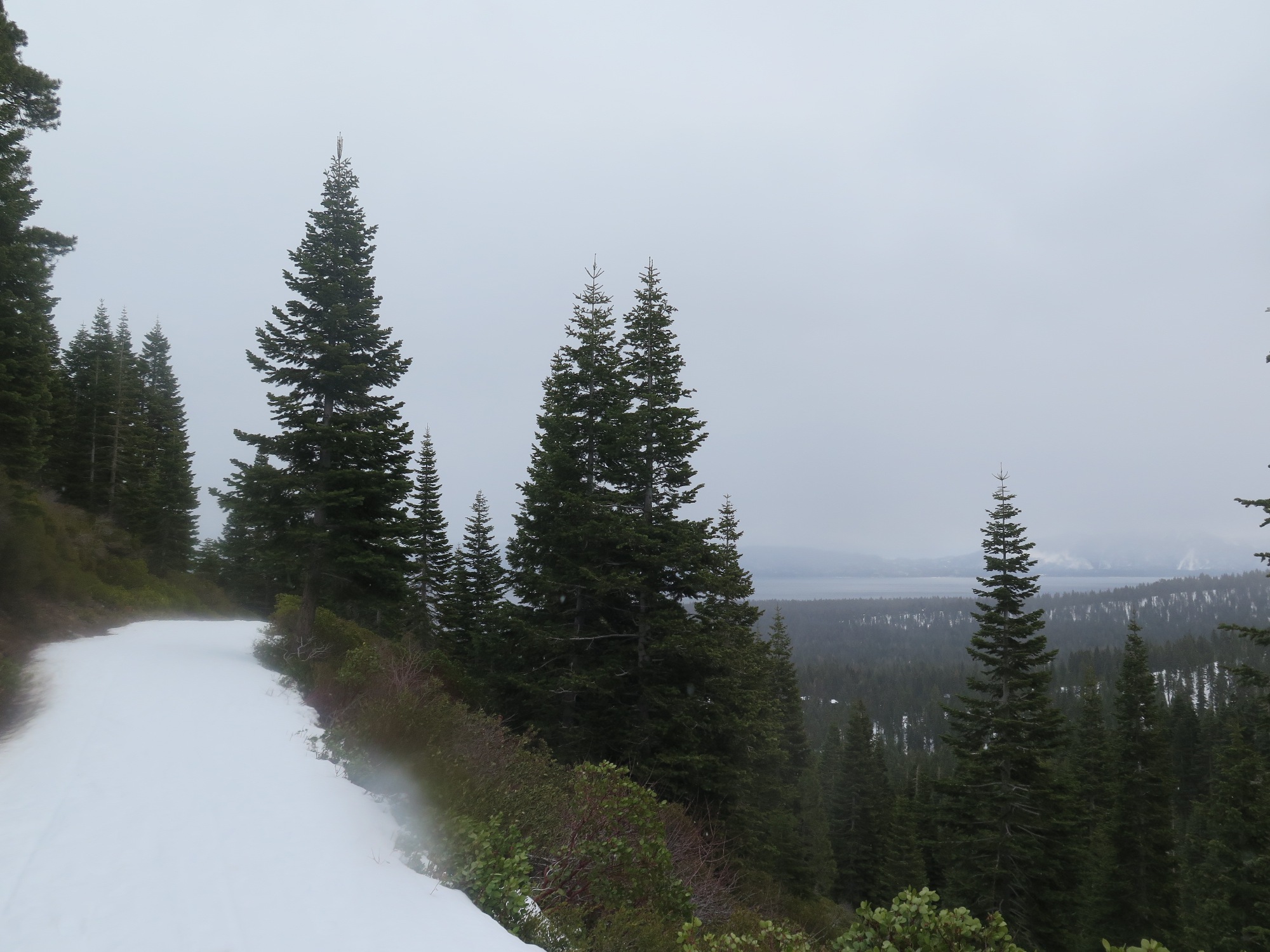 By now I've removed hat, goggles and gloves, unzipped my jacket and it's started to snow, but I'm still overheating. That exit trail is only on the far side of the pond. To get around the pond I had to slog through a flat ungroomed bushy section. It was 12:30 by the time I got to the south base and Quail chair. I did not duck any ropes but nonetheless I did not see one other person on this dubious one hour excursion. I'm sure the locals knew better!
With the storm underway I put all the gear back on and zipped up for two chair rides back to the top. I skied the now softened groomers on three of the Homewood Express runs before skiing Last Resort to the bottom where it was more sleet than snow and I departed about 1:35PM.
I skied 16,800 vertical and had an easy drive home. It was snowing over Donner Summit but not yet sticking to the road. I took a break for a prime rib dinner at Harris Ranch and was home by 10:30.
I was fairly sure Harris Ranch would put up a tent for outdoor dining. The glare at center is from the temperature check machine.