Administrator
Staff member
There have been regular whale shark sightings in the western Caribbean for a long time, but for the past 7 years or so the midsummer concentration off the tip of Yucatan has been so consistent that a thriving tourist industry has developed around it. Liz and I met Ken Kurtis, owner of
http://www.reefseekers.com/
on our Australia dive trip in 2012, and since he's based in SoCal have subscribed to his online newsletter and seen him on panels at the Long beach Scuba Show.
Ken organized his first trip to Isla Mujeres last year, so Liz and I signed up for this trip in mid-July when I threw in the towel on South America's ski season. Ken wrote a comprehensive summary of this year's trip:
http://www.reefseekers.com/PIXPAGES/Isl ... eport.html
Isla Mujeres is a nice destination. It's touristy, but on a manageable scale with interesting local shops and restaurants. You're ~10 miles across the channel from Cancun, which stretches massively along the beach as far as the eye can see and appears to have several times the hotel/tourism infrastructure of Waikiki for example.
Whale shark season is summer, and along with that goes intense heat and humidity. You think you'll jump in the hotel pool to cool off, but no, it's 94F! :shock: All the restaurants are open air (that applied to Cozumel too) and are barely tolerable after dark despite the excellent food. During the day, you better be under a fan in a shop or restaurant. Fortunately our hotel air conditioning was as strong as we needed.
The weather was actually cooperative for why we were there. There was one tropical squall with lightning around dinner time Thursday night. Otherwise it was mostly sunny and calm. The whale sharks feed on the surface and won't be there if the water is too rough.
Monday had some swells and Joe and Mary Jane got seasick on the ride out. The swells were not enough to deter the whale sharks, but there were just a few and I got a real workout chasing them. Liz got seasick from snorkeling on the rolling surface and only went into the water the one time. The boat operator maneuvered to get me close to the whale sharks all 3 times, and I took a few pics, but that was much easier in the calmer and more abundant waters Wednesday and Friday.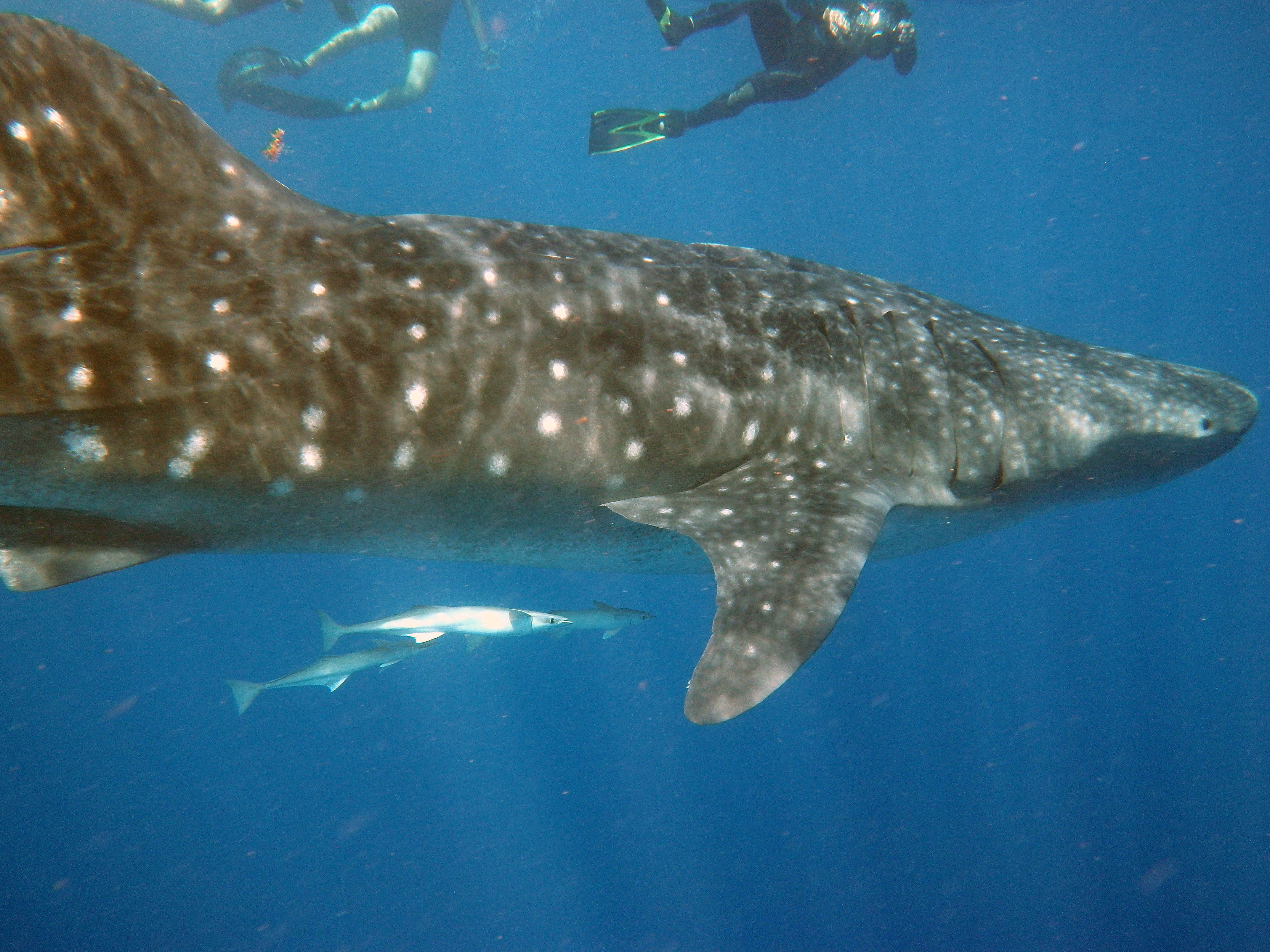 Usually the whale sharks had remora cleaning fish swimming below them like this.
Wednesday was much calmer. Joe and Mary Jane sat this day out so the rest of us got 4x in the water vs,. the standard 3. Here I'm chasing behind a whale shark while our snorkel guide Jair is beside it.
Every once in a while you'll get into position as one approaches.
Note a second whale shark's tail at upper right.
Closer approach.
I'm behind the tail in this pic.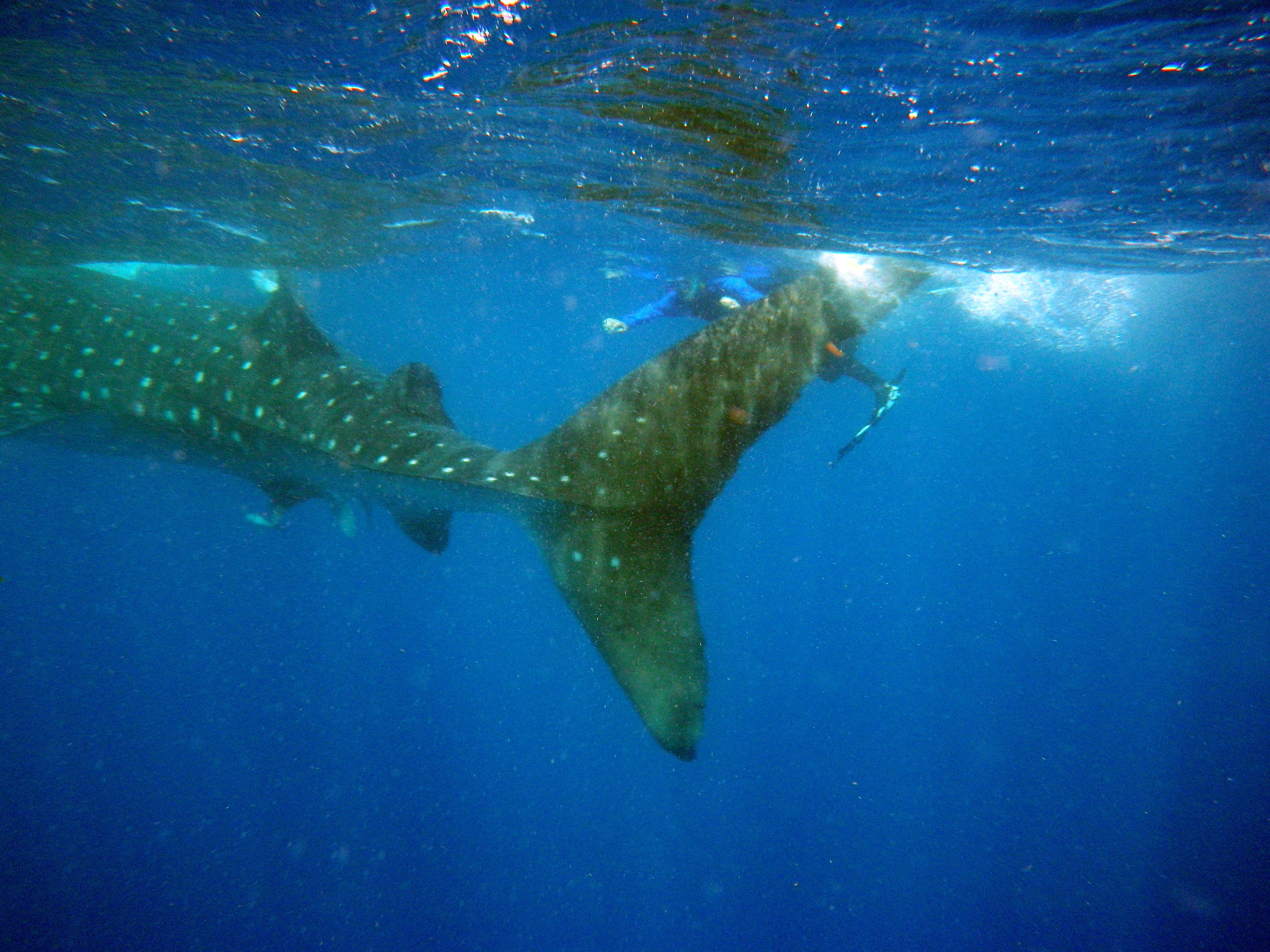 The larger whale sharks are well over 30 feet.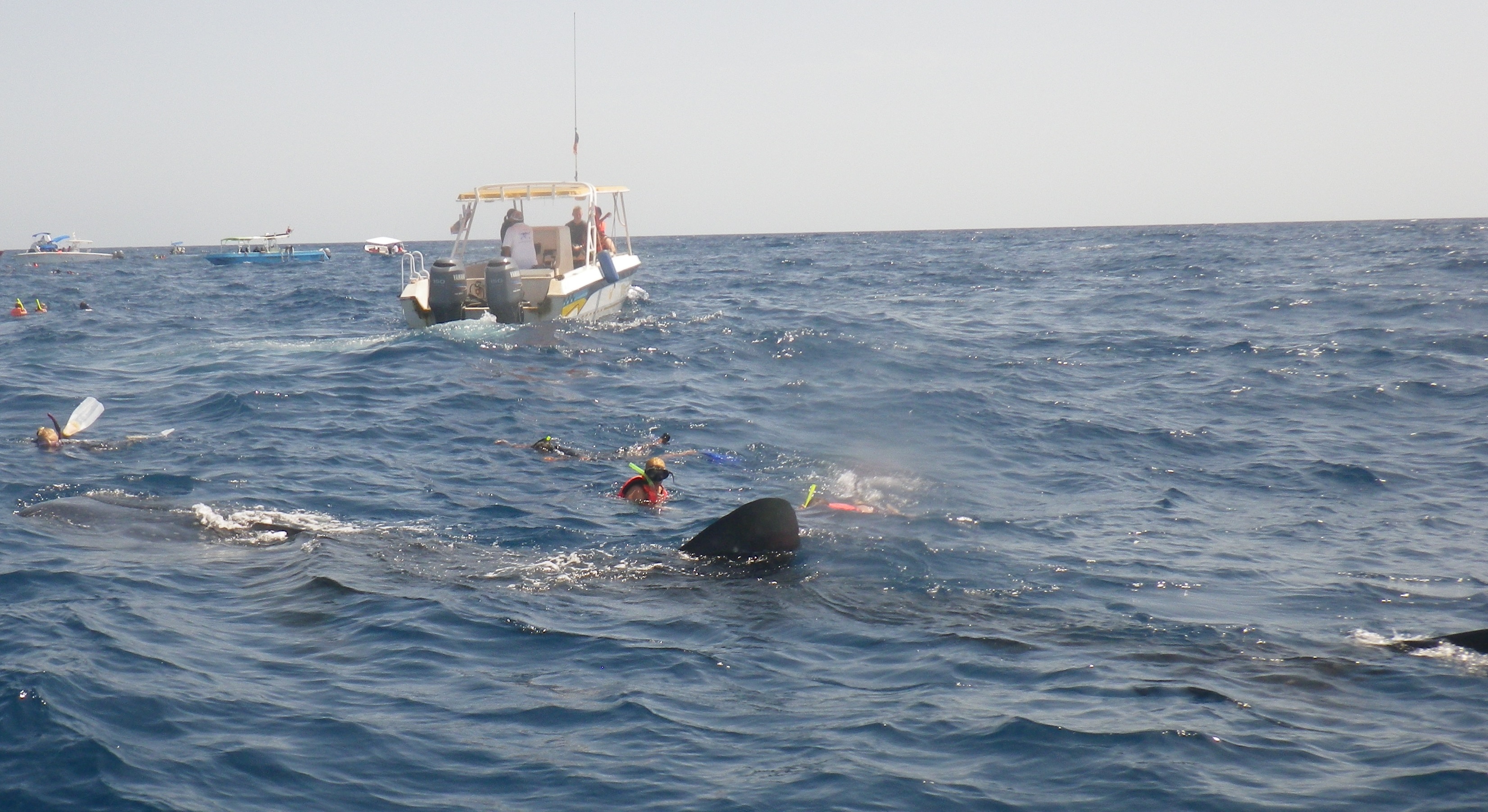 The head is in front of the snorkeler at far left and the tail is beyond the far right.
Joe and Mary Jane came out Friday, and fortunately it was every bit as good as Wednesday. Liz swimming ahead of the whale shark:
A direct approach from underwater.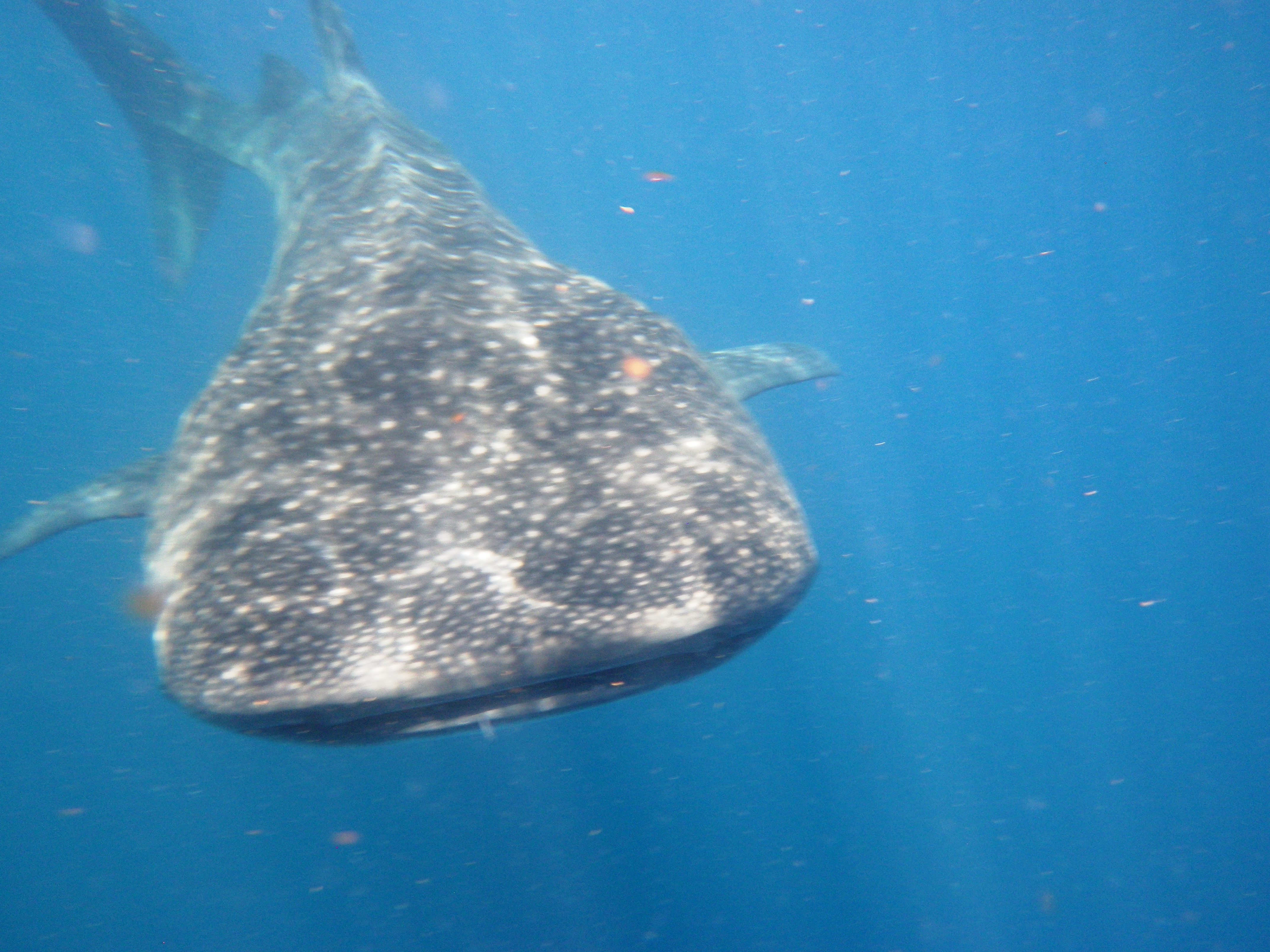 Later a whale shark surfaced under one of our snorkelers who then slid off his back. Liz had swum over that shark about 30 seconds earlier.
Feeding close by near the surface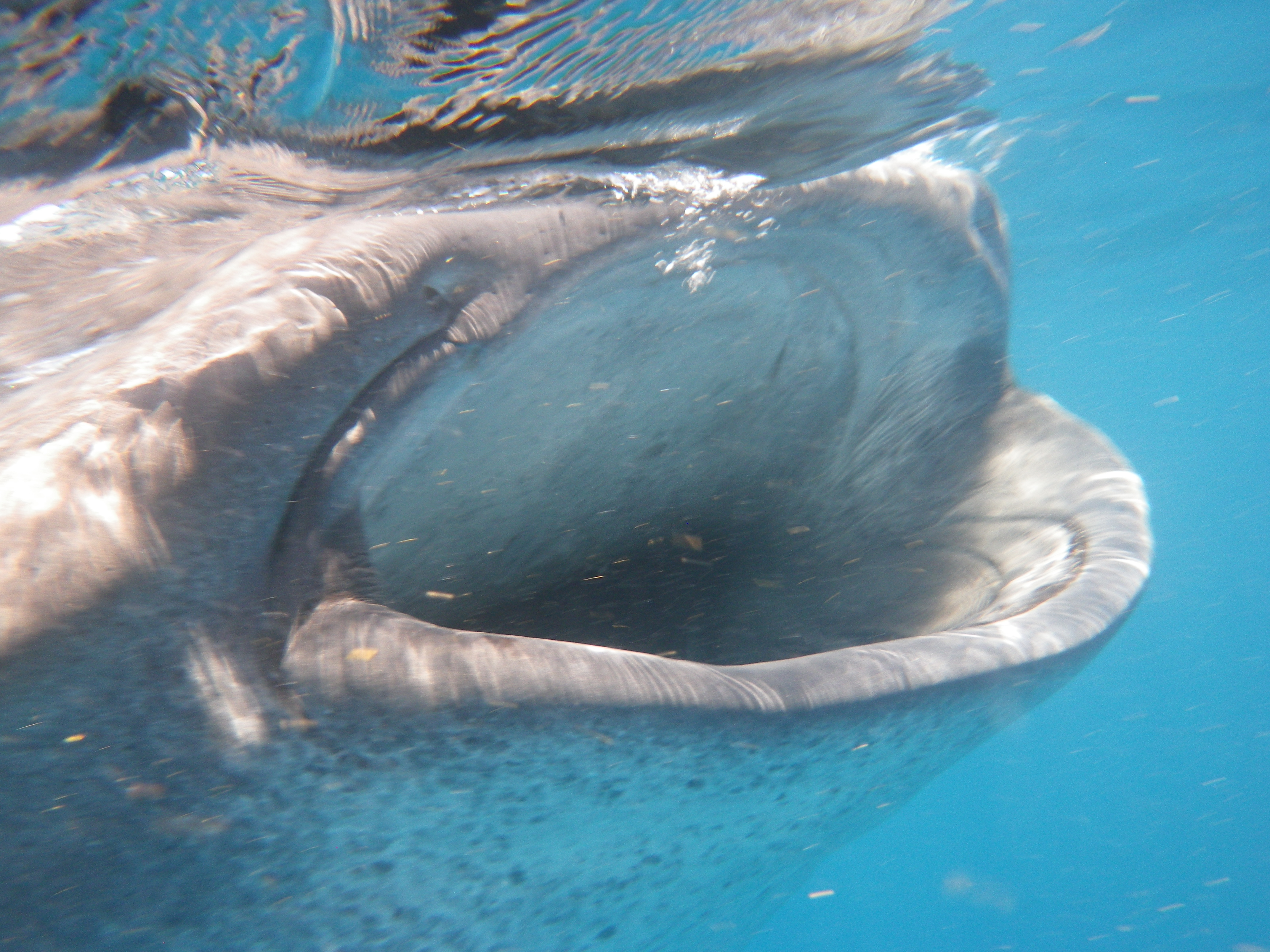 Remora by the whale shark's gills.
Here's another close approach.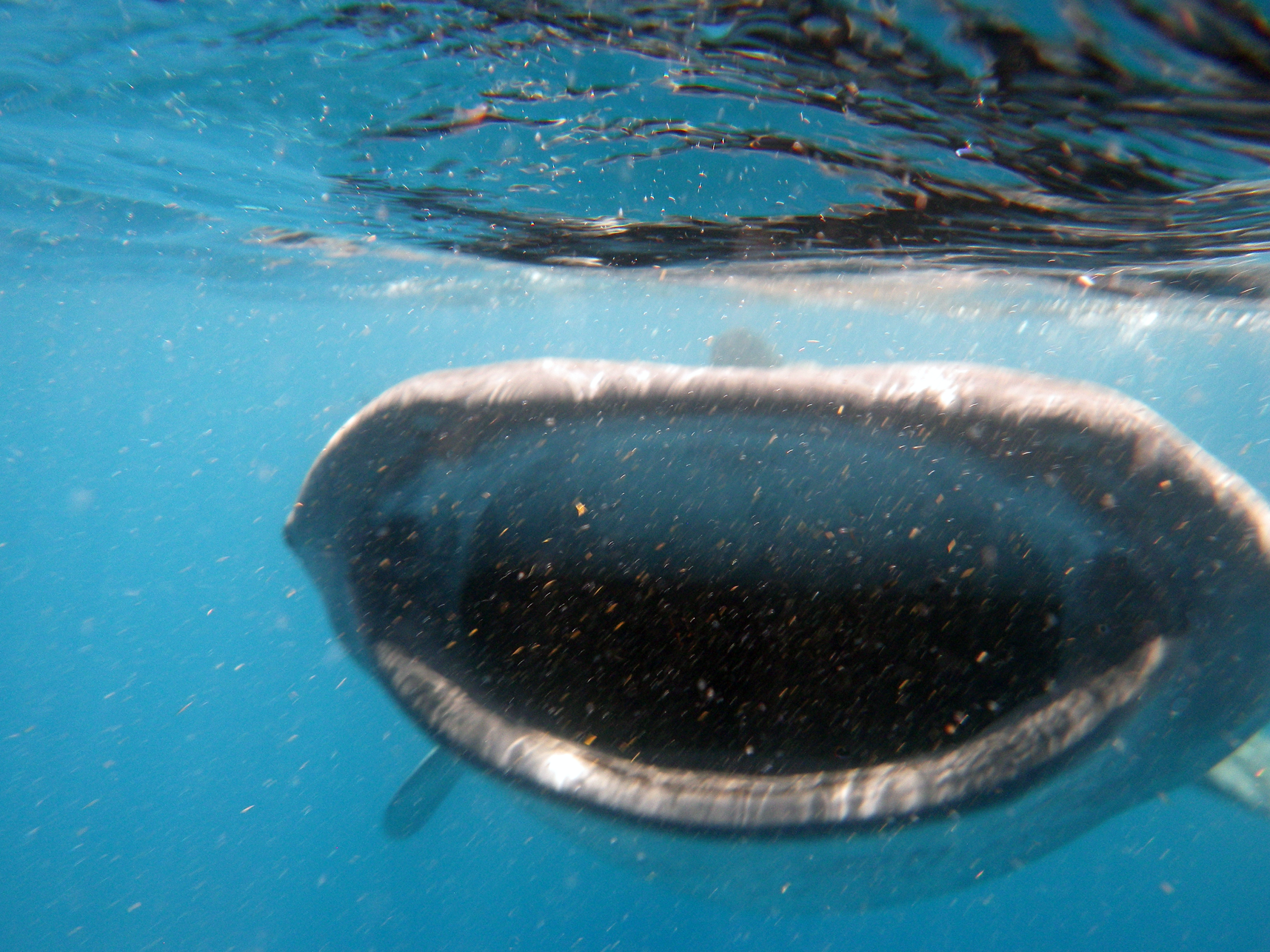 At a distance this picture looks interesting!
On Sunday and Thursday we had diving in the channel between Isla Mujeres and Cancun. One was on a wreck but the other 3 were shallow dives over coral heads with lots of reef fish, suitable for snorkelers as well. Tuesday we went to the mainland, drove south and dived the Chac Mool Cenotes, which are freshwater caves at about 75F.
Ken's slideshow (including the diving days) and a few videos are here;
http://www.reefseekers.com/PIXPAGES/Isl ... 0links.htm
Liz and I flew to Cozumel Aug. 13 for 3 days of diving there before joining the Reef Seeker trip Aug. 16-23. The southwest side of Cozumel has large coral formations and a strong current that attracts lots of fish. I have never seen so many lobsters in one place. One ledge had 17 lobsters underneath it. The shopping district is quite large because it gets so many cruise ships. There were 3 in port every day we were there even though it's low season in the Caribbean. We stayed in town to be close to the shops and local restaurants. There are several self-contained resorts to the southwest.