Kirkwood re-opened for their second and final May Friday to Sunday weekend of the season. Snowpack will easily make it to July 4. I was in short line (only one of day) when Cornice opened at 9. I skied Zachary's twice, Janek three times, Sentinel twice and groomed but very soft E-facing Monte Wolf once before moving to The Wall. There was enough overnight freeze that snow was good although Sentinel which usually stays firm longest was softer than expected.
I moved to the Wall and at bottom waited for 4ster from SkiTalk and his brother who I'd skied with before. 4ster has passes to Snowbasin, where he used work and Powder Mountain where he has a lot, houses in So. Tahoe and Utah, where he spends Winter and expects to get 150 days this season even if he has to count 3 XC days. His brother is 71, a retired dentist with homes in Santa Cruz and So. Tahoe. He went to same high school as me and rips although he usually quits a little earlier than 4ster who recently turned 67. Unusual to see groomed entrance to right of top of lift.
Maybe groomers had too much time with 4 days of closure or they were dropping too many chunks off normal entrance to left.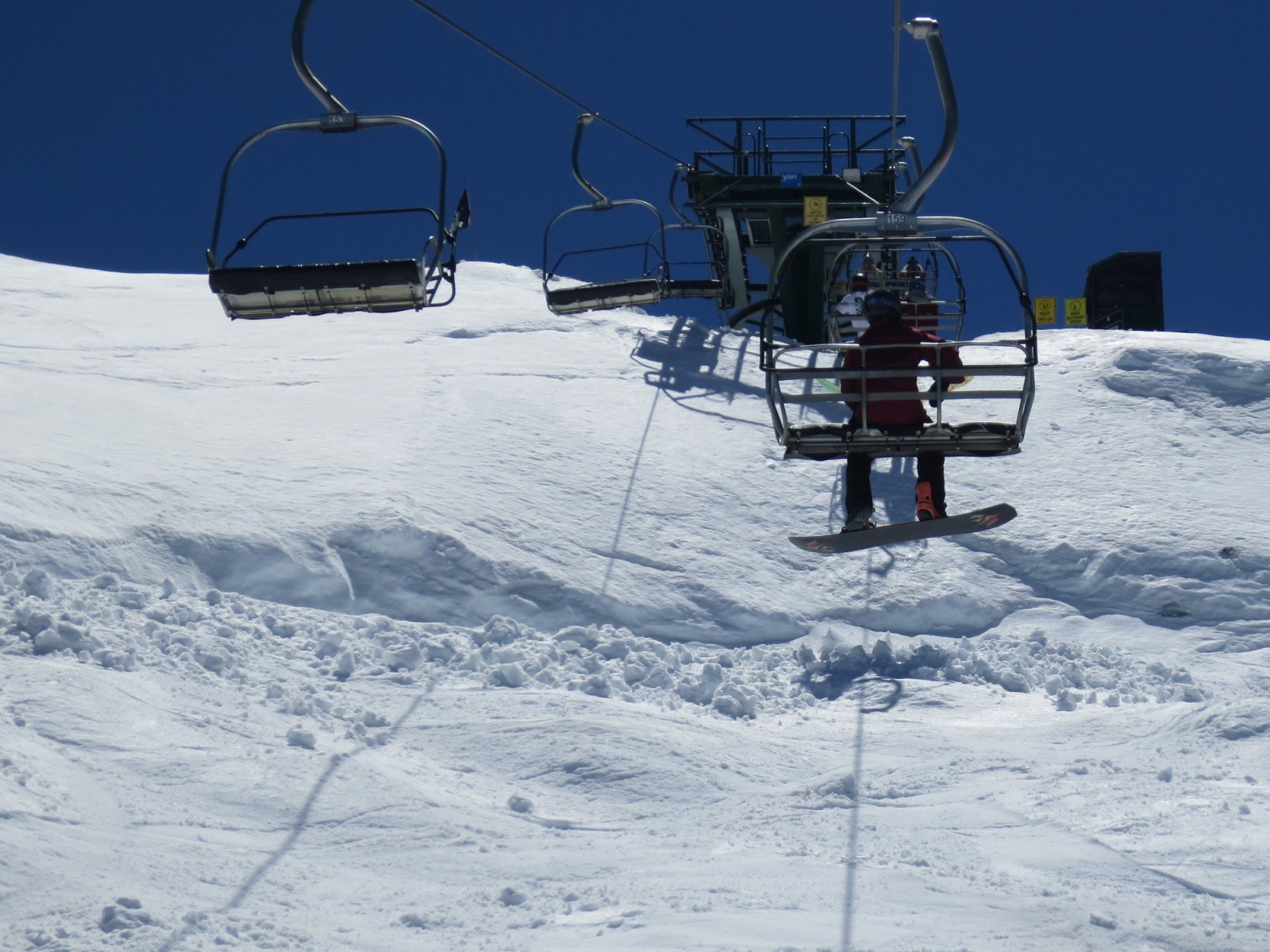 We skied 5 fast laps on the Wall. I first started with groomed entrance, the did steep ungroomed entrance to lookers right a couple of times, then followed them out to top of Headwaters a couple of times.
Snow quickly went from a little too firm on NW facing to getting sticky on flats. Lower on mountain groomed Race Course, Shotgun and Conestoga all skied well. I returned to car about noon to swap skis and drink some water as only small bottle I had was frozen (from freezer not overnight temps). Big party was going on in corner of parking lot where I took off my skis with a couple of BBQs and loud music.
I rode Reut as it was a little shorter hike and skied Wagon Trail, then rode Wall twice skiing Notch Chute from traverse, then All The Way Chute using big entrance off the ridge. Both were still excellent although W-facing skiers right side was much better than softer left sides. Returning to lift via the Drain was starting to be a slog even on skis that had not been used since waxed. I finished my day with three laps on Cornice, skiing Sentinel which was very good although I shouldn't have tried lowest exit as steeps were too soft and exit road a longish slog. I next skied Janek and tried dropping off steeps to left but it was too soft so I returned to run. On last run, I tried the long Wiggle, but even on 15.6m radius skis, unless I was side-slipping I was getting thown out on nearly every turn so I exited to somewhat shaded but still past its prime Mokelumne. I quit about 2 with 26.9K (7 Walls, 11 Cornices and one Reut). I'm done skiing until after Memorial Day with 44 days/1.01 million vertical feet. I'ms hoping for another trips or two in June/early July to get to 50 days.