Administrator
Staff member
In mid-July after the first big storm I decided to come to Las Lenas for 2 weeks on my own, as Liz is in NYC all summer fixing up her co-op for sale. El Nino came through with a second big dump in early August, assuring adequate coverage for this trip though not what Las Lenas had in 2005 during my first visit.
I chose the same 2 weeks as Staley, and had the benefit of his advice (he did the same trip last year) upon arrival in Buenos Aires Friday morning 8/21. I took the airport bus into Terminal Madero, and then lugged my bags about half a mile to the Retiro bus station, where the overnight bus to Las Lenas would depart at 7:10PM. I stored the bags and walked to the shop in Recoleta which Staley had recommended for exchanging "blue dollars." Argentina has currency controls, so there is a widespread market to exchange USD cash for around 15 pesos to the dollar vs. the official exchange rate of 9.14. Credit card transactions are all at the official rate, and there's no way to get around that for advance reserved items such as Las Lenas lodging packages or the overnight bus to get there. The jewelry shop was picky and only exchanged half of my dollars because the other bills had teller initials.
I took a cab to Palermo for some lunch and wine shopping. With the limits of what can be stashed in checked luggage I was looking for premium Argentine wine that I had researched in advance. I have to give a big plug to Lo de Joaquin Alberti wine shop. They let me taste from my first choice winery El Enemigo and also an excellent non-exported blend from Acheval-Ferrer. They also very securely boxed the 2 bottles of each I purchased for travel. I returned to Retiro to put the wine in my suitcase and then exchanged the rest of my dollars on Calle Florida, where the vendors accost you on the street and then you go to an office for the exchange. I got back to Retiro bus station about 5:30PM. It was an odd scene vs. airports because the screens only show departures 20 minutes in advance and no one else showed up with ski gear until 6:45 or so.
Staley had a more difficult time getting to Las Lenas. There were thunderstorms at his transfer airport in Houston so his flight to Buenos Aires was delayed from Thursday evening to 1PM Friday and he missed the overnight bus I took. He arrived after midnight, slept a few hours at the Sheraton next to Terminal Madero, then managed to get an afternoon flight to San Rafael, where you can get a transfer bus the last 2+ hours to Las Lenas. I have heard that this is the method many people now use to get to Las Lenas because the 16 hour bus I took is no longer the bargain it was 5-10 years ago. The seats fold nearly flat like business class so it's easy to sleep, but your feet are still lowered a bit and I later found that to have ski consequences particularly after spending the previous night on a flight from the US. Staley arrived at Las Lenas 6:30 Saturday but didn't miss much in the way of skiing as described below.
Aug. 22, a TISA day exemplified at Las Lenas
TISA is the acronym for "This is South America," also known as the "A-factor" for Argentina in particular. Some days you have numerous unexpected annoyances that you have to endure, taking the long view that overall the trip is worthwhile. The bus was scheduled to arrive 10:30AM but arrived at 12:30. Instead of dropping off at the resort information center, it pulled into a gravel parking lot, quite damp from the midday sun runoff from snowbanks. The hotels have vans to meet the bus, but apartment dwellers need to find their own way. I got a pickup truck ride to the "dormy apartment area" but those roads are gravel also and in process of locating the check-in office I managed to step into ankle deep puddles in my tennis shoes. The check-in office was piled high with luggage, as checkout is 10AM and check-in 4PM. The people there did not speak English, but fortunately there was a computer available to use Google Translate.
With soaked feet and 3+ hours until I could get into my room, their advice to "go ski" made sense. I walked the ~10 minutes to the ticket office where there was a 30 minute line to buy tickets, as most people buy one-week tickets upon arrival Saturday. As a long time Baldy skier I felt right at home.
The map I posted in 2005 is better than the one now so I've linked to that for reference.
I took an Eros poma over to the Minerva base, site of the Caris quad chair, Minerva poma and an upgraded (since 2005) Minerva quad chair. The Minerva chair is "medium speed" with a moving loading belt like Supreme at Alta or many places in the Alps. From Minerva, where the line was ~15 minutes, I took a few pics. Vulcano was closed and it's obvious from the wind plume that the upper mountain was also.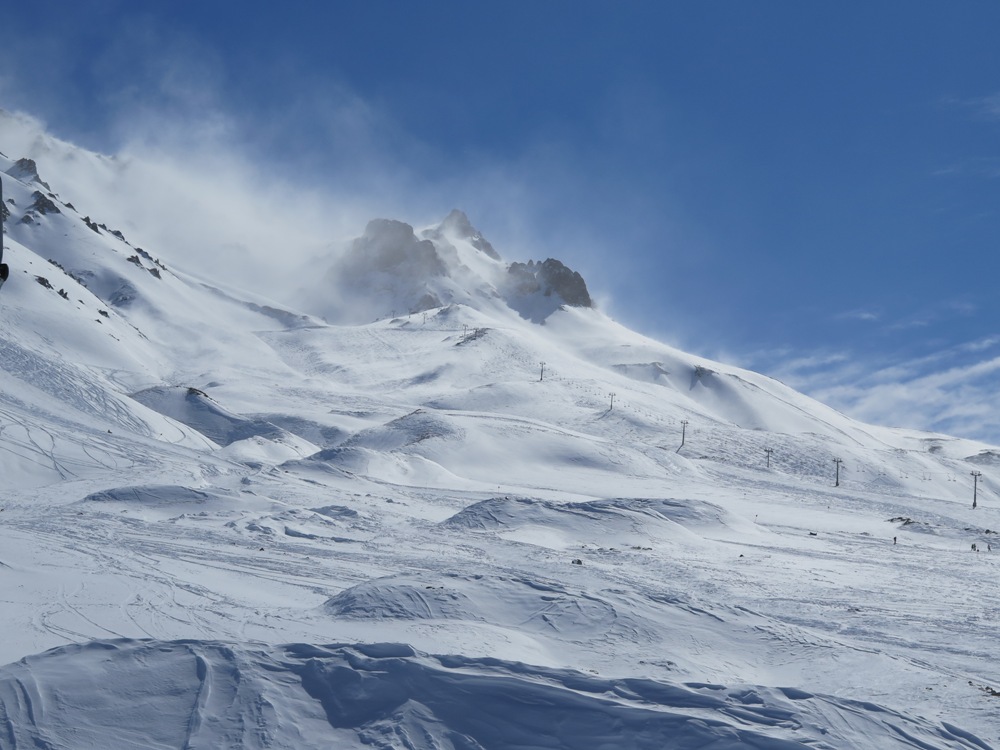 Caris chair with backcountry Necklace Bowl in background.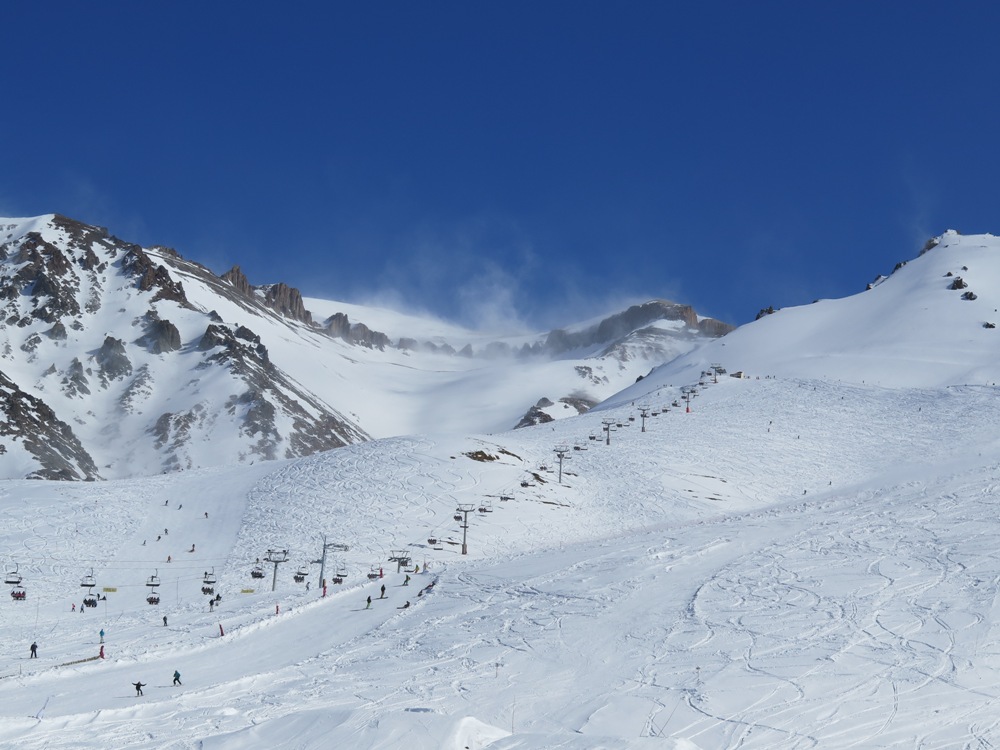 Necklace Bowl avalanched in the July storm, and its debris derailed the Neptuno lift in the valley below, requiring several days to repair.
Eduardo's is the long couloir above the top of Minerva chair.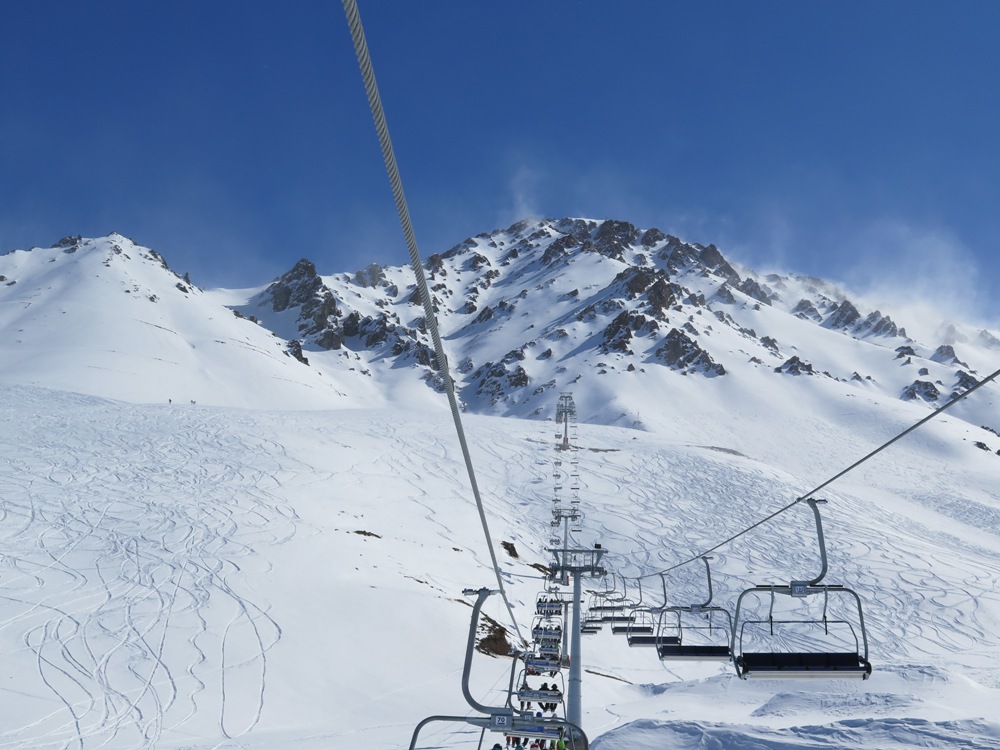 The snow was decent on the groomers, but the lower mountain faces east. Those tracks in lower part of the picture had set up in the intense midday sun. After the first run I took a couple more using the Minerva poma as its line was only 5 minutes, and then got in line to try Caris. After 5 minutes the wind closed it and the Minerva chair, leaving only the poma to get out of that area and back to the main base. A few people trudged up a short hill for 10 minutes, but I was in no shape to do that plus it was only 3:20 and my room wouldn't be available. This was the time that I noticed my boots felt tight even though they were on the loose settings I usually use for just a couple of warmup runs. My feet were sufficiently swollen from the two overnight plane/bus rides that I did not need to tighten boots until my first Marte run on the third day of skiing. The Minerva poma line was half an hour, but I noticed the Urano poma below Vulcano was open so I took a couple of runs over there. From Urano there were good views of the howling winds on the upper mountain.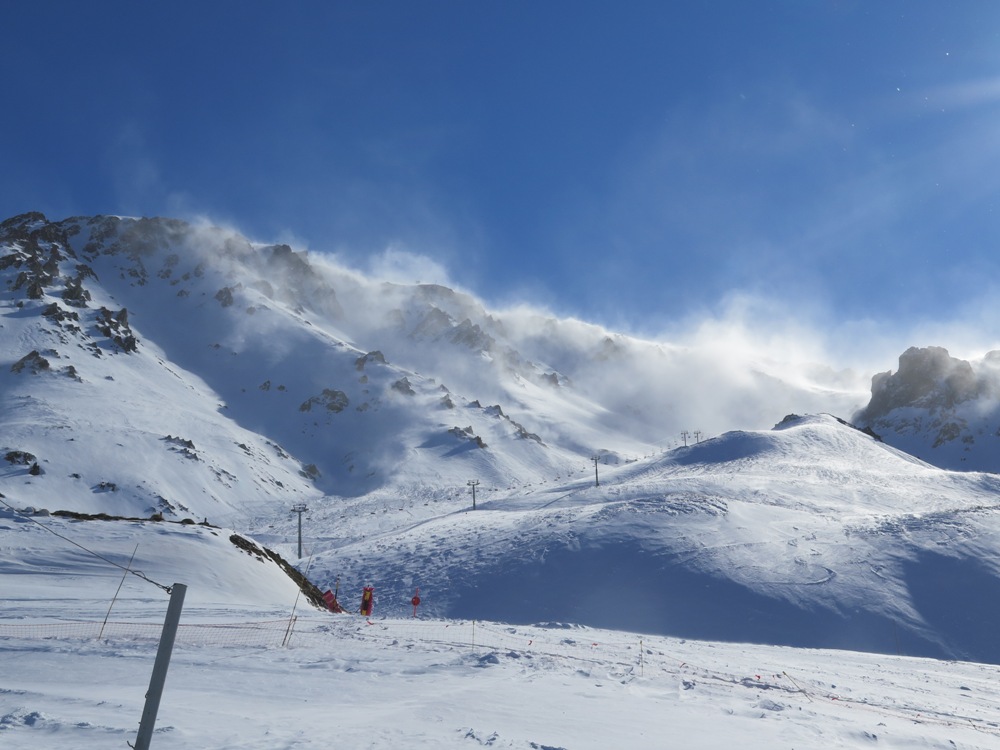 When I returned to Minerva the poma line was still 15 minutes. After that it was past 5PM so I decided to have an early dinner at the Cima restaurant at the top of the Eros pomas after 6,000 vertical of skiing. View of the base areas from there.
Escorpio Hotel where Adam and I stayed with Extremely Canadian in 2005 is at far right, with Piscis Hotel behind it. Base facilities and Acuario Hotel are at center, with Pyramid building with shops and restaurants just behind. I was supposed to be staying in one of those 4 apartment buildings at left, Tabas, Esparta, Corinto and Atenas. When I got my receipt August 9 I found that I was in a "dormy apartment" out of the picture to the left. :evil: I checked in about 6:15, moved into my Payen apartment, went to the grocery store next door, and then collapsed for the evening.
Sunday Aug. 23
Sunday and Monday skiing were very good, though I'm having a much slower warm-up process than on most ski trips. I was slow getting out Sunday, which turned out to be a mistake. Las Lenas is very far west for its time zone, so nominal hours of 8:30AM – 5:30PM are the equivalent of 7:00AM – 4:00PM in terms of sunlight. I got in the ticket line 10AM, and it was even longer than Saturday with the final wave of full week purchasers. Fortunately they had 6 windows instead of 3 and I got mine in 15 minutes. It's better to buy day tickets because the odds favor a couple of weather restricted days per week. From the base I could see tracks in Eduardo's so I knew Marte was open.
Staley got out early and might have made one of those.
Even though it felt warm in the sun, they were running snowmaking machines in the base area until nearly noon. Yesterday's slush around the hotels/base area had frozen solid overnight.
I took the Venus poma to avoid the longer line on the chair, then Neptuno up to Marte. Cenidor is this broad south facing slope from the top of Caris.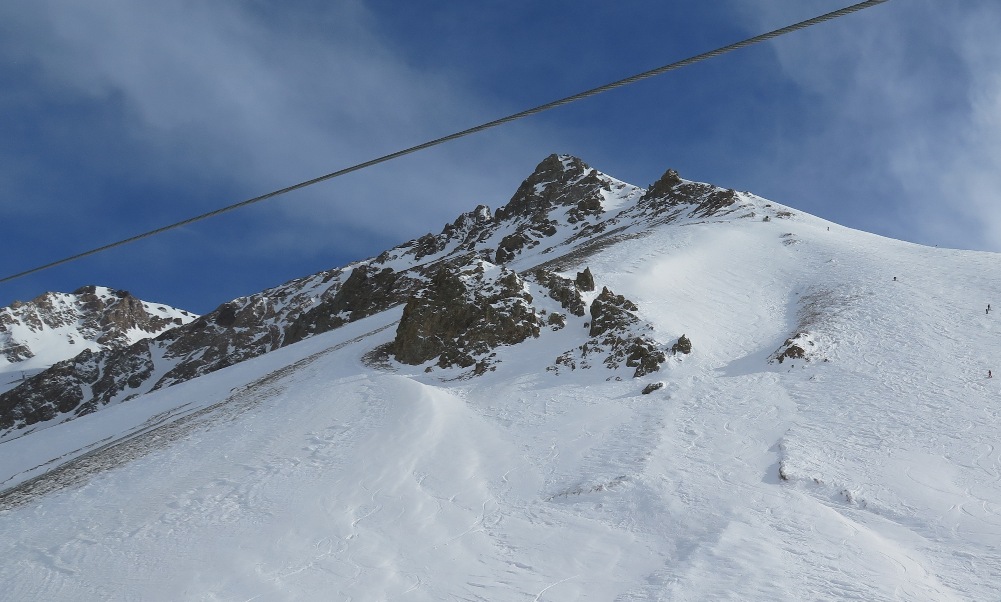 The chute at center-right had smooth snow with a consistent soft layer that Staley and I skied twice at the end of the day. The slope profiled at far left which I skied midday was more windswept but mostly smooth and chalky. The slope to far right and out of the picture is wide open but bends a bit east so had some sun effect.
First view of Marte, which rises from 8,700 – 11,200 feet.
Tracks under the lift.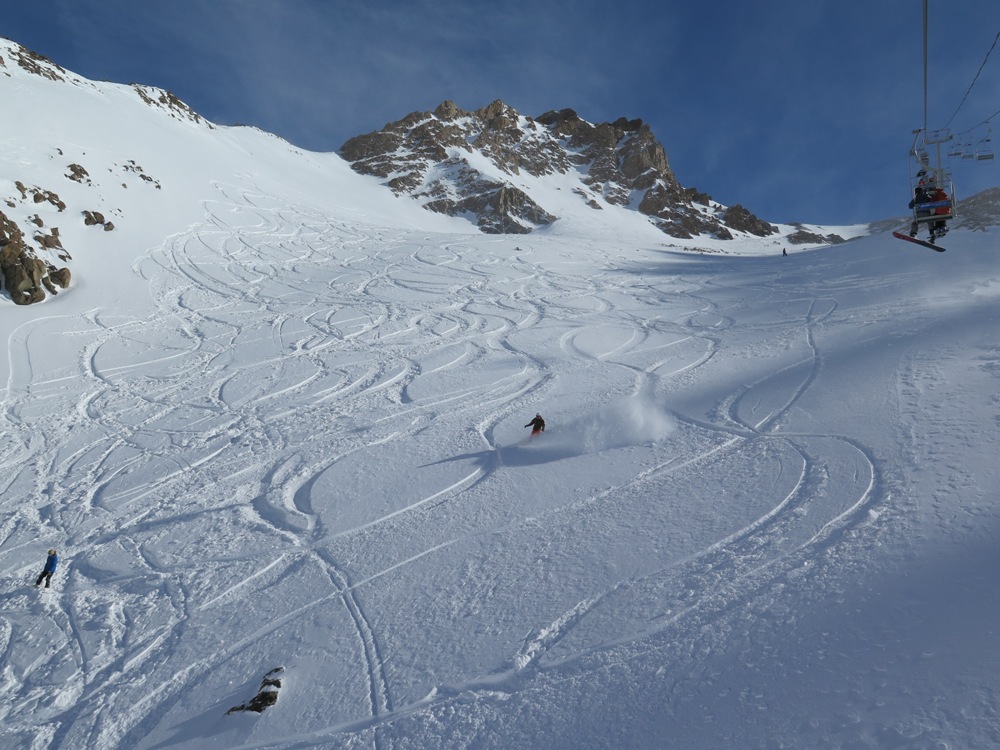 This is an alternate chute on the lower part of Marte.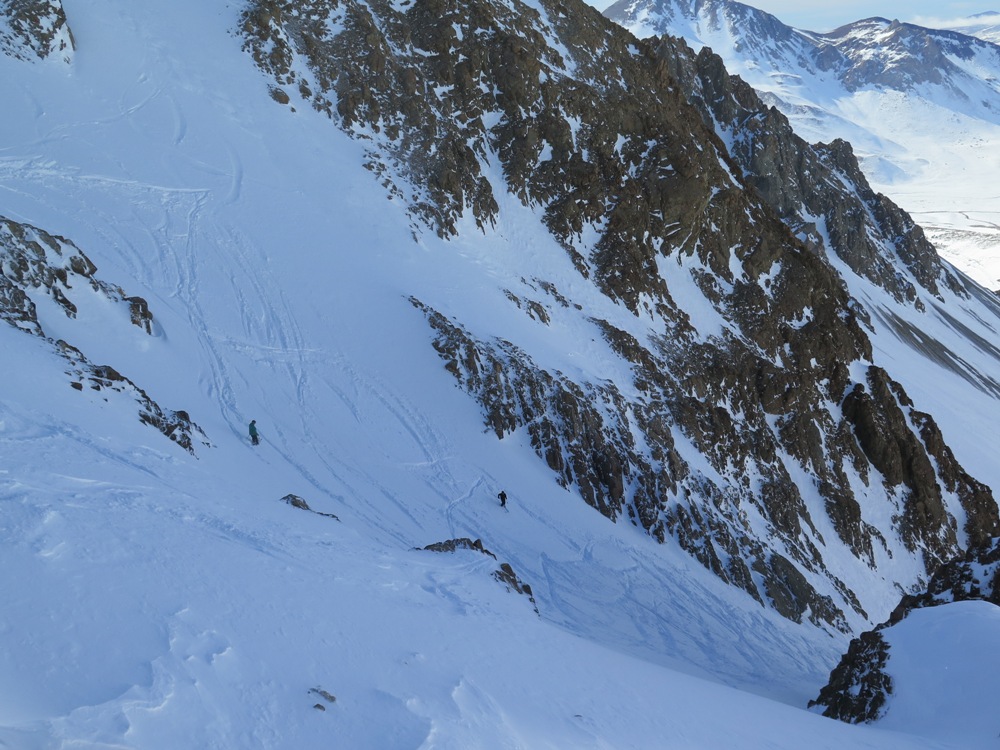 From the top far skier's right, these are sunny entries to the run under the lift.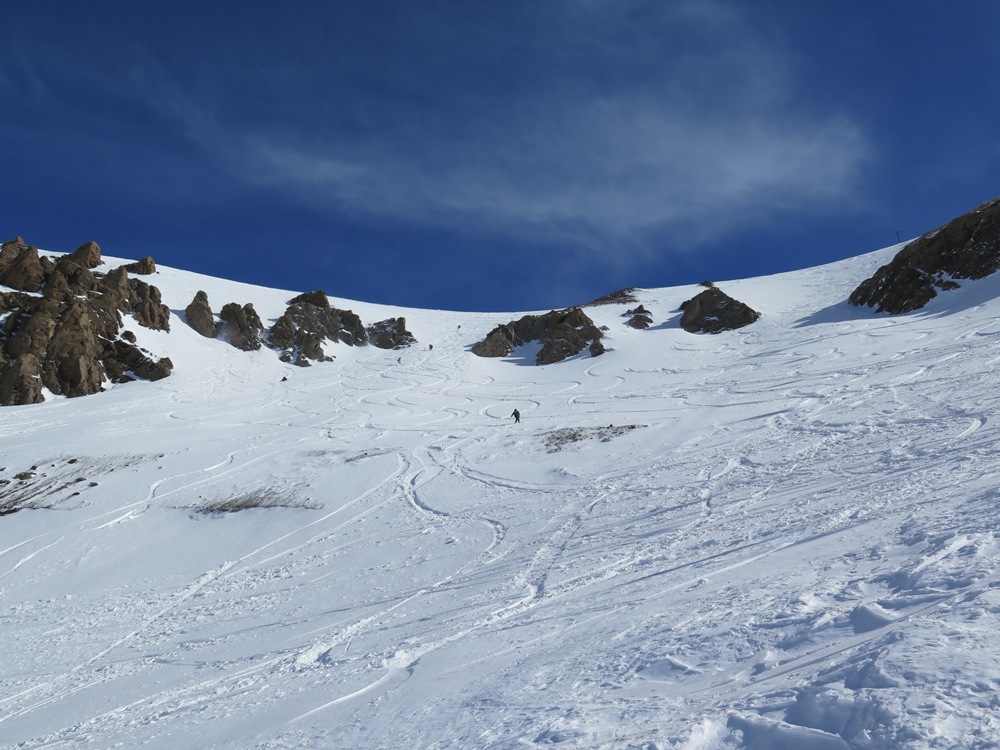 I chose the shaded entry at skier's left. The skiers under the lift were moving very deliberately so I expected variable snow. The top quarter of the run was dense but smooth powder and skied easily. The middle section had breakable crust and at least for me did require deliberate skiing. Staley informs me that a super wide and rockered ski will handle that stuff better, though that's a tradeoff for the better firm snow performance of my Bonafides. The snow improved lower down, though the last pitch is the steepest and since it's more confined that snow was more chowder than powder.
It still skied well, though I was sucking wind and thus taking more rest stops than usual. At this point ~11:30AM I noticed Marte was no longer moving and the chairs were unoccupied. When I got to its base there were still ~30 people waiting, so I rested for 10 minutes before leaving. I went back up Neptuno to Estacion Marte. In 2005 that was the nice Santa Fe southwest/Mexican restaurant but now is more of a warming hut where you can get a snack and a drink. By this time the Marte lift was deserted and done for the day, so I crossed the lower mountain to check out Vulcano. I first skied a groomer, and then took the off-piste traverse far skier's left to this view down a long winding gully.
I put the first track into closest chute in the picture above. At this lower elevation snow was quite heavy by 2PM. The gully runout leads to the Urano poma at 7,200 feet, 200 feet below the main and Minerva bases. View from Urano of my track lower center.
Monday I would have an adventurous run from those rocks higher up.
I skied to Caris and the far right chalky line of Cenidor. I worked my way back to Caris and there ran into Staley. We finished with the two Cenidor laps in the softer snow, probably my most fluid runs of the day. My boots were more comfortable Sunday, but felt secure in the loose setting all day. The wind had picked up some to close Marte, but felt strangely warm vs. Saturday. The entire lower mountain was in spring mode by the end of the day. 13K of skiing, but that was plenty in my current condition.
Monday Aug. 24
Walking to the base Monday morning snow was still soft so there had been no overnight freeze. At last there was no waiting to buy a day ticket. Overnight wind had reloaded the upper mountain and covered the tracks in Eduardo's, but the lower mountain had the same soft and sometimes heavy spring snow as yesterday afternoon. The ticket office said Marte was closed, but in fact the chair was open (A-factor) and only access to the frontside runs had been delayed. While riding the Vesta chair toward Vulcano at 10:15 the first tracks appeared high on the front side, so I skied to Caris to head to Marte.
I rode the Caris lift with an Argentine rancher Jose who had ski bummed a year in Mammoth and his 2 snowboarder friends who did not speak English. We skied the same Cenidor line, where the wind had blown off some of the loose snow since the previous day but I thought still skied well. Jose commented on how the snowboarders were more tentative on steeper terrain and/or firmer snow. While riding Marte we saw not one person skiing under the lift. The wind had packed the snow and obviously deterred many people. So when we all got to the top of Marte, Jose and I skied under the lift while the snowboarders took the Jupiter groomer around. There was still some breakable crust in the mid-section, one ankle wobbled a bit and at last I stopped to put my boot buckles in their normal settings. But in general the windpacked snow was supportable and the run probably took less effort from me than the prior day.
Next time up I took a couple of pics of the lower and middle sections. It seems we were the guinea pigs and must have skied well enough to encourage more people in there.
Jose and friends at top of Marte.
They had a lengthy conversation. I was hoping for local guidance off the frontside, maybe Eduardo's. But the snowboarders wanted to ski under the lift. This time I knew where to link sections of the smoothest and most supportable snow, though I still needed a couple of rest breaks. I stopped at the top of the steep lower pitch to take pics of Jose skiing.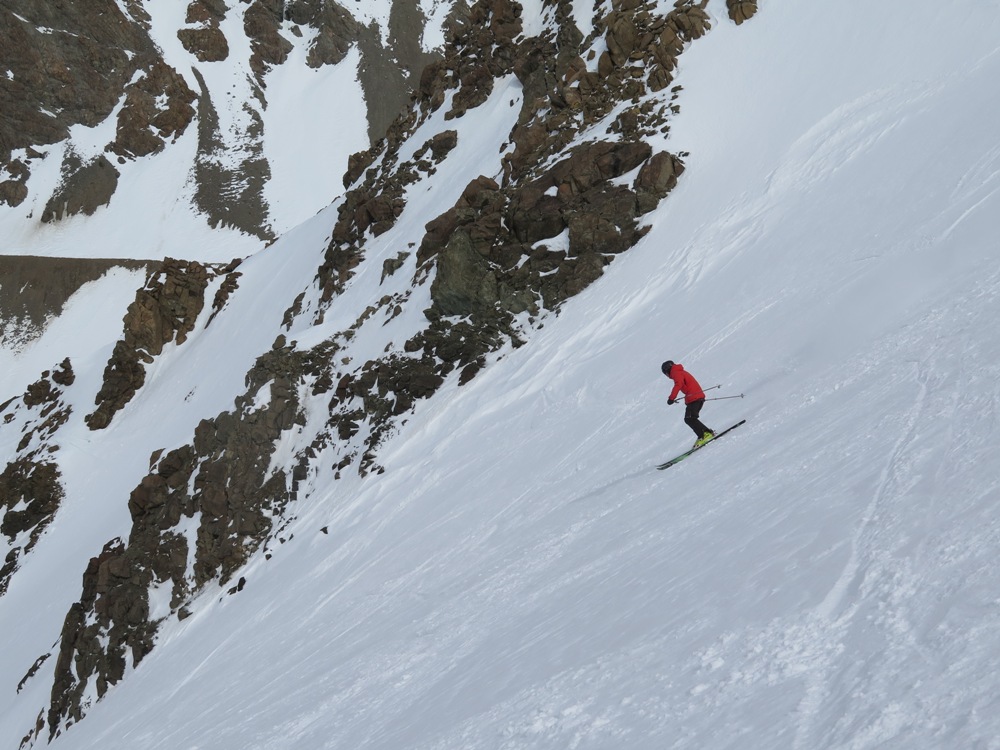 A cloud came over to put the lower pitch in flat light and skier traffic had churned the snow some. My legs started burning and it took awhile to get down.
There was still a 15 minute line at Marte but Jose and his friends had left. I took Marte up and decided to ski the groomer to the Estacion Marte. I rode the Iris poma for the first time, as it had been completely buried in 2005. This leads to the long and winding Apolo run, which is not unlike a high alpine groomer in the Alps. Here's the view of the Torrecillas and Entre Rios backcountry near the Chilean border.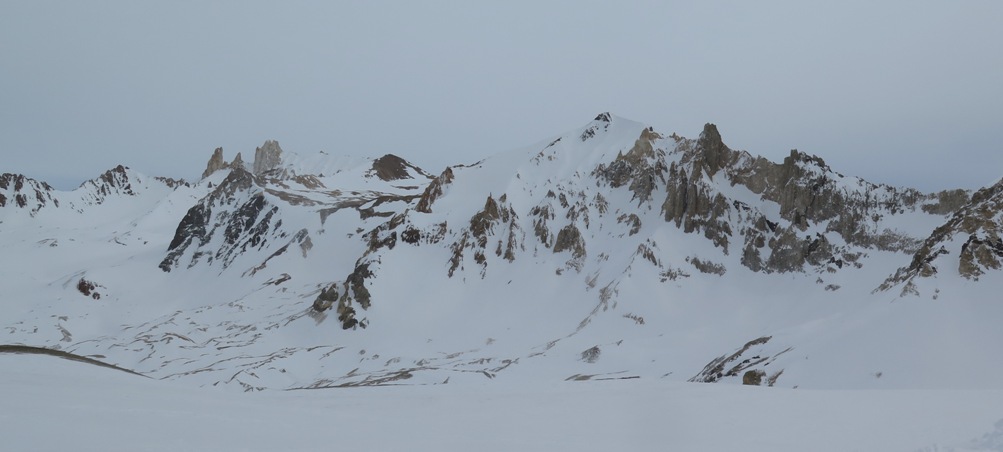 This area on the crest of the Andes gets twice as much snow as the base of Las Lenas and preserves it well up at 12,000 feet. In lean snow years the hard core make lots of AT treks up there.
The clouds got temporarily thicker and the flat light so bad I had to break out the goggles for this run. After a snack at Estacion Marte I boarded the Marte chair for the last time of the day at about 2:30. I took the Iris poma again but this time headed for the frontside. It was still overcast but clouds were thinner and the sun was shining through them for adequate visibility. I found Paraiso which was the probably the easiest way off the front with Extremely Canadian in 2005. But it's a long traverse back to the Urano poma and when I looked down of course there were more rocks than in 2005 and I didn't know if the traverse might be blocked. I saw 5 skiers walking across gravel to a snow line through a rock outcropping at skier's right and decided to follow them. Anyplace they were going would lead more directly toward the ski area and also would face more south than east. The thin snow in the rock outcropping was refrozen but after a short sideslip led to an open bowl of about 10 powder turns.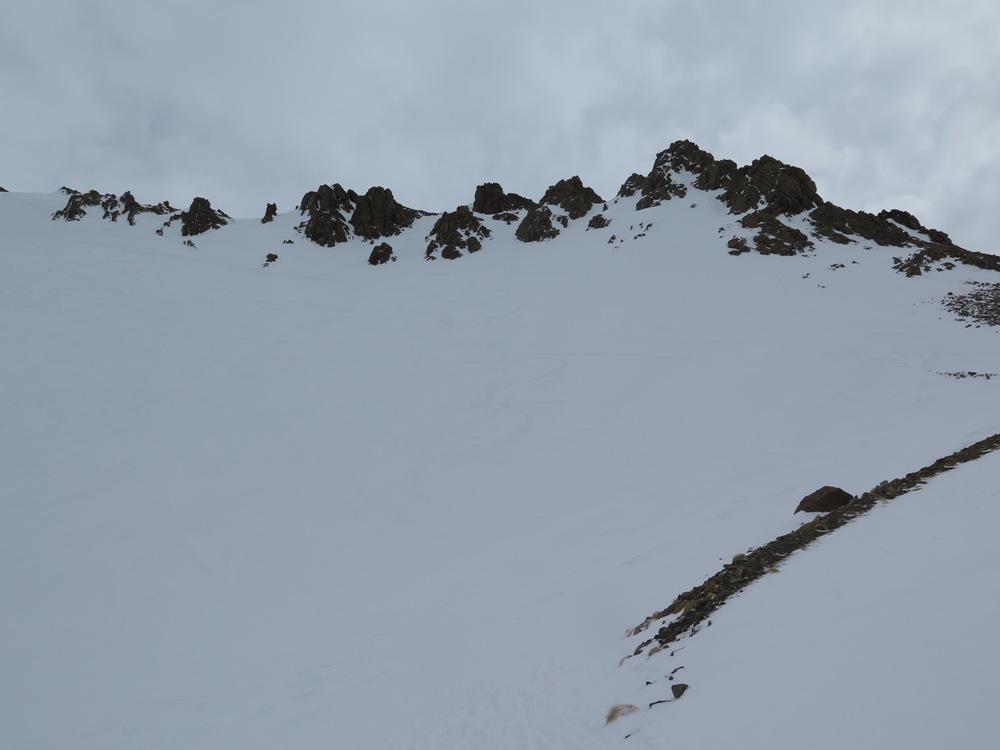 The top of Vulcano was visible from the bowl but the tracks went skier's left through another rock outcropping. View across to Vulcano from second set of rocks.
The view down from this spot led to the gully I had skied from Vulcano Sunday.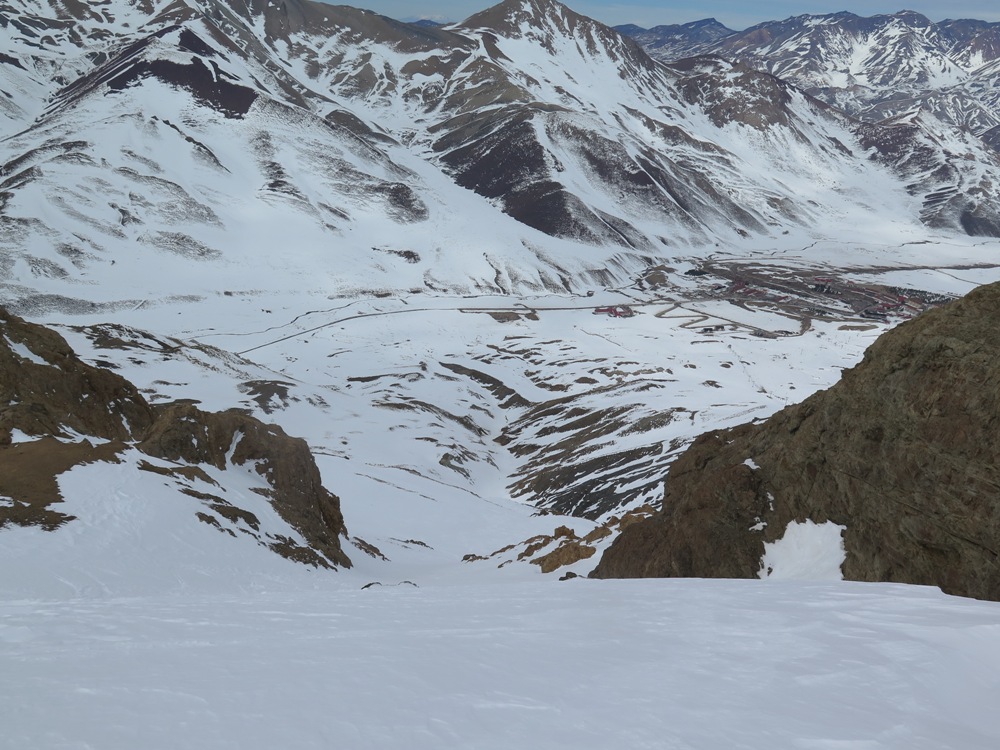 This was a convex rollover, seriously steep with unknown snow conditions, the type of terrain for which Las Lenas is famous. The top section was windpacked chalk and I needed to maintain a line to skier's right because it was wavy sastrugi at left. I was reminded of my Extremely Canadian clinic with Wendy Brooksbank at Whistler in April, where precise technique was required in similar DFU territory on Cockalorum and Winkie Pop. Lower down but still above the Vulcano traverse line the snow became sun-baked, so less fall consequential but more work making wide gorilla turns. When I hit the traverse line I went farther out, so I could ski a more intermediate line down to the gully in the heavy snow. My ski route traced in the pic below.
The upper part of this run was mostly survival skiing, but it might have been an epic powder run Sunday morning. On Sunday Marte was open only a short time so no one got out that far. There are zero tracks above the Vulcano traverse in my picture from Sunday afternoon.
While snow has sometimes been a challenge I have already skied as many Marte runs as during the entire week in 2005. My ski capability in this terrain seems OK, but my stamina is still well below what I would like so far. My northern ski season ended May 9 this year vs. July 2 lift served in 2005. So no surprise I have not been skiing Marte with Staley, who tore it up to the tune of 25K Monday vs. my 14K. And that 14K seemed as exhausting as twice that much at Mammoth or even AltaBird. Hopefully he will post a few more pics of signature Las Lenas steeps.
Tuesday is a needed down day. The clouds were fairly low all morning and it started snowing at noon. This is not expected to be a big storm but should refresh conditions nicely. There are conflicting predictions whether we will see any more new snow after that. If not we ought to get some corn by next week, and untracked or lightly tracked Andes corn can be exceptional, as I saw here in 2005 and at Portillo in 2007.