Administrator
Staff member
Patrick and I drove separately to Mammoth because he was moving on to Tahoe. This made sense because he'll ski Alpine Meadows May 24-25 and then some of Palisades' final weekend. He should return to Mammoth by Memorial Day itself as that will be the last day chairs 9 and 14 will run and he has never been there when they were open.
The delayed Cruel World music finale meant this Mammoth trip was a one night stand for me. Liz had her knee surgery early this morning and was home by 1PM. She's getting around quite well this afternoon and evening as meds used for the surgery are likely still in effect.
The past week at Mammoth has been less than ideal with no overnight freezing and some afternoon thundershowers. The storms had moved on, but there was still no overnight freeze Tuesday and it was a bit breezy at the chair 2 parking. I started skiing at 8:20 and salted Stump Alley was in decent shape already from the chair 2 unloading. By observation north facing salted groomers like Broadway were still firm. This view well before 9AM provided a clue though.
There are 4 skiers in Paranoid 1 in that pic who were skiing quite fluidly, demonstrating that unsalted snow was soft even up high.
After Stump warmups, Rodger's Ridge was our first ungroomed test. Rodger's gets lots of early morning sun and was a good preview of what we would ski later higher up. The was some resistance from the soft snow but not too deep as the huge refrigerated snowpack likely made it more manageable. The warm weather tends to smooth out moguls and areas that were unconsolidated on my last trip May 10-13. To the extent suncups were forming, they were shallow and did not have hard edges so no real impediment to skiing yet.
We got up to Cornice which was in great shape just before 9AM and so skied Climax next.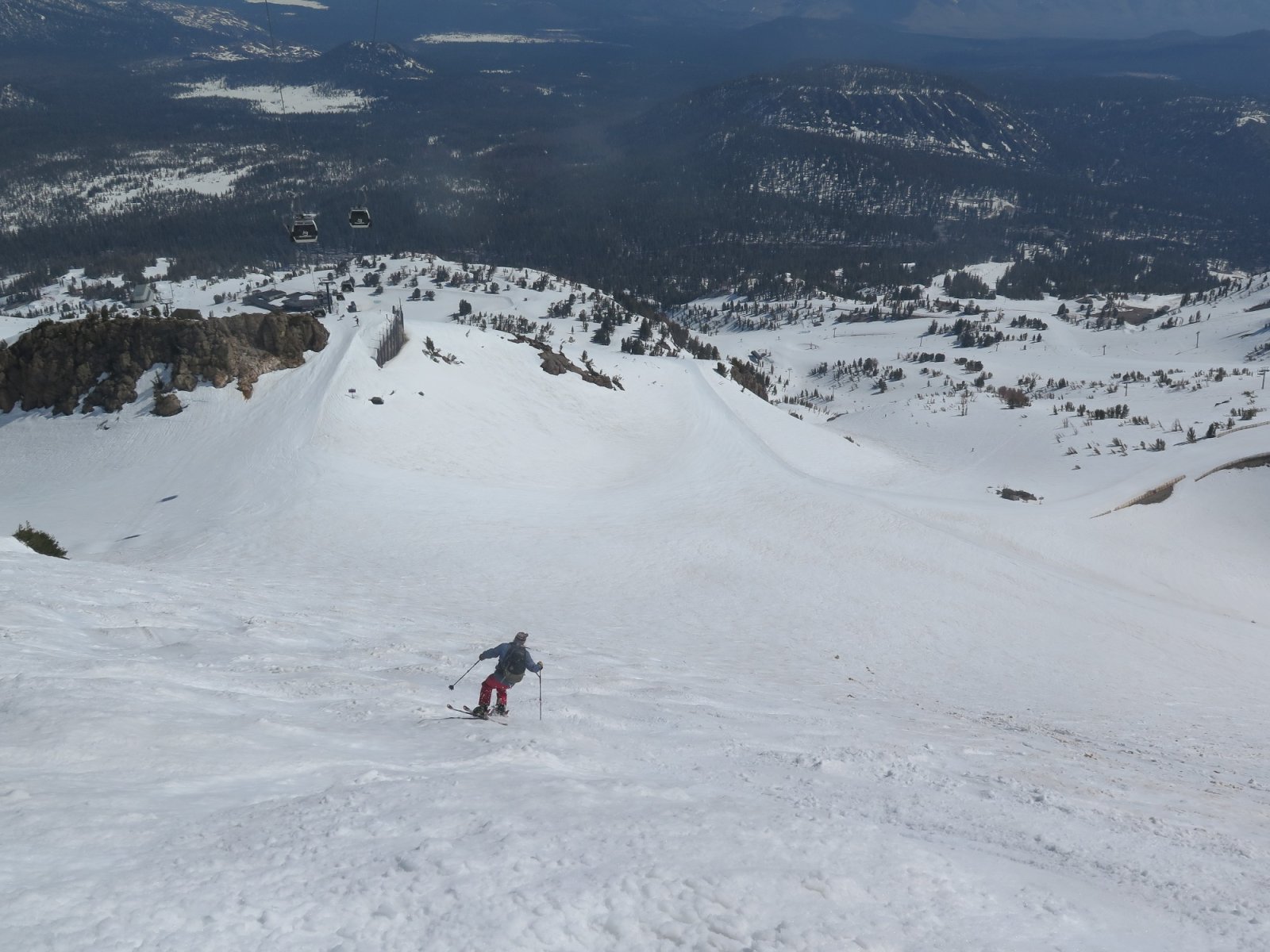 Given the time of day I thought China Bowl to Coyote was a good idea, but Coyote had not been groomed and had deep slushy moguls. I'm sure Coyote will be groomed for the upcoming holiday weekend. We rode 2 and 23 and set out to the Paranoids after seeing those early morning skiers.
Patrick is dropping into Paranoid 3 here: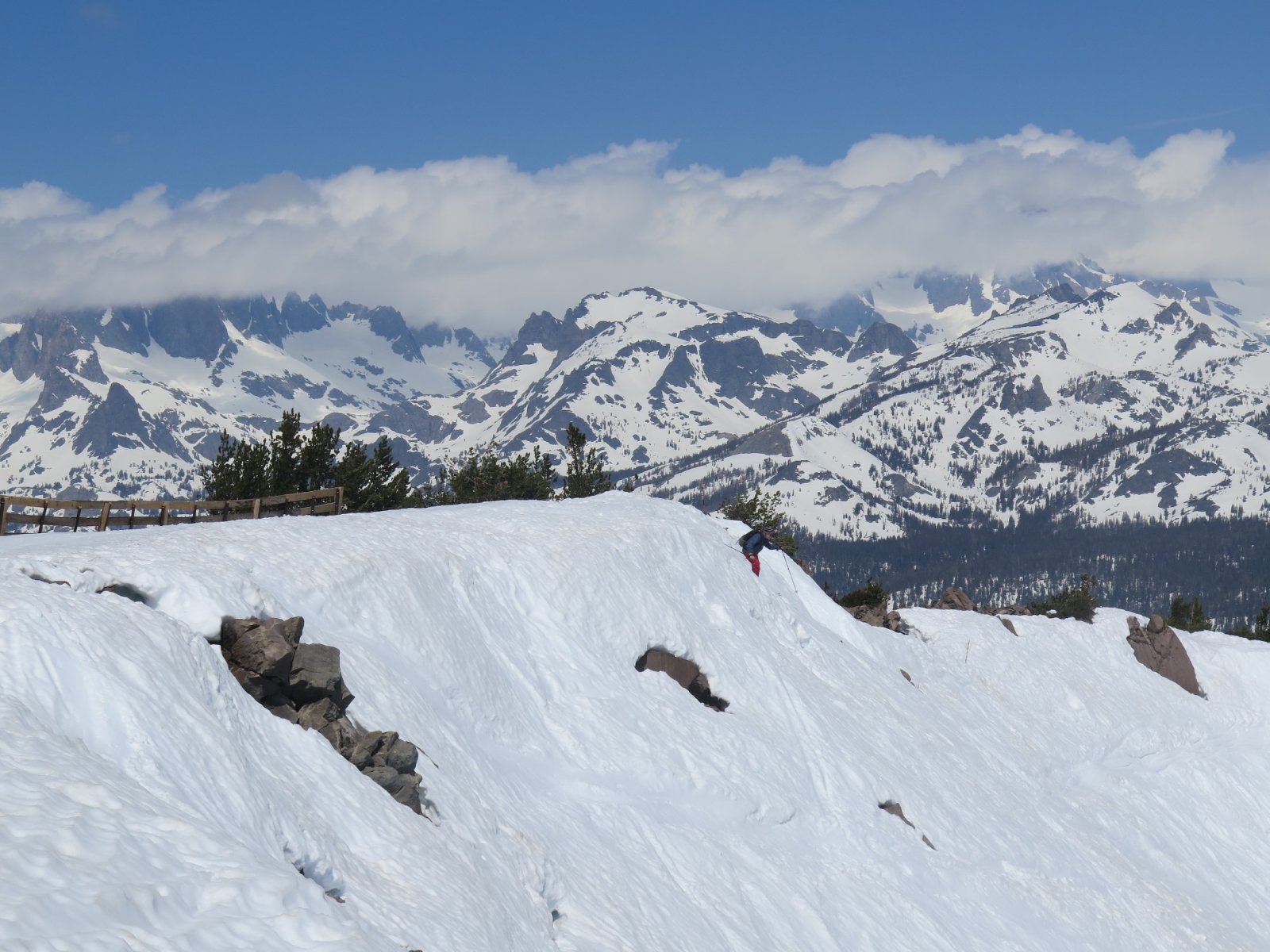 The Minarets would be a great backdrop except there's a cloud hiding them here.
More Patrick ripping Paranoid 3:
He was obviously feeling much better than last Friday at Baldy.
I skied Paranoid 1 and we then skied to the gondola. It was almost 11AM when we got to the top, so I realized I should show Patrick runs he had never skied before that were available because he was here in a big year a month earlier than in 2010, 2017 and 2019. First up was Huevos Grande where I sideslipped through the constricted entry and did not have a good view up to it after I had skied partway down. So this is all I could get of Patrick in pics.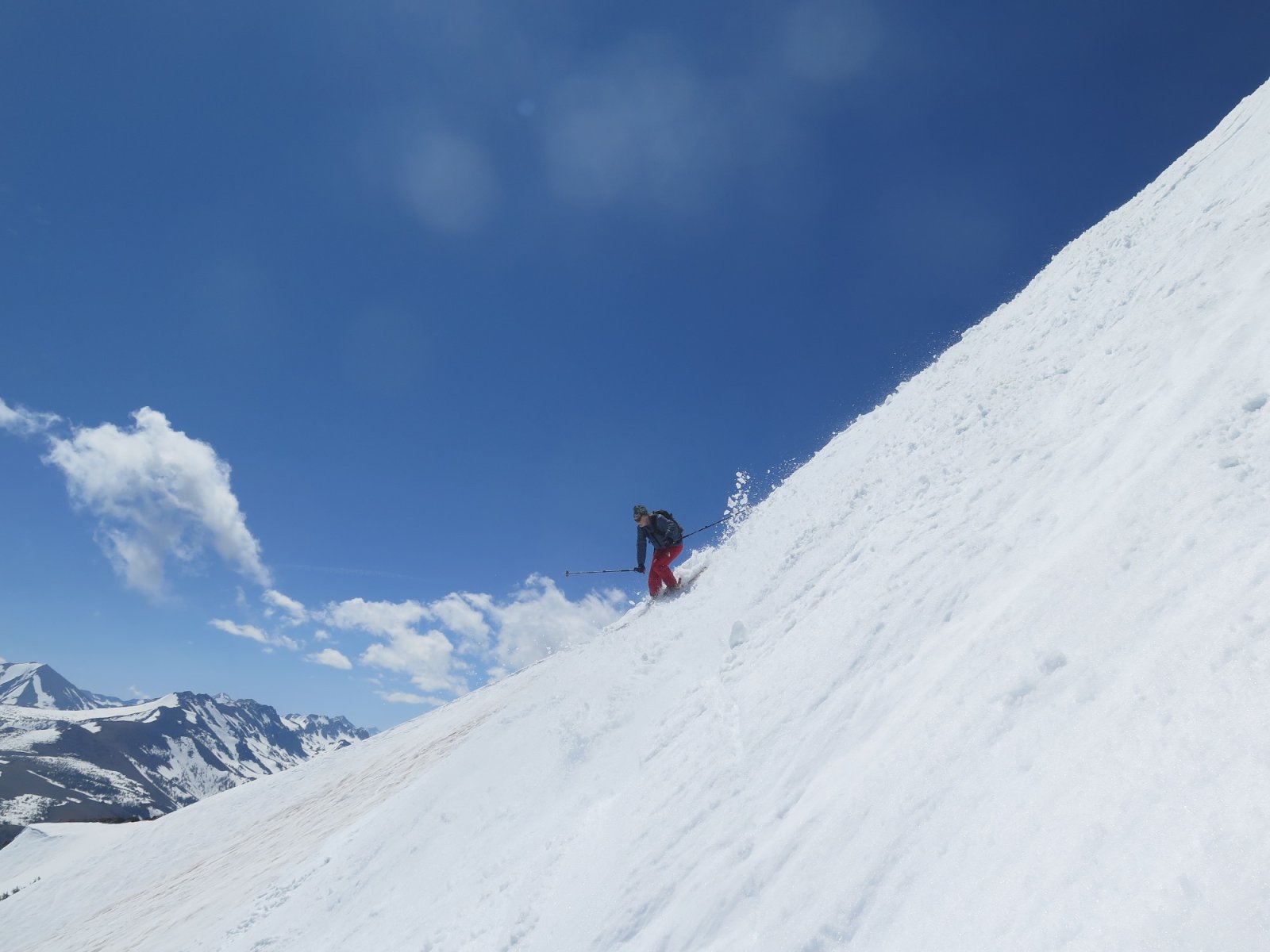 We skied down through Dry Creek, rode 2 and 23 and went back out to the Paranoids to inspect Philippe's. I skied Paranoid 3 and here's Patrick in Paranoid 4.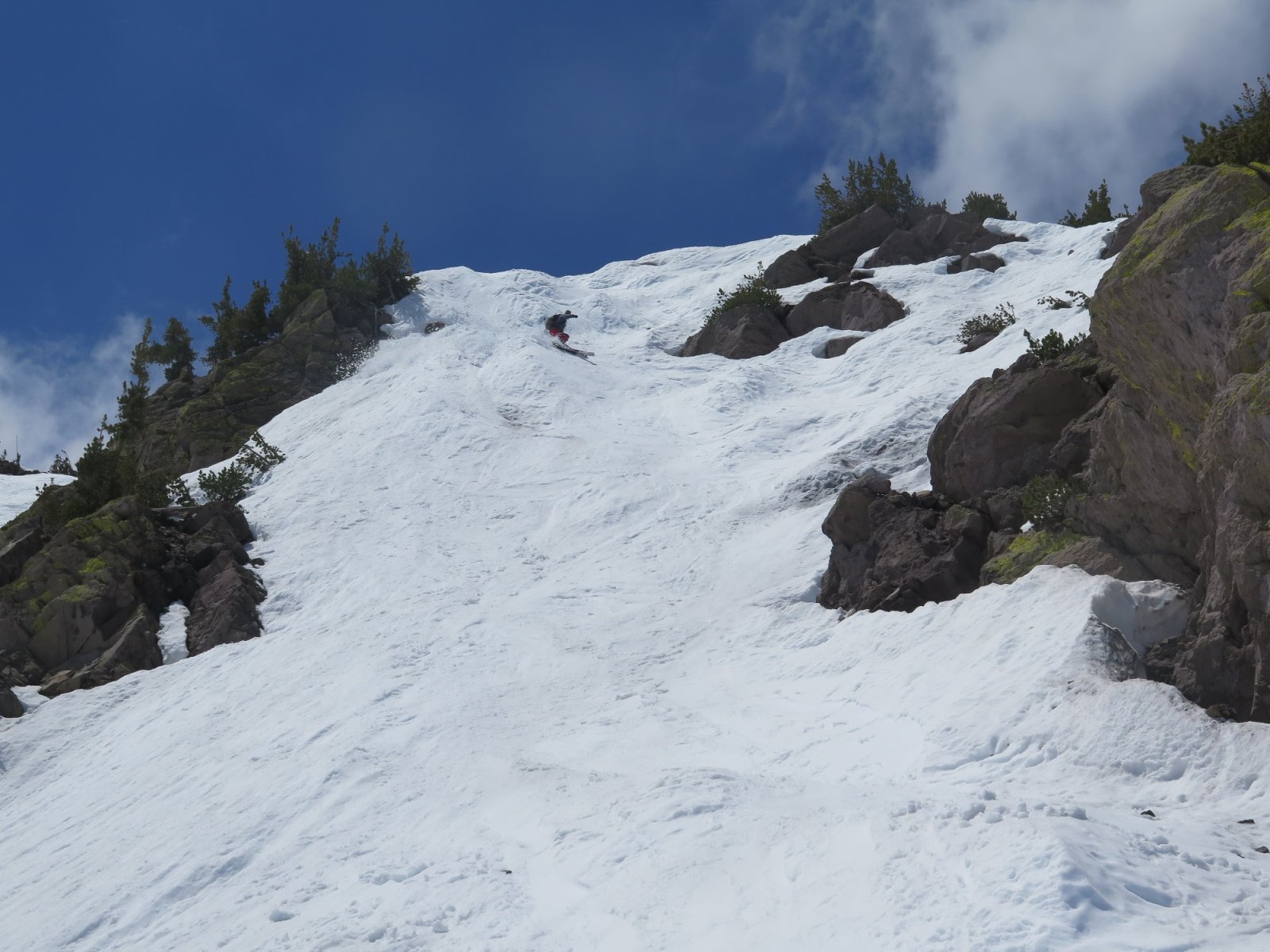 Two guys skied Philippe's while we were inspecting. The second one here is gathering the orange ski where the first guy hit a rock with it and fell.
The first skier slid all the way through the choke and is visible in black below it.
Patrick in Philippe's:
The choke at the bottom is wider than I've seen before but I do not recall as many rocks in the middle, and Patrick said there were several more I couldn't see from the top. So I took a pass and continued down Paranoid 3. I set off a wet slide that pulled my lower ski down but I was able stand up on the upper ski and recover. I made a few turns and then took a picture of the wet slide (bright white line left to right) which was still moving.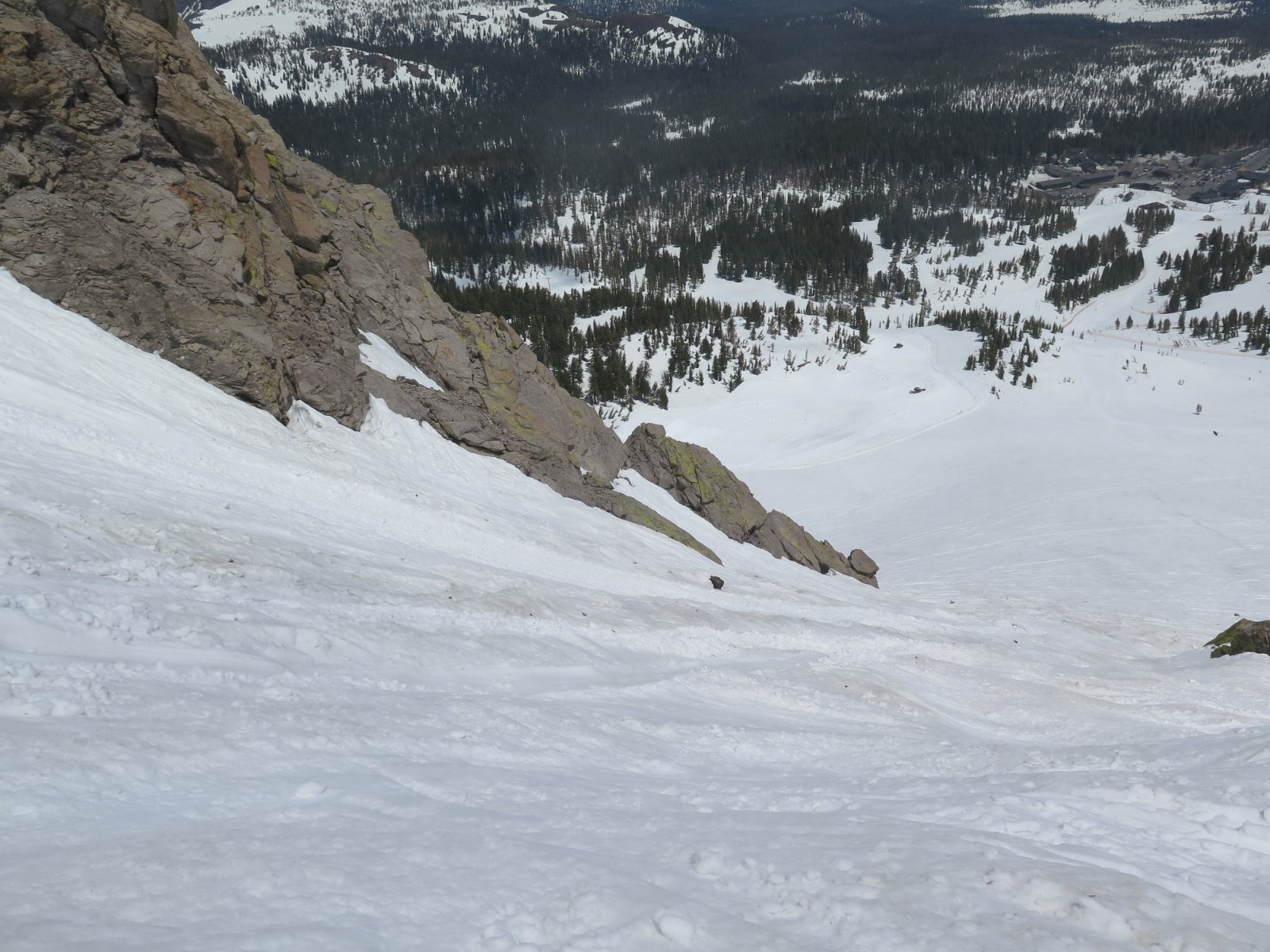 It was now past noon so we rode a final gondola together and I led Patrick to Varmint's Nest, skier's left of Hangman's and only open in top 15% or so of seasons.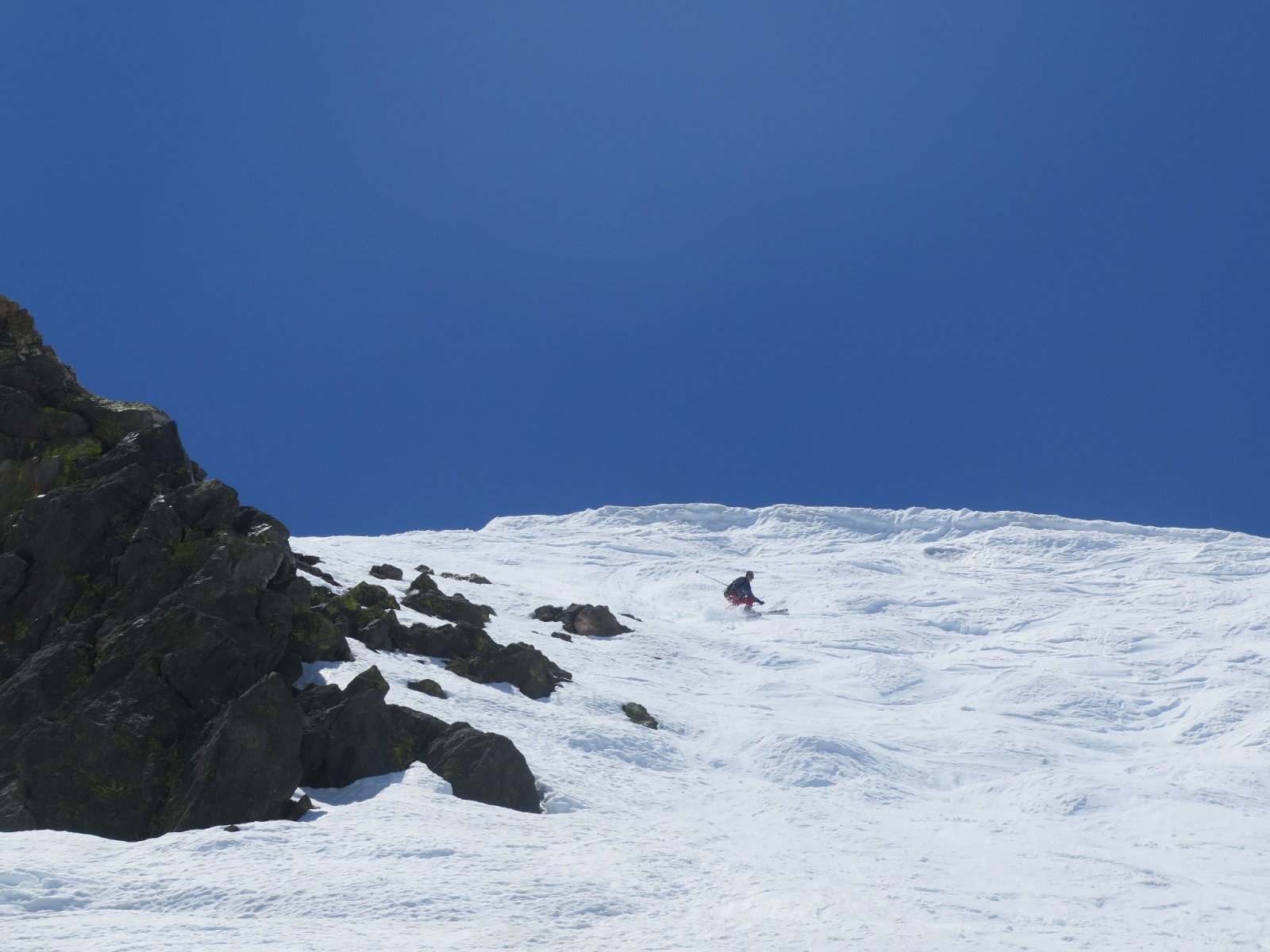 I sideslipped to about where Patrick is skiing in the above pic.
A few turns lower Patrick popped a ski out in the heavy snow and is in mid crash here.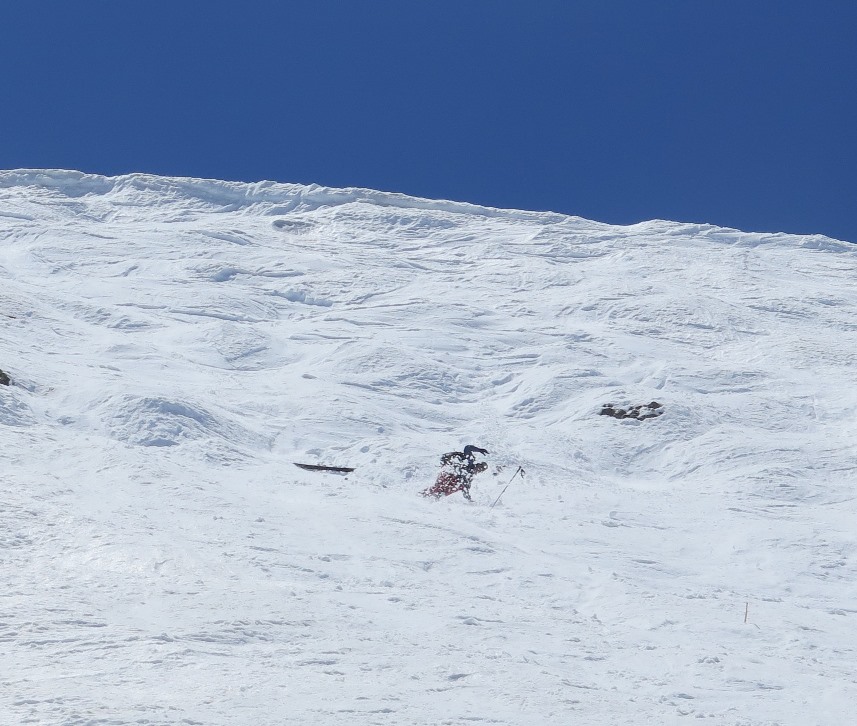 He only slid about 10 feet from there.
I needed to get on the road soon so I left after Patrick said he was OK. I skied through World Cup, which had been used by the racers. Lower down Andy's was surprisingly clumpy, so I suspect it had not been roped off and had been skied all morning. With no overnight freeze almost everything aside from high north facing steeps gets heavy by noon. For the holiday weekend Mammoth will probably make a second pass of grooming and salting on popular runs like Broadway and Stump Alley mid-morning.
I skied Face of 3 and Triangle for my last runs and finished just before 1PM with 19,300 vertical. A few more trees are being exposed now at top of Triangle.
Snowpack continued to decline in the past warm week. There are about 4 stairs exposed at both upper and lower gondola where there were none on May 10. Maximum snowpack in early April at the patrol site near Main Lodge exceeded maximum in 2011 and 2017 by about 6 feet. That excess will probably be 2 feet on Memorial Day.
Last edited: