Wednesday 11/10/21
I left San Jose a little before 7 and drove to South Lake Tahoe Tues PM. Without much traffic and even with 40 miles of lowered to 45 mph speed limit on US-50 from well before Caldor Fire burn zone to Meyers, and waiting for passing lanes to get by a couple of people going 35, I was in SLT not much after 10:30. Wednesday morning, I left SLT about 6 and stopped for gas and fast food in Gardnerville. Sunrise on way there.
After gearing up and riding shuttle from not running chair 2 parking, I was on chair 1 by 9:30. I skied it once to warm up and Liz spotted me in line on my 2nd lap so I waited at top for her. Tony Crocker soon joined us and rode upper gondola to the top and skied Dave's.
They reported 7-9" new on previous day when it was still storming (and we heard it may have ra—ed to the top) and storm total of 9-11". Upper gondola was a little late opening and Climax and chair 23 were both open for first time this year. Our run of the day was Dave's which we repeated 4x and had great wind-packed powder. Random skier on Dave's.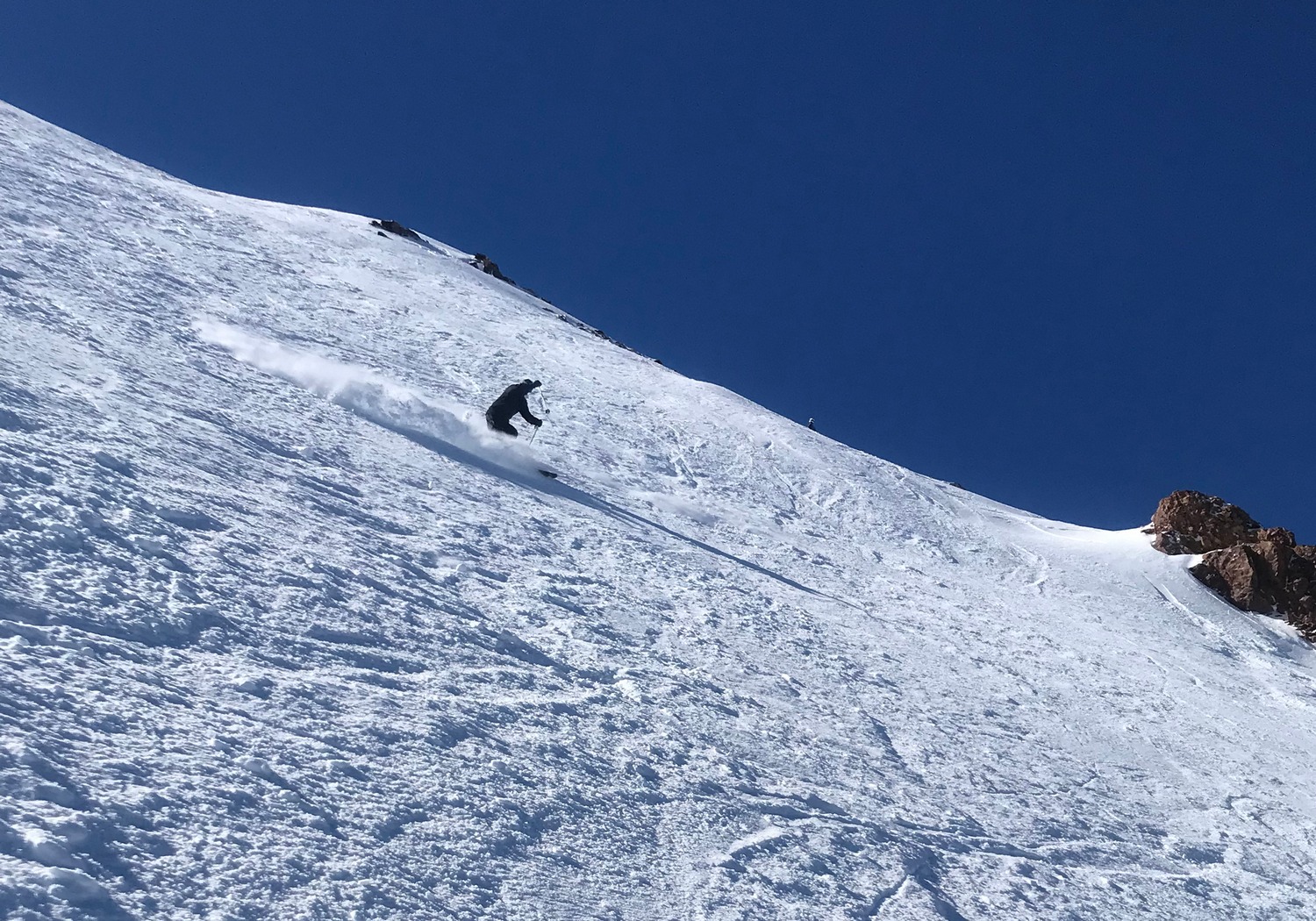 After lunch, we skied Drop Out 1 and 3 and Wipe Out 1, entering from 2 to avoid rocks at top. All had good snow, but it was a lot of tough skiing for my first day of the season. Will wear less clothes tomorrow as I was too warm all day even after removing vest and only wearing shell jacket. Tony and I quit a little after 3:30. My watch showed over 19K. Besides walking dog, my only recent workout was walking up 120 steps from parking lot to our unit in Cabo a few times most days for a week, often after eating or drinking too much.
Thursday 11/11/21
I skied 830-230 without taking a lunch break, then did the long drive home via Gardnerville and Kirkwood from 3-9. Monitor Pass re-opened Thurs. which saves 10-15 miles and minutes, but means going from 5,000' by Topaz Lake to over 8,300' pass then back down to 5500' Markleeville (plus 8600' Carson Pass before KW). And going through Gardnerville ($3.79) saves on gas ($4.59 on Lockeford E of Stockton, CA) and gave me a few poor, slow choices for fast food. Gas prices in Lee Vining and Bridgeport are some of the highest in CA.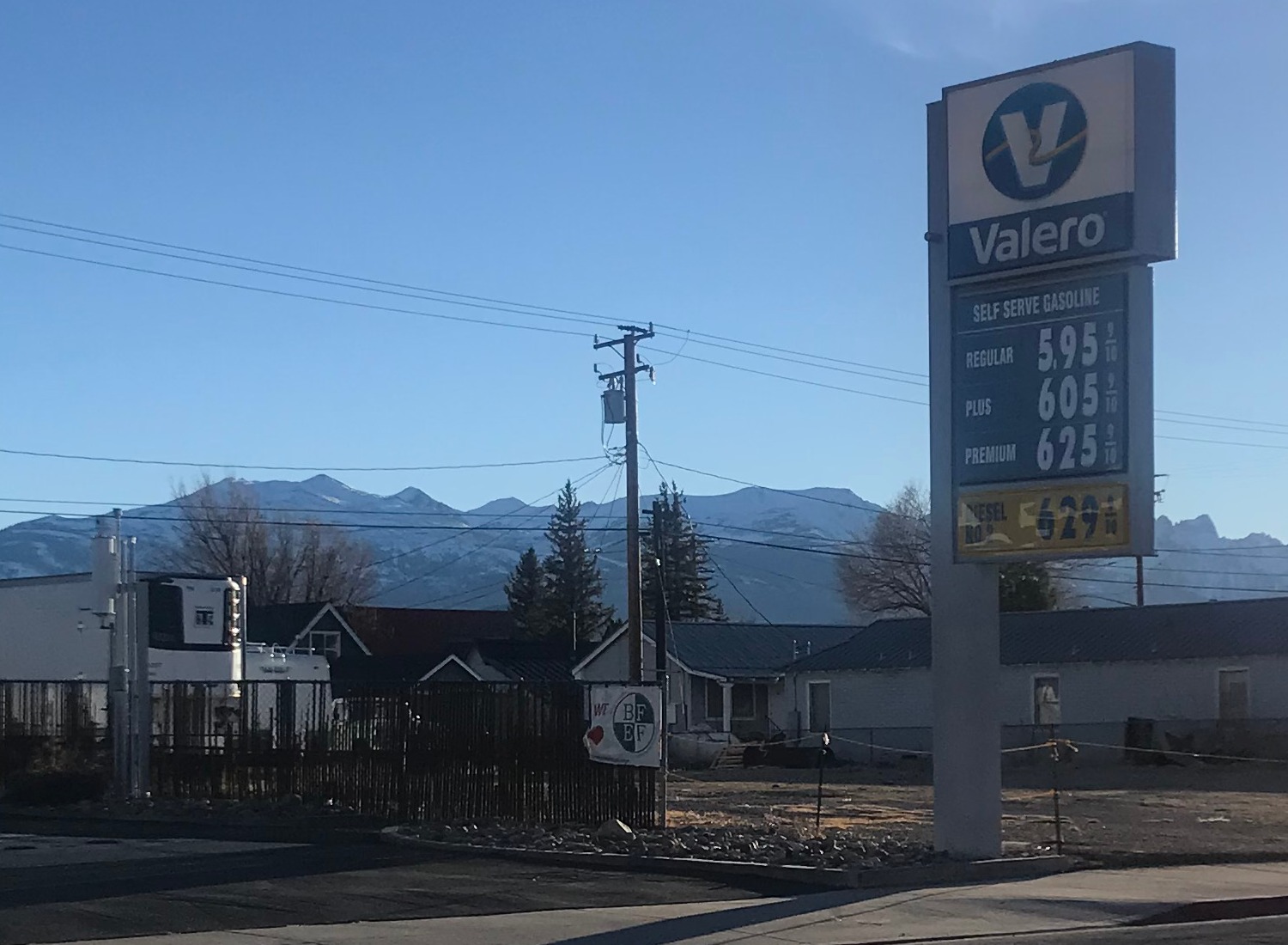 Snow was better on previous day, with groomed Cornice and World Cup being the exceptions. Thursday Mammoth was running chair 11 for beginner terrain. They have been grooming Solitude on chair 5 which probably won't open until you can ski down to base of chair 2 which they have only been using for uploading on busier days (Fri-Sun).
I skied Dave's 5x, Rock Garden once and Cornice at least twice. Snow on Dave's was not as good as yesterday as there was some upslope wind, but it was still good enough to make the slog out there and back. Pictures are Tony Crocker (last two) and Liz (first three) skiing Dave's.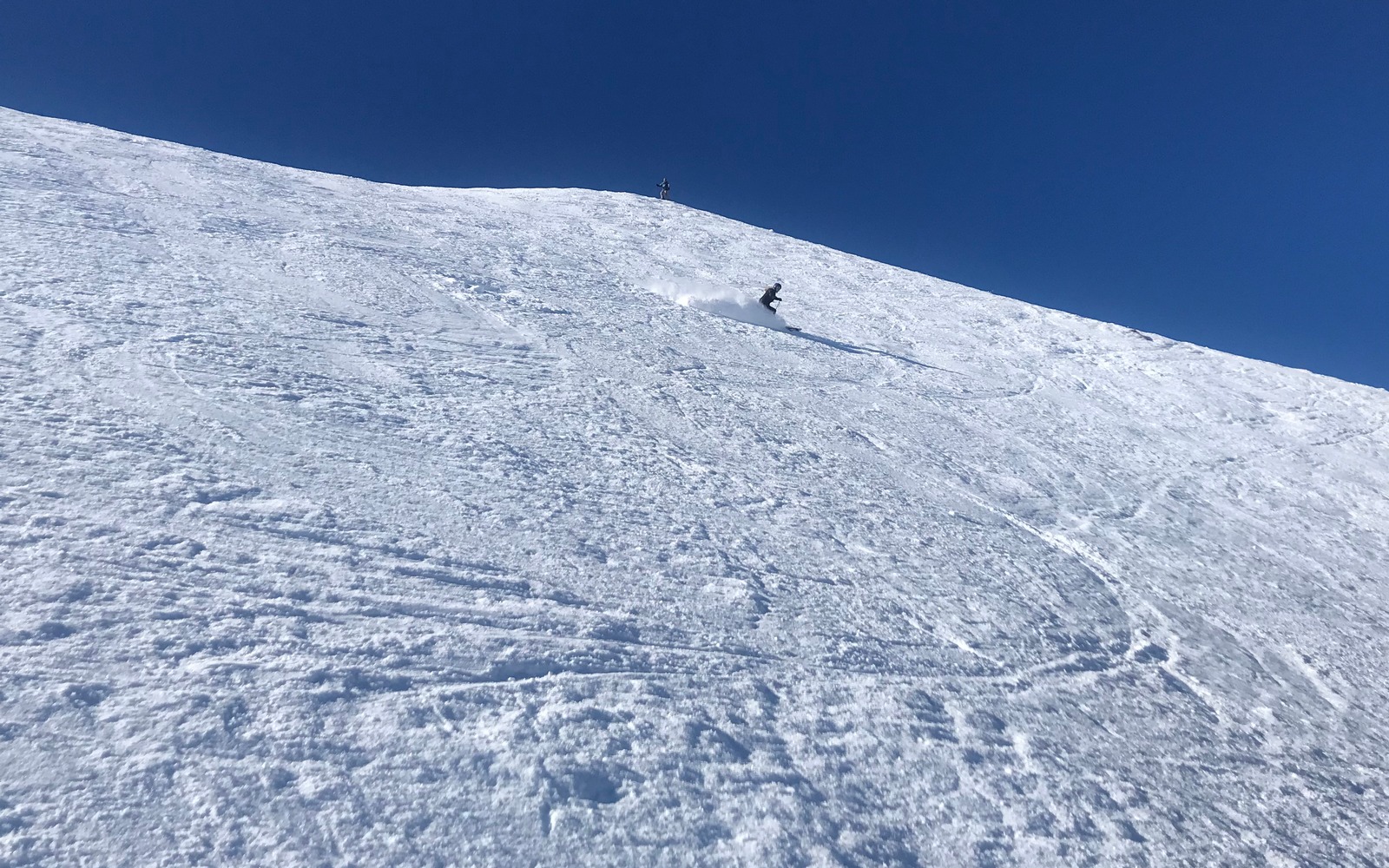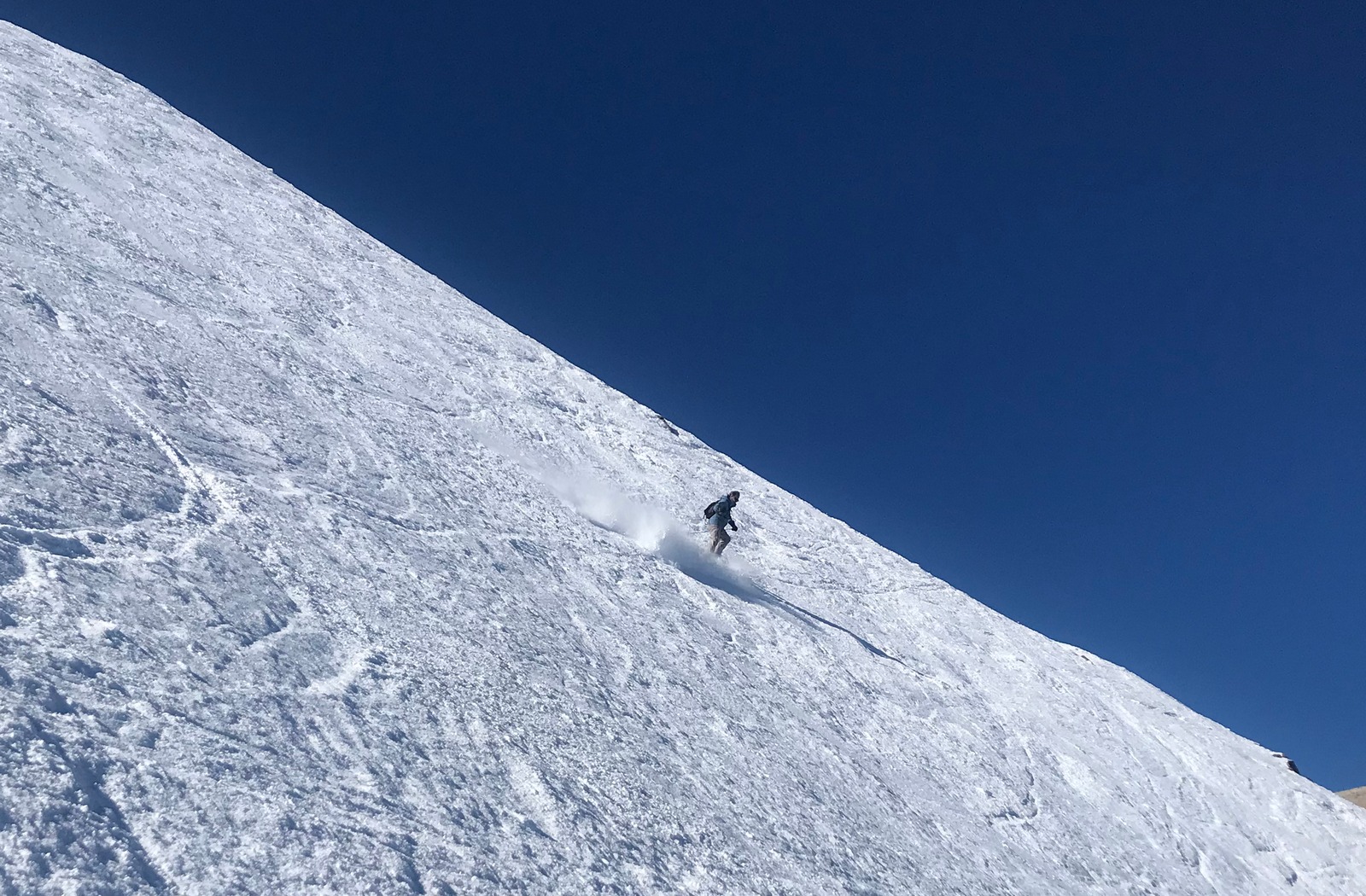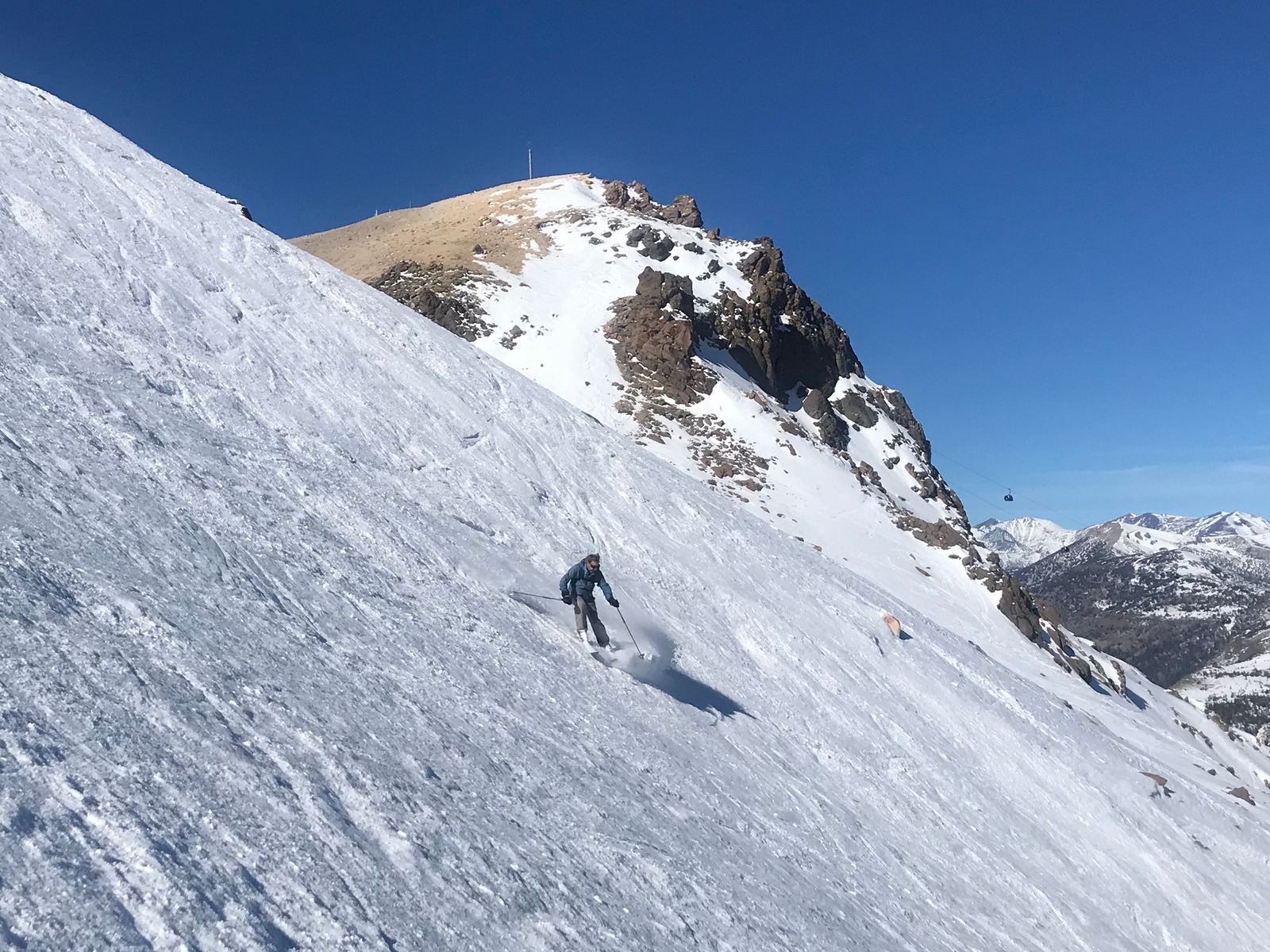 Liz always went through the narrow part skiers right of rocks while Tony and I usually went left of the rocks where entry is steeper and more exposed although I did the right a couple of times on Thursday and Tony went further right to Roma's once. My watched counted almost 22K.