Administrator
Staff member
Mammoth received 6-7 inches Sunday night into Monday. As expected the top was closed Monday so that's when we drove up and stayed with Garry in a friend's condo. We heard for some people that Monday's powder on 3, 5 and 22 was quite good.
On Tuesday we got to chair 2 at 8:45AM and the top was open already. So I took my first 3 laps on chair 23. The steeps of Drop Out 1 were well churned already but it was smoother snow lower down. Wipe Out 2 was the opposite, with the upper section very lightly tracked because there was a gravelly choke point lower down. On my first day of the season at 11,000 feet I was taking quite a few breaks in these runs. The snow was good but inconsistent, some turns in lighter powder, some in denser windpack and some where you were mostly on the subsurface. Here's the view halfway down Wipe Out 2:
My next ride on 23 (a safety bar added this season), Woolly was on the chair in front of me.
At the top skiing Woolly joined a snowboarding Santa and elf.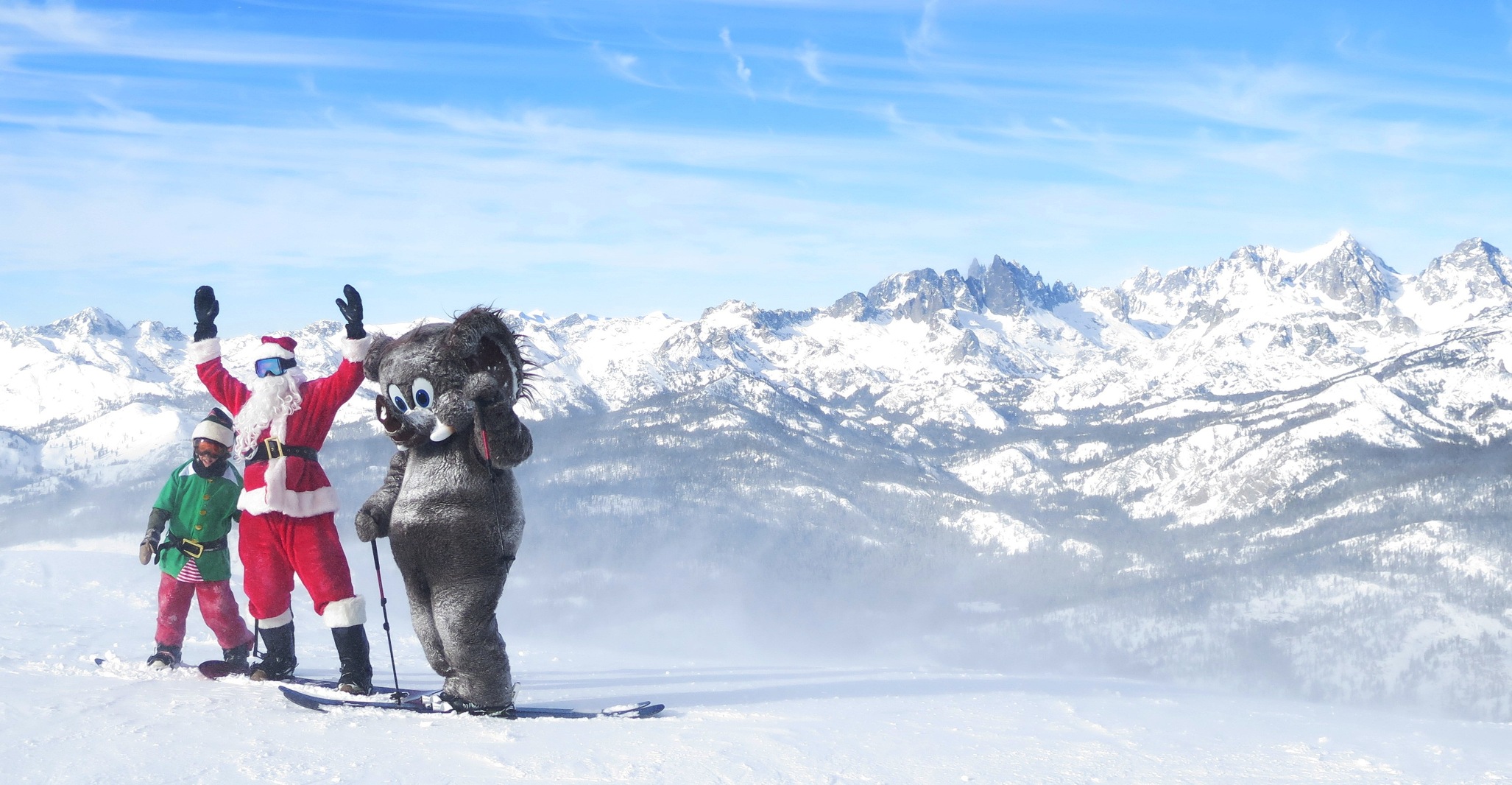 I overheard them mention the Paranoids, so I followed them out there.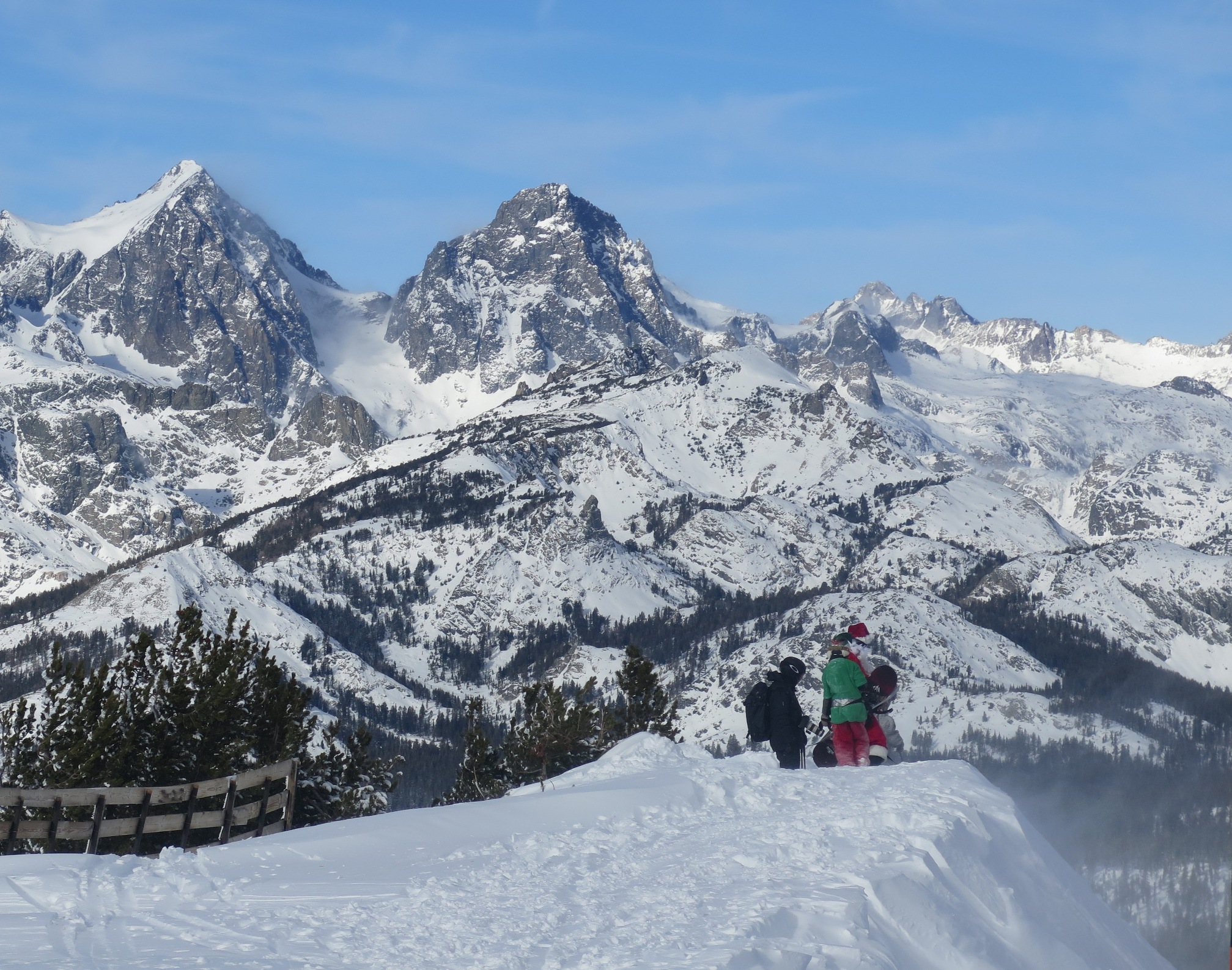 The photographer dropped in first, then shot Woolly ripping P4, an impressive feat in that bulky suit with not great visibility from swirling snow. Here's Woolly waiting halfway down.
I carefully slipped into P3, paused and watched Santa and the elf in P4, but I wasn't going to mess with the camera in that precarious position. I continued down P3 and Bark Bowl in untracked but wind affected powder.
I was beat after that, rested a bit riding the gondola from bottom to top. I skied Dave's and Triangle to 5, a lap on Face of 5, then met Garry who had skied Dave's about 10 minutes behind me. We skied down to 2 and went back up top via 23 to ski Monument. This was not as powdery as the Paranoids but smoother and a bit easier to ski despite more wind and swirling snow.
It was a quite windy day, but the wind was blowing from behind the mountain so the gondola and 23 could operate. Chairs 2 and 5 had wind in the face for the entire ride. But we have it easy now compared to when those chairs weren't high speed and you were in the wind twice as long.
Garry and I rode another bottom to top gondola and skied Climax through 3 to lunch at Main Lodge with Liz and Elissa, a long time Mammoth skier who was one of the most active members of the Mammoth Forum, closed to new entrants since 2014.
After lunch I skied Gravy Chute, a tight entry but very good snow once past that. Then we all skied Terry's. Garry and I went up top once more. Skiers coming out of Wipe Out 1:
I slogged up to P2 for what I thought was my last powder of the day. Garry skied Monument again but came over and got this shot of me emerging from P2.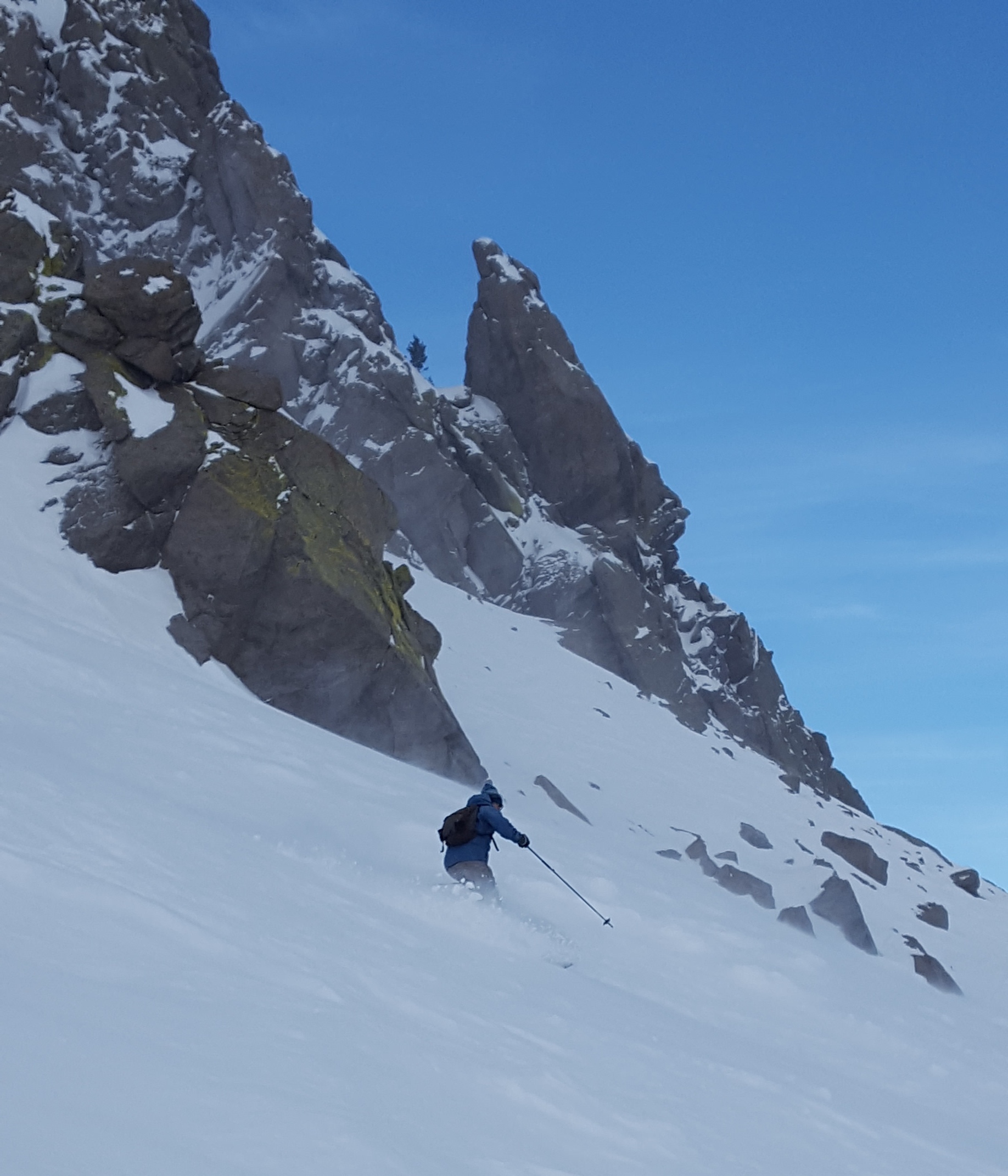 Garry and I took another gondola to the top, dropping off behind the gondola. Garry spotted some powder just off the boundary but where we could get back across easily.
After another run on 14 we returned to the front side via 13 and a mellow cruise back to Main Lodge. I then skied to the Mill and met Liz for Taco Tuesday. I skied 21,000 vertical, 5K of rather demanding powder.
Wednesday
was a mellower day in many respects and it was almost 10AM when we got on the hill. There was no wind. Low 30's temps were not that different but skiing was much warmer and I was soon ventilating and stashing my hat.
Liz and I started with Stump Alley, the face and back of 3, then a gondola to freshly groomed Cornice. I soon found that the ungroomed top runs had much softer snow, starting with my next run Dave's.
Garry and I skied Gold Hill to chair 9. The Chair 9 area is the leanest at Mammoth in terms of snowpack. Gold Hill skied well but it's narrower than usual and not groomed. It will not stand up to holiday traffic unless there is more snow. From 9 we skied via Solitude to chair 4. The area around the top of chairs 4 and 16 has new snowmaking towers.
Chair 5 and Climax are in the background.
Garry and I next ride chair 22 and skied Viva as the Avy chutes look a bit claustrophobic now. From Canyon we rode 16 and met Liz at 5. We skied Sliver and Sanctuary, much narrower than usual but with excellent snow. We took chair 2 and met Elissa at lunch at Main Lodge.
After lunch we rode the gondola to the top. I skied Climax while the others skied off the backside. I then took 23and skied Wipe Out 1 in the best snow of the day, well smoothed out from top to bottom. On my last ride on 23 I spotted this ice crystal rainbow above Scotty's.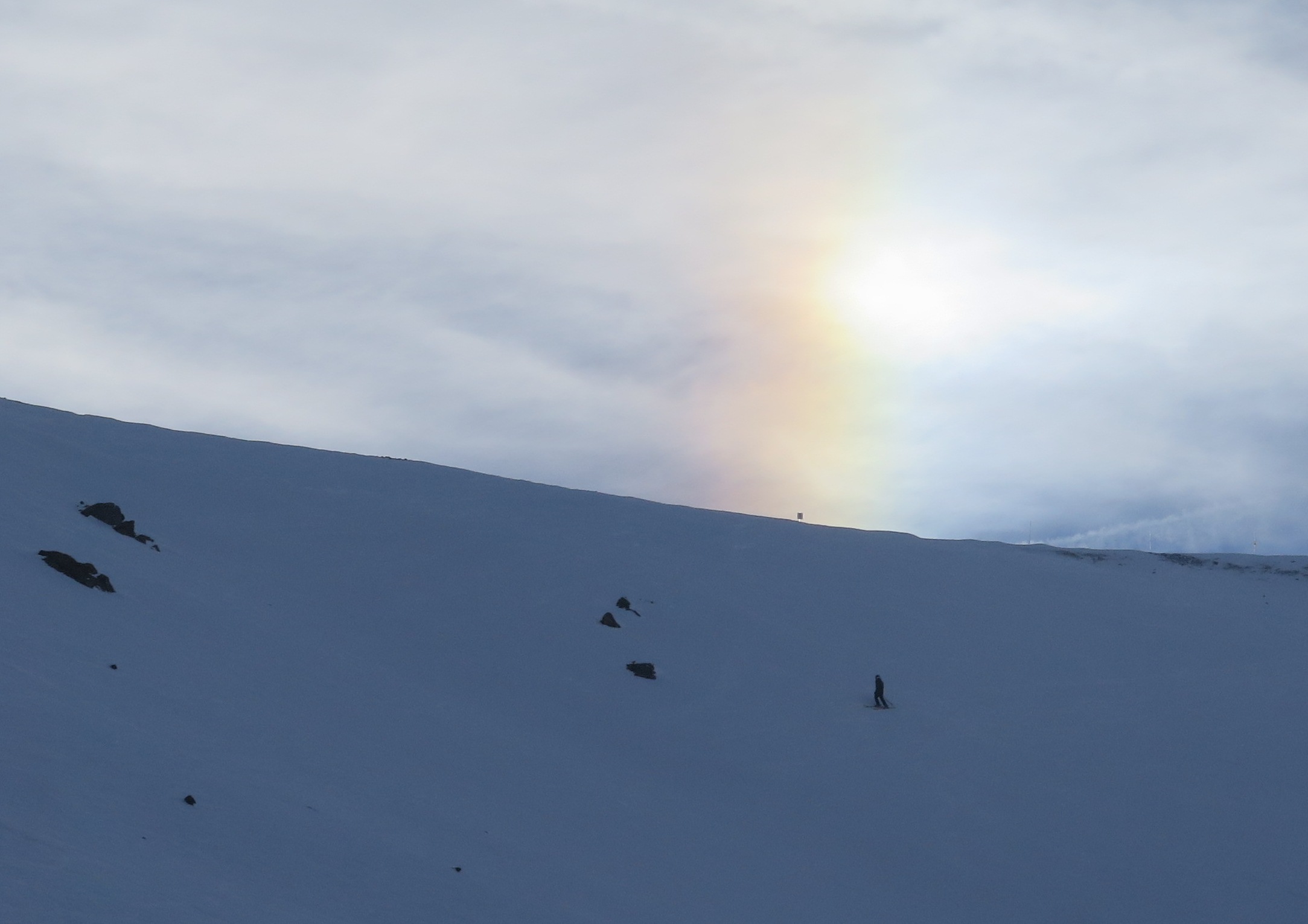 I skied down to 14, back up and then skier's left of Scotty's, another top run smoother and more consistent than on Tuesday. I met everyone again at chair 1. Garry headed back to Canyon while Liz, Elissa and I skied Wall. Elissa then left to turn in her demo skis while Liz and I skied Andy's, where the racers were finally done by 3:30. Liz and I finished skiing China Bowl and Coyote from chair 3. Just below China Bowl we stopped to watch this girl take a small jump through this tight slot.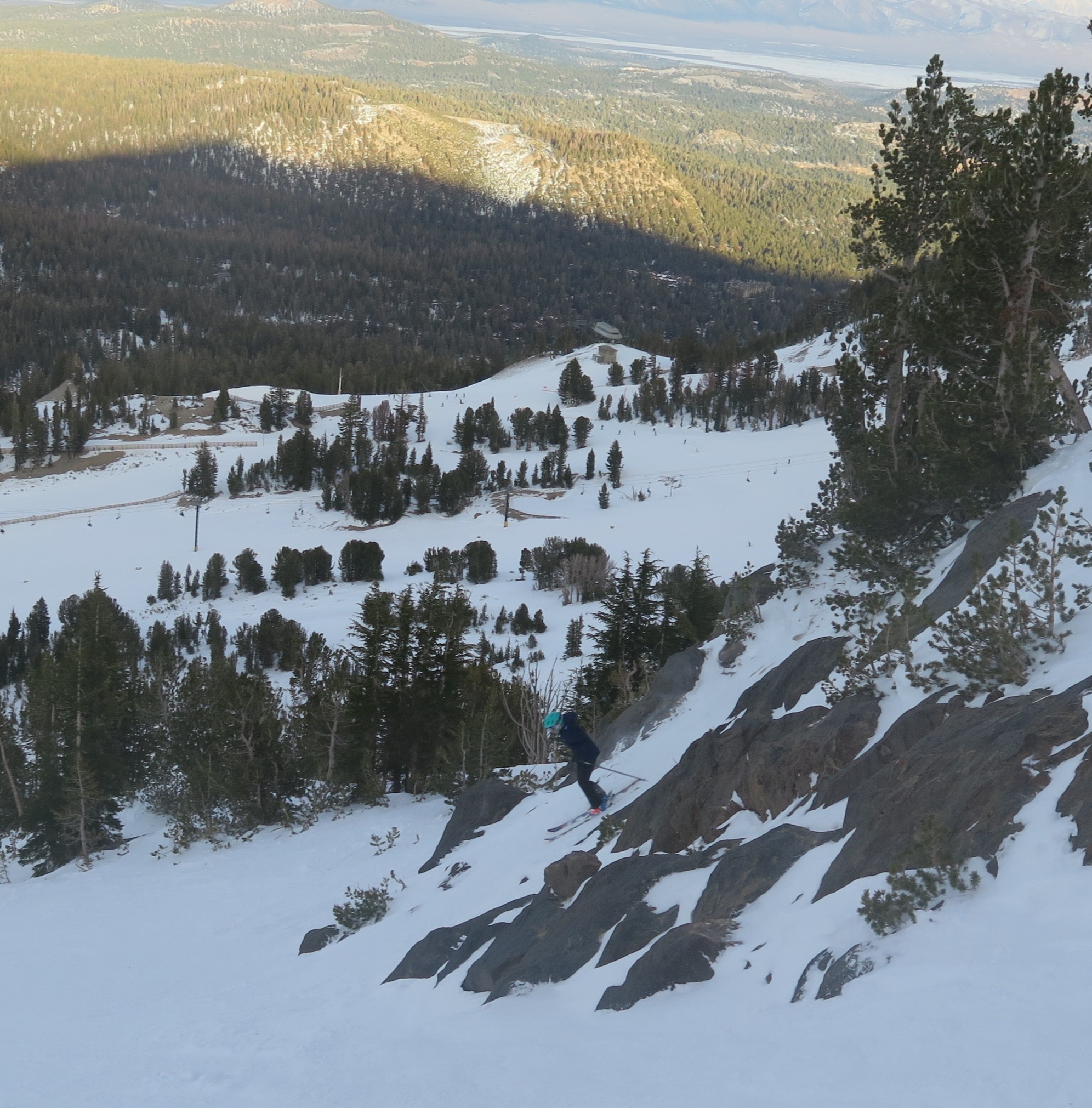 Her dad was filming from below.
I skied 24,500 vertical on Wednesday.