Administrator
Staff member
I'm sure you've heard about SoCal's weather this weekend. No fire at Mammoth, but it is in the midst of a week of unseasonably warm weather with highs in the upper 50's at Main Lodge. Adam and I were supposed to stay in this season's UCSD ski house Saturday, so we got a motel in Bishop Friday. Here's the view driving into Mammoth Saturday morning: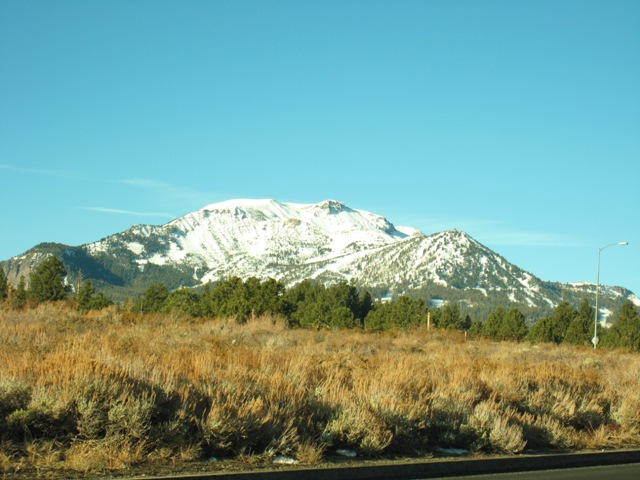 Nothing was open on this side of the mountain, and once we got closer we could see why. The big storm Halloween weekend mostly snowed above 9,500 feet. The natural base is easily 3-4 feet above that, but lower down it's more snowmaking dependent, and in some places only a foot or so deep and thus isothermic in the warm weather. Broadway has a good snowmaking base, but they barely got Stump Alley open before the heat wave hit, so the lower part of it is only half its normal width. Nonetheless kudos to MMSA for getting that done, as it allows the convenient parking at Chair2, and made the Chair 5 terrain accessible.
We got on the mountain at 8:45 and quickly realized that the lower runs were firm at that hour. So we ran our early laps from Chair 3 Saddle Bowl, which had excellent packed powder, as did the freshly groomed Cornice up top.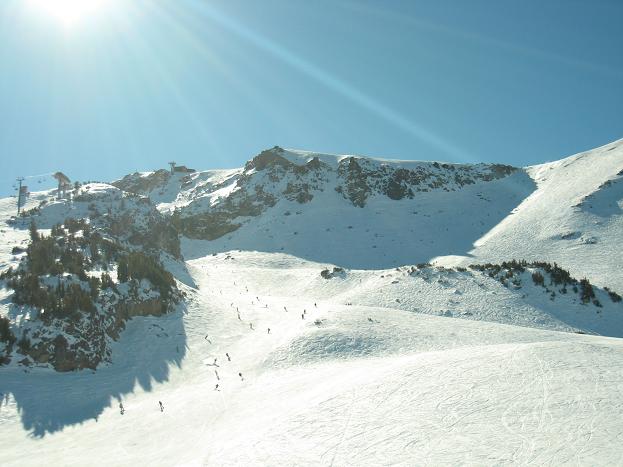 We met a few Mammoth Forum people at 10AM.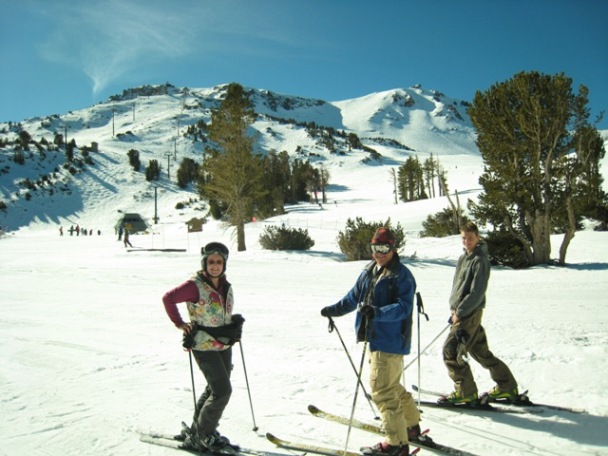 In the background you can see the good coverage on Chair 3 and the top from Cornice to Drop Out. For our first foray off-piste we tried Dave's Run, expecting trademark Mammoth chalk. Unfortunately the hot weather of the past 2 days had produced a melt/freeze even up there, and with a moderate breeze the snow was hardpacked.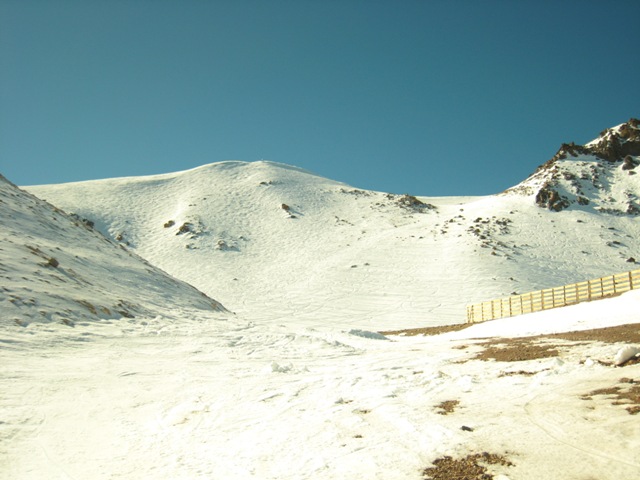 From this spot we had about a 20 foot walk over a bare spot, then a traverse to the Solitude run on chair 5, which was also hardpacked but had been groomed a few days before to provide a path back to Chair 2.
This was the first day of the season, so given prevailing conditions we stuck mainly to the groomers. This way we likely avoided some of the pain that Admin had on his first day, but of course if we had encountered the powder he had at Snowbird Nov. 7 we would have not been able to resist it either. After a lunch break the next test of the top was Climax. Skier's right has the smoothest and most open lines, particularly in early season. Here's Adam on that part: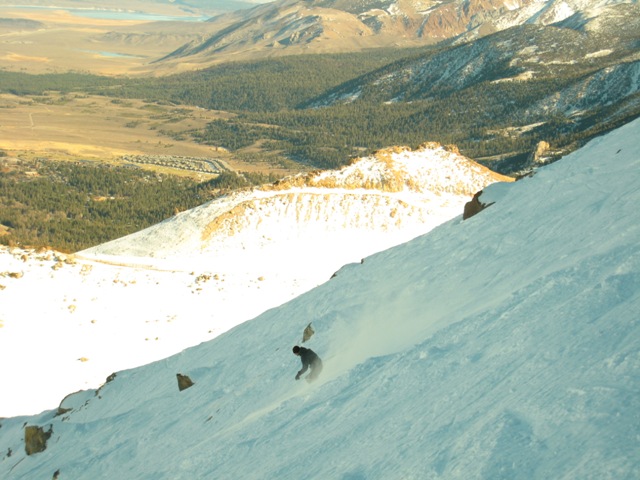 The snow was not as hard here as on Dave's but still showed some evidence of melt/freezing. As we took a break at the bottom of Climax a few people are skiing above us.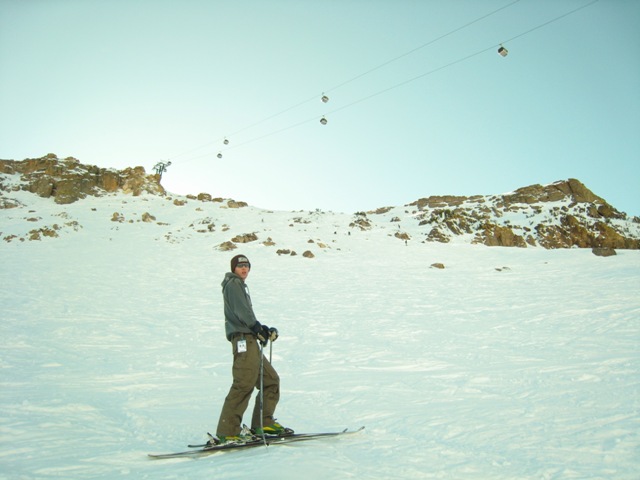 From there we sampled the lightly trafficked terrain of the not-yet-open Chair 5. We skied Dry Creek as its confined early season line was skier packed.
Adam traversed out as soon as he could and caught a couple of semi-powder turns in a sheltered part of the face of 5. After this it was mostly back to the groomers, though we skied one more in the middle of Climax and also the somewhat hard bumps on the face of 3. 25,900, not too bad for first day of the season.
On Sunday Mammoth groomed the face of 3, so we hit that right away.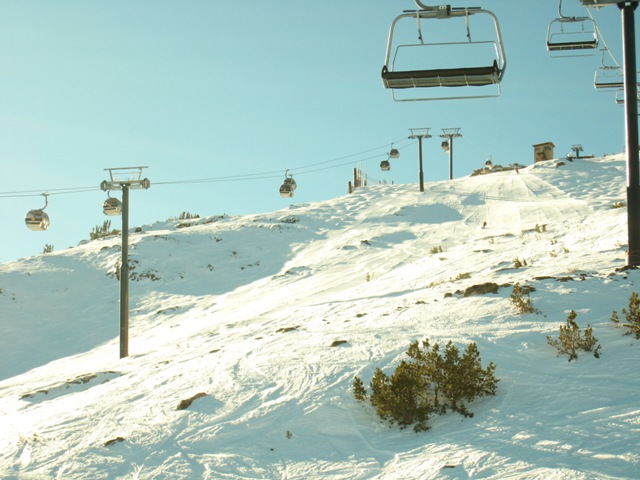 After an hour and a half of varied groomers, I wanted to check out Wipe Out, which required a short hike as Chair 23 was not running. Wipe Out gets no sun whatsoever at this time of year, so surely the snow would be good there? Well, it did have the windbuff, but somehow there was a scattered surface glaze on it, for which I still have no explanation.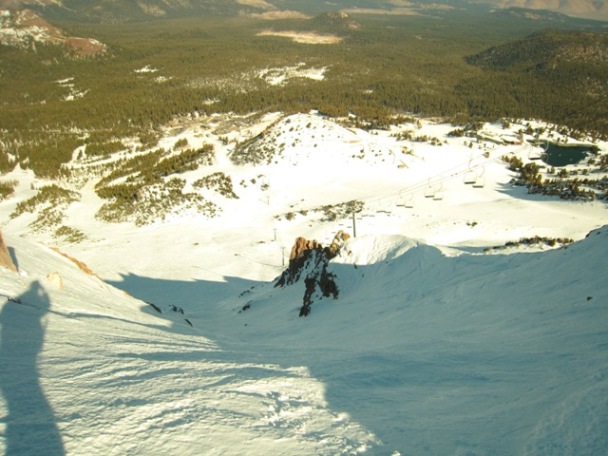 You could hold an edge, but it was definitely DFU skiing, because you were going for a long ride if you made a mistake. Somewhat reminiscent of La Vaute at La Grave last year.
After lunch we at long last found the dry chalk on skier's left of Climax. In early season this area funnels into narrow chutes about 3/4 of the way down, but with the excellent snow Adam has no problem.
Here's the choke point.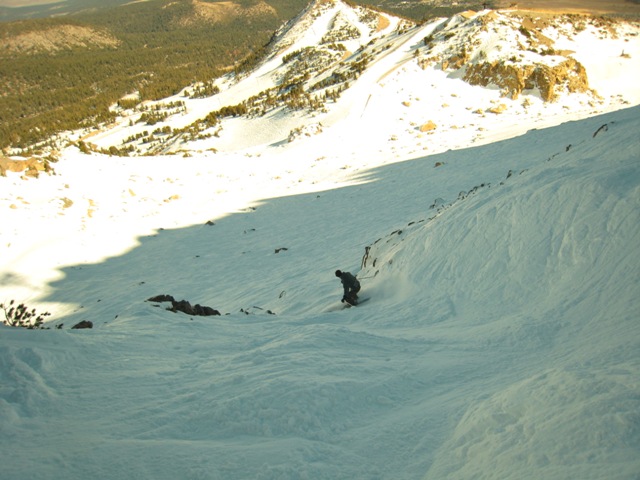 In honor of joegm, here's West Bowl viewed from Chair 2:
A closer view, about half way down the bumps.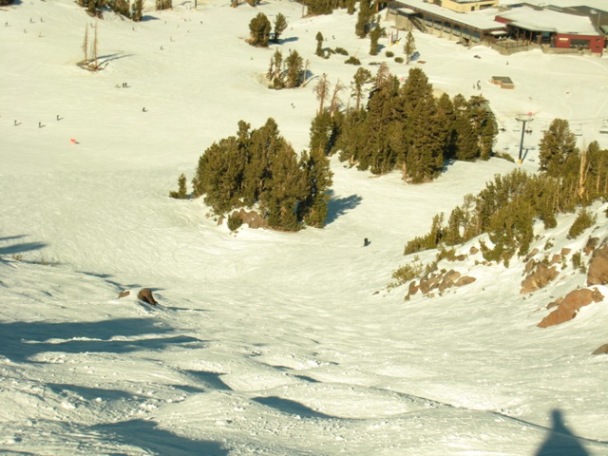 A couple more cruisers and we called it a weekend, 24,600 Sunday.
I've been spoiled by Mammoth's snow preservation over the years, and despite the weather prediction I did not expect this much impact given sun angle similar to February 1. Nonetheless there was plenty of quality skiing, and only 4 years ago
viewtopic.php?f=3&t=194
was I ever able to get any more this early in the season. There's a solid base up there, and with even a one foot refresher it will be great up top from Dave's all the way to Paranoid. The near term may be more difficult, as it's supposed to cool off by next weekend with no new snow. The next round of snowmaking will need to repair the week of warm weather at Chairs 1 and 2, and it might take a storm to get Canyon Lodge open by Thanksgiving, in order to spread the holiday crowd around. So it was definitely worth the trip, but I will not be back until December, hopefully with some new snow.