Administrator
Staff member
With only one major step left in the pool renovation, we were able to get away to Mammoth for 2 days. It has not snowed since December 30 but I've often said that if you have to ski after an extended dry spell, there is no place better than Mammoth. Mammoth Snowman's reports were a bit more pessimistic, as he said there was a noticeable firming of snow between his Jan. 12 and 15 ski days.
Tuesday
was about as ideal as weather at Mammoth gets: clear with high temps just over 30F and almost no wind. It has not snowed since Dec. 30, but there has been minimal melt/freeze. All the groomers we skied were good, and ungroomed was chalky with windbuff lines where there wasn't sastrugi. We warmed up on chairs 1, 2 and 3 before heading up top to Cornice and Dave's, which had the smooth edgeable windbuff I expected. The upper gondola station reflects the amount of snow that fell in December.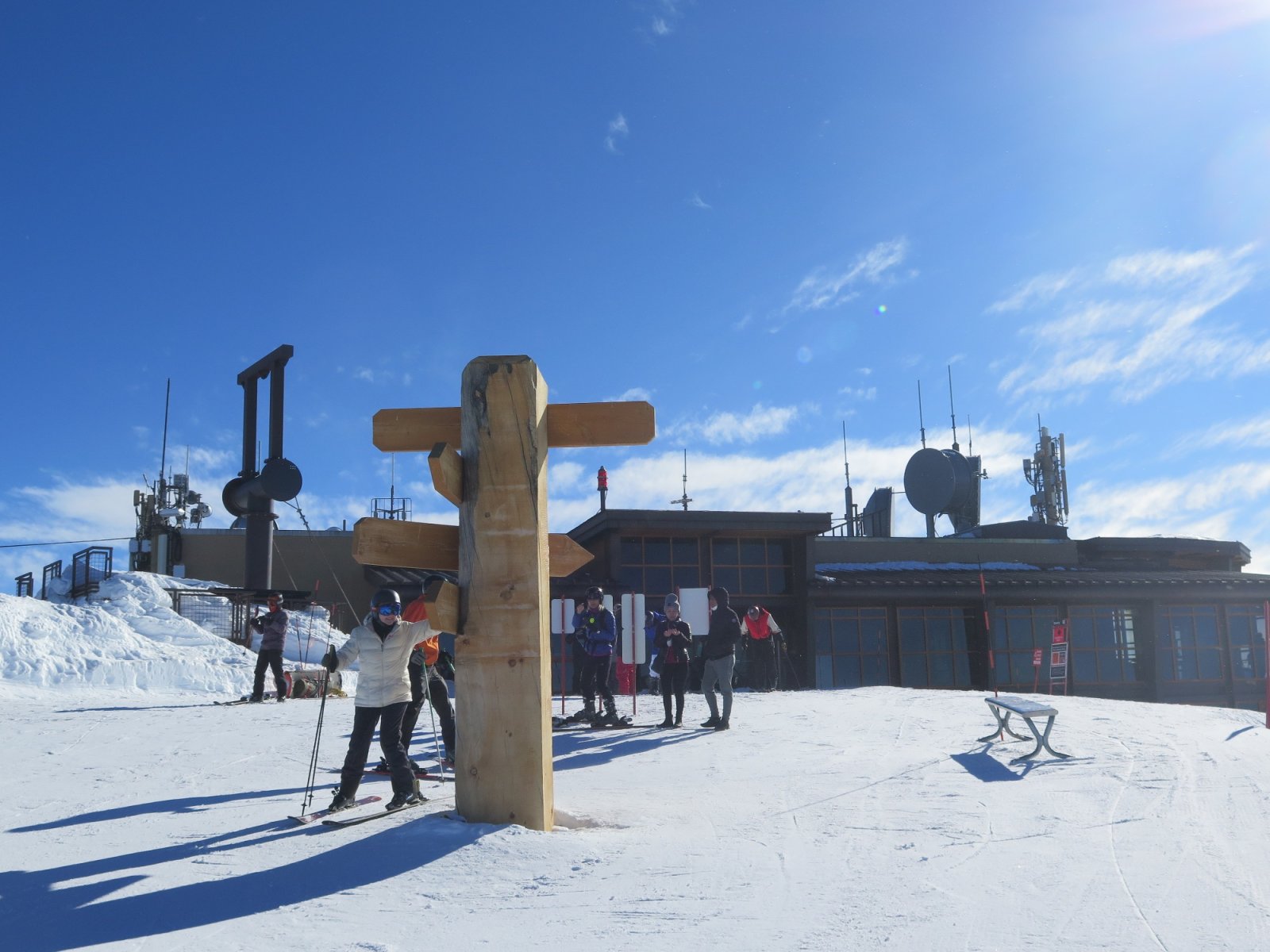 The stairs exiting the building are buried, and excess snow is piled up at left on the new zipline platform.
Dave's was great but in the background here is Huevos Grande nearly bare of snow.
We skied into chair 5 via Triangle, Liz approaching with Climax in background.
We then skied the usual groomers Solitude and Coyote and the infrequently groomed Face of 5 and Sanctuary, the latter being the highlight. Overview of chair 5 terrain:
We heeded Snowman's advice and did not venture to the east side of the mountain until past noon. Quicksilver and Gold Hill were excellent and basically packed powder. I'm sure they are firmer earlier but I doubt actually hardpack. We then dropped by Andrew, who was working the top of chair 8.
We took a run with him there.
By now it was past 1PM so I wanted to get over to 23. Mammoth's December storms had the most severe avalanche evidence I've ever seen. Fracture lines extend from Monument through the Paranoids and the amount of exposed rock shows that not much of the 150 inches stayed up there.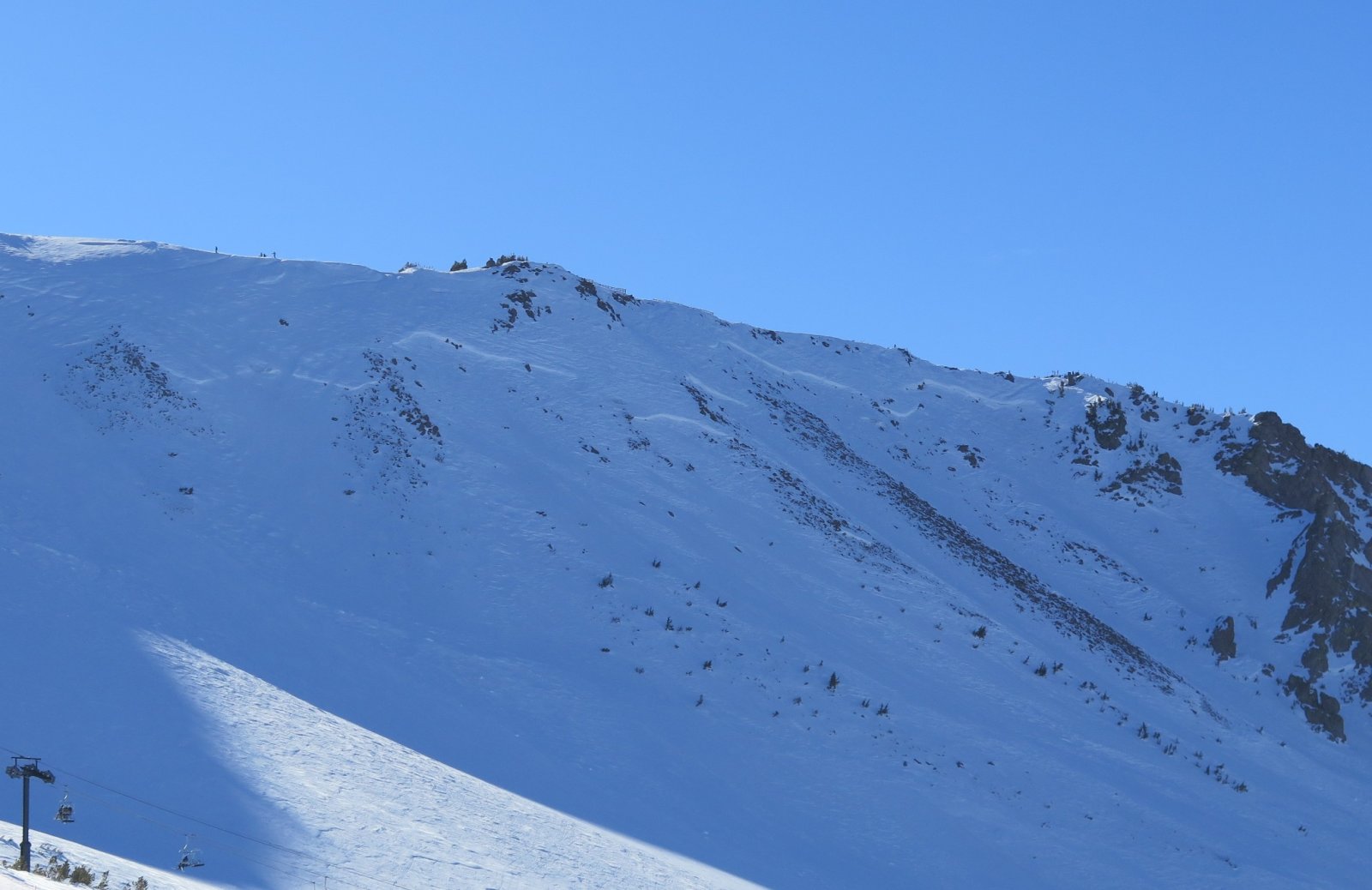 A patroller told me that it slid to the ground twice. Hangman's was open 6 hours before "the snowboarders exposed the rocks."
I skied Drop Out 1, which was smooth but what we call "tight chalk." Skis would chatter some, and it was obvious it you screwed up you were going for a long ride. Riding the lift I saw a skier navigate a fracture line into Monument, so I went over there for a look. It was more steep tight chalk with views from above not that obvious, so I chose a shorter line that fed into Scotty's halfway down.
We rode the gondola again but headed off the backside. The upper part was completely windstripped of snow
Fortunately skiing was good on chair 14.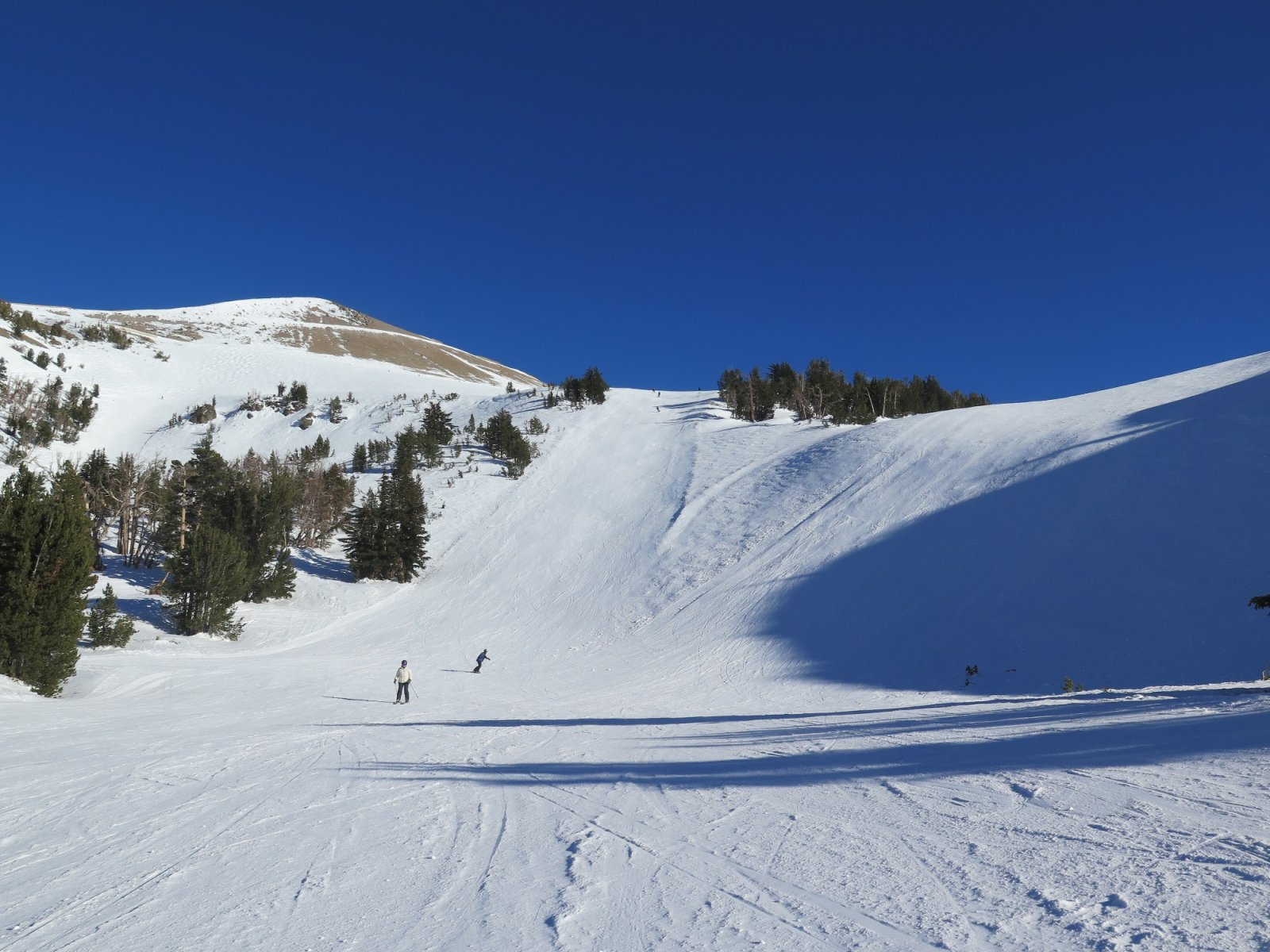 After 2 nice runs there I headed back via Scotty's while Liz took the just opened chair 13. From Main Lodge I skied a wider than usual Gravy Chute, then West Bowl from chair 3 to finish my day at 30,400 vertical.
We had dinner with Andrew at Campo and learned from both him and employees on a gondola the next day about Mammoth's Omicron staff shortages. Last year positive cases required 10 days off and a negative test, while this year Mammoth applies the new CDC recommendation of 5 days and no remaining symptoms. Chairs 7 and 25 have not been running in January, and on Tuesday chair 13 only opened at 3PM to clear people who didn't want to exit via Scotty's or the complete Roadrunner cat trail around past chair 12..
Wednesday
we packed and got on the hill at 9AM. After warmups on Stump Alley and Face of 3, Liz was eager to revisit chair 5, which we reached via Coyote, passing the fumarole.
Up top there is a memorial to the three patrollers who fell into the fumarole in 2006 and were suffocated.
Sanctuary was not as smooth as the day before after another day of skier traffic. We went to the upper gondola and found Cornice worthy of an encore. Dave's was at least as good as Tuesday.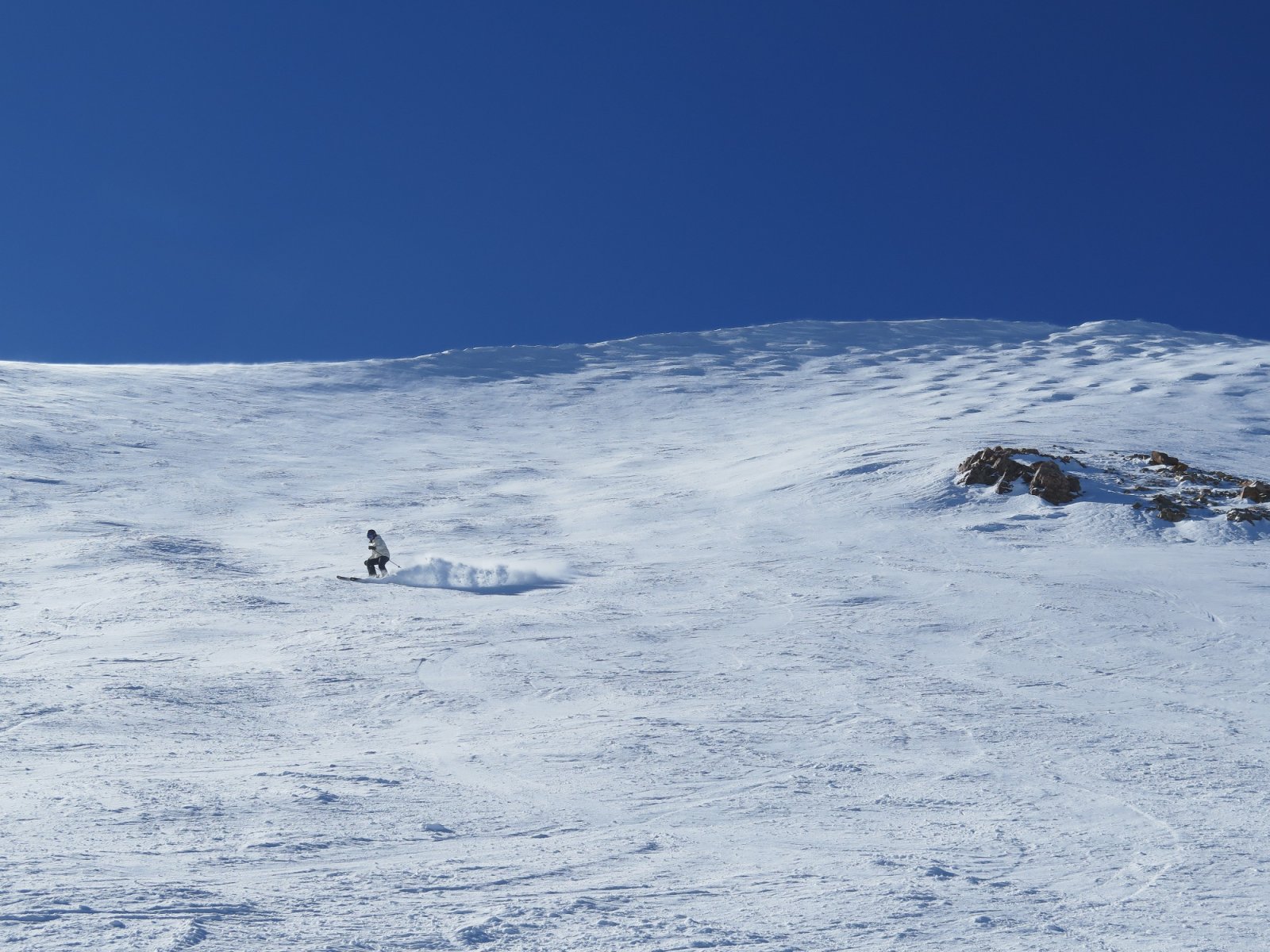 The trek over to Dave's exposed the one weather difference vs. Tuesday. There was upslope wind sandblasting our faces on the traverse over there but fortunately minimal after a few turns dropping in.
We skied Gold Hill all the way down to Eagle and even down there the snow was decent. We took one run on 5 on the way back, Waterfall in my case. It faces mostly east so I thought midday was about right, but the snow was chalk not springlike. The wind was no surprise at the top of chair 23.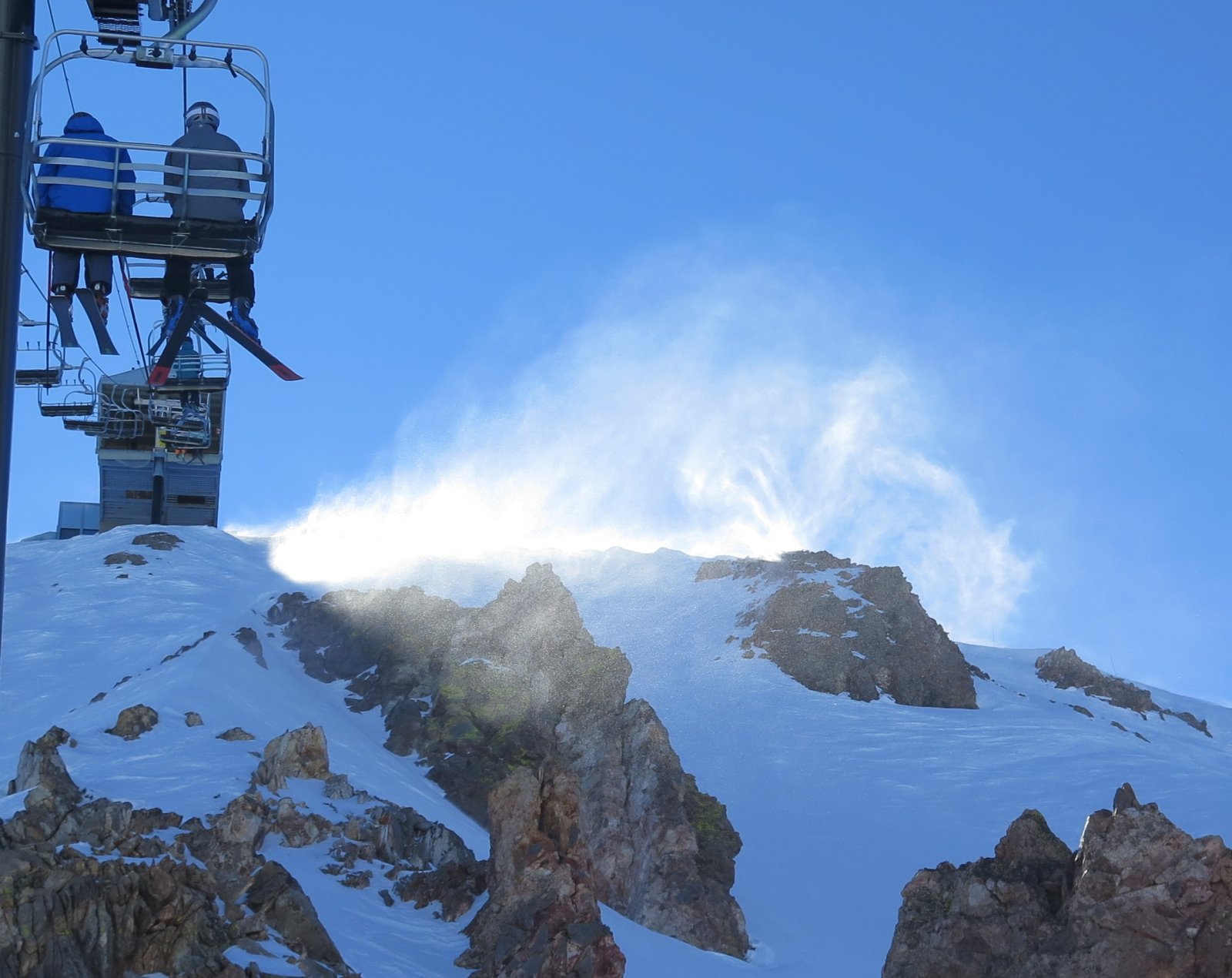 It was blasting much harder than in the morning dropping into Cornice. This time I traversed over to the shady side of the ridge below Drop Out 3 and was pleased to find not only softer chalk but a little windsift too.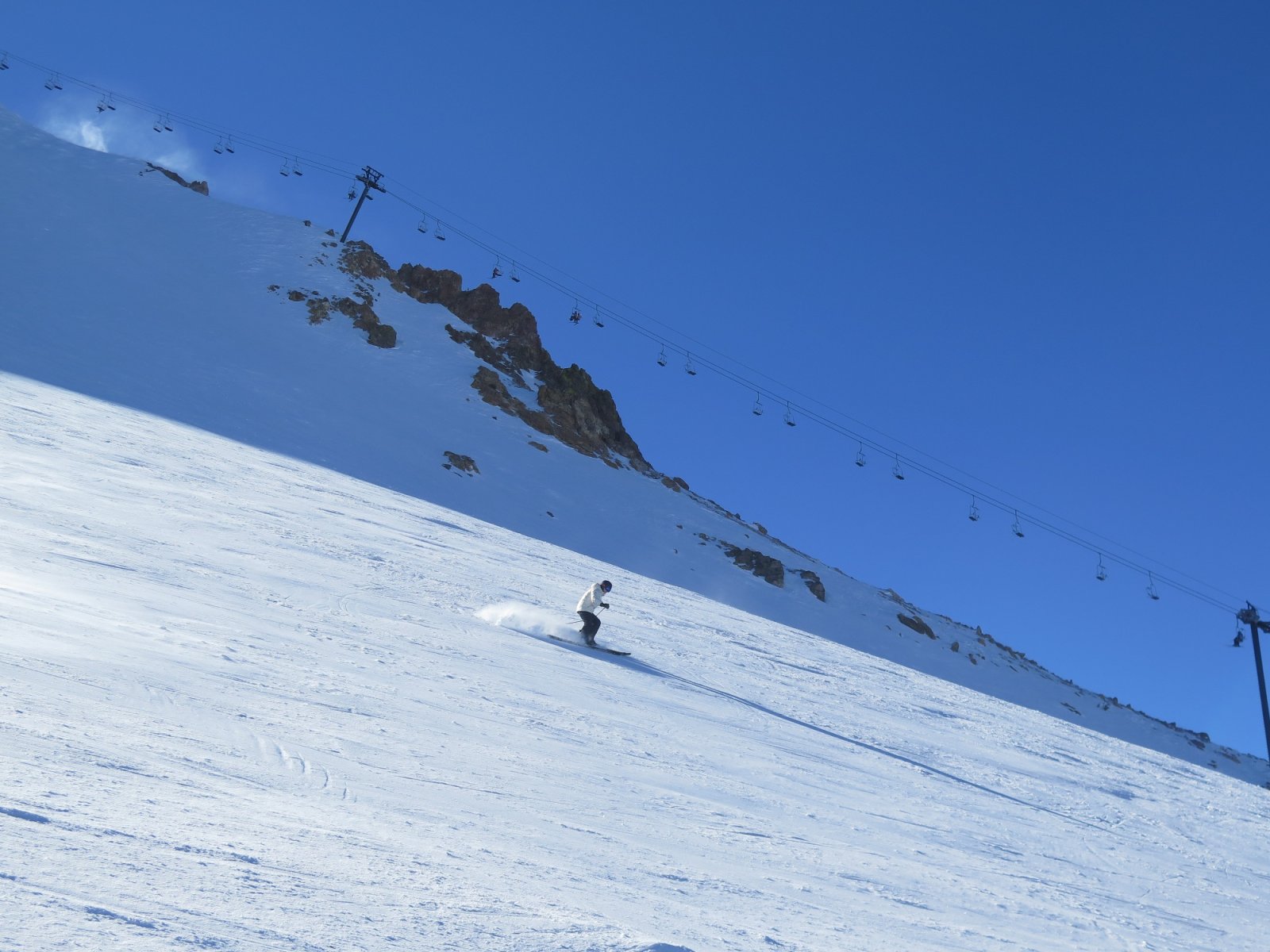 Liz said she was done with 23 but up for one more bottom to top gondola. I decided to check out Climax though we had seen few people skiing it. It had some fracture lines and more exposed rock spines than one would expect with this much snowfall.
Climax' surface was a pleasant surprise, at least as soft as Dave's, but features like this kept most people away.
I took an encore run traversing into Drop Out 3, then 23 and Scotty's to Main Lodge. I rode my last gondola with Mammoth employees, a chef and a groomer. The chef said all on-mountain facilities were open, but thinly staffed so customers had to wait longer sometimes. The groomer said some runs normally groomed every day are getting some days skipped. I said it looked like Mammoth's usual high standards, with expanded grooming in response to the lack of new snow, specifically the wide swath in upper St. Anton plus Sanctuary and Face of 5.
I had planned to finish up with Dave's, but the increasing wind getting out there made Climax the more comfortable call. This time I went skier's left, smooth at the top avoiding the fracture but funneling into these bumps lower down.
I cruised to the car about 2:40 with 27,700 for the day.