Administrator
Staff member
I almost never go to Mt. High unless East is open. But this year I turned 70, which gets me a free pass, for which I signed up at Ski Dazzle in December.
Garry is on his second year with this freebie and has been up there quite a bit as his 45 minute drive is half the time of mine. He reported favorably yesterday morning, though Mt. High's website only showed 2/3 of the runs open at West.
Last Sunday it rained all morning but turned to snow in the afternoon. Through Monday it snowed at least a foot at the top of the local ski areas though there was some more mixed precipitation lower down.
Since then it has been clear but cool. I arrived at 9AM and for the next hour most of the snow guns along the Blue Ridge Express chair were on.
I don't think it got out of the 30's all day. I was wearing my usual lighter clothing for SoCal, but my jacket was zipped and hat on all day, unlike Big Bear 4 weeks ago.
From the top is a view NW across the high desert to the Tehachapis and the southern Sierra.
I was pleasantly surprised by most of the snow conditions. Wide open blue runs were mostly packed powder. Every marked trail was groomed including those dropping from Inferno Ridge.
Those runs do not have snowmaking. They were hardpacked but easy to hold an edge. The steepest runs on the other side, Silver Spur, Calamity and Vertigo, do have snowmaking and were somewhat firmer. Gunslinger, north facing and sheltered by trees without snowmaking, had the best snow of the black runs.
Only the beginner area had high skier density today.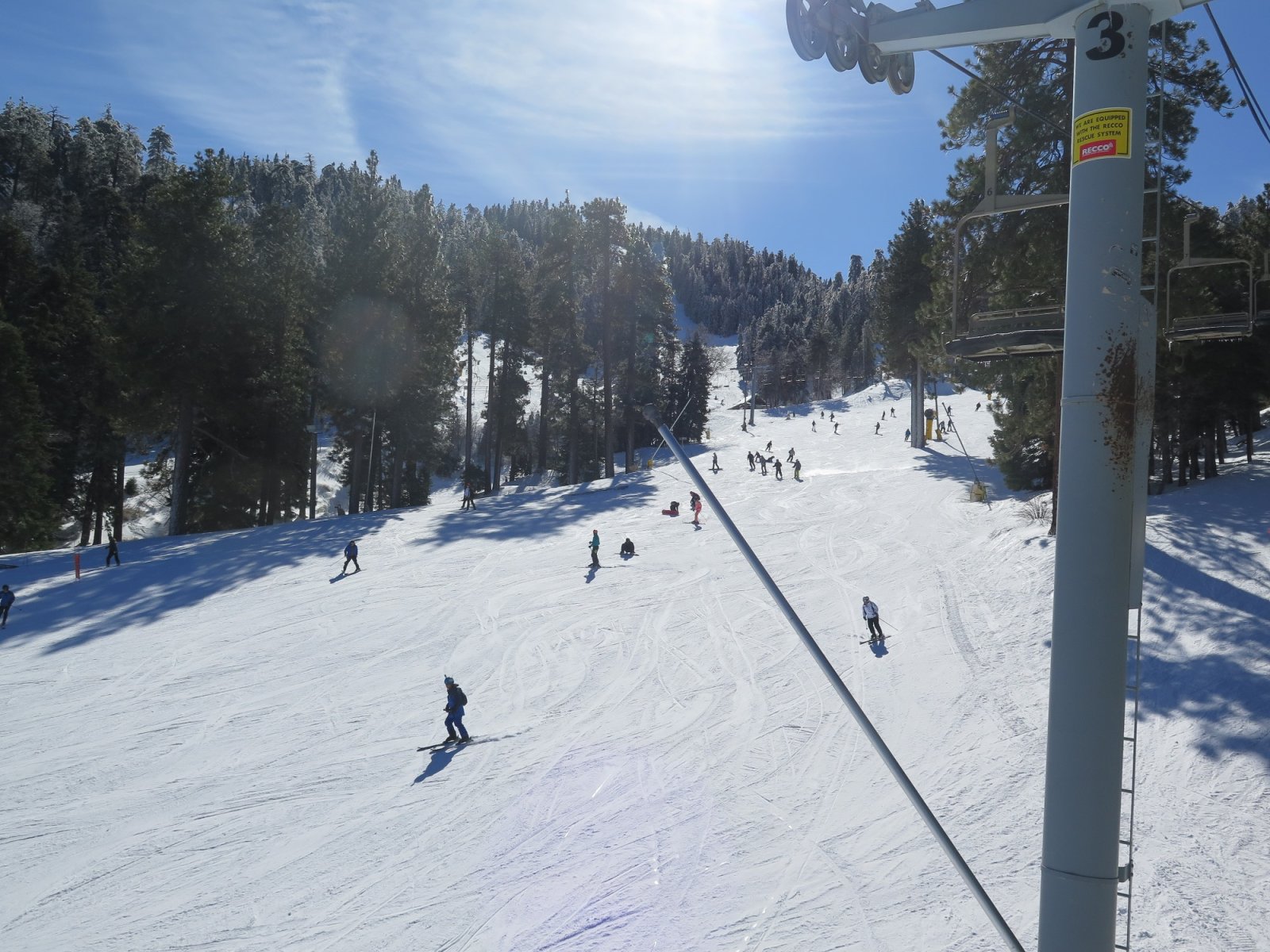 You can tell how thick the snow was from the icicles forming on tree branches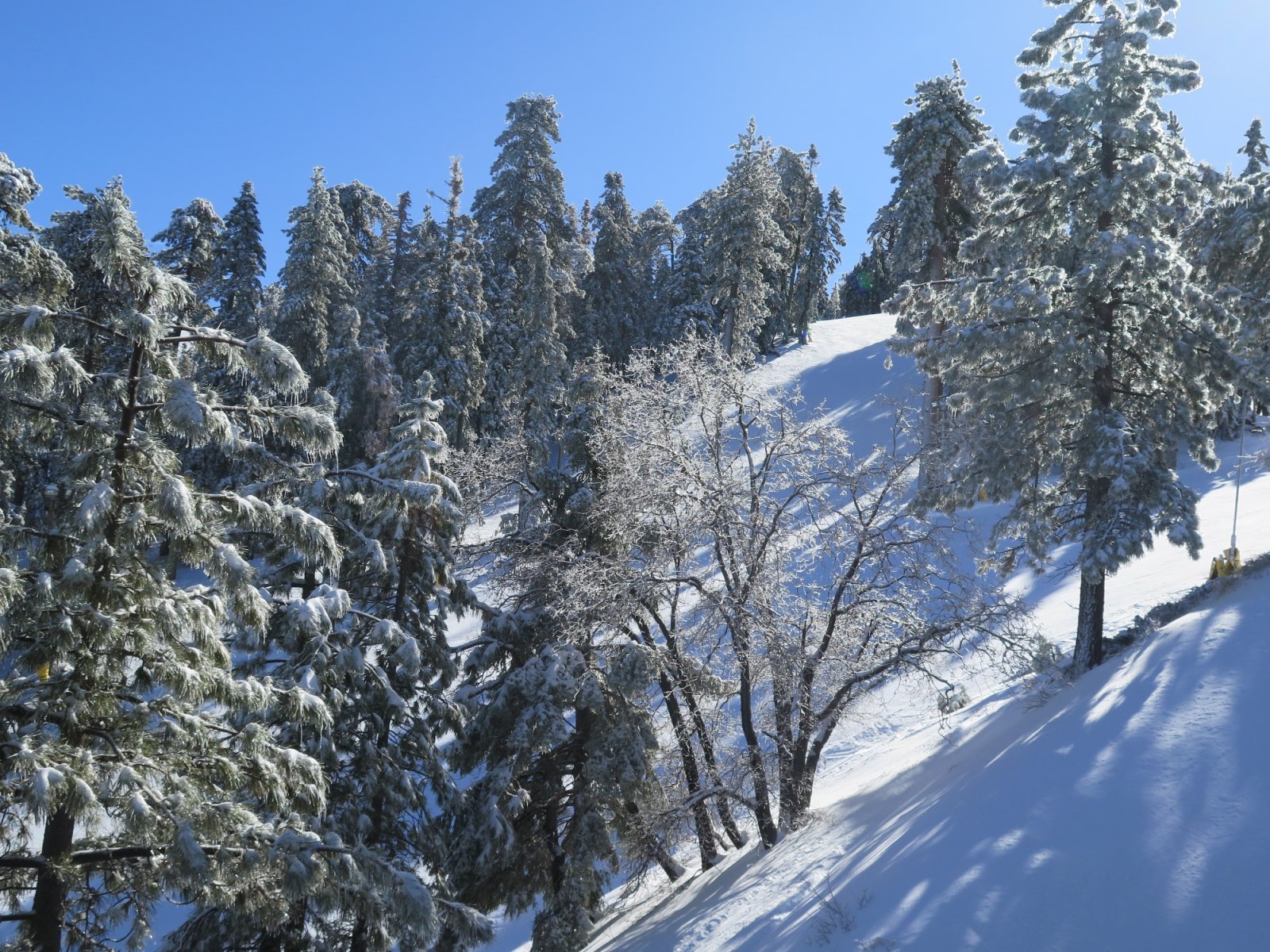 At the top of Conquest lift there are rimed trees with Mt. Baden Powell (9,300) in the background.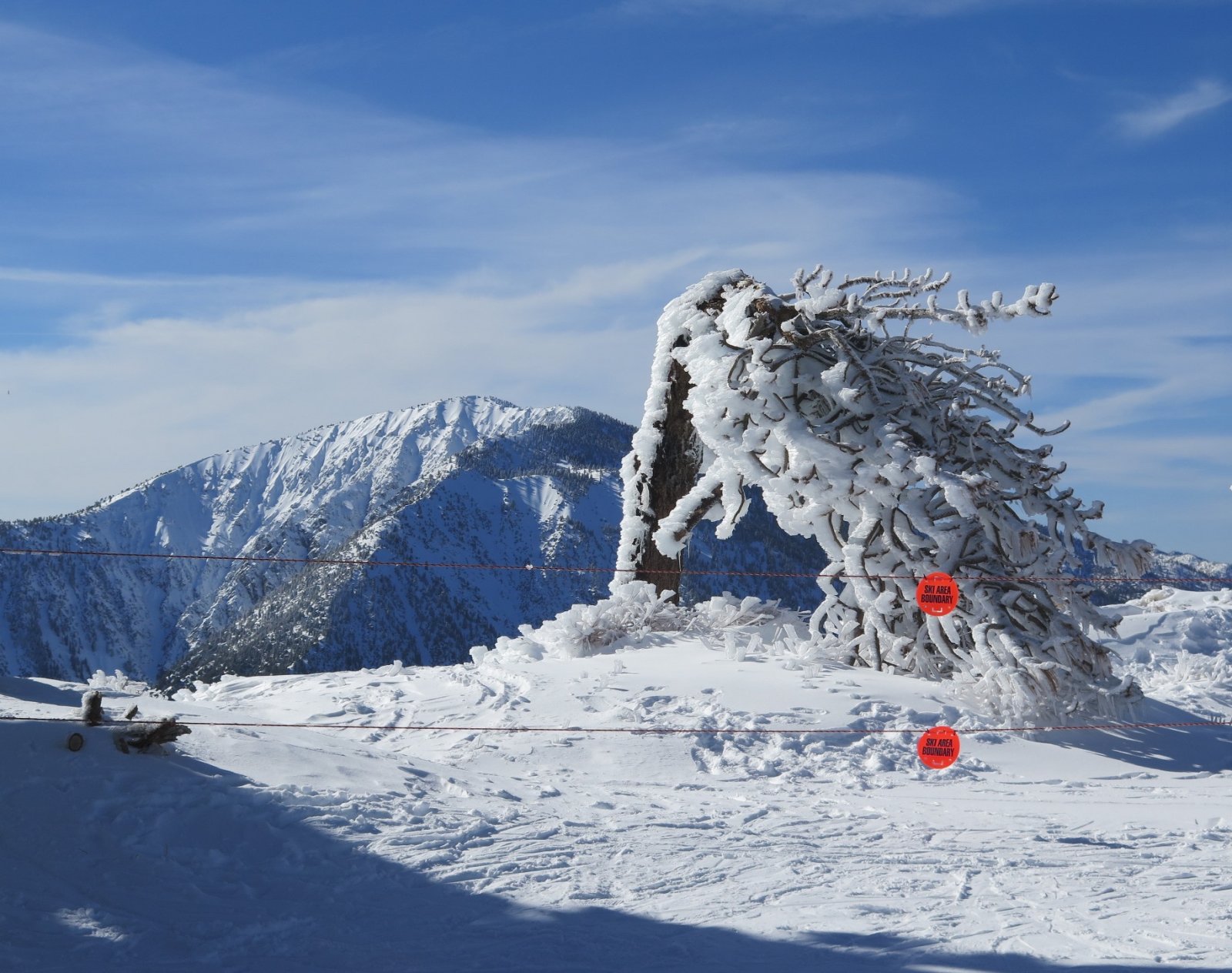 I skied nearly every run at least twice, total 22,800 vertical, from 9:20 - 1:40.
The other reason for me to ski today is that I've lost 3 Vertech watches this year so probably won't have one in the Alps. So I got the SkiTracks app that ChrisC uses and gave it a test.
The app counted the 22,800. By chair count I had 23,000 but that assumes Mt. High's quoted 1,000 for Blue Ridge express and 700 for Conquest are exact.
I left by 2PM but stopped by the bottom of East on the way out.
In the first pic you can see they have built a tubing park between the lodge and the bottom of Olympic Bowl. The second pic is the bottom of the main run Goldrush. There has been no attempt to pack its snow. The parking attendant also confirmed that no snow has been made at East. So it will take a dump of at least 2 feet IMHO for East to open.
The bad news at Mt. High is that the lot at West is $20 paid parking every day. Big Bear only charges on weekends and holidays.
The good news is that my free age 70 pass is also good at the
Powder Alliance areas
.
Last edited: