Administrator
Staff member
We got on the hill efficiently, skiing by 9:30. East was even quieter than last week.
The weather was unusual for SoCal: thick overcast all day. That meant it had not frozen overnight, even at the top of East at 8,200 feet. But like last week groomed runs with low skier density skied great the whole time we were there. Top of Sundance/Wildcard: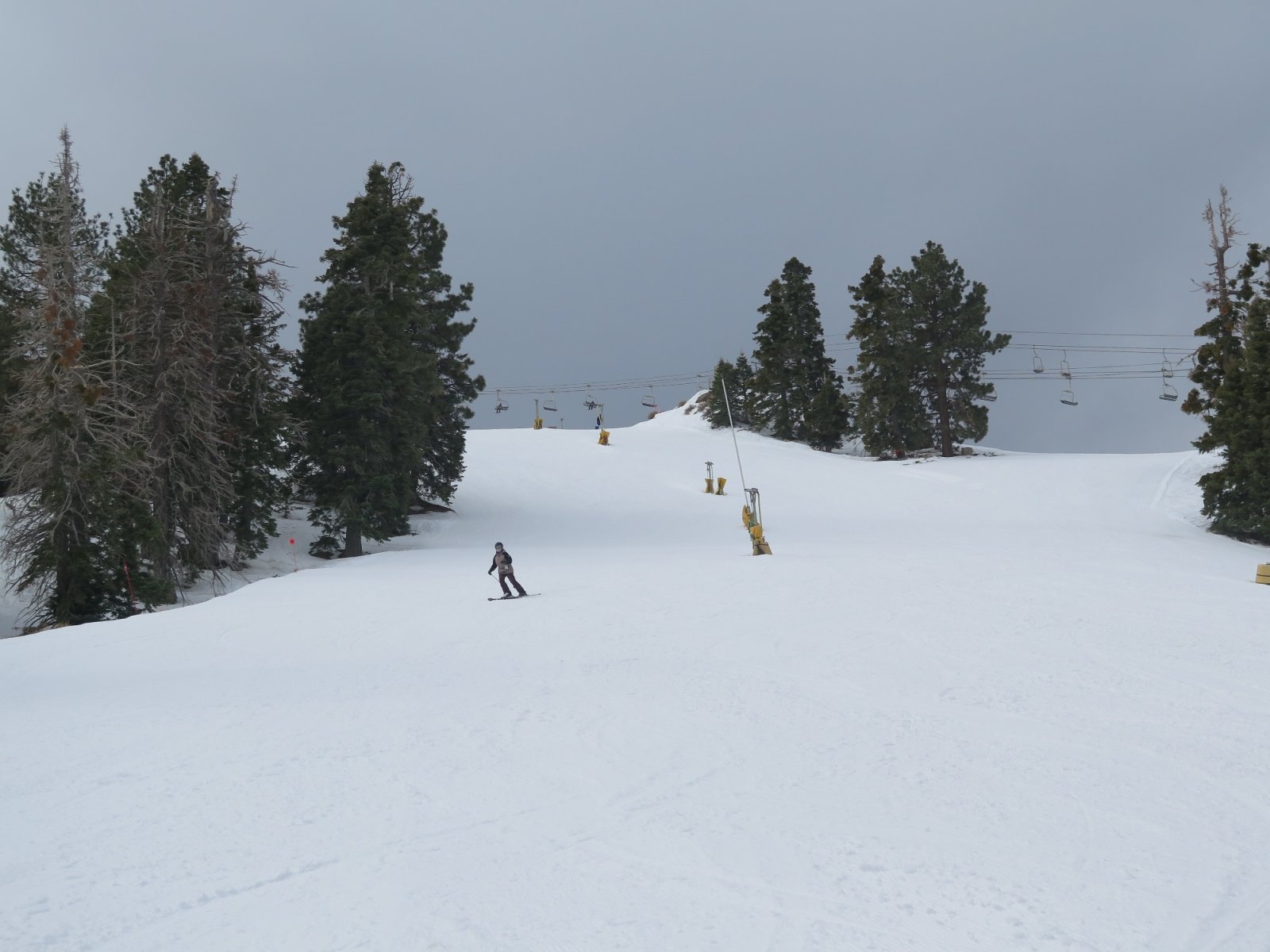 Partway down:
Only the right side of Canyon run had grown significant bare spots since last week. The ungroomed skied easier as it had softened. Colt45 was soft chalk. Olympic was spring snow.
With fewer people there we were able to move the car to West at 12:30. The shuttle bus only runs on weekends. West is always much busier than East but given the very short line on West's HSQ, I'd say there were about half as many people there as last week. Liz on Freefall:
The run at right is Headwall, site of her accident two years ago.
West has a lot of these short decently pitched runs branching off the main runs and much less busy. Vertigo here:
Silverspur was not groomed last week but had been sometime between our visits.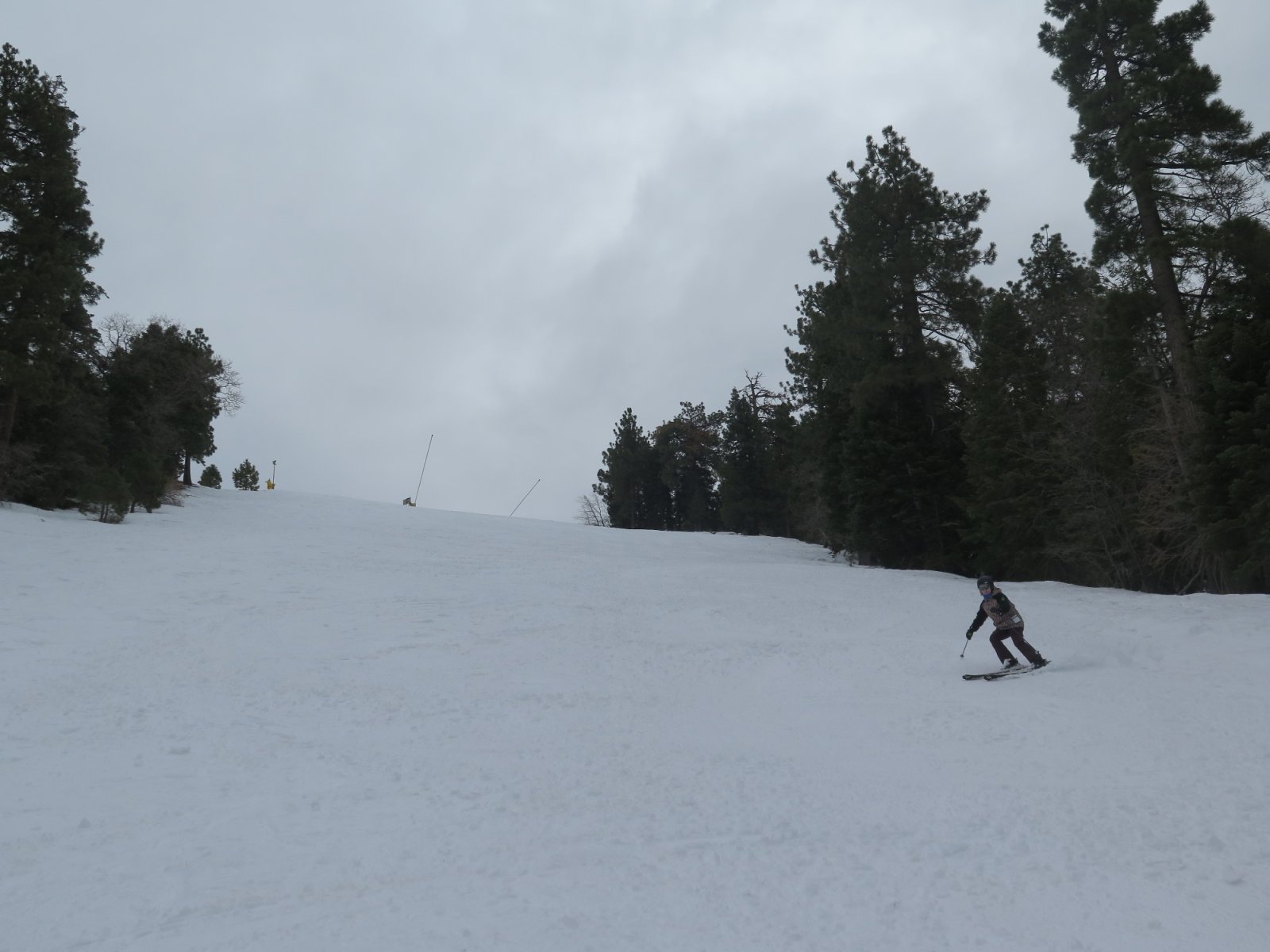 At the bottom of West we chatted with this guy about his snow scooter.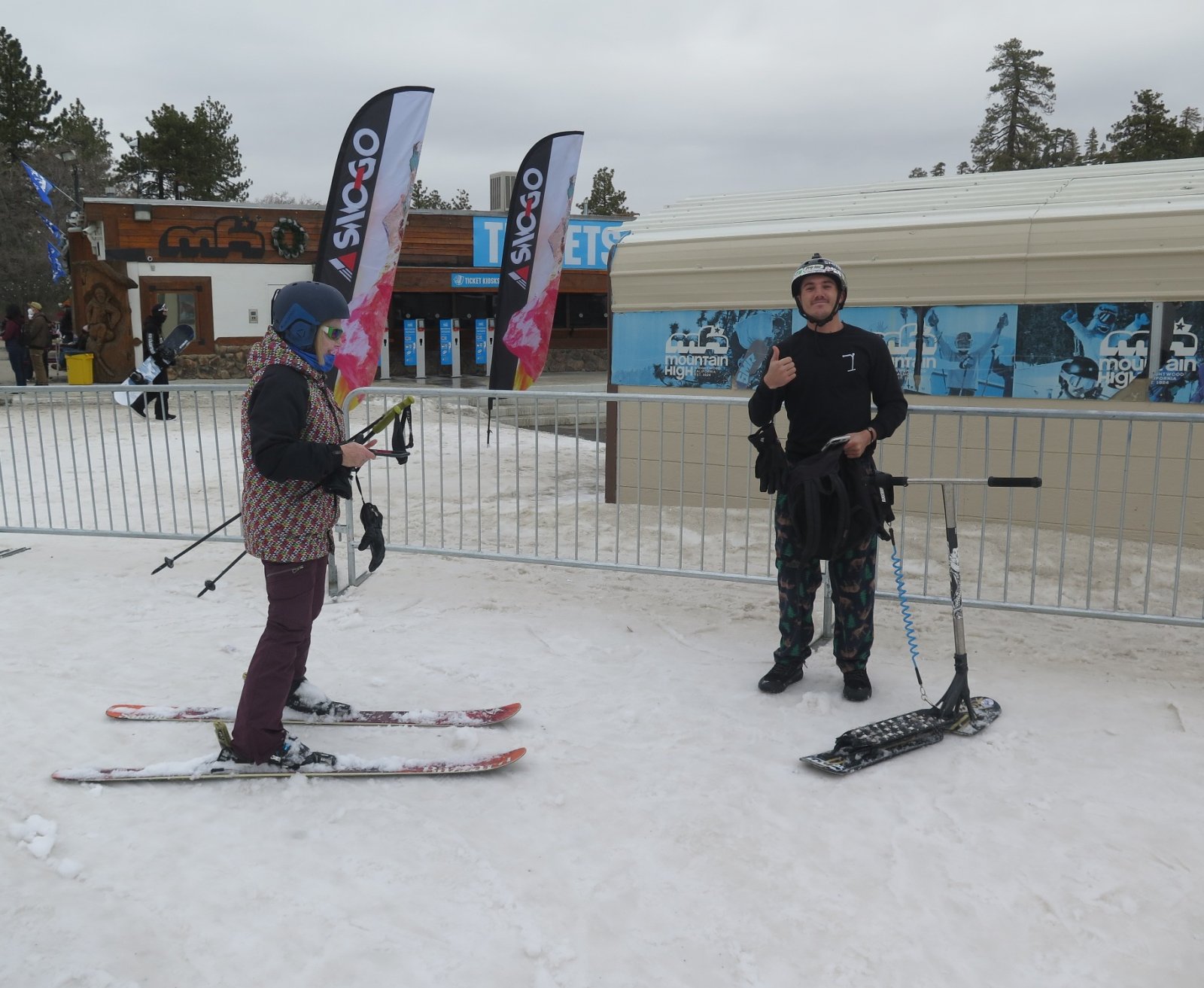 The studs on the board surface grip well, but he has to clean off snow and ice frequently that can loosen his footing.
We skied Calamity to the Conquest chair. Like Olympic at East, the Inferno Ridge runs skied easier in spring snow.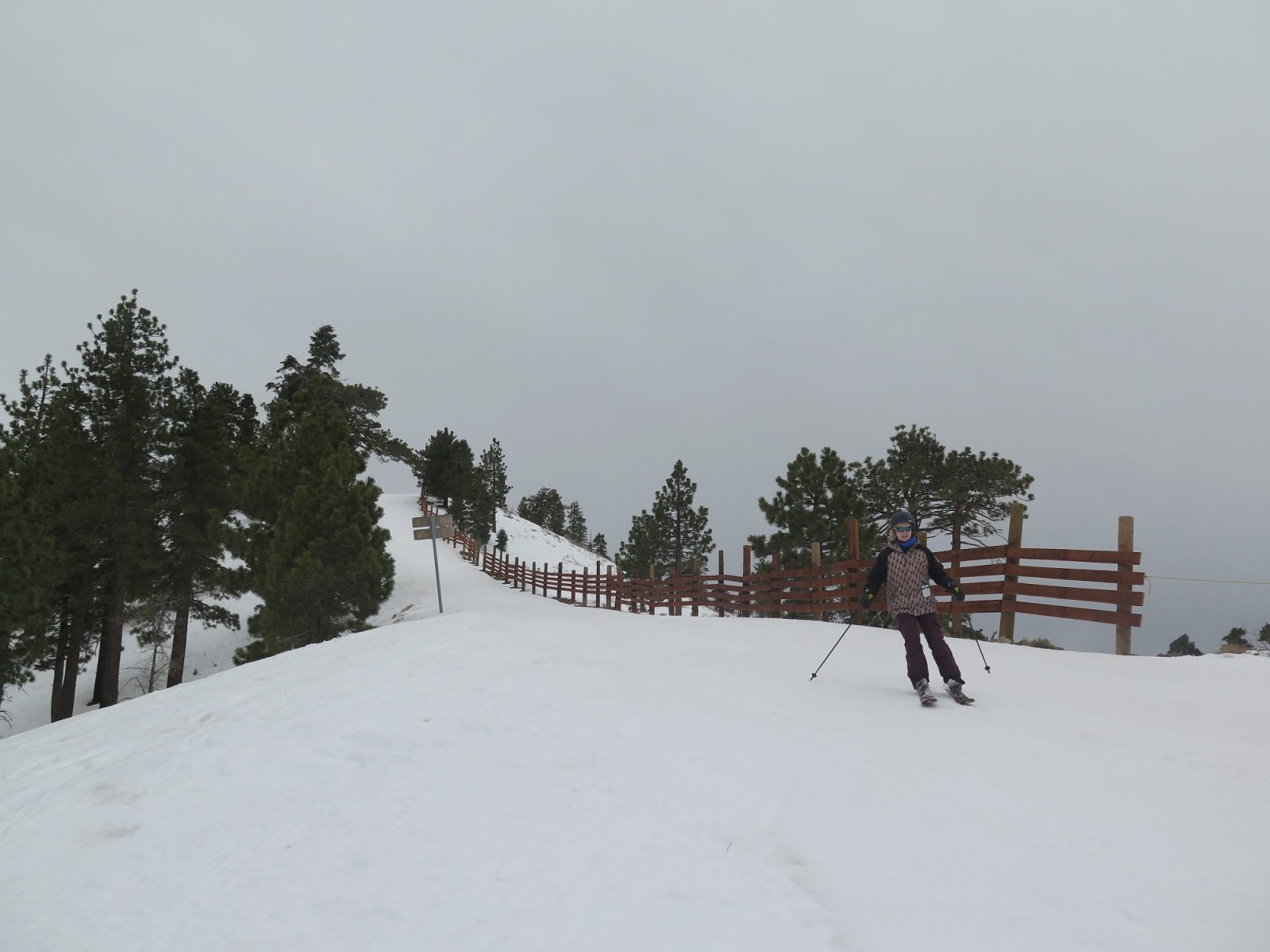 Liz on Wildfire: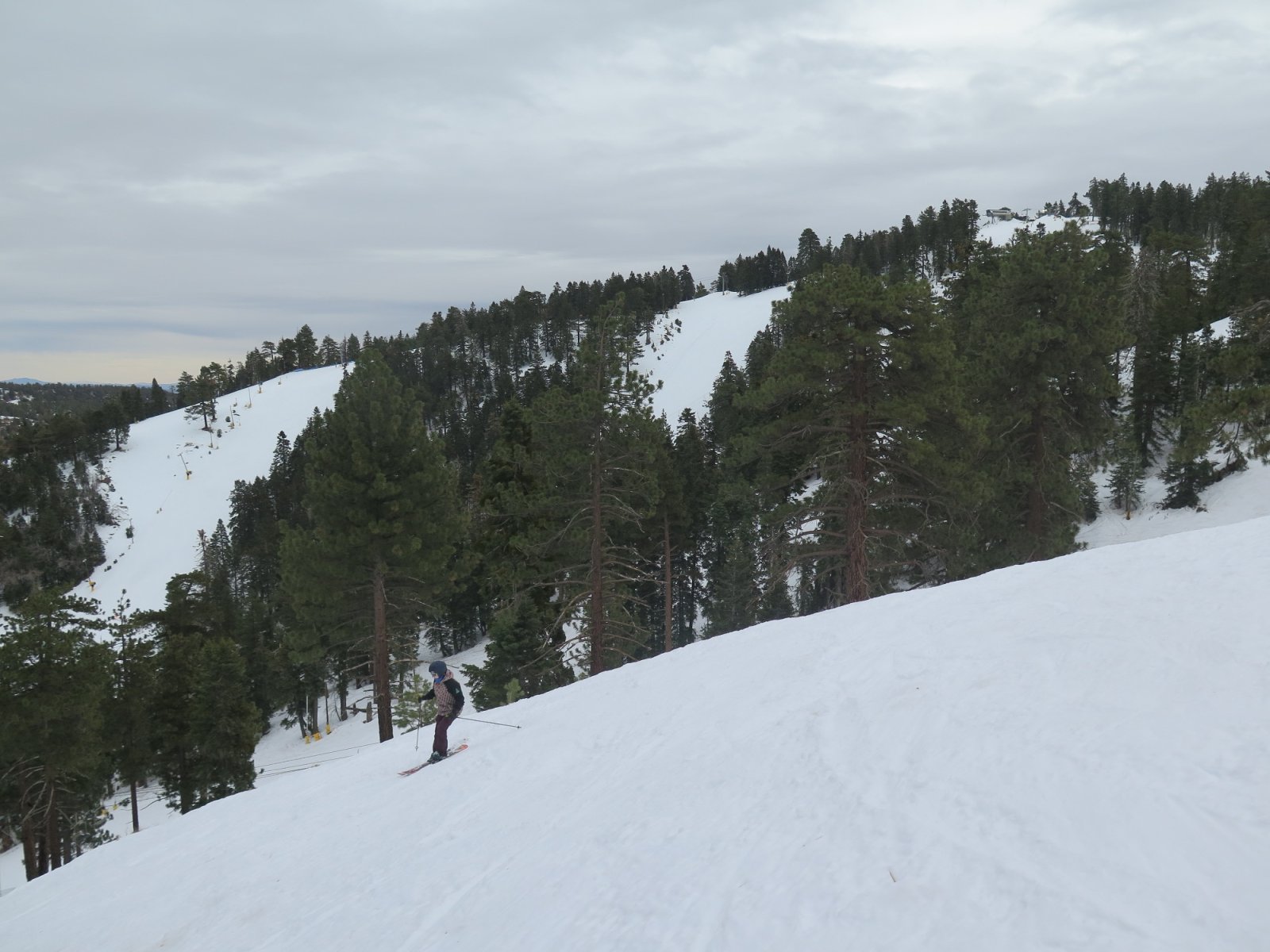 Calamity is the run in center background, Wyatt the wider run at left.
We skied the last cut run on Inferno ridge, Backfire, Liz at the top, me lower down.
There is decent potential tree skiing beyond the cut runs, but today we needed ungroomed snow to be skier packed.
The overcast prevented most snow from getting too slushy. Mt. High's runs tend to have enough pitch for gravity to assist in heavier snow. Garry was at Snow Summit today and he reported more stickiness there. But there are longer flat sections there.
Despite the overcast, from the top of Conquest we had as clear a view to San Clemente Island as I've ever seen.
The southern part of Catalina is in front of San Clemente at right.
There was a bit of drizzle about 2:45 so we called it a day. I skied 15,700 vertical on East and 10,500 on West. Liz wanted to see Mt. High North, the former Ski Sunrise, so we drove up there. I doubt it was open even over New Year's as its parking lot was not plowed. From the road there's good overview of Mt. High West.
We are grateful for decent local skiing being available over the past two weeks. We have major bathroom and pool renovations in progress. Most of the new pool tile was added while we were at Mt. High.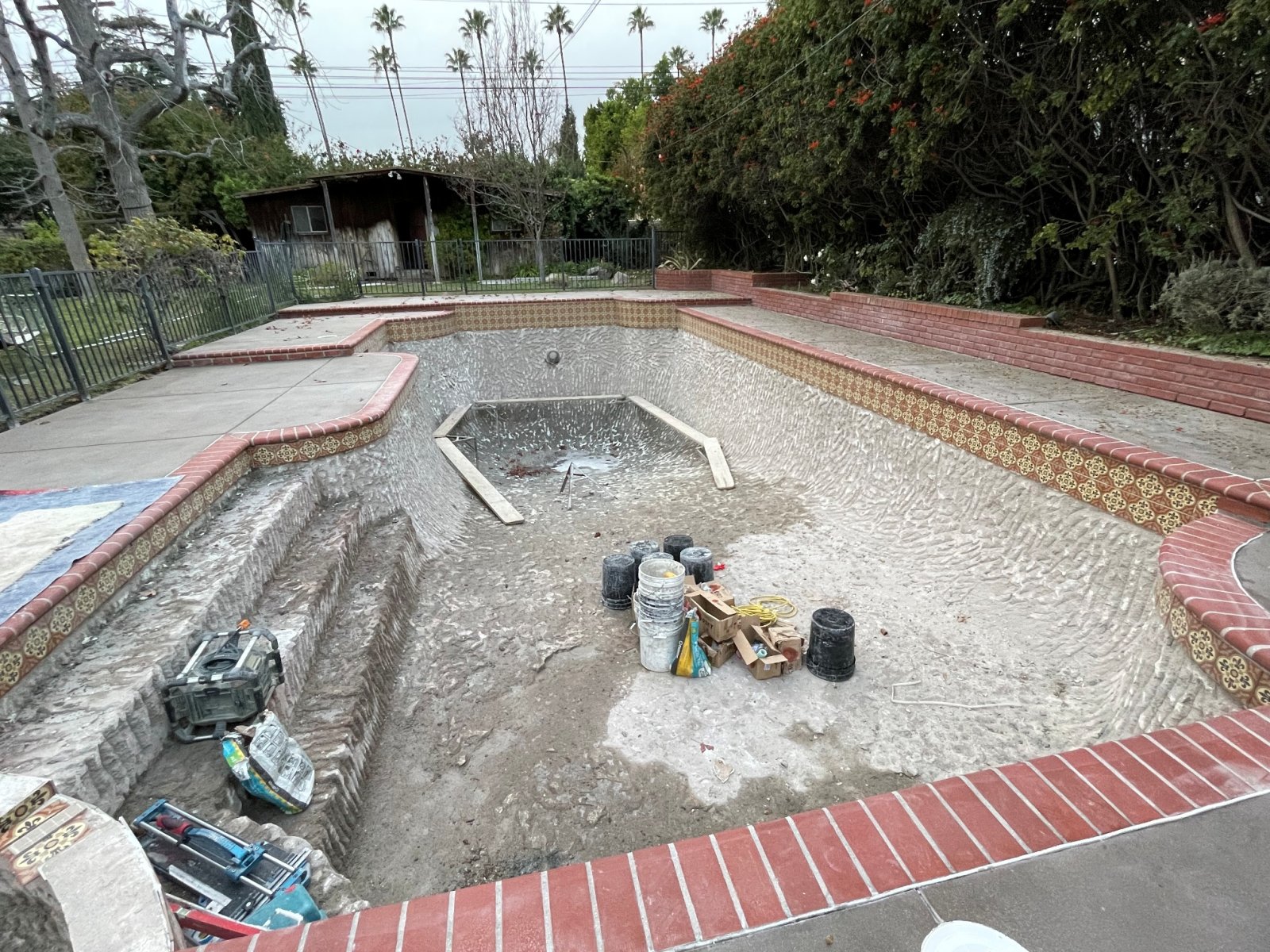 The mini pebble pool surface will be added next week and then refilled with water to complete the job before we head out to Utah Jan. 27.
The upcoming weekend is MLK and Mt. Waterman will still not be open. If full time ski areas can't find staff, it must be even tougher for Waterman. At this late date it seems pointless unless they get more fresh snow.
Last edited: