Administrator
Staff member
Florida generally let its counties make their own rules regarding pandemic precautions. These ranged from most strict in the Florida Keys to minimal in some rural counties. Pinellas, where Liz' mother Laura lives, was not too different from much of California except for allowing restaurants to have 50% of indoor capacity open. Liz and I always brought home takeout in Pinellas but did eat in some restaurants on our travels elsewhere in Florida.
Universal Studios Florida reopened in early June, and I read that some of the procedures there were a bit confusing. Disney reopened two of its four theme parks July 11 and the other two July 15. A couple of weeks later I read
an article in the Atlantic by a reporter they sent to Disney Florida
. This guy was not a fan of theme parks and found the experience "weird." But he also found the extreme level of organization "like Singapore," which I viewed as a big positive in terms of virus safety. I also viewed the drastically reduced capacity as a rare opportunity to avoid the massive ride waiting times routine before COVID-19.
Accordingly we made advance reservations for Animal Kingdom Aug. 21 and Hollywood Studios Aug. 26. Unlike at home, Disney's Florida clientele is mostly destination visitors. With long distance travel reduced and most schools back in session, only Hollywood Studios was selling out its reservations in advance, and even in that case only on weekends more than one day ahead.
Driving toward Orlando, this electrical tower reminds people where they are.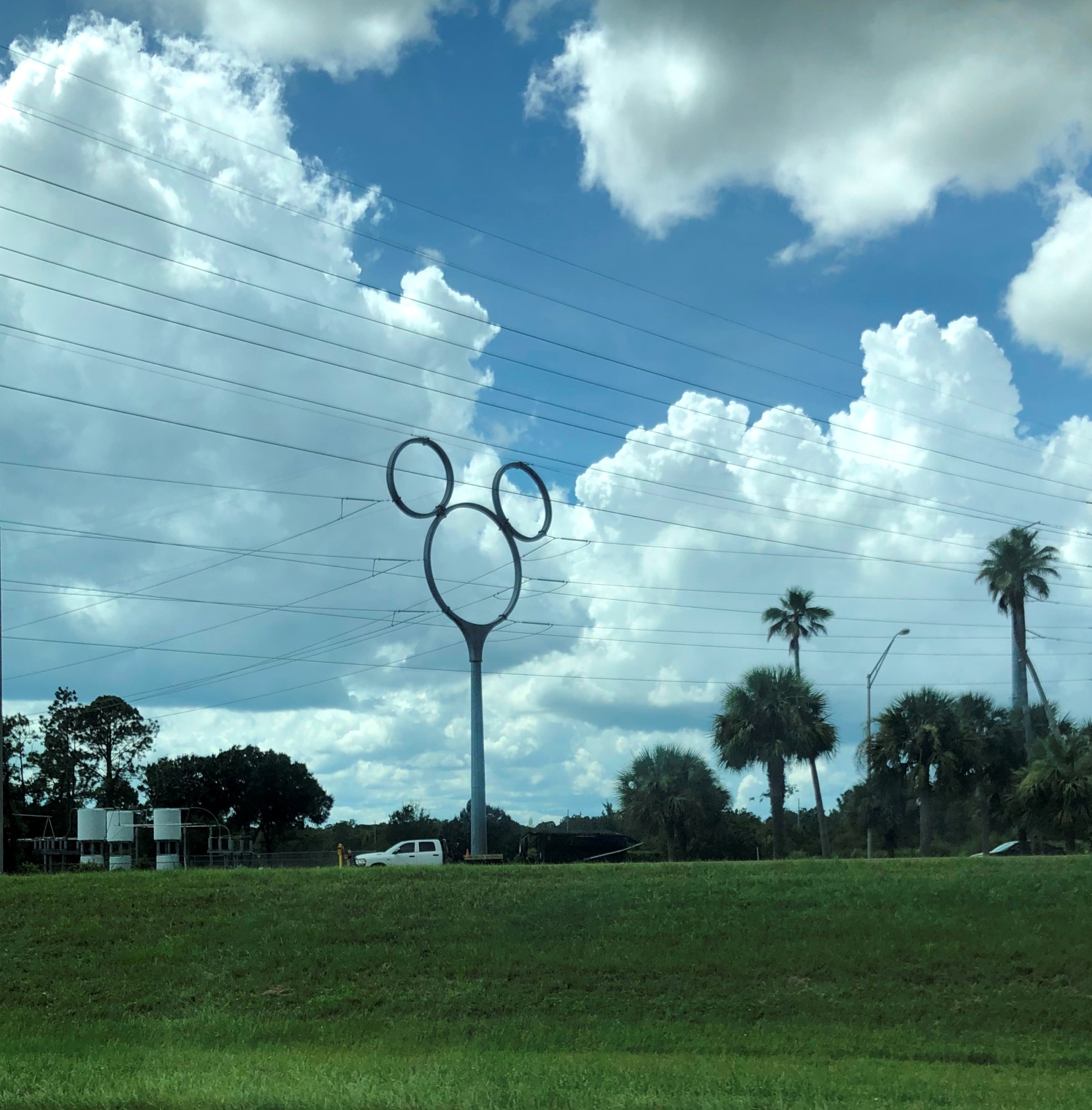 August procedure was to open each park for 10 hours per day, with opening times staggered from 8AM to 11AM. A bit of research showed that it's best to show up 45 minutes before stated opening as parking opens about half an hour ahead. Early parkers are socially distanced.
The spaces are filled in by later arrivals. When we walked to the entrance we were allowed in immediately, starting with temperature check here.
Next at Animal Kingdom was security, then the ticket window where we picked up admission cards that were also good for our Hollywood Studios reservation the next week. After going through admission we made it to the entrance of Flight Over Pandora just before 8AM.
Animal Kingdom was a spectacular success. After the Navi river ride, we had an encore on Flight Over Pandora with essentially no wait for an attraction than routinely ran 2+ hour lines before the pandemic.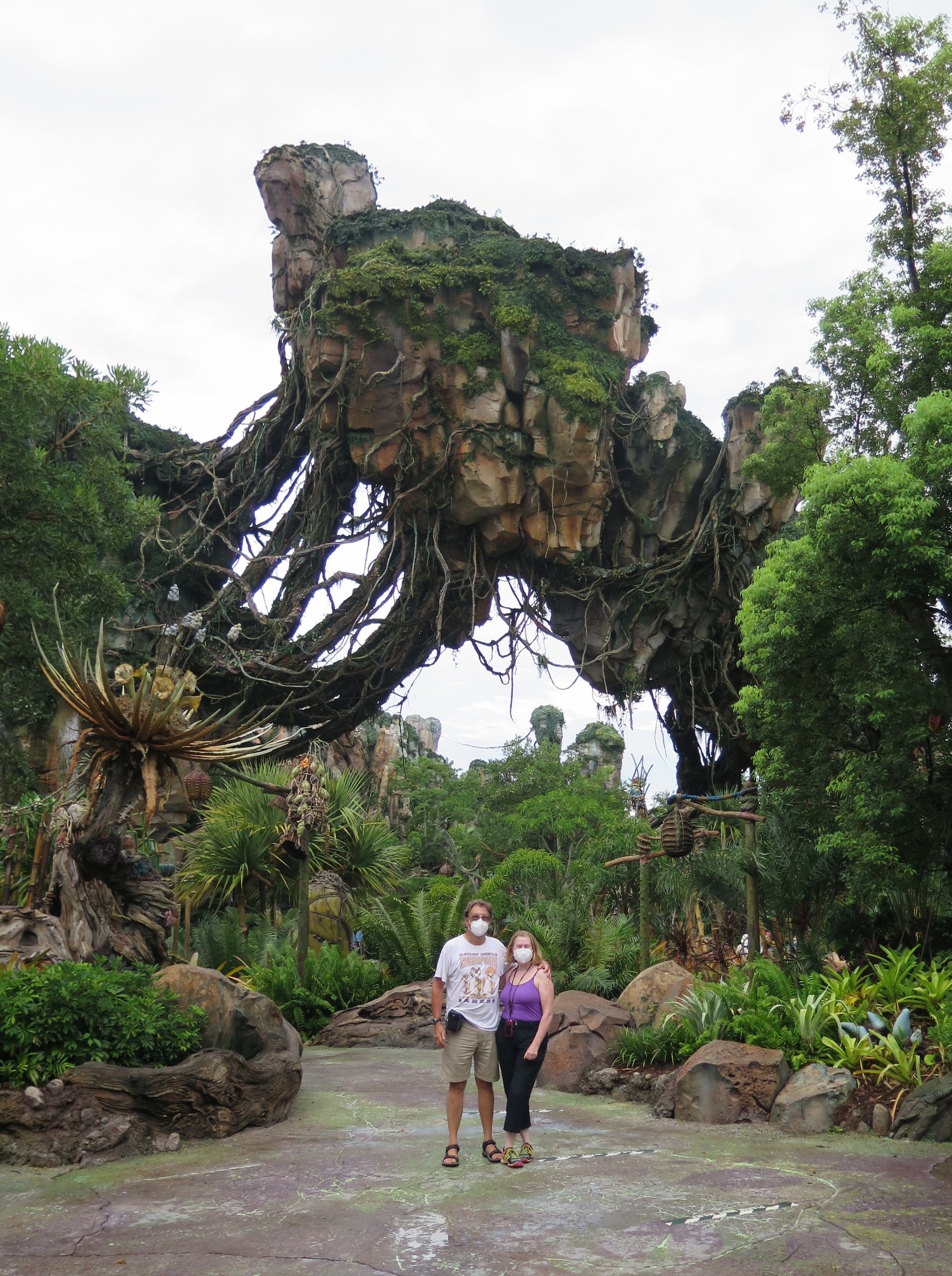 Depending on configuration, rides ran between ½ and ¾ capacity, with spacing between family groups and either empty rows or plexiglass partitions between them. Interior mazes and queues were socially distanced.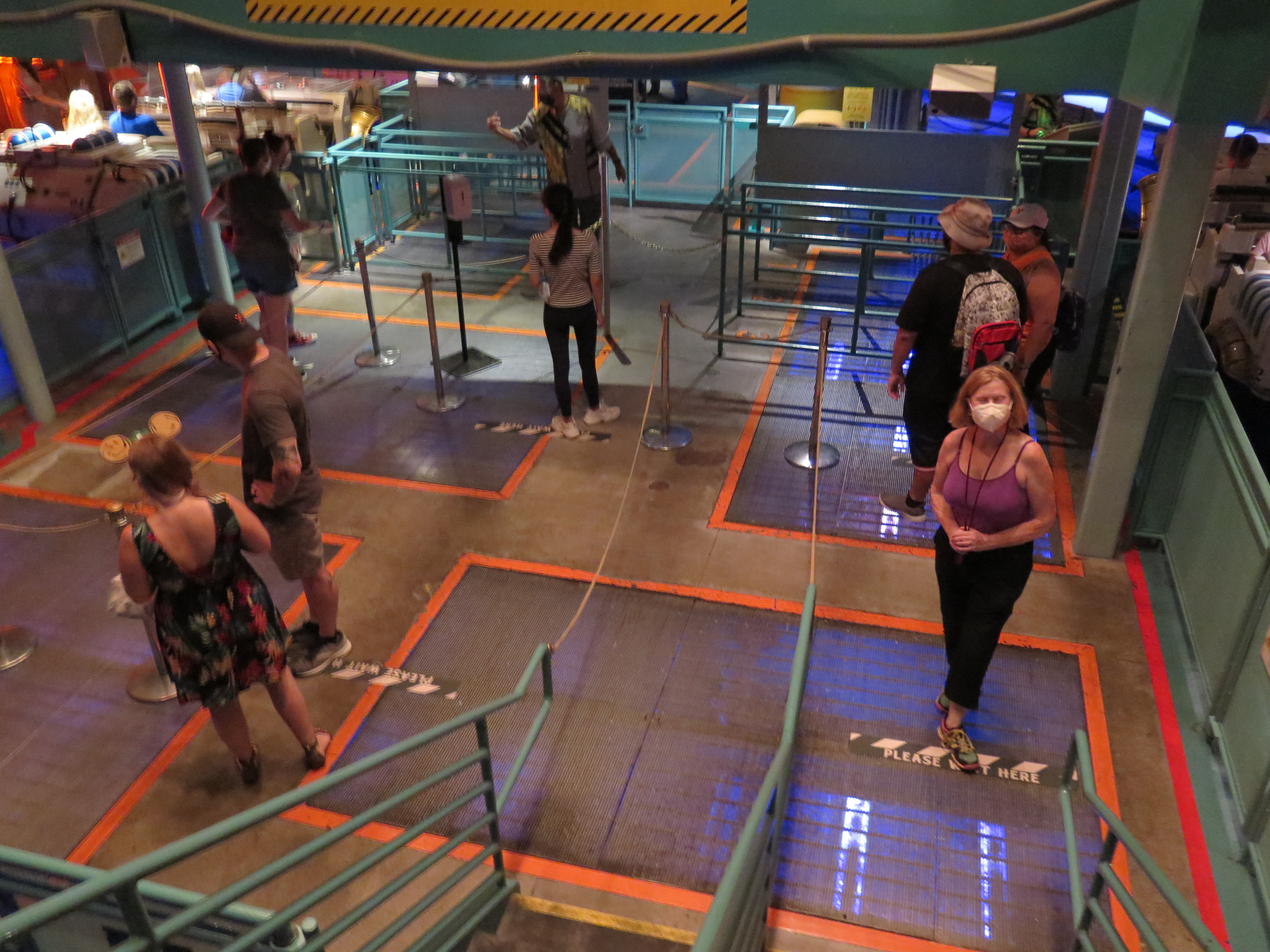 On some rides it's natural to grip handrails, so we got in the habit of using the hand sanitizers at the exit to each attraction.
Even the weather cooperated. It was very humid with my glasses fogging some in the morning but the sun did not come out until noon. The animals on the Kilimanjaro Safari ride and the Africa and Asia walkthroughs were mostly visible, with some such as the gorillas and male tiger being quite active.
Live animal attractions were a highly curated version of a zoo; focusing on popular and/or endangered species in more expansive habitats. The bird show also featured rare species such as the Andean condor and the grey crested crane from Uganda.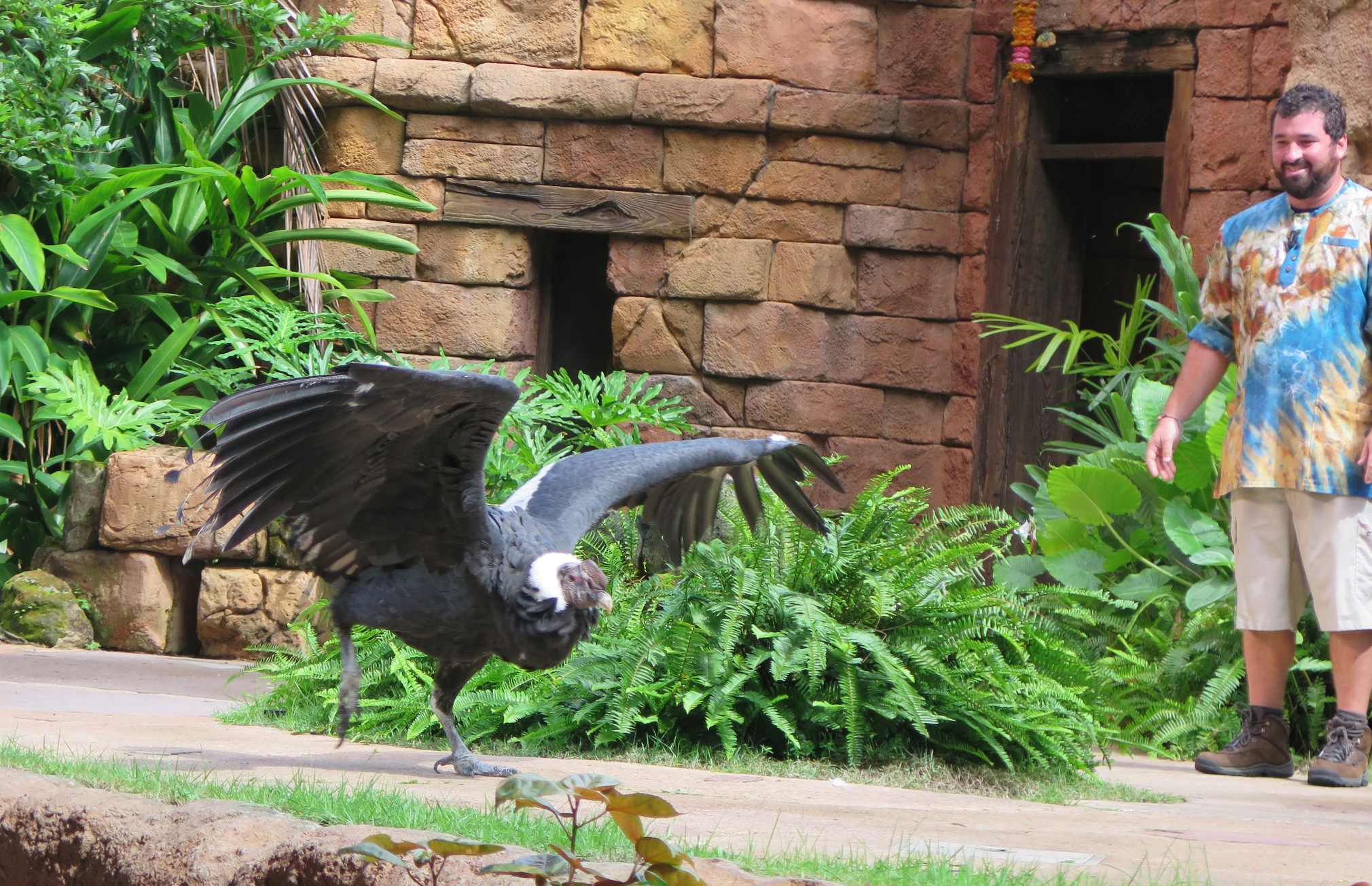 Expedition Everest is the best thrill ride, a higher tech version of Disneyland's Matterhorn. That was the only place we had a 10-minute wait due to a pause for sanitizing.
The stands in the foreground are for a water show, which like parades, stage shows, character meet-and-greets and fireworks was closed to prevent the inevitable crowding at such events. So for those who want the complete Disney experience, it's not all there. But for much reduced waiting for rides, it's an excellent time.
Disneyland California is still closed and it will be much more difficult to open IMHO. I suspect reservation demand from locals in CA would far outstrip necessary reduced capacity, as happened for skiing at A-Basin and Thredbo.
We were done with Animal Kingdom by 1:30PM, went to the previous night's hotel for a quick swim and to change for our anniversary dinner at Bern's steakhouse in Tampa.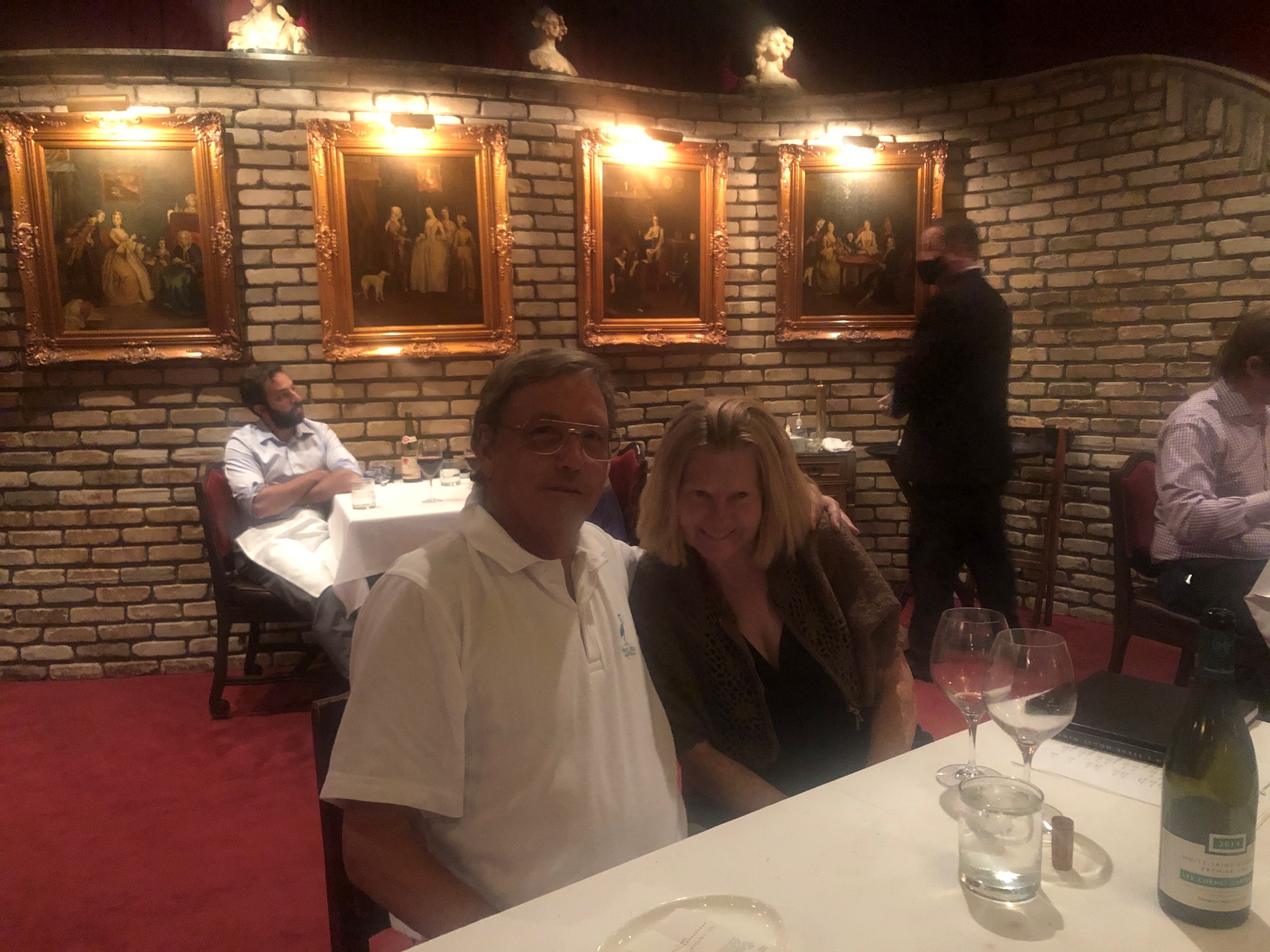 For the Animal Kingdom trip we had trialed our third caretaker for Laura, so all three were thus ready to start working when Liz and I left for home the next week. Plan A was to leave late Aug. 25 and view two space launches before and after the day at Disney Hollywood studios. First was a 2AM Delta Heavy launch of a spy recon satellite to geosynchronous orbit, followed 36 hours later by a Falcon 9 launch of an Argentine satellite into polar orbit. The latter offered the advantage of seeing the first stage return to Canaveral about 5 miles from the route 528 viewing area.
These plans did not work out. The Delta Heavy launch was first pushed forward a day. Then Laura's doctor sent her to the hospital on Aug. 25, two hours before we were set to leave. We were able to move the Hollywood Studios day to Aug. 27 and then go back to Belleaire when Laura came home by dinner that day. We drove to Port Canaveral Aug. 26 and scouted the viewing area. The launch pad was lit just before sunset.
We got up at 1:30AM, drove back there only to learn of another delay just 10 minutes earlier. As of Sept. 27 that Delta Heavy still has not launched. The Argentine Falcon 9 eventually launched Aug. 30 after we left Florida.
We arrived Disney Hollywood Studios 9AM after researching
the excellent website mousehacking.com
. We were let into parking about 9:15 and were into the park before 9:30. We found employees to help with the app, then headed to Slinky Dog Dash, the only ride with queue entirely outside. That way we could try the Ride of the Resistance virtual queue at 10AM sharp. As with my son Andrew at Disneyland in February, it sold out within a minute and we failed to get on it. Park capacity is reduced, but with most rides at no more than half capacity, it's still extremely tough to get on Rise of the Resistance, entry shown here.
Hollywood Studios is the busiest Florida park due mainly to Star Wars Galaxy's Edge opening in 2019.
The Millennium Falcon ride had a 35 minute line. Liz got this picture just before we boarded it.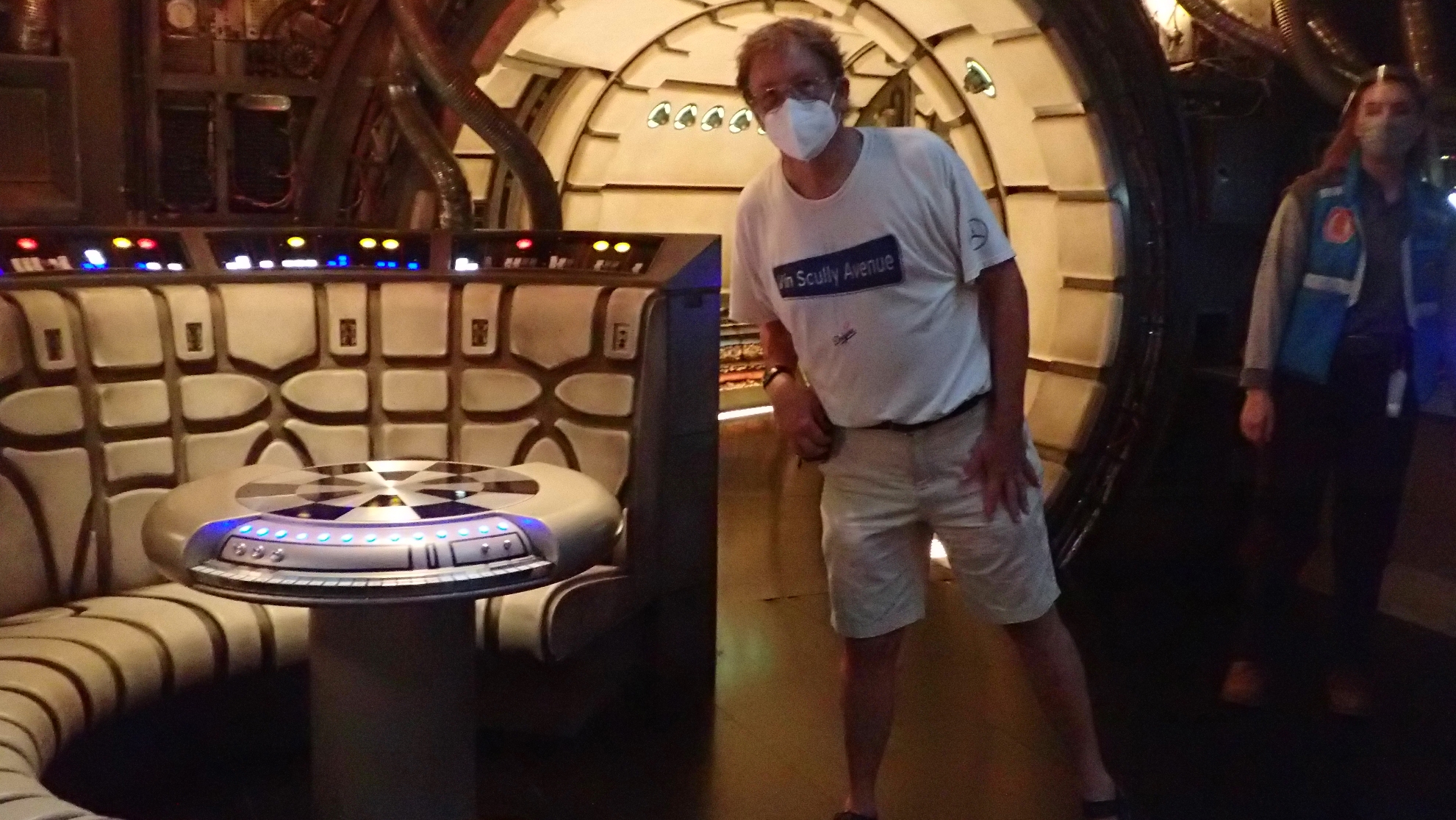 Mickey and Minnie's Runaway Railway opened only 11 days before the March shutdown and is thus another hot attraction.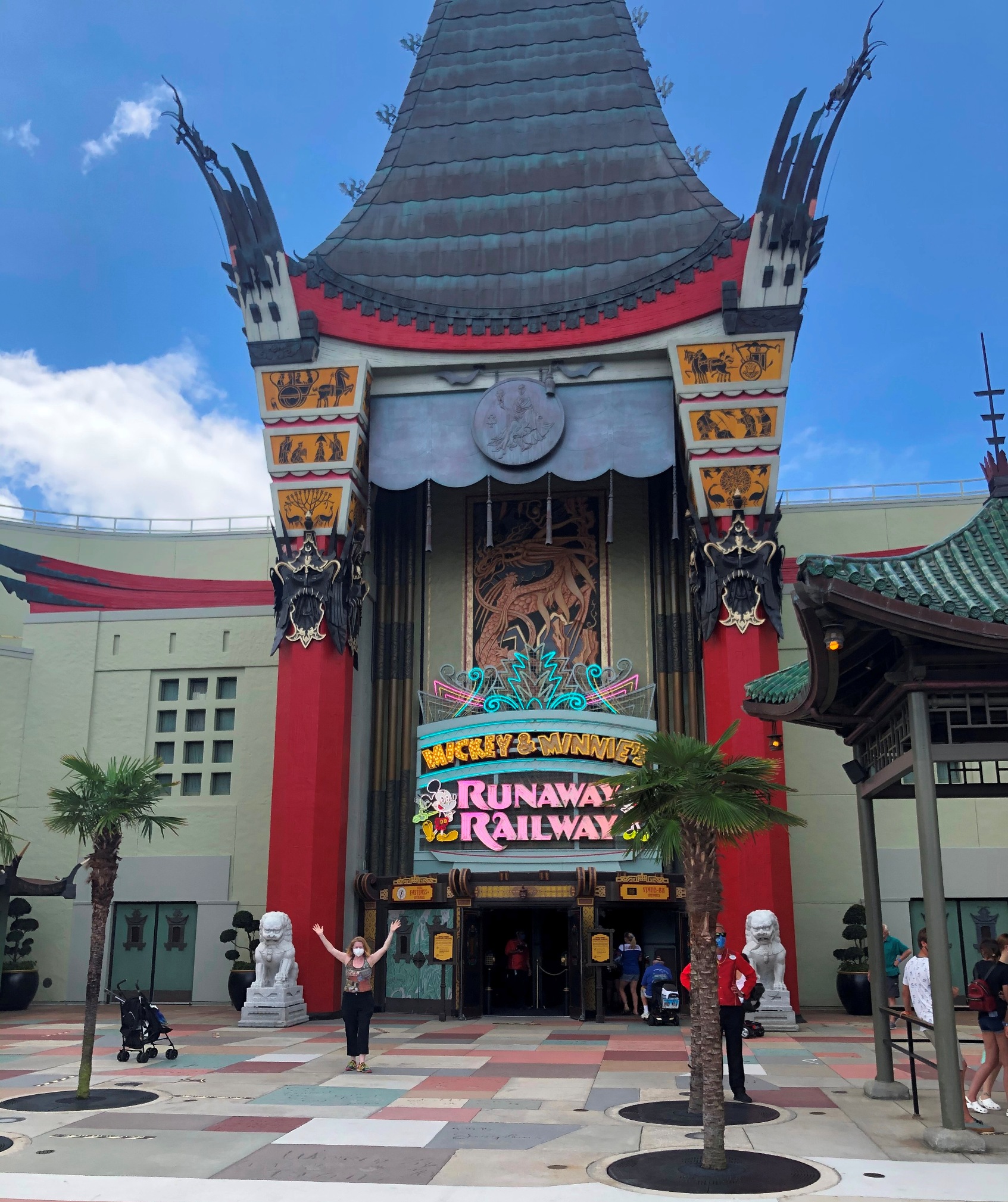 The Grauman's Chinese replica has handprints in front dating to the park's opening in the late 1980's.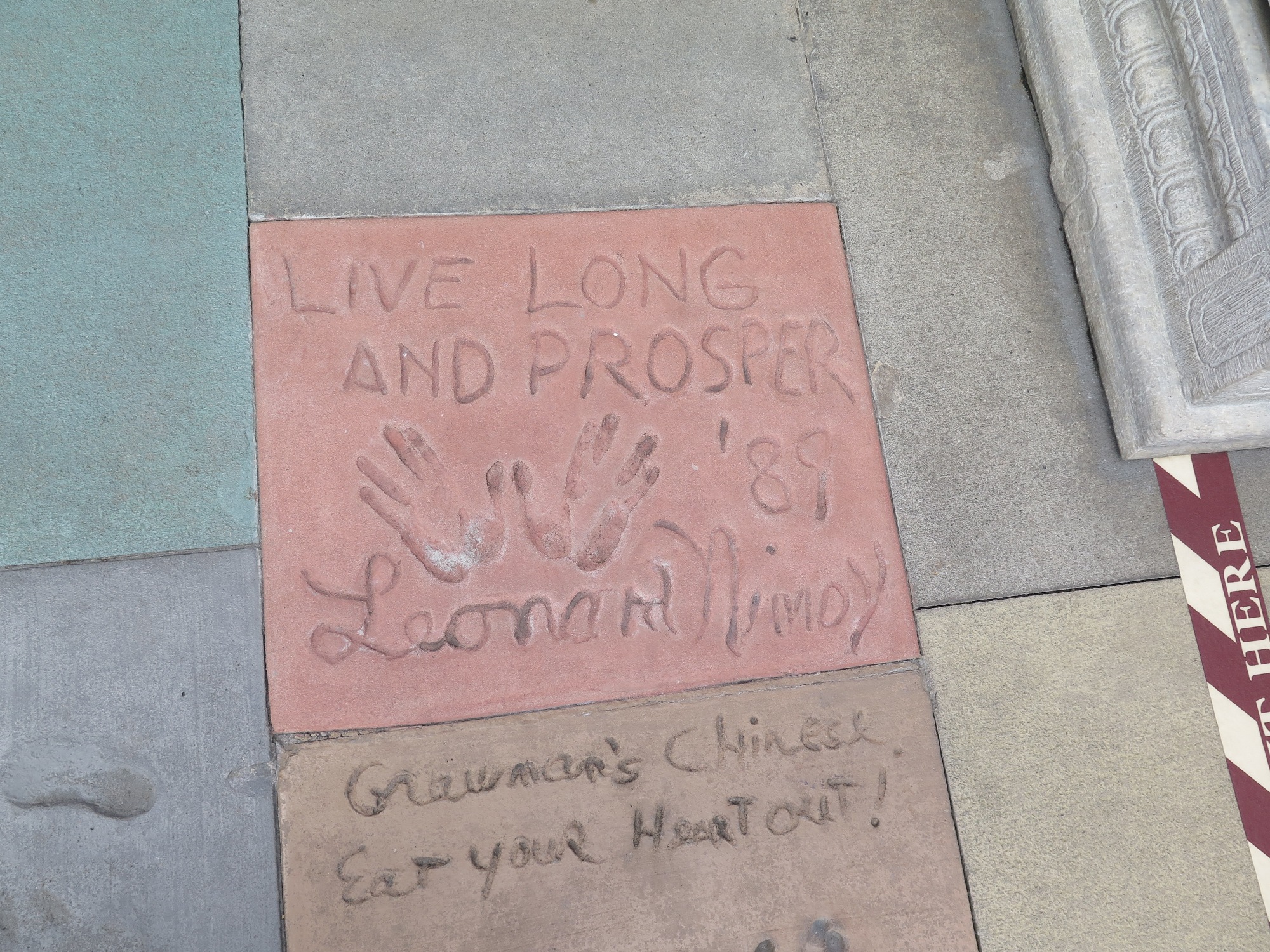 Ride waits: Mousehacking estimate/Actual:
Runaway Railway 49min/55min
Slinky Dog Dash 39/20 (first ride)
Tower of Terror 32/10
Millennium Falcon 31/35
Rock n Roller 30/10+disinfect
Toy Story Mania 15/10
Star Tours 14/5.
The wait estimates are after the July reopening. It's safe to day they were much longer before March.
All of the safety provisions we saw on Aug. 21 were in effect here too: queues marked every six feet with tape, plexiglass partitions, empty seat rows, sanitizers at entry and exit from every ride. We wore new KN95's but there were a few thousand people so we know COVID exposure is not zero. We thought COVID exposure was probably similar to Kennedy Space Center and it was probably lower at the more spacious Animal Kingdom. Weather was hot though we got a break with clouds when were outside half an hour in the Runaway Railway line.
We were not that interested in dining in the parks other than Oga's Cantina in Galaxy's Edge. But we learned you need to reserve that about a week in advance so missed that too. We'll eventually see what we missed in Galaxy's Edge after Disneyland California reopens, especially with avid theme park fan Andrew at home now.
Liz and I finally left Florida and headed north about noon on August 28.