Administrator
Staff member
Patrick arrived in California on Wednesday and of course had to see Baldy since it was still open. Saturday May 20 will be its last day and it was easy to see why. We probably got to the Notch at 9:45 to this view of Thunder Mt.
The snow patch in foreground is left over from the tubing park and we were able to ski 60 vertical feet down it. But the Beginner Gulch had lost all of its snow.
That walk was about 150 vertical. You can see a clean line of snow coming out of Emile's, but the bottom of Skyline is no longer skiable.
Riding chair 3 we see a skier about to walk out of the second severed part of lower Robin's.
HIgher up Shortcut feeding Robin's is still wall to wall snow.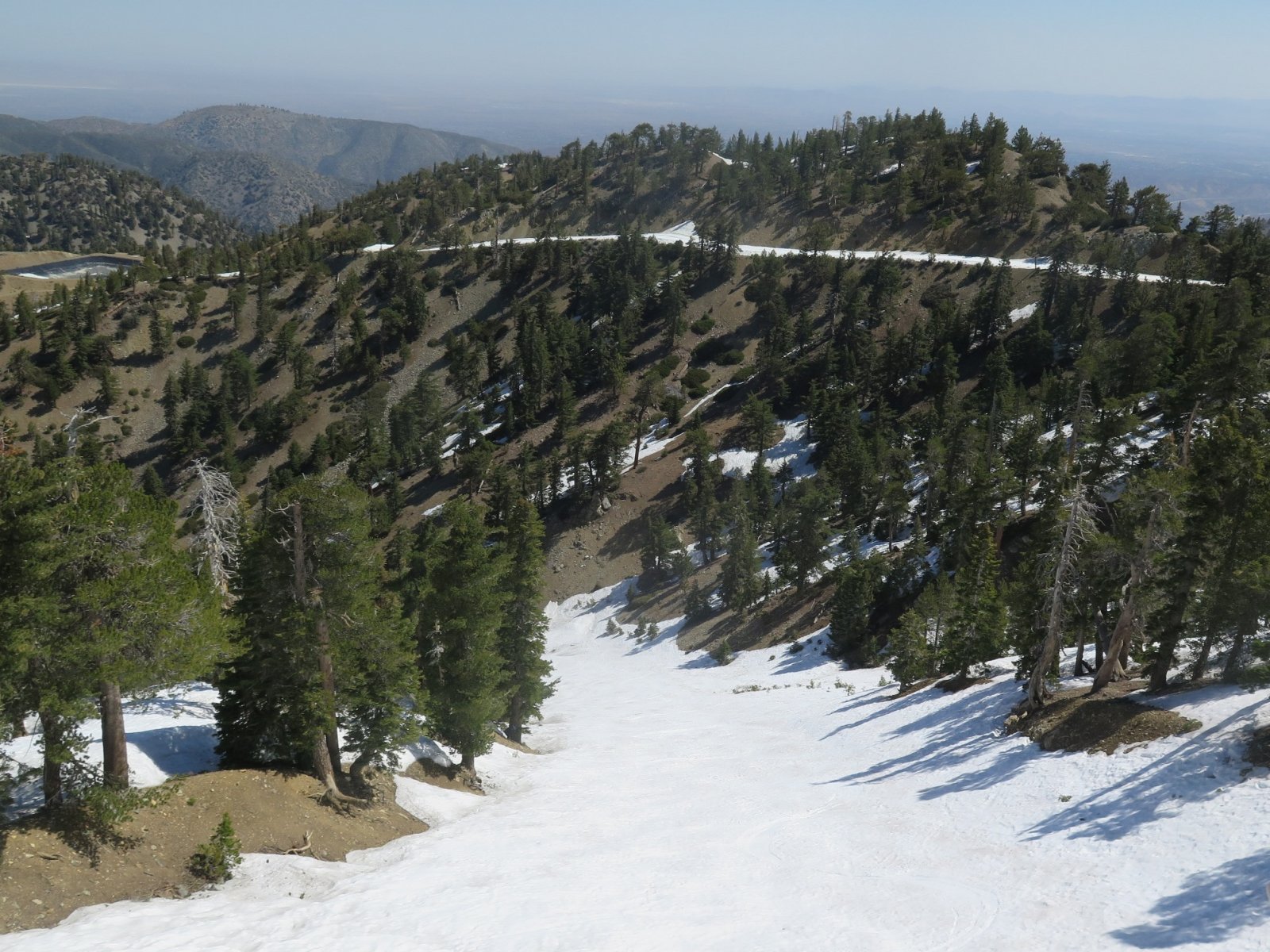 The Fire Road is still covered in the background.
Zoomed view of 10,000 foot Baldy peak.
At lower center the light green square is the roof of the mountaineering hut. I day hiked from San Antonio Falls to it in the summer of 2011.
Here is where Skyline becomes unskiable.
In the background is the top of chair 2 and a strip of snow leading from there about halfway to the Notch.
I directed Patrick skier's right into Tortilla Flats and lower Emile's.
Patrick on Emile's: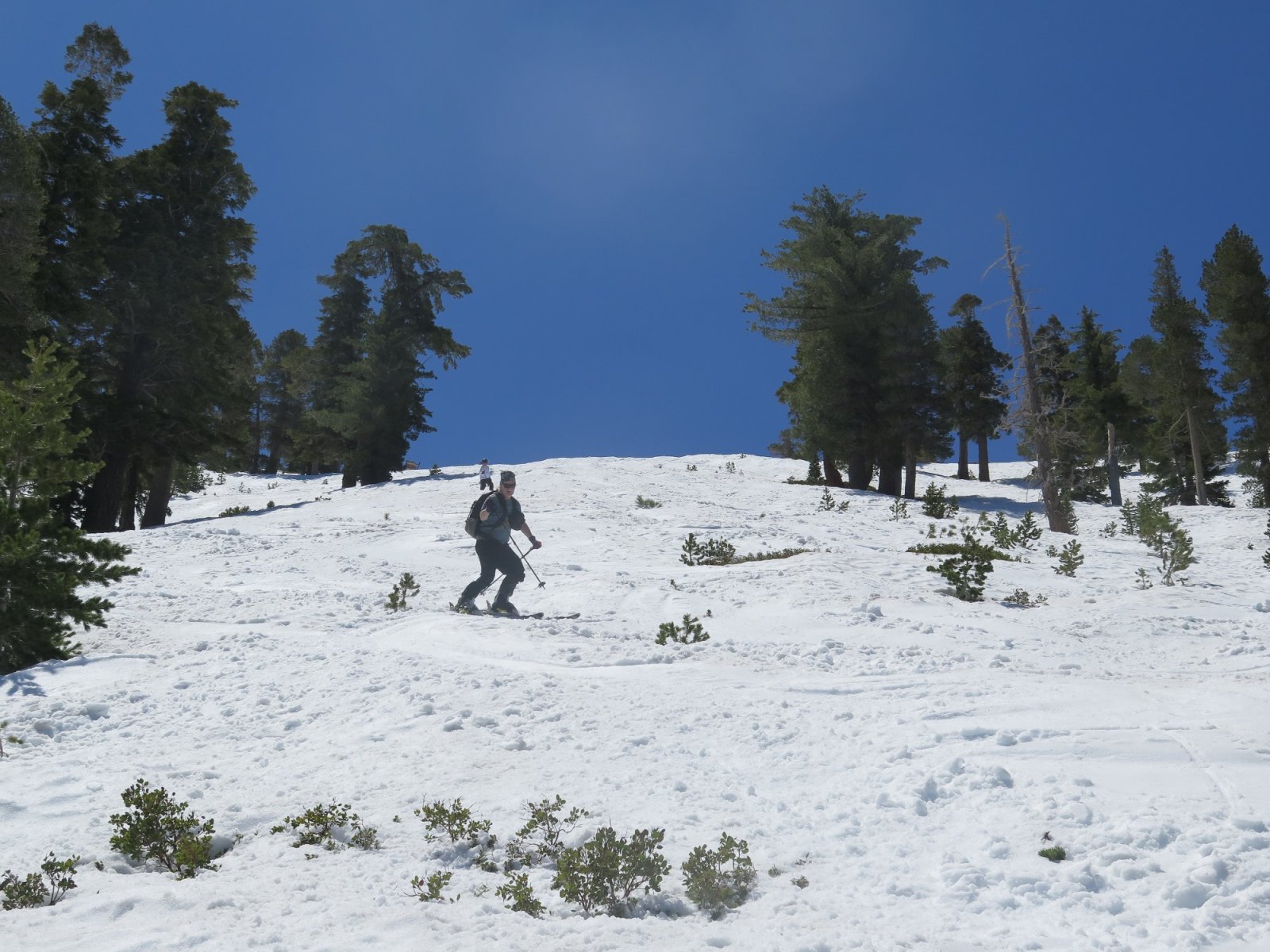 And on Shortcut:
After the run turns left, here's the diminishing snow on lower Robin's.
Patrick on an Emile's variation skier's right through some trees:
After some inconvenient sleepless travel Patrick did not take well to the altitude and relaxed at the top of Thunder for awhile.
Despite no overnight freeze I did not sink in the snow, and with Baldy's pitch gravity overcame any stickiness. I did not find it to be excessively high effort skiing and thus did a couple of nonstop runs and most others with one or two stops for pictures.
On our final run we skied the Fire Road to Goldridge. View back to Thunder from the Fire Road.
Shortcut is center left and Robin's trees are dead center. Robin's trees was one of the runs I skied while Patrick was taking a break.
The Fire Road ran out of snow just before the hairpin turn so we had to walk about 30 feet to get into Goldridge. But I knew from its sheltered exposure than Goldridge would be adequately covered.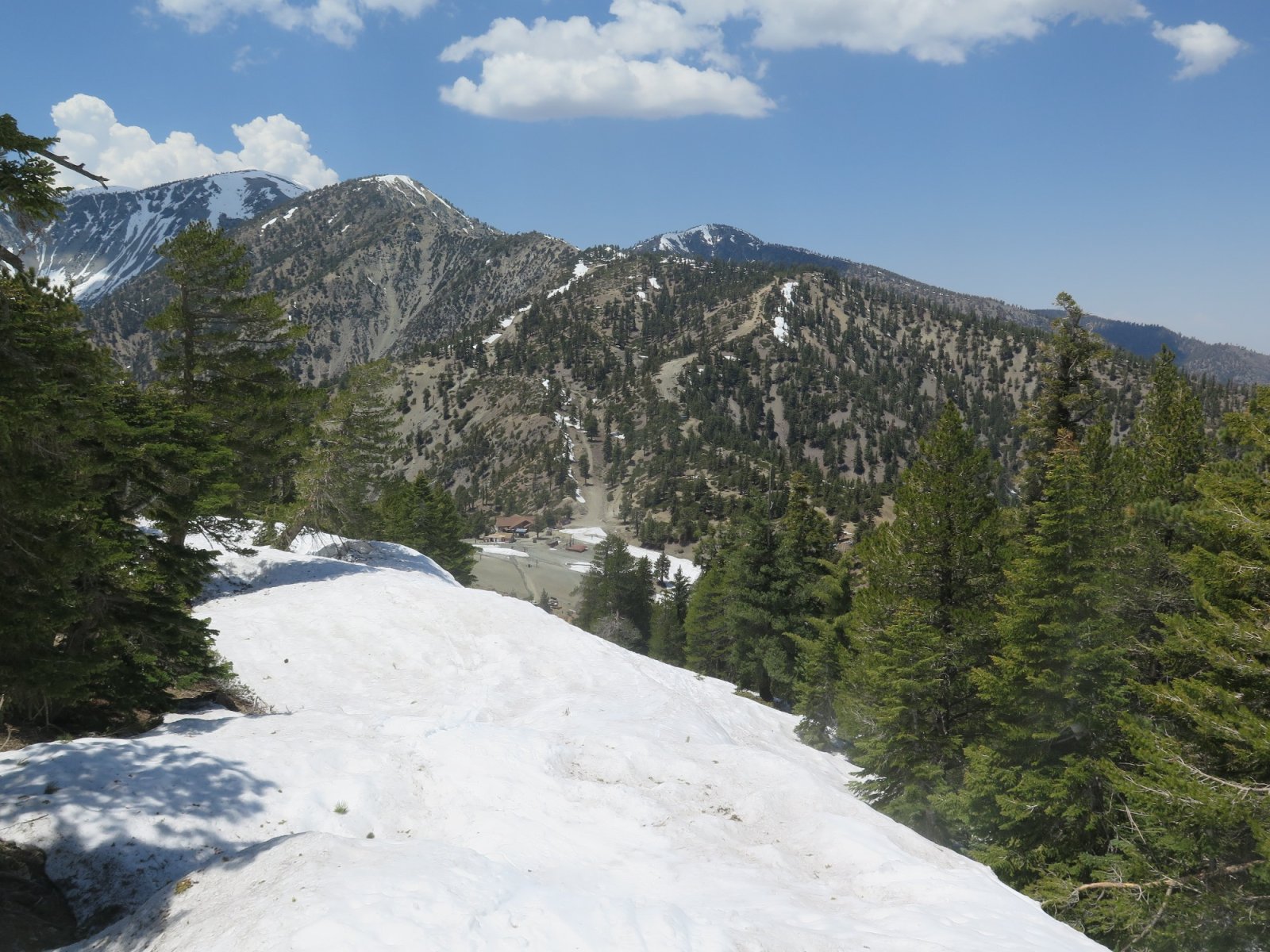 Patrick on steepest lower pitch of Goldridge:
Where I'm standing was almost the end of the snow. I skied 10,900 vertical and walked back up through the tubing park to the Notch.
Patrick walked down to chair 2 and rode it up. He skied about 5,000 vertical. In terms of snow conditions and occasionally having to walk across gravel/dirt between snow patches, Patrick has seen much worse than this. But those other places have not involved sleeping near sea level and skiing above 8,000 feet.
Last edited: