We knew planning a ski trip during the Christmas/New Year's holiday would be risky, with that in mind, we chose Schweitzer, ID for various reasons:
This would be our first time at Schweitzer,
Flights, hotels and rental vehicles were more reasonably priced compared to options in CO or UT.
The yearly weather patterns suggested a good snow year.
We were hoping to avoid the crowds of more popular resorts.
It was on our Ikon pass (maybe not a good reason?)
The trip wasn't flawless, but we had a great adventure. Not wanting to risk a missed connection, I booked a direct flight from Minneapolis to Spokane for Friday, December 30th. Since MSP was a good four-hour drive from our home near Green Bay, we opted for a "Park-N-Fly" package with an airport hotel for Thursday night and drove up after work. The drive to the hotel was mostly un-eventful, but upon unpacking the vehicle I realized I forgot my backpack with important items including our Ikon passes, my helmet, Rocky talkies, and boot warmer batteries. Oops!
Friday, December 30th
Our Friday morning flight took off and landed on time. Nice! Other than waiting a little longer than normal for our bags, we were off as expected. We stopped to eat lunch in Spokane. I couldn't help but notice the homelessness and several "abandoned" cars parked along the streets. Moving on...the 1 1/2-hour drive to Ponderay was also uneventful even though it was Friday afternoon and snowing. We checked into the Hotel Ruby around 3:30. Originally, I had booked a room at the Best Western across the street, but a water pipe broke a week before our trip and the pool/hot tubs were not working. Luckily, the Hotel Ruby still had a few rooms left so we switched. The Ruby was a great hotel by-the-way, although the rooms were a little small. The hotel even had ski lookers and a waxing bench. After unpacking, we decided it would be a good idea to drive up to Schweitzer and try to get our Ikon passes reprinted. I was expecting a quick five-minute drive (according to Expedia) but it took more like 20 minutes and involved a dark, steep, icy mountain road with numerous switchbacks. I wasn't worried, as we had 4wd and I'm quite comfortable driving in winter conditions. I would recommend making that initial dive in the daylight though! We were somewhat unsurprised to find he ticket counter had closed even though the resort was still open for night skiing. I opted to replace my forgotten helmet with a $35 Schweitzer-branded stocking hat.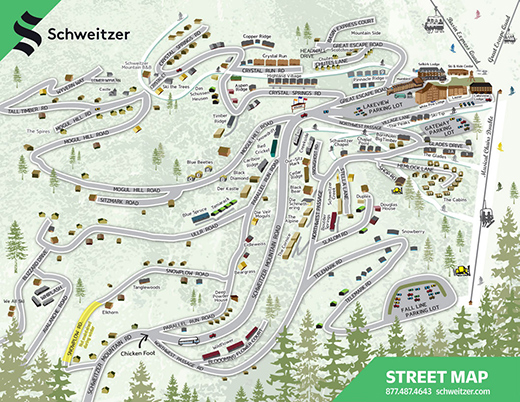 Saturday, December 31st, 2022
After realizing the drive would be a little more involved than originally thought and also reading a few social media posts describing the lack of parking, my wife and I were in both in agreement that we needed to start the day early. Fortunately for us, we were used to the Central Time Zone! We ate the free hotel breakfast at the 6 a.m. opening (only 8 a.m. Central.) The light drizzle at the hotel parking turned to light a snowfall halfway up the mountain pass. We pulled into the closest free parking lot (Gateway) at 7:45 a.m. with around 15 minutes to spare.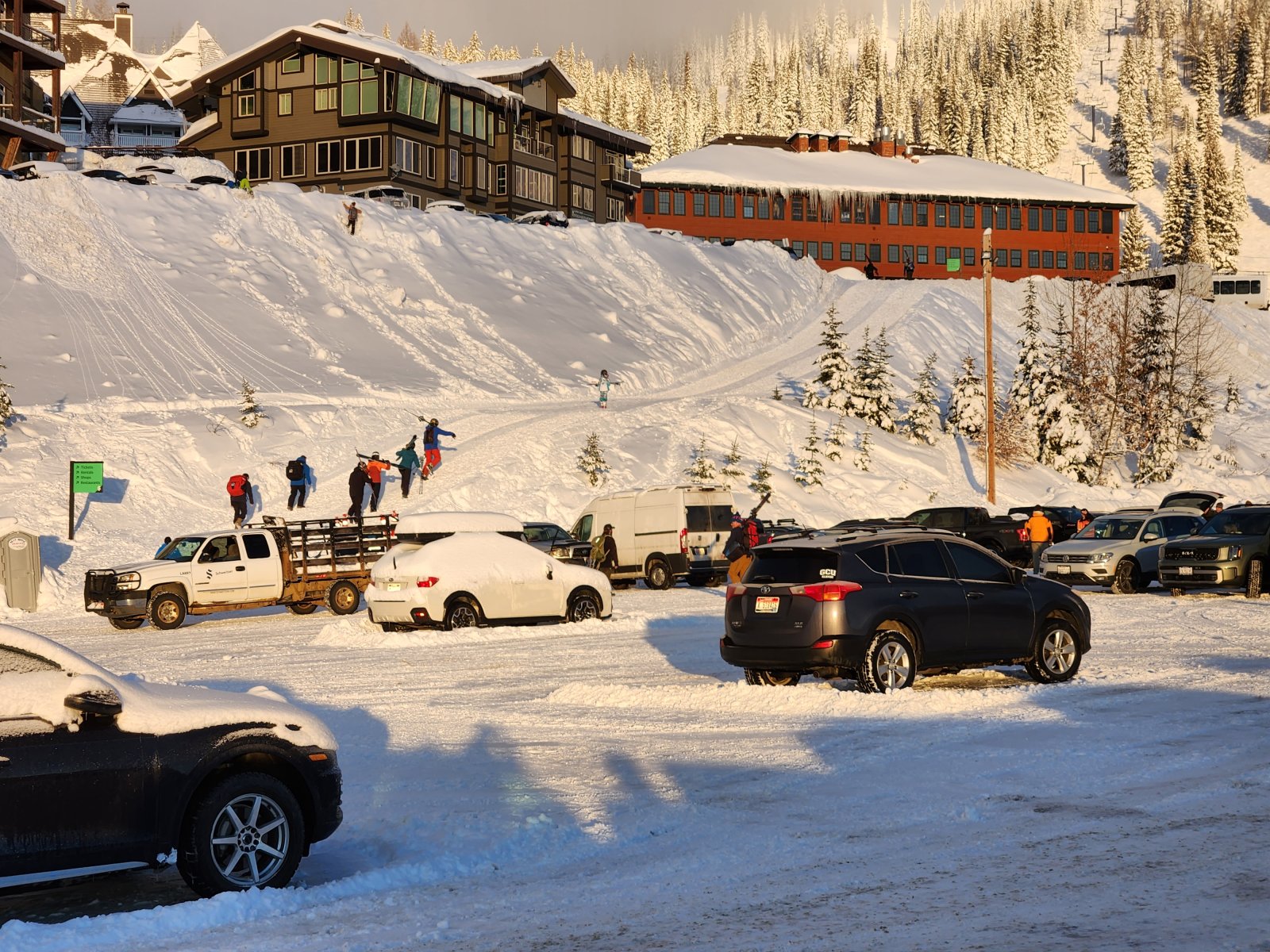 Getting to the base/lifts meant climbing up a moderately steep hill. (Edit: We figured out later that you could avoid the uphill hike by walking a path adjacent to the Gateway parking lot, skiing down to the Fall Line Parking lot and then taking the chairlift to the base.) Once we made it to the ticket counter, we were able to get our Ikon passes quickly and had time to relax (more like cool off from the hike.) Lines started to form near the chairlifts around 8:30, so we skied in-line around 8:45. We got a chair minutes after the lifts started spinning at 9 o'clock.
The snow base was excellent with 53" at the base and 80" at the summit. Unfortunately, visibility at the summit was poor due to fog and the light snowfall. Our plan was to get to the Outback Bowl in hopes of avoiding crowds & fog, but it wasn't entirely clear how to get there when at the top. I decided we should all just follow some people who looked like they knew where they were going. My wife didn't like that idea. A ski patroller stopped us because we looked a little lost. She admitted we could get to the Outback Bowl by continuing but recommended turning around and going a different route. I decided to keep going. My wife didn't like that idea. We kept going anyway and ended up at the base of the "Idyle Our T Bar" lift. Turning around would have involved a long hike, so we hopped to the T-Bar (wife was a little upset at me) and made it to the top of "Little Blue Ridge Run" (pictured above.) The ski patroller described this run as a "blue that should really be a black." I would call it an mory of an easy blue. To each there own I guess. As we descended "Little Blue Ridge Run", the visibility improved (as did my wife's anxiety.) This was our viewpoint looking up from the midway point.
The fog/clouds stayed clear of the terrain near the Stella lift, so we skied there all day. The kids found their favorite run: a gladed, black-diamond gem known as "Kathy's Yard Sale." Despite the holiday weekend, plenty of the previous weeks 24" of powder could still be found between the trees. A total of 3" of new snow fell throughout the day.
Sunday, January 1st 2023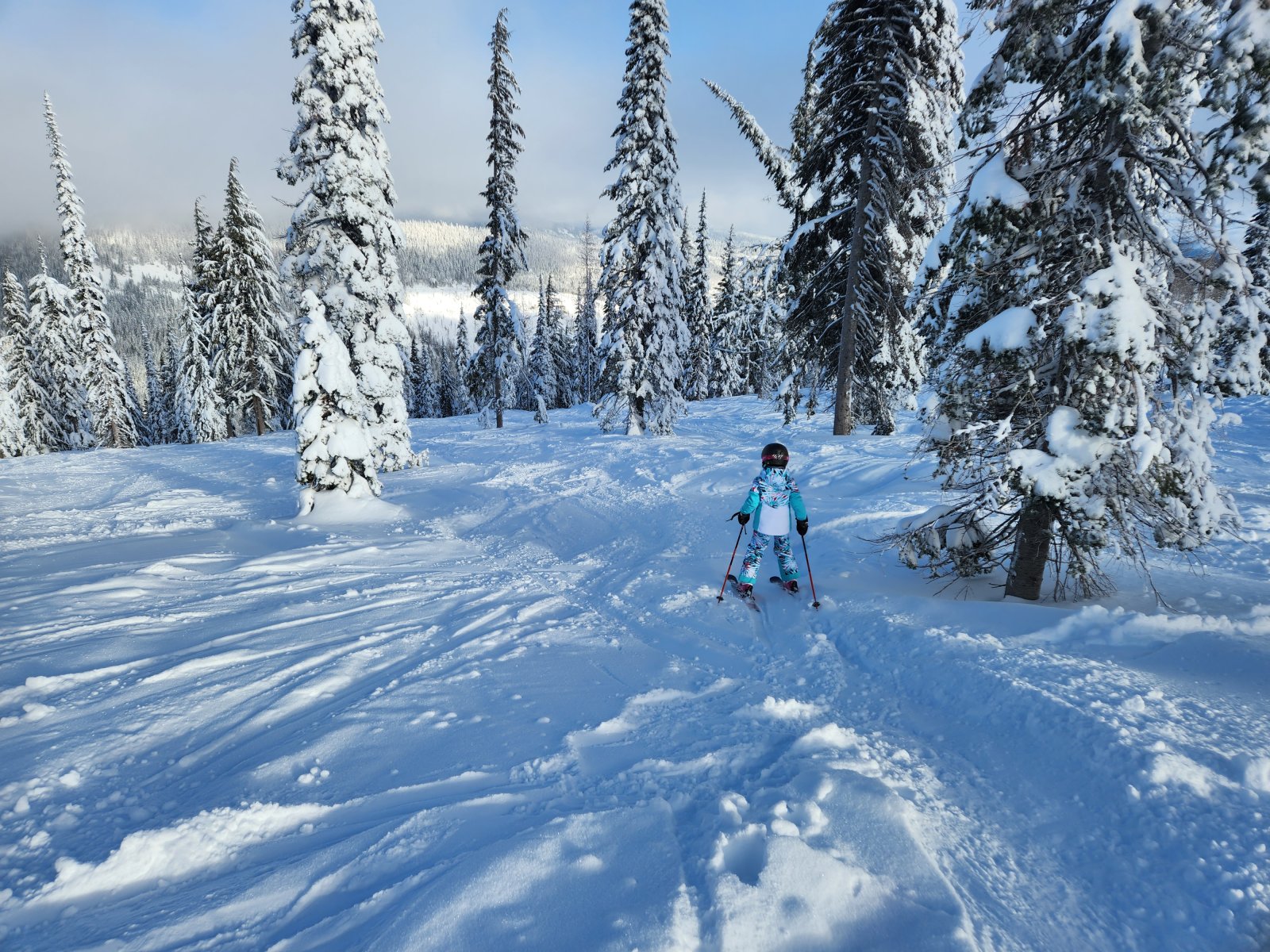 After another 6:00 am breakfast, we cruised into the Gateway parking lot around 8:00. I would guess the Gateway lot had another half hour before filling up. Lift lines were also minimal at the frontside base lifts. We took the same route via the T bar to get to Stella. Nerves were calm today, as the visibility had improved and we had a full day of exploring under our belt. We spent most of the day skiing runs off the Stella lift again. My wife and kids have one thing in common: once they find a trail they like, they will ski it all day long. We skied to the frontside for lunch and splurged on a couple orders of Schweitzer's infamous $7-a-pound fries to augment our pocket sandwiches. I also accidentally purchased caffeinated Vitamin Water for the kids. Stoke was high that afternoon.
Monday, January 2nd, 2023
Another 6:00 am breakfast. We thought Monday would be a mellow day and took our time, getting to the parking lot around 8:30. Schwitzer had mentioned on social media that they would be running normal operations, which meant the uppermost Lakefront lot would be free. We still managed to snag an open space in Lakefront thus avoiding the dreaded uphill hike. The rest of the family wanted to go back to the Stella lift again, but I insisted we try someplace new. The T Bar lift was closed due to it being a normal operation day, so we had to ski down "The Great Divide" to "Vagabond" and then loaded the Cedar Park Express lift. We skied runs off the Cedar Park Express lift most of the morning. Picture was taken somewhere around the "Have Fun" trail.
Lunch consisted of more pocket sandwiches and another round of $7 fries. We were surprised to find that Monday ended up the busiest day. Even though the parking lot was mostly empty early morning, the crowds picked up around 10:00 a.m. then disappeared by 1:00 pm. My guess is that sunnier weather brought day trippers from Spokane. In practical terms, the "crowd" meant 2–3-minute lift lines instead no lines at all. After lunch, I convinced my son to ski the frontside "Pend Oreille" trail with me (he was freshly fueled by Vitamin Water.)
The rest of the day was predicably spent skiing "Kathy's Yard Sale." The snow packed down by the end of the day, but if you were willing to be a bit bolder picking a line, powder could still be found.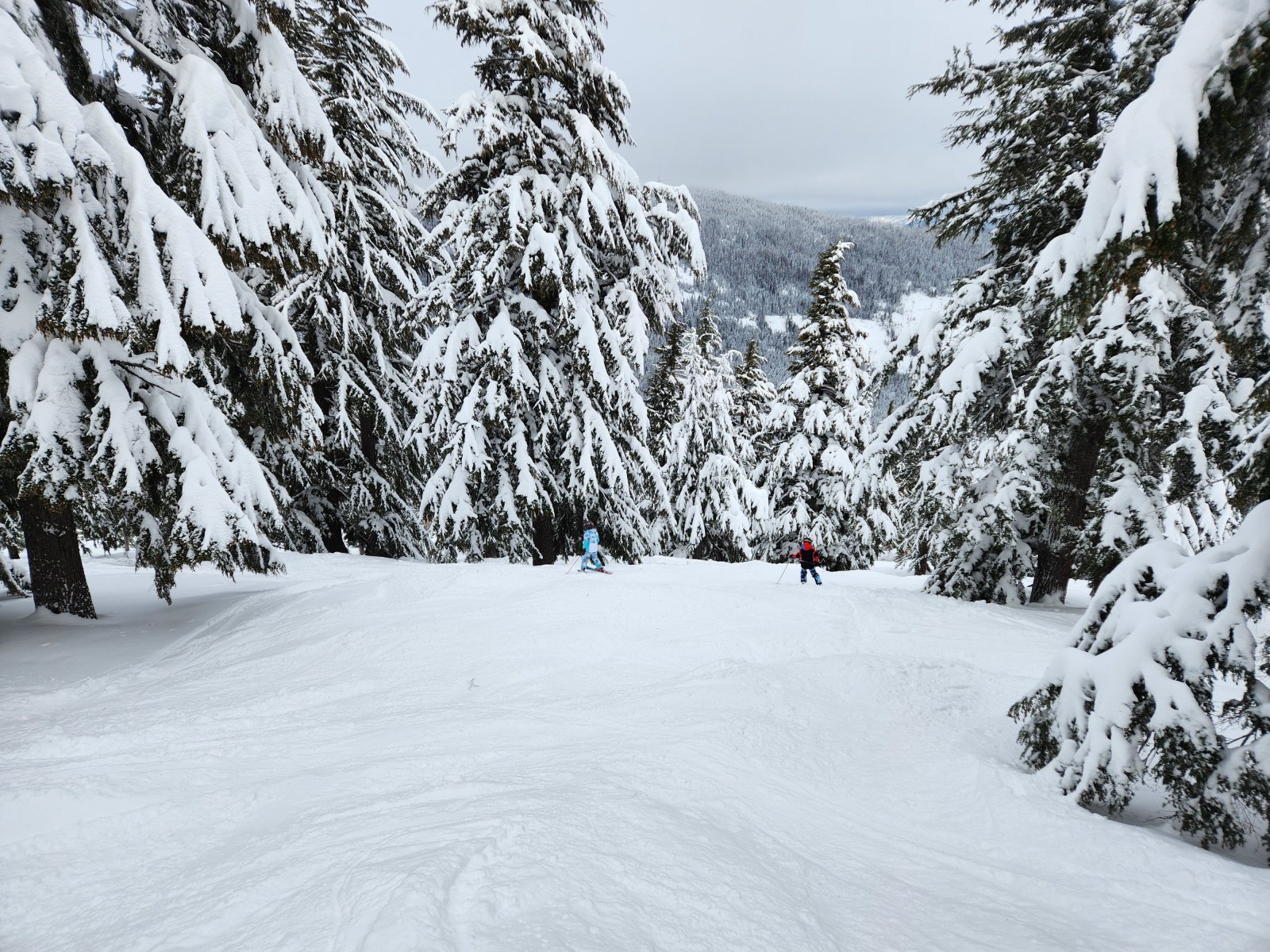 Tuesday January 2nd, 2023
We didn't get home unscathed. Our flight was diverted mid-air to Kansas City due to heavy snow in Minneapolis. Delta got us back the next morning. but there was plenty of confusion involved and communication was lacking. Fortunately, we didn't have to deal with a missed connection. Delays are annoying, but in the grand scheme of things, it could have been much worse (I'm thinking of the thousands of recently canceled Southwest flights.) The kids didn't mind missing school either, although my daughter was a little bummed about piano practice.
Final Words
Would we do it again? Yes. Schweitzer was chucked full of the type of runs our kids absolutely love. Trees and powder galore! Crowds weren't non-existent, but manageable. My only knock on the resort was the crazy, confusing parking lot situation. On busy days, I would make sure to arrive early or plan to use the shuttle lot. The resort's restaurants and cafeteria were busy, but it wasn't impossible to eventually find a table. We previously enjoyed skiing at Brundage, ID. Schwitzer felt the same, but on a grander scale.
Last edited: