Administrator
Staff member
As part of Ski Hall of Fame Induction Week, Seth Masia conducted an hour interview of Bode Miller at the Peak Skis shop in Bozeman, reviewing his career in the context of Miller's involvement with ski design at many companies, starting in high school.
Bode Miller won a scholarship to Carrabasset Valley Ski Academy at Sugarloaf for high school. He was attracted to K2 skis, which had been used by the Mahre brothers. Miller lobbied adamantly for the company to make skis in parabolic shapes that were similar to snowboards. "People said it wouldn't work," Miller says now. "They said that they'd tried it in the '80s and that it only worked on snowboards because you had two feet to flex the board."
To prove them wrong Miller strapped just one foot onto a snowboard, cast off down a hill, and still managed to make the board carve. K2's ski designers took notice and in 1995 launched the K2 Four with dimensions of a shaped ski. Miller rode them to three gold medals and one silver in the 1996 Junior National Championships.
The K2 Four was an instant consumer hit, so much so that it sold-out shortly after its mid-season release. I recall demoing them in February 1997 and buying a pair for my ex-wife, futilely hoping the ease of turn initiation would keep her skiing. They later became Adam's daily drivers in high school.
Soon K2 got out of racing and Miller moved to Fischer. Despite overall success in multiple disciplines in 2002 he switched to Rossignol, where he believed design was uniquely good for GS. The old VAS plates from the 80's and 90's worked better when embedded in the ski, giving him the idea later of the "keyhole" in his new Peak skis.
After the 2004 season Miller switched to Atomic, the dominant company in racing and won the overall World Cup plus became the second male ever to win WC races in all disciplines in the same season. Atomic was not too supportive in 2006, not wanting Miller and Rahlves to dominate the speed events in an Olympic year. Miller also had a broken ankle bone during much of 2006.
He then left for Head, whose CEO hosted him on a yacht in the Riviera. Miller wanted Head to challenge Atomic for the manufacturer title. This meant in particular upping their game for women racers.
Miller won another overall title in 2008. Also in 2008 he turned over many skis unmodified to Lindsey Vonn. Miller felt he was not quite as technically proficient as the Swiss/Austrians and so needed to take risks to win. He designed skis that had better chances of recovery from mistakes. This design was exactly what Vonn needed.
Miller won 3 Olympic medals in 2010 despite another ankle injury. His career ended in 2015 due to injuries and a new family. He got involved with a new company, Bomber Skis, and wanted to make a comeback in 2017, but was prevented by his contract with Head.
Miller believes the best boots, binding and shaped skis have had limited improvements since the 70's. Now is the time for breakthrough innovation. The best materials are in short supply.
Bode Miller has moved to the Big Sky/Bozeman area and has association with the Yellowstone Club. He has a new company, Peak Skis, and has designed 4 models in 88, 98 104 and 110 widths. Peak skis have 5000 to 6000 pairs in use, first sold 18 months ago for consumer not racer use. Skis are made in the Elan factory in Slovenia. Eventually Peak may make their skis, but so far their factory in Bozeman is prototype only. Average direct to consumer price is $890.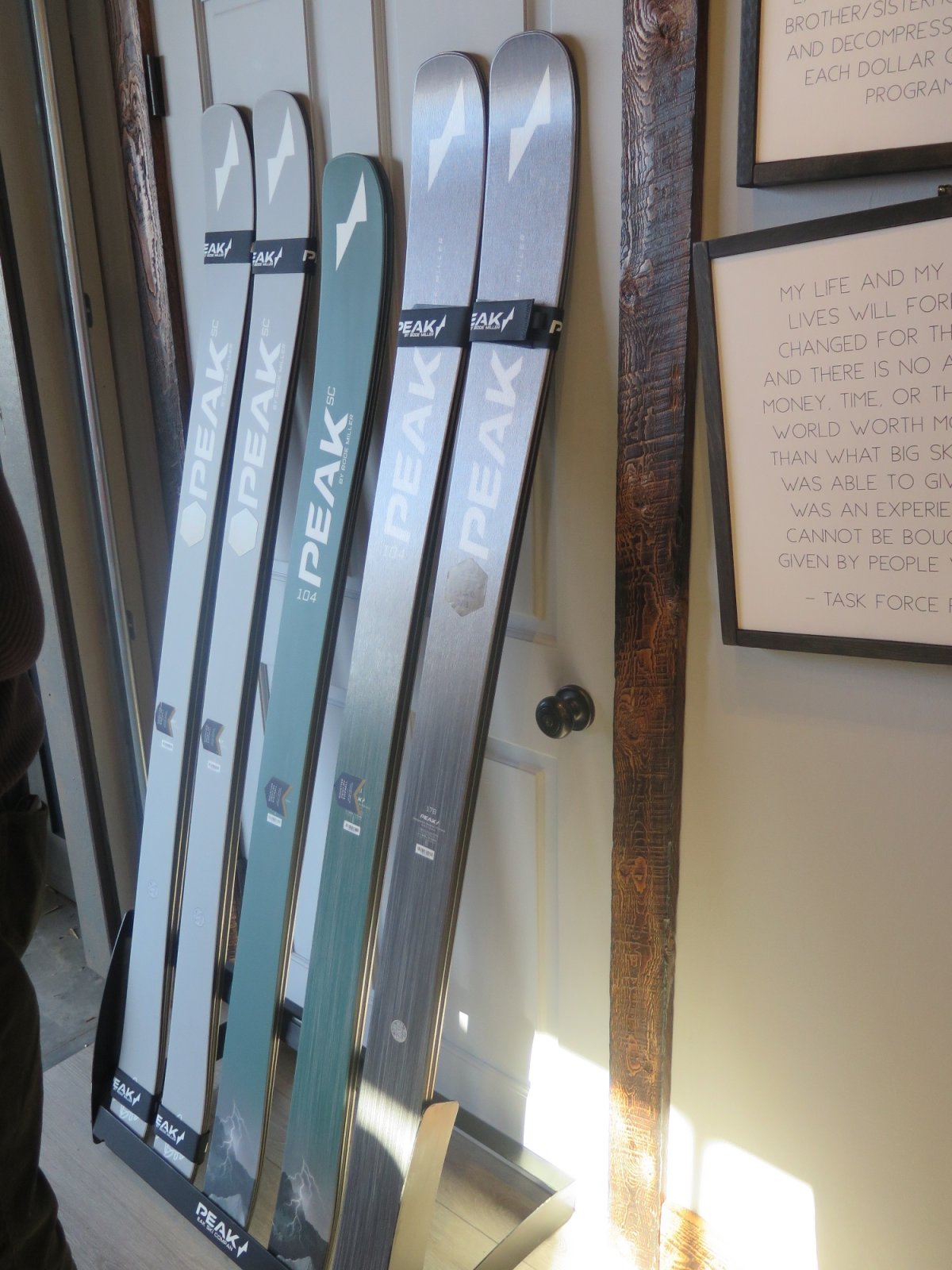 Peak skis incorporate the embedded shock plate "keyhole" not far in front of the binding. Miller recommends track bindings to allow the user to easily adjust for ski hill conditions. He said powder performance is better when binding is closest (forward!) to keyhole and vice versa for packed snow.
Overall Miller says these are the most versatile skis made. In response to the question, "Where can I demo?" he said customers can put down a deposit on the ski, use for 30 days and return with deposit refunded if they don't like it. Friday morning we chatted with Chris Davenport, who is also involved with Peak Skis. You can demo the skis out of their shops in Bozeman and Aspen. Davenport said only 2 pairs of skis sold under the 30 day deposit program have been returned.
Last edited: