I was always interested in Southern California ski resorts, mountain ranges, and Big Bear Lake - but could never justify a trip there. However, with a once-a-generation winter snowfall, it was now or never.
I will just provide a summary of my experiences and thoughts on the areas since locals really do not need full-fledged reports.
Mountain High
Both sides of Mountain High open (East and West) were open on Friday. I followed Tony's advice and started at East. Being in line at the lift opening I was able to get quite a few cruisers in before any crowds accumulated. The groomers compare favorably with most Western Mountains with a 1600 ft vertical drop. (Most lifts in the West are not much longer than this). Everything was groomed out (4 runs) and soft-packed powder. The exception was the Olympic Bowl which still had some leftovers from the recent storms since East is closed during the week. Also, there was plenty of semi-settled powder between the trees which was quite fun. I ventured into the canyon between the 2 areas but had to cut back to prevent getting caught in the creek drainage between the mountains. Tony's recommendation to use the Fire Road to get to West was easy to figure out so made the traverse over to West.
West is a different experience from a vacant East. While the map makes it look decent-sized, it's actually quite compact, maybe 900-1000 ft of vertical, and a lot busier. The Blue Ridge Express had some semi-steep/decent runs (Headwall, Vertigo). However, humanity was the biggest challenge with the snowboard park at the top and the beginner zone below. The West area of Trestles/Gunslinger/trees skied the best. I switched to the Conquest lift, but the usable vertical for the chutes off Inferno Ridge is relatively small. Fun though.
Felt bad for some of the West beginners because the acreage is nowhere as big as the map depicts and lots of skiers flying through. I decided against an attempt to ski from West to East - the patrol seemed a bit vigilant about ski area boundaries and was not quite sure about navigation/getting bogged down. So took the bus back to East.
The views into the desert were a departure from the norm, but beautiful in their own way. A bit like Heavenly Nevada or Mt. Rose. However, you could see the much larger San Gabriel Mountains behind the resort, and kept wondering - why are we down here? Also, does Mountain High sit in a bit of snow shadow since it is on the backside of the mountains?
I now understand why Tony does not go to Mountain High when only West is open. It's actually quite a small mountain. You need East to really make a day out of it. For roughly the same lift ticket cost, Big Bear is a much better proposition. Had to look up the footprints of the two areas. You can see how much larger East (left side) is versus West (right side):
Mt.Baldy
Decided to post an overview map of Mt. Baldy to better capture its multiple exposures. South orientation facing up.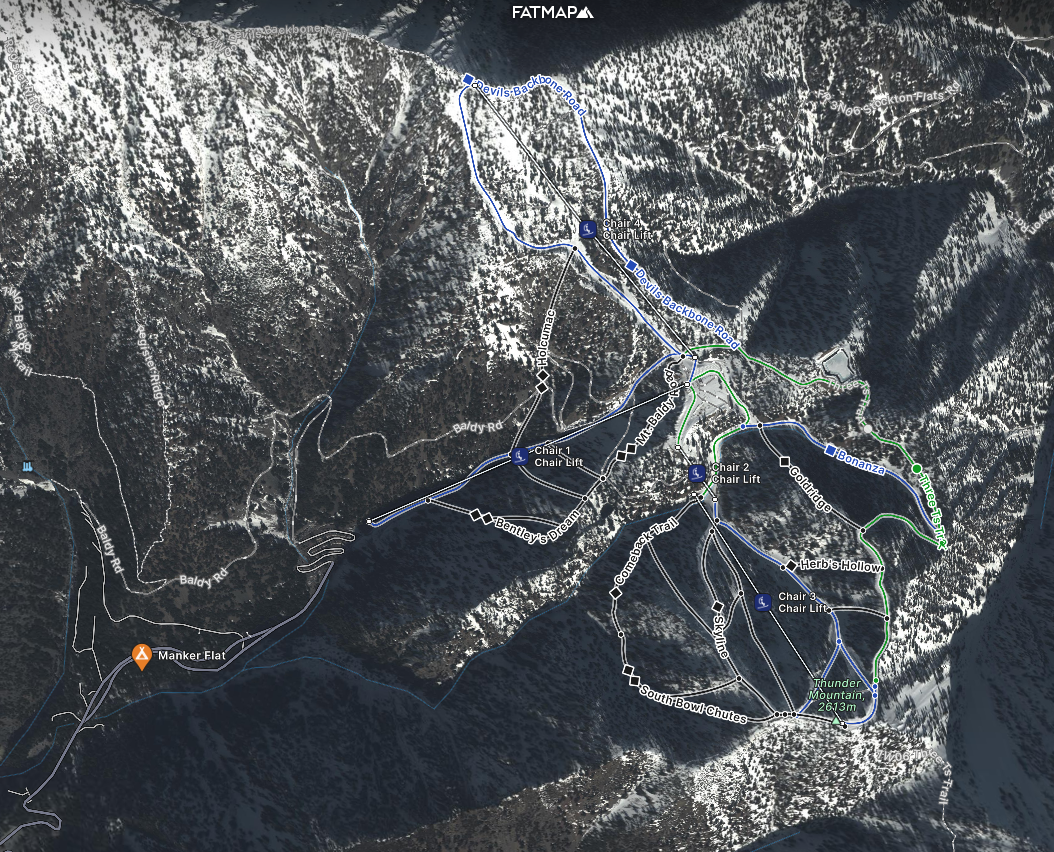 Wow! What a great, complex, and unique mountain! It compares favorably with some of the best quirky, great mountains out there. On the West Coast that might include Alpental or Mt Hood SkiBowl, and on the East Coast Mad River Glen. All these places can be "condition-challenged" at times. Sure Alpental and Mt Hood Ski Bowl have lots of damp snow, but for a few days/weeks, you get the sea-level snow storms that boost them to another level. And MRG is always hit or miss with maybe a 30-day below-freezing cold stretch. Likely similar to periods when Mt. Baldy is good?
Baldy operations are definitely a bit erratic, to say the least. But I guess that's the price you pay for having real mountain skiing near Los Angeles. The lifts are definitely old, and I think I almost got a splinter in my ass on the Thunder Chair.
I took Tony's advice to get there about an hour before opening. That worked pretty well for ticket lines/lift waits. The drive up there is surprisingly true winter mountain driving. They fired up lift 1 on time at 9 am with lift 4 at 930 am and lift 3/Thunder a little later. I was able to ski most of the named runs. Some are a bit challenging to find: Holumac, Bill's, Goldridge, Bentley's, Morgan's, parts of the Sun Bowl, etc. However, I kinda liked that.
Baldy a complex mountain with a variety of orientations. The views and setting are phenomenal - desert on one side, the ocean on the other, and the imposing Mt. Baldy looming over it. And Thunder is one of the better 1000 ft vertical lifts for terrain diversity.
Anyways, I was impressed and feel lucky to have caught it once during an epic storm cycle. There were crowds, but not too crazy (5-10 min waits). My vertical stats were under 20k.
Do the Chair 1 runs usually open every year - at least for a few weeks?
Snow Valley
I wanted to avoid the weekend at Snow Summit/Bear Mountain, so decided to ski Snow Valley on Sunday for part of the day and explore Big Bear Lake. The road up to Snow Valley/Big Bear (Rt 18) is definitely hairy with great views of the LA Basin. I noticed the high point on Rt 18 was 7200 ft - higher than the infamous Donner Pass at 7050 ft. Doubt many NorCal residents would believe that SoCal has a higher pass in order to access skiing.
With a
2022/23 season total of 277 inches
, everything was filled at Snow Valley. Slide Peak is perhaps the most interesting 400 vertical ft when everything is open and well-covered. You could still find a compacted cream cheese/powder/corn surface in many areas. Also, transport lift #9 lets you find 'untracked' from its midway highpoint. The rest of the mountain was not bad/pretty good: the top of Chair #2 provided access to unskied areas (Race Peak, Surprise), The Ladder trail sported bumps, and the Lake Run area was unskied in areas.
There were great views of the San Gabriels from the top of Slide Peak - especially off the Nord Valley Run - and 7000 ft down into the San Bernadino Valley. Notably, there appears to be a massive cliff on the Eastern boundary of the resort - did not know how vertical it was.
Thoughts: Now that the Big Bear Resorts bought Snow Valley, Ikon is really THE dominant ski pass in California. Does Ikon control > 50% of skier days in CA now? If I were Vail, Mountain High would be a natural target/partner just to keep pace.
Big Bear Lake. Did not realize this reservoir/lake came into existence with a dam back in 1884. Older than I thought. Also, the town of Big Bear Lake was much larger than I expected. Perhaps larger than any town on Lake Tahoe? Anyways there was a decent downtown strip of restaurants and brew pubs. However, it seemed like you should be very careful with accommodation choice since it's a 1970s housing stock where some properties have been updated/some not.
Big Bear Resort - Snow Summit
I parked at the Snow Summit base and was in line before the lift opened. (Note: Purchase lift tickets online the night before for a $20-30 savings). Did the basic top-to-bottom runs before they got overwhelmed: Miracle Mile and Summit Run. Then some of the Lift 6 runs - Dicky's, Wall, and Olympic - followed by the other west side lifts/runs (Lifts 7, 10 & 5). Perhaps some of the better cruising was off Lift 10. The runs off Lift 5 had a good pitch - especially Side Chute that they allowed to bump up.
Next was the East side of the mountain: Chair 3 had some decent skiing, Chair 9 was a snooze with mostly low intermediate terrain with some hits and West Ridge was a giant terrain park that did not ski very well due to all the traffic.
Overall, Snow Summit had some nice views of Big Bear Lake and skied more like your typical larger day area. Glad I was not here on the weekend - plenty busy on a Monday. There were some areas of steepness (The Well, Slide Chute) and some woods/lift lines under the East Mountain Express. Interesting how Snow Summit really utilizes its older lifts on either side of the 2 main High-speed Quads.
The shuttle to Bear Mountain for the afternoon followed - easy to find and a short 7-10 minute ride.
Big Bear Resort - Bear Mountain
Although there were some closed/boundary signs in places for the Canyons between the lifts/mountains, I decided to follow the advice of an old 1990s map - natural snow skiing, open when conditions permit.
I really liked Bear Mountain and almost had as good of a time as Mt. Baldy - primarily because I was able to ski the canyons. The
2022-23 season snowfall of 243 inches
enabled this possibility. After a Geronimo run warm-up and scouting mission, I decided to venture into Bow Canyon. Entered from the summit as the trail goes under the lift. Did not really want to go off the very top since the Ski Parol hut was right there. There were just a few tracks into Bow, and it was relatively easy to link a bunch of open untouched meadows together that had a low expert pitch. Probably got about a little less than 1000 vertical ft (800-900?) before getting into the drainage. Was worried the drainage might be a nightmare, but it was not at all. A little tight in places, but no crazy obstacles. Skied straight forward - and spit me out at Learning Curve/Easy Street junction. Did a repeat.
Next, it was to go to the other side of the mountain for some runs off the Bear Mountain Express. Trails that went over to Chair 3 skied well, but those closest to the lifts were essentially all-terrain parks and were best avoided. I went into Goldmine Canyon once to get to Chair 4/ Silver Mountain - decently steep in places and relatively unskied, but more so than Bow Canyon. I guess skiers in SoCal are not used to the canyons being skiable, and the resort policy is a little vague about whether they are open or not. The runs off Chair 4 were decent with The Wedge allowed to sport decent-sized bumps. Also, I could scout out Deer Canyon from the lift and I could see big open spaces coming off the near summit of Bear Peak. However, there looked to be a rocky area to be avoided with good skiing on the skiers' right.
Therefore, it was back to Bear Peak for a run in Deer Canyon. Again, big open meadows at a low expert pitch for nearly 1000 vertical feet. However, Deer Canyon is a much larger bowl and the snow was more wind-compacted since it's exposed to prevailing westerlies during storms. Still very fun. The runout in the drainage was much longer, but wider and easier compared to Bow Canyon and comes out at the snowmaking/grooming facility about 2/3 the way down the Access Express lift.
Conclusion
Overall, I was glad to make the trip this year. I was impressed by Mt. Baldy and Big Bear/Bear Mountain, and especially the snow banks by Big Bear Lake. The locals said they had plenty of food during the road closures in March - stores were previously stocked. Also, did not realize how close these mountains are to San Diego as well - lots of San Diegans on the lifts. Interestingly, LA, San Diego, and Pheonix have 1000-2000 ft vertical mountains within 2.5-hour drive while San Francisco has nothing. Even Las Vegas has a nice little day mountain at Lee Canyon.
I think this completes my California ski area quest. Likely will never make it to China Peak, but Mt. Shasta Ski Pak keeps growing and looks interesting.
Last edited: