I thought I had a ride with friends who were going to Truckee for a night at Best Western, and I could work out logistics to get to/from skiing while staying at friend's house a couple of mi N of town and picking up two ski pants being cleaned and repaired in town. I confirmed they were leaving San Jose at 5:30, but when my alarm went off at 4:15, I saw late text reminding me they were not going until the next day. Since I was already packed and up and didn't want to spend the day watching impeachment with my wife who stayed home sick for two days with a cold and fever, I got out of the house a little before 6. I had some slowdowns from traffic between Davis and Sacramento in fog, arrived Squaw about 9:30 and walked about 50 steps from where I parked to get on snow next to Far East 6-pack. Since lower Dogleg was closed for race training, I skied Cushman's, which was mostly dust on bumps, to KT where I skied Saddle to Headwall. While snow surface had improved in the 15 days since I was last at Squaw, my DPS skis, which I was using for first time after DPS treatment, and skiing were a little balky. Cranking down the boots and skiing a couple inches new on steep Headwall Face improved everything. I rode and skied Headwall 4x; twice going left of then cutting under the Gazex on the Face, once skiing Cornice Bowl which was not as good as it looked from the chair, then leaving to Big Blue by skiing very steep right of Gazex on Face, then cutting across to the left side of Hogsback.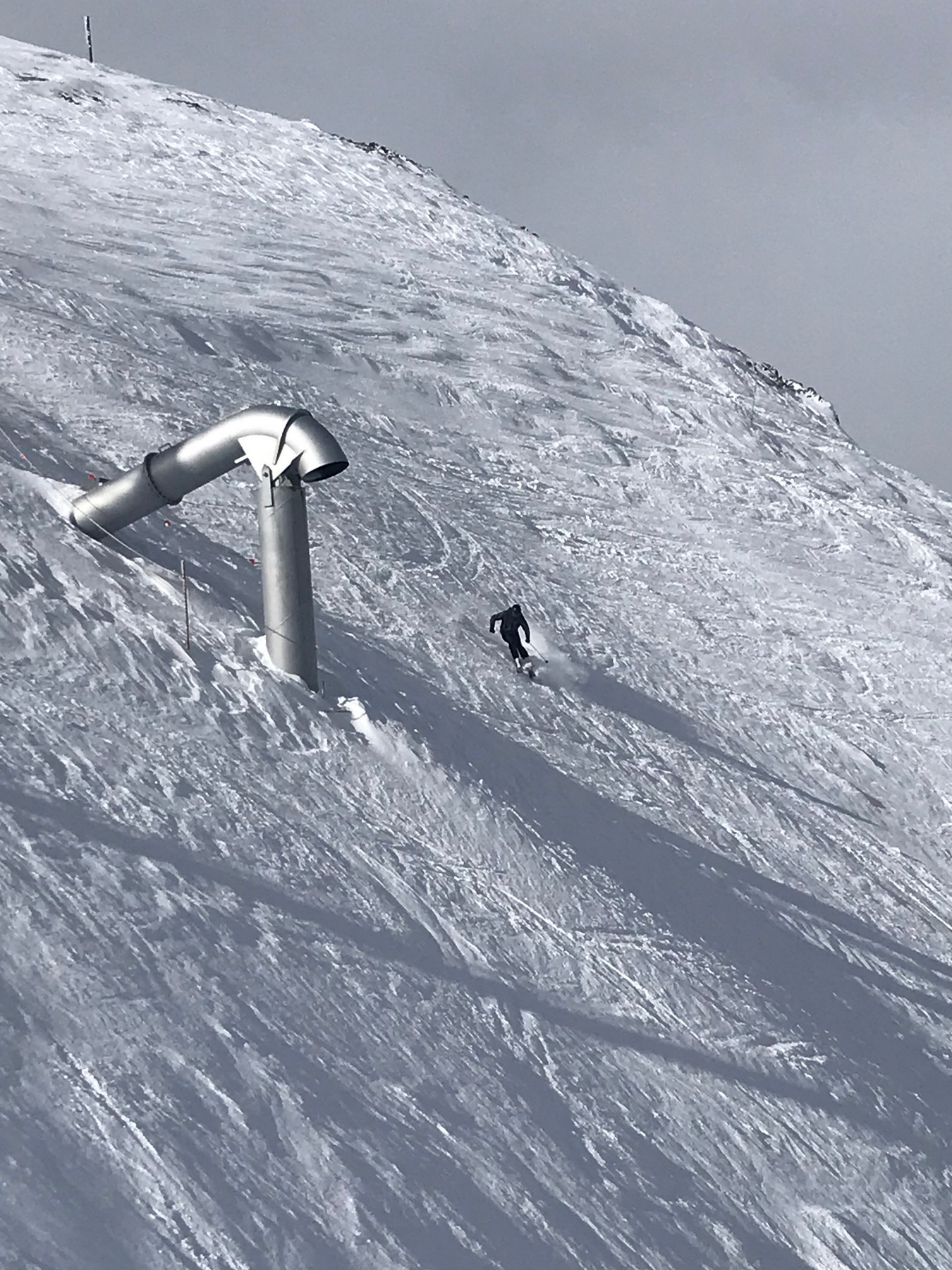 I used Big Blue to get to Solitude which I skied and rode twice. Groomers with some new snow skied well. The untracked and tracked out new snow was mostly difficult. (I layer learned Squaw reported 6" new - 3 overnight, and Alpine 6" new - 5 overnight). I also skied both Shirley 1 (aka Tomlinson's, skier right of chair) and Shirley Bowl (skiers left of chair). Both had good packed powder snow, but not much challenge. I skied to the base of Squaw via tower 16 where sun had already baked some of the new S-facing. After separating my skis, I went into Wildflour bakery and had a $5 pizza bagel and a $2.50 chocolate chip cookie (both still warm from the oven). After my break I did a lap on KT, where I skied partially refrozen mank on an alternate East Face to get to Olympic Lady which I had to ride (twice) since it was running.
Both my Olympic Lady run were more W-facing snow off steep ridge past Tamara's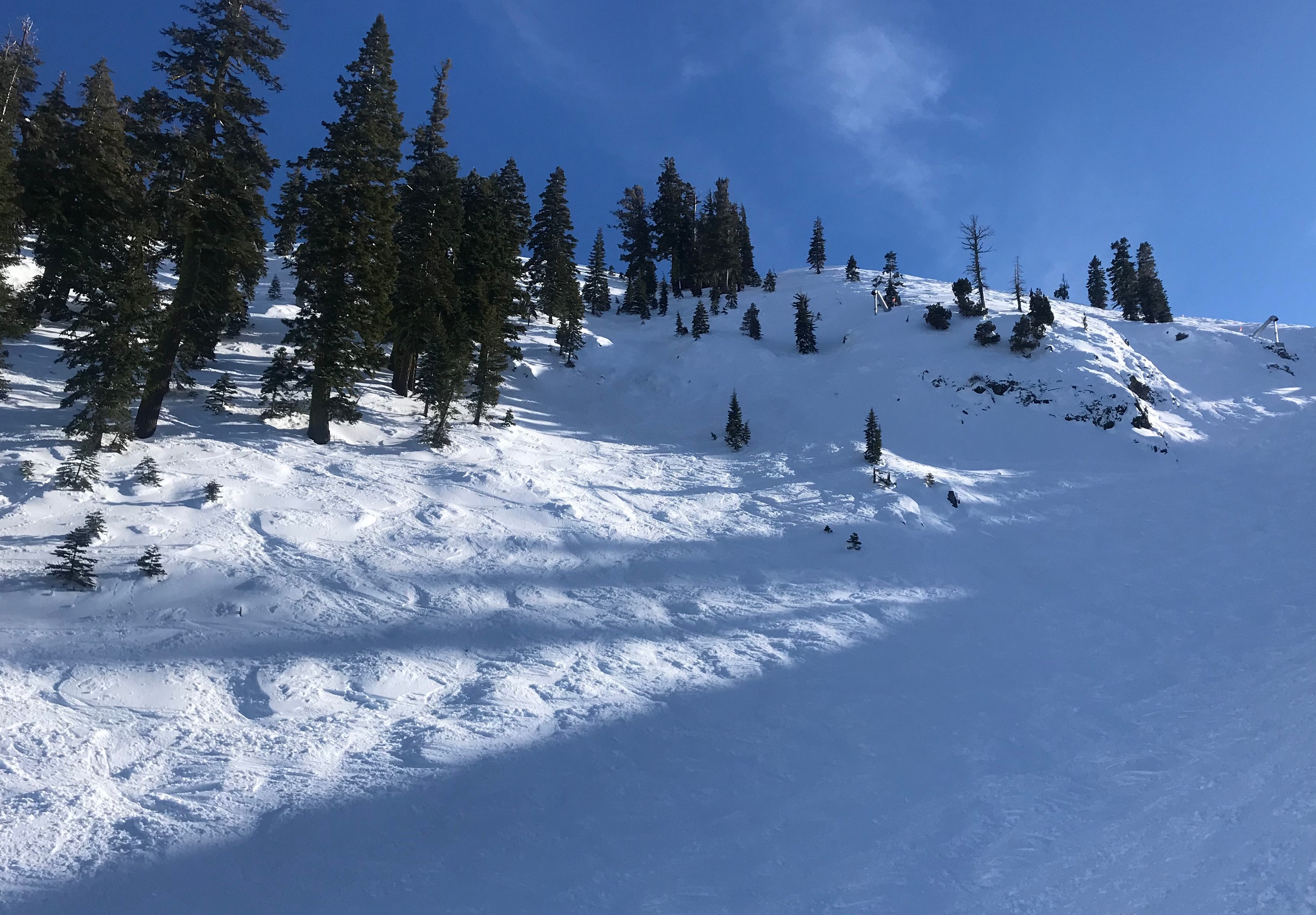 and had good snow as was a last run down West Face/Mosely's of KT. I went to the car and dropped a layer as I was getting too warm and grabbed a beer for long slow Squaw Creek lift.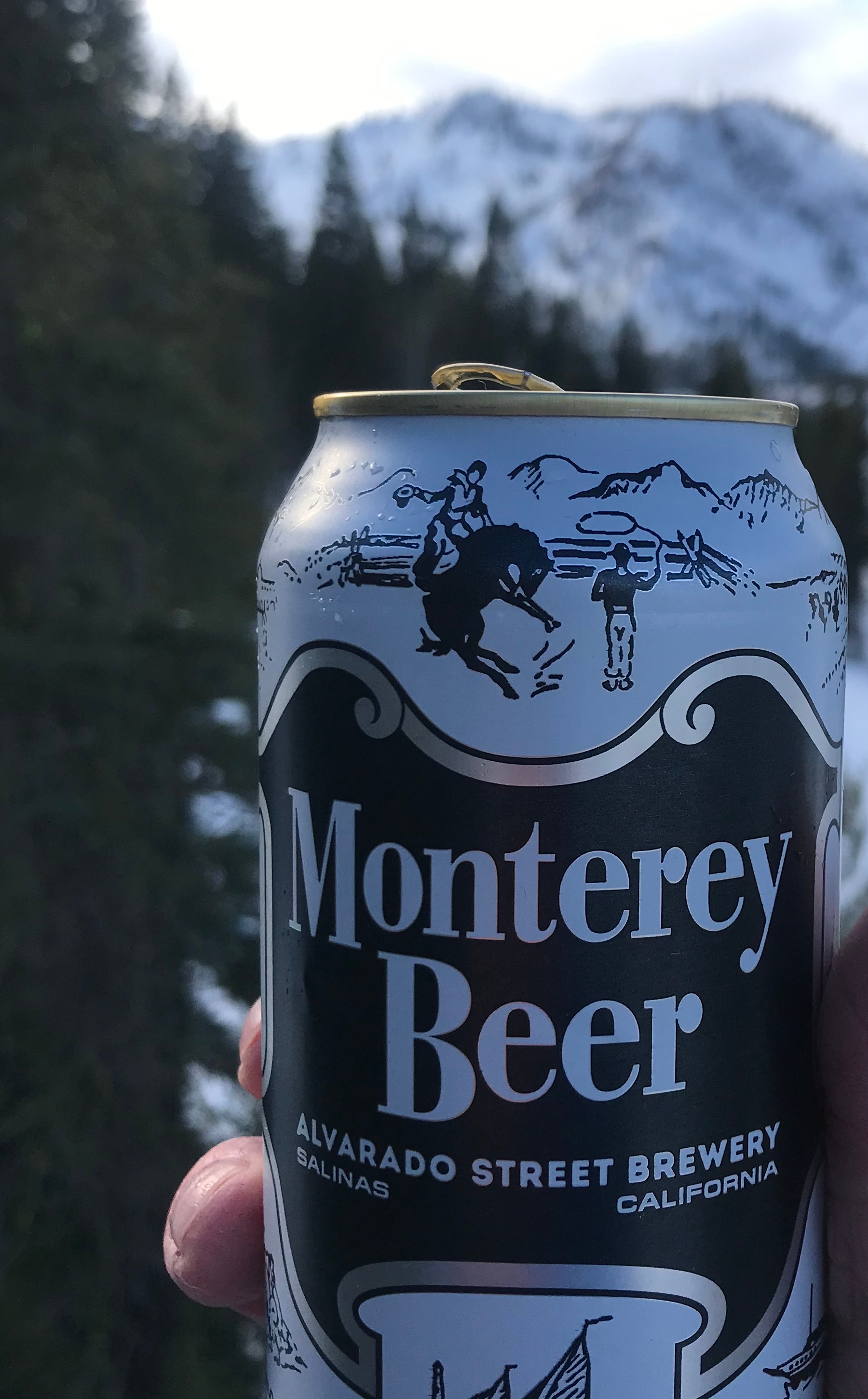 I skied top of Village View and did short hike (<100' climb) to get to top of knoll (Sully's Knob) to ski nearly untouched groomed face of Upper Knob Hill that also had view of a little of the Lake and a lot of Alpine Meadows.On return from Squaw Creek, I found some untracked powder? in trees next to Heidi's.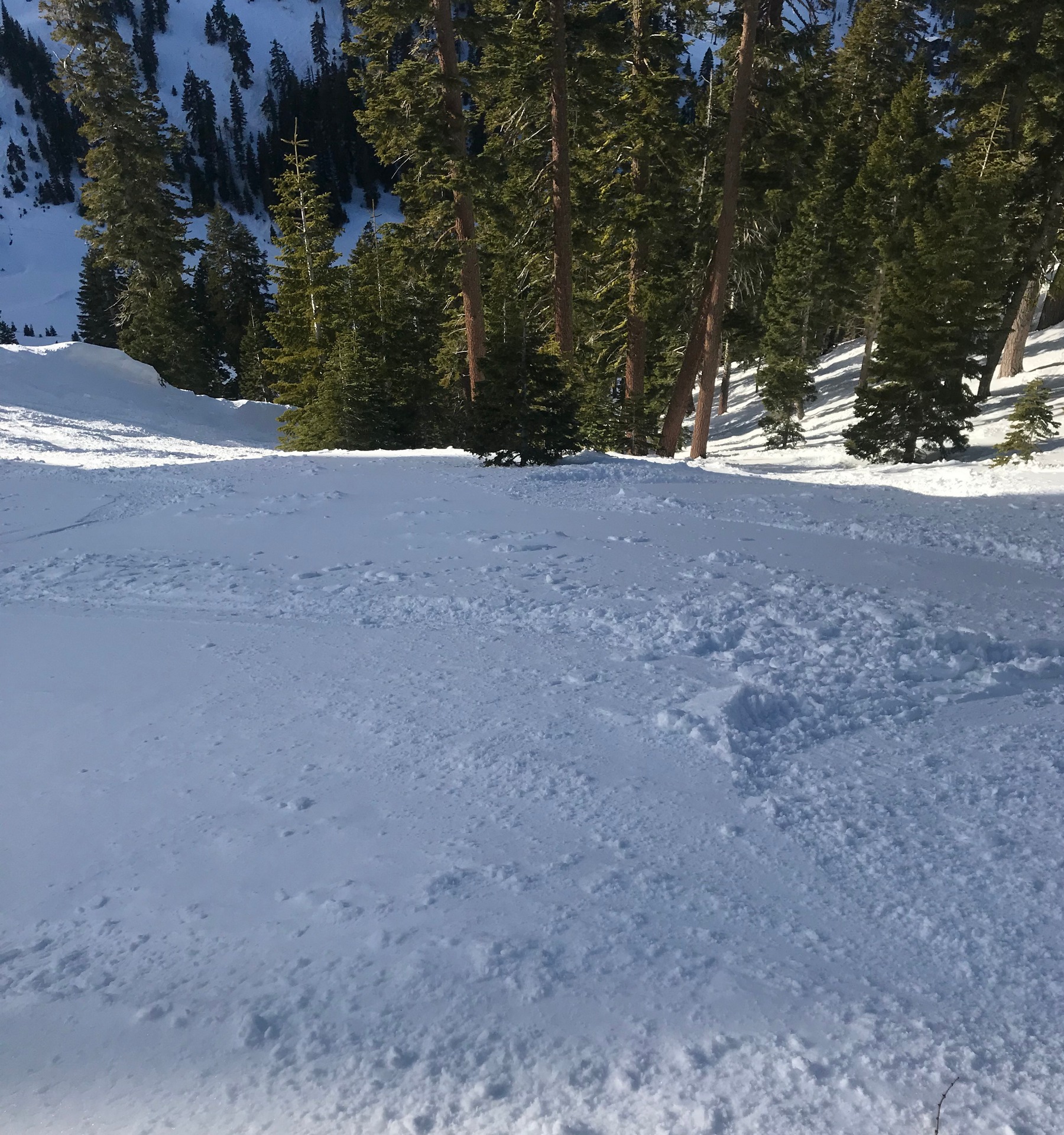 Second time I carried enough speed and only did a couple of herringbones. Only track is probably my first lap.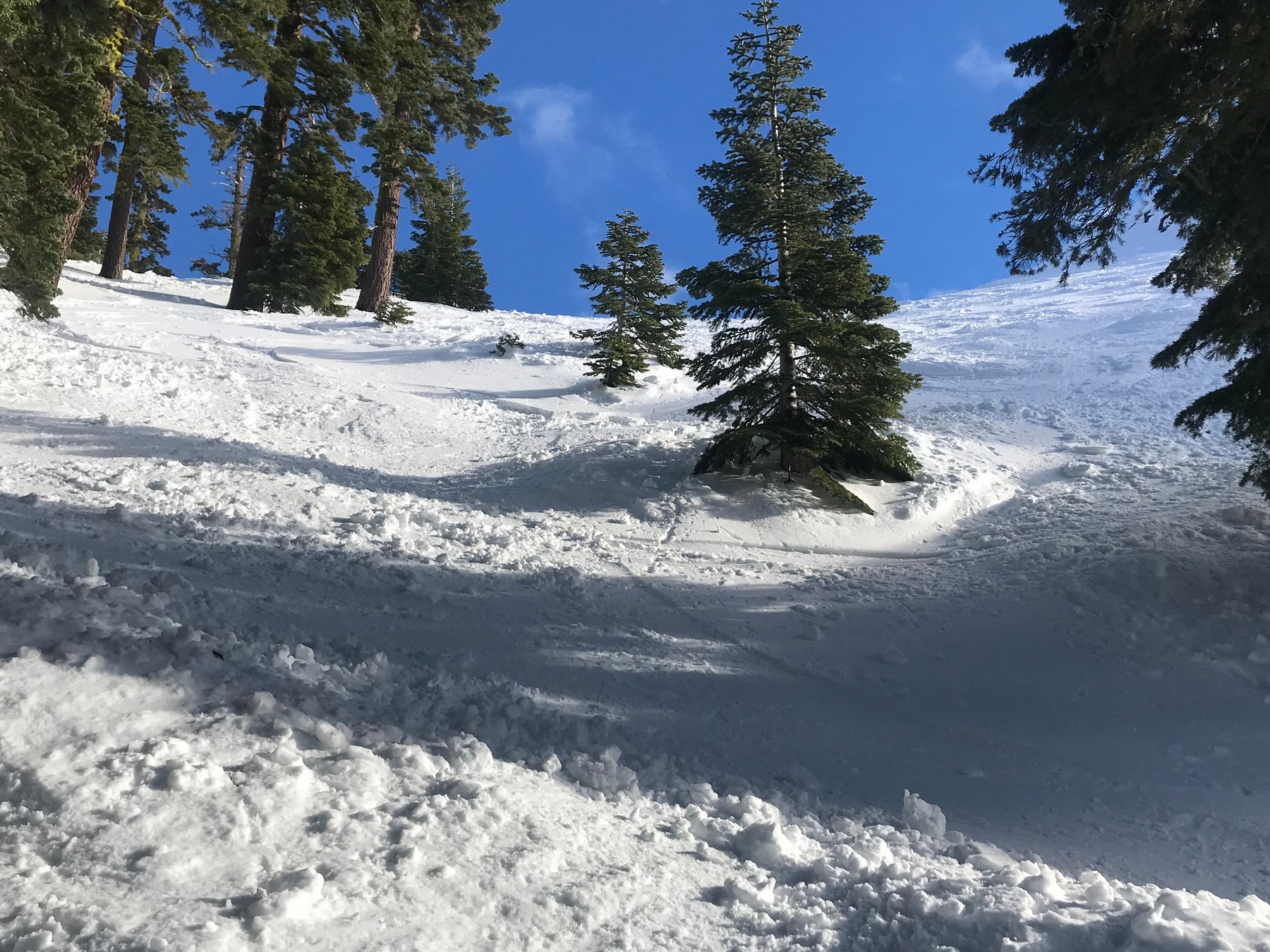 First time when returning from Squaw Creek, I had to side-step to get up hill on way past old Red Dog lift top terminal.
I quit about 3:45 with almost 26K.