Administrator
Staff member
This was the first predominantly sunny day of my two week road trip. That was very fortunate in view of the mist I observed yesterday at Alpine Meadows. To no surprise that mist affected all of Squaw Valley except Granite Chief.
I boarded KT22 at 9:02AM and skied a very hard packed Saddle to the Headwall lift, view riding that.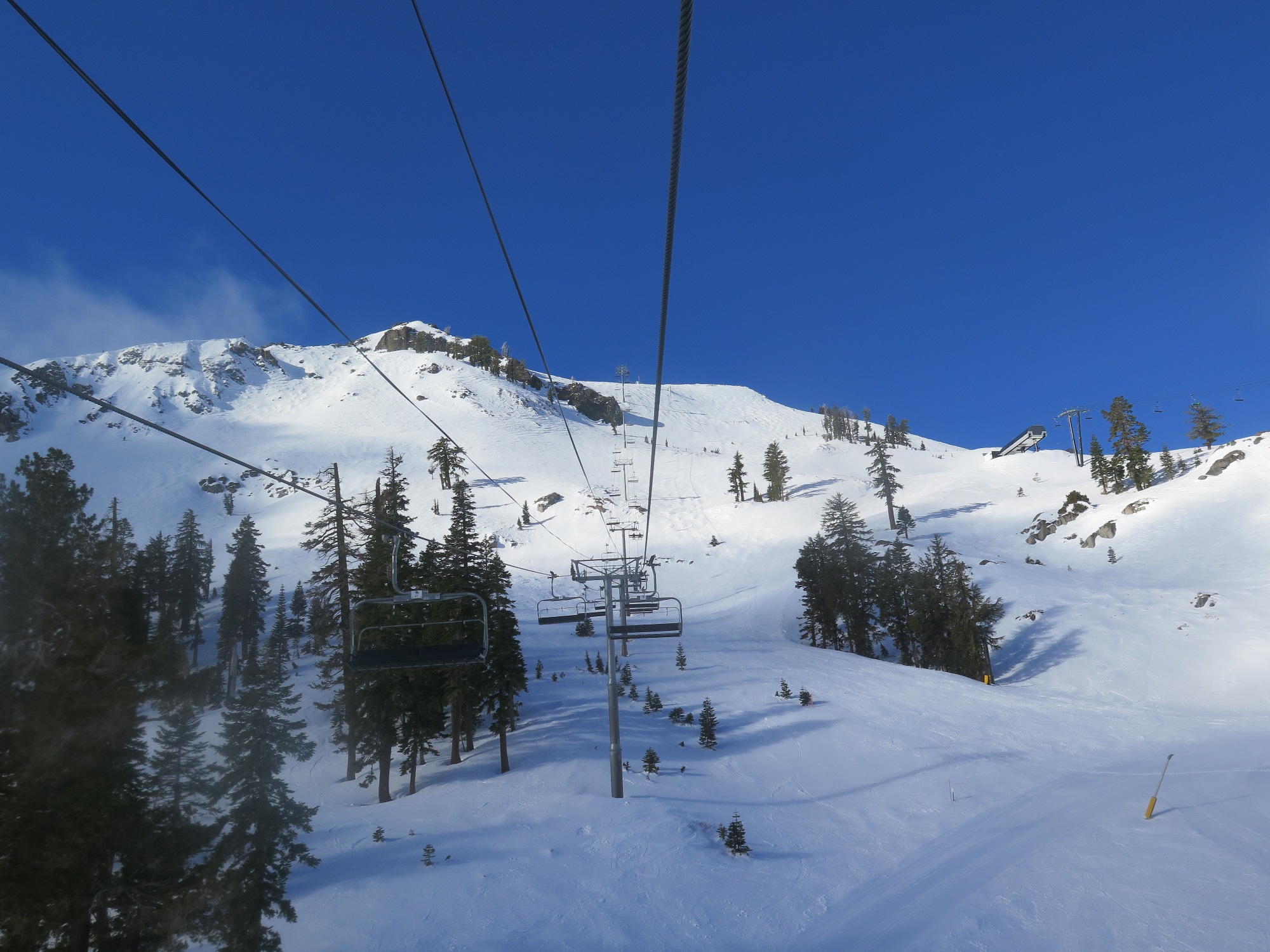 I took a pass on the enclosed Funitel which I would normally use early in the day. I skied off the back of Headwall into north facing and shaded Chicken Bowl, which had enough of a crunch to demonstrate how high the mist had reached.
However the mist crust was thin and was completely eliminated by grooming on Siberia.
So it was an easy call to stay on groomers for awhile, both here and on Shirley Lake. I next tried SE facing Emigrant, which was plenty soft by 10:30.
It's not only in southern California that I see overmatched heel sliding snowboarders.
Next time up I skied Funnel down to Shirley Lake.
After 11AM I moved to Granite Chief. Riding the lift I heard little noise from the skiers on High Voltage, so I skied that first, draining into some bumps near the liftline.
The snow was softening to spring conditions but in shaded areas it was not that hard. On a later run I skied Hidden Bowl, which had chalky packed powder. I also skied the groomed Main Backside twice.
I took a break at Gold Coast about 12:30, finally a day when it was pleasant to rest outside.
I'm wondering about that "pandemic variant" flagpole at left, Brazil on top and South Africa on the bottom.
I knew from my first run that most of KT22 would be treacherous.
Riding KT I could hear the turns the two circled snowboarders under Olympic Lady were making!
Overview of the upper mountain from the top of KT22:
My plan was to ski GS Bowl, which had been in sun all morning.
It was all spring conditions, as heavy as a Memorial Day at Mammoth but sufficiently skier packed to be manageable.
I went back up there again and skied a much more pleasant Saddle to Headwall again. I first skied Sun Bowl, also in fairly heavy spring conditions.
From there I found some better spring snow returning to Headwall, probably via Bullet.
Next was the Headwall Face, which now has a Gasex installation.
That snow was mostly smooth, though with some effect from yesterday's mist.
At the top of the Headwall lift I observed people in the Palisades.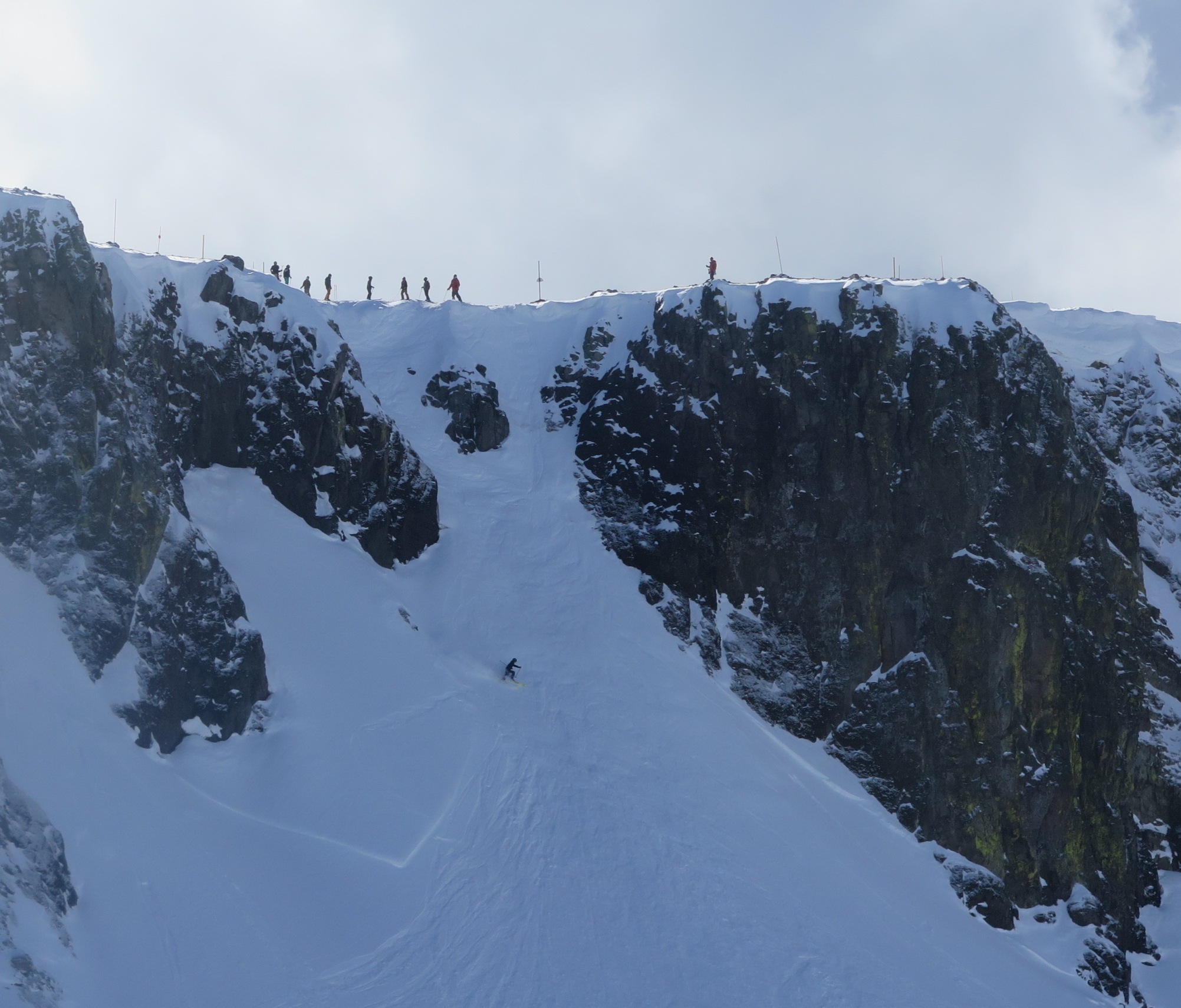 This may be the first time I've seen that aside from the June day in 2017 when I hiked up there myself.
After skiing North Bowl I cruised to the bottom and finished with runs to Squaw Creek and back. Lake Tahoe is visible on the trail to Squaw Creek.
On the return Red Dog run, most of upper Squaw is shaded at 3:10PM.
I finished with 27,100 vertical. I should mention that Silverado was closed, though I suspect it would not have been good in today's conditions.
I have never skied as day this warm in goggles before, but it's necessary with a mask until about 50F and today was upper 30's. My hat was off before 10AM, and after any strenuous run I needed to remove goggles in the liftline and wipe my forehead to prevent potential fogging.
As usual Squaw's terrain quality lived up to the hype. Even if half the mountain has bad conditions, there is still so much great skiing available that you don't feel shortchanged in the slightest.