Administrator
Staff member
Friday was also overcast and cool until ~2PM, but no fog or snow like Thursday. New snow from that was a paltry 1 inch. I took the Anton demos for the morning session, curious to try them in NASJA's annual race. But technique as well as fancy gear is needed for racing, and I've never had that or put in much time trying to get it. So a typical for me 42 NASTAR handicap run (I can hear Patrick's
). The morning was more fun on the Anton's with the fresher corduroy and good visibility, and I put another 18,000 on them before turning them in at noon.
At 1:30PM we were offered a tour of one of Sun Valley's snowmaking plants, about 100 yards into the woods off the bottom of the Roundhouse Slope. Dennis Harper was our host.
Sun Valley's major investment in highly computerized snowmaking was around 1990. This was prescient when the northern Rockies suffered a severe drought season in 1991-92. Here Dennis answers questions from local photographer Karl Weatherly (brown jacket).
Larry Schick is at far right.
As can be seen in some of my resort pics, Sun Valley's snowmaking is now nearly all from fixed towers high off the ground, allowing more "hang time" for better quality snow when it hits the ground. Closer view of one of the pumps here: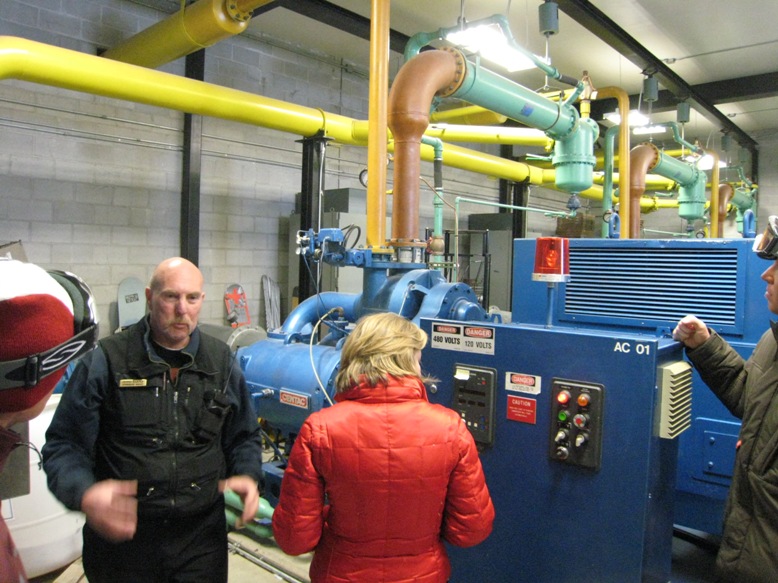 The nozzles need occasional maintenance if they get pitted inside:
It's all controlled from this computer schematic:
Each gun can be programmed to turn on or off based upon a nearby temperature sensor.
Of course we got into a discussion of "snowmaking capacity" and how that might be defined. Sun Valley has 540 snowmaking guns, and up to 85 of them can be running at one time. It's hard to compare to places like Hunter and Big Bear, where nearly everything can run at once but on a much smaller mountain. Comparisons in terms of gallons of water or amount of compressed air or snow are slippery because water content can be calibrated over a wide range. In early season Sun Valley uses as much as 4 million gallons a day. However an interesting stat that Dennis quoted was that the Sun Valley ski area uses about the same amount of snowmaking/irrigation water per year as a 250 acre sugar beet farm.
Over the course of a ski season the average water content of manmade snow at Sun Valley is 18%, but it varies radically. Looking at daily records Dennis showed us a "base building" day of December 6 where the the snow was 56% water! But in February the snowmaking is used exclusively to top off an optimal skiing surface. The water content then is in the 8-10% range, same as the natural snow average for Intermountain ski areas. Snowmaking ceases at the end of February.
Sun Valley has easily produced the most pleasant surface I have ever seen from predominantly man-made snow. On the main runs there was very little of the firm subsurface admin and I noticed at Deer Valley a year ago. There were a few secondary runs that were much firmer, probably because they have lesser base depths and can't be groomed as intensively. This is not to say that the expertise is any better than Hunter/Big Bear etc. Sun Valley has considerable natural advantages in terms of low humidity, absence of rain and very favorable altitude/exposure on about half the mountain. Skier density is also low, probably making the overnight grooming job easier.