For what ended up being my seventh and final day of this visit, I drove less than 20 minutes from my B&B in the village of Guillestre -- a very convenient and charming headquarters for this region -- to the large interconnected circuit called the "Forêt Blanche" (White Forest) consisting of Vars (pronounced VAHRSS) and Risoul (pronounced Ree ZOOL). It's the second southernmost French megaresort following the
Espace Lumière
with easily five days' worth of exploring between the two sides.
I started out at the Vars Sainte Marie parking lot at the bottom with only a short walk from my car.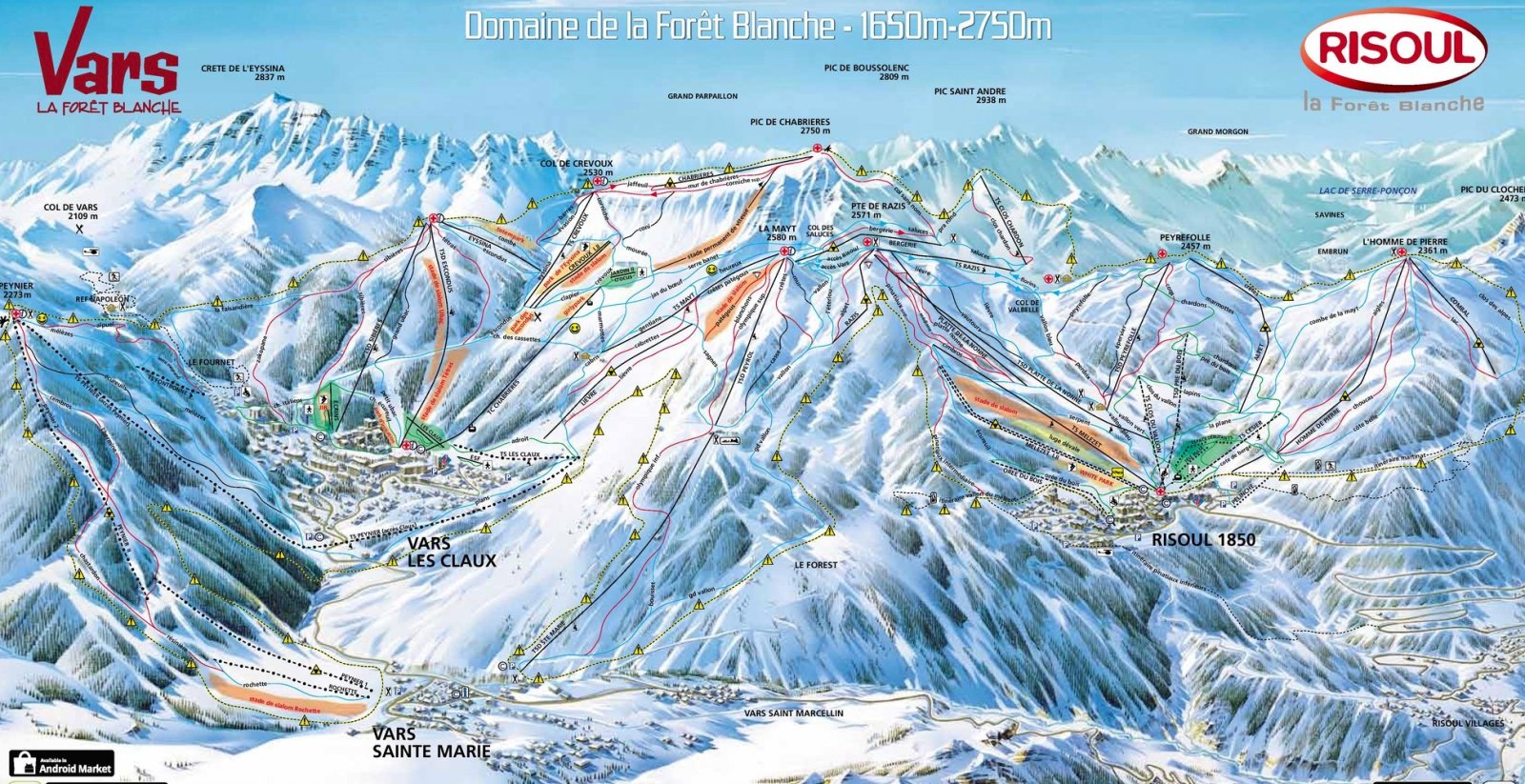 From there, you take two high-speed chairs to one of the sub peaks. Here's a wide angle view of the main bowl with about two-thirds of the Vars terrain in view. From the top down to Vars les Claux village out of frame to the left is a solid 3,000 verts.
Further down. The patroller sitting next to me on a chair said that most of the terrain along that ridgeline is accessible via lifts along with bit of bootpacking for the top peaks:
Reverse shot:
Wider view:
Lots for piste-bashers (British for "groomer lovers who like to rack up miles/kilometers"):
Now we're getting to the big disclaimer for this season -- due to a disagreement between the two resorts about revenue sharing, the liaison between the two resorts (in place since 1976) is closed. Of course, you can go around the "closed" signs; however, your ticket from the other side won't be valid and you'll have to pay another 47 euros to ride the lifts.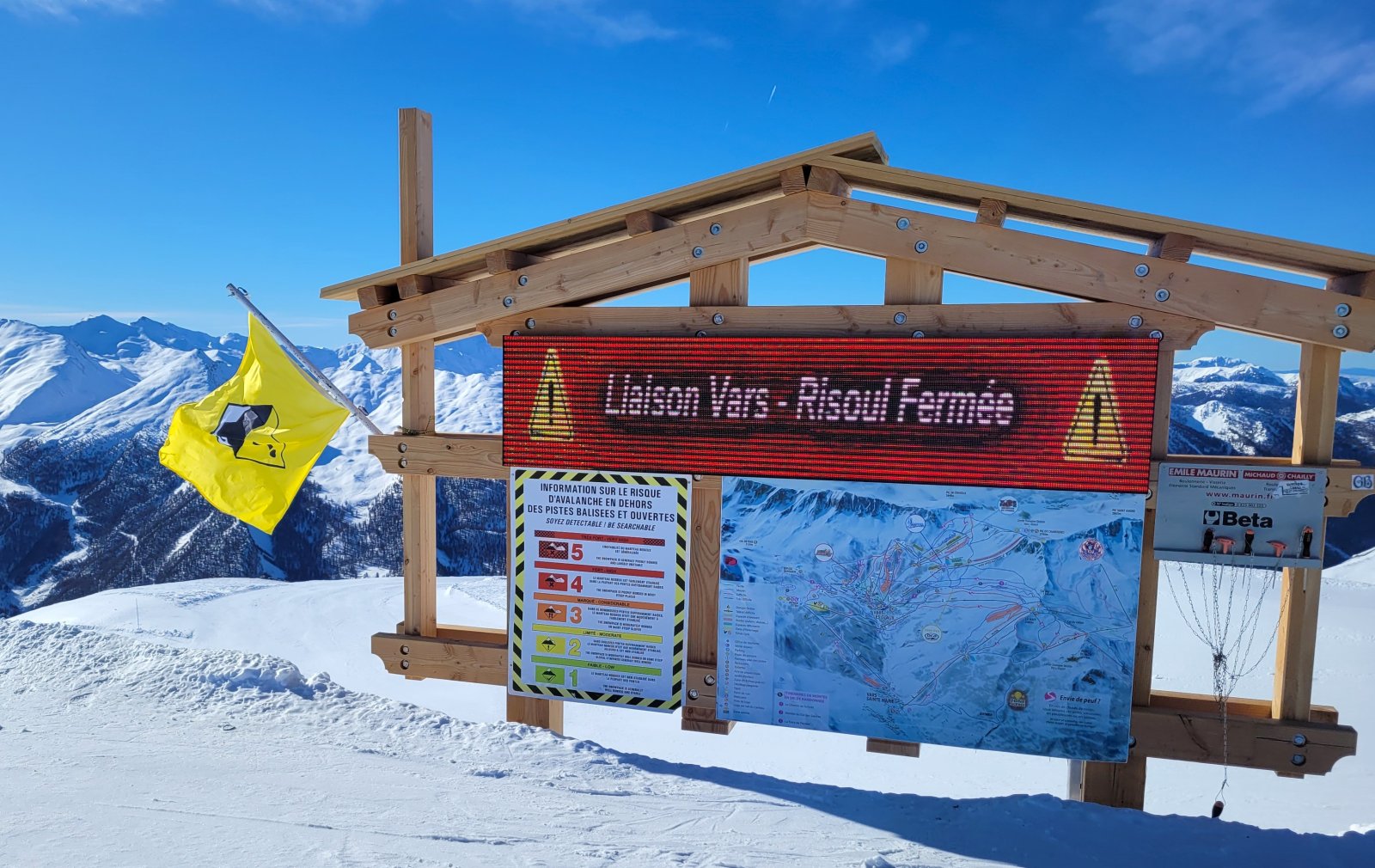 Any signs indicating crossover points to the other resort have been removed! It felt like a ski version of the East Berlin/West Berlin situation from the cold war -- like being teleported back to the divided German capital when I lived there in 1986/87. It's especially fascinating given that France has always led the way in creating huge interconnected circuits, even more than the other Alps countries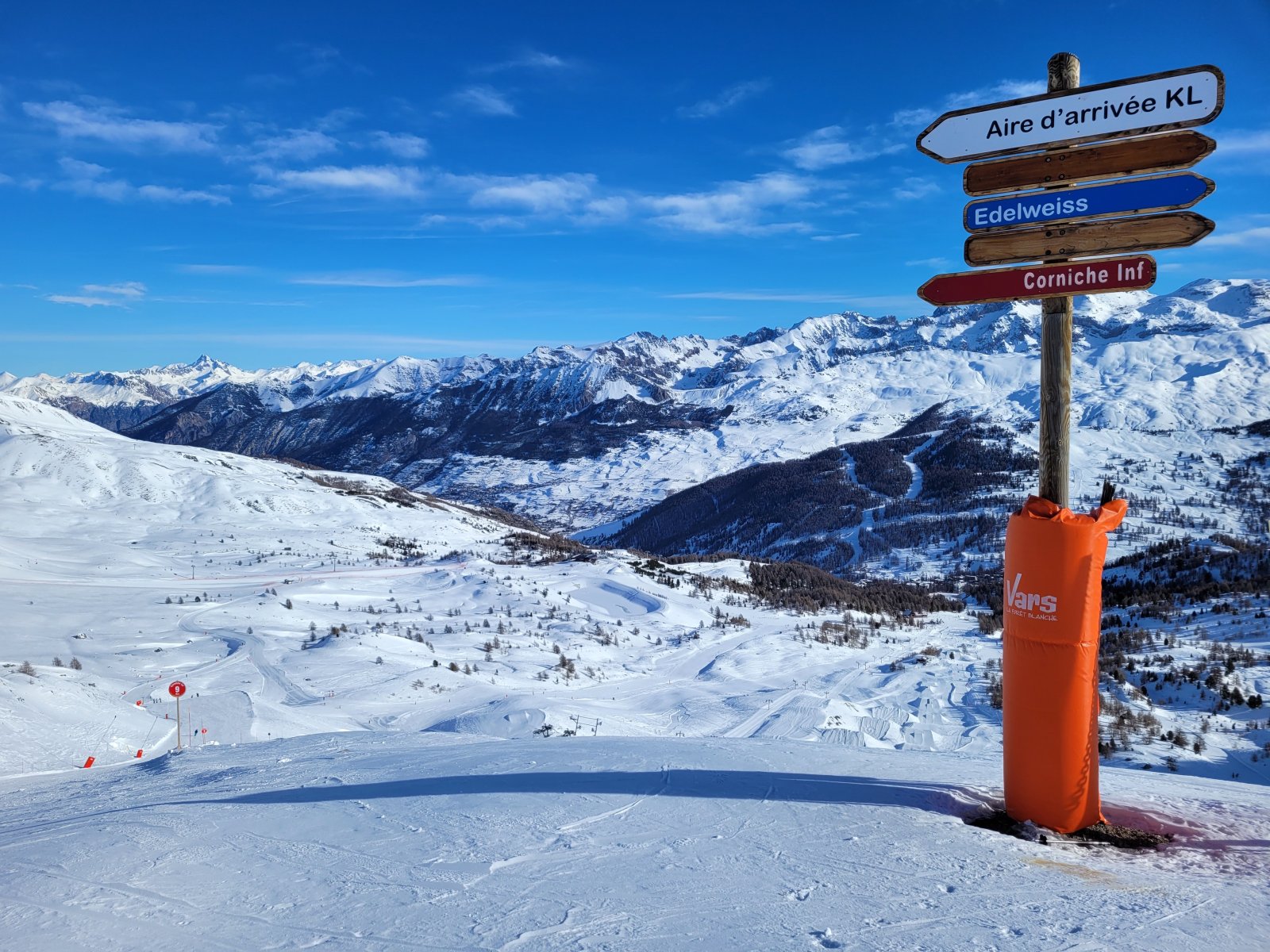 Around 11:45, I stopped for an early lunch at Restaurant Barjo (barjo is French slang for nuts, crazy, insane):
To the left of the sign, lots of intermediate terrain on the lower mountain that was skiing well.
To the right of the sign, the main village Vars les Claux down below:
There are certainly more unsightly villages in the French Alps but still, a fair amount of 70s/80s buildings. Understandable that they need to build out the bed base to accommodate destination visitors, but not what you want to see in such a gorgeous environment:
On the other side of the village is the Peynier sector with north-facing terrain. Tree skiing + a few fun cruisers:
Similar to the other ski areas this week, the most enjoyable offpiste was where it'd been skied in and the sun had warmed it by early afternoon. Somewhere between chalk and sugar is how I'd describe it.
Throughout the week, I noticed a lot of these areas for brown baggers so the privately-owned and -operated F&B establishments don't need to throw them out. A nice compromise:
Returning to Guillestre: the interestingly named "Arroyo of Cow Piss"!!

Last edited: