I ended my last ski report with "It cooled off Friday night and Kirkwood and Northstar reported 5" new while Heavenly had 7" on Saturday. It would have been worth staying for a couple of hours of that, but seeing how Thursday crowds are at Heavenly, I'm not planning on skiing there Friday or Saturday." My other reason for not skiing Saturday was I wanted to have two full days at home before leaving Monday AM for Yosemite. A friend had posted about Fire Fall on 2/1 and when I checked Parks Service website, I saw weekend (and all campsites through July or as far as you could see) full, but for $2 (plus my lifetime Senior Parks Pass) I was able to get a reservation to enter Yosemite on 2/22.
We took our camper, figuring if we did not see it on Monday, we could stay nearby and return and try again on Tuesday (when it may have been clouded out). I checked with friends who have cabins on property fronting the South Fork of the Tuolumne about 5 miles outside park about parking overnight. But not only did they turn me down, in the meantime I realized that tunnels entering the Park on the shortest route between my house and Yosemite Valley are one-way for vehicles much over 10' high. The first and longest tunnel is 13' at the curb going into the park, but not much over 10' tall leaving and my camper is over 11'. Even the next two short tunnels were marked as only 10' and a few inches on the curb so I stayed far away from the edge of the road.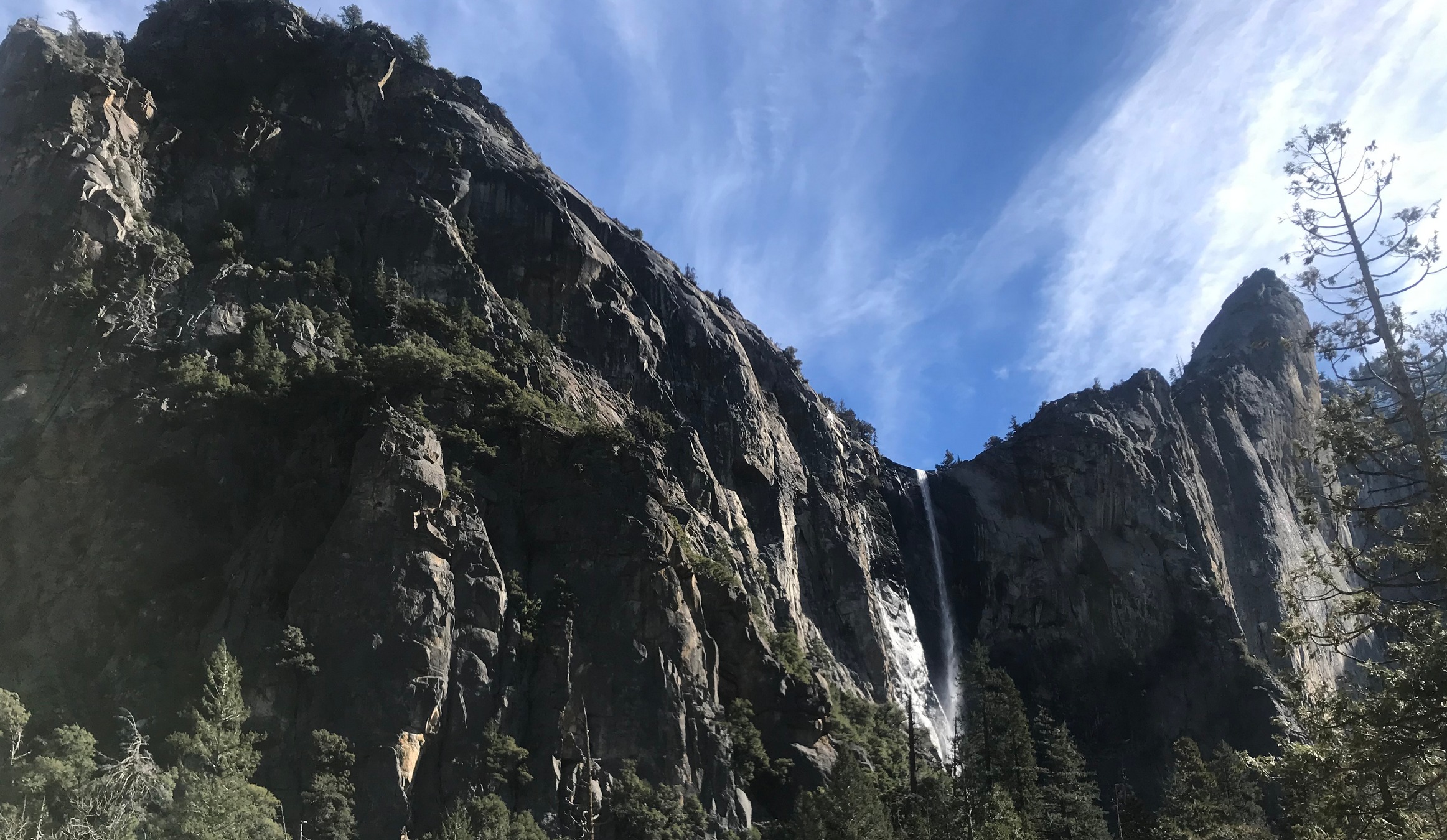 We stopped in Yosemite Valley on the S side of the Merced River and talked to a guy who was taking pictures of Bridalveil Fall with a tripod. He verified that waterfall across the river that barely had any water was Horsetail and it had enough for Fire Fall. We could have parked closer to where best view would happen before sunset, but could see parking was filling and we didn't want to do another long lap around Valley. So we parked where there was plenty of room for our camper and we had a good view of Yosemite Falls out the back.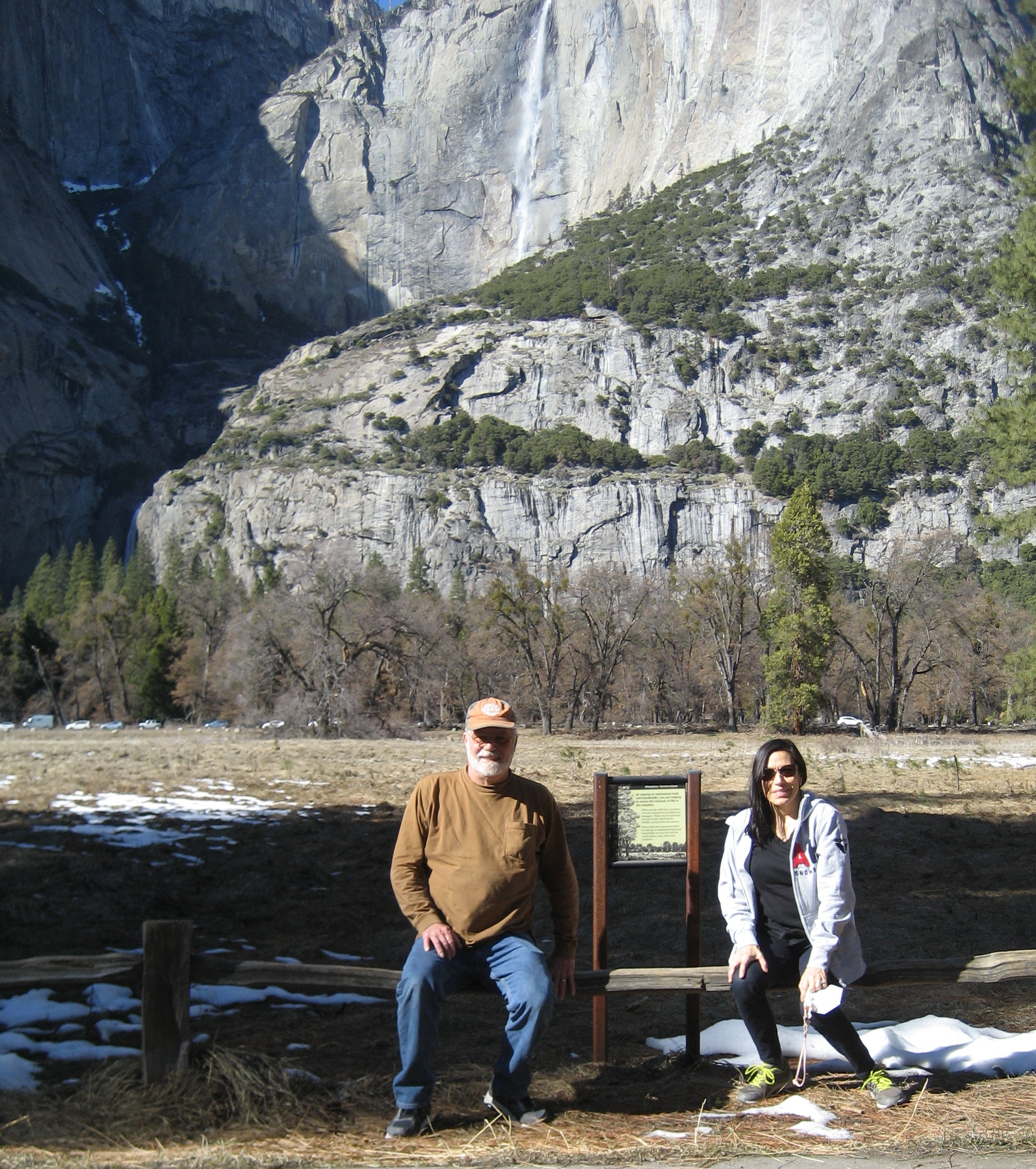 We could have gotten closer to a bathroom as nearest one we found was about 1/2 mile away, at the base of Yosemite Falls trail. So we hiked the loop that approaches the base of the lower Falls.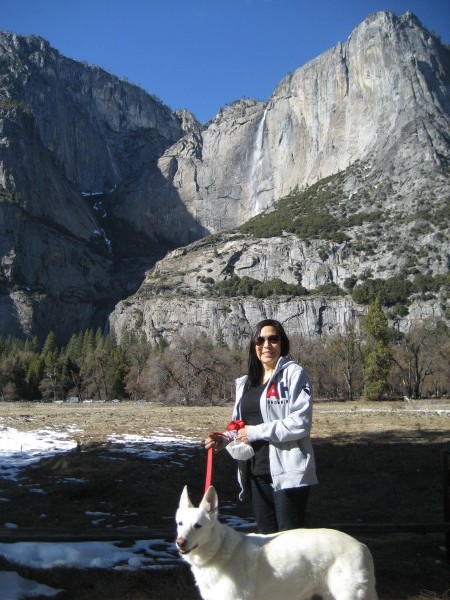 On the return we saw a bobcat on ground not very away and while rushing to get out camera I lost hold of the leash and our White German Shepherd, before returning to my call, quickly treed the cat (in crotch of tree on right) who looked at us indignantly.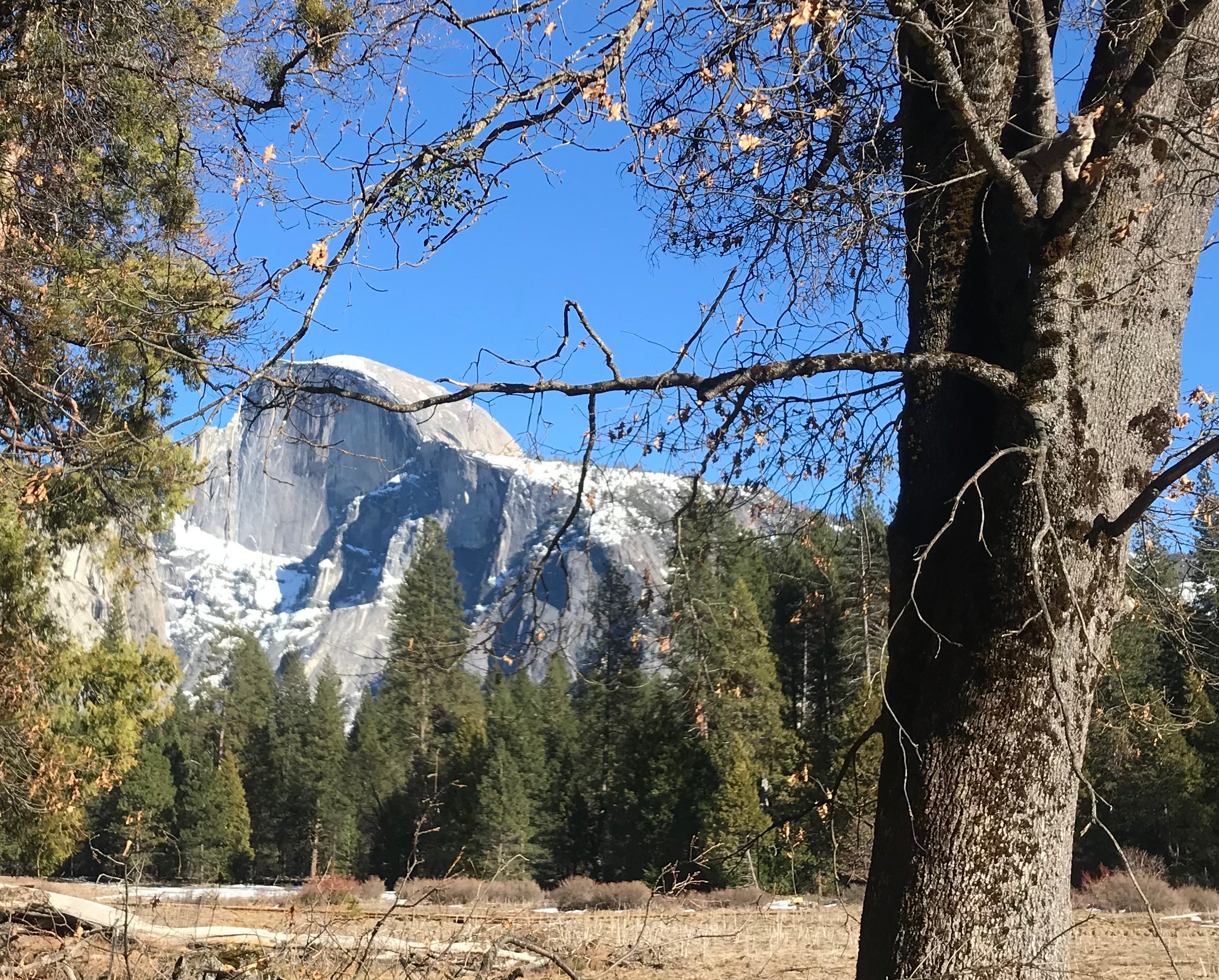 We returned to the camper for some snacks and a drink before walking about 2 miles to where crowds had gathered to view the Fire Fall. There were probably at least 1,000 people in clearings in the forest to the E of the Falls. We found a spot next to a guy who had a camera on a tripod with an OK view. He and his wife had a couple of chairs in front of him and when she returned she said that 50-100' to the left you could see the Fall and most of 3000+' El Capitan so we moved there next to a guy who had two cameras on tripods. The wind was blowing mist from Fall and while the sun was lighting it up, but it was mostly white and gold until about 10 minutes before the 5:45 sunset.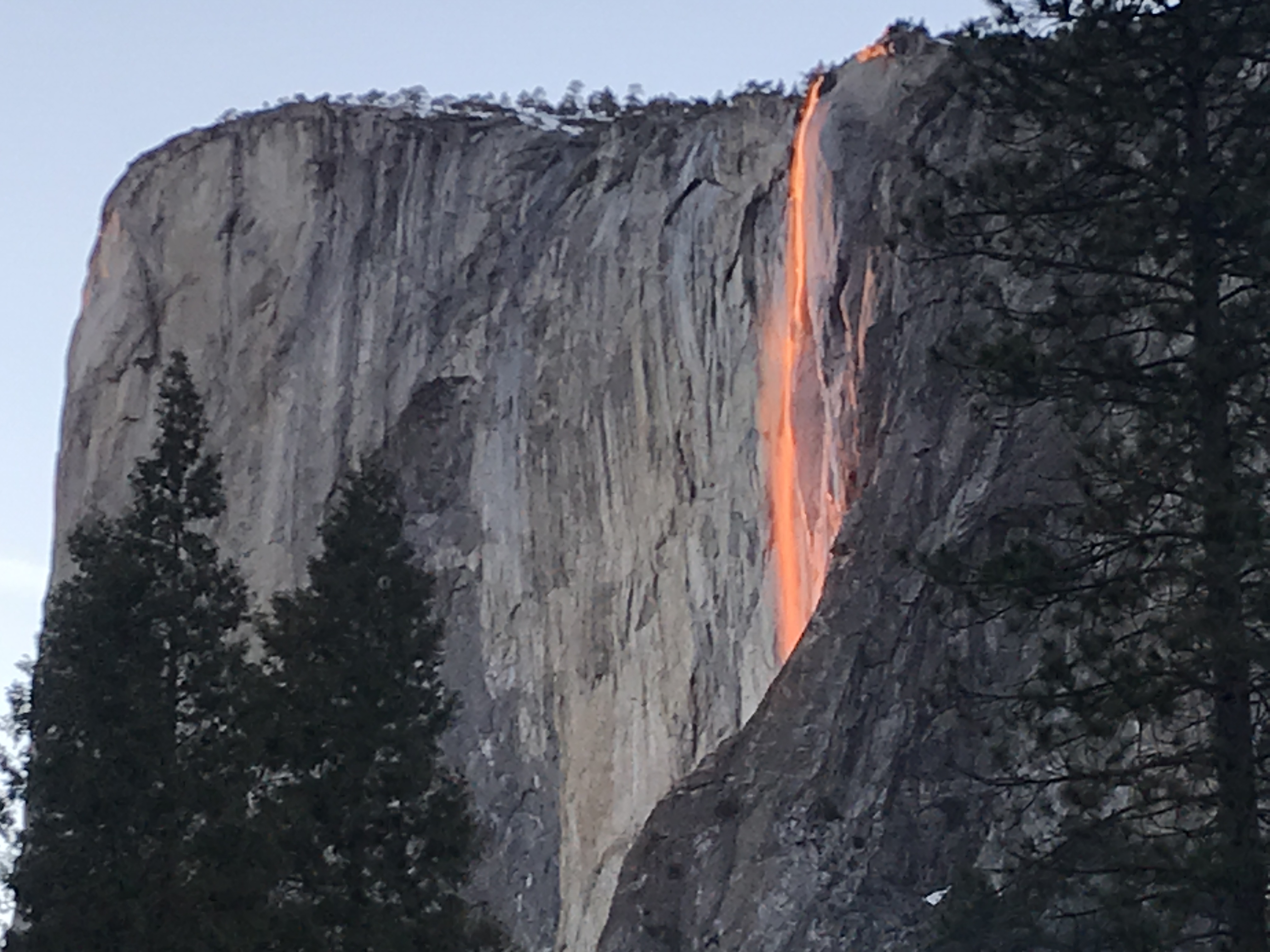 We got lucky on our first try to see Fire Fall, which can happen in 2nd half of February. This is not the same as the environmentally questionable practice of the same name that ended in 1968, after nearly 100 years, of dumping burning embers off Glacier Point, that I saw once from Yosemite Valley in the 1960s. This natural Fire Fall was first photographed by Galen Rowell in 1973. Besides getting a reservation to enter the Park, it takes a sunset without clouds, enough water for falls to be flowing and enough warmth so it's not frozen. We had to walk about 2 miles each way from where we parked to our viewing point. There was some snow in the shade on some of paths in the 4,000' elevation valley. The first photo is from an iPhone as my camera, which took the second one, was having trouble with the light and I have not had to use it much in manual mode. Pictures were taken about a minute apart.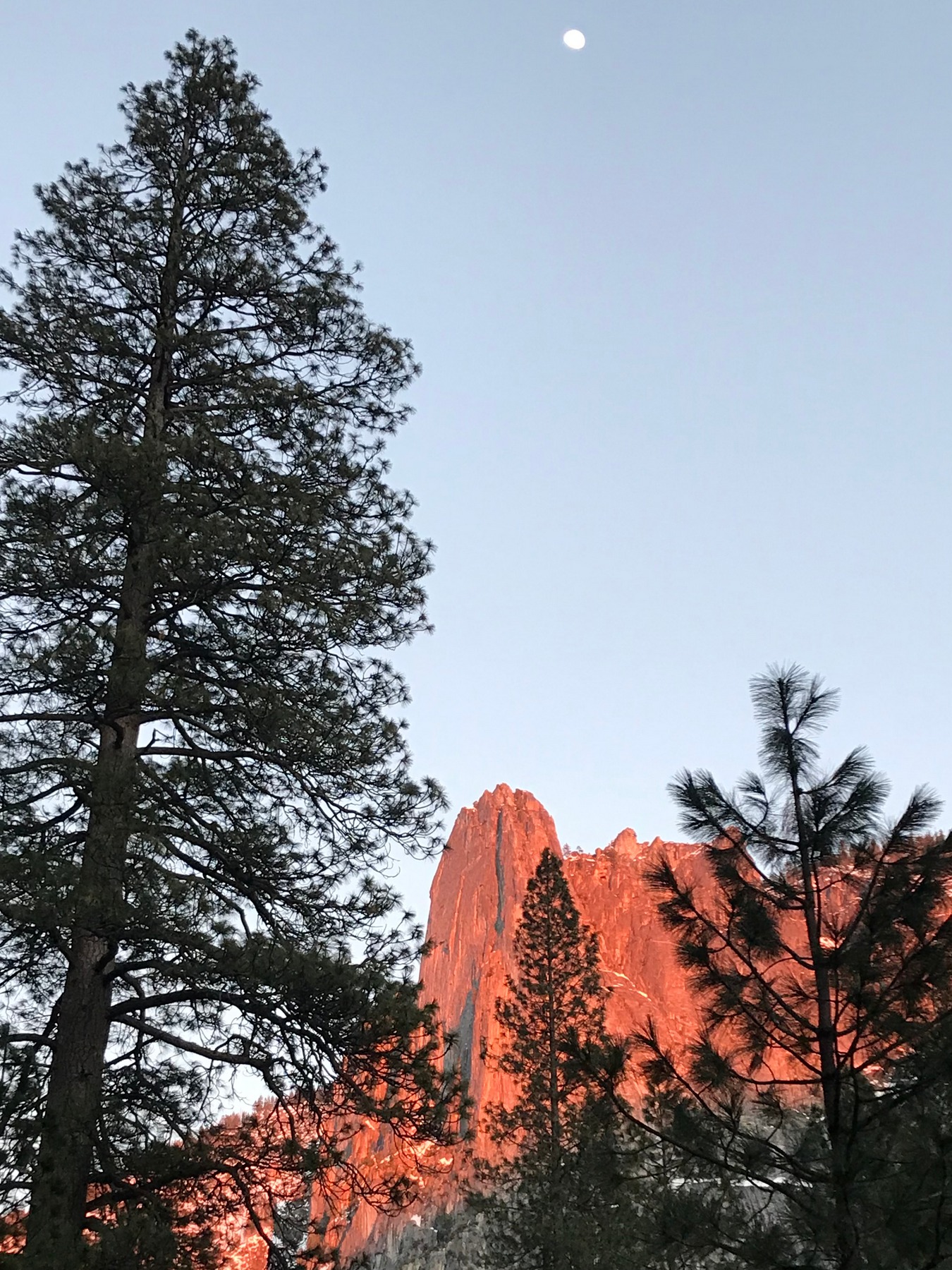 We got ahead of most of the crowd returning past Yosemite Lodge and Falls to our camper where we had soup and my wife had more of a bottle of wine than me as I only had a few sips since we were not sure where we were spending night. Everyone I talked to said at 11 PM rangers (and we'd seen quite a few of them) would kick visitors out who were not spending night in approved lodging. We left about 8:30 PM when temps had dropped to the high 30s which did not deter a few photographers taking long-exposure pictures of Yosemite Falls and Half Dome under a half moon. We followed CA-140 and the Merced River out of the park to El Portal, elevation 2100. We joined a small motorhome, 3-4 vans and 3-4 other vehicles parked along mostly quiet highway and noisy river for the night.
After coffee and breakfast in the camper, and a stop at restroom and store of nearby large riverfront motel, we drove about 25 min W to Briceburg. On the way we had a short delay as a landslide has closed the highway since Spring 2006 and traffic is re-routed to opposite side of river and back for less than a mile using two one-lane bridges that prohibit vehicles with trailers that are over 45' long (total length of tow vehicles and trailer(s)) and only allow alternating one-way traffic. When I was looking for approved campsites I saw there were some near Briceburg, where highway leaves the river, but to get to them requires crossing an old one-lane suspension the has sharp turns on both ends with low cables to add to the difficulty.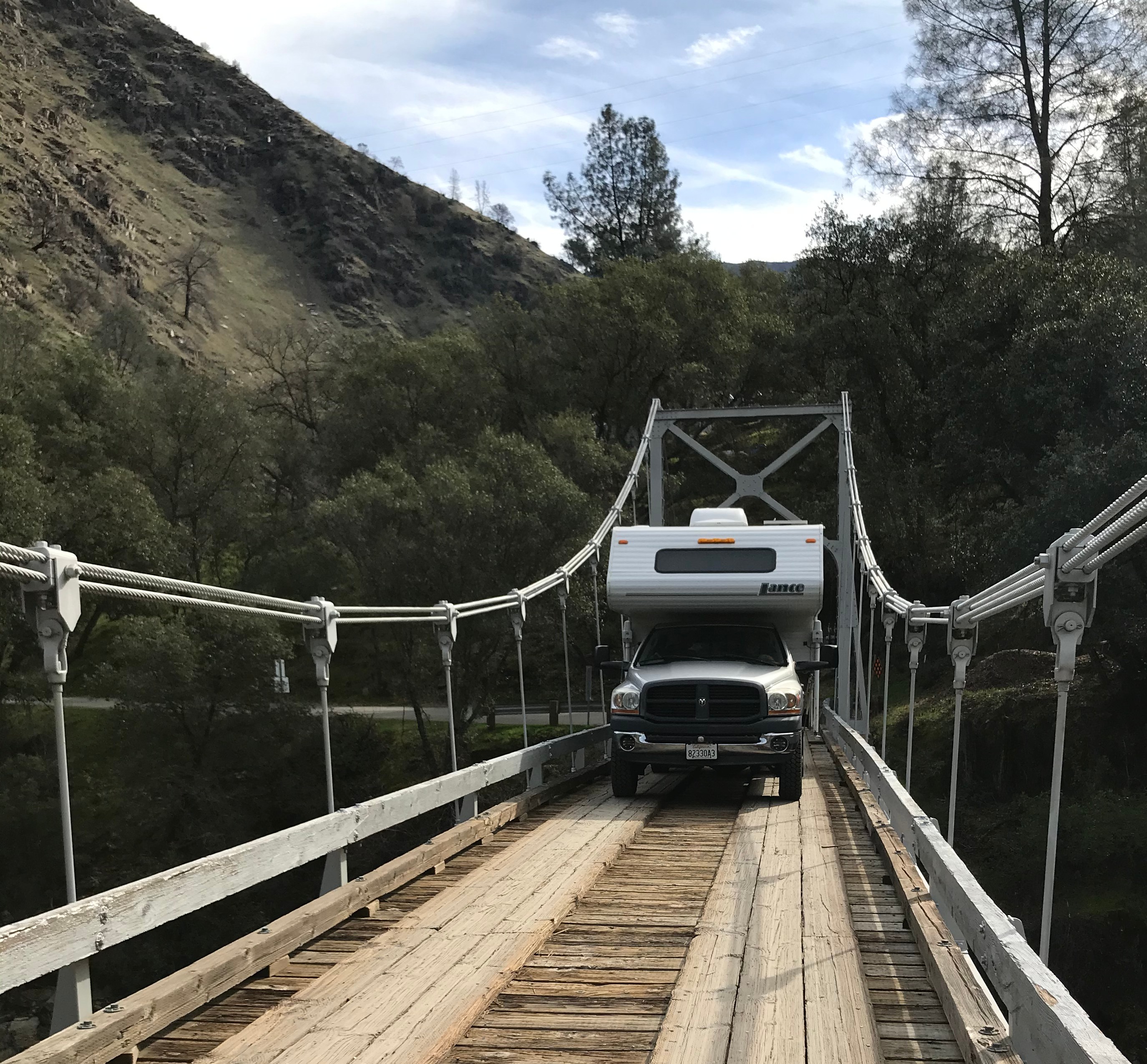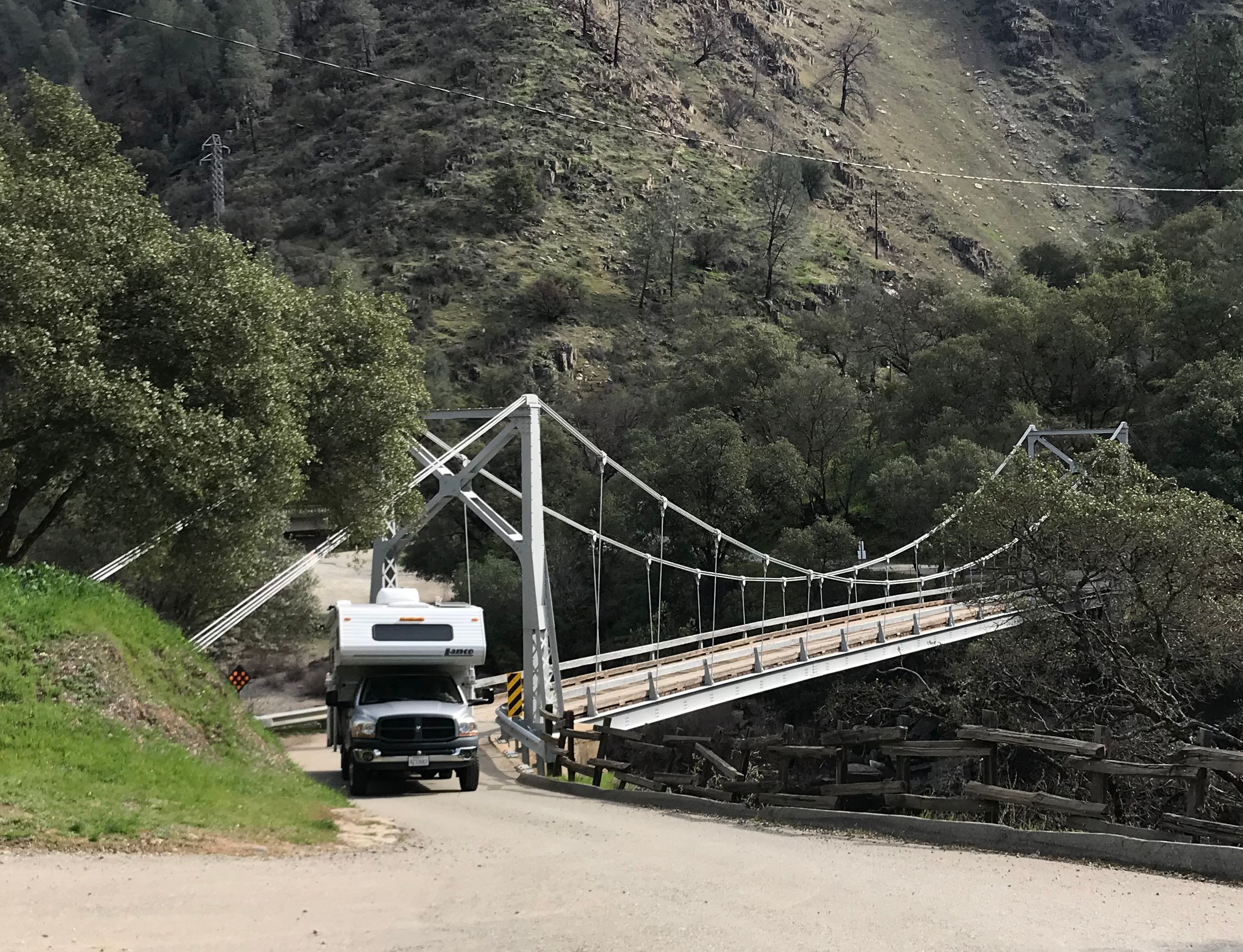 I made it across without problem, unlike many who had left their marks on the side of the bridge at both ends. I would not have wanted to have done it in the dark the previous night. The rest of our trip home was uneventful. The best stop was in Mariposa, which is the S end of California's Gold Country/Mother Lode where we walked around outside museum where mining equipment was on display.
Note that pictures display correctly rotated if you click on them. Pictures of camper crossing bridge taken by my wife.