After two enjoyable days at the artist formerly known as Jackass Ski Bowl, I headed north to Schweitzer Mountain. My wife and I skied there in March 2013 and really liked its extensive grab-bag of terrain. Apparently, Schweitzer had been part of the Powder Alliance for a number of years but discontinued its membership before this season due to the overwhelming number of visitors who were taking advantage of it. Instead, they made reciprocal deals with like-minded independent mountains including Loveland, Grand Targhee, and Whitewater, so I used the three free days from my season pass.

I can't recall if it was covered in other TRs, but if you want to know why it's called Schweitzer Mountain, the general story that you read online and hear from locals is that in the early 1900s a peculiar hermit-like immigrant from Switzerland lived on the road to the mountain. His name was never cited; he was simply referred to as Schweizer (which means "Swiss man" in German). Following reports of odd behavior, the police searched his dwelling and found the skins of numerous house cats that had gone missing from nearby residents nailed to the walls. Upon questioning, he claimed to have made cat stew out of them. He was later committed to a mental institution and forgotten; however, by adding a "t" -- to make it easier for English-speakers to pronounce -- the Swiss man lives on as the namesake for the biggest ski area in Idaho with 2,900 skiable acres.
From the summit, you can see three states (WA, ID, MT), British Columbia, three mountain ranges (the Selkirks, the Bitter Root, the Cabinet), and beautiful Lake Pend Oreille (French for "hanging ear" -- pronounced pond-o-RAY), which you can admire from many parts of the ski area. Topographically, the ski area is composed of two large bowls: Schweitzer Bowl on the front side and Outback Bowl on the back side.
Following are pix from Wednesday. I skied three full days there with the last two in full sunshine, which provided nice views of the lake. With no fresh snow since the previous Thursday, conditions were clearly transitioning into spring, so the best thing to do was stay on the south-facing runs in Schweitzer Bowl until around 11 am and then move to Outback Bowl. Here's the Pend Oreille trail mid-morning.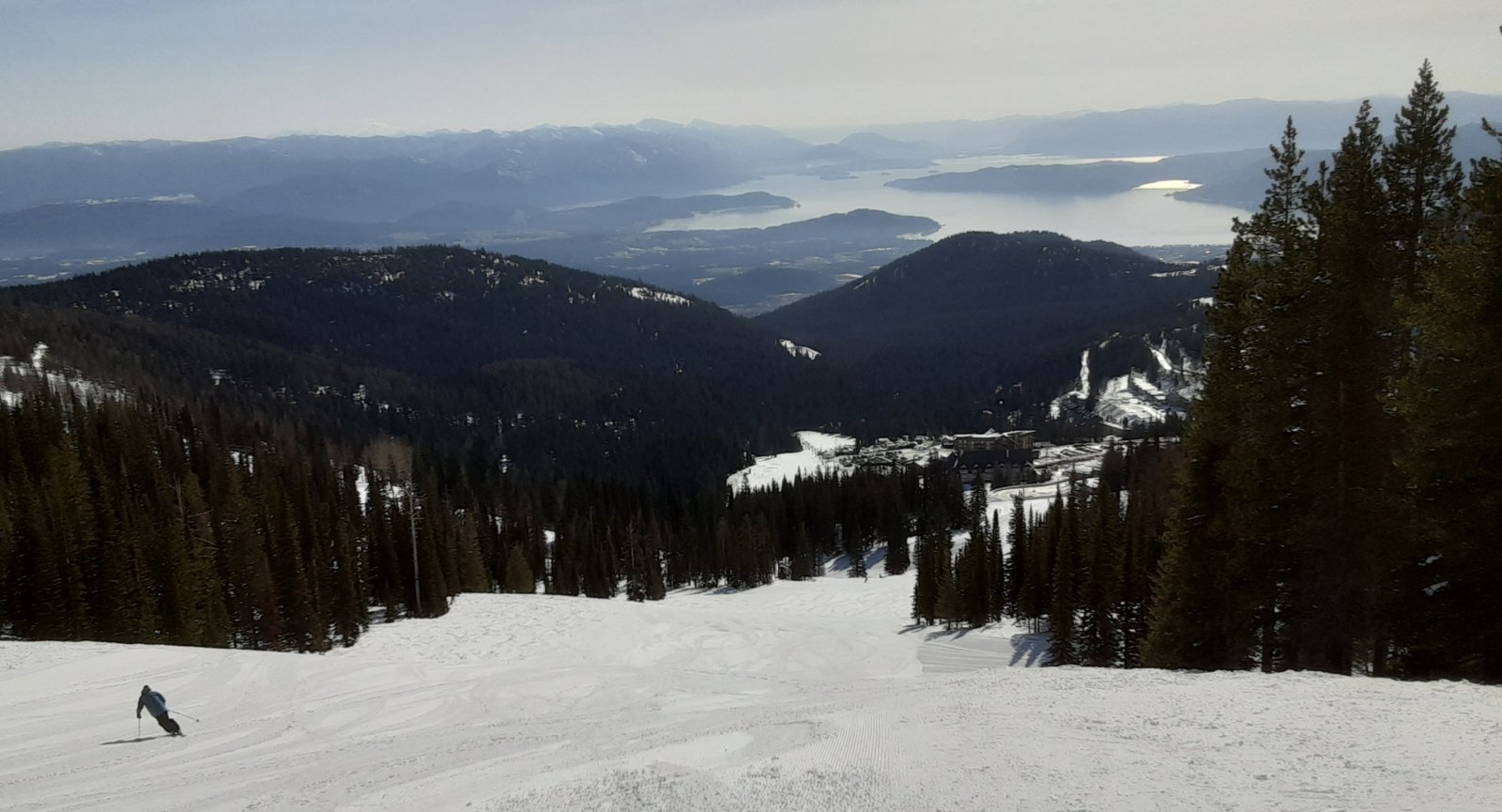 A bit further down: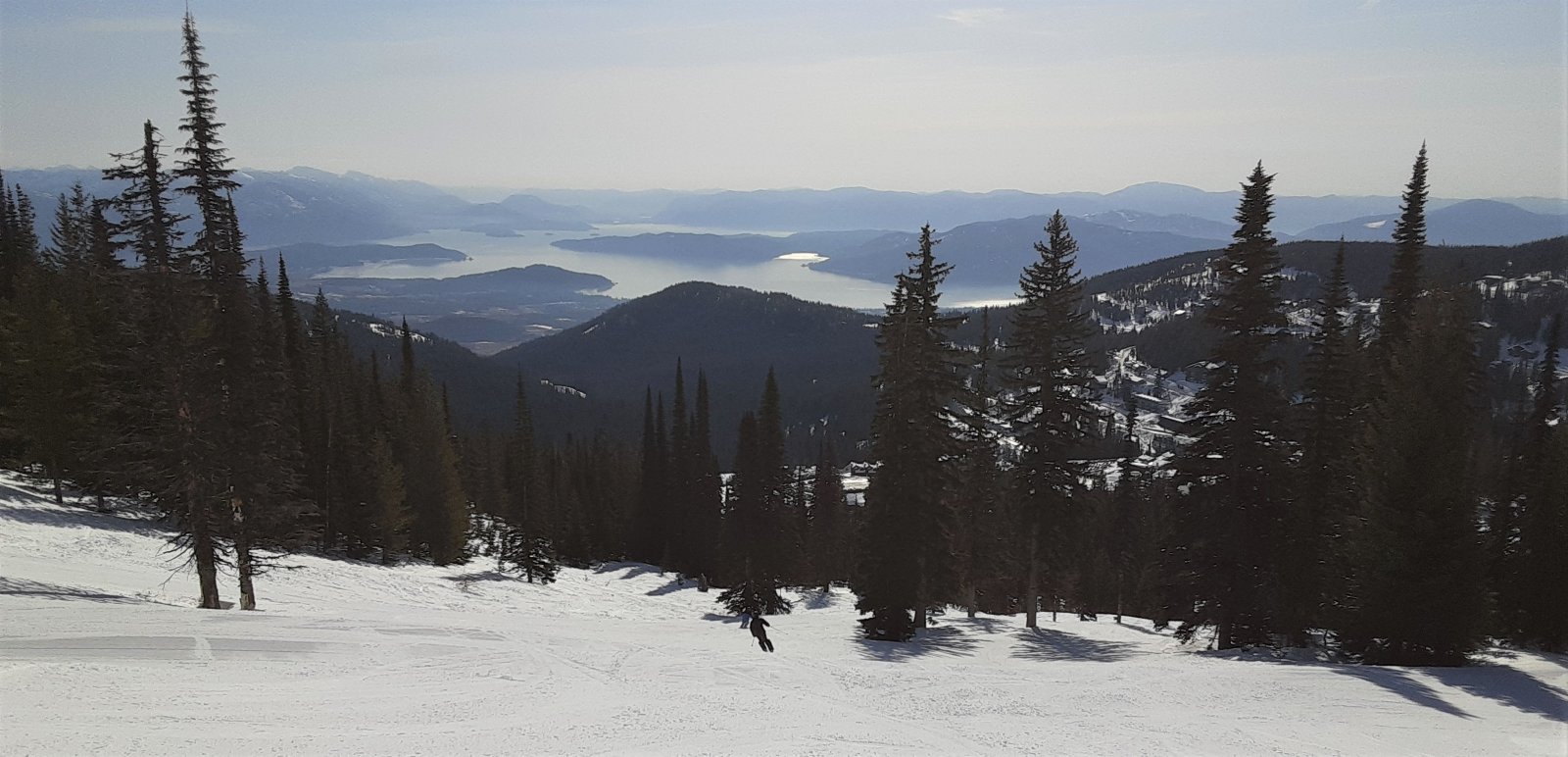 The Great Divide trail along the ridgeline between the two bowls is a favorite for enjoying the scenery:

Throughout the day, I kept running into an expert sit-skier who promptly left me in the dust before I could get my camera out. Here he is toward the bottom of Outback Bowl: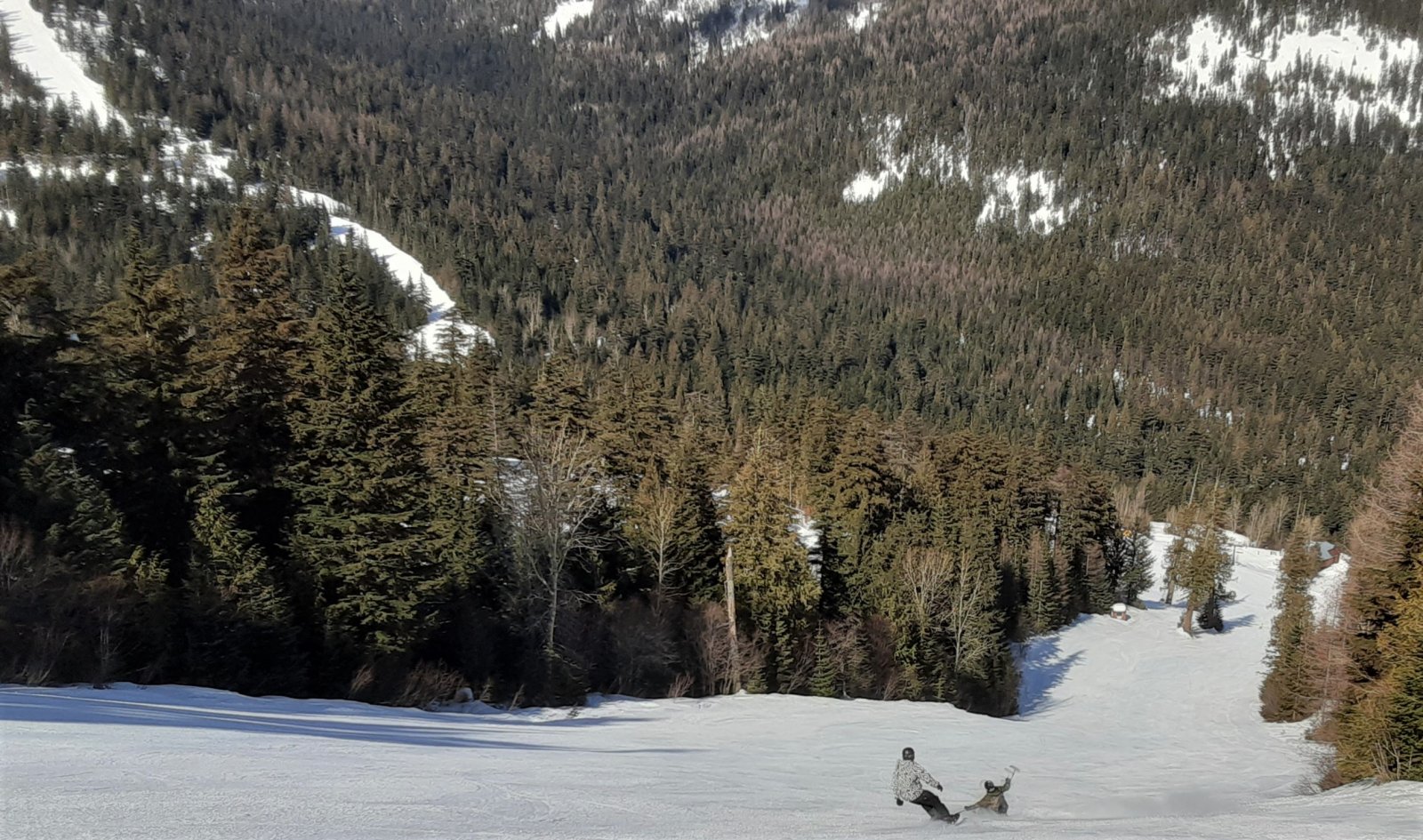 As Tony mentioned in his report, Schweitzer is a premier mountain for low-visibility storm days due to its more than 1,200 acres of tree skiing ranging from mellow to quite steep. The big improvement since my previous visit is that they replaced the old Snow Ghost double chair in Outback Bowl with two new lifts, a high-speed quad and a fixed triple, which make it easier to pick and choose your routes and accumulate vastly more vertical.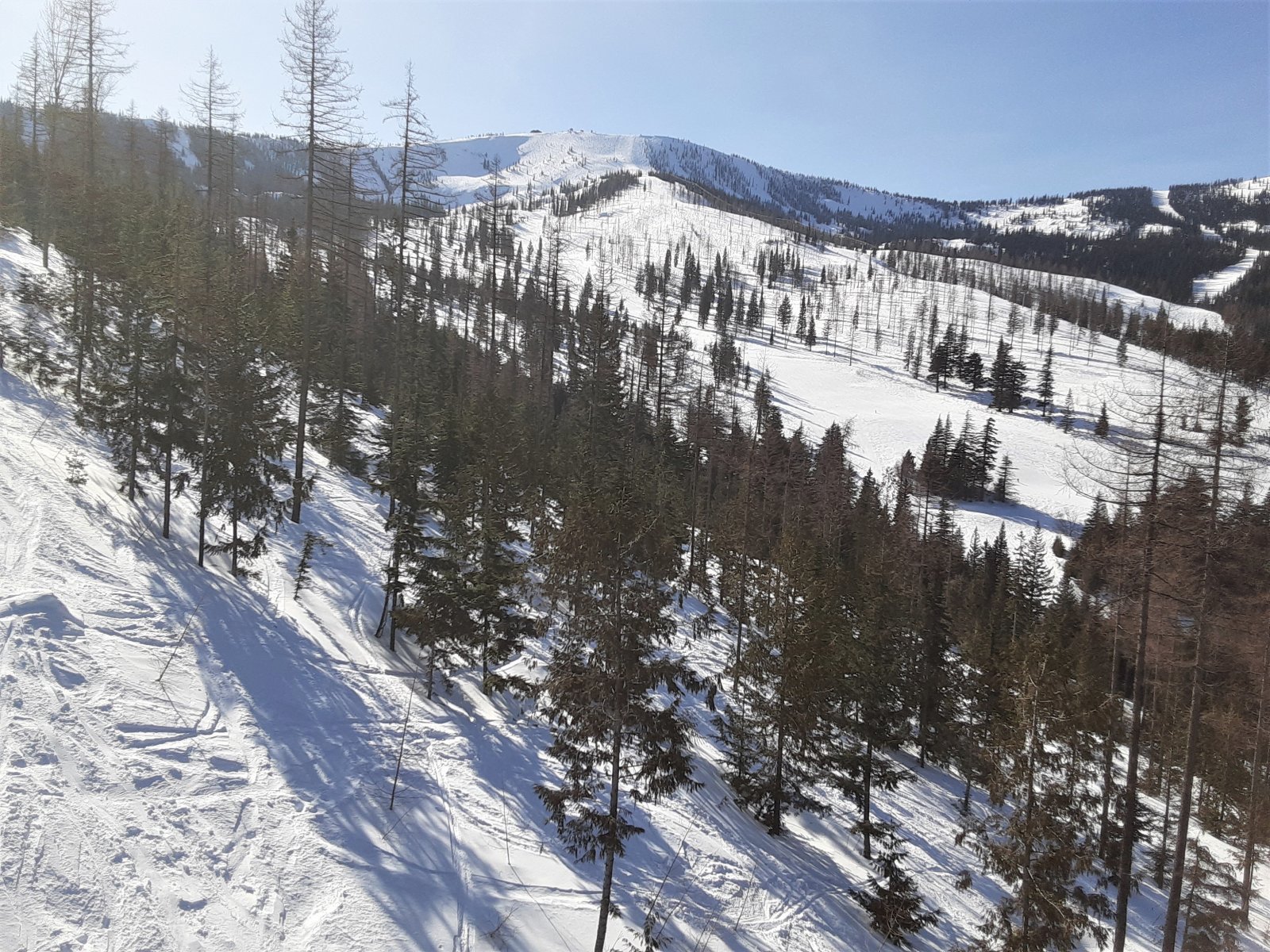 The barn housing the Stella six-pack: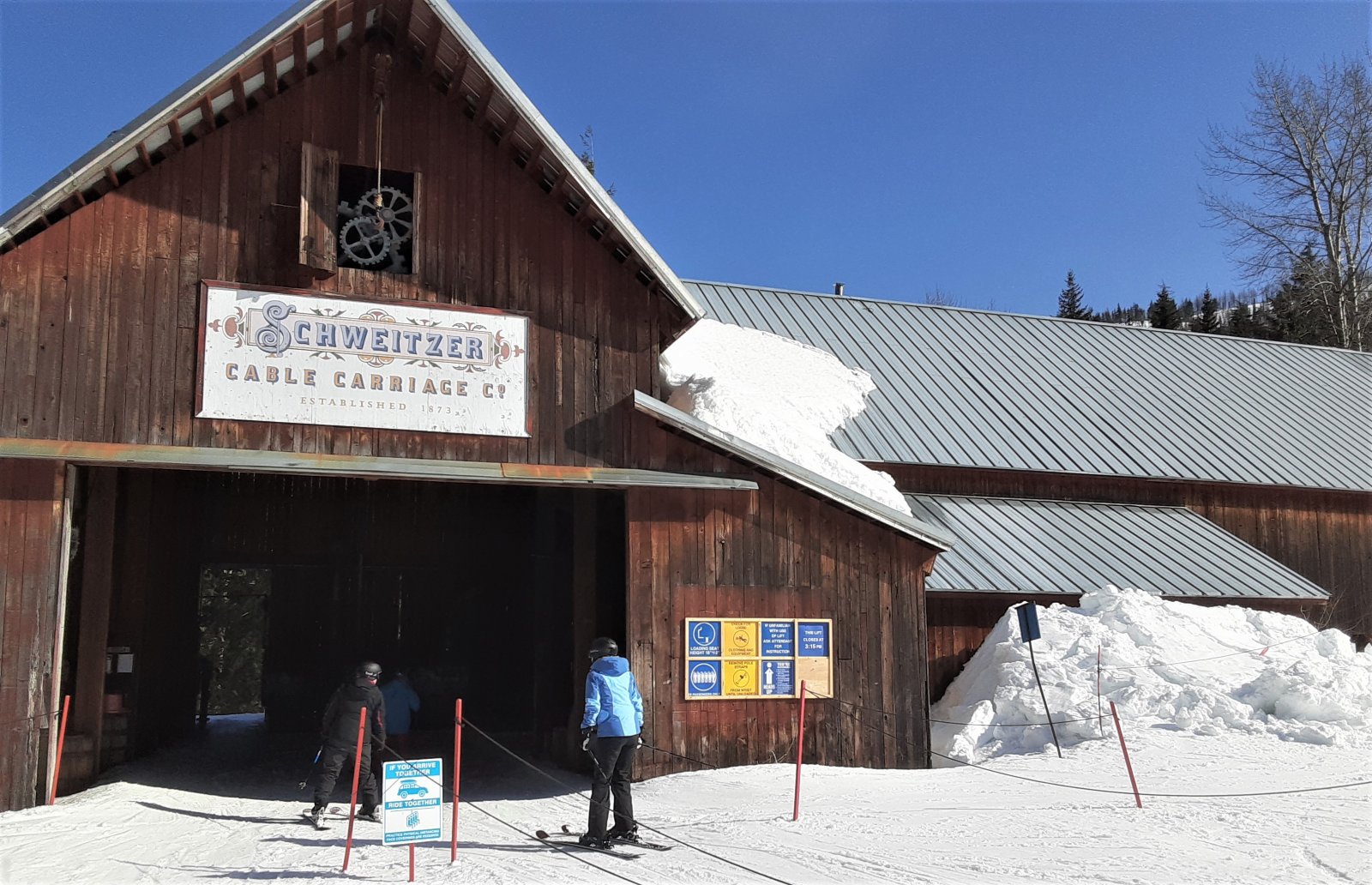 Toward the end of the day, I tagged along with a group heading toward the chutes off the South Ridge: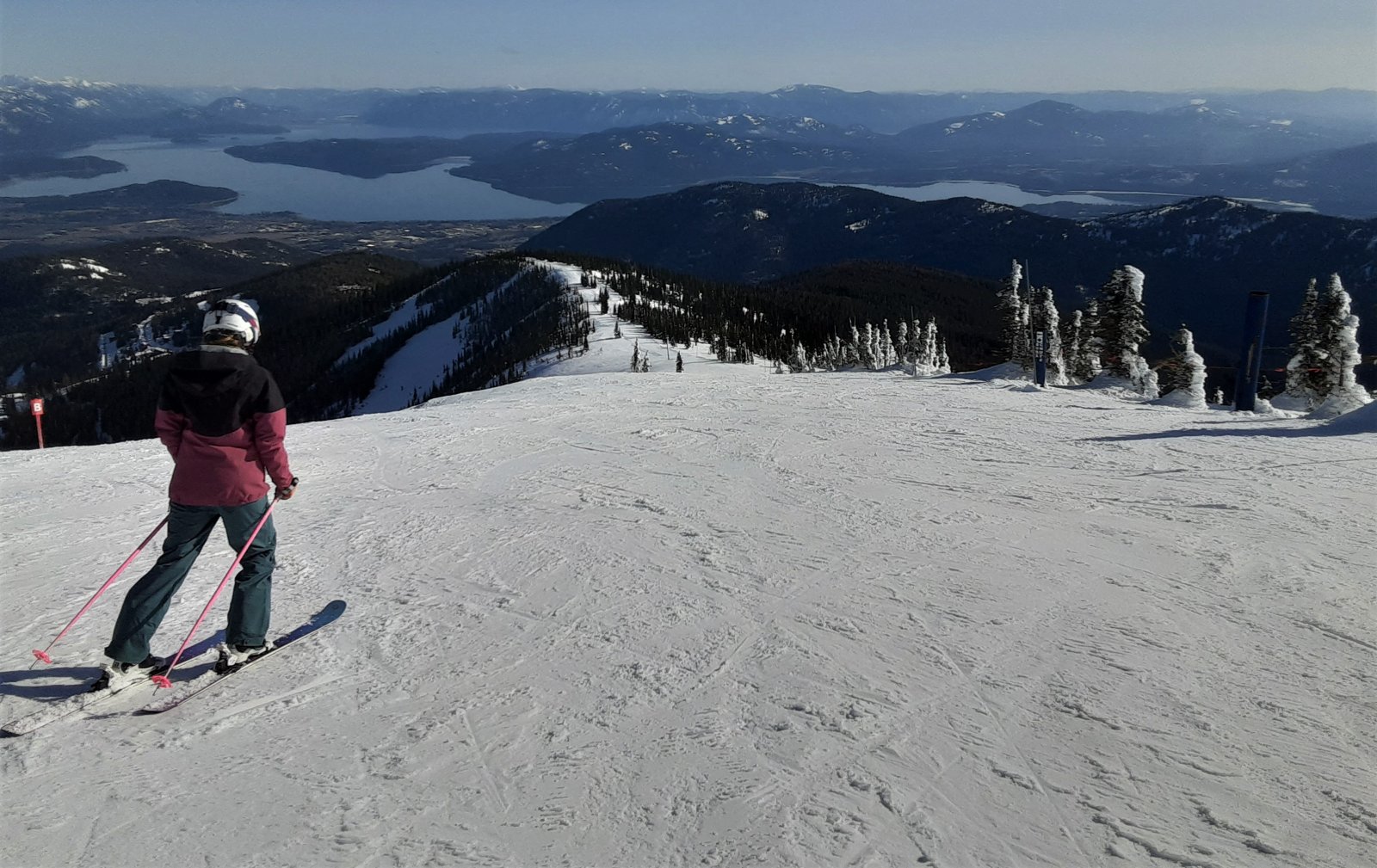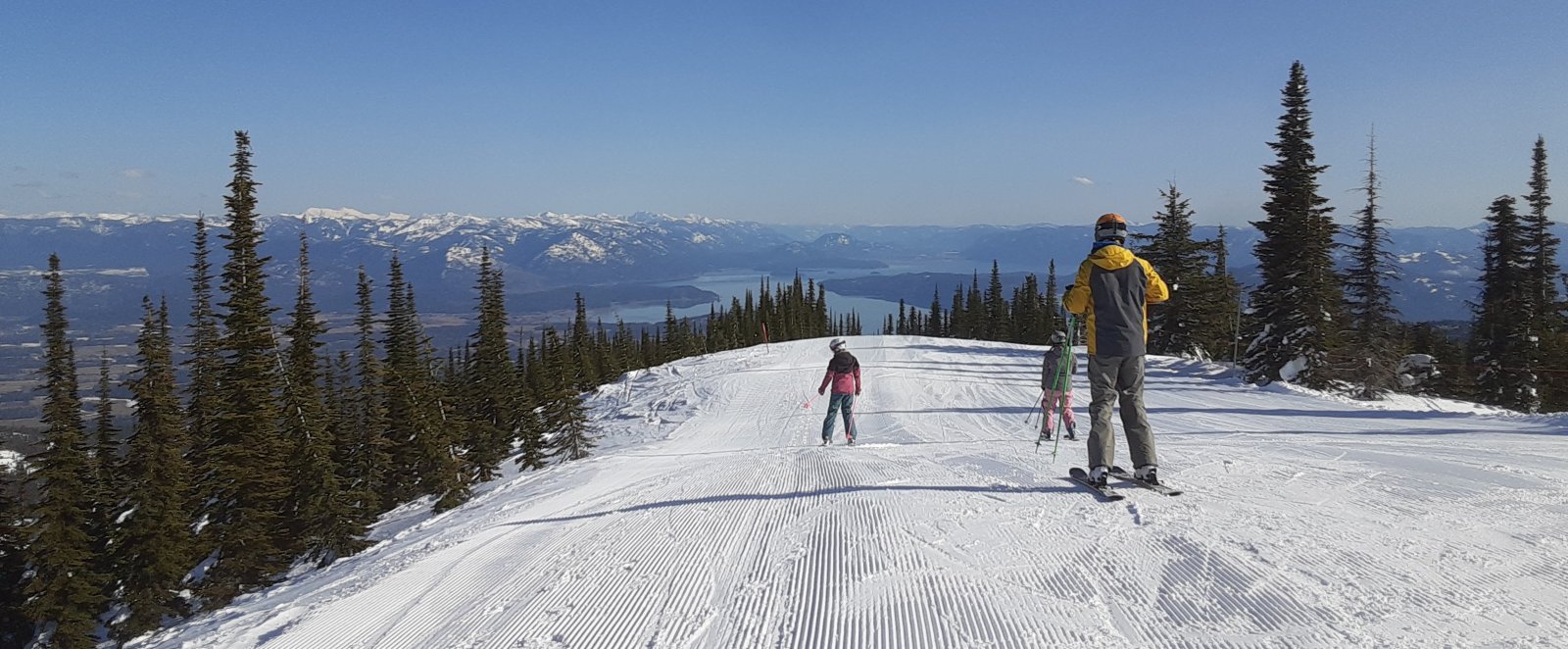 Due to being comparatively protected from the sun, the farthest run, Ayer's Alley, held pleasant winter-like snow so I did it twice.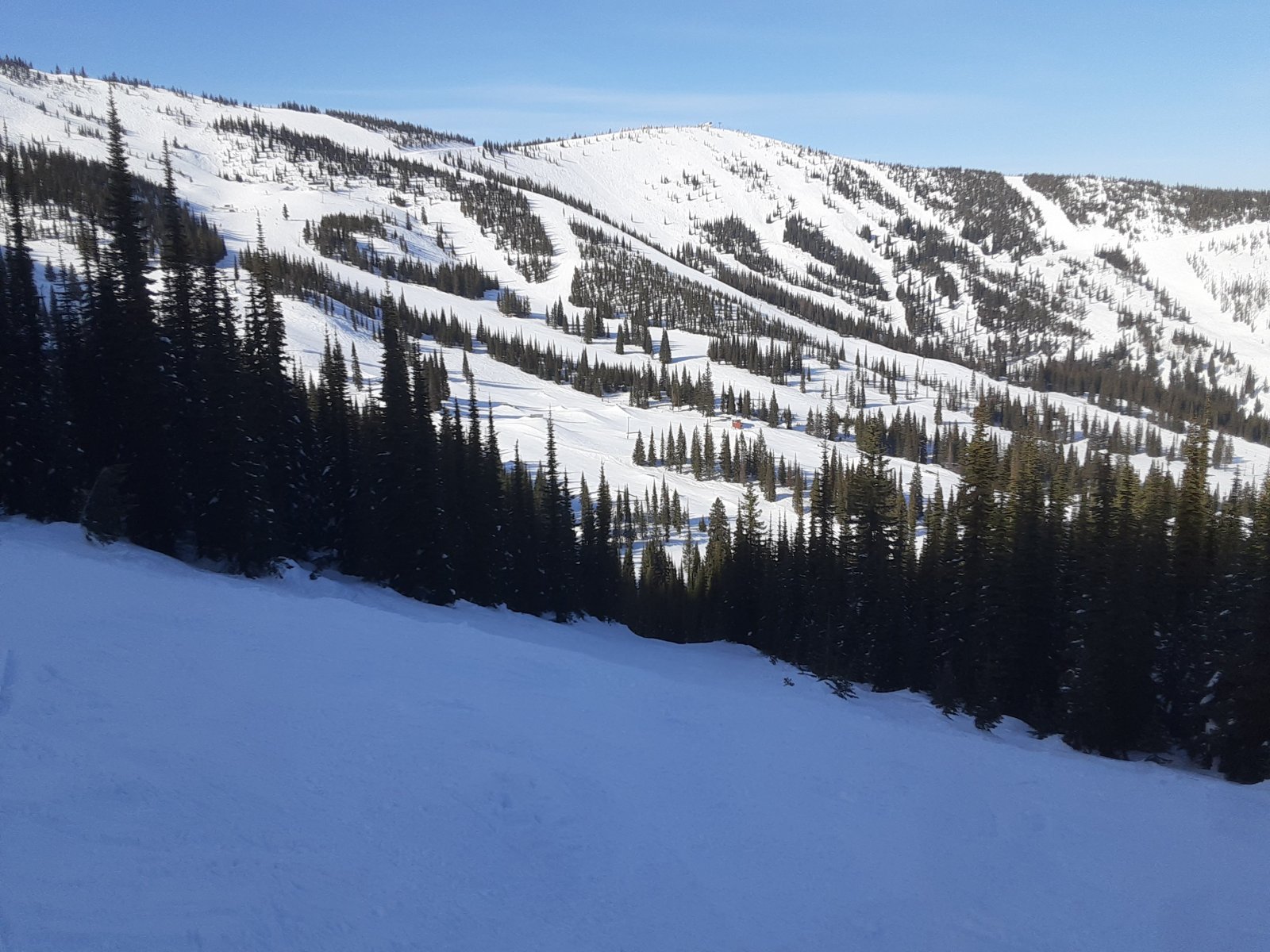 During non-pandemic times, the traditional MO of destination skiers who fly into Spokane is to head to Canada to highly-rated Red Mountain, Whitewater, et al; however, after visiting all five ski areas on the U.S. side within 60-90 minutes of Spokane -- 49 Degrees, Schweitzer, Silver, Lookout Pass, and Mount Spokane –- I can once again recommend the Inland Northwest region. It's a shame that the closest ski areas in Idaho to the south, Brundage and Tamarack (which snowave mentioned as benefiting from a more continental climate with drier snow), are something like five hours away.
I smiled at Wednesday's front page news in the local paper underscoring the obvious –- that red-state America has moved on from the pandemic. Other than in liftlines at Schweitzer Mountain, during my week there I only saw a small minority of people wearing masks inside restaurants, cafes, stores, and lodging. Anecdotally, I spoke with five different people on chairlifts who mentioned having had the virus at some point.
Here's the pleasant local diner in Sandpoint where I ate breakfast all three days. I dig the 1950s Vegas-style sign out front: