A wordy prologue --
For my first Alps trip of this season, I was actually supposed to be in a completely different mountain range: the Pyrenees along the French and Spanish border. I'd been thinking about going there for a long time but kept getting distracted by the dozens of ski areas in the Alps that I wanted to visit and which could be reached via convenient nonstop flights. After dragging my feet for at least the past four years, I finally pulled the trigger, booked a flight into Toulouse through Madrid, and was planning to ski three days on the Spanish side and five days on the French side.
Unfortunately, something happened (or didn't happen): snow –- virtually none had fallen there during December and January except the manmade stuff. I waited and waited for the weather to change and still nothing. Two weeks before my departure, it was decision time: do I wait out the drought and hope that the snow gods quickly make up for their absence or rebook to somewhere like Austria, which had gotten absolutely buried during the first half of January.
It was at this time that Fraser Wilkin of the Weather To Ski website, my go-to source for Euro snow forecasting, reached out to signal that there was a possible market correction, a really big one, coming to the Pyrenees in the next seven to ten days; however, it was still too far out for him to be sure. Over the next day, I went back and forth before ultimately deciding to play it safe and go where there was already a huge base. I paid the $150 change fee and rebooked to Austria. Of course, you can guess what happened. His Pyrenees suspicions verified and the entire range received numerous feet of snow just before my planned arrival. My trip would have been a total powder fest.
Departure from EWR: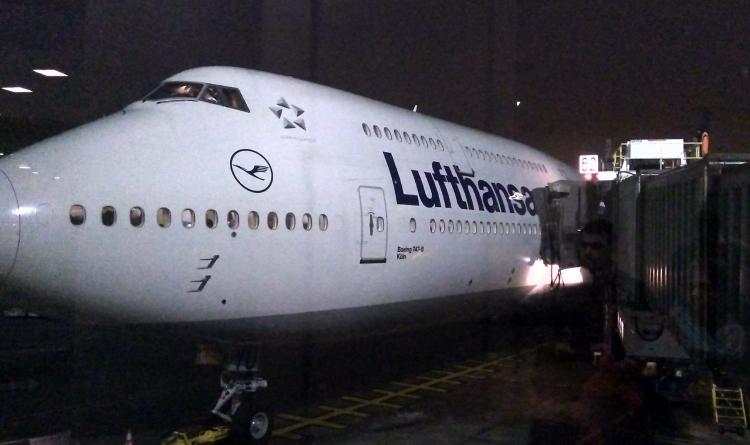 My game plan for the upcoming week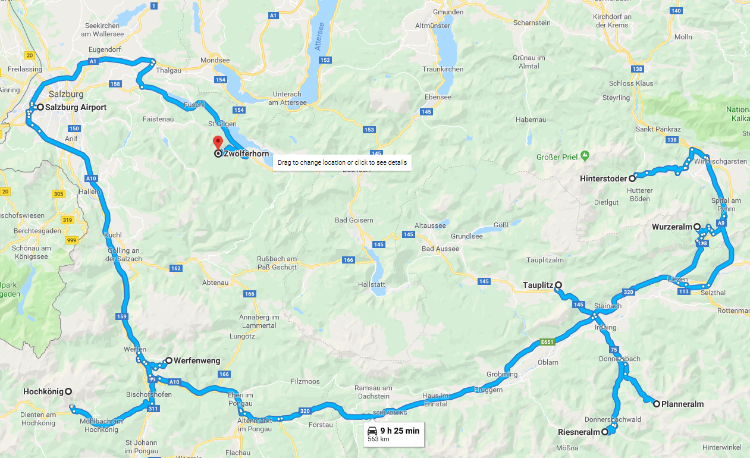 After punishing myself for blowing that decision, I set my eyes on the new itinerary: the region southeast of Salzburg. Following a change of planes in Frankfurt, I landed at 10 am and was on the lift at Werfenweng (pronounced VAIR FENN VEHNG) a half hour south of the airport by 11:15. Werfenweng was the first of seven areas on this itinerary that, on the ski-tourist scale, would be considered third-tier Alps ski areas (i.e. why would anyone cross the ocean to go there?). For lack of a better comparison, an Alps version of mountains like Gore -- locals and people within a four-hour drive are aware of them and go there, especially during holiday periods; however, 99.98% of people from further away are likely to have no idea that they exist. As you may have guessed by now, I'm one of the .02% of nutcases who proactively checks out places like this.
I was excited for Day 1 because they'd received 8-10 inches of snow overnight; however, the sky refused to clear up: pretty much top-to-bottom fog. Even though the trail map looks modest, that's a 3,000-foot vertical drop and the areas between the marked trails are much larger than what's pictured; some of the treed areas were skiable and double-black-diamond steep. Due to the tough visual conditions, the photos below aren't very inspiring -- this is what it looks like on a sunny day.
Still, it was good to shake the cobwebs out after I hadn't skied in the past three weeks and having slept four hours on the overnight flight, my arrival-day jet lag was minimal.
Mid-Mountain: this was about as good as it got visually all day:
Like many ski areas on this trip, Werfenweng was a bit oddly laid out. You had to connect from one sector to another via t-bar:
And then cross a small road -- a lot of small kids crashed:
Lovely view at the summit:
After 90 minutes, I took a coffee break, relaxed, and checked out the locals:
A beautiful steep pitch on my final run to the valley:
As I skied alongside this guy, I heard a clear American accent from his girlfriend who had crashed uphill from him. I stopped and chatted with them for five minutes. Amazingly enough, they were both from Westchester, NY and on their way back to Salzburg airport:
At the base, I stopped in for a beer at this atmospheric joint:
Always fun to check out the written transcription of local dialects: "Sit down in cozy comfort and eat well!"
The good news is that the following six days were bluebird, so the upcoming reports will hopefully be more to what you're accustomed from me.
Last edited by
jamesdeluxe
on Thu Mar 25, 2021 3:38 am, edited 1 time in total.