Administrator
Staff member
This has been one of my better Iron Blosam weeks, but I'm exhausted and we have the usual social festivities. Thus the TR's are late. Pictures are also sparse as there was little sun during the first 4 days. That was a plus because nothing turned to spring conditions between storms (7 inches Friday night 3/10, 4 inches during the day Sunday 3/12 and 16 inches Tuesday night/Wednesday 3/14-15).
On Sunday we started with a Braille run on Lupine Loop on the way to Alta. We met the former admin, Telejon, Malcolm and daughter Lena at Watson Shelter. Due to the fog patches and intermittent snow, we stayed in/near the trees bordering the blue runs on Collins.
Around 1PM we ventured into former admin's favorite powder stash near the condos. We took the bus back to Alta and had lunch at Albion, where Lonnie joined us. We took a powder lap on Vail Ridge, then took Sugarloaf back to the Collins side. We were again in and near trees for visibility including a modest traverse out to Wildcat Bowl. Liz, Lonnie and I returned to Snowbird via another untracked condo run.
I took one Peruvian lap out the mid-Baldy traverse and more soft snow during the storm. Total for Sunday was 14,300 vertical, about 4K of powder. After skiing the snow stopped and we had this view from our room at Iron Blosam.
Monday and Tuesday had high overcast with only occasional sunny breaks, weather more like Canada than Utah. Even though temperatures were mid-20's up high and low 30's near the base, nearly all snow surfaces remained in soft winter mode.
On Monday I started out with Lonnie and Stefan. After a Chips warmup we took Gadzoom to Little Cloud. Road to Provo had opened maybe half an hour earlier for the first time in 3 days. A fog bank made the Road to Provo traverse even more of a junkshow than it usually. I bailed along a line of about three trees, even though I knew I would be in Braille mode below them. Fortunately the minimally skied powder was good. Below the bowl in lower Mark Malu, the snow was a well churned mess, not surprising since both storms before and during our week were a Sierra-like 11% water content (Alta average is 8.2%). While resting I observed skiers in the Rastas, most of whom were resting or zigzagging in the thick snow. Only Adam at left just below the row of trees was skiing there with any speed.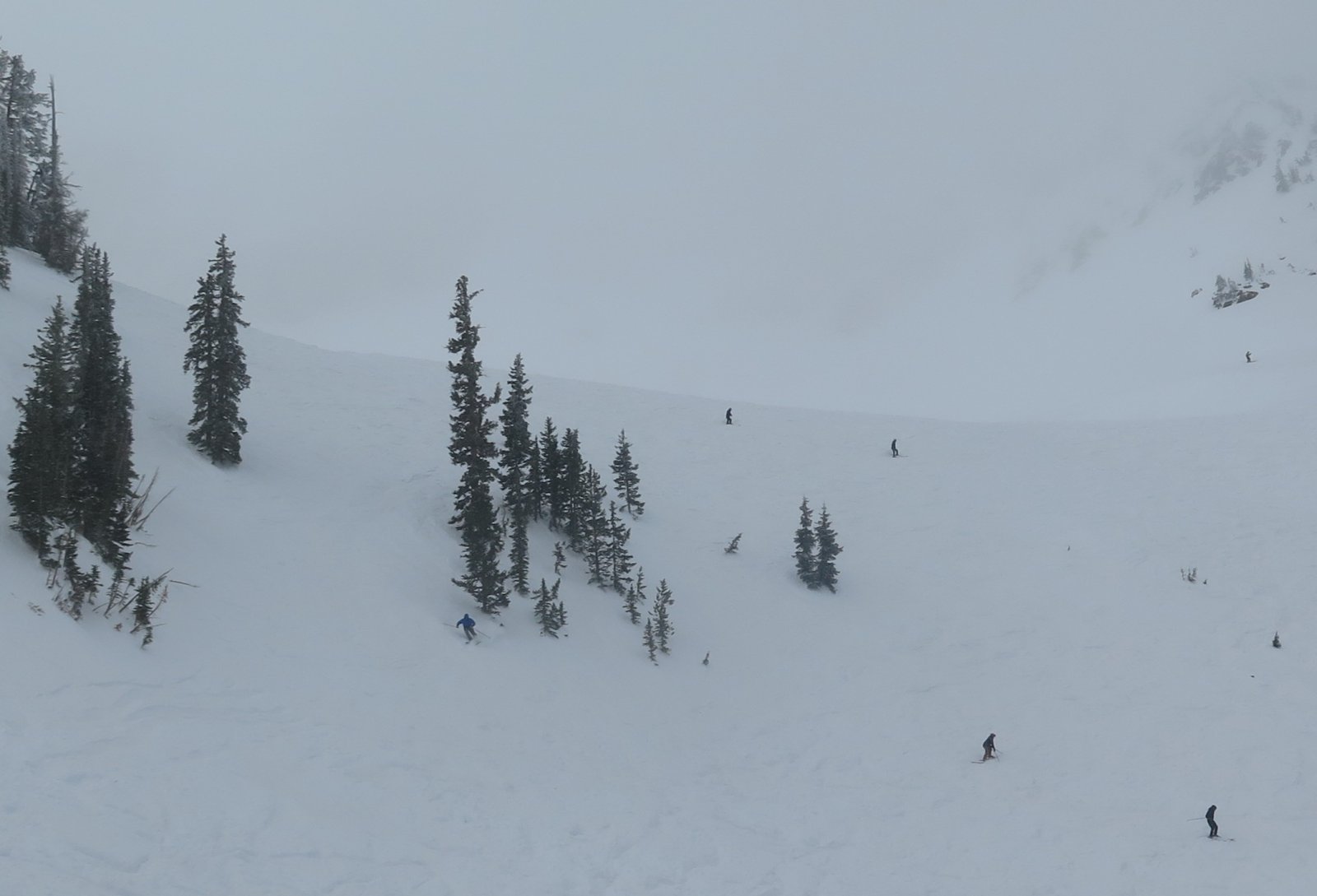 We later heard there was a meat wagon evacuation of an injury on the Road to Provo traverse.
We left Little Cloud for Mineral Basin, where the first run out Bookmark Gully was fairly smooth skier packed. Lonnie wanted to ski Lone Star from the top. I was skeptical but we gave it a shot on next run and it was manageable. A very pleasant surprise was the smooth snow between the Hamilton and Niagara Cliffs. We learned later that they can groom this with such a deep snowpack. Next we took Baldy to an excellent Patrol Gully. All of the rocks on the return to the Mineral Basin chair are completely buried this season.
We went into Hidden Peak for a break, where we met Ken. Ken has had our same Iron Blosam week for 40 years and Lonnie had met him at morning coffee. When we left I said we were going to Upper Silver Fox if Ken wanted to join us. Earlier riding the Peruvian chair I had this view of the huge snowpack.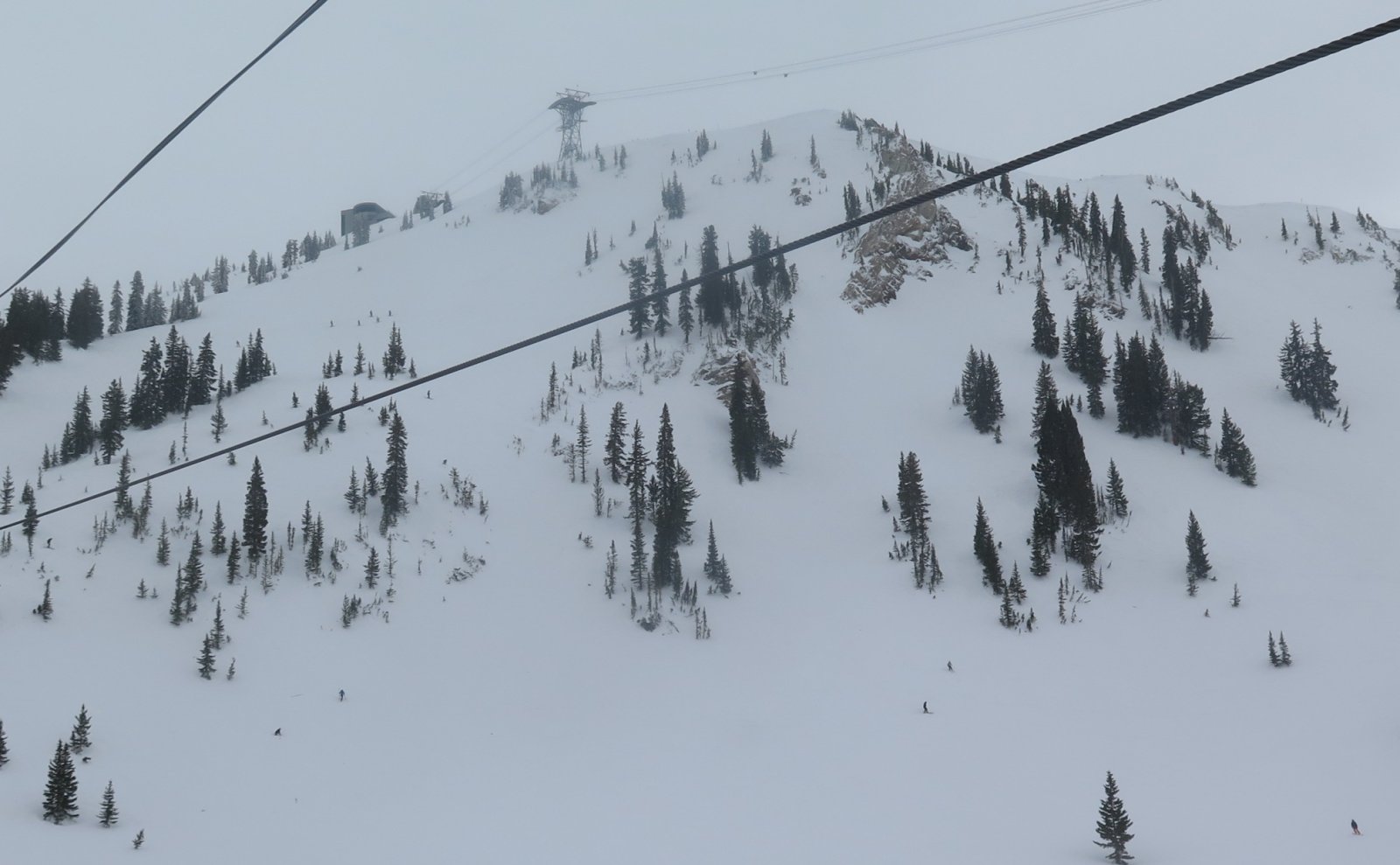 So I steered far left to the Silver Fox ropeline to check out North Chute, which I had only skied twice before. It was wide open but it is a sustained 40 degrees, releasing sluffs on most turns. Ken and Lonnie followed me while Stefan continued down Silver Fox. After skiing that, I knew Ken and Lonnie would appreciate hitting Green Forest lower down.
Ken has lived in Olympic (former Squaw) Valley for 45 years. He is about Tseeb's age and has similar Energizer Bunny stamina and bell-to-bell mentality. They are on opposite sides of Tahoe but I suspect would enjoy skiing together.
So we ran 2 more top to bottom laps via Gadzoom and Little Cloud. I wanted to prioritize runs like North Chute only available/comfortable in deep snow years. Next up was Elevator. Lonnie went first and was almost at the bottom by the time I got the camera out with Ken partway down.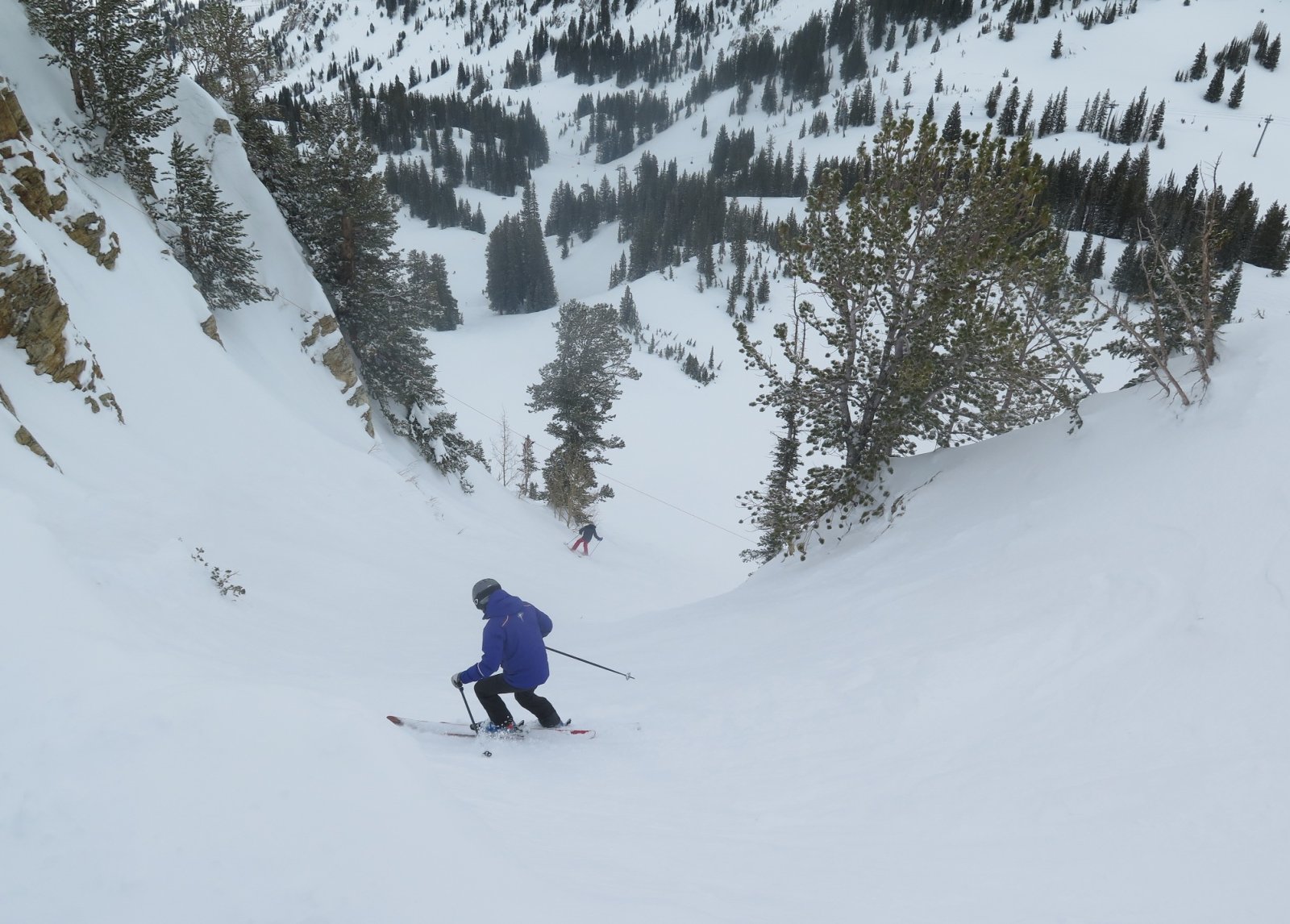 Our next lap went through Great Scott, wide open but by that time the light was quite flat. Here are Ken and Lonnie with the Upper Cirque in background.
I decided to call it a day Monday with 17,800 vertical as I knew more snow was coming midweek. Ken and Lonnie went up top again and skied Jaws.
With the storm incoming Tuesday night it was not surprising to see a windy morning. The wind closed the tram and eventually Mineral Basin. But clouds remained above the ski area.
At the tram deck Liz and I met George, Ken and a couple o four New Jersey contingent, Harold and Margaret. With the weather we decided to spend much of the morning on Gad 2. We got there via Black Forest. Liz on the exit moguls there:
Next run I skied the Gad 2 liftline, which usually has rocks in its steepest section but not this year. Gadzooks had some wind deposition so we skied that next.
Fromm the top of Gad 2 we had a panoramic view of the west side runs from the Cirque Traverse.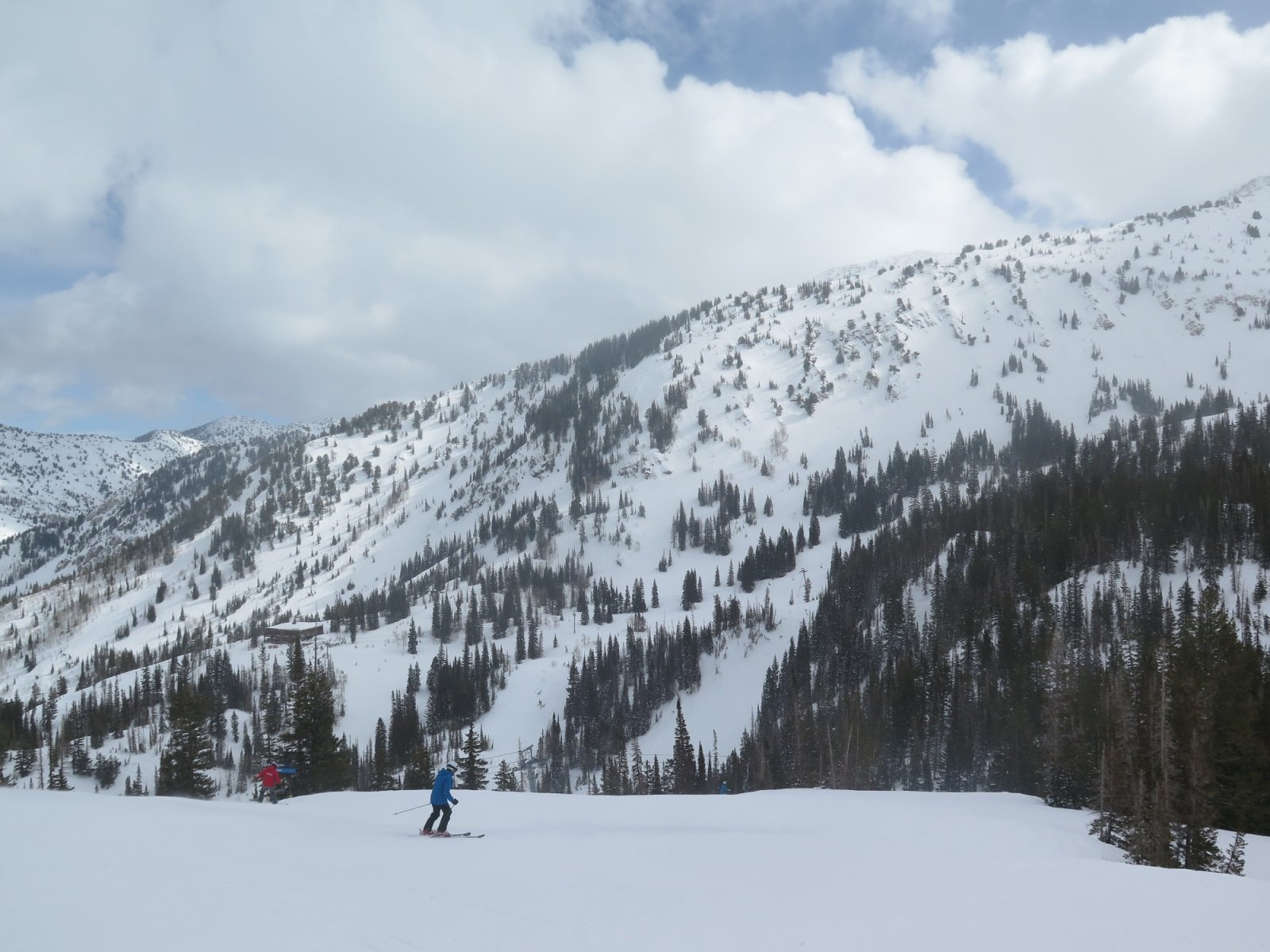 That's where I hoped to be storm skiing Wednesday, but it never opened.
After a third run on STH we continued past Gad 2 to Snake Pit. I wanted to check out the Upper Cirque, so went up there with Ken and George. The wind was blowing on top but it had smoothed out the Upper Cirque to soft windbuff reminiscent of Mammoth. View up after skiing Shot 10:
Adam observed the wind and also figured the leeward Upper Cirque would ski like a good day at Mammoth. We saw four skiers hit this rarely covered line between Elevator and the Middle Cirque.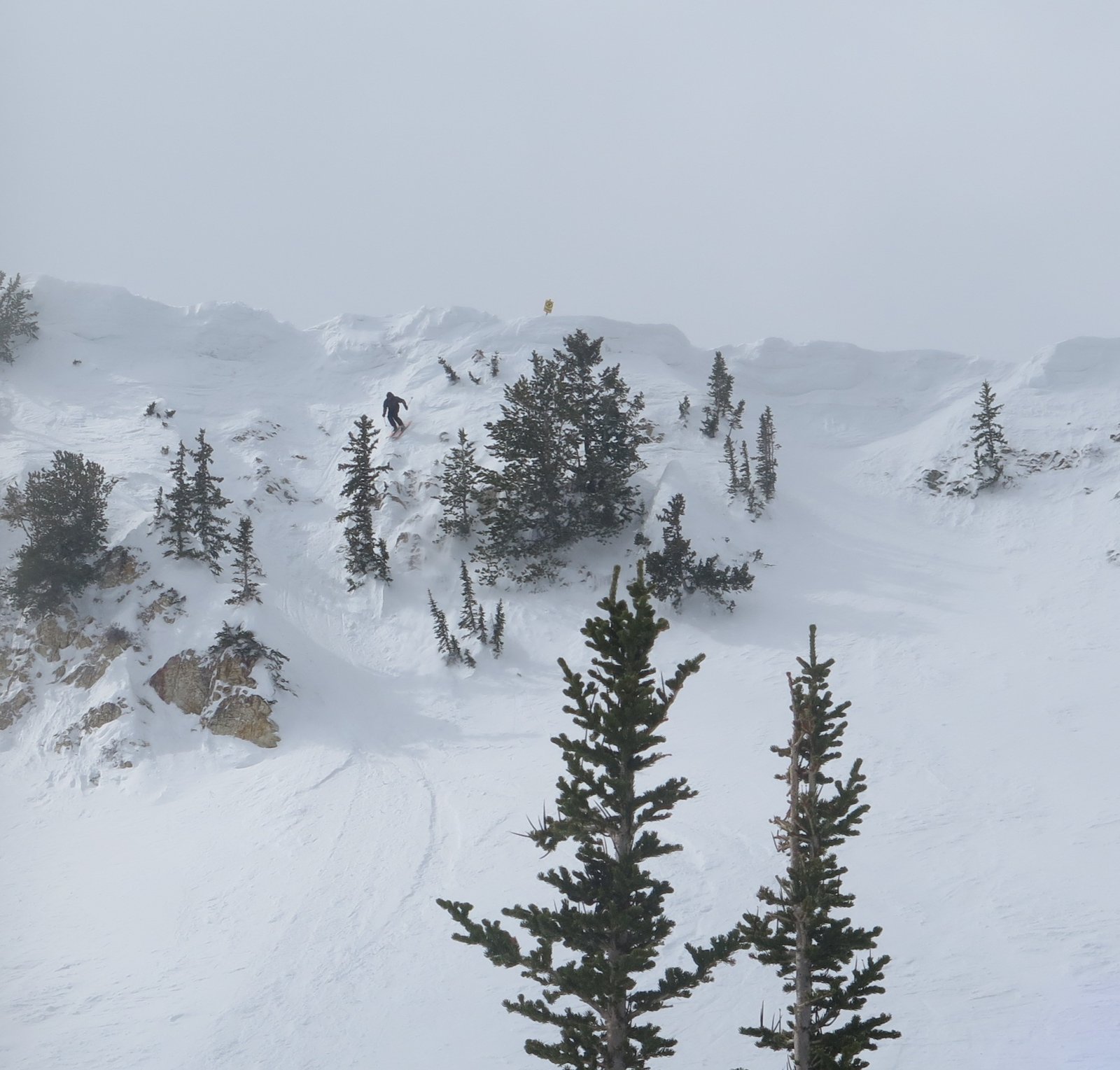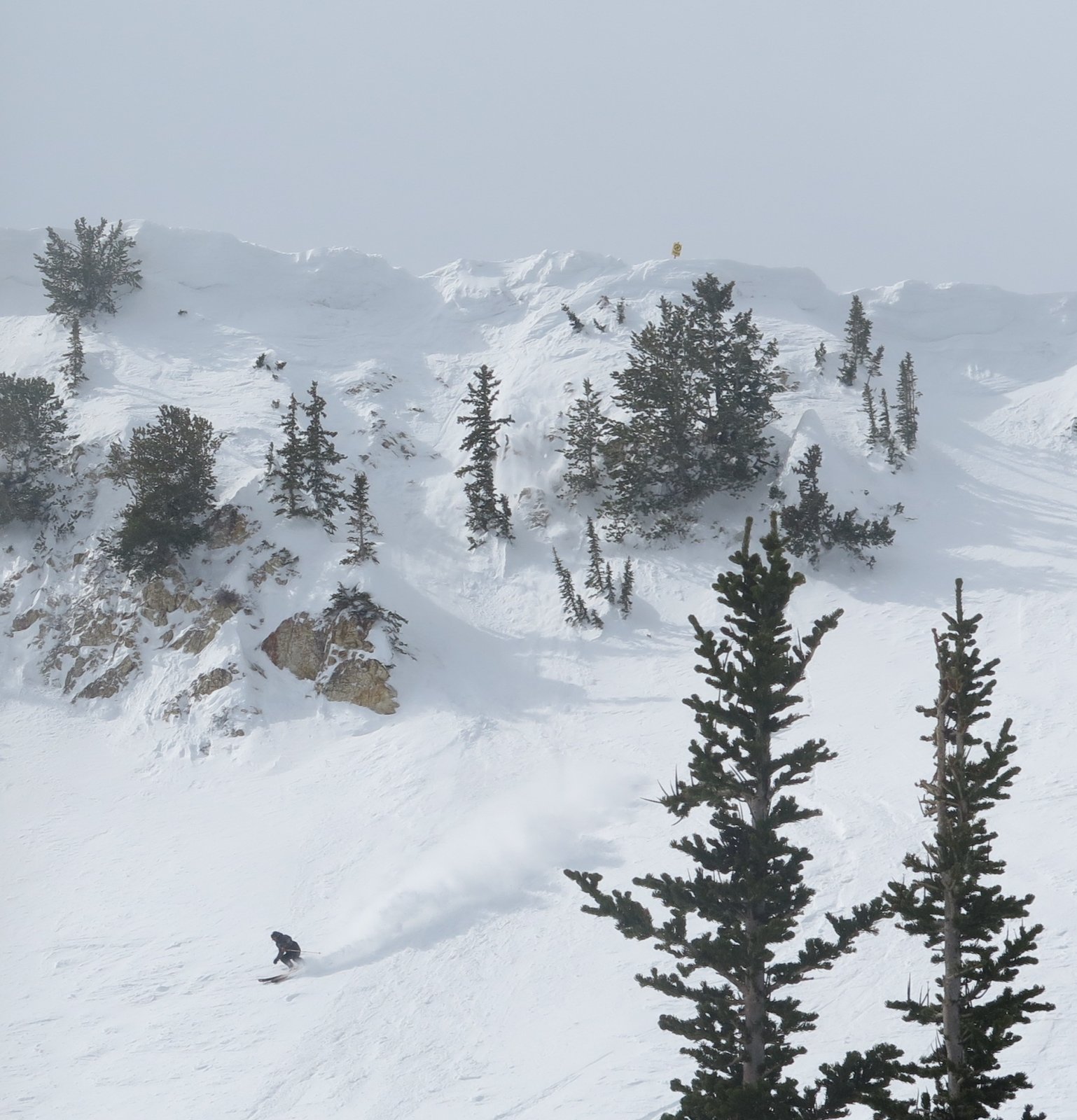 George took a break while Ken and I rode Peruvian and traversed to Silver Fox.
We then heard from Lonnie who planned to meet for lunch at mid-Gad with his friend Bryce and family. They were on Gad 2 for a few runs, so Ken and I had time for more top to bottom run, for which I requested Jaws. Here's Ken ripping the windbuff there.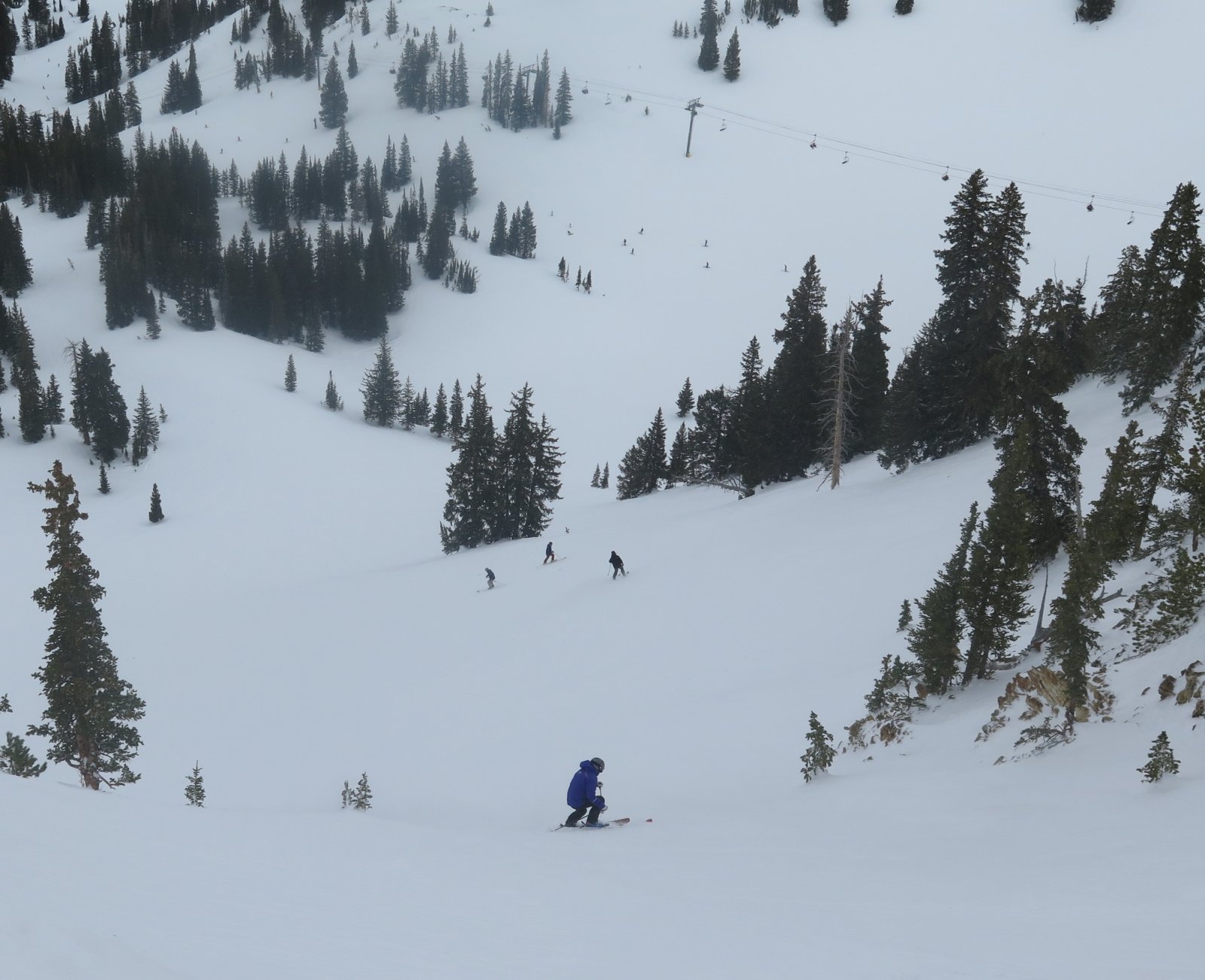 When we were done at mid-Gad it was about 2:30 and the storm had started. I went in after 19,400 of quality skiing, hopefully saving energy for the upcoming powder days.