Administrator
Staff member
A-Basin opened May 29, with tickets reservable two evenings before, similar to Mt. Bachelor. But they also sold 30 $99 day tickets per day, and the other 570 tickets for passholders included Ikon, so demand was far beyond Baldy, Timberline or Bachelor. A-Basin's system crashed immediately at 7PM May 27, so they shifted to a lottery system.
I'm visiting Paul Kulas in Eagle Colorado on my way across the country, arriving Saturday and entering the lottery unsuccessfully for Sunday-Tuesday. Paul is an A-Basin passholder and for Sunday and later days, those passholders have a separate lottery from Ikon and other passes (advance 4-day, reciprocal arrangements with Taos and a few other areas). So Paul won the lottery for Monday, and since each lottery win can be for 2 tickets I got to ski too.
We arrived at A-Basin about 8:45AM. Paul showed the reservation to get into parking. View of Pali chair, which is now closed:
Pail's terrain was never open due to the usual wet snow instability after mid-May, but the lift was open for the first few days of the reopening with skiing off the back to West Wall.
Between the base lodge and the snow was a checkpoint where we showed the reservation again and had our passes (A-Basin for Paul, Ikon for me) scanned.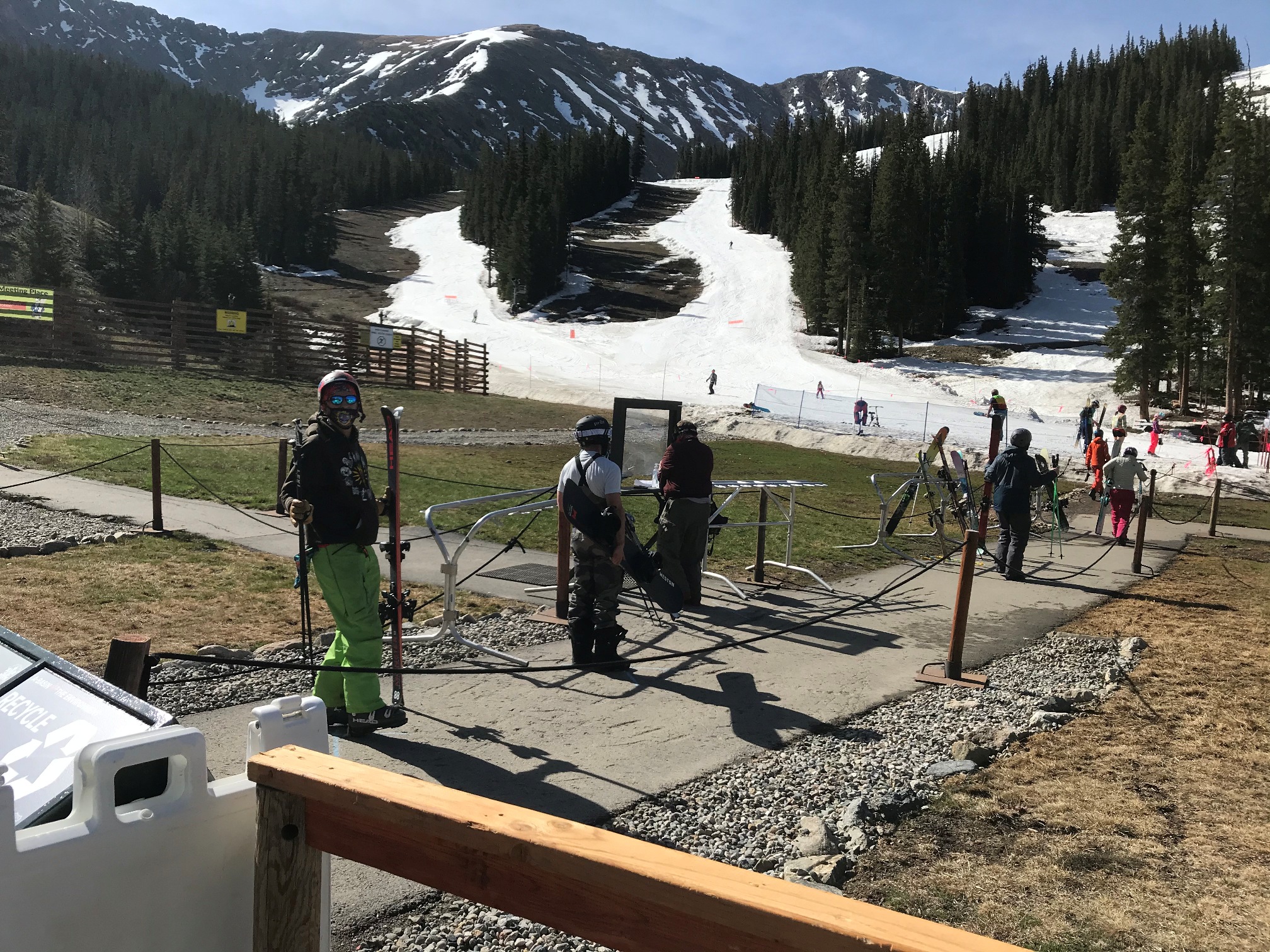 In the backgound are the two lower runs Sundance and High Noon.
Snow was soft immediately due to low temps of 42F. Our first run was top to bottom on Dercum's Gulch and High Noon and I thought the snow was a little too good for 9:30AM, meaning that it might not hold up that well for several hours.
When riding the Lenawee lift these runs from Dragon to Jamie's Face looked interesting, but they were roped off due thin coverage at their entries.
I skied much sketchier lines than this at Baldy a month ago.
The upper part of Lenawee was open to explore varied lines from Humbug through Norway.
Later we skied nearly all of these.
But Paul immediately noticed Lake Reveal.
The approach is relatively flat so Paul wanted to skim the lake sooner rather than later when the snow might be slower. Paul did it twice because I screwed up the video the first time. I forgot my camera and had to use Paul's phone. On the second run this snowboarder hit Lake Reveal in front of Paul.
This boarder was not in Paul's way, but a second snowboarder who did not skim the pond cut closer so Paul had to scrub some speed. So Paul took this line through skier's right side of the pond.
Early in the day we saw some mountain goats around the top of the Zuma lift. Later they move up this ridge.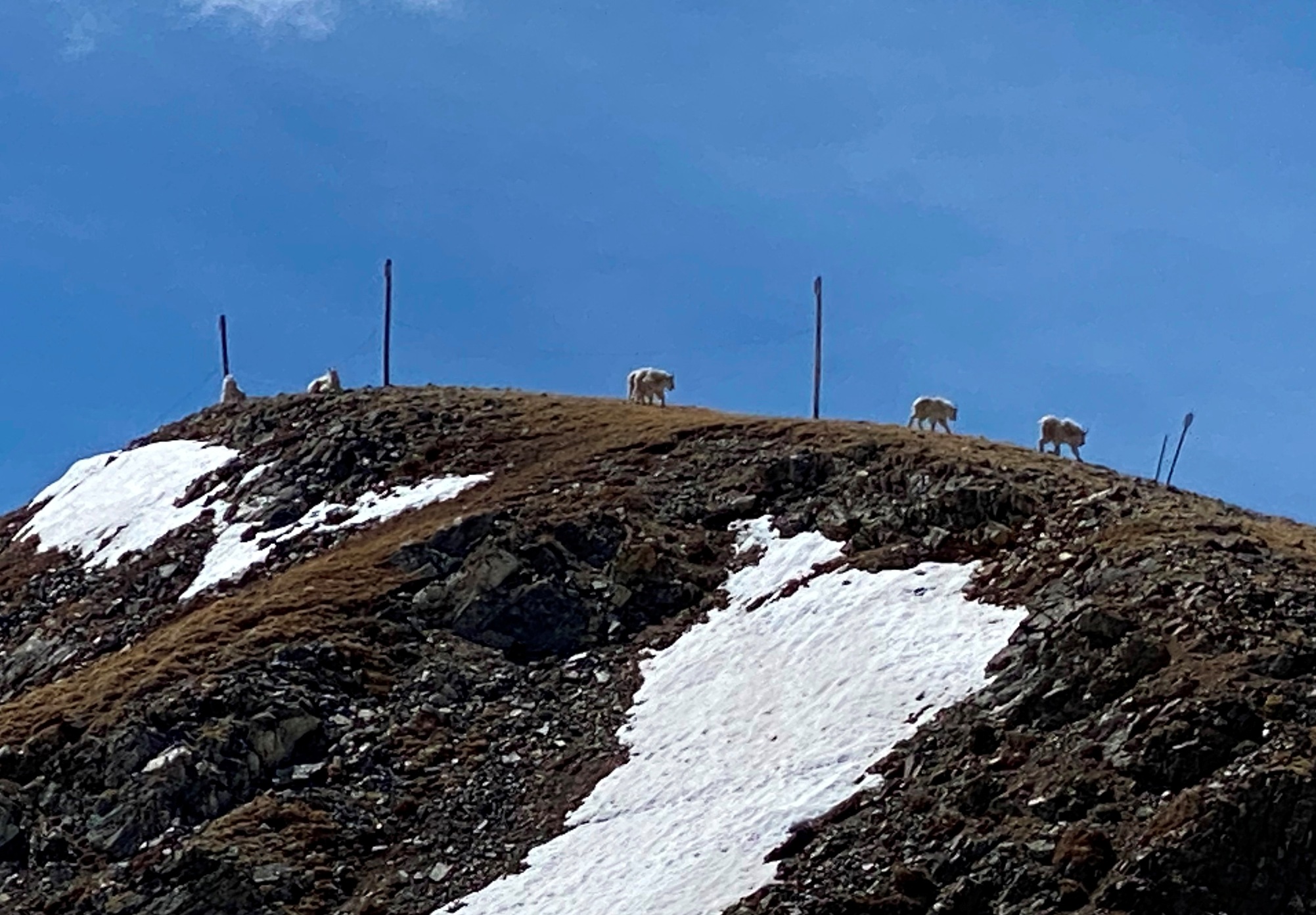 We skied Cornice run so I could look into the new Beavers terrain which I have never skied.
I'm on a viewpoint here with Keystone and Breckenridge in the background.
From Cornice we skied deep moguls on West Wall and returned for an encore later.
Lenawee's liftline was no more than Thunder's at Baldy today, but it is signed for social distancing.
The Sundance run to the base has been farmed, stripping its right half to make the left half last longer.
There were intermittent clouds after 11AM and combined with the 12,000 foot altitude snow never got sticky even on flat sections. So we skied to 1:30, when I got a pulled pork sandwich at Black Mountain Lodge's outside grill.
View from lounge chair of skiers passing by Black Mountain Lodge: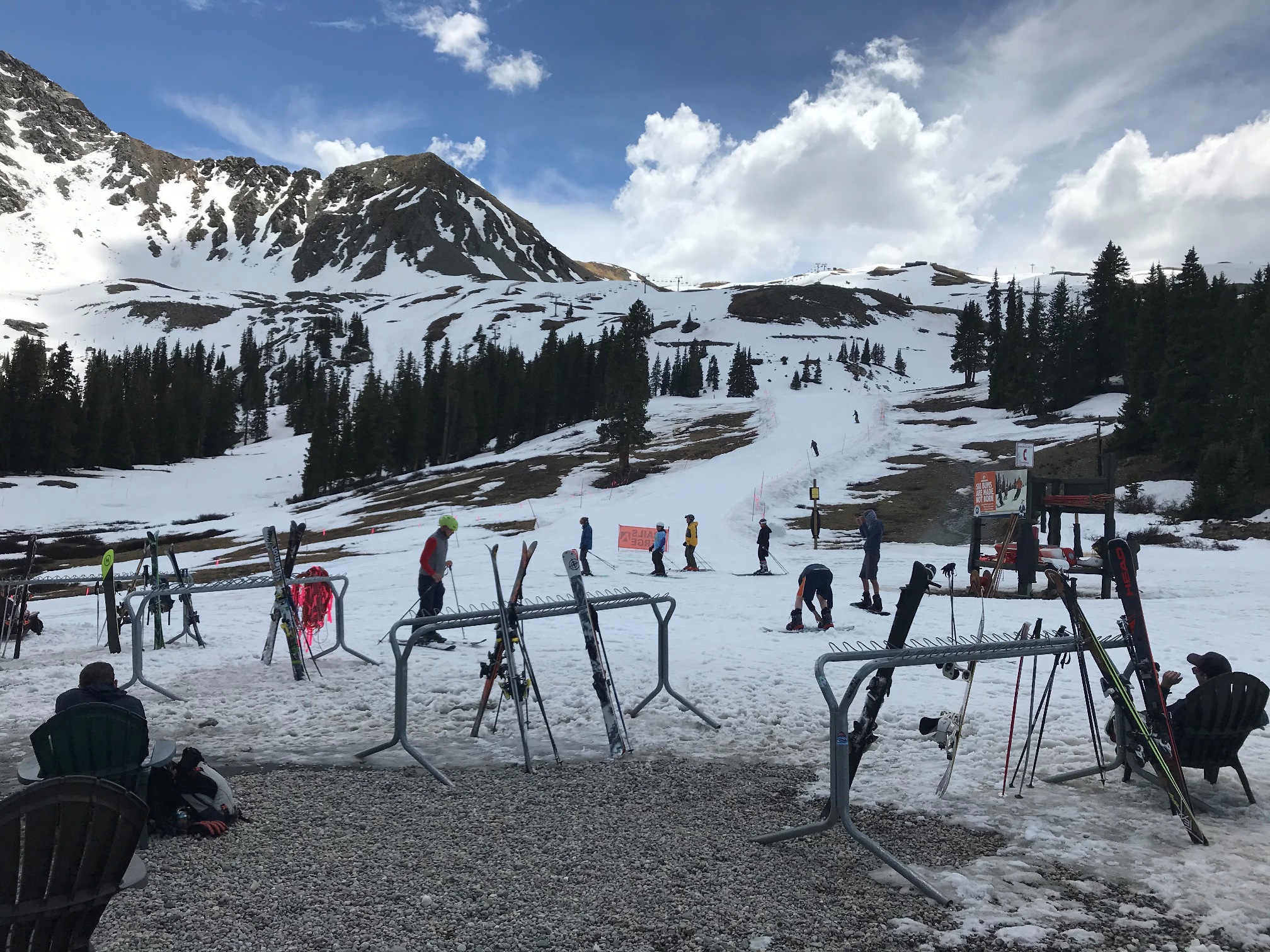 We called it a day at 2PM. The lifts ran slow so lifties wouldn't have to bump chairs. We skied 9:30–1:45, same as my last two Baldy days, but vertical of 12,500 was the same as the first Baldy day that was noon – 3:30.