Administrator
Staff member
I skied only the afternoon after a morning walking tour of Chamonix and the Alpin Museum.
Brevant and Flegere are on the opposide side of the Chamonix valley from Grands Montets and Valle Blanche and thus have great views but bad SE exposure. The terrain wraps around some so there was some NE facing packed powder, but it was mostly hardpack. There are some interesting bowls and couloirs, but you need to time the weather and exposure for the best snow surface.
The weather had finally cleared, but there were clouds on the Italian side and gusty winds. We were very fortunate to have the perfect weather the first 3 days.
Here's a direct view of the Combe de la Pendant face of Grands Montets. Note that the main face left of it is obscured by clouds at the top. The Grands Montets tram had not run these past 3 days, and this afternoon the wind had closed the other lifts there too.
Brevant and Flegere were two separate areas, joined 3 years ago by a 40 passenger tram spanning the intervening canyon. With the SE exposure the pistes into town were not skiable. I walked to the Brevant gondola from my hotel and figured I would cross to Flegere and take its tram down and bus back to town. Unfortunately the wind closed the Flegere tram and I had to wait 25 minutes to get back and then another 40 to get down Brevant.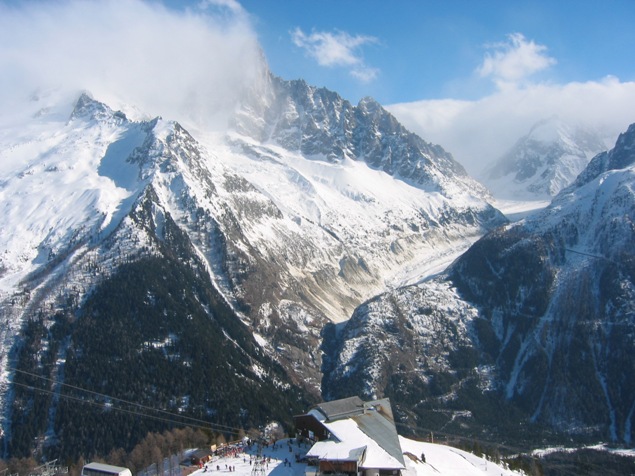 From Brevant you look directly across the the Mer de Glace. You can see the lateral moraine above it which shows the height of the glacier in about 1920.
Here's a final shot from Flegere of the town of Chamonix up to the Aiguille de Midi at the edge of the cloud. Mont Blanc is just behind the clouds.