Administrator
Staff member
It's much easier to get into the La Junta refugio and camping area of Cochamo (markers 1 to 2 below) by horse as the trail is chronically wet and muddy. But once in La Junta there are several challenging day hike opportunities.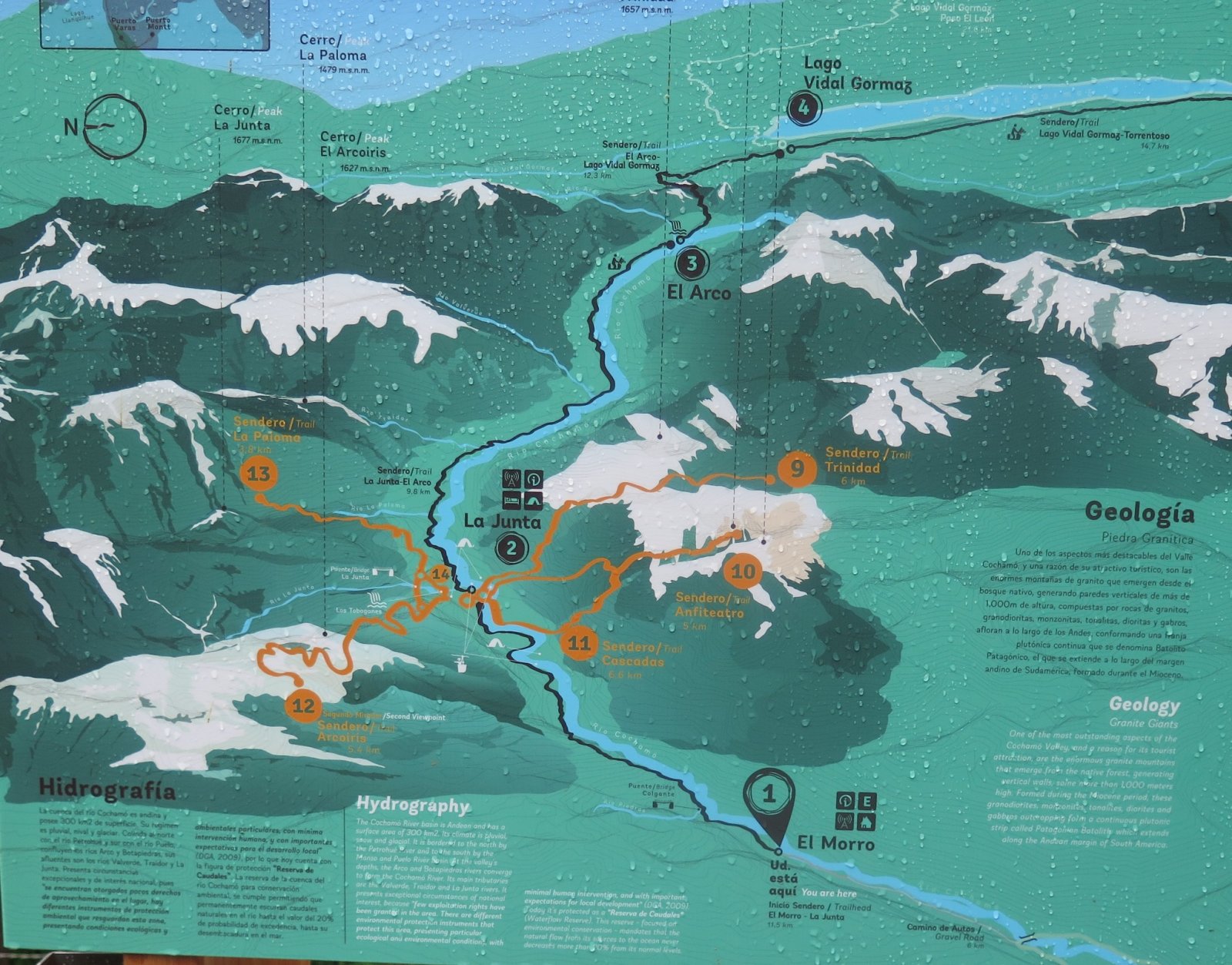 There are 3 main hikes. The formidable Arcoiris (marker 12) ascends 4,000 feet in less than 4 miles on the north side and has fixed ropes in some sections. It needs to be completely free of ice and snow which it is not until January. On the opposite side are Amphitheater (10) and Trinidad (9). Amphitheater has a loop to two waterfalls on its lower half (11), which we hiked with Fabian from 5-8pm Wednesday.
The Cascades hike started with this log bridge.
These rain forest tree roots were a preview for much of Thursday's hike.
Here's the first cascade.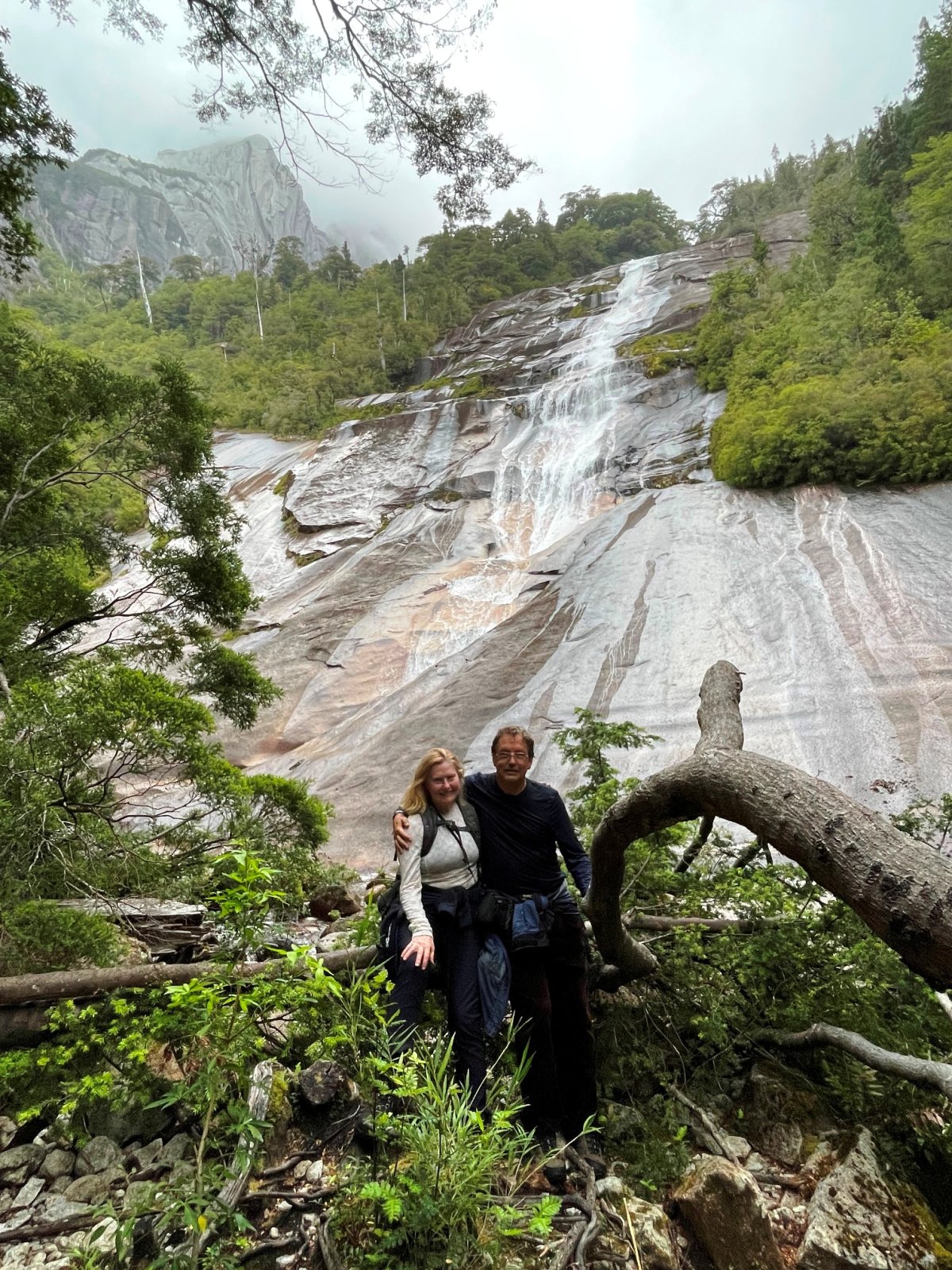 And the second:
It's fortunate we were guided in Cochamo as trails are not always straightforward.
Back in the valley here's a ribbon waterfall on the north side granite.
The sunny weather returned for our remaining time in Patagonia. But most of the Trinidad hike is deep in the rainforest.
Cochamo has many of the Alerce trees, which can be the second oldest in the world.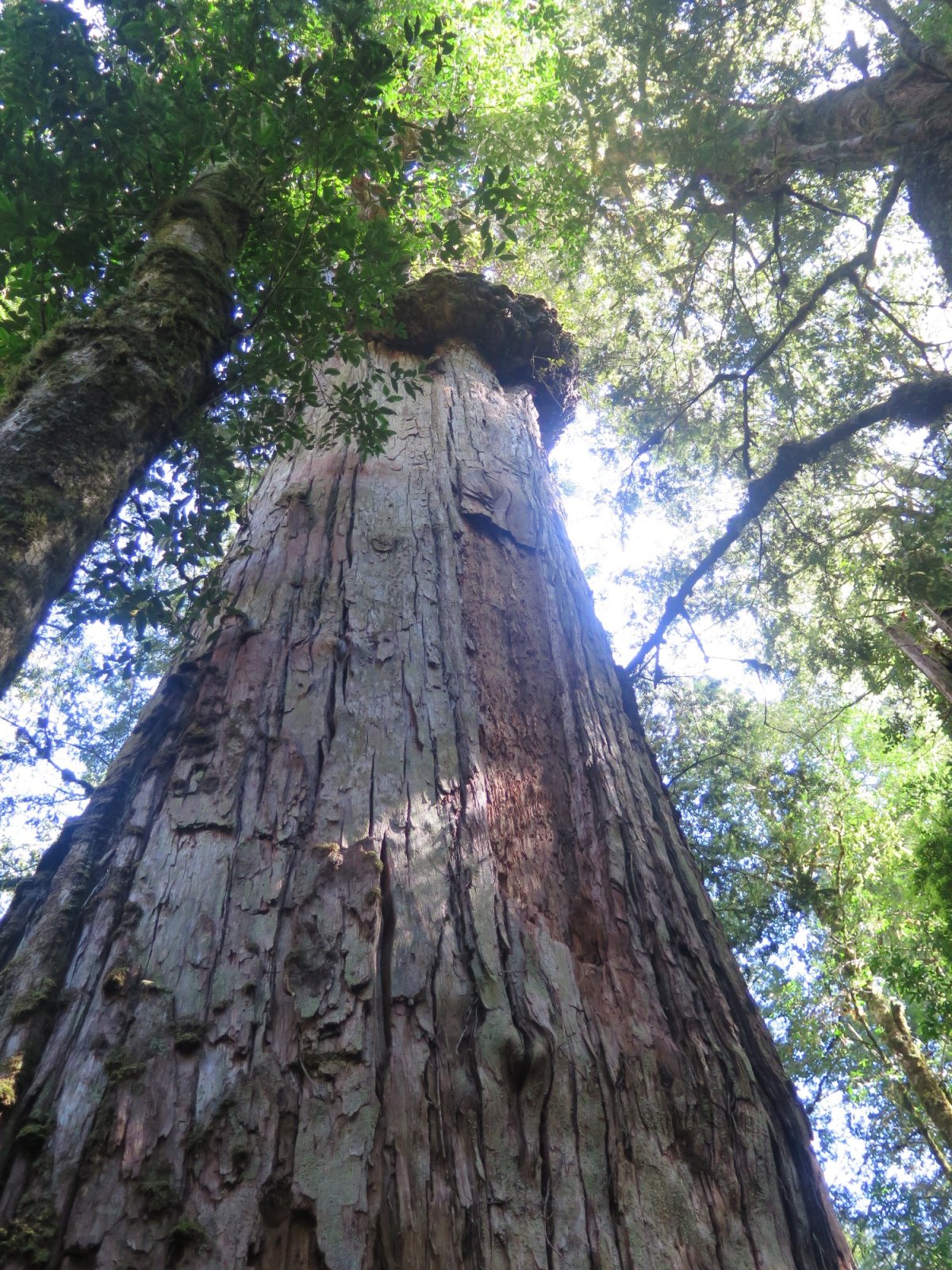 Rainforest lizards are more colorful than what we see at home in the Southwest.
We started up at 9:45AM and reached the base of Trinidad granite at 12:30.
But we are back in the forest for another hour or so.
This campsite is under a huge diagonal granite slab.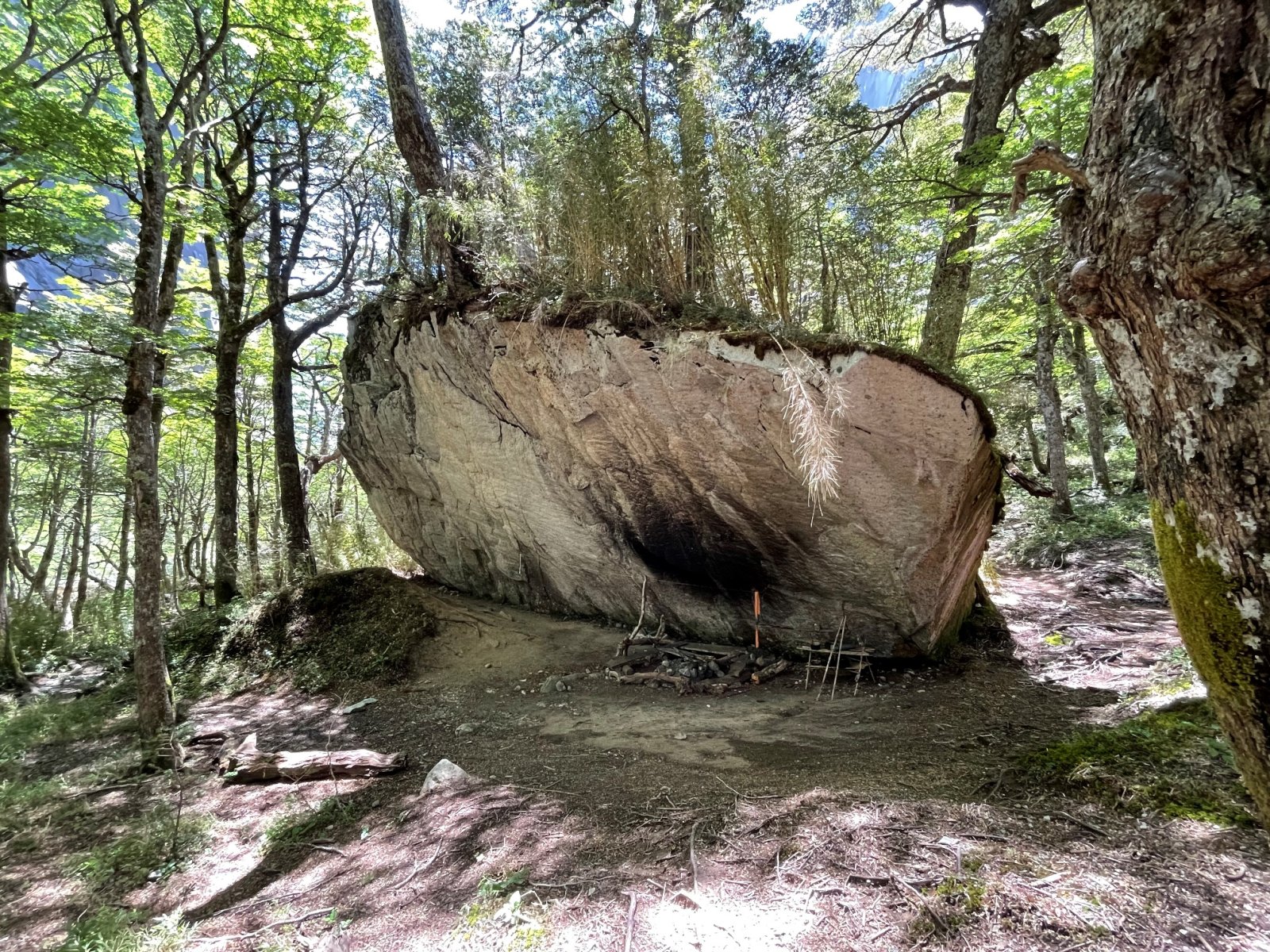 The slab is covered in moss with a couple of large trees growing out of the moss, demonstrating close-up what I was first told in New Zealand in 1982.
Then the trail follows a stream between two of the granite peaks.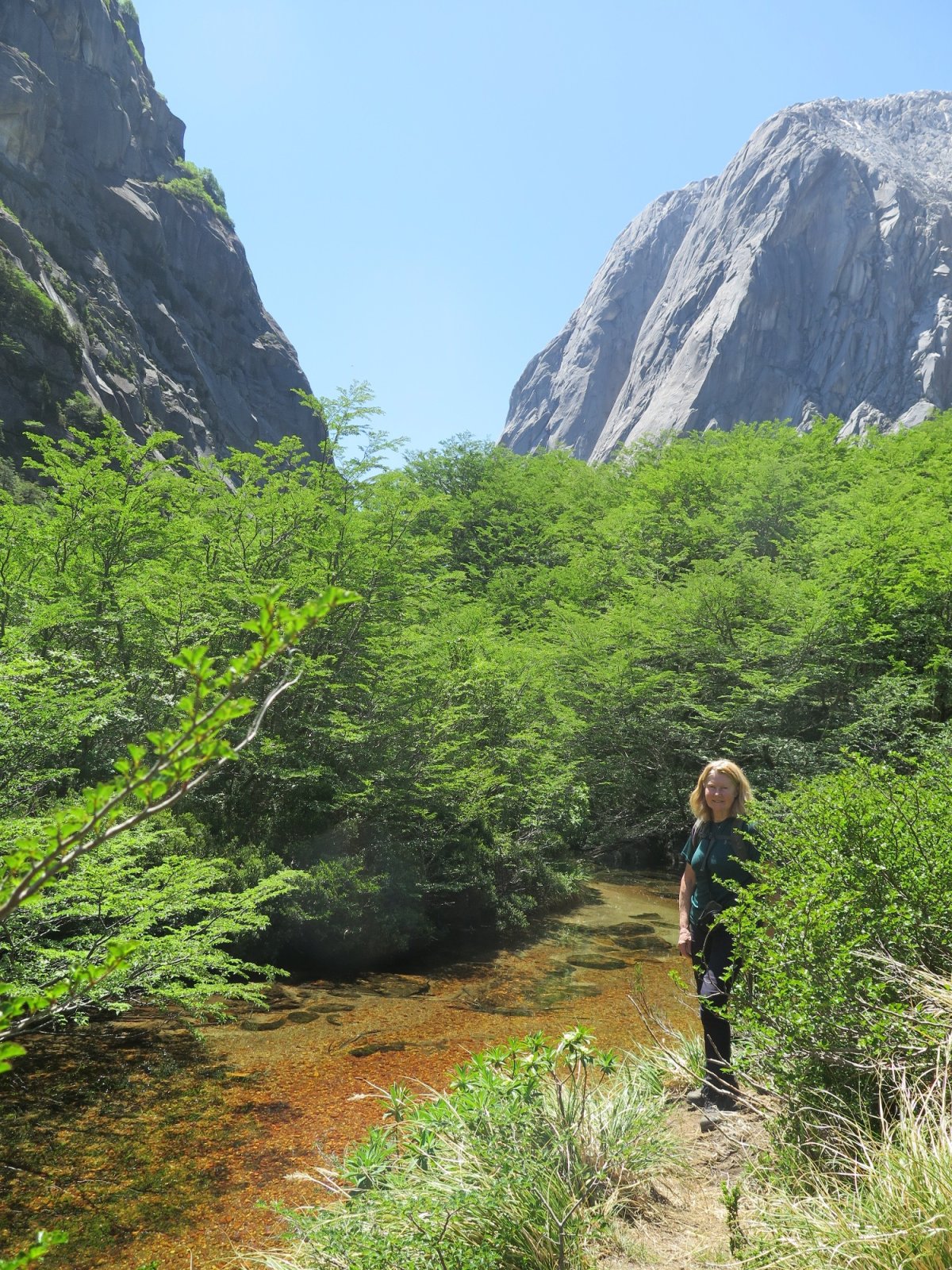 Fabian crossed this stream by jumping on then off the rock in the middle.
The span was longer on the uphill side. I jumped on the way up but waded on the way down as I didn't like the consequences of falling short of that rock.
Farther up we gain perspective on the gap we hiked through.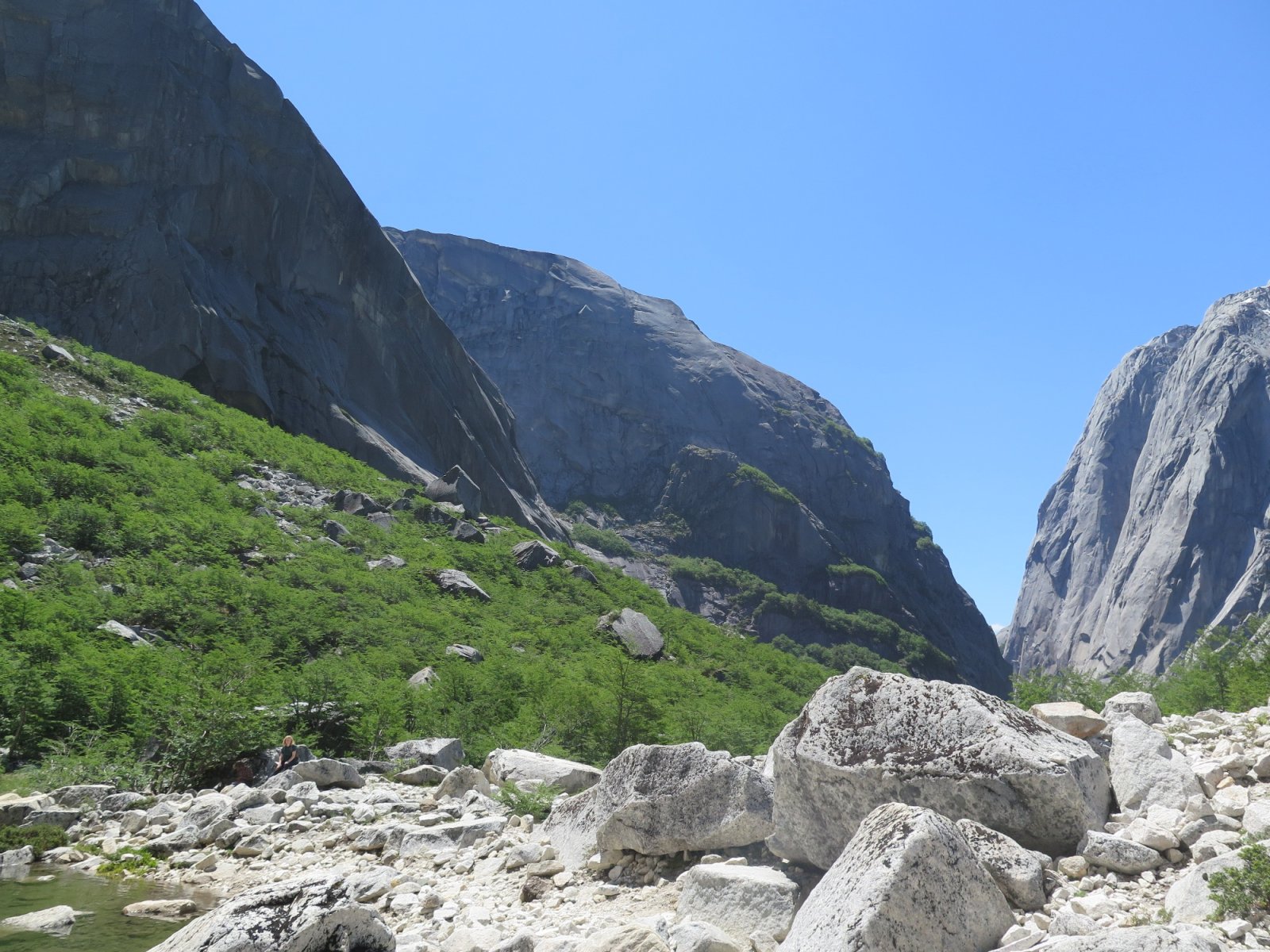 From here the three distinct Trinidad granite walls are visible at the same time.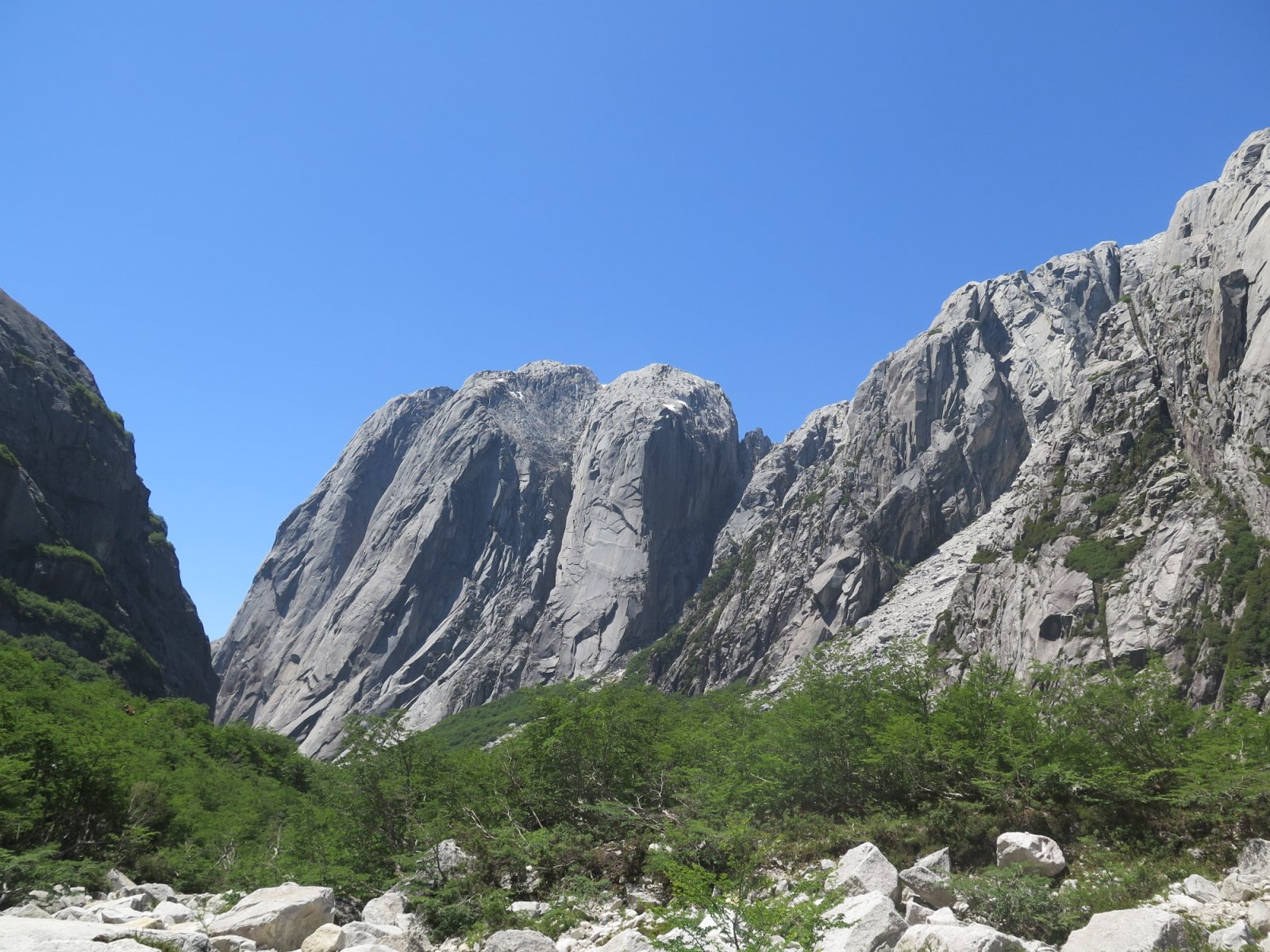 We reached our final objective Laguna Trinidad at 2:30.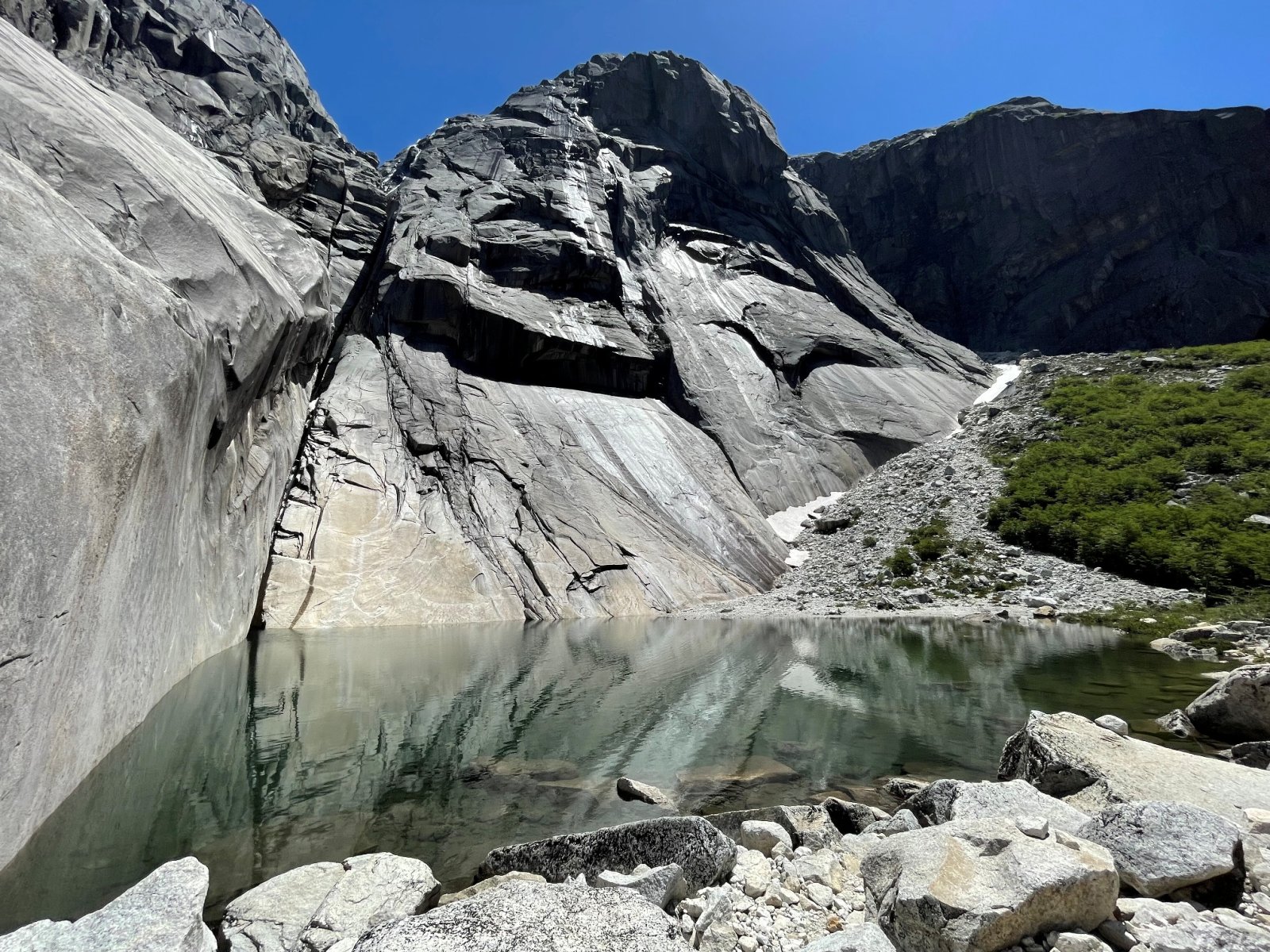 We had lunch there and relaxed for half an hour.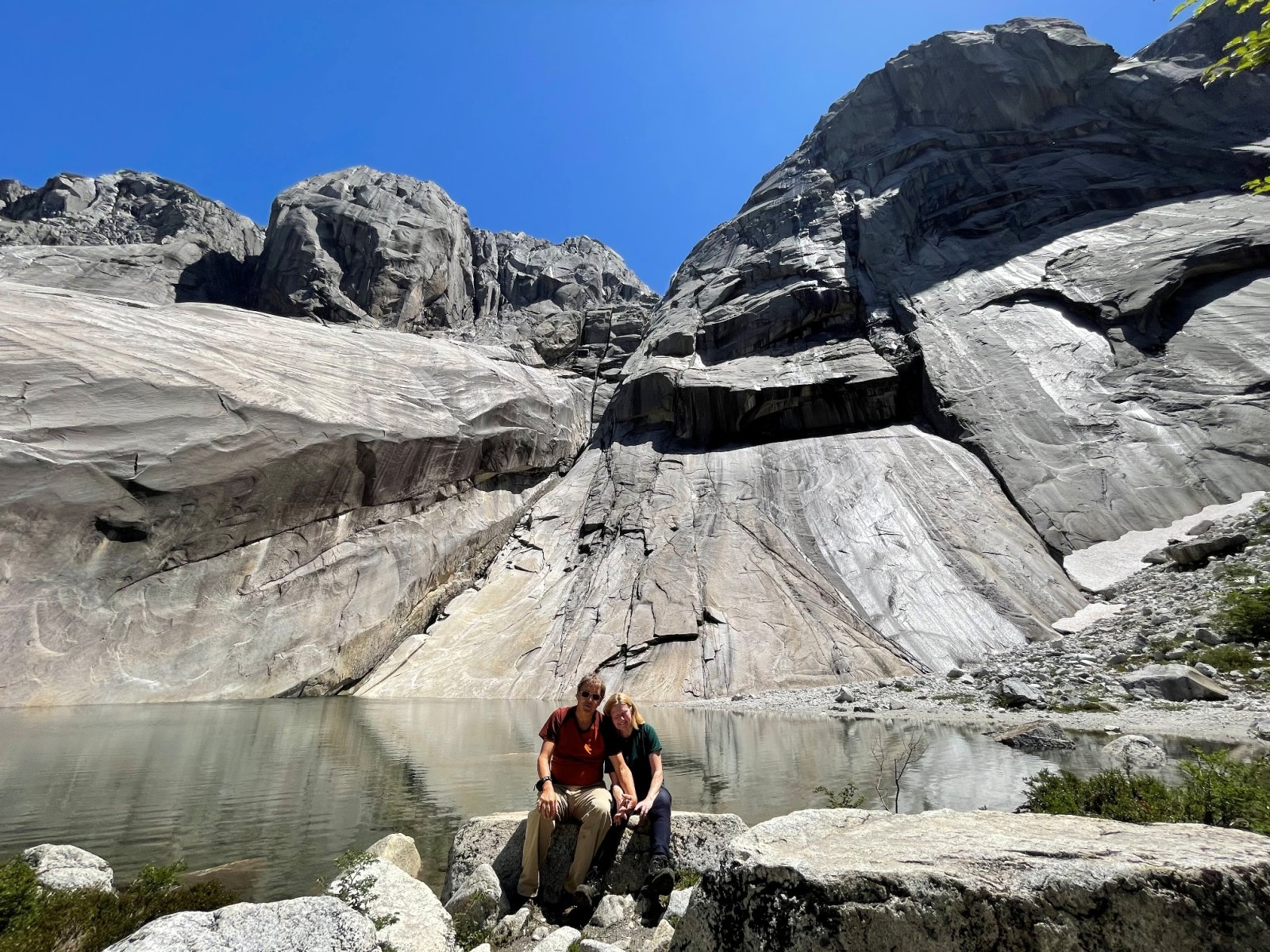 Shortly after we started down I refilled my water bottle.
Patagonian mountain stream water is safe and refreshing as we first learned 10 years ago.
Here we descend some boulders.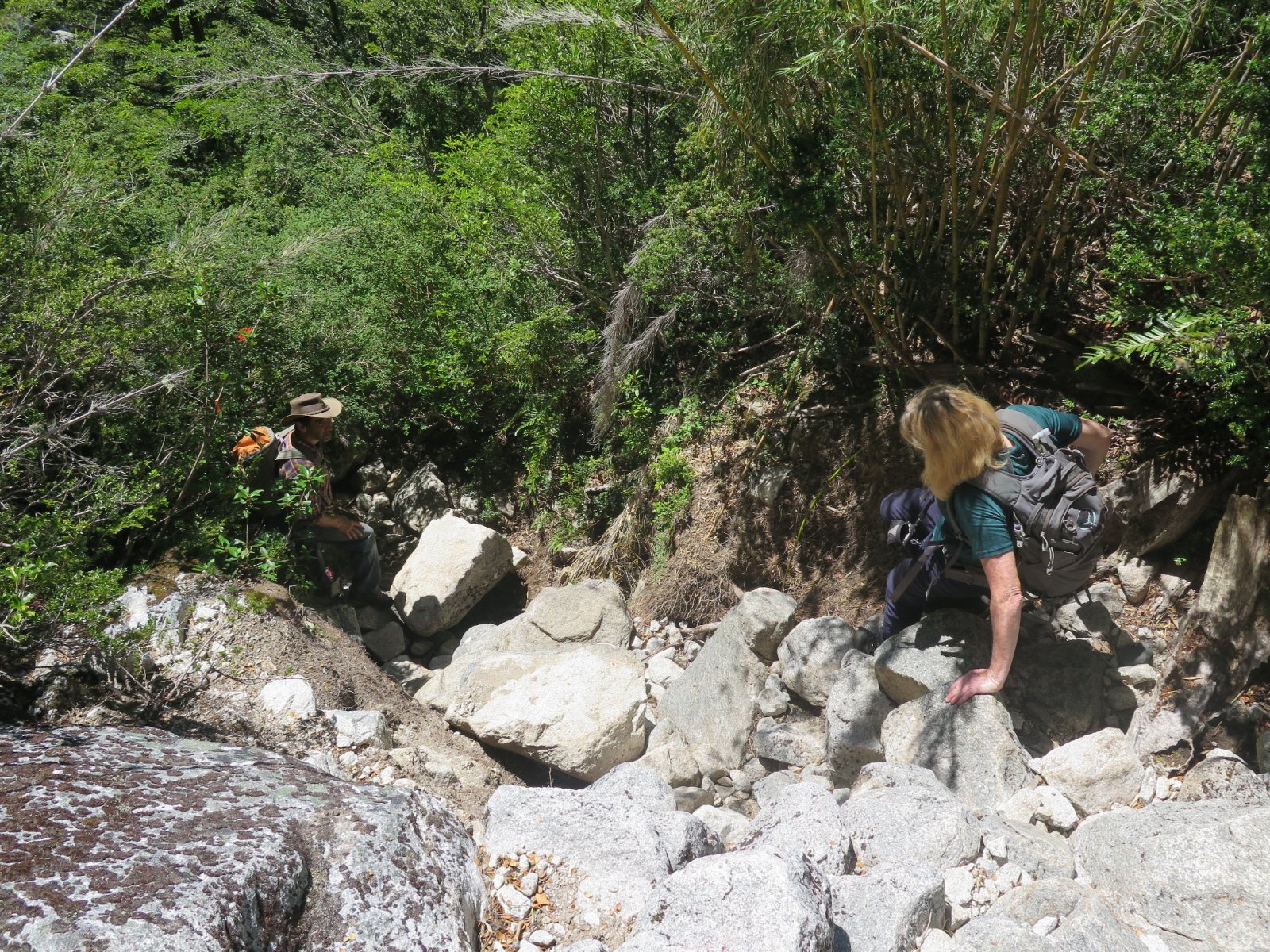 Trinidad is a nearly nonstop obstacle course of tree roots, bouldering and log crossings, considerably more rustic than Torres del Paine. It was not quite as tough as
Lake Obsession in 2017
only due to that one being 3,600 vertical and steeper vs. 2,600 here.
At 4:30 we are back at the base of Trinidad.
Forest descent:
There are sturdy bamboo-like plants which Fabian broke off to form walking sticks for the downhill hikes on both days. This effectively prevented knee pain. We were plenty tired and took Advils but were feeling OK the next morning.
Refugio Cochamo used to be run by a family preparing meals for guests. Now the guides like Fabian of Southern Trips do that. He prepared shrimp pasta Wednesday and pizza Thursday for dinner.
Last edited: