Administrator
Staff member
After the previous two days of near perfection at Grands Montets and Valle Blanche, all did not go according to plan after our bus through the Mont Blanc tunnel to Courmayeur. There are 2 trams that service Courmayeur, and the one we planned to use had a mechanical problem, so we waited over half an hour to get up the other one. We rode 3 more lifts to the top at Cresta D'Arp at 9,700 ft. and didn't start skiing until 11:30AM.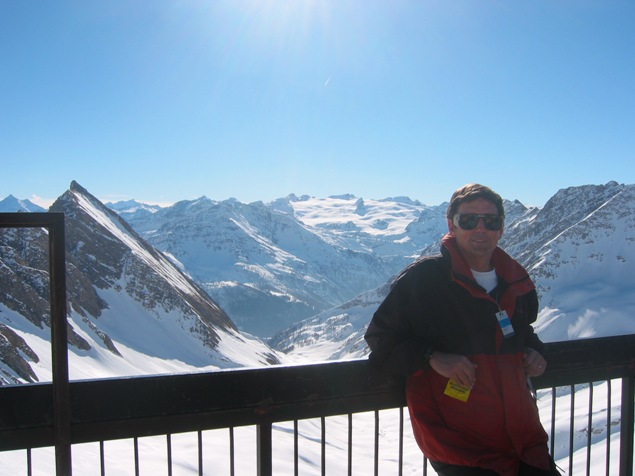 After a trip to its observation deck, Vincent led 7 of us on a 5,300 vertical off-piste adventure. We had all viewed a steep and shaded face riding the lower tram and expected the smooth packed powder we had enjoyed at Grands Montets. Unfortunately it was wind affected and variable with about an inch thick breakable crust in many places. I had few pictures left after filling up most of it on Valle Blanche.
at the bottom of the steep pitch an area had been plowed to block the avalanche path. After negotiating this obstacle we skied hardpack and frozen granular along a stream bed for another 1,000 vertical or so before reaching the bottom piste, catching a bus to the tram base and going back up for lunch. Lunch was scheduled for 12:30 and we rolled in at 1:40. Fortunately some of our group was still there, as we had worked up quite an appetite for the pizza, pasta, torte, wine (and grappa for some) with our "survival skiing" experience.
We finished lunch at 3:20 and got in line for the tram to go back to the bus. The pistes at Courmayeur face east and those who skied them said it was mostly hardpack/spring and we didn't miss that much.