Administrator
Staff member
Our day started with an early drive up LCC because Liz had lost her phone there Sunday. Someone in the clinic did a find-my-phone search and texted it to me.
When I was done skiing at Snowbird 2PM I pulled up Google maps, explored bit and concluded that the larger building at upper right was Alf's restaurant so the two small structures near the phone were at the base of Sugarloaf. Overview locator pic the next morning: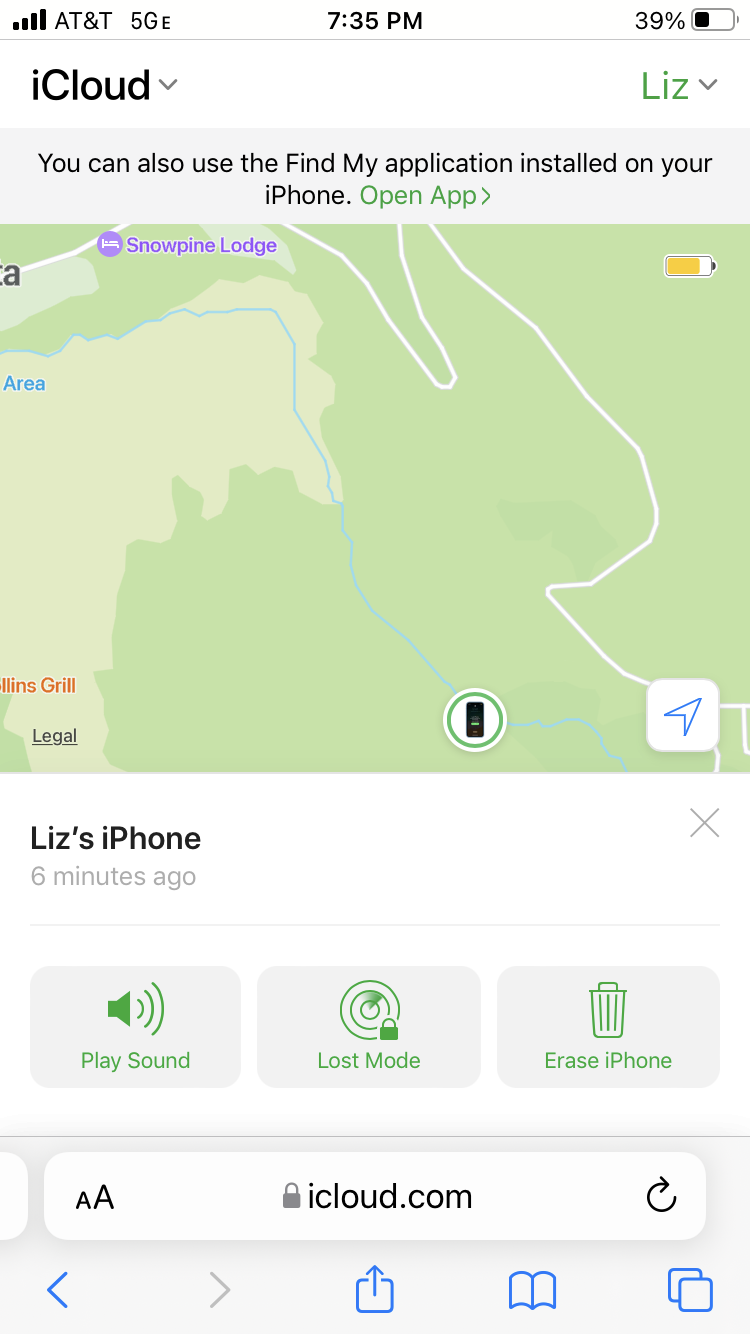 By this time Liz was back in her clinic without access to the search phone. At the end of her ski day she went to lost and found where a discharged phone had been turned in. In the evening she charged the phone and it was not hers. Meanwhile my phone showed that hers was still in the same location.
Up at Alta at 8:30 we found the collected lifties about to head up. Nancy was going to Sugarloaf but did not find a phone in the lift shack. She referred us to a supervisor who let Liz up Collins to conduct a personal search. At Sugarloaf Asher helped her out as she repeatedly called the phone. Asher eventually heard the phone under a few inches of snow in the loading area.
With mission accomplished we drove to Deer Valley (not wanting to burn another Ikon LCC day with Iron Blosam week still ahead), parked in Lot 5 there and got on the hill about 11:30. We got up to Bald Mt. and skied the double blue groomer Tycoon, which Liz and I both described as "Killington packed powder." Stein's Way here was similar.
View from Bald Mt. over Jordanelle reservoir:
Weather was mostly sunny but cooler than the previous three days, probably mid-20's. Wind was swirling in Alta's parking lot and Liz' Diamond Dogs friends Debbie and Steve said Park City was windy, but not very much at Deer Valley.
We crossed the mountain to check out Lady Morgan and Empire before lunch as those lifts close 3PM. It's still a bit low tide on Lady Morgan.
View east to Flagstaff and Bald Mts:
Next door is the McConkey's sector of Park City.
Heading back to Empire even the direct south facing Dakota had not fully softened in peak sun. We ventured into part of the moguls at the top of Empire.
It was all fairly firm.
I took one traverse out toward the Daly Chutes. With conditions I decided to ski Daly Bowl instead of chutes that might be too narrow now. However even Daly Bowl had obstacles to get around.
Snow in there was shaded and chalky though.
We had lunch just before 2PM at the Empire base. Here Deer Valley did not disappoint, with a Neiman Ranch burger, salmon taco salad plate and carrot cake.
After lunch we skied Lucky Star and Bluebell/Stargazer on Flagstaff, then Wizard and Keno on the Wasatch chair. Some of the steeper Wizard was controlled sliding in the after 3PM shade.
We skied Kimberley and Big Stick back to the base, finishing with 18,300 vertical.
I had skied Deer Valley with the former admin during a lean January in 2009, when we both noticed the manmade subsurface. The current dry spell has been longer and it was definitely a day where you needed to aim your turns for loose snow and or to the sides of the runs.
Liz said Deer Valley struck her as a very eastern ski area and not as interesting as Killington. Neither one of us has ever seen the place as its groomer paradise reputation. It's either been a new snow day where the groomed runs are not smooth or a too old snow day where the manmade subsurface is nearly always evident.
The main observation is that when you ski back to back days in the Cottonwoods and Park City/Deer Valley, the contrast in snow conditions is often glaring. Any adverse weather (low tide, warm temps, drought) will hit the latter areas much more severely.