Administrator
Staff member
Chile's COVID requirements were more rigorous than last year in Argentina. We had to submit vaccine records a month ahead, which were approved, e-mailed back with instructions to set up Chile's Mobility Pass. Then two days before departure we got PCR tests, and upon receiving them that night submitted them to Chile and got a new form to show upon arrival in Santiago Friday morning Nov. 27. In addition at LAX they wanted to see our vaccine records and minimum $30,000 insurance policy. We landed 7:05AM Santiago, but were not done with PCR test there until about 8:30. We took a cab to our hotel, which we did not leave until the test results came back about 2:30PM.
During our last evening in San Pedro de Atacama Dec. 1 we got an e-mail from John Beattie stating that the Falklands are not available as an "Alternate Airport" in case of emergency for the upcoming eclipse flights. Therefore LATAM has to use widebody 787's instead of the Airbus 321's. This added costs shared by LATAM and TEI Travel, and John requested passengers cover the travel agent cost.
When we arrived back in Santiago Dec. 2 I spoke to Michael Gill and Xavier Jubier. Xavier said 20 German Antarctic scientists had to make an emergency landing in the Falklands in October and that there was a big brouhaha about it. The Falklands want unexpected arrivals quarantined and they refused to consider that option for a plane with 40 eclipse tourists.
A further complication was that the 787's have flexible wings which rise in flight and would obstruct the planned sunrise eclipse from some rows. At breakfast John showed me we were assigned to Row 31, which is well to the rear and has no such issues. However, the flight plan needed to be altered so that the eclipse would be viewable from the number of rows that had been sold. The map below shows flight plans for viewing 3, 5 and 7 degrees high in the sky.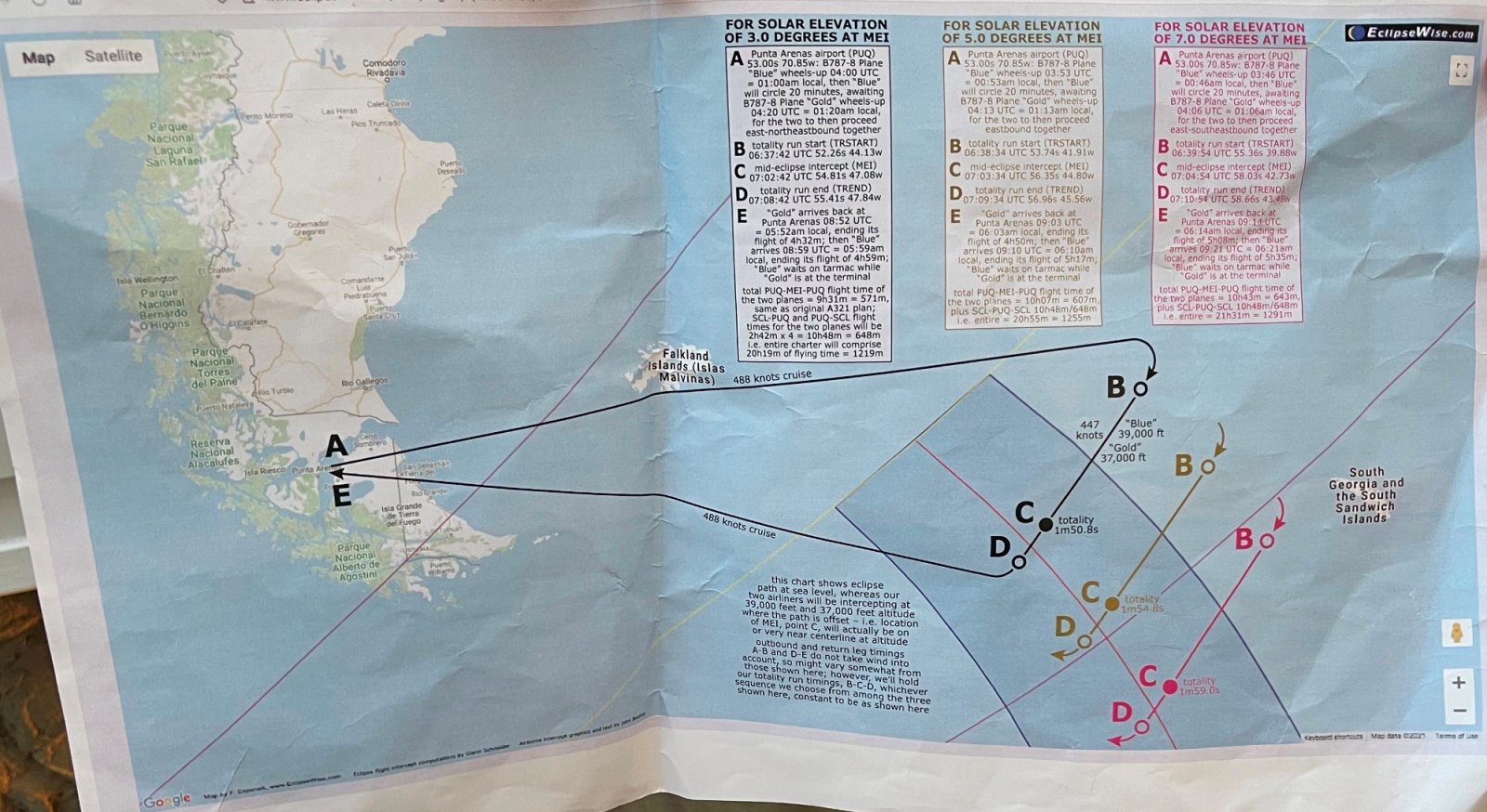 The higher the sun, the farther from Punta Arenas and greater the fuel cost. John and LATAM settled on 5 degrees to ensure clear views from enough rows. We did not see the actual height of the flexible wings until we were flying south from Santiago to Punta Arenas during early evening of Dec. 3. The flight had great views of the Chilean Lake district and Osorno volcano across from Puerto Varas.
We also had impressive views of the northern Patagonian icecap and numerous glaciers flowing from it.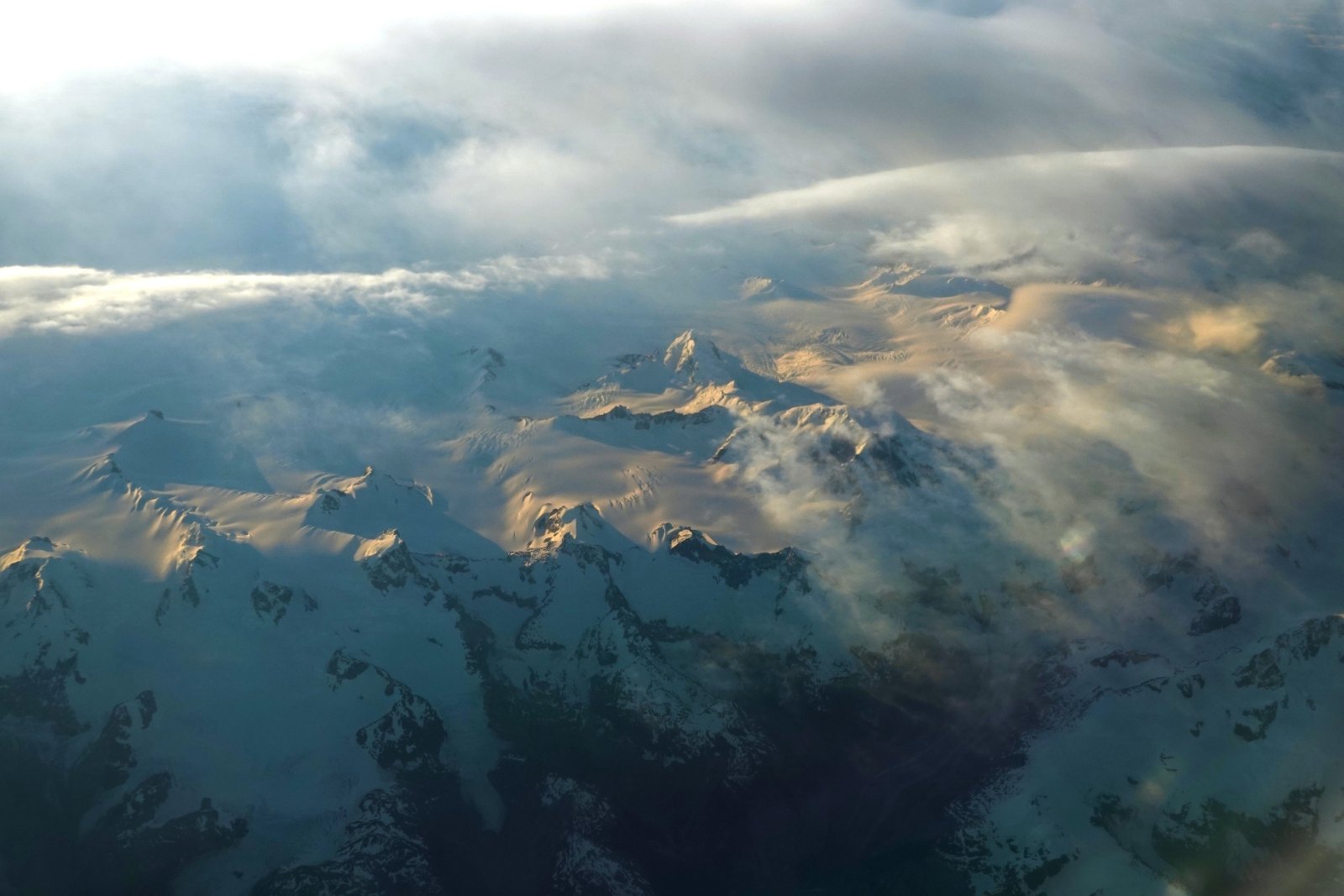 We were in the gate area in Punta Arenas for about 2 hours before taking off for the eclipse after midnight. Xavier was still checking the flight plans.
After awhile the southern horizon took on a post sunset appearance due to there being permanent sun over the Antarctic.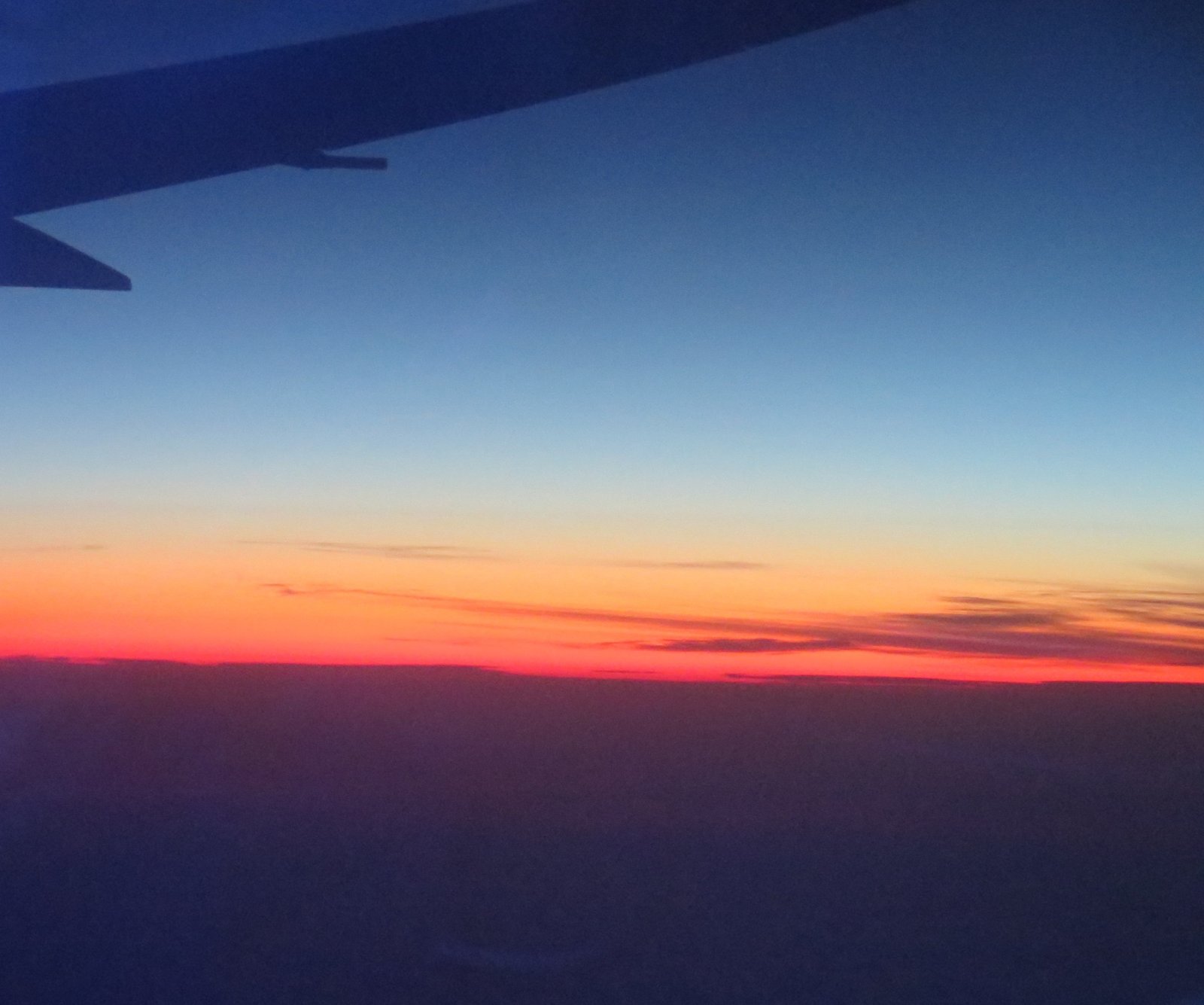 From 37,000 feet there is a lot of atmosphere to spread out refraction to a prism of colors.
When the plane turned for its totality run we put on eye patches to dark adapt.
As we neared totality, we could see long but narrow breaks in the cloud deck over the ocean.
We wondered if any of the cruise ships could find one of those breaks.
There are 15 ships in the totality path. Only one saw the eclipse, no surprise if you have ever experienced the weather down there as Liz and I did in 2011.
Eclipse shadow on clouds below just after second contact, pics by Catalin Baldea of Romania on our plane.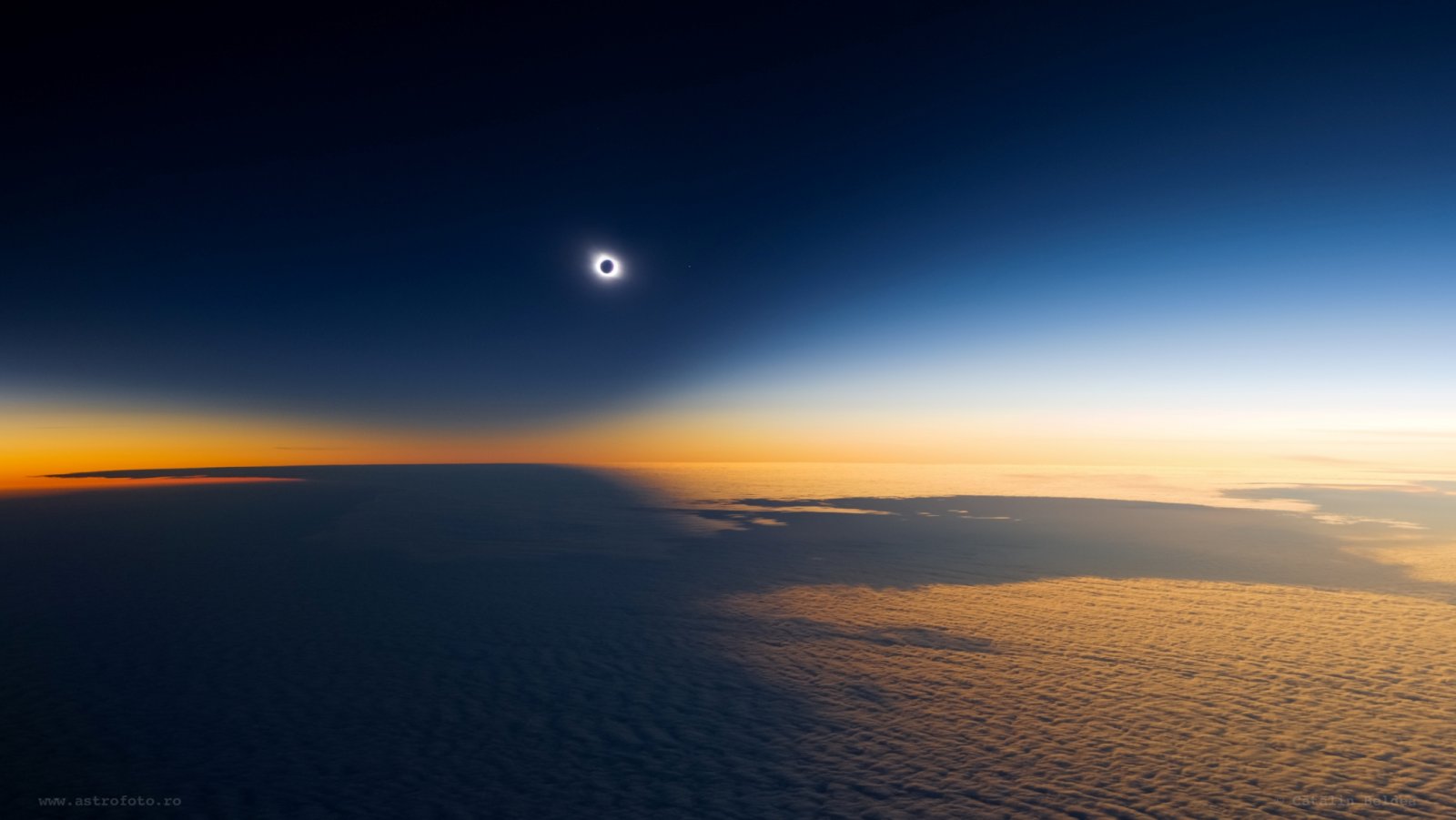 Mid-totality, Mercury is the small dot to the right of the sun/moon.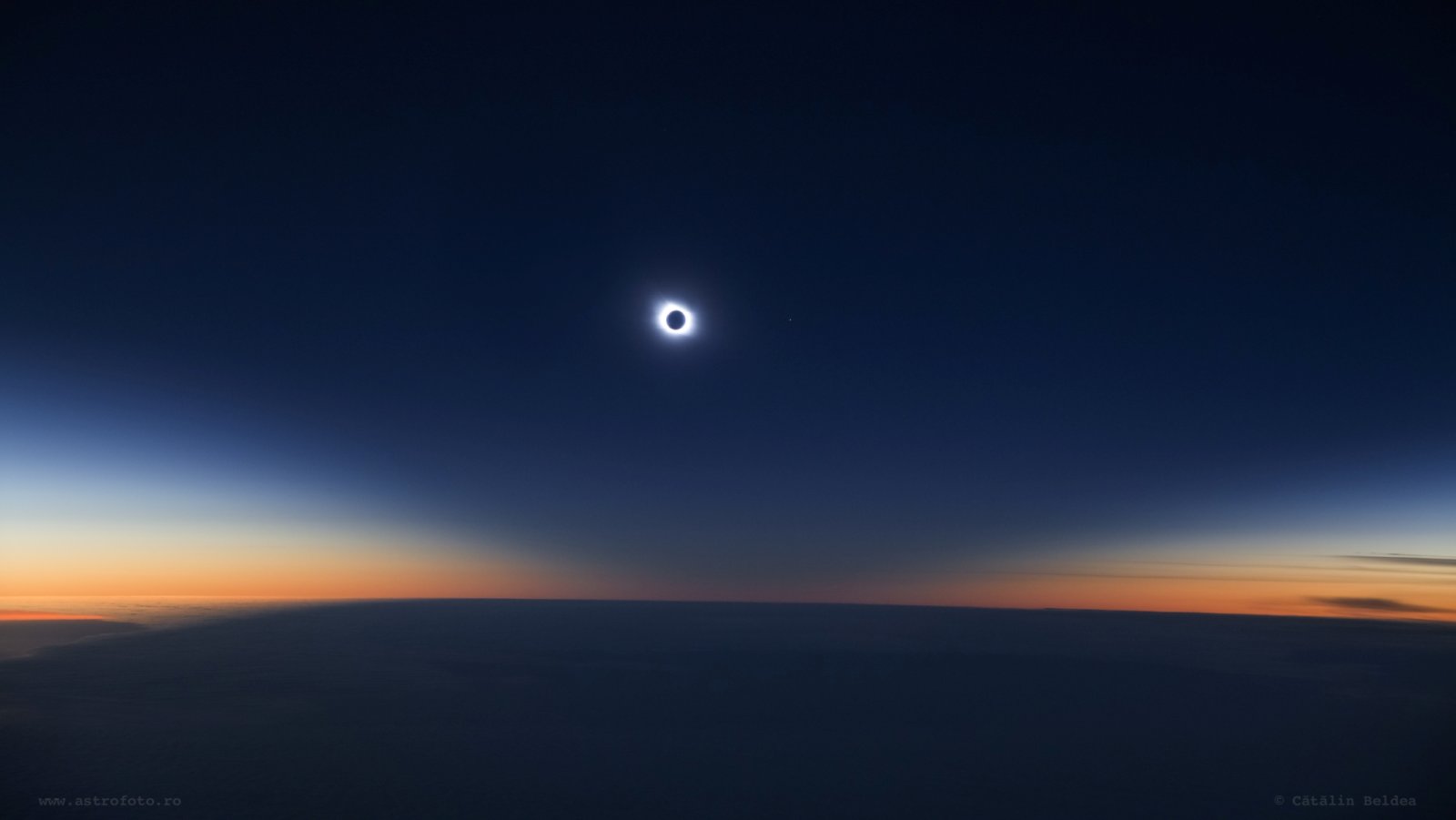 Longer exposure shows the other eclipse plane at upper left.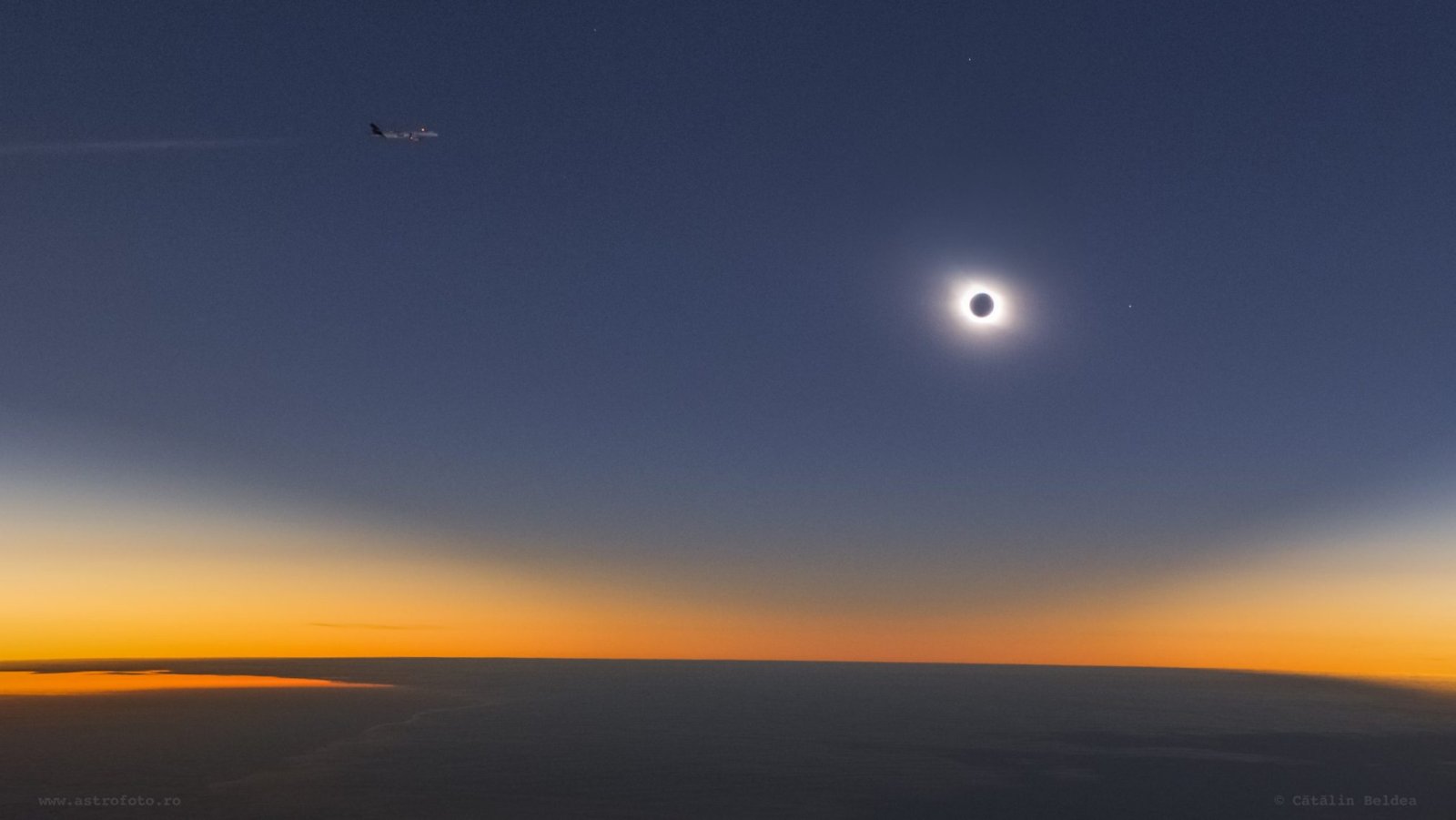 Diamond ring at third contact: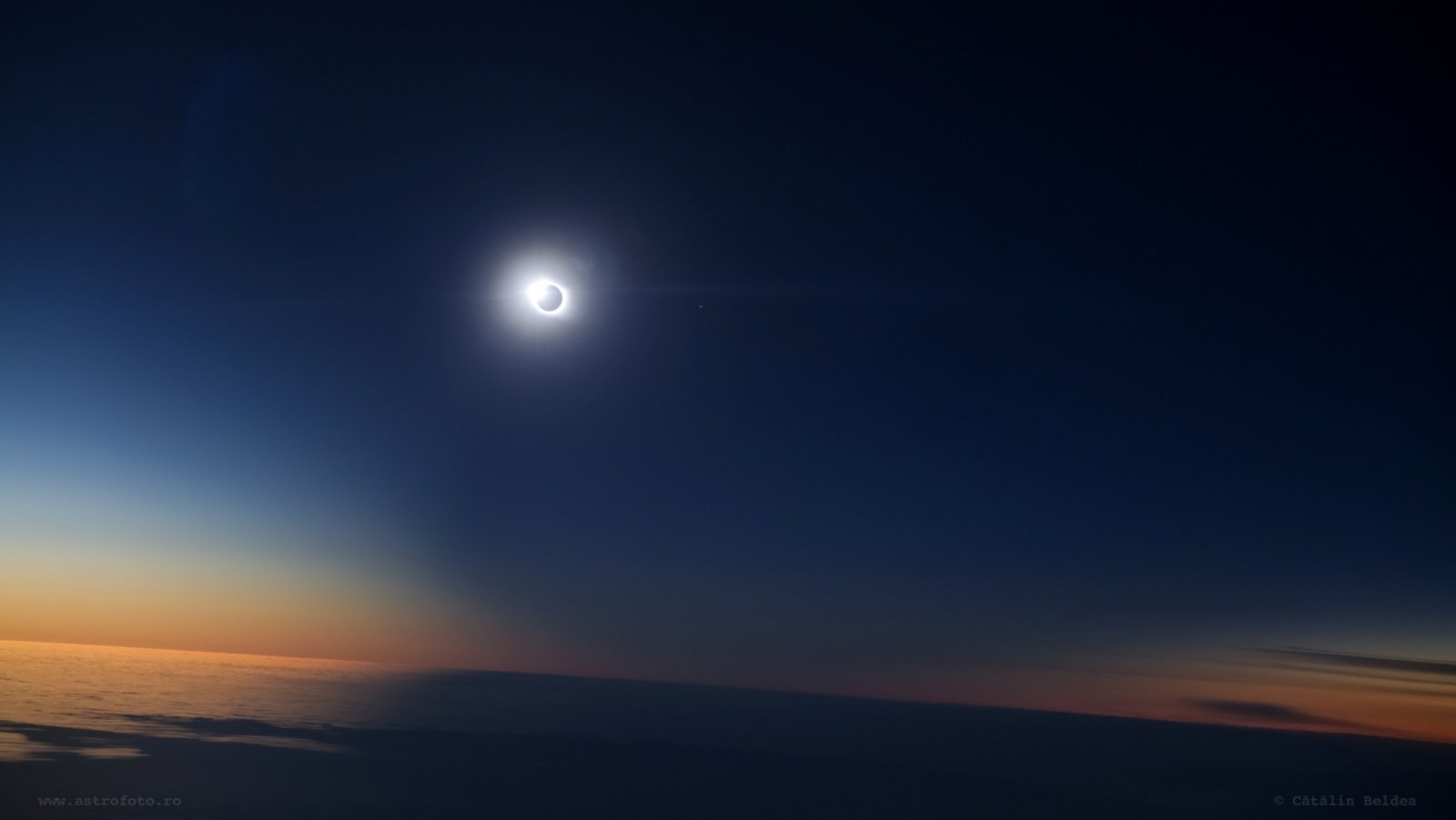 Catalin Baldea gave us two-sided tape which we used to fix Liz' iPhone12 to the bottom of our window and video the eclipse.
View of the other plane on the way back to Punta Arenas:
Flight path:
Most of us took afternoon naps after being up for 24-30 hours. There was a celebration banquet in the evening. This summer I found Eclipsia Champagne, which is the bottle on the table.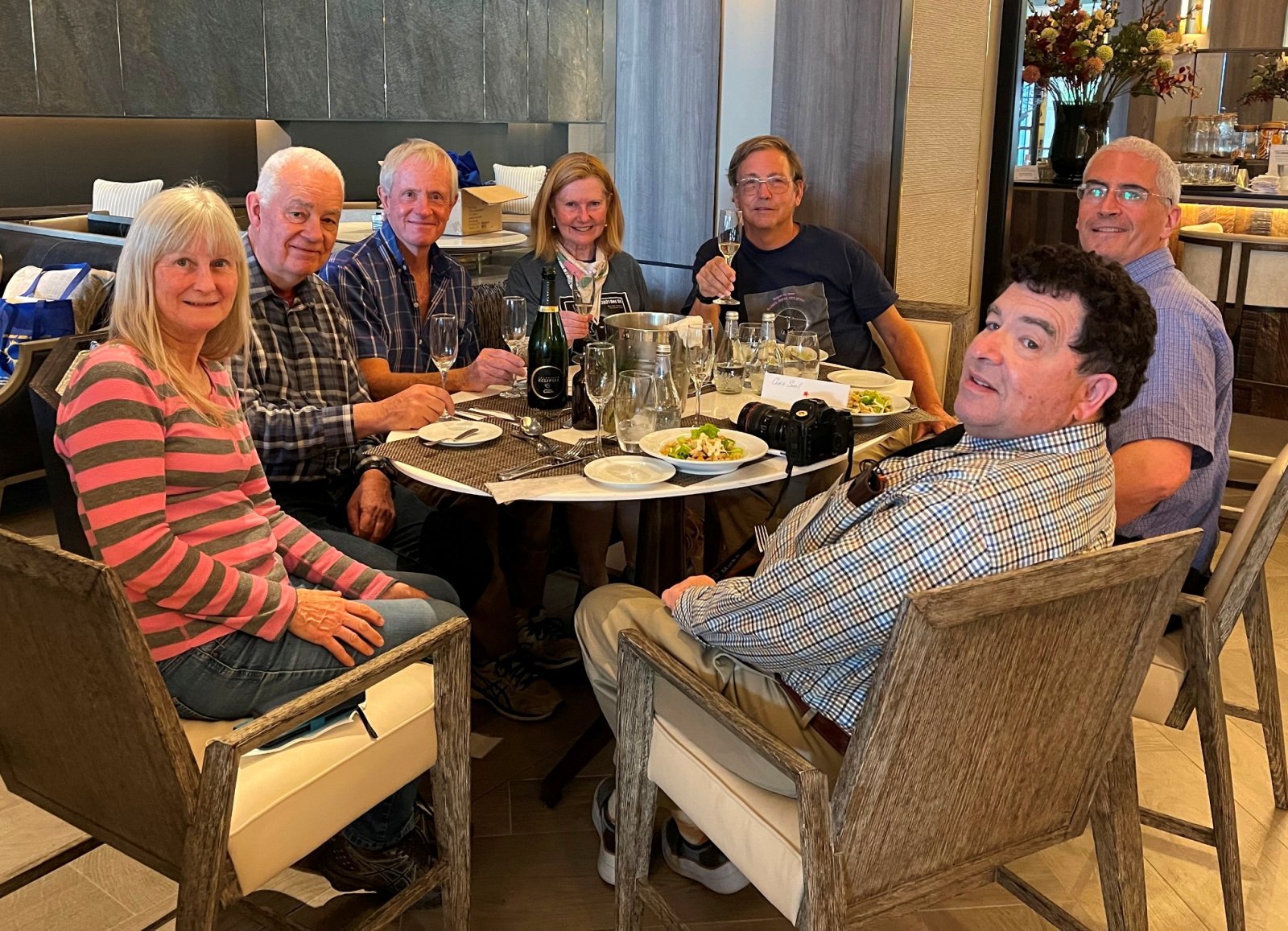 British couple John and Vivian and former Cathay Pacific pilot Roland are at left. At right are Craig Small and Michael Gill. Michael is the moderator of the Solar Eclipse Mailing List AKA our matchmaker.
Here Craig is describing the history of the eclipse flag, first flown on the
Canberra
in 1973.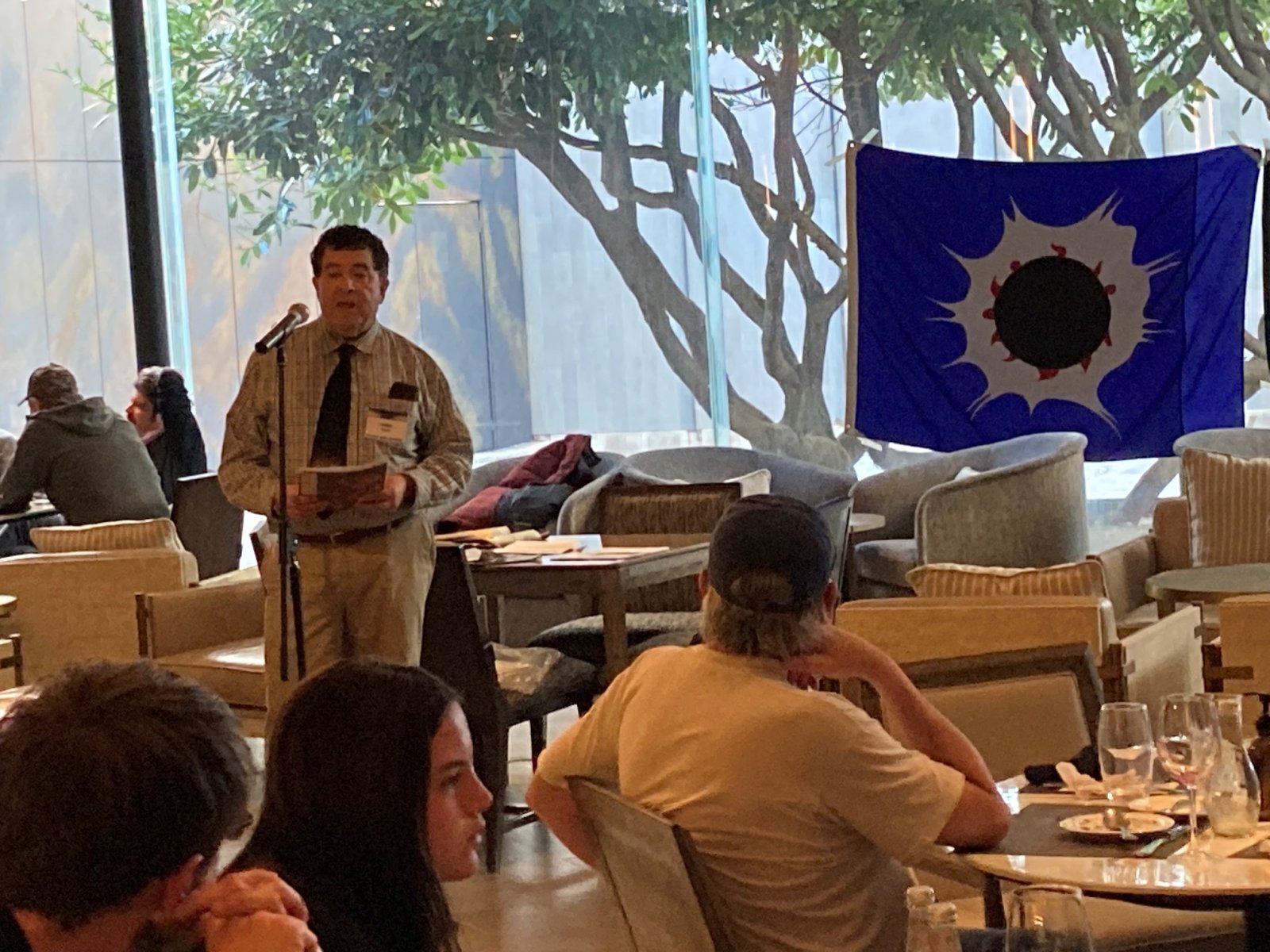 Neither Craig not the flag has been clouded out, and this was Craig's 35th eclipse.
Craig also brings the ingredients to make NYC egg creams.
Liz took part in this post eclipse tradition in Dusseldorf after a 2008 eclipse flight while I did so on the
Costa Classica
in 2009.
The two eclipse flights were labeled Blue and Gold, so we posed in front of the Gold banner.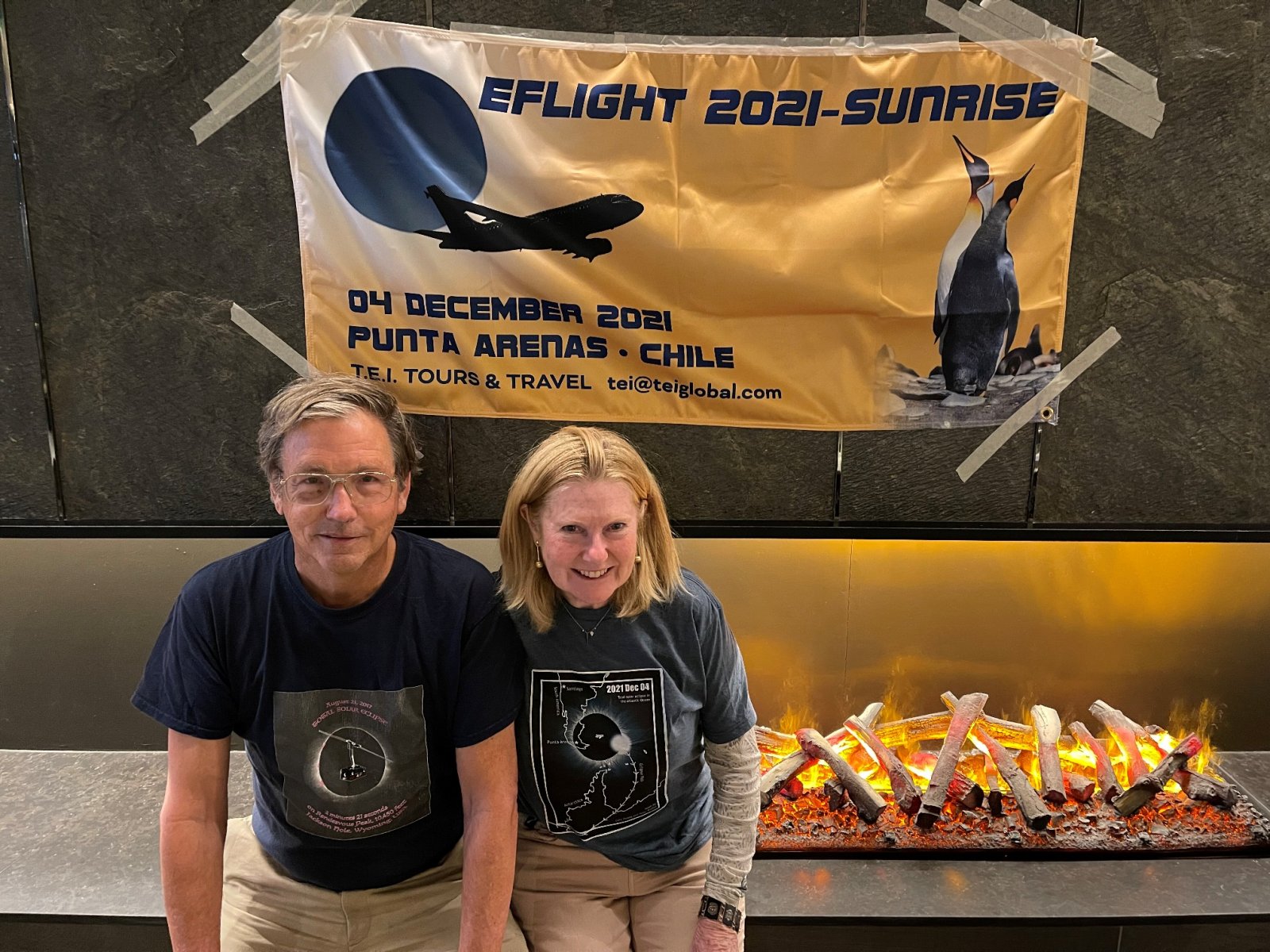 The next morning someone made Jay Pasachoff an eclipse cappuccino.
Jay, an astrophysics professor at Williams, has been to 36 total eclipses. He brings students with him, along with equipment for solar experiments.
Last edited: