Yes, it is true. I violated all of the rules for skiing. I flew from the west to the east on a pre-planned ski trip. And yes the results were precisely in the range of what you would expect for doing so.
As many on these boards know I grew up racing out of Greek and for a long time came back annually for the holidays at least until approx when my son was born when things became less frequent for what I think are obvious reasons. Unfortunately both my parent passed away in their 80-'s over the past two years, neither due to Covid. They had owned either a condo or now home there since about 1977. For those that know the area we started in a one bedroom (1C) which immediately became clear that was too small and quickly upgraded to a 2 bed with loft (1C) before eventually becoming a 5 bedroom house.
Anyway, the house is for sale now and so this seems likely the final time me and my brothers will be meeting up with our kids also in tow to ski at Greek Peak. Conditions weren't as bad as I had feared and were part of the standard eastern repertoire that results from warm followed by hard freeze, followed by warm again. Specifically, after a rough early season, January and early Feb was pretty decent for them conditions wise. But they are now back in the rain followed by freeze cycle. With 50+F and heavy rain on Thursday the 17th followed by cold and a whole 1" of snow on Friday the 18th the day we flew in via Syracuse.
Temps were chilly for sure on Saturday and even Sunday. Maybe highs around low 20's and strong winds Sat. with temps mid-20's with less wind on Sunday. Monday was super sunny and warmer. I only skied for a few hours in the AM while temps were still below freezing as things warmed up to over 50F by the time we headed back to the airport to head home to Colorado.
Conditions were very hardpacked, a small bit of loose granular, only occasional ice and fortunately on Saturday a squall line blew through dropping a quick ~2" in only about 20 minutes. I'm always amazed back east just how much a tiny bit of real snow helps the groomers. Pretty much nothing off the groomers was open, though some people were trying it out (mostly kids/teenagers). I feel like I need to put in the surprisingly good word here for the groomers at Greek this year. Probably the best job of grooming I have ever seen at Greek in all my many many hundreds of ski days there. That said the owners and management clearly still have a long ways to go to keep getting the infrastructure up to snuff. One modern lift and 5 ancient ones, that have not even been painted in many, many years; structures built over a number of the old lifts with missing and rotting shingles and boards, super cheapie little kid style folding cafeteria tables in the Taverna (why?), etc... I Agree with the owners that snowmaking and grooming need huge investments and come first, but the rest of the place shouldn't visually look like a junk every time you turn around show either.
Anyway the kids got a night ski session in Sat night (a first for my son to have more than one short race trail lit up). We adults had friends over and stayed warm (temps in the low teens with 40MPH winds during that ~90 minute night session). A friend drove all the over from Massachusetts to ski half a day with us on Sunday. Crowds were by far the biggest on Sunday. With actual lift lines of 5 minutes or so and even a short line on the (trojan chair).
Overall a decent trip all considered. Many memories over the years growing up here. Wish them the best keepin git going and maybe even finally getting around to more of the deferred maintenance.
Yes, that's right, prior to even getting a single run in, the very 1st lift ride provides my nephew with the ever present, ever talked about, grease dripping off sheaves from the lifts at Greek Peak.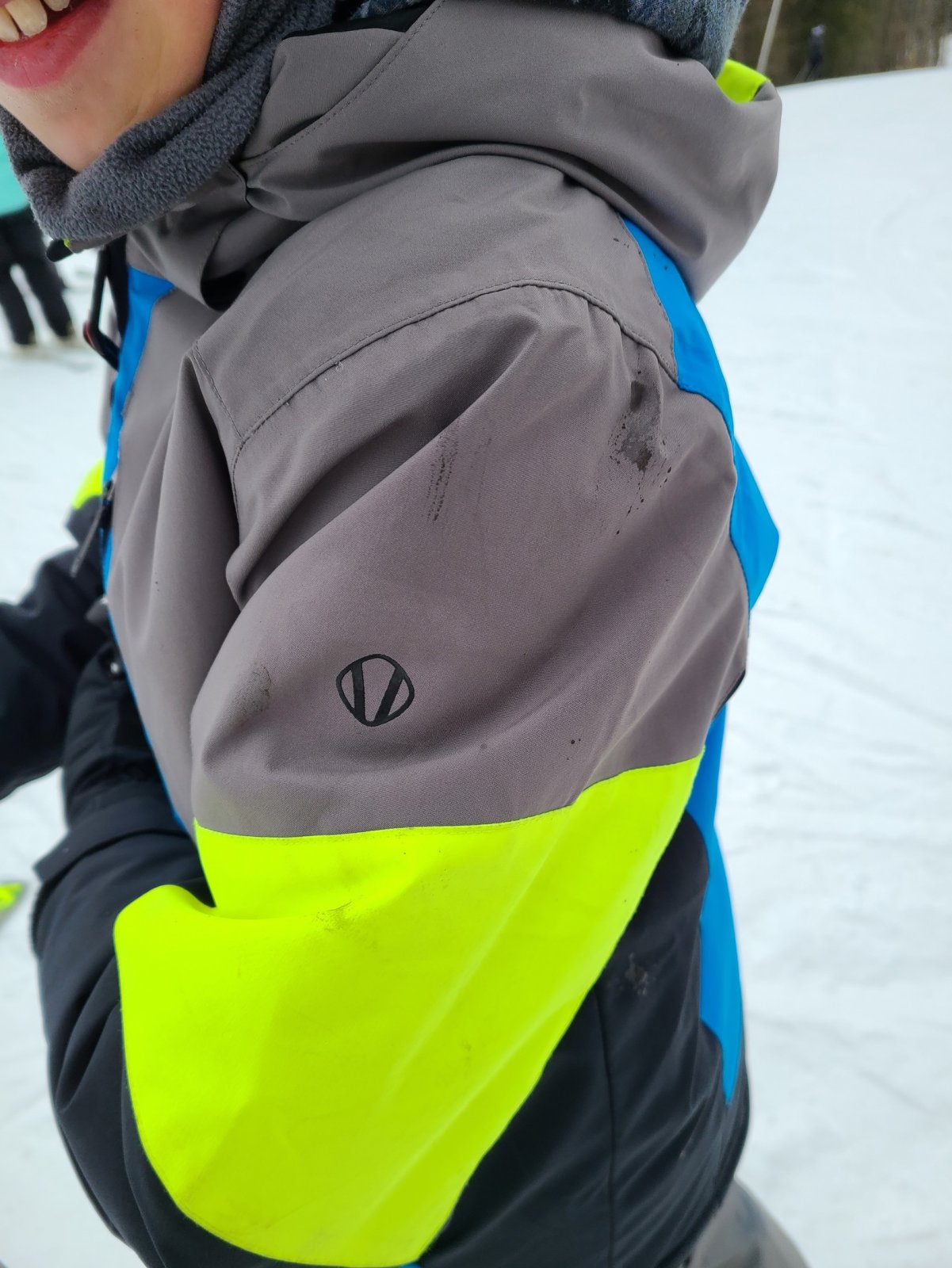 It's almost never enough it seems, but yes it does snow in these parts (Saturday AM squall dropping a quick couple inches).
Upper pitch of Zeus on Sat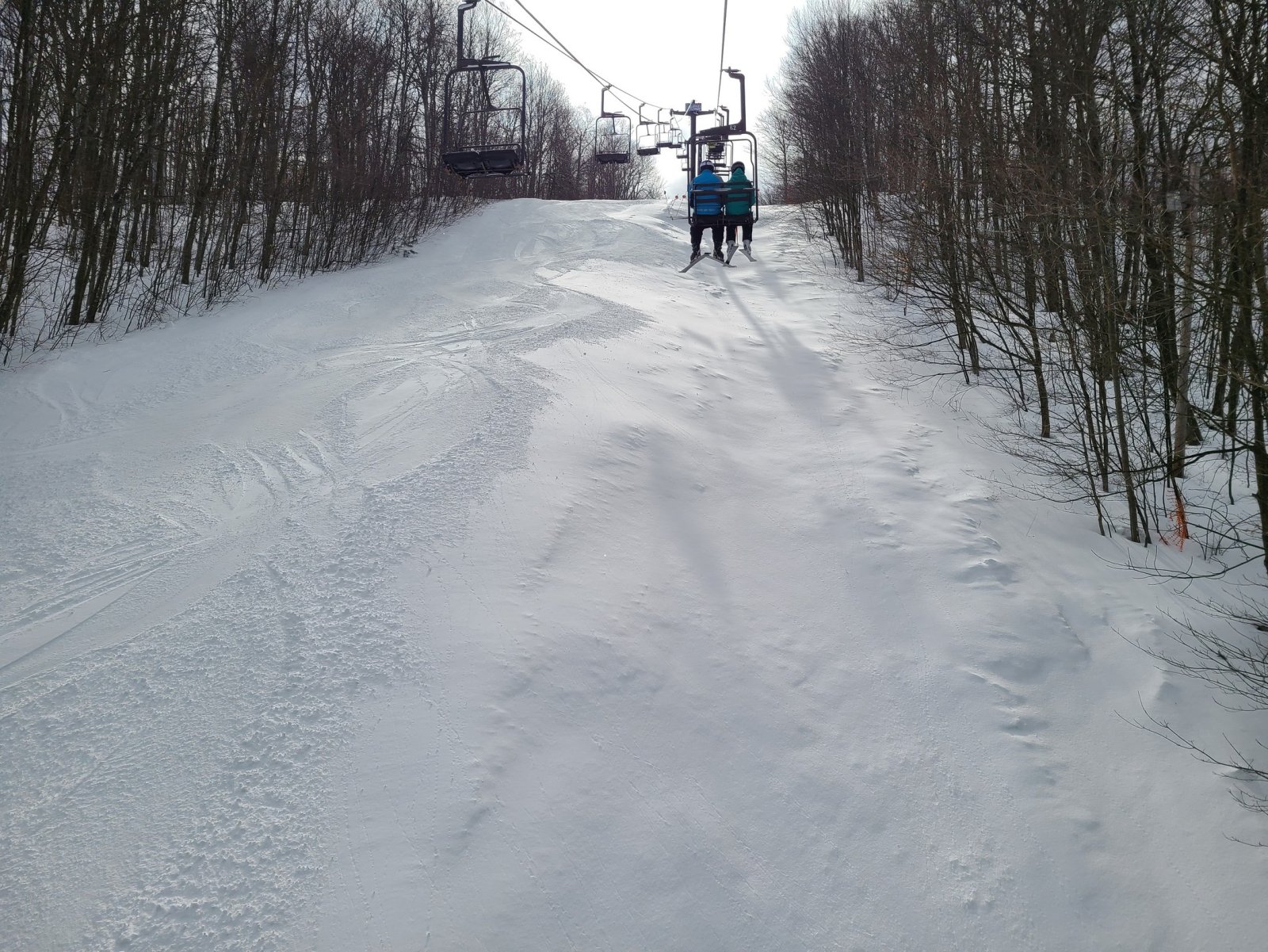 My son & his cousin are a whopping 3 weeks apart in birth date...
My brother & his daughter on Hercules. The pitch on this trail was OK Saturday but scraped down to very hard pack and ice by Sunday am. Though the lower part retained soft snow (since very few wanted to try the headwall section while icy).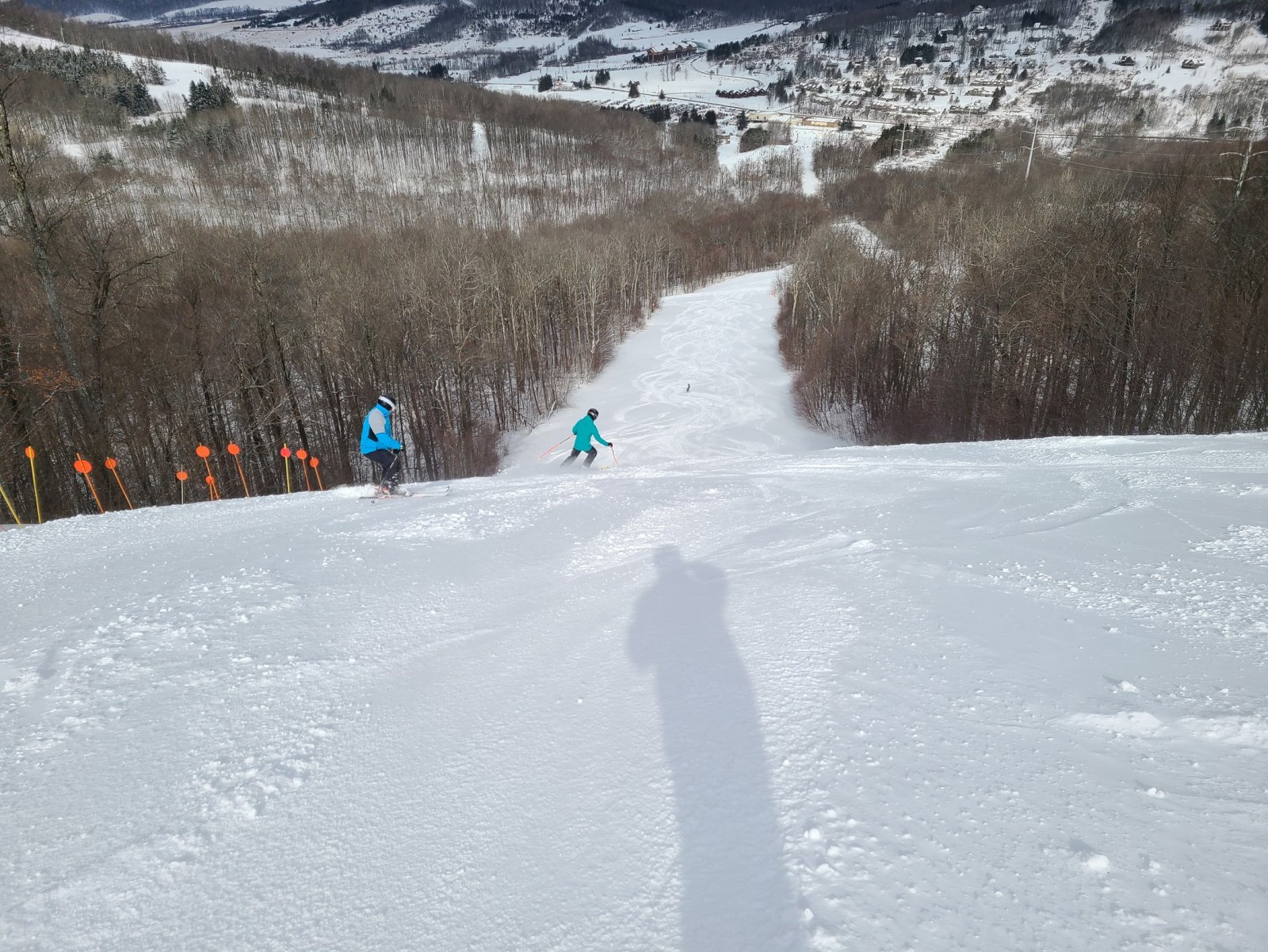 Heading for the super flats of the triple chair (chair 5). There was some thin-ish cover, but no bare spots. This trail is very long and you basically don't turn as it is too flat. This pic is the 'steep' part for a hundred yards. Near the bottom you actually go slightly uphill.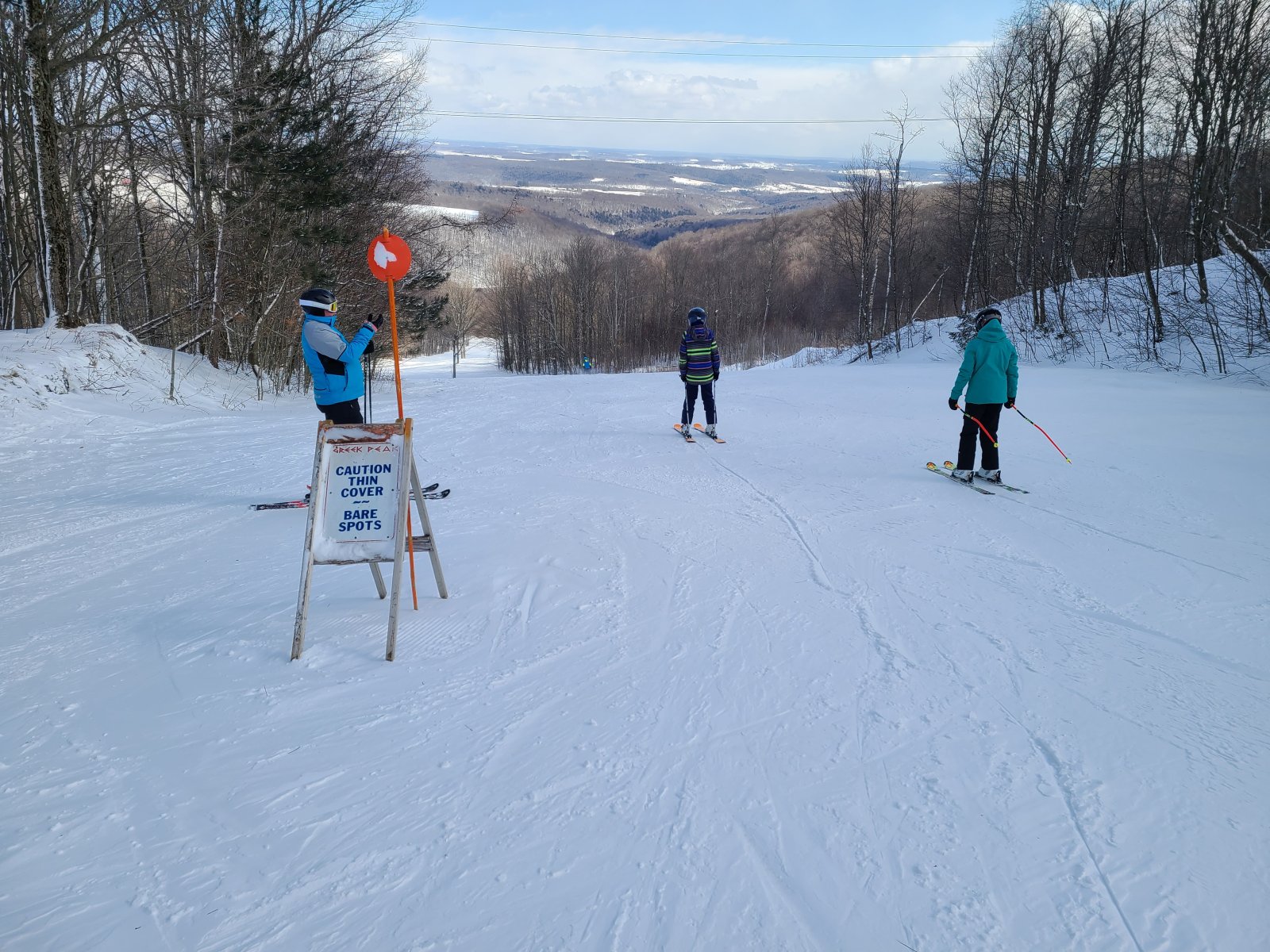 Brother on the steepest trail - Olympian. Supposedly a 40 degree pitch, though not for very long. When there is enough snow (not very often) the trees OB on the side of this trail are excellent skiing.
This view can be yours!!! Just DM me

.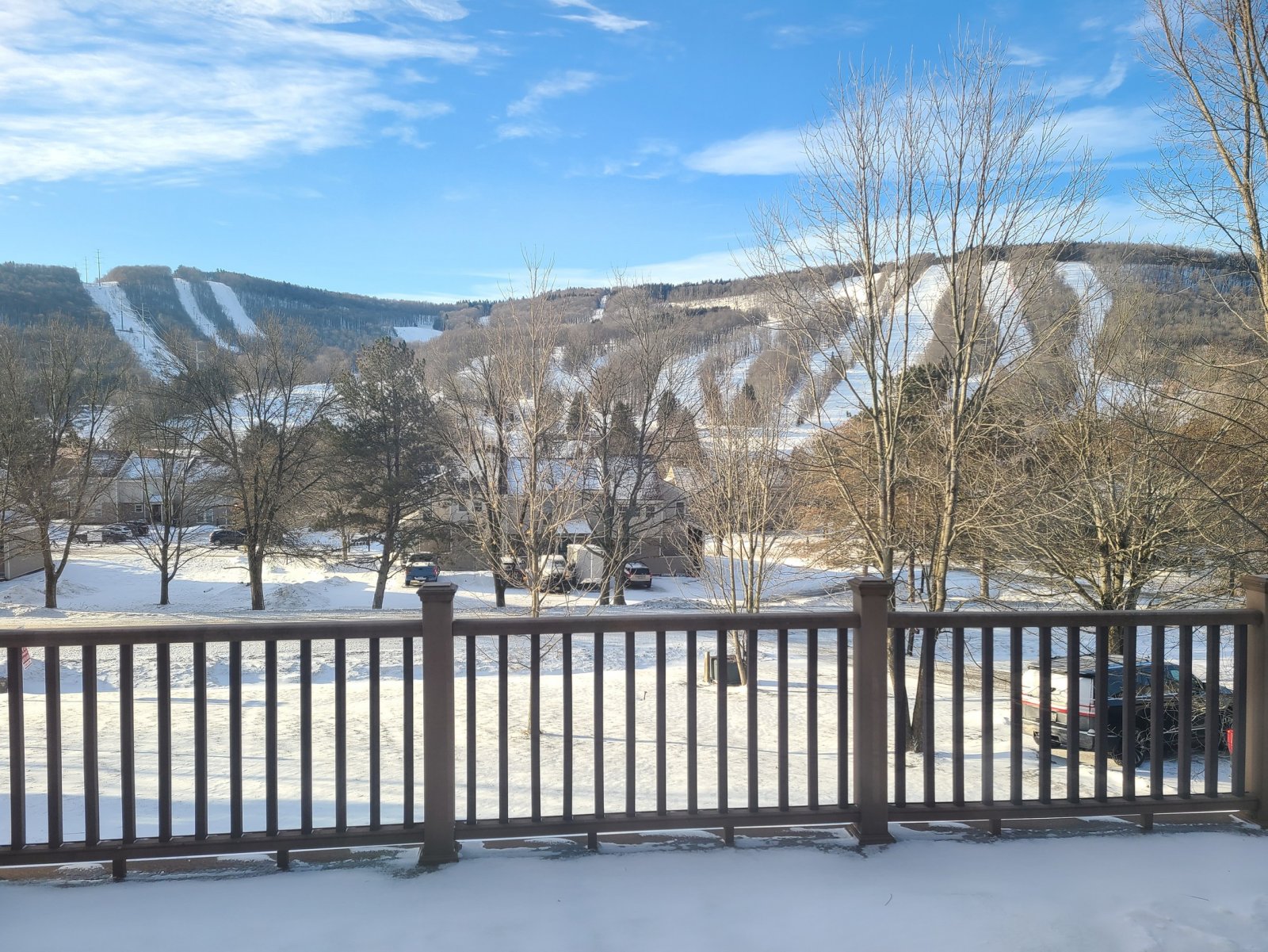 I have no idea how Greek Peak gets away with NO padding in certain areas on lift towers, snowmaking hydrants and guns, etc... (look at all the ski tracks on both sides of the tower). I can't imagine insurers or courts will be very forgiving if anything happens. For those that don't know, this lift was the first chair here and is from 1963 (though rehabbed in the 90's). By locals of a certain age it is known as the 'yellow chair' (towers and chairs were painted yellow for couple of decades), our kids simply call it the 'old chair'. Most of the other lifts are nearly as old (1969, 1970, 1971, 1978).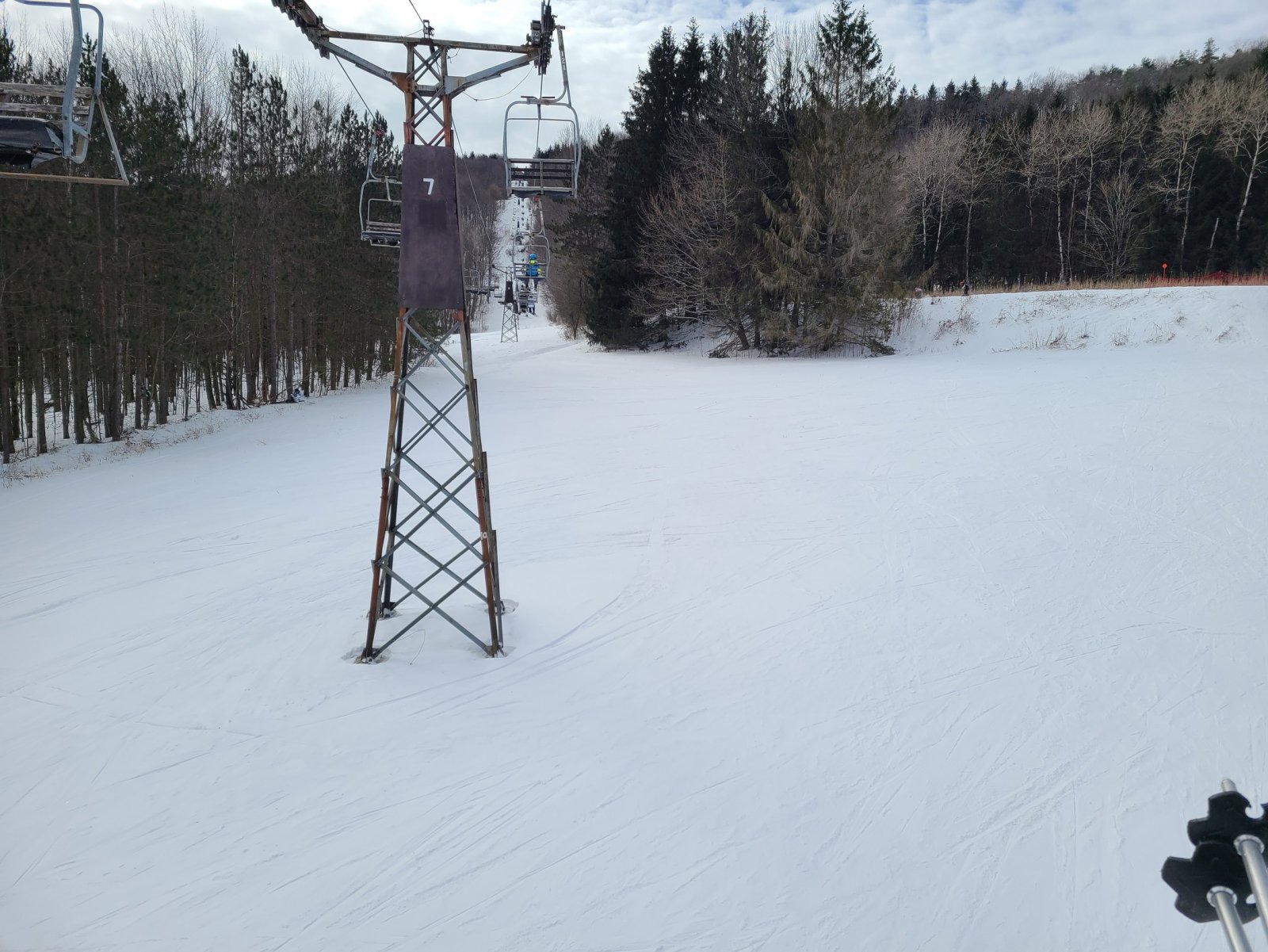 The middle brother (age wise) who skis a handful of hours about every other year despite being an excellent natural skier. Note the classic eastern ice patch from the recent rain a few days earlier. A number of these patches scattered about, but far less than I had feared.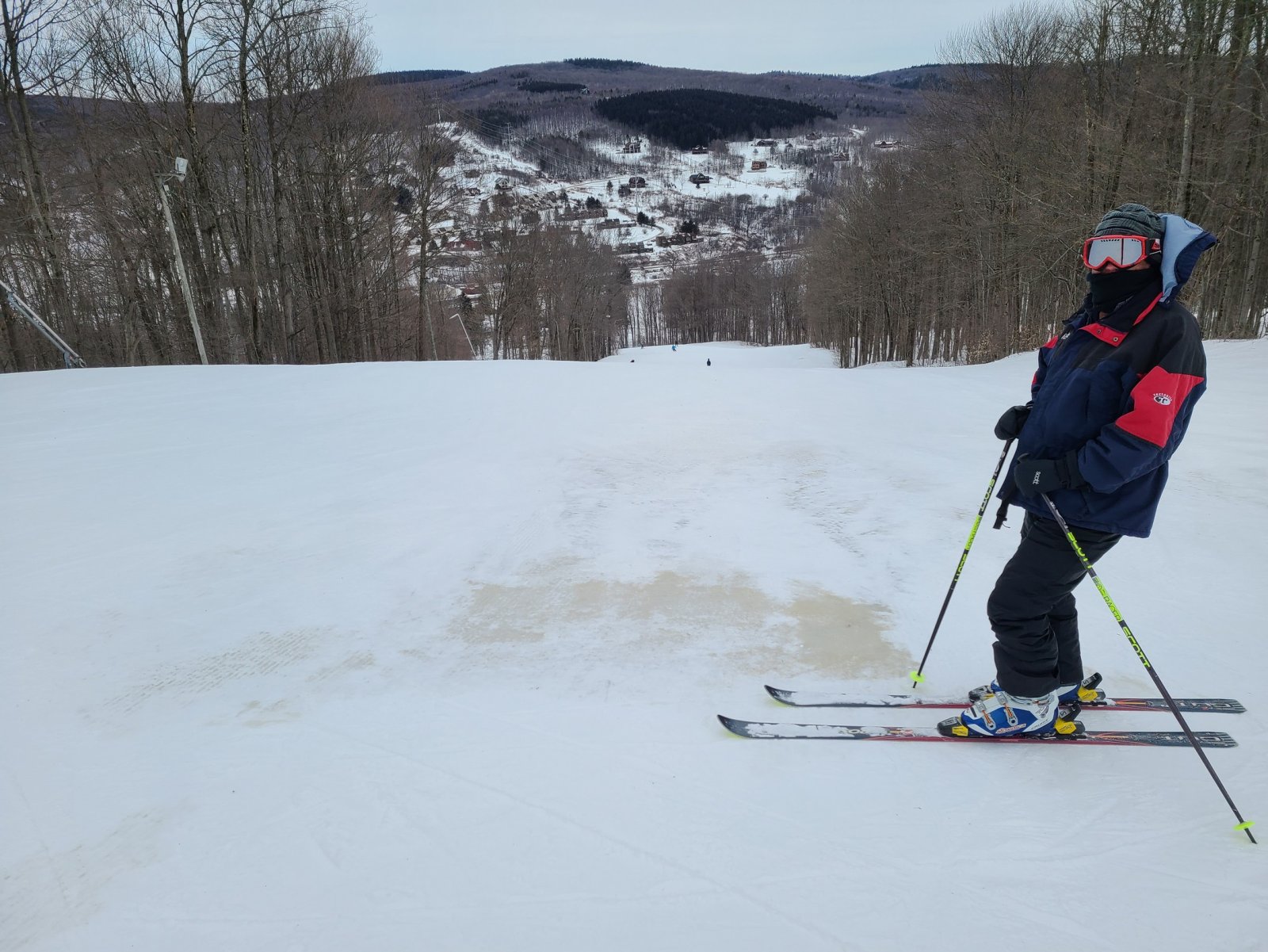 Some Nastar action. Course is on Christy's Run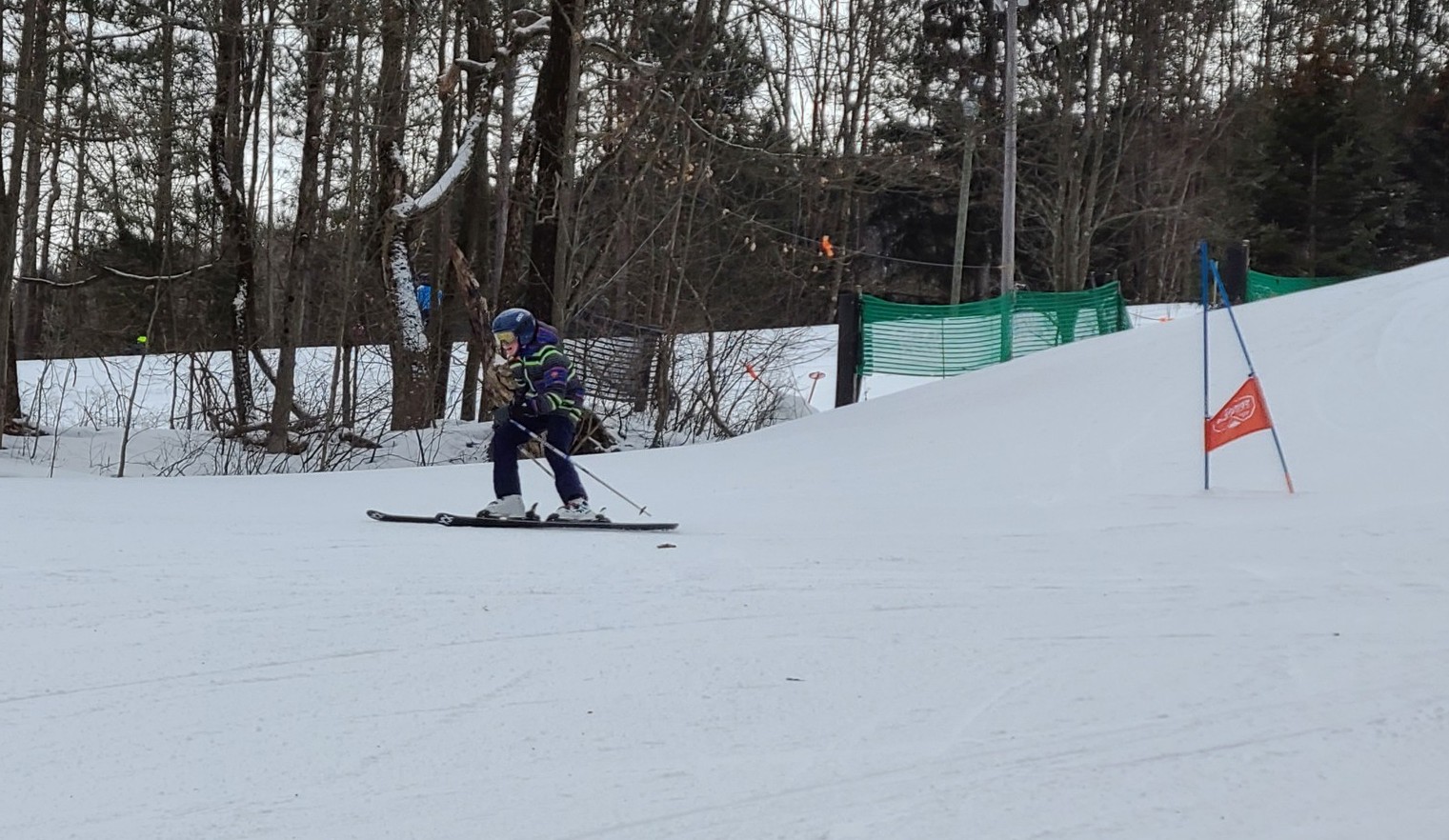 If anyone from Greek Peak can tell me what the heck all these markers are supposed to be/do on the top flat of Hercules, I'd love to know.
Barring the rare powder day, Monday morning is about as good as it gets back east. Decent 'packed powder' groomers, with temps around 30F and sunshine. (my brother and his kids riding the only newer chairlift; that is itself approaching 10 years old sooner than later).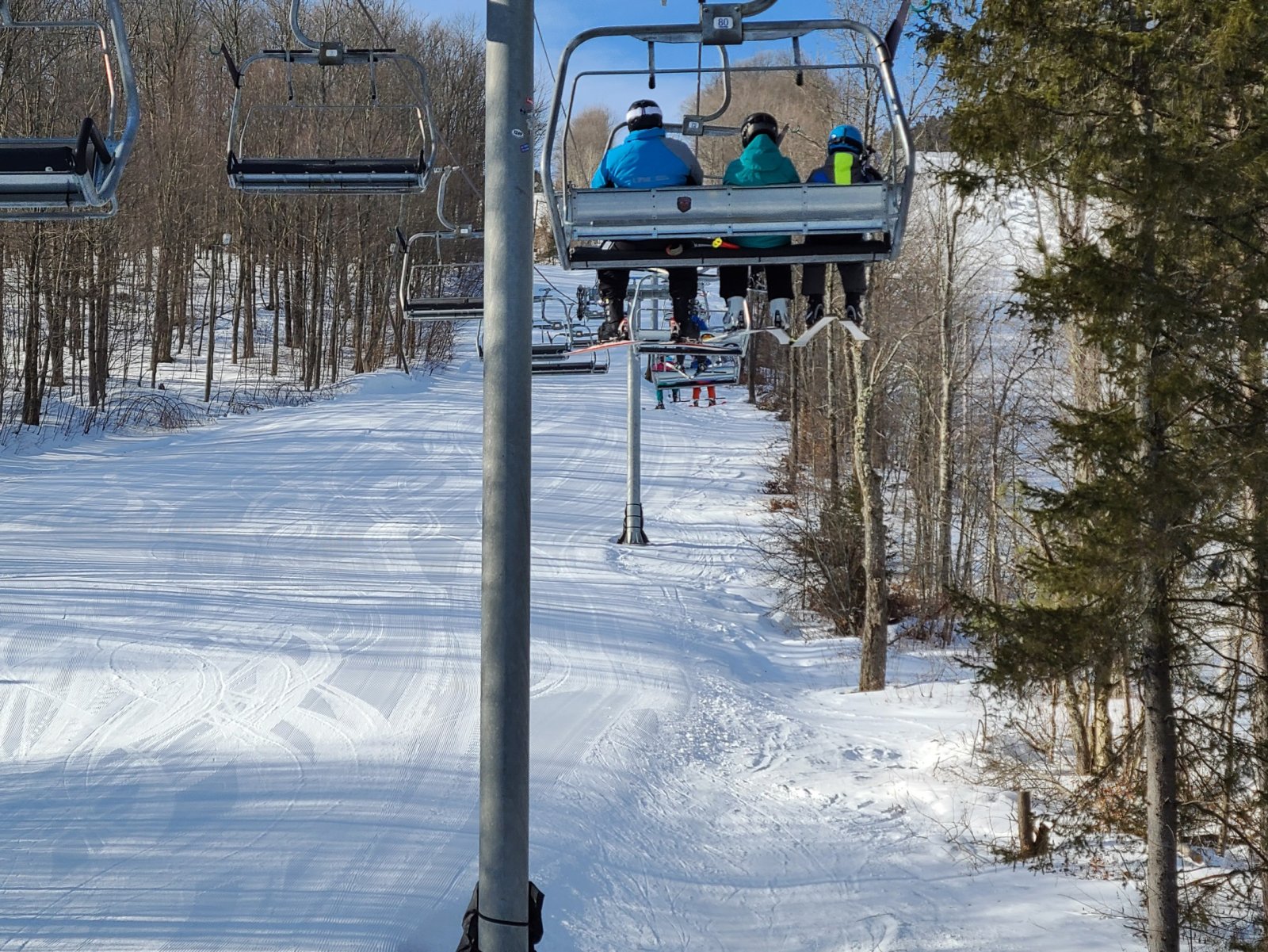 This classic sign was put up in the late 80's and like so much else here, has never been replaced nor refreshed.
Which is better? The full landscape view over the brink of the Olympian trail, or the compressed view with the hotel looking like you could reach out and touch it?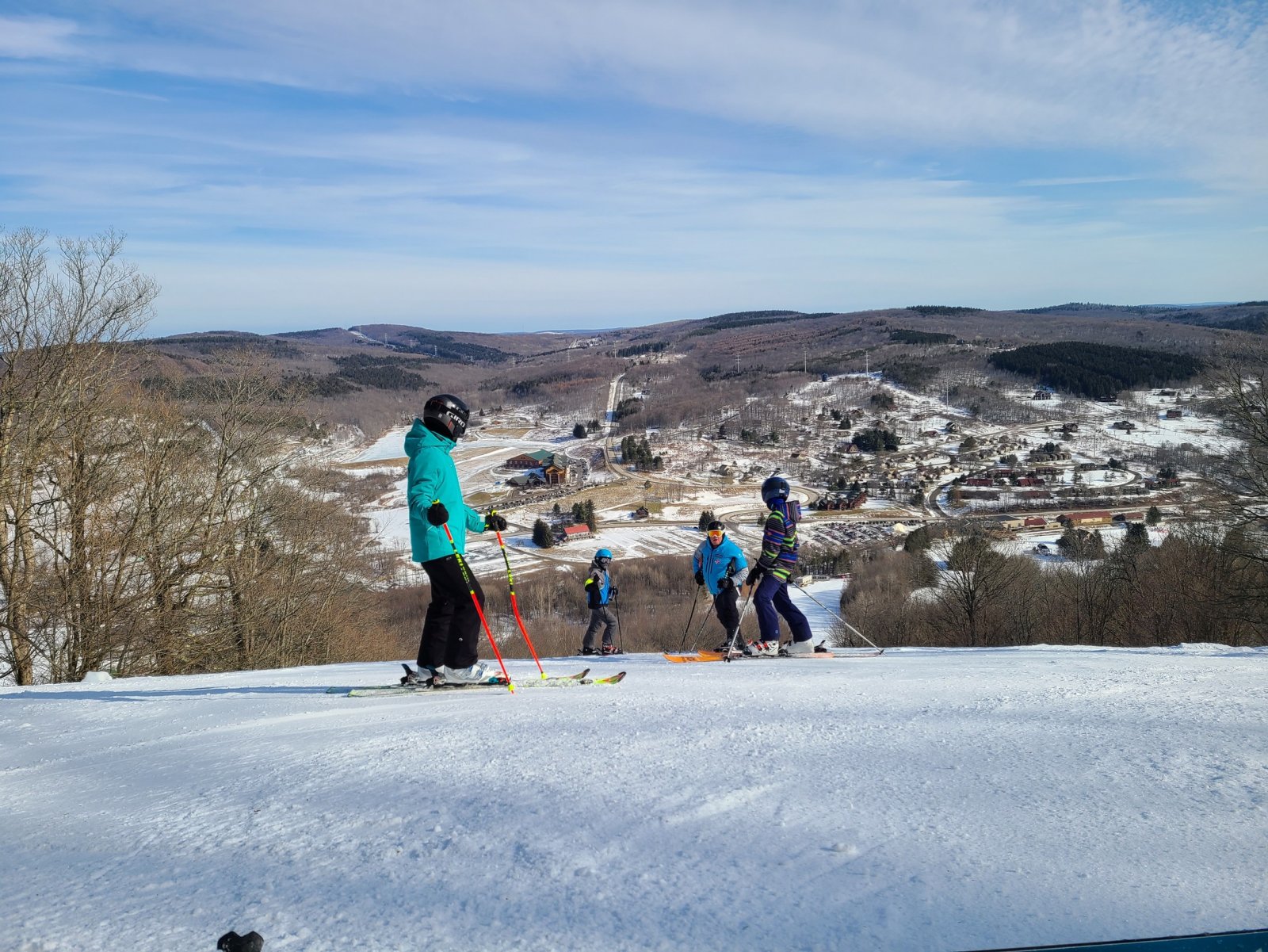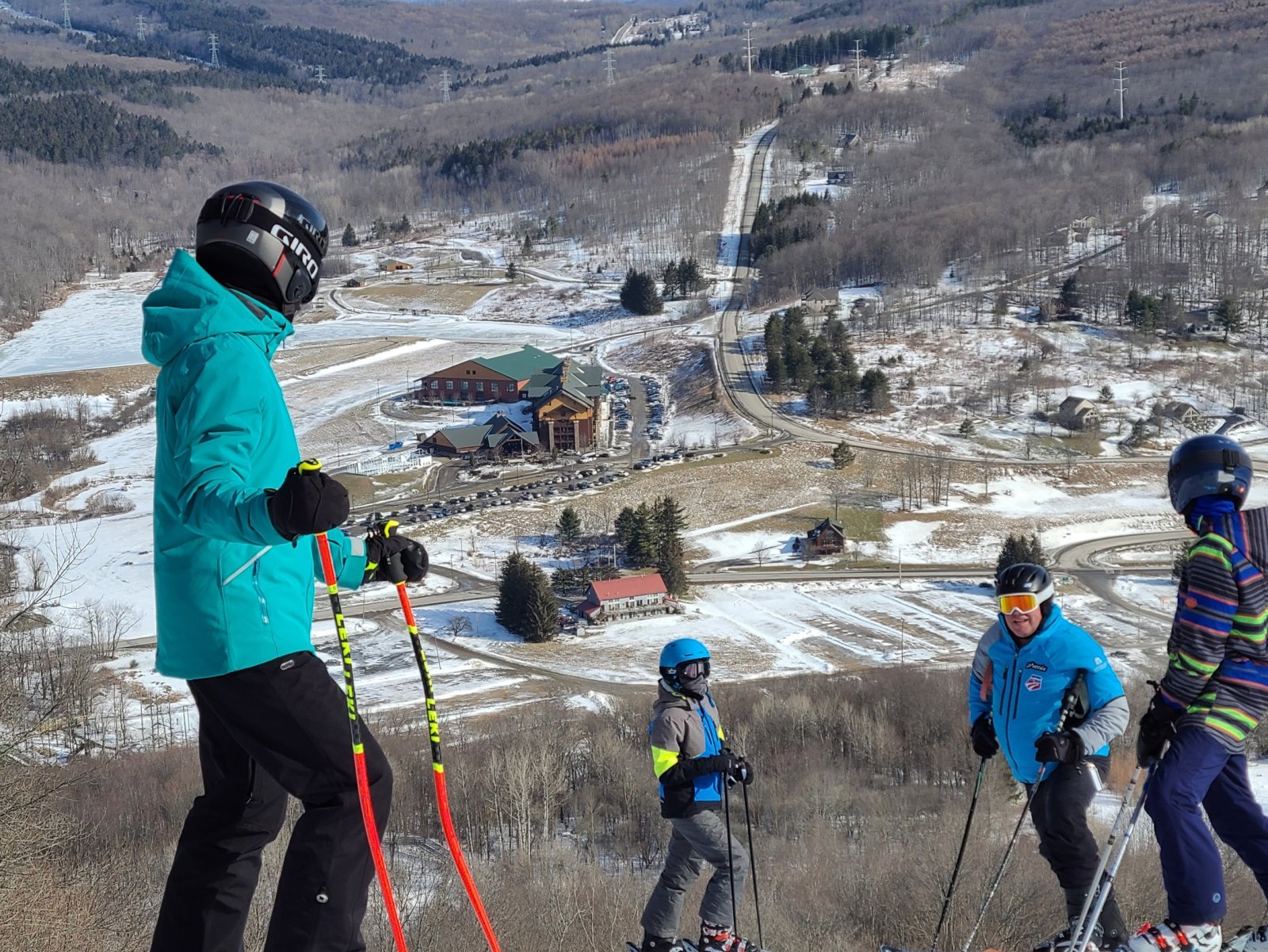 Looking down the main run (Mars Hill) of the 1978 Triple chair that makes up 'Greek Peak East'. Note not a single pad for the snowmaking hydrants nor the snowmaking mount/guns. I also found the snowmobiles to be running extremely frequently and in very dangerous manners. EG super fast despite going up blind knolls and etc... An accident waiting to happen kind of thing. There is a small remote parking lot over at the base of this lift, but with no amenities there. Locals frequently like to BBQ and hang out.