Administrator
Staff member
Our official tour in Cuba included two nights at the modern Iberostar hotel, meals and an all day tour of Havana. Iberostar is a Spanish hotel chain, but the foreign hotel developers are limited to 49% ownership. Iberostar had decent WiFi but when Liz attempted to download an app, she discovered that is not allowed in Cuba. Compared to our SE Asia trip last November, it's also obvious that satellite dishes are also banned in Cuba. The view from Iberostar's rooftop pool area shows the varied state of repair of Havana buildings.
Our first tour stop was the old colonial fort guarding Havana harbor.
You can see a cruise ship in the background. The entrance channel is relatively shallow so the biggest cruise ships will probably not be able to call at Havana.
This internal wall had trees growing on it, reminiscent of what we had seen at Angkor Wat last November.
Che Geuvara, not Fidel Castro, seems to be the most revered figure in Cuba judging by posters, exhibits and especially tourist items for sale. There was a biographical exhibit room in the fort. In 1963-64 Che was an ambassador, shown here in several world tour stops. Top row with Nasser, at Hiroshima, with Sukarno. Bottom row with Tito, then Mao and Chinese Politburo.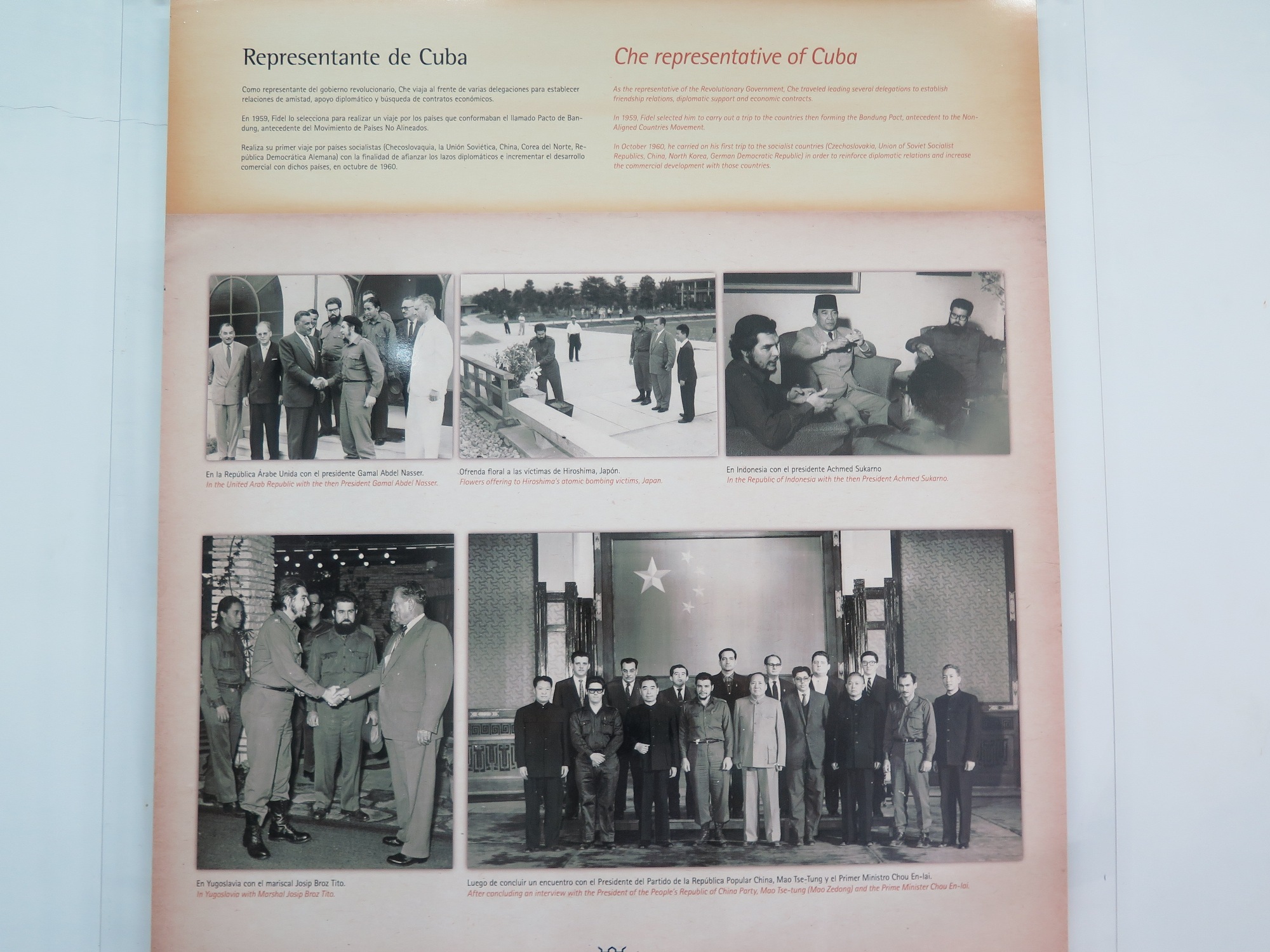 Che's revolutionary fervor led him next to failed efforts in the Congo and Bolivia where he was killed. I later read that Che's open favoritism for the Chinese model of communist revolution was awkward for Castro, who was financially dependent upon the Soviet Union.
We had walking tour in Old Havana. Some of the historic colonial buildings are being restored, mostly for expanding tourism.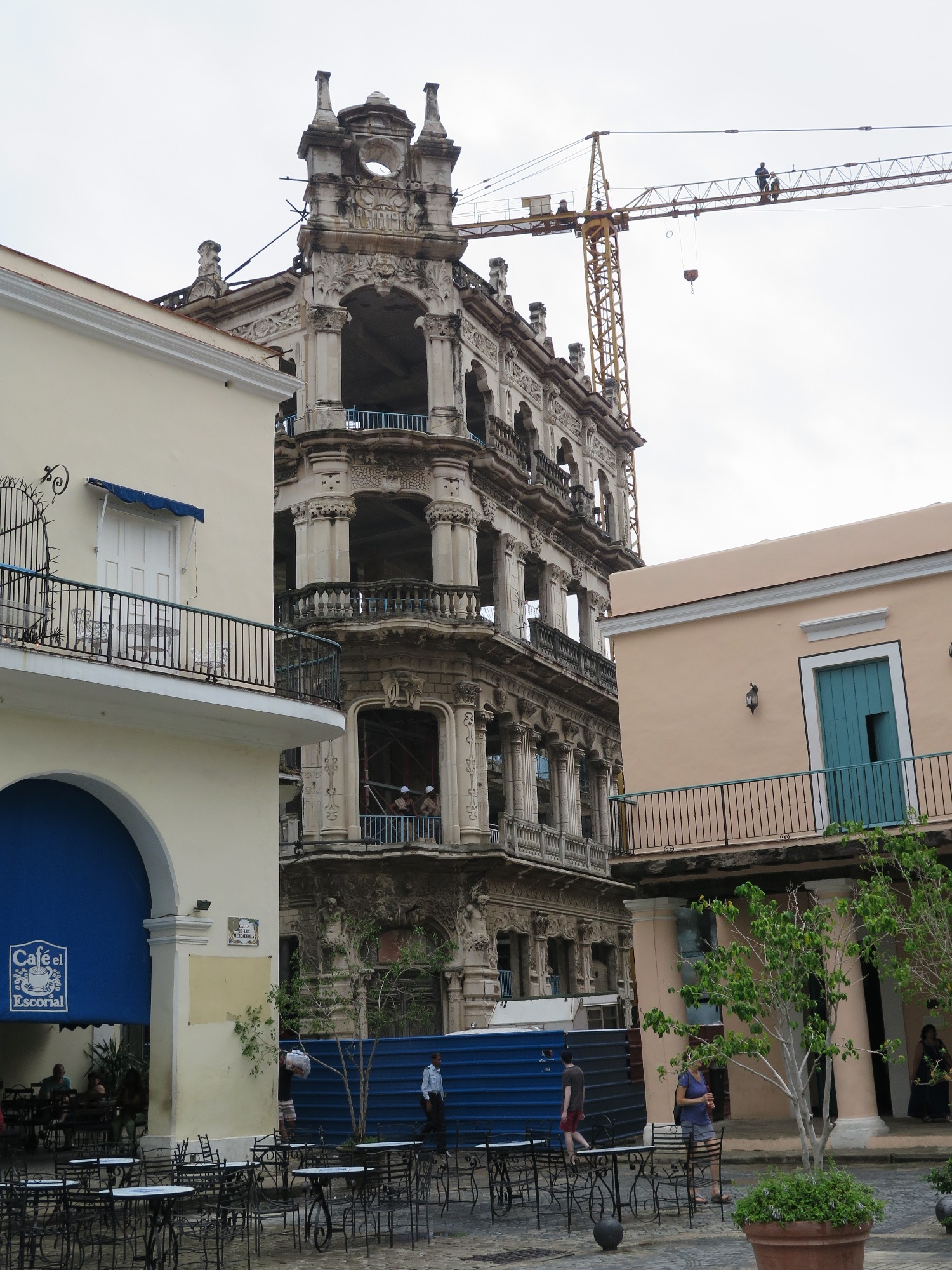 This Roberto Fabelo sculpture was added to Plaza Viejo in 2012.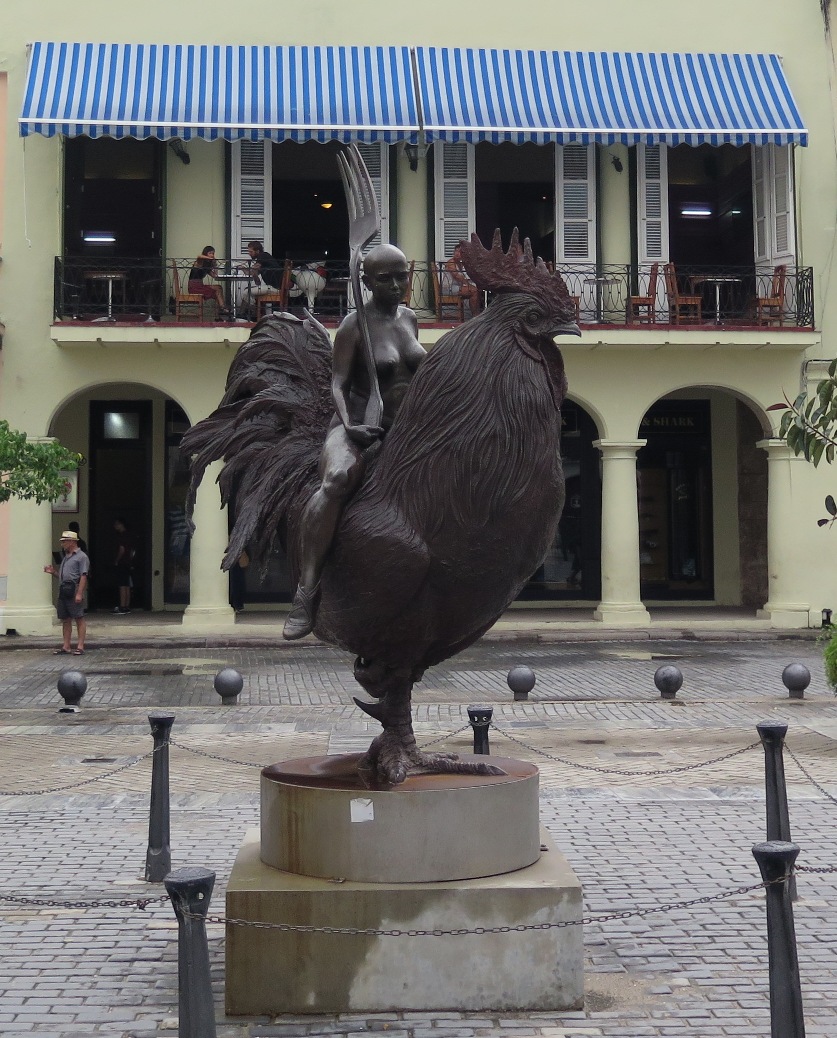 Our guide Bianca here with the 2001 statue of "El Caballero de Paris," who was a mentally ill but friendly street person from the 1940's into the 1970's.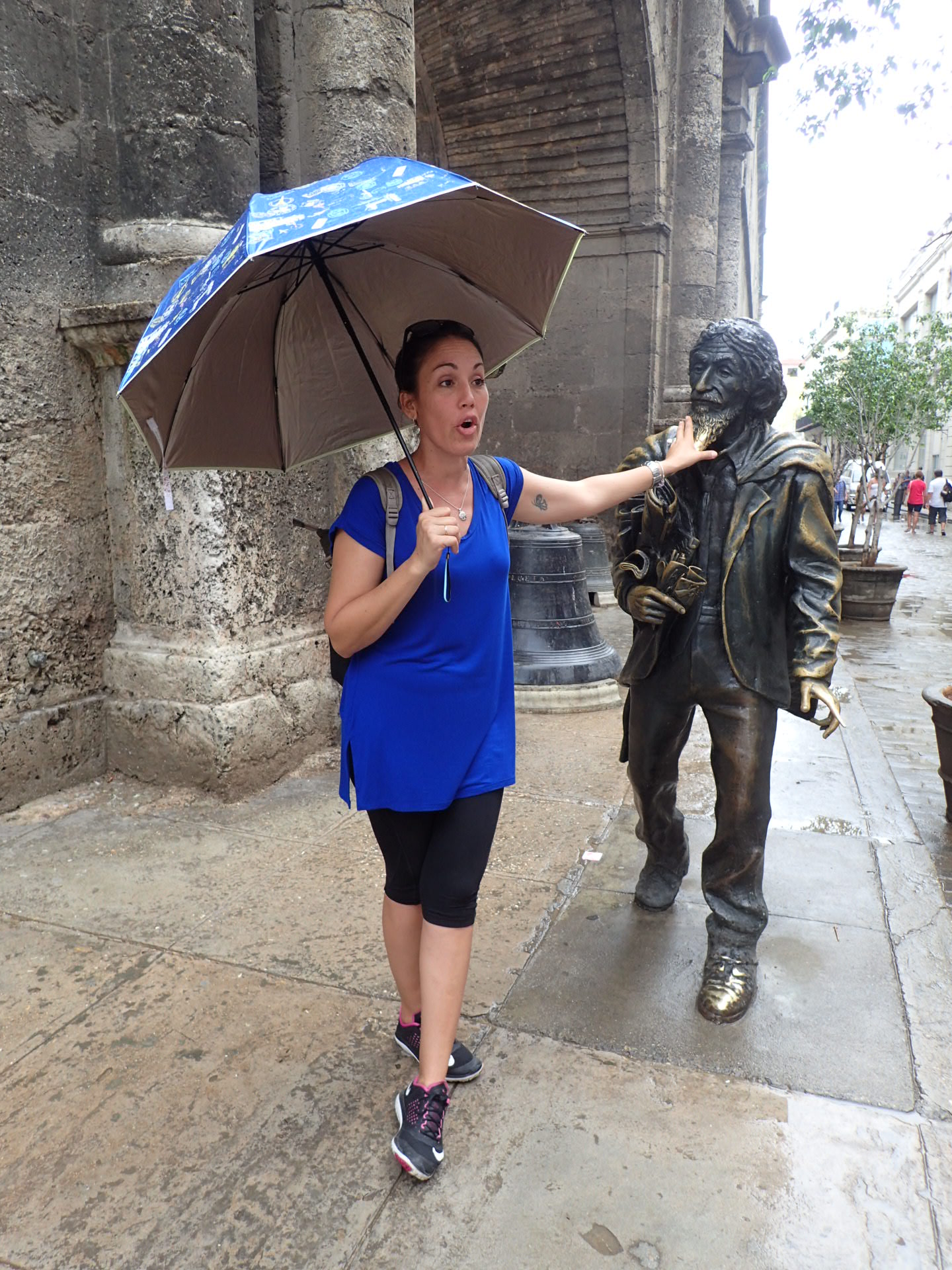 Bianca was a quite candid and excellent guide. She was trained as a doctor by Raul Castro's daughter, but now works full time as a tour guide to make more money. Government employees are paid in non-convertible currency while people working in the tourist industry can earn convertible pesos or foreign currency. The expanded opportunity for Cubans to serve tourists by opening B&B's, restaurants etc. only came in 2014.
The official tour was June 8-9, with the bus to the dive boat on June 10. But we arrived a day early on June 7. Here I am at the building for our first night B&B,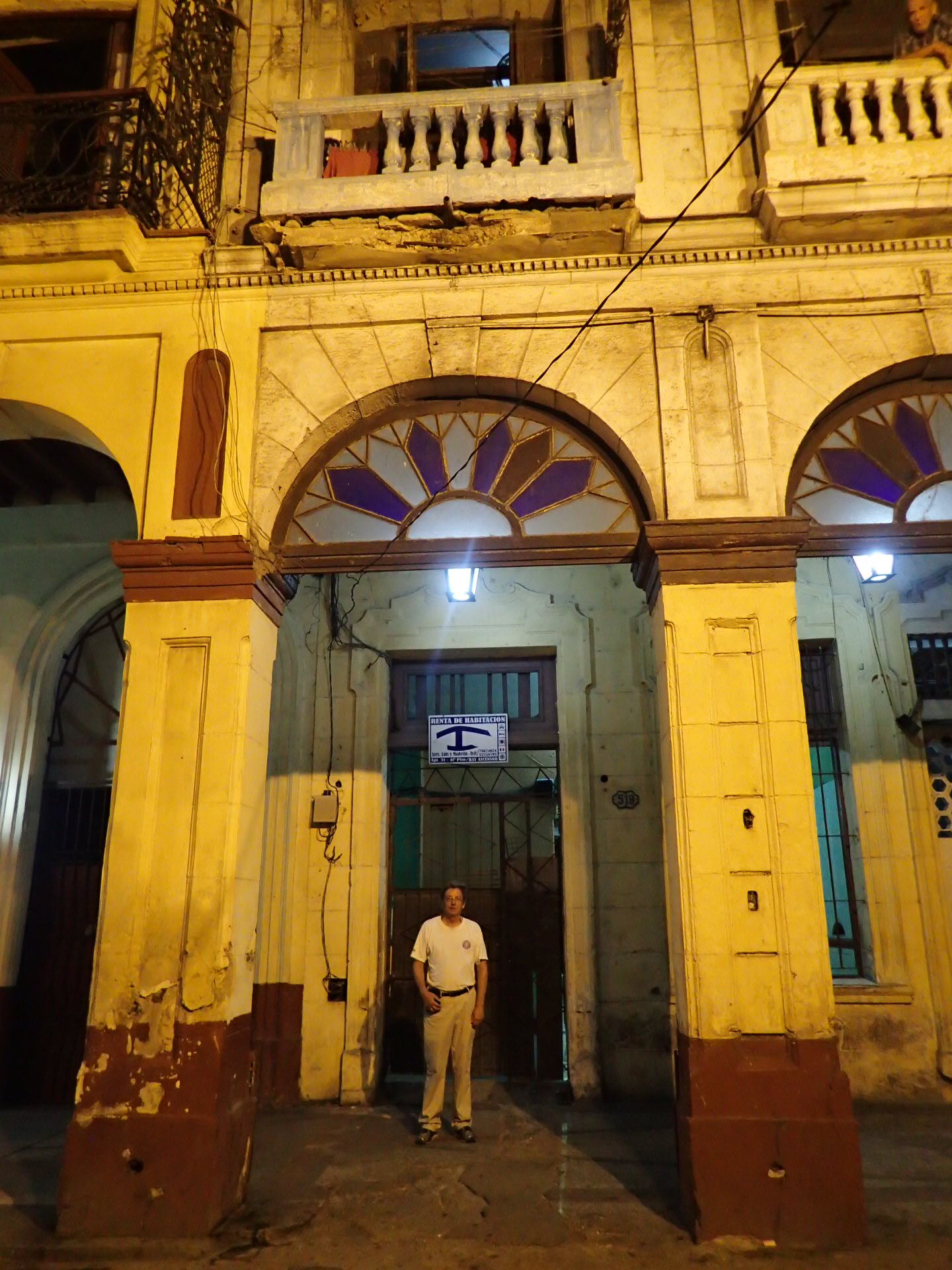 The B&B was on the fourth floor, well kept with a balcony overlooking the capitol across the street.
The second and third floors had that bombed-out look we would see randomly in nearly every section of Havana we visited. Our host family had lived there for over 60 years. Rents were abolished at the time of the revolution, so some families like this one stayed and maintained their homes while others deteriorated.
We were also within two blocks of the Iberostar where we would be the next two nights and half a block from a park where many of the best restored American cars from the 1950's were available for taxis or day tours of Havana. I took lots of pics of those, posted here:
https://forum.pugski.com/threads/havana ... pics.5256/
Liz hired this 1931 Ford and driver for a few hours in Havana.
She first requested a local music shop.
We next visited a hybrid Santeria church with creative use of discarded material for outdoor art displays. Bathtubs were frequently used.
Liz with one of the resident artists:
Courtyard with bust of Jose Marti, to whom there are widespread memorials all over Cuba:
Cubans first tried to revolt against Spain from 1868-1878. The rebels were never wiped out but were confined to the eastern half of Cuba and eventually sued for peace. Some of the rebels disagreed and went into exile in the US or Central America. Jose Marti was the political leader of the ultimately successful next revolt that began in 1895 but he was killed in battle soon after returning to Cuba.
After our taxi tour we had a light lunch and drink at Floridita, noted as a Hemingway haunt and reputed birthplace of the daiquiri.
We then relocated to the Iberostar for the start of the organized tour. We returned there midday on June 17. We found an Italian restaurant with fresh lobster for lunch.
The restaurant had several historic photos on the wall. This one is Mario Diaz holding his famous Che Guevara photo.
We then went to the Museum of the Revolution. At the entry they are still "in your face" about their adversaries.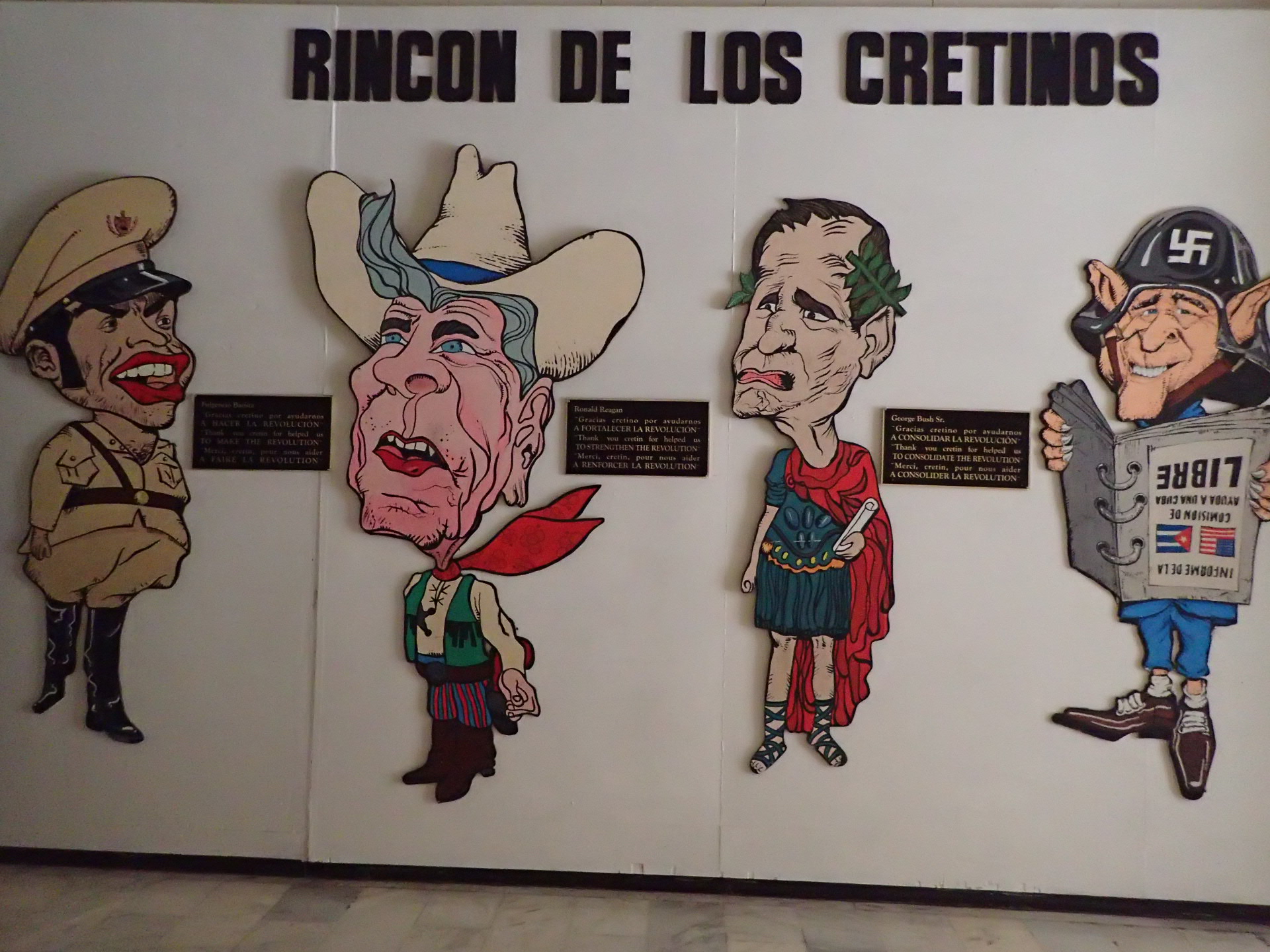 Upstairs displays cover the details of Cuban history of mostly the 1950's and 1960's. Across the street are relics of the Revolution and here, the Bay of Pigs.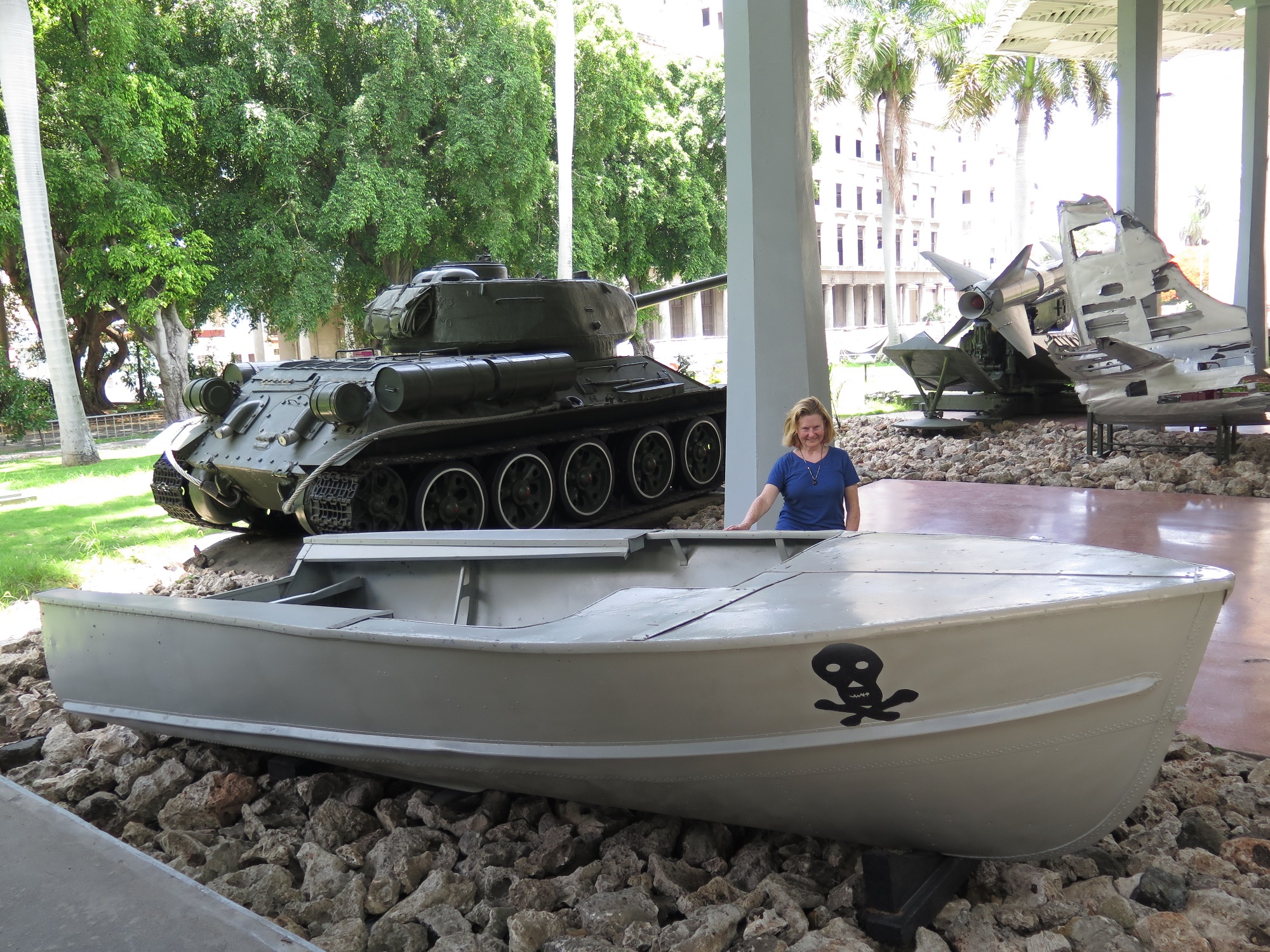 For the next 3 nights we stayed at a B&B referred by one of Liz' contacts in NY who had stayed there.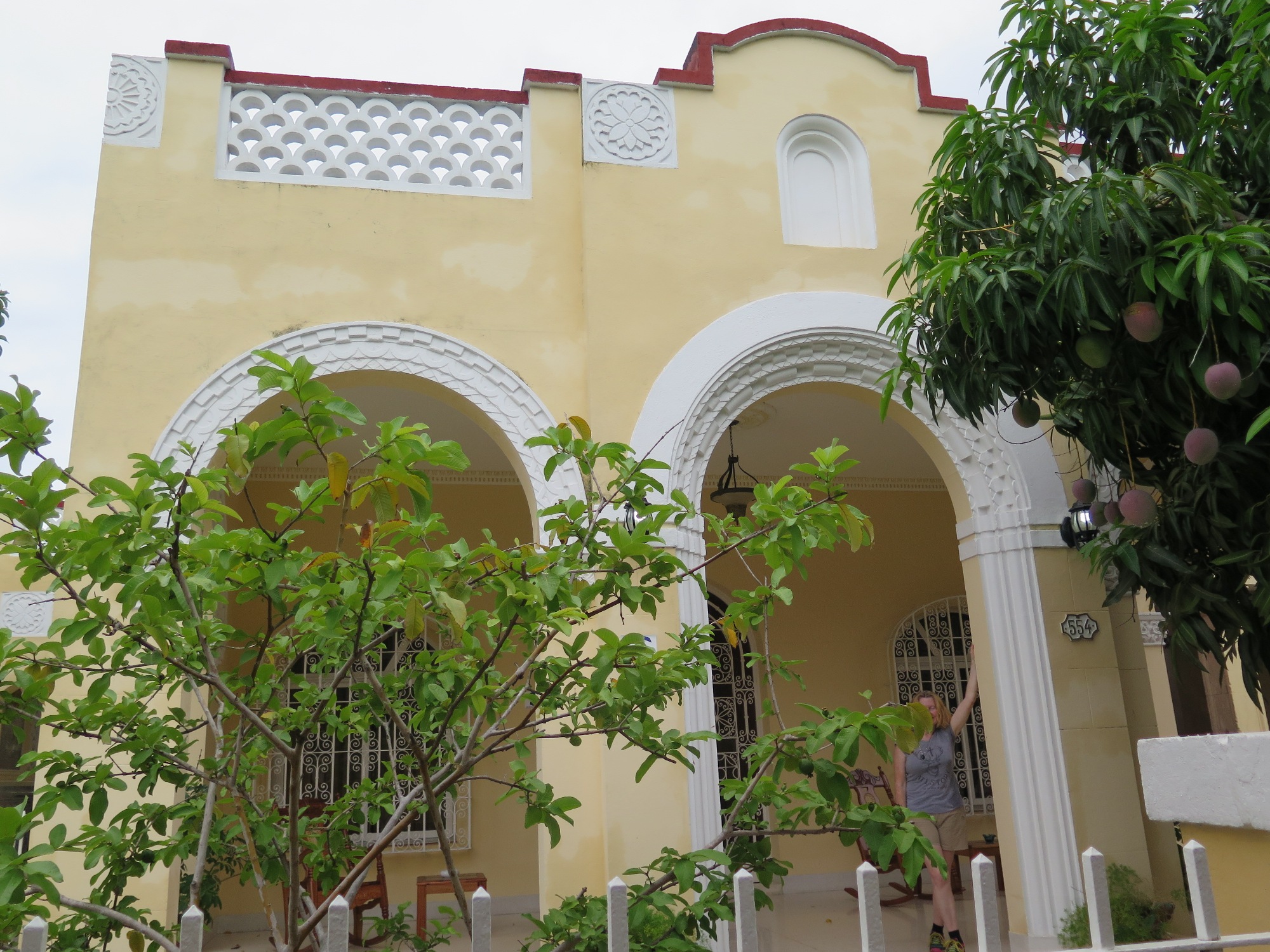 This was an impeccably restored house in Vedado neighborhood, surely Havana's upscale district before the revolution. Our room for $40/night: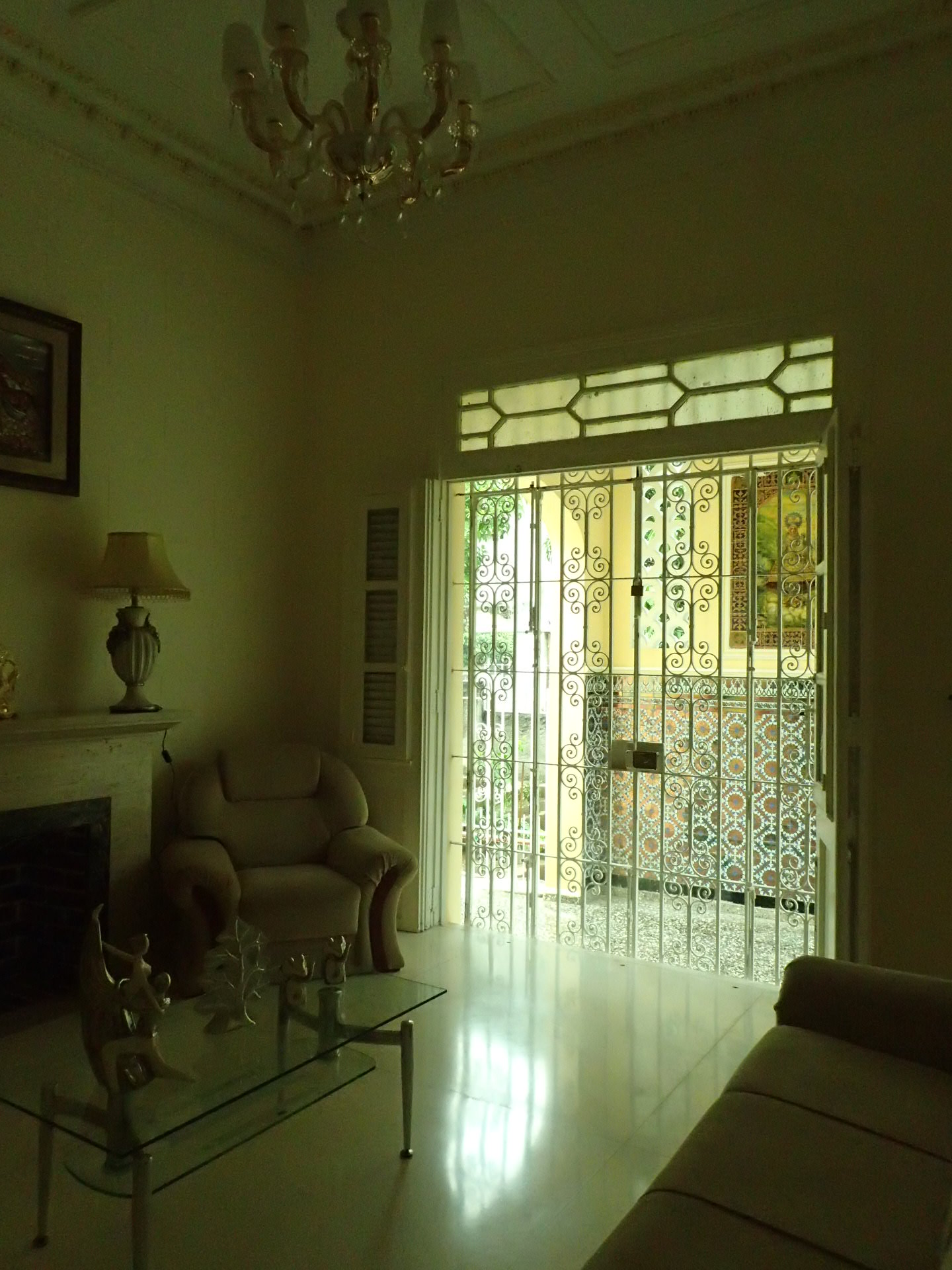 The lady who runs it was a lawyer but now makes more money running 3 B&B's. She worked in China, met and married a Chinese man who probably paid to restore the B&B's.
But here's what it looked like across the street.
And this is one of the largest mansions in Vedado.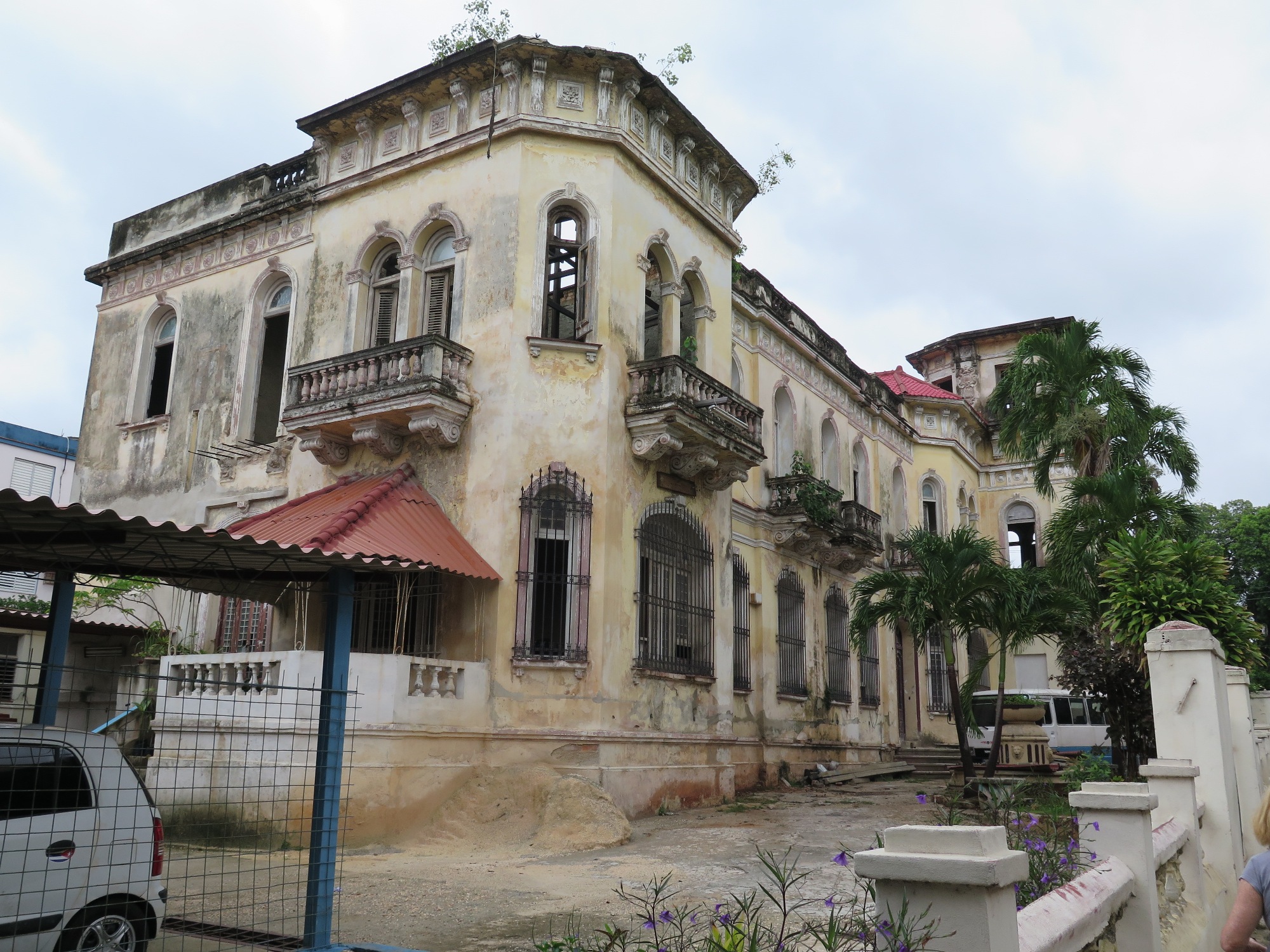 My guess is that most of the families who lived here have been in Miami for the last 65+ years. Much of the deterioration of infrastructure occurred during the 1990's, when Cuba's Cold War subsidies from the Soviet Union ended. Some communist countries like Vietnam initiated economic reforms while maintaining tight political control. But Castro was a true believer, and thus retained the communist system while adjusting it to run at a subsistence level with drastically reduced living standards. This era is euphemistically called the "Special Period."
https://en.wikipedia.org/wiki/Special_Period
We had periods of heavy rain every day we were in Havana. We were only out for a little while on June 18. There are memorials to a few other U.S. adversaries. Ho Chi Minh: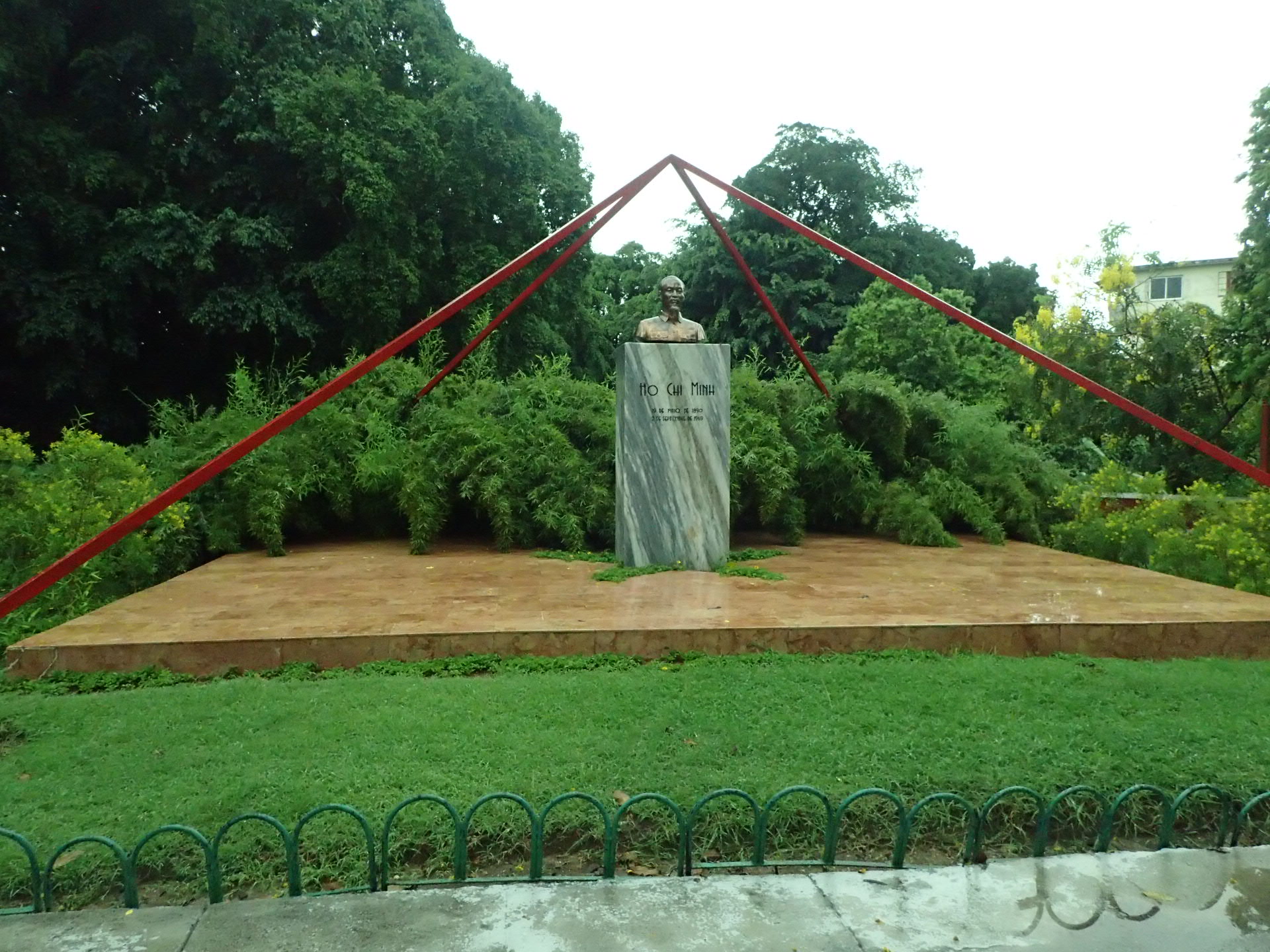 Julius and Ethel Rosenberg:
That evening we spent some time at the Cuban Art Factory, opened in 2014.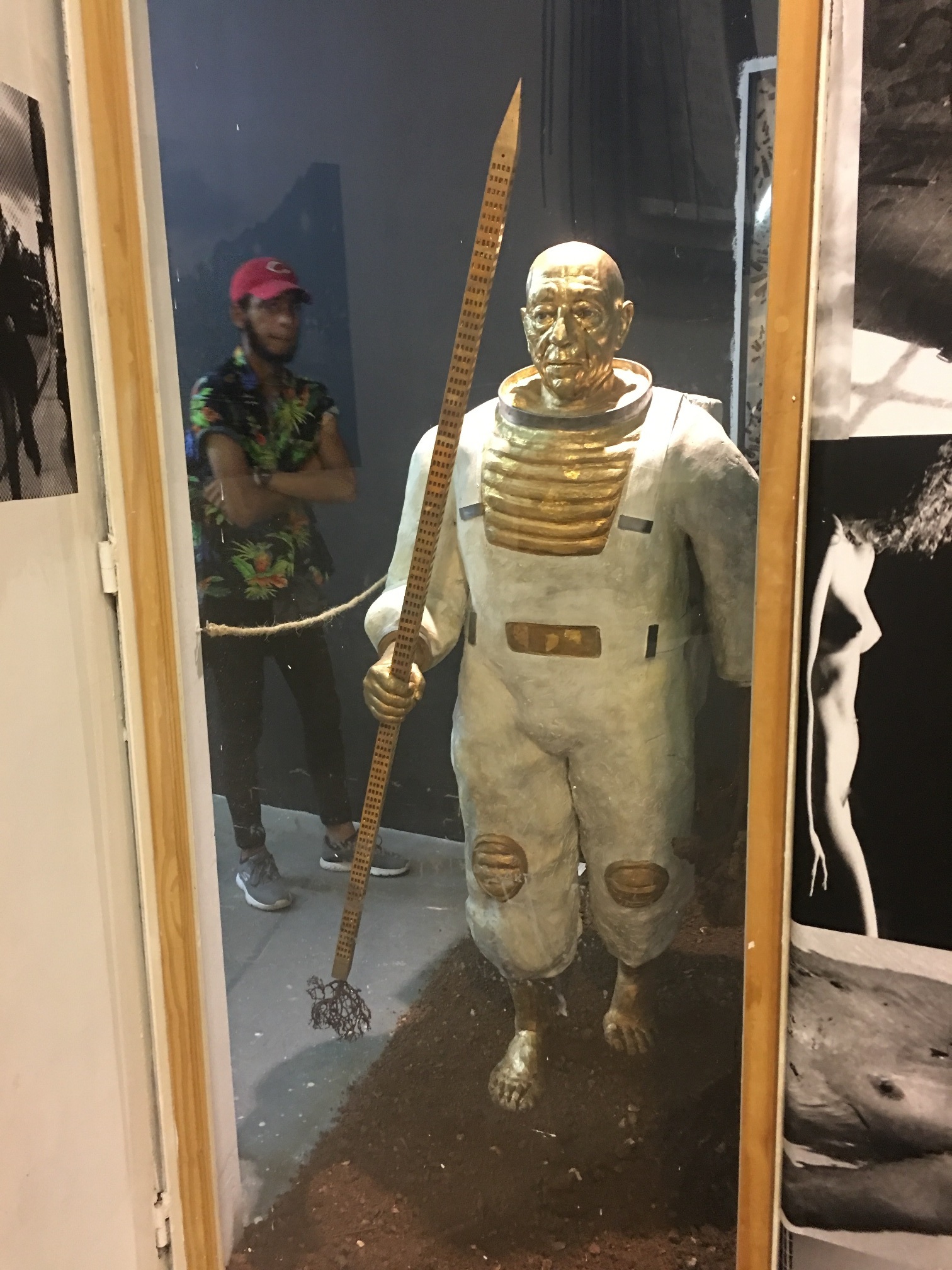 Liz did not have look hard to find a vibrant music and arts scene in Havana. In a couple of places we saw posters of the Beatles, whose music was banned when it was contemporary. Severe restrictions on artistic expression were relaxed after the Cold War even though intrusive political and economic control remained.
On our departure day we visited the USS Maine memorial near the waterfront.
Liz on the Malecon:
Havana had some flooding for Hurricane Irma when storm surge got over this wall briefly.
Our last visit was to a more formal art museum. Some of it was dedicated to propagandistic "revolutionary art." But this "Ideology Meter" was a sly satire.
At the time of our travel, the only US restriction was that we needed to provide a document at our airline departure gate from the sponsor of our tour, Oceans for Youth. However, nobody cared that we went to Cuba a day earlier and returned 3 days later. The officially sponsored tours are quite expensive, nearly all I've seen are at least $500pp per day. And ironically the Cuban government rates to get a decent chunk of those $$$, certainly considering that it owns at least 51% of upscale hotels like Iberostar. The two nights and one day of the formal tour were $1,100pp. The other 4 days on our own, staying and eating at local places including the day drive out to Vinales National Park, added up to less than $1,000.
Anything you do on your own that's not prepaid must be in cash, usually the CUC convertible pesos, as U.S. credit cards are not accepted. If you bring in USD, there's an extra 10% fee, so bring your cash in Euros or Canadian $. We got lots of those in L.A., only used about half but don't care because we have Euro and Canadian ski trips coming up. As a former cold warrior, I can say the current US Cuba policy is bassackwards. The more visitors that are just wandering around staying in B&B's and visiting local people the better. Forcing people to be on expensive formal tours is silly. Obama's diplomatic opening was timed to the loosening of Cuban government restrictions on the tourist sector, but he did a poor job of articulating that connection.