Two early December powder days!
Monday 12/6/22 I arrived Kirkwood just before 9 AM to some big blasts after 3 1/2 hr drive from San Jose with chain control the last ~20 miles. Friends from Half Moon Bay who had skied previous day loaded a little behind me so I waited for them at top. We should have stayed on 7 for a couple of laps as 5 and 6 did not load until 9:45 due to snow safety. Kirkwood reported 14" new on Sun, 5 on Mon (although friends said most of it fell during day on Sun) and it snowed hard on and off on Mon (they only reported 3" Tues).
The road to Sentinel and everything past it had closed mid-PM on Sun and it was closed Mon AM along with everything going the other way much past Monte Wolfe. We carefully skied one of the gullies between Monte Wolf and the Fingers once. After an early lunch break, we found road to Sentinel open about 12:30 on Mon and skied a smooth Rabbit Run where new snow was not very deep. Next time up we went towards Palisades and found gate was open to about halfway into that terrain. Traverse was very rocky especially crossing spine to get there. But skiing 8-10" of untracked was great. Two of us did it three times while one went to work on clearing snow from cabin deck.
No pictures from skiing other than SkiTracks. I sent my watch in for battery change and guy doing it said "pcb is toast" so I don't have a ski watch for first time in about 30 years. I ran Skitracks using an external battery when needed to keep my 3 year old iPhone that needs new battery from not running out of juice. EpicMix did well tracking my lifts, only missing my last Cornice chair.
Following was posted on Facebook early Tuesday morning under "Unofficial Kirkwood Community" with some comments disputing it. "There was an inbounds avalanche yesterday in the Palisades area. Some exceedingly clever fellow ducked the closure line and set it off, but seems to have survived their bad judgment.
Our local snowpack is a big mess at the moment, with deadly avalanches possible even on low-angle tree-covered terrain. This danger won't go away for a while, so please stay out of closed terrain and be very conservative if ski touring."
Tuesday 12/7/22 The Blue Dot at the top of second picture is where I spent Monday night at friend's 5-bedroom cabin. He ski-leases it out to be able to afford it, but lease does not start until Dec. 21 this year (and ends after President's Week). He and neighbor had to return to Half Moon Bay, while I got to stay. This is the early morning view.
Even at night there was a view from moonlight and the new snow. I heard avalanche blast while getting ready and loaded chair 7 at 9:01. I skied Chair 6, starting with Sentinel, then twice going past it into two of the Rabbit runs. I moved to Chair 11 for 4 laps, skiing untracked on both sides of and a little past Conestoga run. I also skied Buckboard, the main groomer and only run not marked black, and dropped off steep untracked face to left into The Drain and found my first rock of the day.
I'd seen some boarders talking to staff at base of Wall lift and they started the line there a little before 11. I took three laps more laps on Cornice, finding some steep lightly tracked to right of Olympic a couple of times, then joined slowly growing line for The Wall, which opened for the first time this season a little before 12.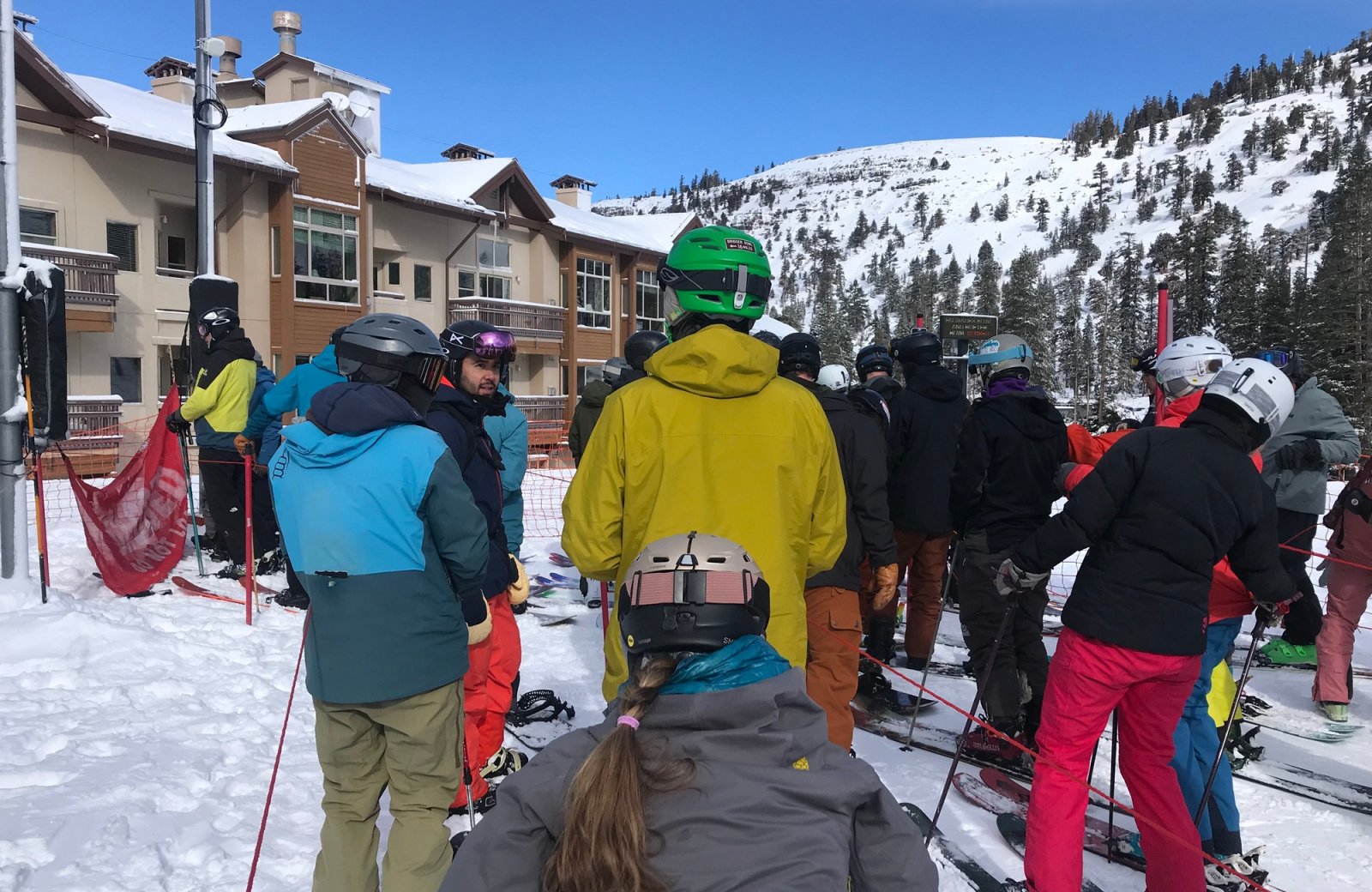 I was less than 20 chairs back and had two runs where I didn't cross many tracks in face above top of chair 11 that is below subpeak at left of this photo.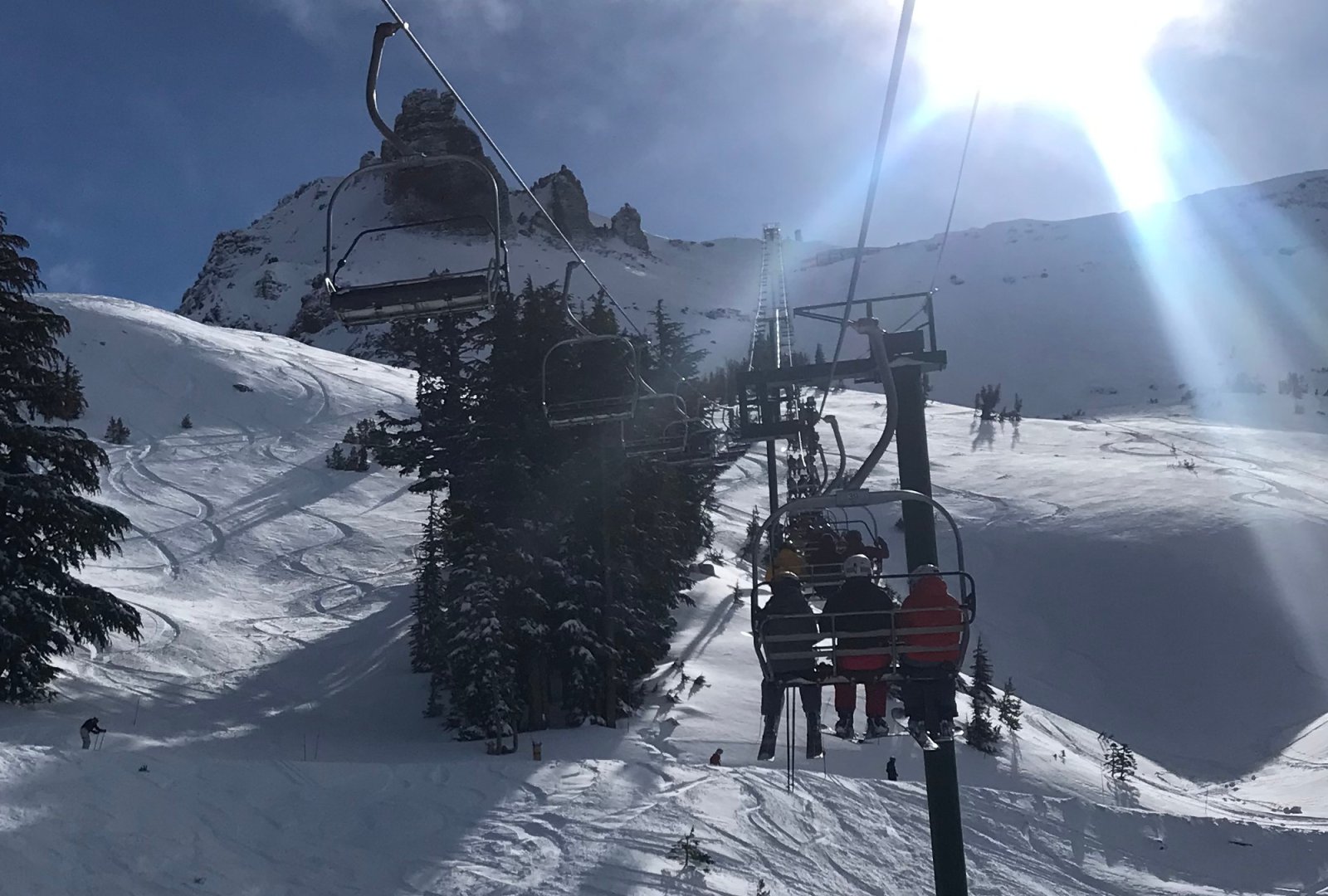 The top of the Wall was not as deep, had some avalanche debris and I uncovered a rock partway down on my first lap and I used groomer to get through bottom quickly. The middle was great, skied about a foot deep. The next two laps I traversed across top of Wall and skied between it and All The Way, getting into some steep openings in the trees I'd found the last couple of years. I moved further into Wagon Wheel Bowl for my last two Wall laps, using nearly all gravity traverse to get to chute below False Peak where I found more lightly tracked steep and deep.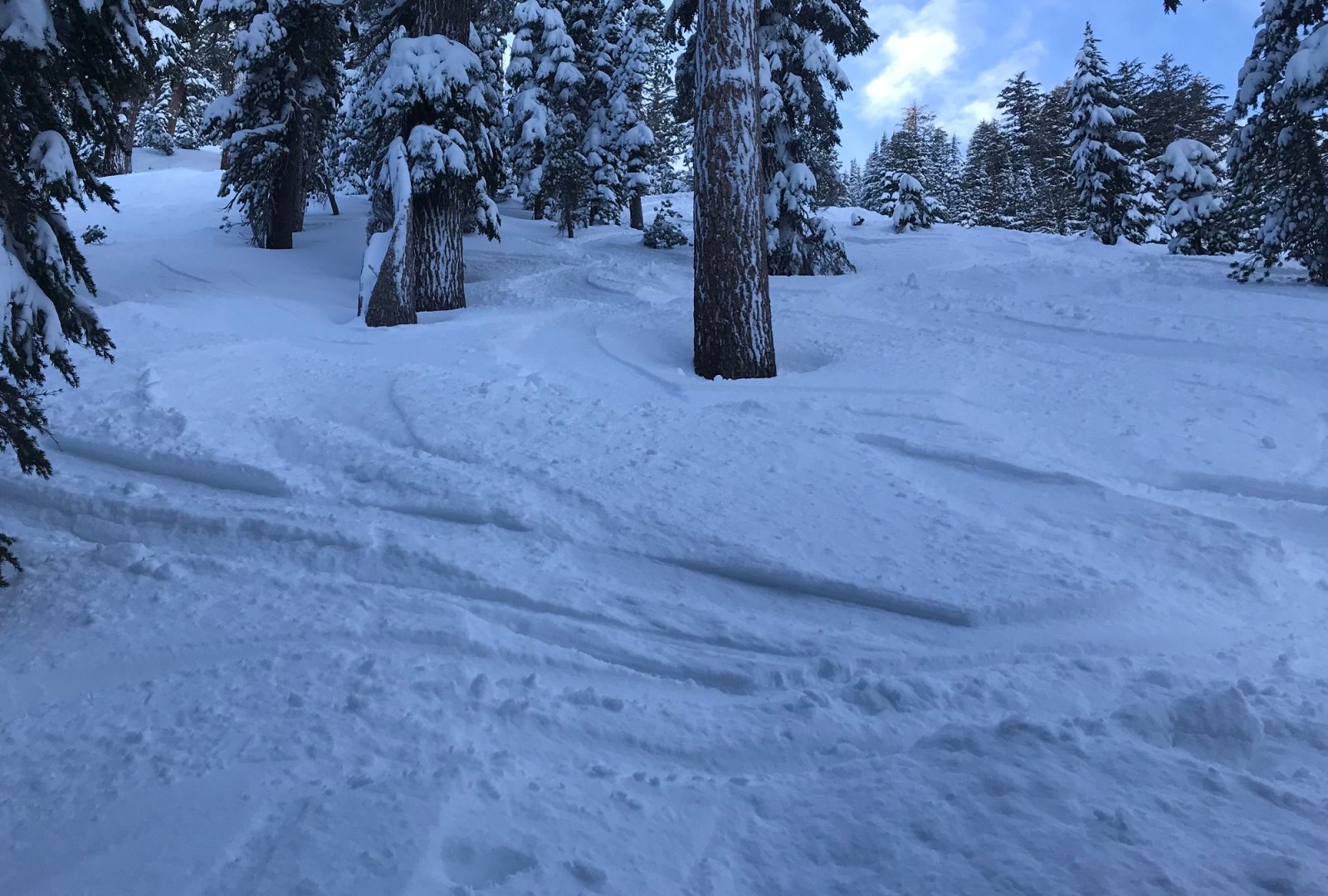 EpicMix says I loaded chair 6 at 2:09. I was able to take the traverse in the Palisades slow enough to cleanly make the jump over rock guarding way that had hung me up the previous day. Snow on steeper top was mostly skied out, especially compared to previous day and what I'd just been skiing although there was untracked in flatter gullies, meadows and trees towards bottom. I quit about 2:30 with 19 runs and 24.4K, returned to cabin to change, pickup my stuff and make sure I left place clean and was at In-N-Out in San Jose 3.5 miles from home before 7, making it to Kirkwood and back without a gas stop.
Last edited: