Monday 7/1/19
I drove my camper over 9600+ foot Sonora Pass in the dark Sunday night as slightly higher, but much less steep Tioga Pass was only open an hour in the AM and an hour in the PM with no stopping allowed until 8 AM Monday morning. I slept well in the rest stop a mile N of turnoff to Mammoth and could have gotten 1st chair, but settled for 2ND. Stump Alley was open and seems like it will be through Sunday after the 4th although Monday was the last day there was a direct route to the Mill lodge.
View attachment 8
View attachment 7
My phone said it was 32 early at Mammoth Lakes and there was some frozen snow early, but it softened fast as it was the only day without wind. I went up 2, then 23 and found snow already softening on Cornice Bowl although it needed to be skied smooth as groomers left a lot of uneven places between and even in their passes. I skied it twice, then chair 3 twice before returning to car to get phone I had left on charger. Later at McCoy station I saw Phil from pugski who was waiting for his wife Tricia to come back up after changing some gear. We also met up with Gary from Kentucky and Paul from SLC. They skied improving Cornice Bowl while I tested sunny side of Climax. We all went up chair 3 and went off the back where Phil went down hard on firm snow due to a pre-release as he had not set bindings properly. He was done for the day. Next picture is Wipe Out 1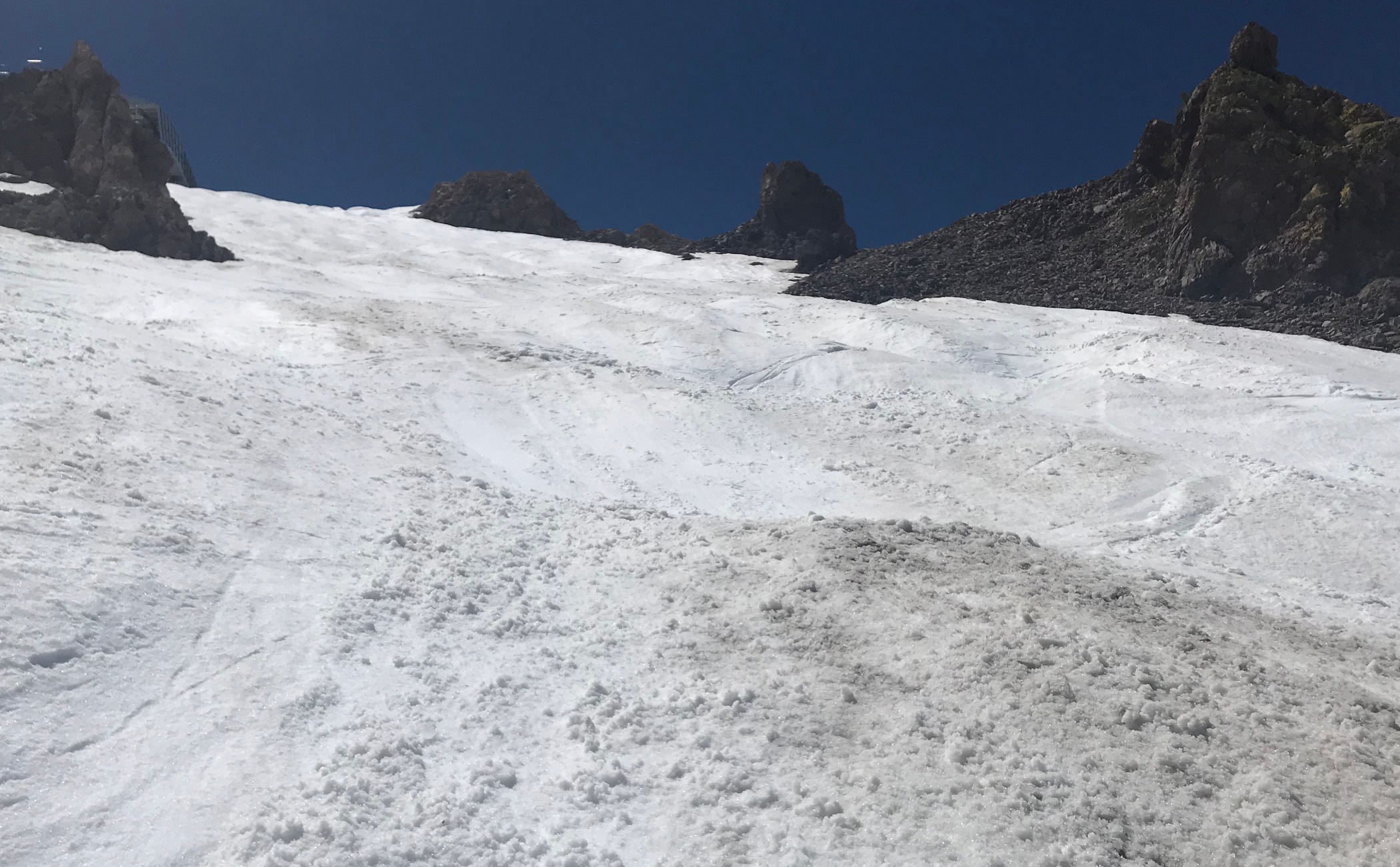 I skied until after 12:30. Runs off the top were still skiing well although snow was slow getting back to 23 or down St Anton. I finished my day downclimbing into Wipeout 2, then cutting over to Monument where snow was very smooth most of the way down. Then I rode gondola to the top and skied Climax, Saddle Bowl and Stump for 23.8K vertical. I was invited to join the PugSki crew for margaritas and eventually dinner, but I first had to get group who were partially behind my truck and directly in way of exhaust to move.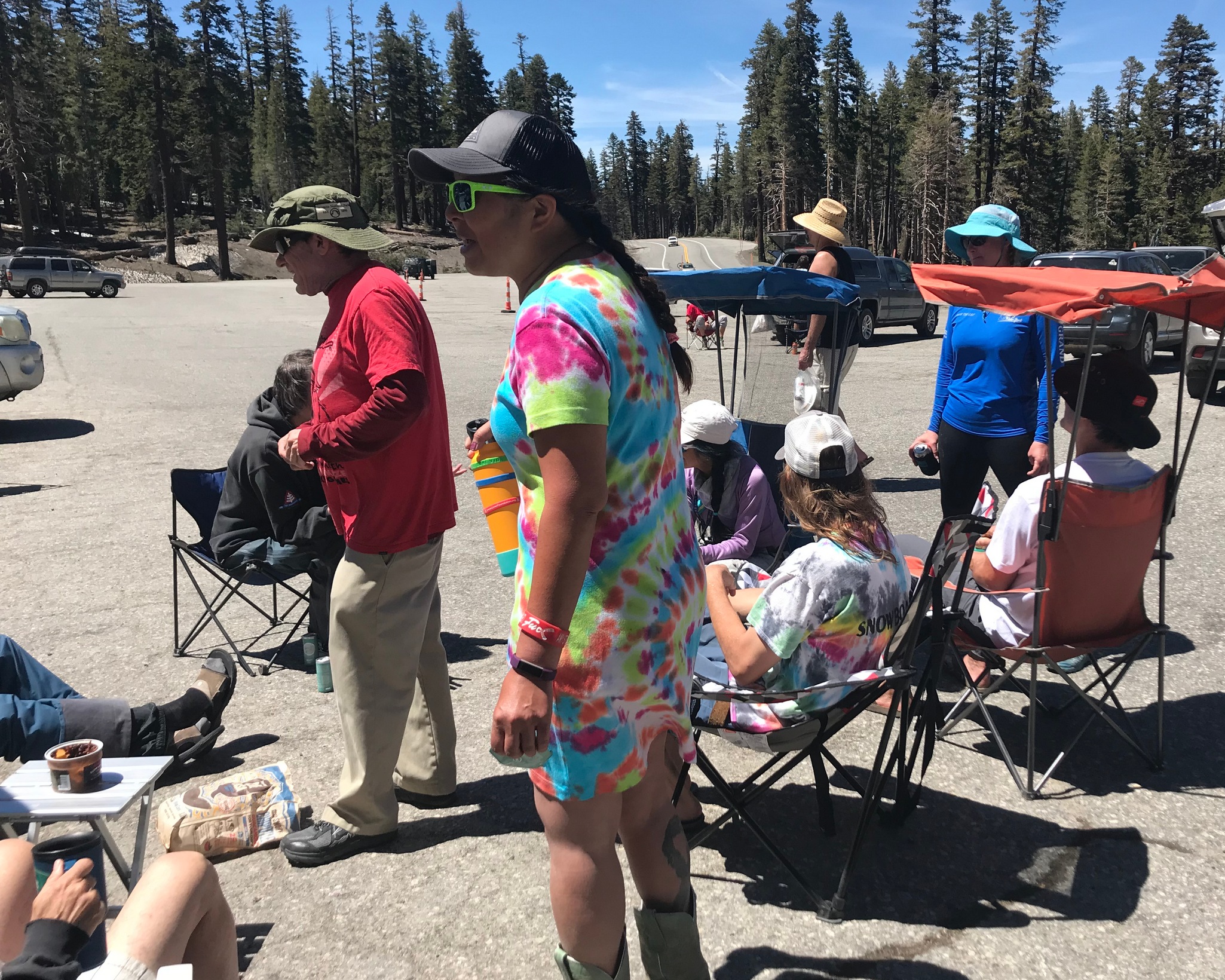 Tuesday 7/2/19
After using Kurt's iron and equipment to wax skis outside the Mill, I missed first chair by a bit. but still loaded before the official opening time of 7:30. Wind that had come up Monday continued and delayed softening so I started with 3 laps on chair 3, then 3 skiing Cornice Bowl from chair 23 before meeting up with the 4 people from PugSki. We were also joined at some point by Kurt/mountain monster and I shared a gondola with Elyssa from Mammoth forums. We skied more laps on Face of chair 3 were snow was near perfect smooth corn for one of our laps. My Ski Tracks apps also shows 4 laps during the day on Climax plus end the day. One of my laps on Climax was a little too early as sunnier right side of bumps were fine while left side were still firm.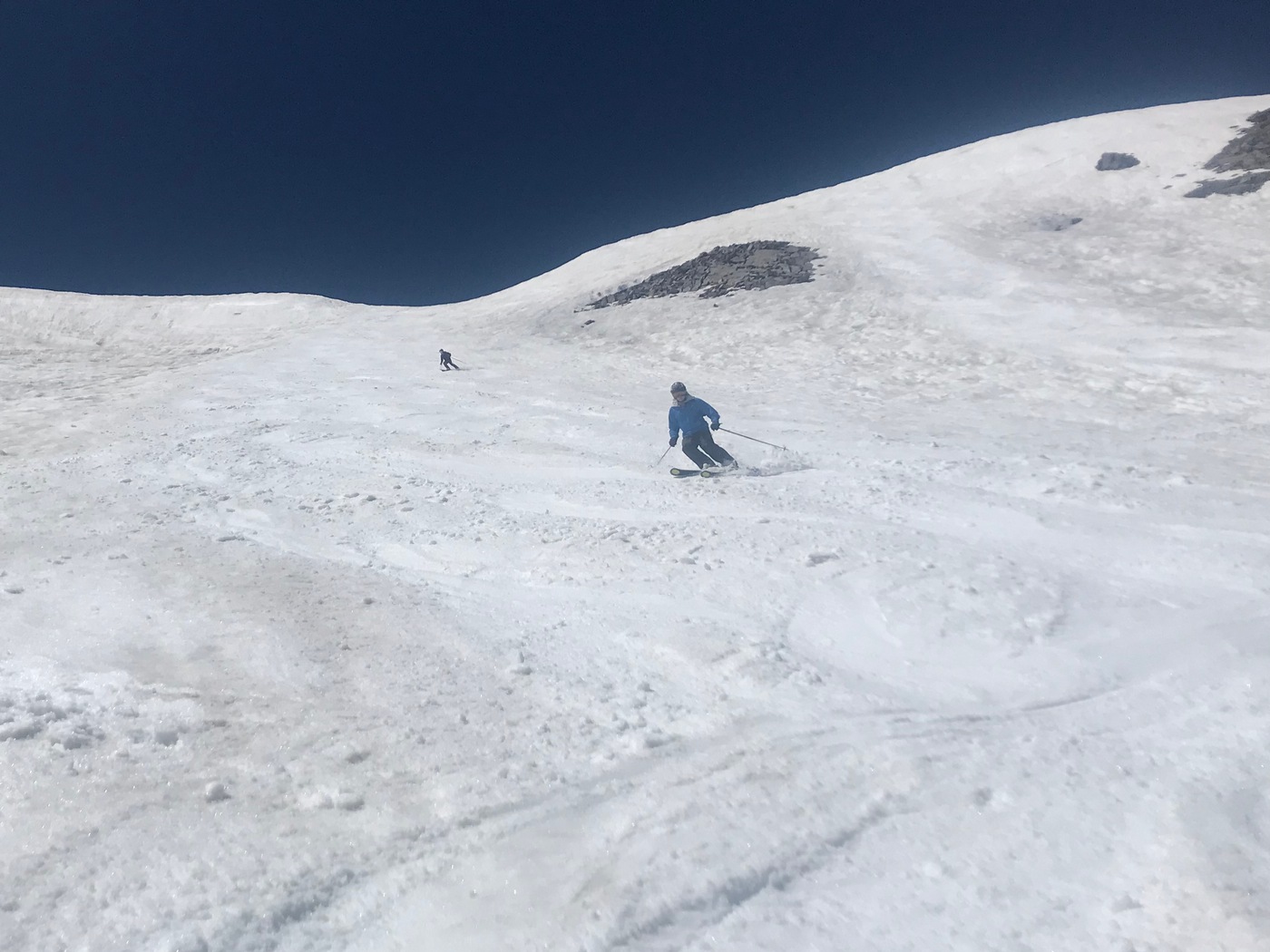 Phil and Tricia quit early to return to Reno so Kurt and I showed Gary and Paul the route to Scotty's which they had been eyeing for a couple of days. Kurt skied a smooth line on the Hump while I got a few turns near top of Wipeout 2, then more on smooth steep face between the Hump and Scotty's before getting ahead of Gary and Paul. I think they were done after coming back up chair 1 while I did some more chair 23 laps skiing Dropout 1, then top of Dropout 1 and cutting over to Wipeout 1 and ending my day with Monument, then skiing to bottom and finishing with gondola to top and skiing Climax, Saddle Bowl and Stump for 26.2 K vertical.
View attachment 2
Even though only the bathrooms were open (and WiFi and gas firepit was available) at the Mill on other days the restaurant and bar were closed until they did one last Taco Tuesday from 1-3 so we went in for $2 carnitas or chicken tacos and $3 fish tacos that we enjoyed with the 2nd half of the US Women's World Cup semifinal win. I rested for a while at camper, then I went for a bike ride since I brought it. I tried riding Mountain Vista trail to Minaret View, but snow blocked road a mile or two before end.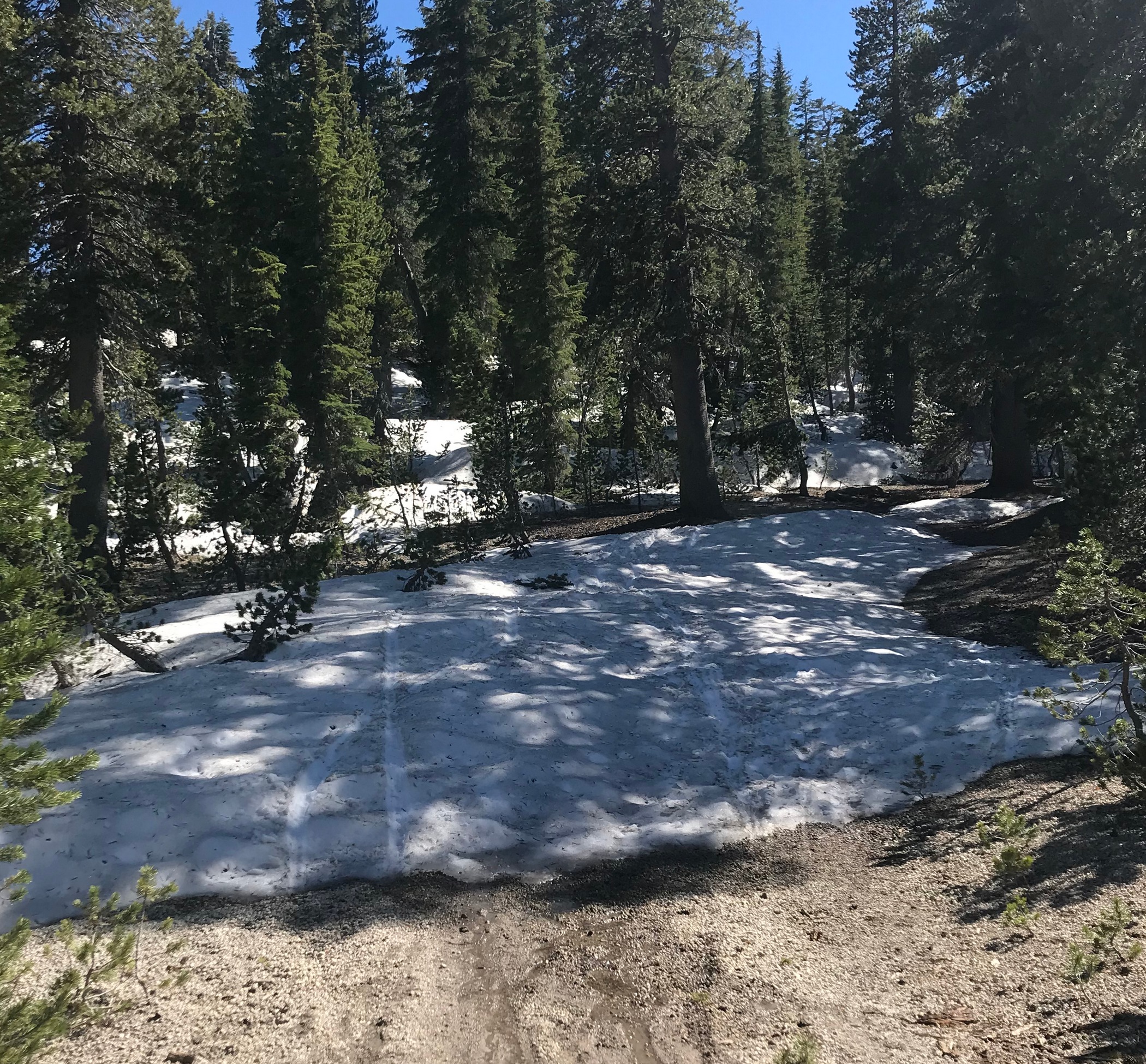 I did some more riding on N side of 203, eventually crashing for first time in a long time in pumice while going too slow and locking front wheel while looking for trail to right that would get me back to highway and Mill. (I didn't realize I was repeating a downhill I'd already done).
I had a hard time finding road or trail to get me back to 203 and finally cross-countried it. I came out just below F parking and guy waiting there for his girlfriend to climb hill from town said employee watching entrance to Downtown trail left 10 minutes ago and I had 19 minutes to catch last shuttle in Village. I made it down very entertaining trail in 18 minutes. My bike ride which I hoped to keep under an hour ended up being two. Shuttle brought me back to Main Lodge at 5:50
Guy had also said I could park at the Mill for a night, maybe two, but after using my outdoor shower and having dinner, security said I need to leave.
Wednesday 7/3/19
After moving from overnight parking off Dry Creek Rd, I was first in the Mill lot and shared first chair with Kurt and a couple he knew from San Diego, but lost them while buckling boots before skiing to gondola mid-station. Wind continued, but was a little less than previous day and temp seemed to climb quickly. Crowds were bigger than previous days, but only line I had was for last gondola at Main Lodge due to sight-seers. I shared a few gondolas with @shiftrider, but he was boarding Cornice while I was skiing Climax and I eventually lost him. I skied down to the Mill about 11 to change light jacket (that I'd worn all three days until then) for for a vest and put a beer in the pocket for my last bottom to top gondola.
I skied until a little after noon and was on the road about 12:45. Highlights were Dropout 1 then cutting over to Dropout 2, Dropout 3, Dropout 3 and cutting over into Wipeout 1, downclimbing into Wipeout 2 and cutting over to The Hump and also skiing Monument. My watch counted 25.3K. Even with a short stop going up Tioga Pass, another at the top and at Tuolumne Grove (hike to Sequoias was too long to make it to dinner in San Jose) and for hiking about halfway up Pothole Dome on the West end of Tuolumne Meadows, I was home in less than 7 hours.